Nearly everyone enjoys listening to music, whether on their smartphone, headphones, home stereo system, or computer. This makes audio equipment a great gift for almost anyone, whether they're an audiophile, musician, or someone who just enjoys some background tunes while they work or study.
We all know how challenging it can be to find gifts for certain people, so we've compiled our ultimate speaker gift guide, which will help you pick the best product for your friend, family, or partner. This list features some of our favorite speakers going into this next year and some faithful classics. Whether you're looking for a small stocking filler or an impressive gift for someone close to you, there's something here for every budget and each type of person.
What Different People Need in a Bluetooth speaker
Not every Bluetooth speaker will work for every individual, as some may have very specific needs, depending on how they like to enjoy listening to music. Some may need speakers with a little more durability, while others may prefer flashy features and sound quality over design.
Here's a basic guide to which speakers work for certain markets:
For Outdoorsy People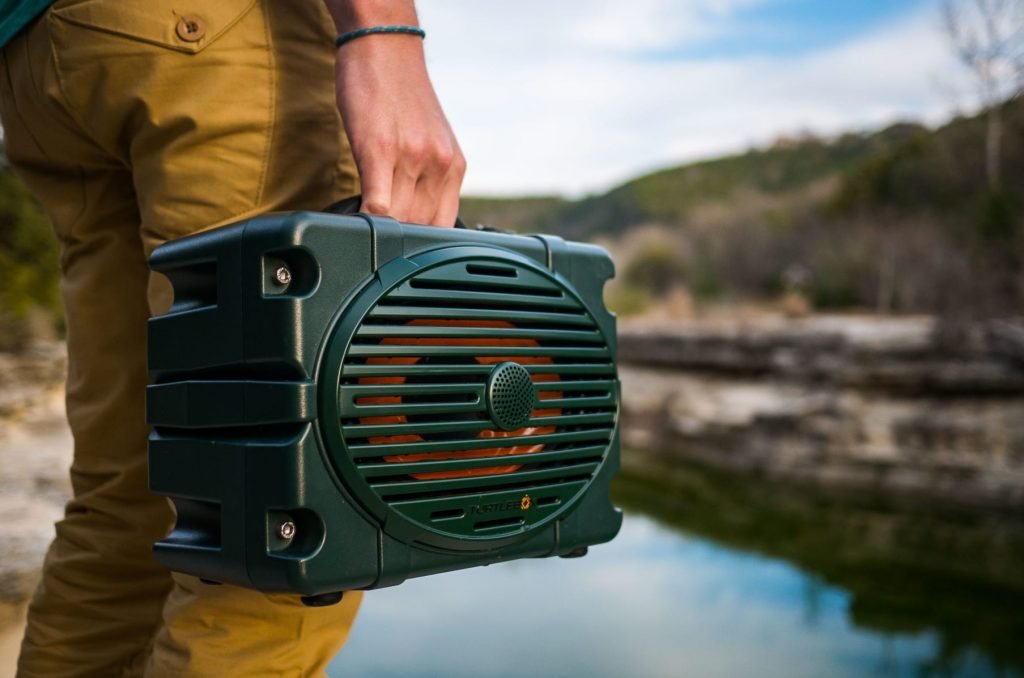 People who enjoy hiking, camping, fishing, and other outdoor activities have very specialized needs regarding portable Bluetooth speakers. Most importantly, the speaker will need to have some level of weather-resistant properties to face the conditions your gift receiver may use them.
For this, we look at the IP rating of the device, which is a scale upon which weather resistance is graded. For outdoor applications, we consider IPX4 to be the minimum, which allows the speaker to be exposed to gentle rain or water contact, but nothing too serious. These work for people who enjoy fishing or swimming and may have their speaker in a position where it could be splashed.
For those who enjoy more extreme outdoor activities, an IP rating of IPX7, IP65, or higher is recommended. IPX7 means the speaker can be submerged for a short while underwater or endure high-pressure water contact. At the same time, IP65 protects the speaker from not only water and other liquids but also sand and dust.
Outdoors folk may also need a speaker with stronger battery life since they'd ideally want their speaker to last an entire day or at least a few hours at a time before a recharge is needed.
For outdoorsy people, the JBL Charge 5 (full review here) is an excellent option that doesn't take up too much space but provides colorful, immersive sound. However, it doesn't come too cheap. If you aren't looking to spend too much, take a look at the Treblab HD77, which is a little smaller but more budget-friendly. On the opposite end of the spectrum lies the Turtlebox, our favorite outdoor speaker- check it out if your gift receiver enjoys extreme outdoor activities and listening loud and if you have a fairly substantial budget to work with. For more options, check out our top list of waterproof speakers for some choices across various budgets and styles.
For more limited budgets, we can also recommend mini Bluetooth speakers that feature the likes of the JBL Clip 4 or JBL Go, both of which are available at under $50.
For Musicians, Engineers, and Audiophiles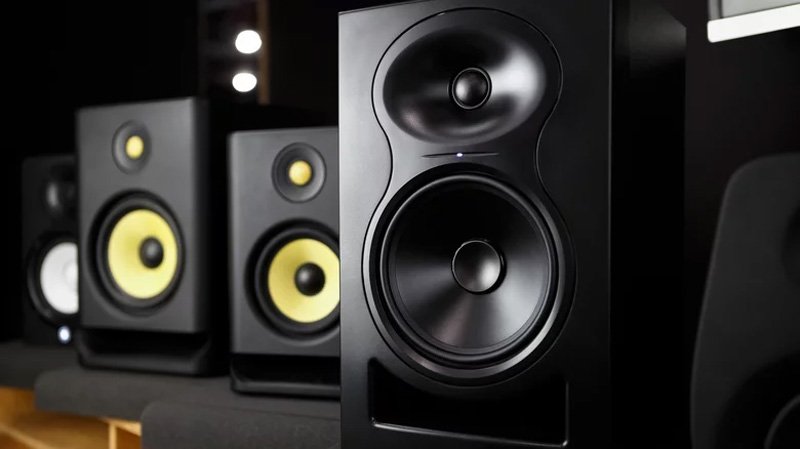 Buying a speaker for a musician, producer/engineer, or audiophile can be a challenging and stressful task since their preferences can be so precise. Depending on how they would use a portable speaker, you can look in a few directions.
Our first recommendation when buying gifts for those who have a keen interest in audio is to figure out what they have and what they don't. In most cases, you'll find they've probably already invested a hefty amount into their gear. It's easy to buy something that overlaps with a product they already own.
For this group, we'd suggest focusing more on quality-of-life products that improve your gift receiver's workflow or listening experience without worrying about investing a bunch of money into something that may not surpass their existing equipment.
Things like headphone stands, VSTs, ear protection, and balanced cables are all examples of fairly affordable gift ideas that are typically quite safe to go with. Granted, it's still going to come down to how well you know the person you're buying for, but these ideas aren't that risky for established audiophiles. If the receiver is a vinyl collector (a fairly common hobby for a lot of audio enthusiasts), you can always consider buying them a unique vinyl that they've had their eye on.
If you have a large budget, you can always look at our full suggestion lists on the following products:
Studio Monitors Recommendations
Headphone Amp Suggestions (great for budding audio enthusiasts)
Tower Speaker Recommendations
For Socialites and Party-Goers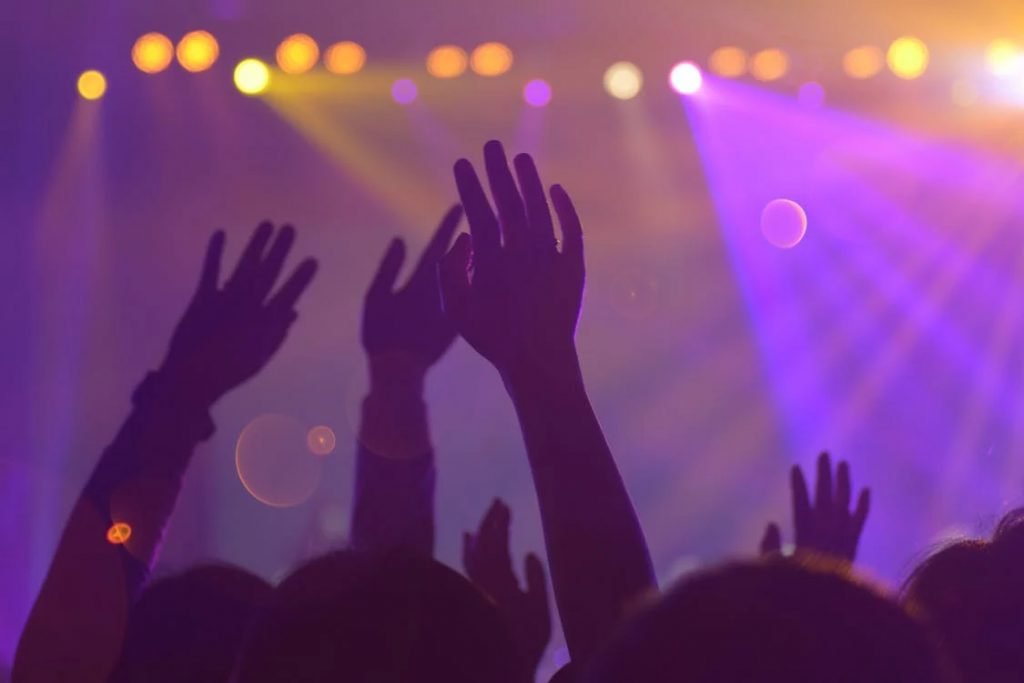 Those who enjoy listening to music with others, either in a casual setting or a more party-like environment, have a different set of needs.
Firstly, sound quality and volume capabilities are really important here. Most party hosts enjoy a bass boost function, so be on the lookout for this. However, if you're looking at smaller models, you might struggle to find one that supports this feature.
Aside from sound quality and output levels, some party-goers enjoy party-friendly features and functions such as karaoke modes, flashing lights, interactive party games, and other gimmicky features.
For younger individuals, you don't need to set the standards very high (nor your budget). There are a lot of small, portable Bluetooth speakers with lighting effects that will keep your kids very happy as their slumber parties get turned up a notch.
We spent some time curating our top party speakers list, which includes some of the above features, while others are simply hard-working speakers that focus on quality sound and epic volume levels. If your special someone is more into loudness than flashy features, our loudest Bluetooth speakers list may be worth checking out. For someone who's into speakers with lights, we have a list for that, too, consisting of several sizes, styles, and lighting setups. 
If your loved one enjoys tailgate parties, be it at the game, campsite, or on the block, they'll need something loud and powerful, rugged and durable, and somewhat weather resistant. Tailgate speakers share many similarities with party speakers in that they often come with party-friendly features and capabilities. We've compiled a list of our favorite tailgate speakers, which are also capable of acting as all-purpose Bluetooth speakers or party-focused models. 
For Gamers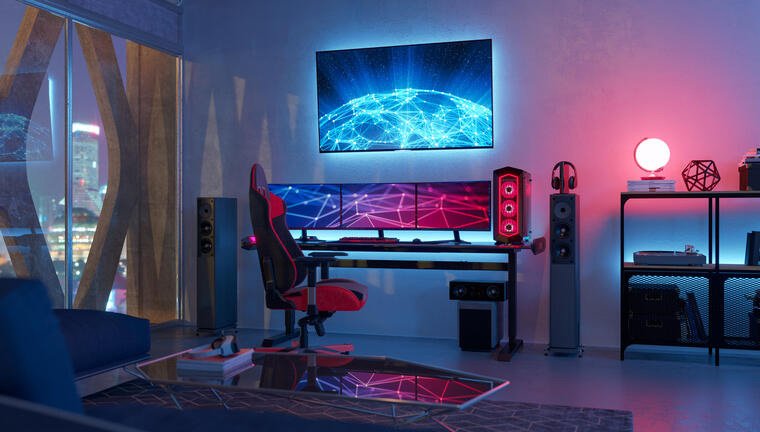 Gamers also have pretty specific requirements for the speakers they need to elevate their gaming experience, and can be a tricky bunch to buy for. However, there are plenty of options out there to suit any game enthusiast.
If your gamer friend or family member uses a computer for gaming sessions, chances are they will prefer headphones over computer speakers. This is especially true for competitive/multiplayer games where their mic would pick up their audio if they were listening through speakers.
While it's ultimately up to preference whether one goes with a closed-back or open-back headphone design, it's still more common to go for a closed-back design. Similarly, a microphone with a boom stand is another great gift to give gamers who want to move away from traditional gaming headsets and go a more audio-focused route with a pair of high-quality traditional headphones in conjunction with a boom mic setup.
Headphone stands and DACs are also two great suggestions for gamers. A USB DAC (digital to Analog Converter) can help increase the volume of many headphones and even gaming headsets, as some headphones aren't able to get adequately powered by the motherboard's native DACs.
Then there are straightforward good-sounding compact desktop speakers, while some include game-enhancing features like backward-firing lights and bass enhancement modes. We have a list of our favorite desktop computer speakers for the above types of casual gamers. If the gamer in your life enjoys gaming on a console-based system, a pair of stereo speakers would be better suited to their needs and can also be used for watching TV or listening to music. 
For Film Enthusiasts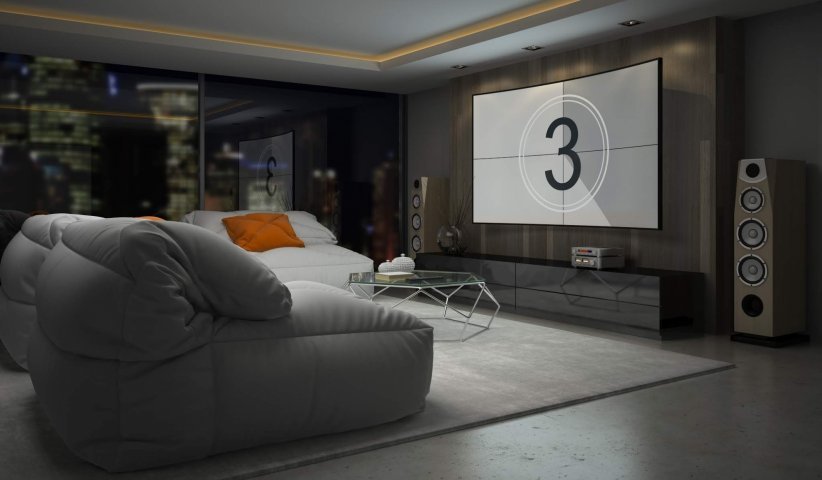 Those who enjoy watching movies on their TV would need a quality home theater system, which can become a rather expensive exercise for you. A simple pair of bookshelf speakers or a home stereo system is certainly an upgrade from one's built-in TV speakers, but if they already have a pair. So if you know of someone still using their TV's onboard audio, they could more than likely benefit from a pair of bookshelf speakers or soundbar.
If you're working with a more limited budget, you could consider additional quality-of-life accessories that could help with their media setup. This can include things like cable ties, wall mounts, or media boxes.
For The Travelers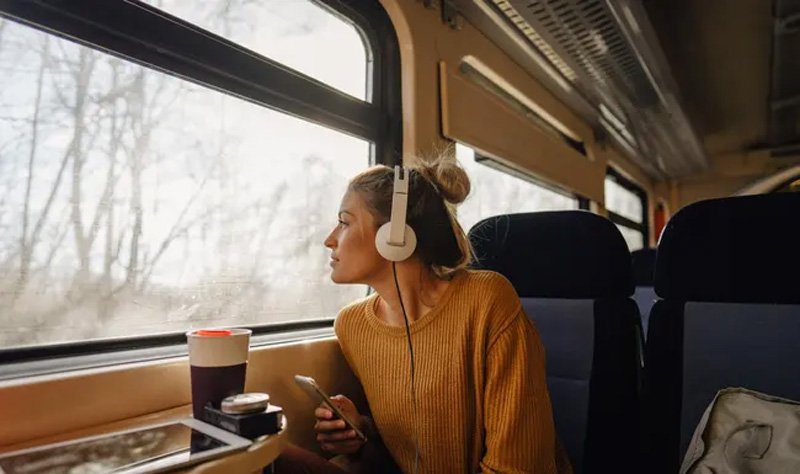 If your recipient is regularly out on the move, there are a lot of gift opportunities that could enhance their time while in transit. Noise-canceling headphones are an amazing gift for frequent travelers, especially for those who often sit on long flights. These headphones will help isolate noise from around the cabin or coach and make relaxing and even sleeping a bit easier for the recipient.
Earphones are another fairly affordable option that can provide some entertainment during long transit periods and can also easily fit into one's pocket. There are a lot of wireless earbuds on the market with ANC (active noise cancelation) that can also provide that sound isolation we spoke of above.
If they're really into their music, you could even consider gifting a small USB DAC that they could carry with them while traveling. These can be found for relatively affordable prices, and with a dedicated travel DAC, your recipient will have extra power to drive their speakers/headphones/earbuds while away from home.
For People That Enjoy Time In Their Yard or Porch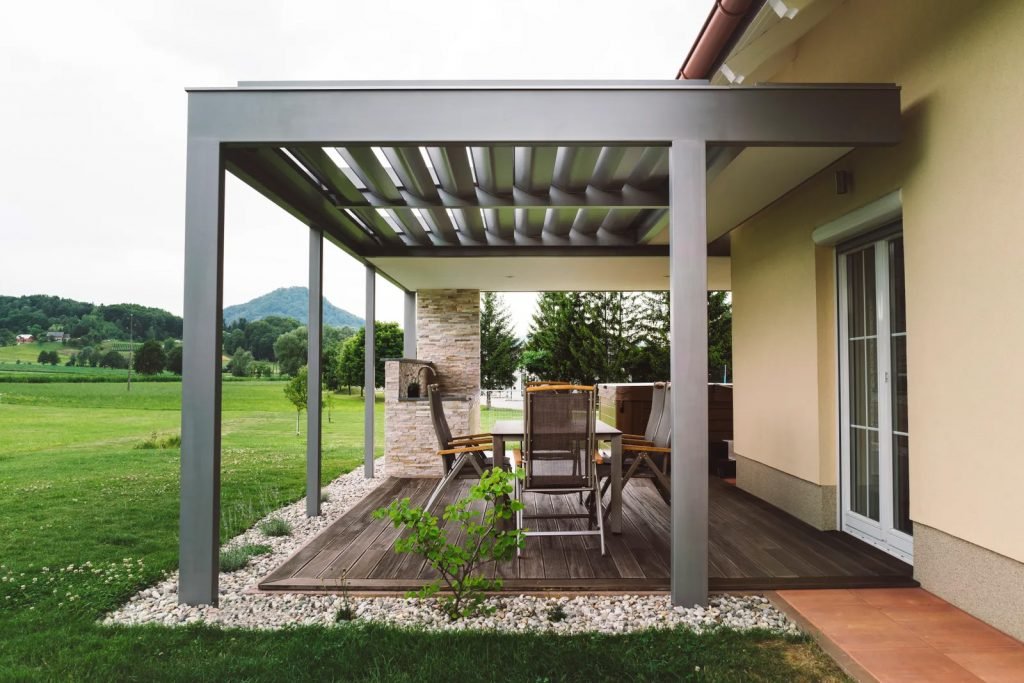 If you're buying for someone who enjoys a relaxing sundowner on their porch or in the yard, having good sound outdoors can truly enhance their experience. You don't always need to invest a lot of money to achieve this either. For portable options, you could look at traditional waterproof Bluetooth speakers, as these will be protected from the elements while still being able to supply good sound to an outdoor table or small listening area.
For a more permanent solution (albeit a more expensive one) that covers a larger area, a set of garden speakers might be a good option. While garden speakers can become quite the rabbit hole and result in various components and installation processes, you can certainly start someone off with a good pair, perhaps with an amplifier/receiver, and allow them to set it up and decide on a placement/configuration that suits them and their setup. 
For Stocking Filler Types of Gifts
Suppose you aren't exactly looking for something a friend or family member would use daily for their work or hobby but rather something fun and quirky that can be brought out on occasion. In that case, there are loads of gimmicky speakers out there that make for great stocking fillers, as they usually aren't too expensive. However, the market for these things is saturated with poor-quality products. To save you the time of scrolling through all those speakers, we've put together some lists across two categories: speakers that can be used in the shower, often with suction cup-type mounting setups for the shower, and sometimes come with some handy features. The other option is floating speakers for the swimming pool, which is a great option for kids, too.