Best Overall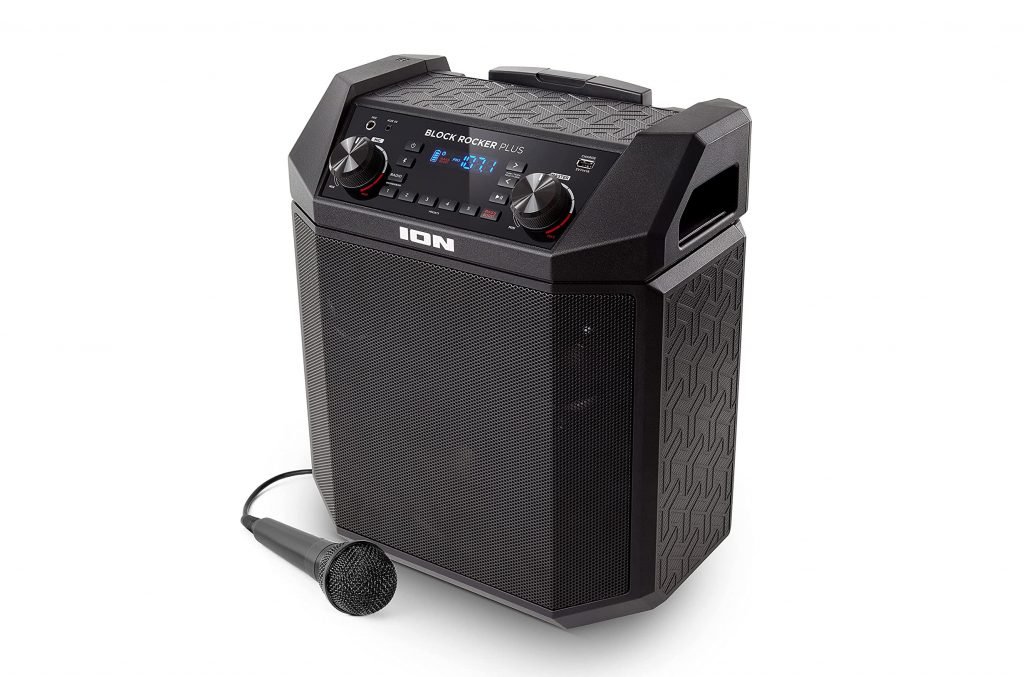 100 Watts
ION Block Rocker Plus
A versatile tailgating speaker that offers good quality audio, impressive volume, and a whopping 50 hours of battery life.
Best Sounding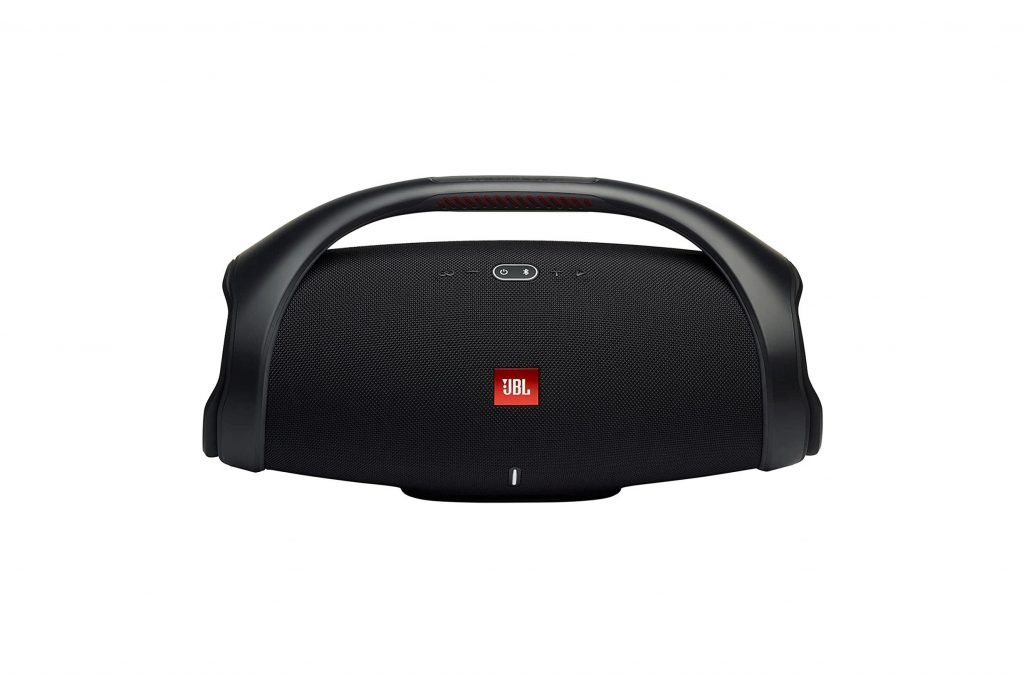 160 Watts
JBL Boombox 2
The JBL Boombox 2 is small in stature, but that doesn't prevent it from being crisp audio quality with rather up to 160 watts of output.
Best Battery Life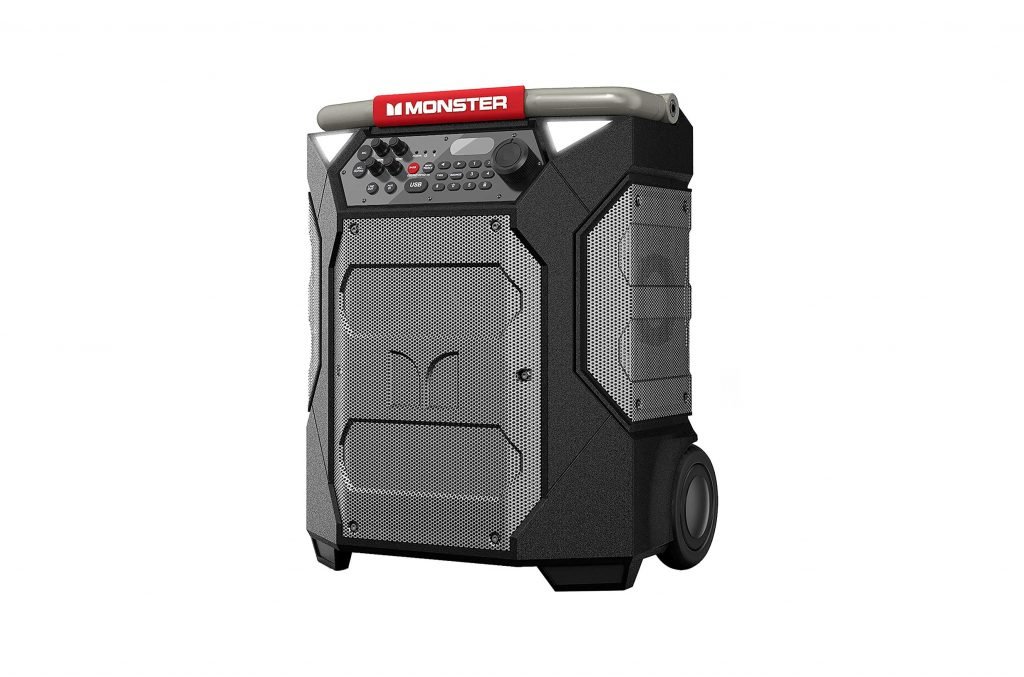 200 Watts
Monster Rockin Roller
The name certainly fits this model of tailgate speaker. Not only a monster in volume but also offers the best battery life on the list with up to 100 hours.
Budget Friendly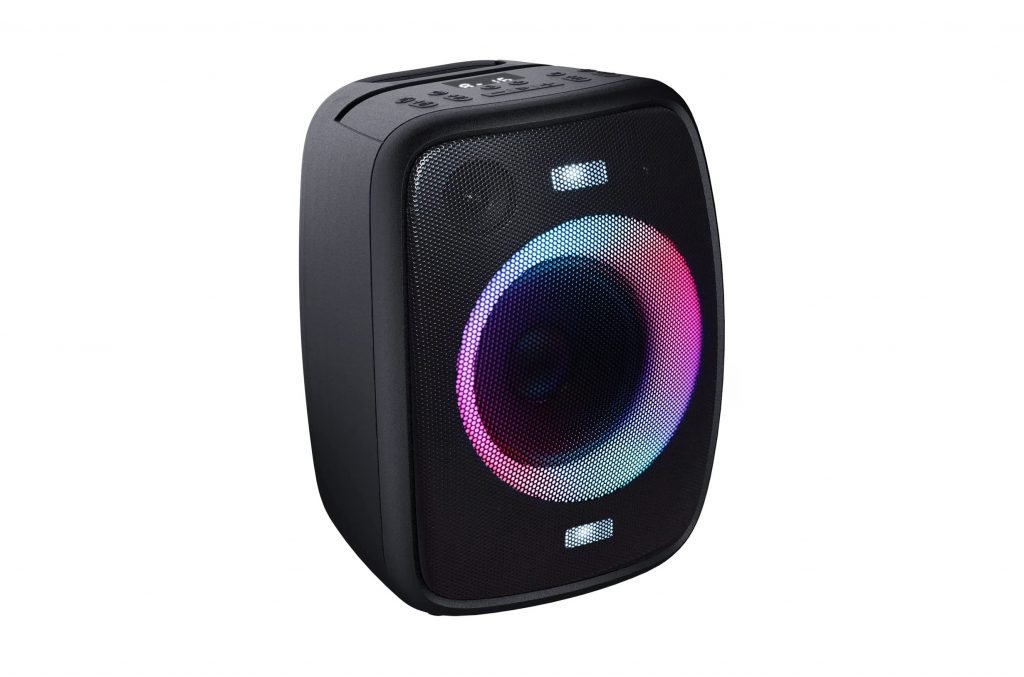 60 Watts
Doss PartyBoom
The Doss PartyBoom does a great job at balancing quality with affordability. If you're on a tight budget, you can trust the Doss to come to the party.
When you host a group of people around your vehicle before the big game, at the campsite, or after your local house party, no matter how cold your drinks are or how great the view is, your speaker system is the heart of the party.
With a powerful sound system in your trunk that you can count on to turn some heads in the parking lot, draw in a crowd and create some long-lasting memories, endless hours of fun are to be had. We'll rank our all-time favorite tailgate speakers to impress your friends and family and guarantee to take your tailgate party to the next level.
The 7 Best Tailgate Speakers
Some people prefer light, compact party speakers that are easy to transport in their vehicle, while others prefer something that looks as impressive as it sounds. Below is our list of the best portable tailgate speakers and a quick review for each:
1. ION Block Rocker Plus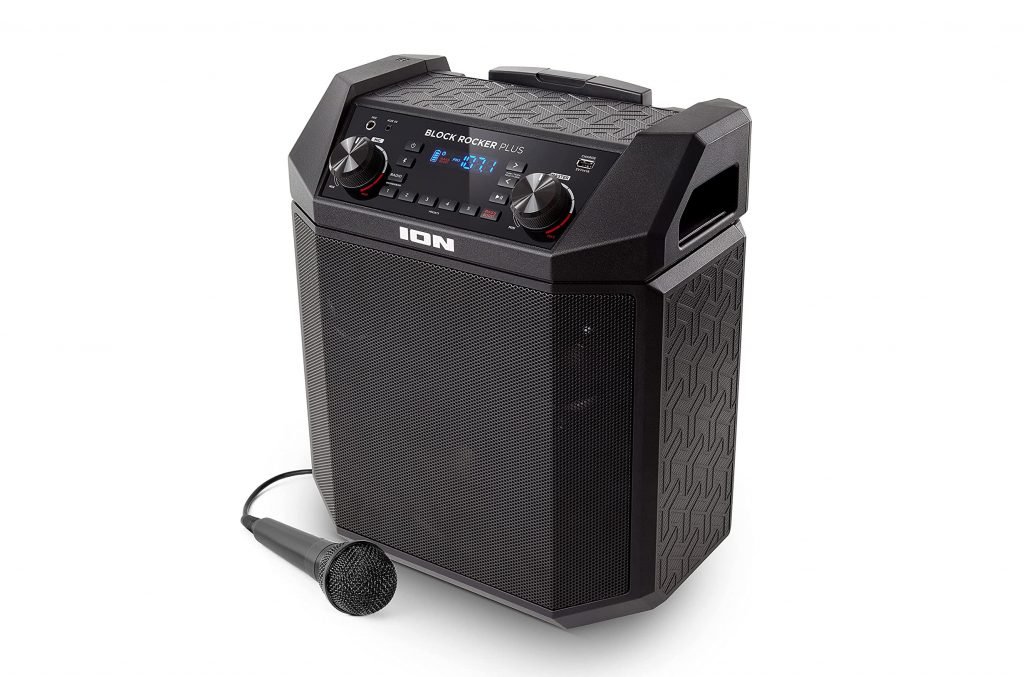 ION Audio's Block Rocker Plus is a block party-focused speaker. However, it certainly makes for an excellent tailgate system due to its powerful sound quality, long-lasting battery power, user-friendliness, and versatile features.
Battery Performance
The Block Rocker can be powered by the supplied IEC cable or its onboard battery, which packs 50 hours of playtime while delivering 100 Watts of dynamic and vibrant sound. An 8-inch woofer takes care of your low end, while wide dispersion tweeters successfully cast clear and crisp highs across a reasonably far distance. This speaker sounds excellent, even when enclosed within a trunk with little room for the sound to breathe. A bass boost function is available, and while this usually constrains the mid and high frequencies, I feel that ION has managed to find a perfect balance here.
Features & Design
The control panel of the Block Rocker seriously impressed me. Where all the knobs and switches are well-made and feel great to interact with. I like the LED screen on this panel, where the Block Rocker keeps you informed of its current battery position, bass boost mode on/off status, and radio station connectivity.
Sound Quality
The Block Rocker Plus is a valuable speaker that can be utilized in various environments, not only at tailgate parties. Its large selection of connectivity options and onboard karaoke features make for a great party-friendly system. Its battery life is powerful enough for a whole weekend of entertainment, all while delivering incredible sound quality.
If you're into the party-friendly features but are missing the flashing lights, the Monster Rockin' Roller 270 shares many features with the Block Rocker Plus, with the addition of pulsating LED lights.
Why The ION Block Rocker Plus?
The Block Rocker Plus was designed with tailgating in mind, and it shows. The powerful, dynamic, and rich tonal qualities sound great indoors and out.The karaoke feature provides extra entertainment at parties, where the long battery life won't shut down the fun unexpectedly at any point.
Long-lasting battery (50 hours playtime)
Excellent sound quality (100 Watts, bass boost)
User-friendly control panel (LED screen, well-made knobs)
No flashing lights (unlike Monster Rockin' Roller 270)
Bass boost may constrain mid/high frequencies
May be too bulky for some environments (block party-focused)
2. Monster Rockin' Roller 270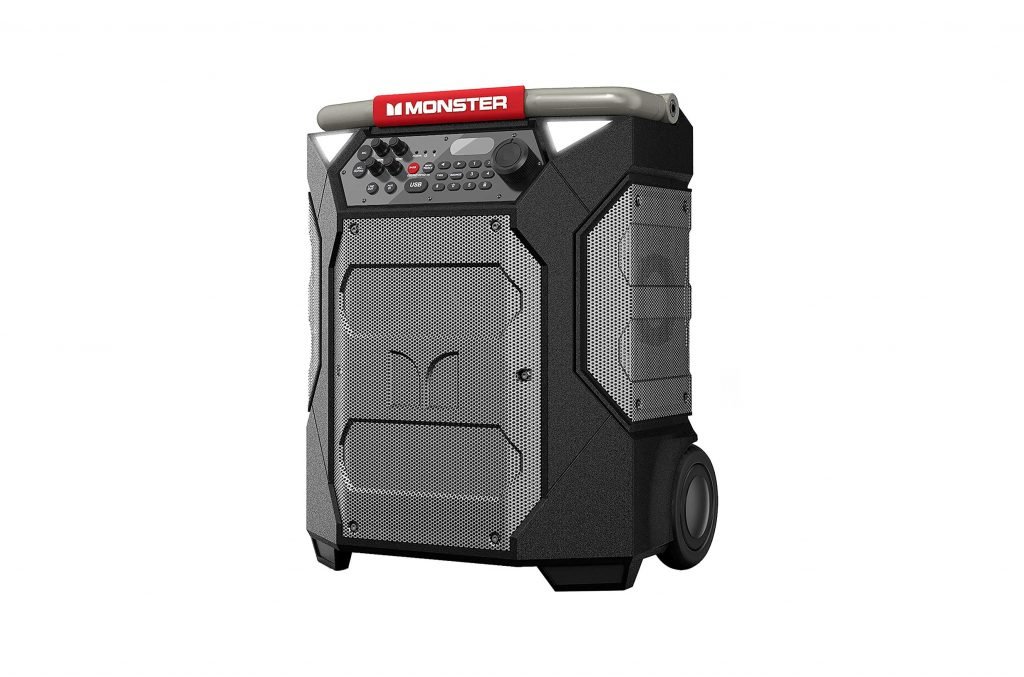 For a tailgate speaker that can also be used in practically any scenario, the Monster Rockin' Roller is praised for its incredibly sustainable battery life, capable of running for up to 100 hours on a single charge. The Monster hosts all the standard features you could want in a tailgate speaker, plus more. Let's take a deeper look:
Sound Performance
The Monster's power handling capabilities are simply astonishing considering the size of the speaker- capable of outputting up to 200 Watts of power. This speaker can effortlessly make your tailgate party the place to be. The Monster's playtime is noted at up to 100 hours- enough to last an entire weekend away, even if you're blasting music 24/7. Using QI wireless charging technology, the onboard battery can also charge your mobile device.
As for sound quality, the Monster directs sound in a 270-degree radius due to the front and side mounting of the array of speaker drivers on this speaker.
The Monster's overall sound quality is good when compared with other speakers of this nature. The Monster is best suited for outdoor use, as the 270-degree directionality of the drivers is pretty useless when the speaker is enclosed within a car trunk. You can activate the Bass or Treble boost function on the control panel for further enhancement and get your car shaking.
Features
The Monster also supports True Wireless Stereo connectivity. Pair two Monster speakers together, forming a more extensive system or stereo pair. As for connectivity options, the Monster supports Bluetooth pairing and offers two inputs for microphones or guitars, where each channel's input gain and echo level can be adjusted independently.
The Monster also accepts an auxiliary input and an output if you wish to extend the output signal to another speaker. Lastly, you can connect to any FM radio station and save up to 5 user presets for quick and easy switching between stations.
Overall, I found the Monster Rockin' Roller to be quite a handy speaker with versatile features- it doesn't lack any features I like to see on a Bluetooth speaker, and it's straightforward to operate.
While some tailgate speakers are available that share many design features with the Rockin' Roller, it dominates the market with its incredible battery life- there isn't anything that comes close to the Monster's performance in this regard.
Why The Monster Rockin' Roller 270?
The Monster Rockin' Roller is a 200W monster that can fill any gameday parking lot with beats. It has a 100-hour battery life; it barely needs charging! The QI wireless charging feature is a nice touch, enabling you to recharge any QI-compatible device. It is not a light speaker, but the sturdy wheels and handle make sure it remains portable.
100-hour battery life
200W output power
True Wireless Stereo connectivity
QI Wireless charging
Useless sound directionality in enclosed spaces
Large size and weight
Limited sound customization options
3. JBL Boombox 2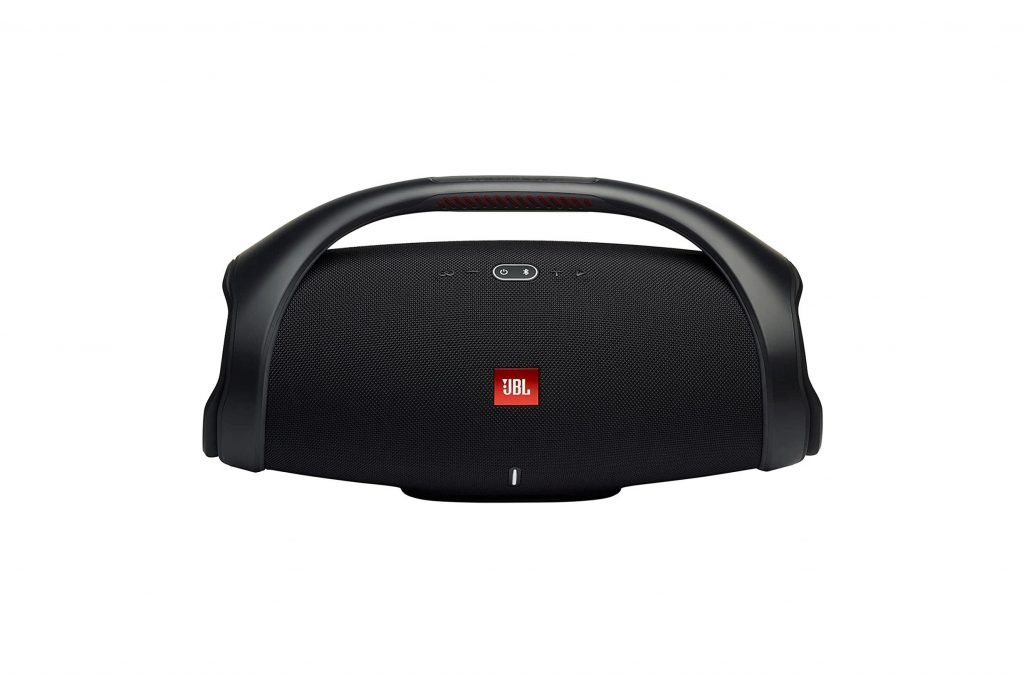 It's nearly impossible to rank the best Bluetooth speakers without including a JBL product. In this instance, their Boombox 2 is a great tailgate party speaker and performs incredibly well in various other circumstances. Built to last and possessing convenient features and JBL's signature high-quality sound, you can't go wrong here.
Sound Quality
The Boombox 2 carries JBL's characteristic powerful sound, capable of reaching intensely loud volume levels while maintaining its crystal-clear audio quality. The JBL sound might not suit everyone, as it is clear it has been designed for dance, pop, and hip-hop listening styles due to enhanced low-end and brightened highs, while the midrange clarity suffers.
This isn't to say the speaker can't be used for listening to rock, jazz, or spoken word. However, if you're looking for a more all-purpose speaker, you might become annoyed with the car-like sound characteristics. The Boombox 2 features PartyChain pairing, allowing you to pair multiple JBL Boomboxes together to form a larger system or stereo pair. One feature I miss on the Boombox 2 is the bass boost function, a common addition to JBL's larger speakers. While it's a nice feature to have on hand for certain listening styles, JBL's typical bass-enhanced sound signature partly makes up for this.
Features
Whether hosting a tailgate party or looking for a speaker you can take indoors or outside, the Boombox 2 is a great all-purpose Bluetooth speaker. While its price point is not exactly budget-friendly, it will last a lifetime if used correctly. It may not include the flashing lights, built-in karaoke, and other party-like features that some Bluetooth speakers can use. However, the JBL Boombox is built to provide memorable, user-friendly, and good-sounding experiences.
If you're after the powerful sound quality of the JBL Boombox but don't have the budget, the Doss PartyBoom is worth checking out.
Why The JBL Boombox 2?
The JBL Boombox 2 is the best-sounding tailgate speaker on our list. The rich JBL quality sound is excellent for all listening styles.  Like all other JBL products, it is easy to control and set up via their App. The IPX7 waterproof rating ensures this speaker is as suitable for a pool party as a tailgate party.
Powerful, clear sound
PartyChain pairing for larger sound system
Built to last
Bass boost function missing
Sound signature may not suit all music styles
No flashy party-like features
4. Anker Soundcore Motion Boom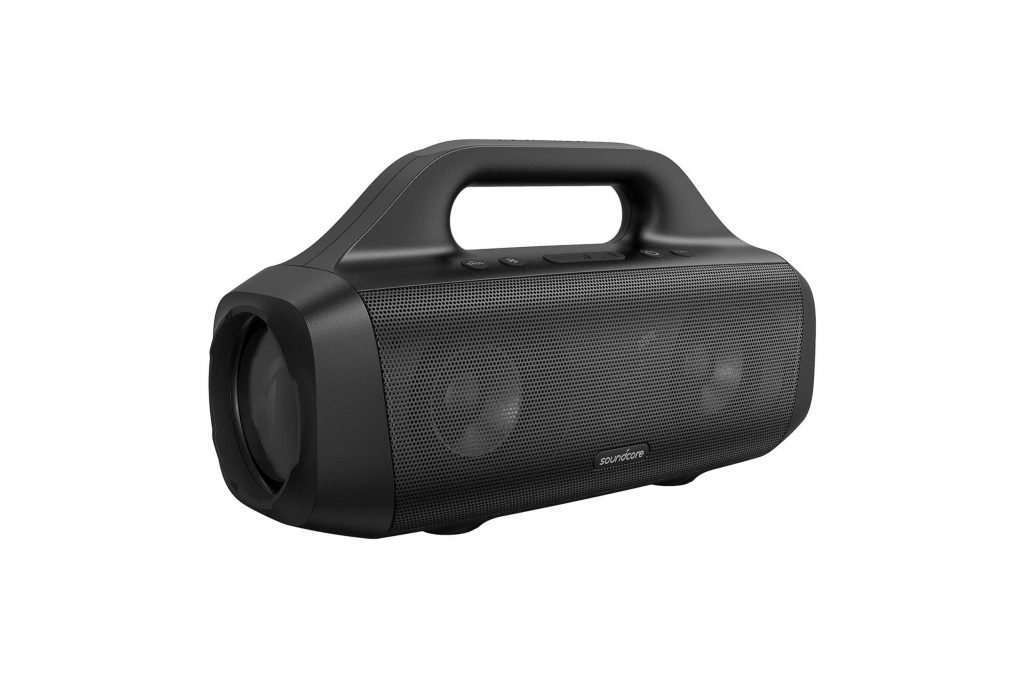 The Soundcore range of Bluetooth speakers from well-respected manufacturer Anker has made several of our lists before. Not only do they hold a variety of features and prove to be highly versatile speakers, but they sound great in all applications, and their smaller sizes make for great tailgate speakers.
Design & Build
The Motion Boom adopts a boombox-type style. However, it is significantly smaller than many boomboxes, weighing less than 5 pounds. The Motion Boom can be used in any environment thanks to its IPX7 waterproof rating and it even floats on water.
The battery life of Anker's devices is typically quite strong. The Motion Boom can function for up to 24 hours before a recharge is needed. The charge-out port also allows charging your USB-powered devices while the speaker is in use. As for connectivity, the Motion Boom offers Bluetooth 5.0 pairing for ultra-stable connections over a more extended range.
Sound Quality
As for the sound quality of the Motion Boom, I have nothing to complain about here: This speaker operates along a frequency range from 60Hz up to 20kHz, with minimal deviation from a 'flat' response and an impressively low distortion level at high volumes.
One needs to acknowledge that the Motion Boom doesn't pack as much volume as some of the other options on this list, so while it is suitable for small tailgating events with some friends, don't expect to be blasting it across the parking lot.
For a tailgate party at the game, in the neighborhood, or at the picnic spot, the Motion Boom will undoubtedly turn some heads due to its incredibly precise sound quality. After demoing various music styles on the Motion Boom, I can confidently say this is one of the better-sounding Bluetooth speakers I have encountered.
Features
Aside from tailgating, the Motion Boom's advanced features within a portable enclosure make this a great speaker for hiking, camping, or picnicking. At the same time, its waterproof abilities allow for use at the beach or on the boat. If you have a little extra to spend and would like something even smaller, JBL's Charge Speaker series offers many of the same features as the Motion Boom.
Read more about the Motion Boom in our full review.
Why The Anker Soundcore Motion Boom?
The Anker Soundcore Motion Boom has great sound quality with adjustable equalization modes through the Souncore App. The 24-hour battery life is sufficient to power a pumping tailgate party or a casual weekend away. On top of that, it is lightweight, portable, 100% waterproof, and floatable, making it suitable for all adventures and uses.
Waterproof and floatable
Bluetooth 5.0 for ultra-stable connections
Precise sound quality with minimal distortion
Not as loud as other options on the market
May not be suitable for large tailgate parties
Other options offer similar features at a lower price.
5. Ecoxgear EcoTrek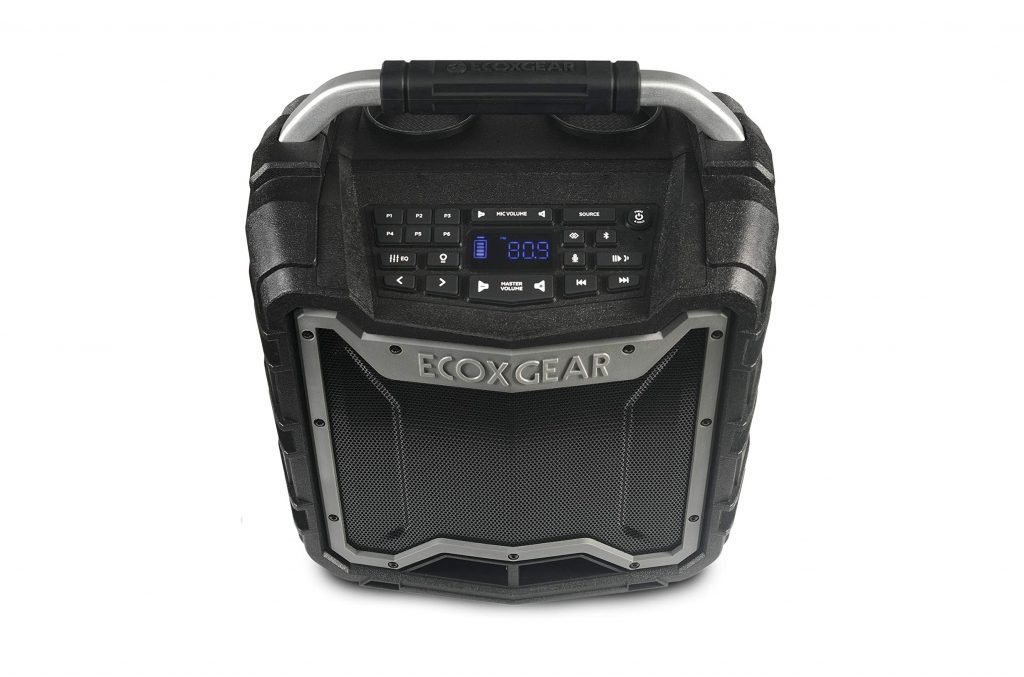 Housed within a durable molded plastic enclosure, the Ecoxgear EcoTrek Bluetooth speaker is an incredibly versatile and powerful tailgate speaker. The EcoTrek meets IP67 weather-resistance ratings, proving it capable of withstanding water, sand, snow, dust, or rust.
Features
As for user-friendliness and compatibility, The EcoTrek has it all: it supports a wide range of connections, including Bluetooth, auxiliary input, and AM or FM radio. The EcoTrek also supplies karaoke features and is compatible with Siri and other voice assistant services on your smartphone, as well as hands-free calling. The available buttons govern all music playback-related controls, toggling between saved radio stations, selecting equalization presets, linking speakers, and more.
The top control panel of the EcoTrek features a large assortment of buttons and switches. This panel's layout is cluttered and can become difficult to operate. Some multi-function buttons could have dramatically improved user-friendliness here.
For party-goers and camping enthusiasts, the EcoTrek also features two built-in cupholders large enough to hold insulated mugs. The speaker can not only withstand an accidental spill from such mugs but is also shockproof in the event of accidentally knocking it over.
Design & Features
Utilizing a 6-way speaker system consisting of a pair of 5.25-inch full-range drivers, 2 x 5.25-inch rear woofers, and dual 2.25-inch tweeters, the EcoTrek can get pretty loud for its size and maintains solid sound quality at any volume. The EcoTrek tailgate speaker can accept various source materials, including Bluetooth, a 1/8-inch auxiliary cable, and AM/FM radio. Siri and OK Google voice assistant services are also compatible with EcoTrek.
Sound Quality
Aside from the impressive sound quality and versatile features of the EcoTrek, it earned its status as one of my favorite tailgate speakers due to its supreme durability. The heavy-duty, shockproof, and weather-resistant enclosure makes for stress-free use in any circumstance. One does not need to worry if the speaker endures the occasional bump or fall- the EcoTrek is built to be tested.
A slightly more expensive option that will also prove to last is the DemerBox: housed within a military lunchbox-like enclosure. The DemerBox is a loud tailgate speaker with loads of battery strength that also features space inside the cabinet to pack small items.
Why The Ecoxgear EcoTrek?
The Ecoxgear EcoTrek is a versatile, powerful tailgate speaker with an IP67 weather-resistance rating. It has many modern features and connectivity options to supply countless hours of fun for friends and families. It is an extremely well-built speaker that is heavily resistant to the hazardous conditions of your average tailgate party!
Versatile connectivity (Bluetooth, AUX, AM/FM)
Weather-resistant (IP67 rating)
Durable and shockproof
Cluttered control panel layout
Cup holders may not be useful for everyone
May not be as loud as some other tailgate speakers
6. W-King 80W Bluetooth Speaker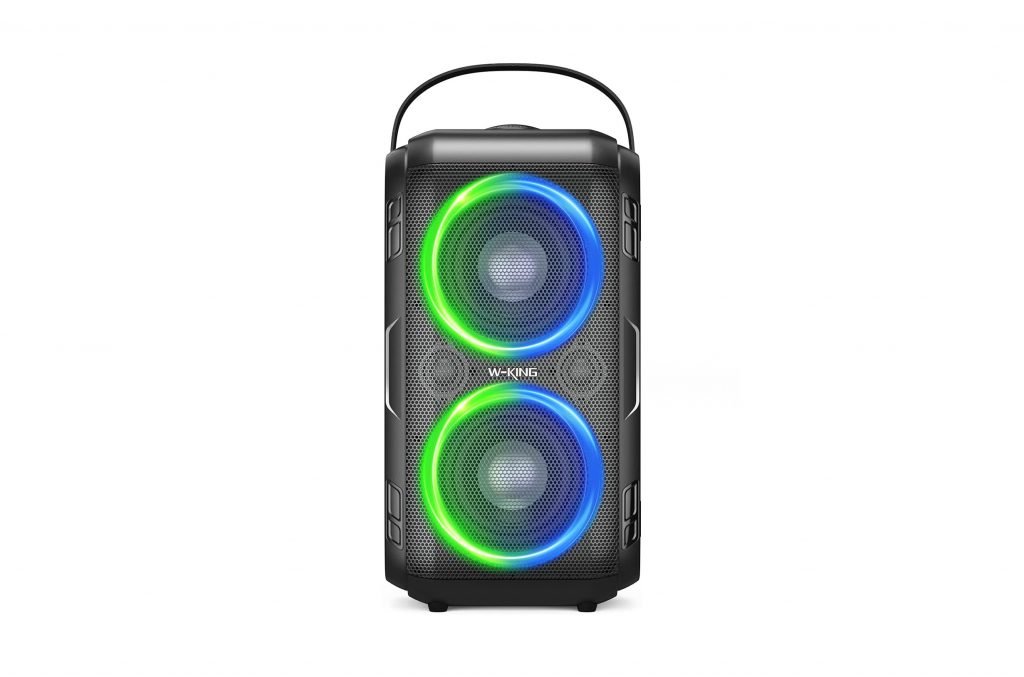 The W-King Bluetooth speaker is reasonably portable. While it is not the lightest speaker, its carry handle and relatively small size allow for easy transportation and won't take up too much space in your trunk. The handle is also removable, should you wish to position the speaker sideways or otherwise. The battery life of the W-King is rather impressive. With the ability to pump out 24 hours of extremely loud volume levels, this speaker can easily provide a weekend's worth of entertainment or one long party!
Build & Features
The W-King supports inputs from a variety of sources, the first of which is Bluetooth 5.0, which provides a strong connection strength over a reasonably long distance. The W-King also accepts a 1/8-inch auxiliary input for older devices, a USB cable for charging mobile devices on the move, and a TF card reader.
The W-King can also pair with another of its kind to form a stereo pair- just be sure to warn your neighbors before doing so, as this can get ground-shaking loud!
The W-King's built-in lights provide an additional entertainment angle, where the LED light rings can 'dance' in sync with the music you're playing. There are five modes and other settings, including color scheme, patterns, etc.
For the price, the W-King does not disappoint. The W-King is for you if you're looking for a speaker that can reach insanely high volume levels for its compact size. This tailgate speaker offers insanely versatile connectivity options and party-friendly features, all enclosed in an eye-catching cabinet that is easy to carry. If you do not need the LED party lights, look at the ION Block Rocker Plus.
Why The W-King 80W Bluetooth Speaker?
At 105db, the W-King 80W Bluetooth Speaker is The loudest speaker on this list, guaranteed to get the party started. The mesmerizing light show built into the speaker is certain to entertain your guests. The W-King has a large variety of connectivity options, including Bluetooth, Aux, USB, and TF, making it a versatile choice to take on your next tailgate party.
Portable with carry handle
24-hour battery life
Versatile connectivity options
Not the lightest
Not Waterproof
LED lights may not be for everyone.
7. Doss PartyBoom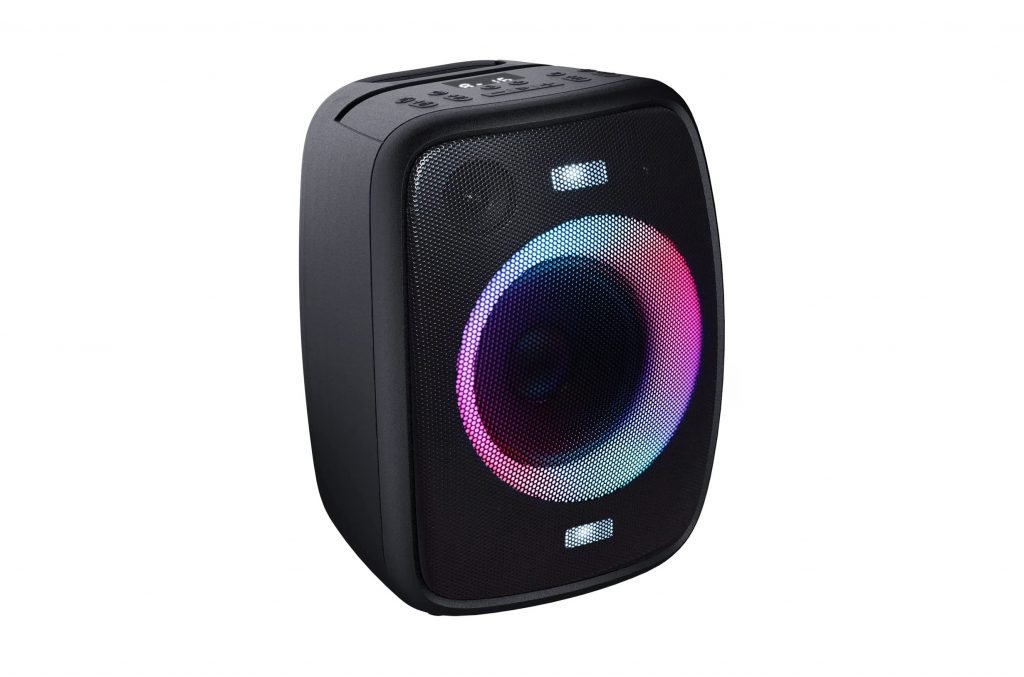 The PartyBoom by Doss is a portable, lightweight, and versatile tailgate speaker that offers long-lasting battery life and superb sound quality and does so on a budget.
Features
The PartyBoom is an extremely useful tailgate speaker for party-focused individuals, with its LED light rings that pulse to the beat of your music, the ability to link multiple speakers together, and its guitar and microphone inputs with onboard effects make for a great karaoke machine.
The PartyBoom's intricate control panel can be overwhelming and takes a little getting used to, but once you've learned how to use this speaker to its fullest, you won't be able to turn it off. My only real issue with the usability of the PartyBoom is that the controls aren't backlit. Given the many buttons, navigating the controls in dimly lit environments can become challenging.
Battery Life
The battery life of the PartyBoom isn't the greatest, though it isn't the weakest I've seen. You can expect around 8 hours of playtime when the speaker runs at full volume while the lights operate. Using multiple speakers and karaoke features will shorten the battery life, though not by that much in comparison.
Sound Quality
For a budget-friendly option, the PartyBoom's sound quality is quite rewarding, and the microphone and guitar preamp quality is pretty impressive for a portable tailgate speaker. The onboard lights, effects, and PartyChain capabilities make for an efficient party-friendly tailgate speaker. If you're missing the ability to connect to radio frequencies, read up on the Monster Rockin' Roller 270, it doesn't have the party lights. Still, its battery life and connectivity options can make up for this for some users.
Why The Doss PartyBoom?
The Doss PartyBoom is the budget-friendly option on our list. At under $200, the PartyBoon still delivers an impressive 60W and some features associated with much more expensive competitors. It even has guitar inputs with onboard sound-efeects if you're tempted to sing along!
Budget-friendly
LED light rings that pulse to the beat of the music
Guitar and microphone inputs with onboard effects
Intricate control panel, buttons not backlit
Battery life isn't the greatest
Not the best sound
How to Choose a Tailgate Speaker
All the technical specifications can become overwhelming when you're simply trying to weigh up your options and find the ultimate tailgate speaker for your needs. Here we've broken down each element to give you a better understanding of how it impacts the speaker's overall performance:
Sound Quality and Characteristics
While overall sound quality should be the most important to anyone looking to buy any audio-related device, the actual tonal characteristics of the speaker are essentially influenced by your listening style.
We've been running a poll on our article about the best party speakers, and you've told us that thumping bass is the single most important feature in a party speaker. A speaker with a bass boost function or an overall low-end enhanced sound signature would be appropriate for bass-heavy music, like what you'll likely play at a tailgate party.
However, if you sometimes enjoy music that calls for a more natural listening curve, you might encounter troubles here. At the end of the day, this feature is purely dependent on what you listen to and how you want to use your speaker.
Battery Life
Suppose you're planning on tailgating all day or using your tailgate speaker for something else, such as a camping trip or house party where you may need extra battery longevity. In that case, this factor can make or break your experience. Make sure your potential new tailgate speaker can last long enough to fuel the party, but if you plan on using additional features such as onboard lighting shows or USB charging, you'll need the extra strength to do so. It's also important to consider the charge time, as speakers can take anywhere between 1 hour and 5 hours to recharge fully.
Water Resistance
Most tailgate parties occur in exposed environments where rain, wind, dust/sand, and rust can affect the speaker's lifespan and performance. In addition to exposure to rain, one also needs to account for the potential of spilled drinks around the speaker. Generally, an IPX6 rating of IPX5 or more is recommended to provide a reasonable level of safety from such hazards. An IPX7 rating is typically my go-to, as it grants protection from exposure to practically any conditions. These devices can usually float and handle a shallow and brief submersion period.
Karaoke Features
Many tailgate speakers support karaoke playability, where you can connect a microphone (usually a 1⁄4-inch connector, which is annoying) to the speaker and sing along to your favorite tracks. If this function excites you, it's worth looking at how many inputs the speaker can accept and if it has any onboard vocal processing abilities such as auto-tuning, reverb, or other effects.
Light Show
Many party-focused Bluetooth speakers have some LED lighting onboard for added entertainment. If this feature excites you, it's worth checking out what is available on the unit. Some offer strobes, some can synchronize the lights to the beat of your music, and some have no lights.
Read Also:
Frequently Asked Questions
How Many Watts Should My Tailgate Speaker Be?
The power of your tailgate speaker depends entirely on how far and wide you want to be heard and the size of your group of guests. For an average tailgate party around a car, we'd suggest something between 100W-150W. If you plan a smaller, more intimate party, some of the 60W speakers on this list will serve you just fine.
Am I Allowed to Take My Tailgate Speaker to Any Game?
While many sporting events allow tailgating, the rules surrounding it ultimately depend on the venue or the actual event organizers. Make sure you find out what those are before heading out.
What Waterproof Rating Will Protect Against Spilled Drinks?
A simple IPX 4 rating should be sufficient to protect your valuable tailgate speaker against accidental drink spillages. Anything above that is a bonus.
Update History
2023/04/23 – Added Pros and Cons and made changes to product rankings
Thanks for your feedback!