A party isn't a party without loud thumping bass music shaking up the neighborhood, so you need proper speakers. While you can probably provide music for a small gathering of friends with any of the thousands of portable Bluetooth speakers available on the market, We've deliberately excluded those from our selection and focused on speakers suitable for a 50 to 150-person house- or block party.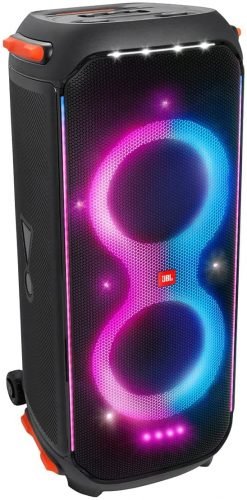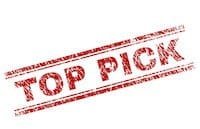 The PartyBox 710 is the best party speaker overall, with an extremely deep bass that can get any party bouncing. It features plenty of volume, as well as impressive lighting effects that can add to your
---
Editors Note: We constantly curate our content to keep it fresh and relevant. This list was updated on 7 September 2023 to update our recommended pick and improve the buyer's guide. Click here for more information on our updates.
Our Category Winners
---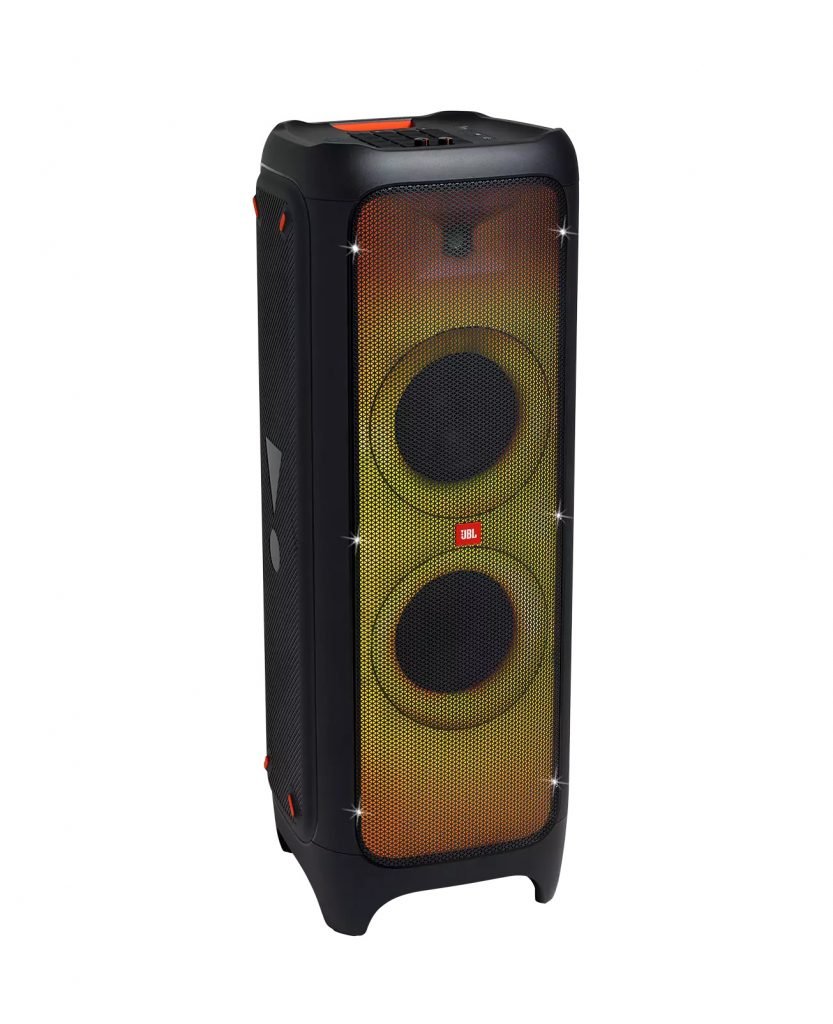 Most Powerful Party Speaker
The JBL Partybox 1000 is the most powerful party speaker. It offers several party features, including a built-in DJ controller. It has a high power output with 1100W peak power. It offers excellent audio quality at all volumes. It also offers the best lighting effects and unique dynamic lighting ability.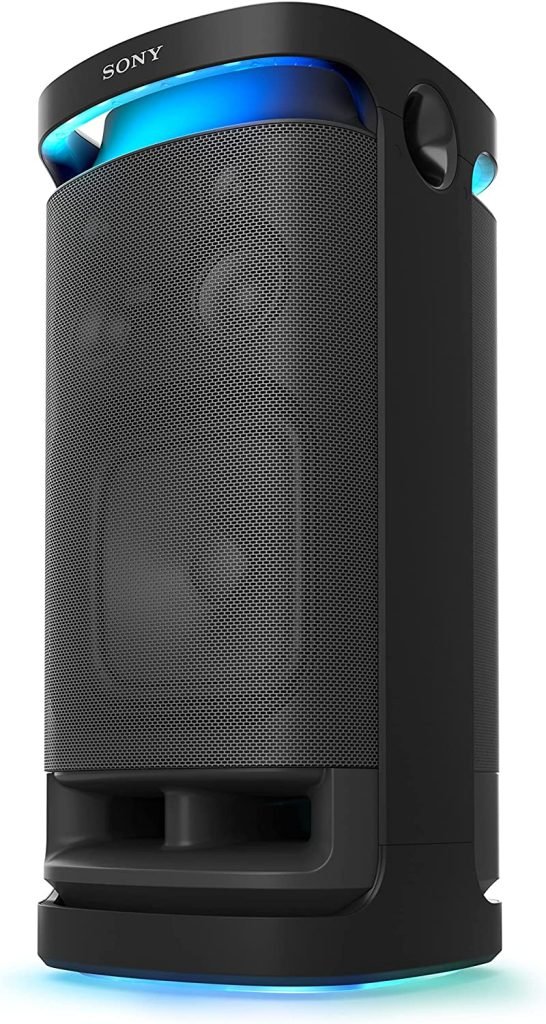 Best Battery-Powered Party Speaker
Sony's XV900 is the best battery-powered party speaker. It provides clear, detailed sound with enough volume to compete with the JBL 710. If you like the 710 but require a battery-powered speaker, the XV900 is the best alternative.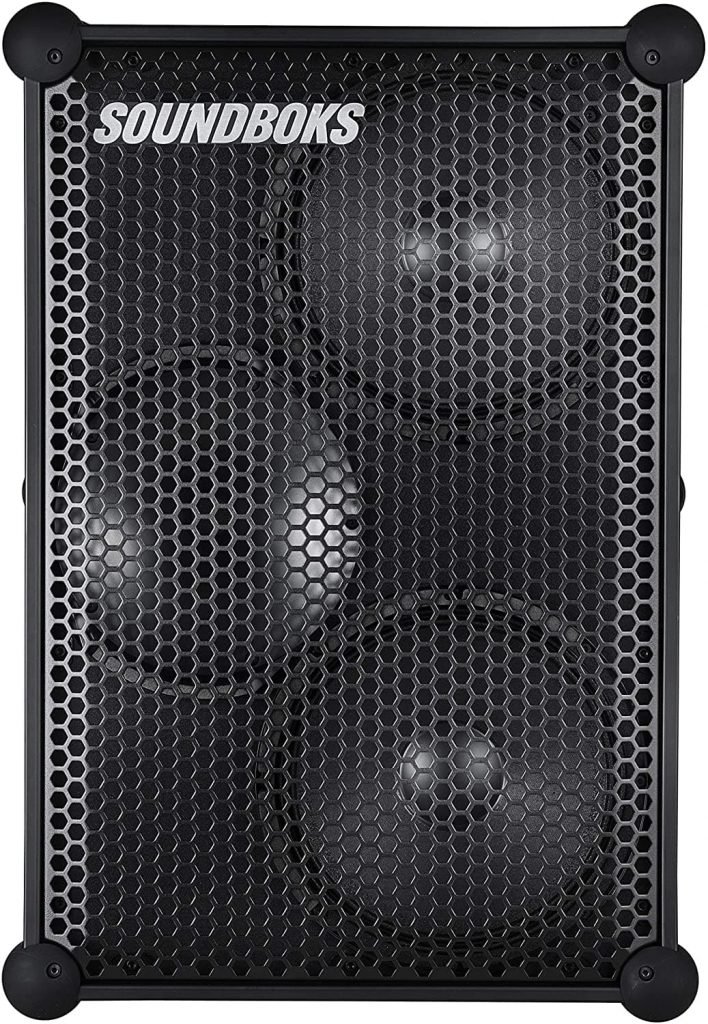 Loudest Party Speaker
The Soundboks 3 is the loudest party speaker on the market, with 126dB of volume. The Soundboks 3 can cater to large gatherings of people indoors and outdoors. It can also be chained with four other speakers to provide even more sound.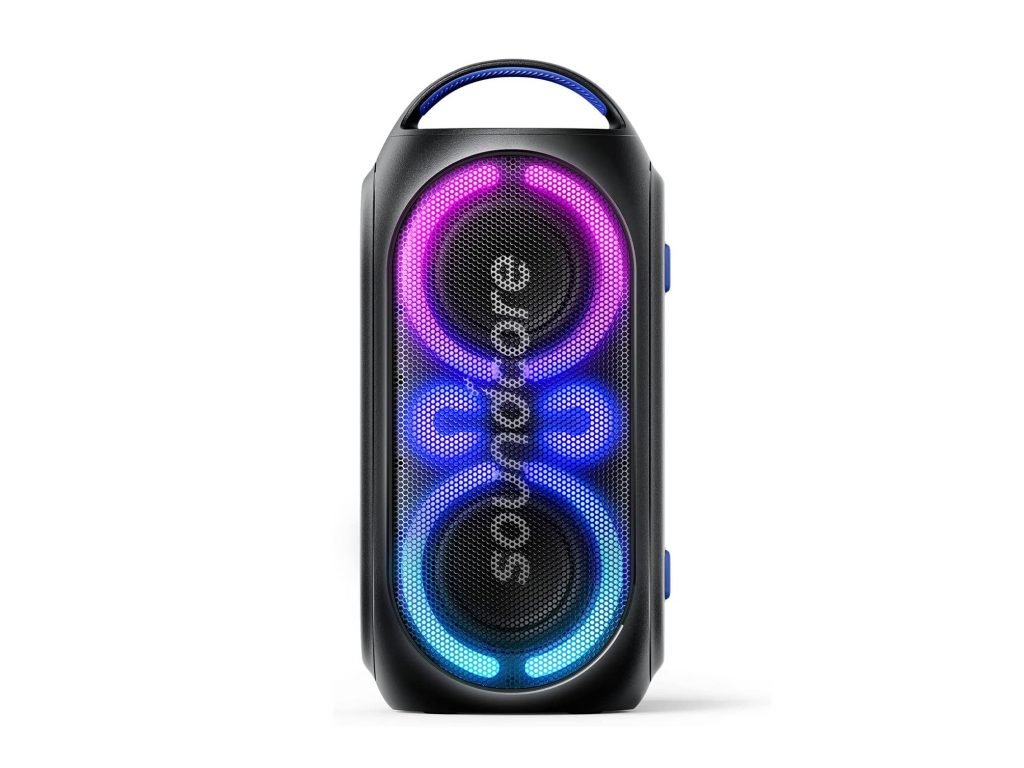 Best Budget Party Speaker
The Soundcore Rave Party 2 is the best budget party speaker, capable of throwing a rager on a budget. This speaker is a great entry-level choice with 120W of power and new, improved lighting effects.
Party Speaker Overview
How to Pick the Best Party Speaker
If your sole criteria for a party speaker is that it must be "loud," then jump over to our article on the loudest Bluetooth speakers on the market, and you'll be much better served. Yes, the speakers on this list are loud, with great bass, but they incorporate some features specifically targeted at throwing an epic party. Features, like LED lighting effects and party chaining abilities that pair multiple speakers together for greater coverage, are naturally more important in a party speaker.
Unsurprisingly, you'll see some crossover between this article and our reviews of the best karaoke machines, tailgate speakers, and portable PA systems. The speakers on this list were selected based on our party speaker criteria below. Tell us which features you think are the most important in our poll below:
What is the Right Size Speaker for Your Party?
When you set out to pick a speaker for your next party, there are two important questions you'll have to answer to help you decide what size speaker you should buy;
You need a much more powerful system to ensure your music reaches 150 people at an outdoor venue, as opposed to 25 people in a single room indoors. For your convenience, we've compiled tables below, which you can use as a rough guide to help size the speaker you'll need.
Our Selection of the Best Party Speakers
This article will help you choose the best party speakers for your event. I've attempted to include speakers for all types of party needs; you'll find speakers that focus on lighting, others on audio quality, and some that bring their unique features to the table.
1. JBL Partybox 710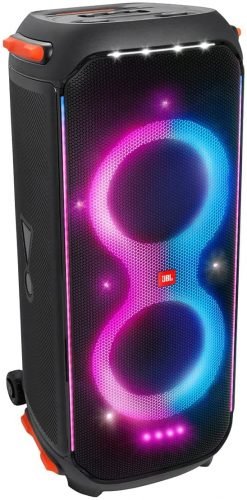 Also available from Walmart
JBL's PartyBox family of Bluetooth speakers has taken the portable party speaker market by storm; delivering a wide range of convenient additional features and possessing JBL's signature powerful sound characteristics, the PartyBox speakers should be on every party host's wish list.
The 710 model is the largest of the group, standing around chest height for most party-goers. This unit isn't designed to be thrown in your car and taken to the beach but kept on hand for a rocking house party. Transportation is possible, however, due to fitted, smooth-running wheels and an easy-grip handle. Due to the ideal placement of the PartyBox 710, its weatherproofing abilities only allow for some gentle splashes.
Customizable Lighting Effects
The PartyBox 710 incorporates mesmerizing lights into the speaker's front grille, and several effects are available. They can be toggled using the control panel or PartyBox app: music-synchronized light show, starry night effects, club-style strobes, and custom settings.
Can Be Used for Karaoke and Instruments
While the 710 won't have any trouble powering a large outdoor party by itself, it can also be linked with another to establish a stereo pair or joined with a larger series to form a ground-shaking army of JBL speakers. The 710 supports Bluetooth connectivity and auxiliary playback and can accept up to 2 microphones or electric instruments. One can also charge their mobile phone using the USB output on the rear end of the speaker.
Bass Boost, Warm Midrange, and Crisp High-End Sound
The 710 carries JBL's memorable sonic qualities, including tight and up-front bass response, warm midrange, and crisp high-end. In addition, the 710 features a 'Bass Boost' feature to enrich the subsonic energy further. However, this severely impacts the general clarity of the upper midrange and highs.
To compensate for such an effect, JBL has included a 2-band equalizer on the control panel where 'Bass' and 'Treble' can be independently adjusted to find your personal sweet spot. Next door to the EQ, you will find an Echo knob, which processes the incoming signal from your microphone or instrument, aiding in the blending process between your voice and a backing track when enjoying a karaoke session.
It is worth noting that similar to the PartyBox 1000, the 710 requires an AC power source, and no battery is included. I wouldn't recommend this for those looking for a device to take along to the campsite or beach, but for a house party of any scale- the 710 will, without a doubt, create some long-lasting memories.
Our Thoughts
If you plan to throw a large block party or lift the roof on your next house party, the JBL Partybox 710 is hard to beat. It is a phenomenal speaker, bringing the characteristic JBL sound curve to the masses. This is a large heavy speaker that delivers large, heavy beats. Remember that this is not the most portable speaker due to its size. That being said, JBL also offers a slightly smaller PartyBox310 and 100.
Incredibly loud and immersive sound capable of filling any room or outdoor region.
Exciting lighting patterns at the click of a button.
Karaoke features.
Adjustable equalization and Bass Boost.
Can't be taken around too easily due to its enormous size and weight.
12 Hr battery life is not that great
2. Sony SRS-XV900
Also available from Walmart
Sony's SRS-XV900 is one of the latest party speaker releases from the company and is intended to compete with the JBL PartyBox series. While the Sony SRS-XP700 does a good job for moderate-sized parties, the Sony SRS-XV900 is focused on more intensive audio requirements, and while it shares many of the SRS-XP700 features, the XV900 gives more volume with a larger size.
An Omnidirectional Sound Experience
The XV900 offers an omnidirectional sound, meaning the design specifically focuses on producing a 360-degree audio experience. This is achieved by adjusting how the encloser and drivers spread the sound and are also offered on the smaller SRS-XP700. For the XV900, the driver's location plays a big part in the sound presentation.
In terms of driver configuration, the XV900 is a 4-way speaker that is comprised of dual 1.97″ tweeters on the front, with two 1.57″ tweeters on the sides and an additional two 1.57″ tweeters focused towards the rear. The midrange frequencies are produced with two 4.72″ drivers. At the same time, a rather monstrous 12.6″ woofer covers the low-end frequencies. These speakers use Sony's X-balance technology to produce better clarity with less distortion.
The XV900's sound can rival the PartyBox 710 from JBL, but it ultimately comes down to what sound you want to achieve. The XV900 has crisp mids and highs with excellent clarity across all volumes. While still impressive, the bass is less powerful than the PartyBox 710. This makes the XV900 a better choice for indoor parties, while the PartyBox 710 excels as an outdoor party speaker.
Impressive Efficiency
A stand-out feature of the Sony XV900 is the efficiency with which it operates. Despite putting out close to as much volume as the JBL PartyBox 710, the XV900 only uses 100W of power, compared to around 800 watts. This doesn't directly impact your audio experience, but if you're conscious about your energy consumption, this may be an important factor. It also costs less to run, especially if you're using the speaker regularly for extended periods.
Features & Battery Life
The Sony XV900 may not be the most feature-packed speaker on this list. For that, you can look at the JBL PartyBox 1000. But Sony offers enough basic features to have the qualifications for most house parties.
This speaker has optical input and a USB charging port for your phone/USB device. There is also an auxiliary input if you don't want to use the Bluetooth 5.2 connectivity offered, along with karaoke capabilities, thanks to the microphone and microphone/guitar inputs.
The controls are at the speaker's top; you'll find your lighting and play controls. The lighting modes aren't the most advanced, but they allow for basic color and mode changes.
The battery life is good but not outstanding, providing a few extra hours over the likes of the PartyBox, but it falls short of the kind of performance we see from the Soundboks 3.
There is no official waterproofing rating provided by Sony, which I'd have liked to have seen, given that the XP700 at least has IPX4.
Our Thoughts
The Sony XV900 is an excellent-sounding party speaker focusing on audio quality over features. The Partybox 710 is better for outdoor parties, while the XV900 provides a more detailed listening experience indoors.
Bright-sounding midrange and treble
Highly efficient power usage
Clean-sounding bass response
No water-resistance properties
Fairly expensive
3. JBL Partybox 310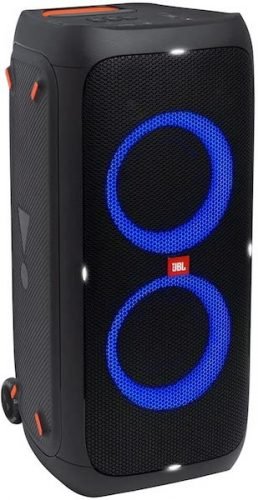 Also available from Walmart
JBL's PartyBox 310 is a smaller, portable alternative to the JBL PartyBox 710. While the PartyBox 710 is an AC-only speaker, the 310 is the largest JBL party speaker to offer a built-in battery.
Built for the Party Lovers
JBL's Partybox 310 was clearly built with the best interests of a party host and invitee in mind. Not only is this speaker able to reach window-shattering volumes and fill any room or open space with rich, colorful, and immersive sound, but the 18-hour battery life is also more than sufficient for an all-night-long party at your home, campsite, beach, or garage.
The Partybox 310 may be large and powerful, but that doesn't mean it isn't easily transportable. A telescopic-style handle and fitted wheels make for easy portability, and a water-resistance rating of ipx4 allows for uninterrupted use in most conditions, provided the speaker stays reasonably dry most of the time.
Built-In Party Entertainment Features
Aside from being a great-sounding, loud, and reliable Bluetooth speaker, the Partybox 310 includes a variety of features that will add to the entertainment agenda of your party and provide an all-around more interactive experience.
The Partybox 310 comes with its own built-in light show that moves in sync with your music, and its hypnotic patterns can be selected using the Partybox mobile app, allowing you to choose the perfect vibe for your party.
The onboard guitar/microphone inputs can be used while your music is playing for you to jam along to your favorite songs or use the Partybox as a portable guitar amplifier. The karaoke function also features voice-correction technology to improve sloppy vocal performances and transform anybody into a superstar.
Use it Anywhere
The Partybox 310 may be designed for parties and large-scale gatherings. However, the sound quality, battery life, portability, and versatility deem it a great purchase as a multi-purpose Bluetooth speaker for use around the home. While I would not recommend this speaker for critical listening, as it is a bit heavy on the bass and lacks some upper midrange and high-frequency content, it is more than sufficient for casual listening or for use in your home theater. The Partybox 310 can also be paired with another of its kind to form a stereo pair.
Our Thoughts
The JBL PartyBox 310 is an excellent party speaker with loads of bass and a clear sound. It retains good audio quality at all volume levels. While it isn't as loud as the 710, if portability is important to you – the PartyBox 310 is the best you can get from the PartyBox range.
Built-in battery providing 18 hours of playtime
It provides impressive volume for its size
Deep bass
Less impressive lighting than the PartyBox 710
Limited party chaining (2 speakers)
4. JBL PartyBox 1000
Also available from Walmart
Leaving the PartyBox 1000 off this list just wouldn't be right. The PartyBox 1000 is arguably one of the most party-centric Bluetooth speakers on the market. What it lacks in portability, it makes up for in features – with a DJ pad, multiple inputs, and even a gesture-based wristband that can change the lighting effects of the speaker on the fly. The PartyBox 1000 brings some seriously impressive volume capabilities, too.
The Ultimate Party Speaker
A few things keep us from recommending the PartyBox 1000 as our top pick. This is a very large speaker and doesn't suit all party environments. It's best suited as a professional party speaker for DJs, event organizers, and musicians. Additionally, the PartyBox 1000 isn't very easy on the wallet. That's not to say it's not a good value, but it will simply be overkill for what most people look for in a party speaker.
However, suppose you are in the market for something that can cater to a large gathering and are intrigued by the multitude of features offered by the PartyBox 1000. In that case, there is a lot it has to offer, and it may be exactly what you need to bring your profession to the next level.
Packed With Features
Taking a deeper dive into the features offered with the PartyBox 1000, I'll start by addressing the lighting effects, which are second to none. The PartyBox features a large lighting display that covers the majority of the front panel, with the exclusion of the woofer cones. These lighting effects aren't just the usual RGB pallet you can select from. Instead, it offers dynamic light show features that make your speaker and party stand out.
At over 40 inches tall, JBL wasn't shy of real estate for functionality to be added. On the back panel, you'll find 1 x USB-A (input),1 x Stereo RCA (input), 1 x 1/8″ / 3.5 mm Stereo (input), 1 x 1/8″ / 3.5 mm Mono (Microphone input), 1 x 1/4″ TS (input), 1 x USB-A (output), Stereo RCA (output). While the PartyBox 1000 is limited to one play source at a time, you can still use a microphone or guitar to play along with the music.
The pad atop the PartyBox 1000 is another interesting feature, which depending on how it's used, can be a little novelty. This doesn't replace your MIDI controller or anything, but it can still prove useful.
The Sound
JBL's PartyBox range is well-respected for its balance in sound quality, party features, and reliability. The PartyBox 1000 is the most powerful of the range, driven by a massive 12" subwoofer, along with two 7" midrange drivers. It's rare to see this configuration in a Bluetooth speaker, but it cements the PartyBox 1000 as a party monster.
It remains primarily a bass beast due to the massive 12" sub, but the 7" drivers can still produce intelligible audio across the mid and high-frequency ranges.
While the PartyBox 1000 needs to be plugged into a power outlet and is not battery-operated, it can utilize up to 1100W of power, which is a serious amount of juice.
The PartyBox 1000 plays in a similar space as the Soundboks 3 in terms of volume capabilities and can easily power a large party. If you want to shake up the whole block, pair two speakers together for an even more impressive sound.
Our Thoughts
The JBL PartyBox 1000 is the ultimate permanent party speaker in that it embodies everything I look for. If you're holding frequent parties or events at a single location, the PartyBox 1000 is a great choice. However, this speaker is not well-suited for those who need a portable option.
Dynamic lighting effects
Gesture-based wristband for lighting control
Huge sound
Impressive audio quality
Not very portable
No battery-powered option
Expensive
5. Soundboks Gen 3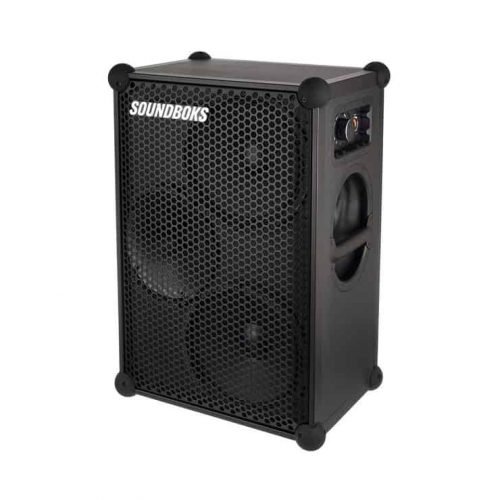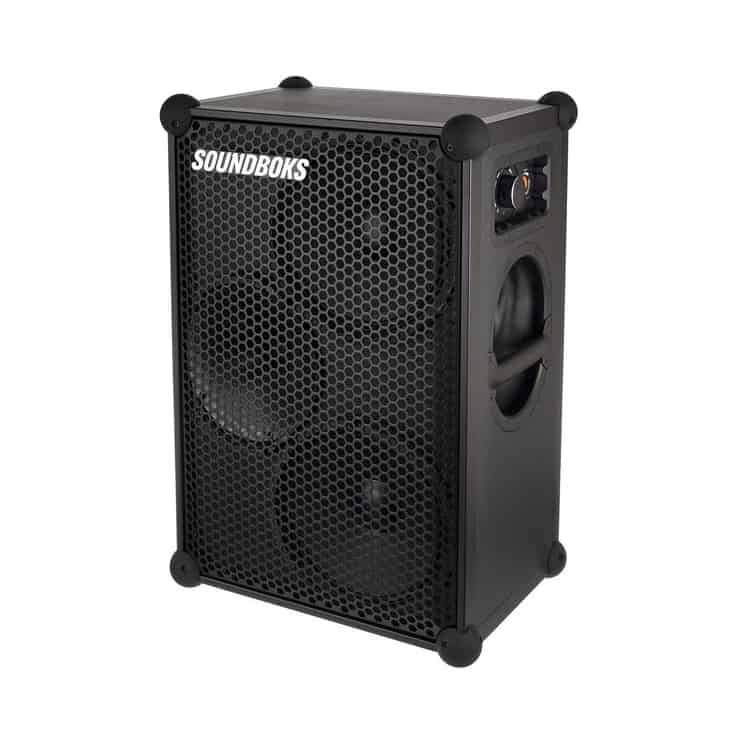 The Soundboks (3rd Gen) is the loudest, biggest, and most impressive large Bluetooth speaker on the market. While it is not the most portable, the Soundboks make up for it in volume and additional features.
Monstrous Sound
Containing 2 x 10-inch woofers and a 1-inch tweeter, the Soundboks have no problem producing incredibly loud sounds while maintaining clean and crisp sound quality across the volume range without distortion or other unwanted artifacts. The Soundboks drivers are powered by 3 independent power amps, drawing an incredible 216W of power to deliver loud and quality audio. Up to 5 Soundboks devices can be paired to form a stereo pair or get your party's sound to the next level!
Versatile Connections
Onboard the Soundboks. You can connect using Bluetooth, XLR, or 3.5mm Auxiliary input. The 3rd Generation model can also be linked to the mobile app, which can control the speaker or perform upgrades. The XLR input can connect a microphone for karaoke or speeches, features not available on the previous Soundboks model.
Strong Battery Life
The Soundboks can be purchased with two additional batteries, allowing you to swap the battery once it has been depleted rather than putting the party on pause so the speaker can charge. This allows for an additional 40 hours of playtime- more than enough for a weekend-long party or various bursts of musical enjoyment over a weekend.
Our Thoughts
The Soundboks 3 may lack the flashy appearance many of its contenders offer. Still, if you're not looking for a party speaker with lights, the Soundboks 3 offers a massive volume that can easily power large parties. Its rugged design will also offer peace of mind if the party gets crazy near the speaker.
Incredibly loud, great bass
Impressive battery life
Rugged design
Not easily transportable
No lighting effects
6. Sony SRS-XP700 X-Series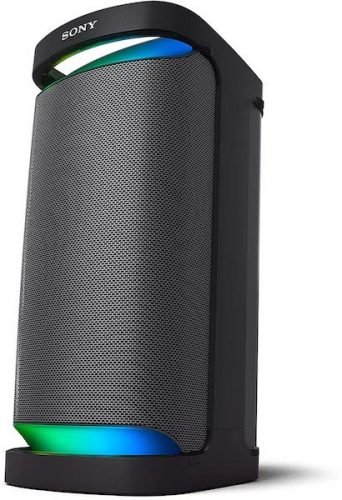 Also available from Walmart
Sony has long been a player in the party speaker market with speakers like the Sony XB72. The X-Series, which includes the SRS-XP500, the SRS-XP700, and their big brother, the SRS-SV900, continues that legacy. I think the Sony SRS-XP700, which falls in the middle of the range, is a brilliant all-around party speaker that checks almost all the boxes I'd be looking for in a speaker designed to drive house- or small block party.
Incredible Battery Strength and User-Friendly
The XP700 is housed within an easily transportable cabinet that can withstand splashes, dust, sand, and high humidity. It can be placed in an upright or sideways configuration, and built-in adaptive equalization technology analyzes the speaker's surroundings and compensates for any acoustically-difficult situations to deliver consistently great sound, no matter where the party takes you.
The XP700 can power your party for up to 25 hours on a single charge, and if you want to keep the vibes flowing even longer, a 10-minute charge will provide 3 hours of continuous entertainment.
The Sony Fiestable App or Music Centre App allows for control of the speaker's built-in lights, while you can also build playlists and customize the EQ of the XP700 from your mobile device.
Insane Low-End and Extremely Loud
The XP700 can comfortably reach a listening level of 99dB while remaining fairly balanced and clear. In addition to this, front and rear-mounted tweeters provide multi-directional sound that will easily fill any space you place it in. X-Balanced speaker technology by Sony handles the low end, where a tight and powerful bass is to be expected. If you invite the whole town to your party, up to 100 XP700 speakers can be linked wirelessly, creating a massive sound system that'll go as loud as you want all night.
The lighting effects of the Sony SRS-XP700 may not be the best and boldest, but they are still bright enough to create a good ambiance and add some mood to the room.
Versatile Connections and Features
While the XP700 is primarily used with Bluetooth technology, it also supports USB playback and a microphone and guitar input, permitting use as a portable guitar amp or a karaoke system.
Our Thoughts
I think the Sony SRS-XP700 is a great, well-rounded party speaker. It is large, powerful, and loud, yet still portable, versatile, and party-friendly. Its sound profile excels across the entire frequency spectrum, with rich mids and highs, as well as bass that can shake your windows. The XP700 Is larger, louder, and stronger than its previous version, the XP500.
Tight, crystal-clear sound quality at all volumes.
Additional features and control via the mobile apps.
Great battery life.
It is quite heavy, although somewhat easily transportable.
* Please Note: Sony does not typically detail the particular watt power of their products. However, I have provided a value based on the power consumption published in the product manual.
7. Soundcore Rave Party 2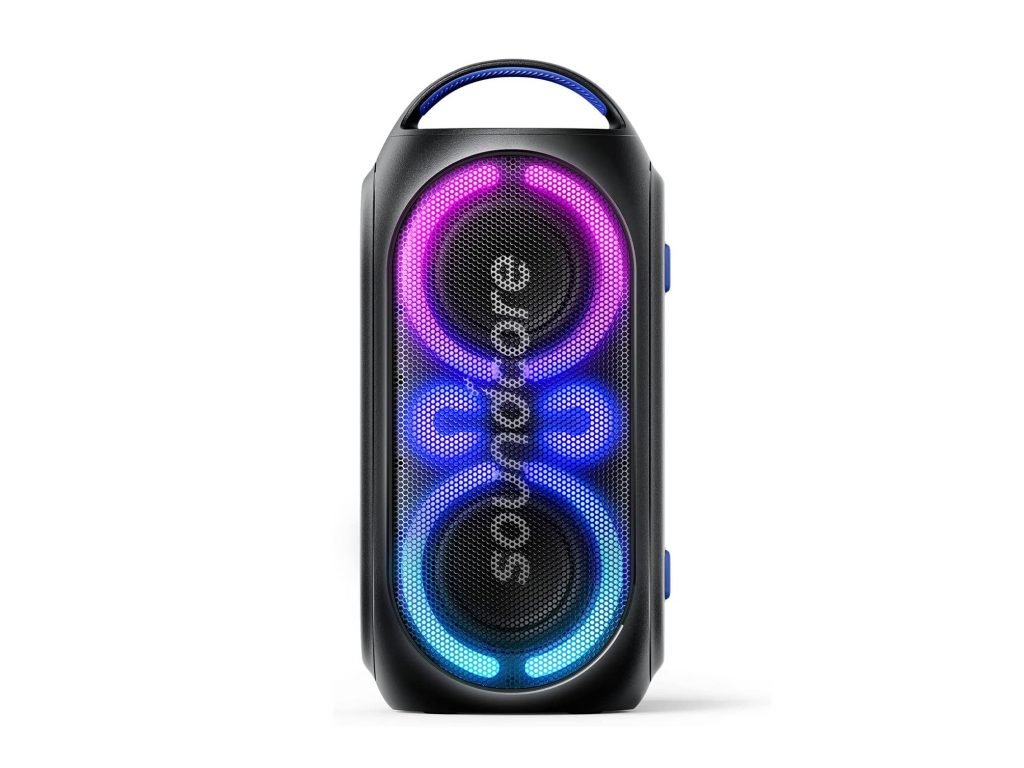 Also available at Walmart
Released late in 2022, the Soundcore Rave Party 2 is one of the latest offerings from Soundcore and provides a similar offering to their previous Trance model, with a few exceptions.
An Affordable Party Speaker
While many party speakers cost over $500, the Rave Party 2 comes in at just over $200 and brings with it all the important parts of a party speaker. There are impressive lighting features that can sync with your music to provide extra life to your party and large pairing features.
The Rave Party 2 utilized the PartyBoost 2.0 feature that allows the speaker to be synced with up to 100 others to create a large area of synced audio (an improvement from the Rave Mini). This can be very useful for larger outdoor gatherings and help prevent drop off of audio in certain areas of the venue.
The Soundcore Rave Party 2 also comes with some basic waterproof protection. An IPX4 rating doesn't protect you from the rain but will protect the speaker from minor accidental spills. I'd have liked to have seen the same IPX7 rating that the Trance offered, brought across to this model, but I can understand the focus being more towards the indoor party crowd.
Portable Power
The Soundcore Rave Party 2 is a relatively small Bluetooth speaker, 19" tall and less than 10" wide. In addition, it's ergonomic to carry, thanks to the built-in carry handle and the weight of only 14.67 lbs. This makes it one of the more versatile speakers on this list, and it can easily be carried around to your friend's place or with you when you go camping.
Despite the fairly small nature of this party speaker, it's still capable of producing impressive volume and sound. The Rave Party 2 can utilize up to 120W of power, with the speaker featuring two 4" woofers to cover the low and midrange, while two 2" tweeters take care of the treble.
One can reliably get around 15 hours of battery life in an average session, which isn't bad, but I'd have liked to see that reach closer to the 20-hour mark. I understand that this results from having more drivers to power, though, especially when compared with their older Trance model.
Regarding sound quality, the Rave Party 2 is good at providing audio quality that exceeds the speaker's budget. I've found this true for many Soundcore products over the years. While the Rave Party 2 isn't a bass-centric speaker by any means, I was a bit surprised by the quality of the low-end response, given the smaller driver size. The overall sound quality is impressive, with a punchy low end and fairly bright midrange.
Rave Party 2 vs. Trance
It is difficult not to compare these two speakers. The Soundcore Trance has been featured on our list for years and offered great value. But there are some fairly substantial differences between the Trance and the Rave Party 2.
Firstly, the Trance was more limited in its connectivity features and couldn't pair with such a vast array of speakers. But at the same time, the Trance had the benefit of offering IPX7 waterproofing, which was a real selling point for us. I'd have preferred to have seen IPX7 protection with the Rave Party 2 as well, as it could extend its outdoor usability.
The battery life was also slightly better on the Trance. Still, I need to consider that the Rave Party 2 offers a lot more lighting and power, so it's not surprising to see that there is a sacrifice one has to make on battery life.
When it comes to sound, the Rave Party 2 sounds better than the Trance, which was driven with a single woofer and dual tweeters. Even though the Trance had a larger driver (5.25" vs. 4"), the overall sound quality brought by the dual woofers in conjunction with dual tweeters does leave the Rave Party 2 the winner in the end.
Our Thoughts
The Rave Party 2 is a relatively affordable Bluetooth party speaker that is suited for those looking for a relatively small speaker with great value for money. The Rave Party 2 is versatile enough to use as a home Bluetooth or party speaker.
Plenty of RGB
Relatively affordable
Huge pairing ability
Value for money
Not IPX7
Battery life could be a little better
8. Ultimate Ears Hyperboom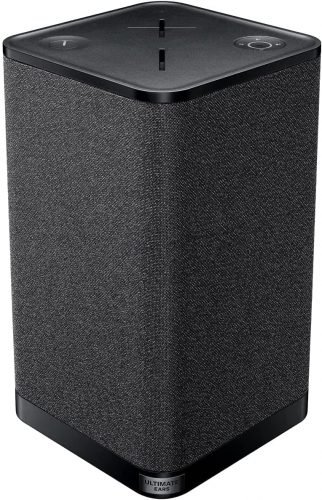 Also available at Walmart
An elegant, loud, and versatile speaker from Ultimate Ears is considered an upgrade in all areas from previous models in the 'Boom' range and is housed in an attractive cabinet that can complement any environment or theme.
Portable and User-Friendly
Up to 50 speakers within the 'Boom' range of all sizes and shapes can pair with one another to create the ultimate house party setup. The speakers' buttons and controls are incredibly straightforward to navigate, and the mobile app provides additional support and control over the Hyperboom. Up to 4 devices can connect simultaneously using various connections, including Bluetooth, a 3.5mm auxiliary cable, or an optical cable. The USB charging port can power mobile devices while the speaker is in use.
The Hyperboom has a battery life of up to 24 continuous hours- all you could need for a loud house party, a relaxed gathering in the garden or on the beach, or a classy dinner party with friends and family. The carry strap and lightweight design make for easy transportation, and its ipx4 water-resistance rating means it is safe from gentle splashes and exposure to some elements.
Adaptive EQ Sounds Great Everywhere
Ultimate Ears have adopted cutting-edge technology that analyzes the speaker's surroundings to shape the tonal qualities to suit its environment best. This is done through an onboard microphone that examines incoming reflections from surfaces such as tiled floors, windows, mirrors, or countertops that may negatively impact the sound quality. It uses its adaptive equalization methods to combat this. The Hyperboom sounds amazing at all listening levels and maintains tight low-end and clarity across the frequency spectrum when pumped to insane house party volume levels!
Our Thoughts
The Ultimate Ears Hyperboom may not be flashy, but it has pristine sound quality that sets it apart from many other speakers in its market. The Hyperboom is a great example of a versatile speaker that can be out of place as a traditional home Bluetooth speaker or a party speaker. It has what one could consider a more mature appeal, with a clean, minimalist design.
The attractive design makes for a good permanent fixture and a portable unit.
Very easy to use and compatible with practically any device. 
Adaptive EQ makes for stellar sound quality in any location.
The optical input isn't that necessary, in my opinion. A more useful connection could have been made available in place of this.
Party Chain Vs. Single Speaker?
Party Chain, also called TWS (True Wireless Stereo) and other names, is where multiple speakers are connected wirelessly, as shown in the diagram below. There would typically be a host speaker that gets connected first, and then subsequent slaves who either all connect to the host or who, in turn, will act as hosts for other speakers to connect to, depending on the technology.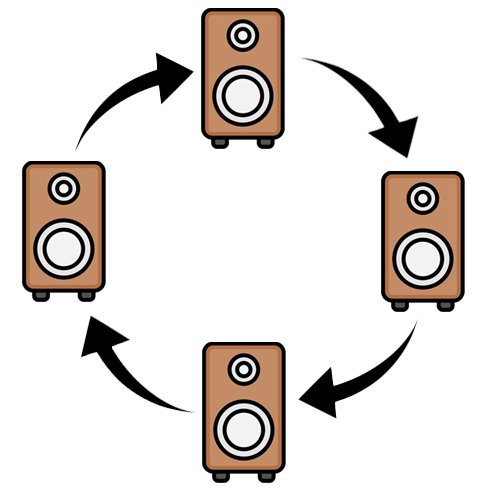 This is usually done for one of the following reasons:
To form a stereo pair: This links two wireless Bluetooth speakers together to establish a stereo setup where each speaker carries left or right channel information. This creates a wider stereo field than that produced by a single Bluetooth speaker and promotes a listening experience more aligned with how the music was intended to be heard.
To build a louder system: This method keeps the speaker's mono characteristics; however, the sound will be projected from more than one speaker at a time, resulting in an overall louder experience. Remember that double the speakers do not necessarily mean double the volume!
It is important to double-check if the speakers you plan on pairing will be compatible with one another, as some can only link with identical units, and some with previous models within the same range or brand.
The option for 'chaining' speakers together depends on the device, as this feature is not supported on all Bluetooth speakers. The potential maximum number of devices within a system depends on the speaker (some only support up to 2 speakers, while some can accommodate up to 100)
Things to Keep in Mind when Buying a Bluetooth Party Speaker?
The term party speaker is fairly broad. It is primarily used to describe speakers that have substantial volume while also having features we associate with a party environment, such as LED lighting and impressive pairing functions that allow you to play the same audio from several different speakers.
When buying a party speaker, it is helpful to consider how you plan to use the speaker, not just in the short term but also in the long term, as party speakers can be fairly expensive compared to smaller, traditional Bluetooth speakers.
Buying the best party speaker within your budget will minimize your chance of buyer's remorse. That is why we've put together the following buyer's guide, which will help narrow down what it is you require from your party speaker.
The Top 3 Features of a Good Party Speaker?
Consider The Music Genres You Will Be Playing
While we are often prone to thinking of EDM when we hear the word party, parties aren't inherently tied to one genre of music. When you buy a party speaker, you should consider how the genres you're going to primarily play may be influenced by the inherent sound properties of the speaker. For the sake of simplicity, we've broken up speakers into three primary sound types: bass-heavy, balanced, and bright.
We developed the following table to show you which genres of music are best suited to which speaker sound and the speaker from our list that most accurately represents that profile.
| Sound | Genre | Best Speaker |
| --- | --- | --- |
| Bass-Heavy | EDM, Reggae, Hip-Hop | PartyBox 1000 |
| Balanced Sound | Rock, Pop, Classical | PartyBox 710 |
| Bright | Jazz, Country, Acoustic, Folk | Sony SRS-XV900 |
Features & Functionality
Some party speakers offer minimal extras and solely focus on sound, while others are built with additional party features ranging from LED lighting effects to full-on DJ controls. Here are some features to look out for when buying a party speaker.
Your Budget
We understand that most of us are limited by our means, and while we'd all love to buy the best party speaker money can buy, it's unrealistic. Thankfully, Bluetooth party speakers are relatively affordable compared to other home audio equipment, allowing you to still throw a great party without breaking the bank.
You can expect to pay anywhere between $200 and $1000 for most party speakers. Smaller gatherings can be catered to with a somewhat limited budget, but larger parties will require more expensive speakers. On average, you can expect to pay close to $500. However, if you're spending this amount of money, you'll be investing in a speaker that can last you for years, and the differences in performance are easily noticeable.
For budgets under $200, you'll be limited to more traditional Bluetooth speakers, which may lack the type of volume and bass needed to drive a party.
Portability
Portability is an essential topic when discussing any Bluetooth speaker. By nature, Bluetooth speakers are made to be mobile, but the ease with which they can be moved around varies greatly between models.
You don't need to be too concerned about portability for parties that will be hosted at the same location without much back-and-forth transport of the speaker. However, considering the weight and size will be crucial if you're going to be lugging your party speaker from venue to venue.
For instance, the JBL PartyBox 1000 is an extremely large speaker that can be challenging to move between venues without using a pickup or trailer. Most other speakers on this list can be fitted into the trunk of a sedan with the back seats dropped forward.

Consider not only the space limitations of your transport but also the implications of carrying the speaker between locations physically.
Audio Performance
Audio performance is the most important part of any speaker, and understanding the basics can go a long way in creating the perfect party environment. As we've discussed, the environment will impact your audio, with certain frequencies being more prone to problems than others. The term 'balanced sound' is used to describe a flat sound signature where there isn't emphasis on a particular frequency range. While balanced sound is great for critical listening, party speakers should have an elevated bass that drives the rhythm of the party.
Mobile App Control
Speaker manufacturers will sometimes develop mobile apps, which can serve as a way to control your speaker's functionality further. Equalization is a feature afforded by some of these apps, which allows you to customize your speaker's sound. This type of control is excellent for fine-tuning your sound to the purpose it's being used for. It adds versatility to the speaker, as you can adjust the frequencies depending on your environment. If you're outdoors, you can add some gain to the low end, or if you're indoors, you can focus more on adding intelligibility to the midrange and upper frequencies to make it sound cleaner.

Party chaining and pairing multiple speakers together is also occasionally controlled by the app, and it lets you adjust your chain of speakers.
In addition to audio adjustments offered, these apps can also, in some cases, control the lighting of the speaker, letting you toggle between different lighting modes and colors.
Battery Life
We just mentioned that a handful of the party speakers on this list do not run on battery, so when it comes to the battery, it is important to check if the speaker has one. Checking whether that battery is rechargeable is important. While the chances of getting a proper party speaker that runs on a non-rechargeable battery are slim, I still check.
Batteries come in different sizes; some can be extremely powerful, while others are weak. Check how powerful the battery is and how long it will last on max volume. Remember that the volume you are playing music will affect how long the battery lasts. Another thing you should note regarding the battery is that if the speaker has accessories such as lights, it will use far more power than when only the music is playing.
This can have a dramatic effect on the battery life. For example, an amazing speaker, the ION Audio Block Party Live, gets about 70 hours of playtime from a charge when the light dome is switched off. However, when you switch it on while playing music, you only get 6 hours of playtime. Take this into consideration when buying a party speaker.
Indoor VS. Outdoor Party Speakers
While party speakers don't typically get specified as indoor or outdoor speakers, there are distinct design differences between party speaker models that make them better suited for indoor or outdoor use. These differences relate mostly to weather resistance, volume, and acoustic properties. The following topics break down how different party speaker features and properties may influence the experience your guests will have.
Weather Resistance
In the speaker world, weather resistance is annotated by an IPX or IP rating, indicating the level of protection the device has against water or dust and water, respectively. Weather resistance serves as more than just protection against rain, as it can also protect your speaker against accidental spills and splashes that may occur with drinks around the speaker, something that is fairly common during parties.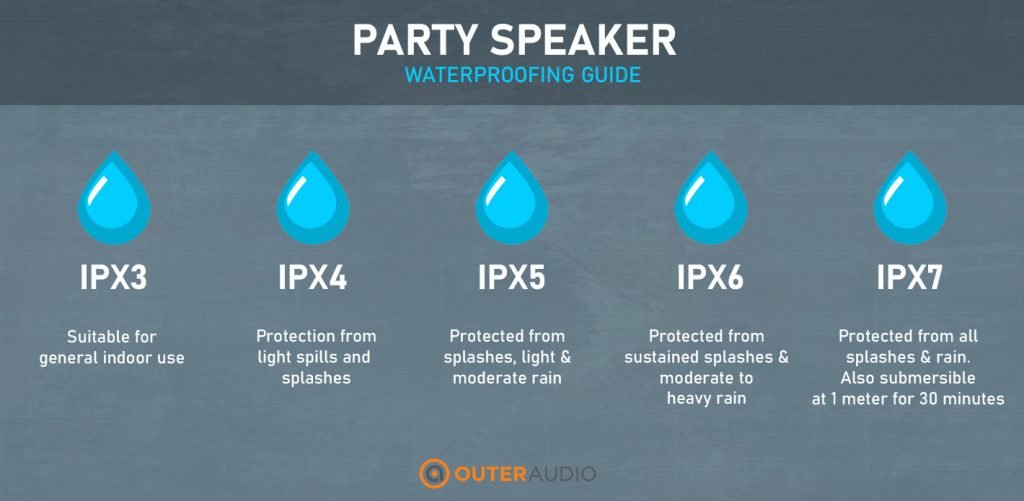 Most party speakers on the market offer moderate protection against water and dust, with most speakers rated IPX4 and IPX5. IPX4 and IPX5 will protect from moderate rainfall for up to 10 minutes, giving you enough time to bring the speaker inside if it rains. However, if you're looking to keep the party going in the rain, you will be more limited in your speaker choices.
For a truly waterproof outdoor party speaker, we recommend the: (Samsung Replacement) which offers IP67 weather protection. You can keep the party going, rain or shine.
Differences In The Acoustic Properties of Party Speakers Indoors and Outdoors
The environment in which your party is hosted is going to have an impact on the acoustic presentation of your sound. Indoor environments are subject to reflections, and more specifically to the type of reflection called reverberation. Reflections refer to how audio bounces off walls, ceilings, and floors in a closed environment.
Indoor Acoustic Properties
Reverberation is one way in which these reflections can impact the audio presentation. The process causes the sound to echo and decreases the overall listening experience. This causes the sounds to overlap by lagging behind and arriving at the listener's ear while other frequencies may still reverberate, causing a similar effect to talking over someone. One can reduce these effects by buying a party speaker with good sound dispersion and tighter acoustic properties.
Bass response is also enhanced indoors due to similar principles. It is best to opt for a tighter, punchier bass if you plan on hosting parties in smaller rooms, while larger rooms with fewer reflections will be more forgiving with deeper low-end.
Outdoor Acoustic Properties
Outdoor areas are not prone to reverberance in the same way that indoor rooms are. Inversely, outdoor environments cause sound to dissipate, as it isn't bouncing off the walls and being contained in the same way it does in rooms.
This results in a requirement for more volume than would be needed for an indoor environment. Additionally, because sound dissipates easier outdoors and lacks the issue of reverberance, one can opt for a deeper low-end, which will increase the party experience.

In summary, if you use your party speaker primarily indoors, especially in smaller rooms, you should buy a speaker with punchy bass and more detailed acoustic properties. However, if you plan to throw parties outdoors, you should opt for more volume and a deeper bass response.
Understanding Party Speaker Specifications
When buying the best party speaker, it can be overwhelming for the average consumer to be bombarded with unfamiliar terminology, as is often the case when reading through the specifications. But knowing the basics around what these numbers represent is important to making an informed purchase. These are the most important specifications to understand when buying a party speaker.
Decibels
Decibel is a term used to describe the measurement of volume. It uses a logarithmic scale to help us better understand how loud a speaker is. For party speakers, most speaker measurements will range between 90 dB and 130 dB. The more decibels, the louder the speaker can get. Note that this doesn't take into account the audio performance at these levels.
Watts
Watts or wattage is a reference to the power that a speaker uses. Wattage is described in speaker specifications in two similar yet different ways. The first is the peak power, which represents the maximum power the speaker can handle for a short duration without damage.

The second and more useful measurement is the RMS power handling, which represents the maximum amount of continuous power the speaker can handle over an extended period of time. Speakers with more wattage require more power.
While there is a correlation between power and volume, there is no way to calculate the dB of a speaker based solely on its power, both in terms of RMS and peak power.
TWS
True Wireless Stereo pairing (TWS) is the ability to pair two speakers together so that each speaker plays a separate channel of audio. A single-party speaker cannot play true stereo sound as there is no left and right channel. With TWS, you'll be able to have one speaker play the left-channel audio while the other plays the right-channel audio. This feature greatly enhances the listening experience by creating a more immersive experience with a greater spatial quality.
Party Chaining
Party chaining is one of many terms used to describe the process of pairing multiple speakers together so that they all play the same sound. Party speakers can often chain together up to 100 speakers, which are all synced to play audio from the same source. This feature is excellent for parties where your guests may extend into multiple rooms or if you're looking to increase the volume of your speaker configuration.
Drivers
Drivers refer to the internal component of a speaker, which includes the voice coil, magnet, and cone. There are four primary types of drivers: a subwoofer, woofer, midrange, and tweeter. Larger drivers are capable of producing deeper frequencies. These drivers work in conjunction with one another to deliver a full spectrum of sound. Having drivers dedicated to each range of audio frequencies tends to provide a better overall sound.
Frequently Asked Questions
What makes a party speaker different from a regular speaker?
Party speakers are designed to entertain medium to large crowds in a dedicated space. They are typically designed to prioritize higher watt, decibel, and bass output, while personal speakers often focus on sound quality. It is common to see features like lighting effects, DJ controls, and karaoke inputs on party speakers.
How important is the wattage for party speakers?
Higher wattage means your speaker can deliver louder music without distorting the quality of the sound. Depending on the size of the party you plan to host and whether it is an outdoor or indoor venue (sound disperses a lot faster outdoors), getting a speaker with sufficiently high wattage could be critical to your success.
Do all party speakers come with lighting effects?
No, not all party speakers have lighting effects. Whether you need lighting on your speaker comes down to the kind of party you want to throw and personal preference.
Can I connect multiple party speakers?
Many party speakers come with the ability to be connected to create a larger soundstage. This is sometimes referred to as a "party chain" or "true wireless stereo" (TWS). Depending on the brand and speaker, you may only be able to connect a second speaker, while some speakers allow you to connect as many as 100!
Are party speakers portable?
Some party speakers are relatively small and can easily be carried by a handle using one hand. Some other party speakers are truly massive, requires a dedicated AC power input, and while they may be movable, they can not be categorized as portable in any sense of the word.
Can I rent party speakers?
Some places offer speaker rentals; this is a great choice if you're looking to throw a single party. But it's often best to invest in a quality speaker if you're throwing parties consistently, as renting can cost more in the long run.
Update History
09/07/2023 – Improved buyer's guide. Added alternatives, downgrade, and upgrade recommendations. Improved top picks and swapped out the PartyBox 1000 for the PartyBox 710 based on reader feedback.
05/30/2023 – Revised our top picks, swapping out the Sony SRS-XP700 with the JBL PartyBox 1000, which, while more expensive, is a better party speaker. Added the Sony SRS-XV900 to the list.
01/18/2023 – Added new recommendations and improved the buyer's guide to be more informative.
06/22/2022 – Better clarified why our selected picks were chosen and swapped several products with better options.
02/08/2022 – Replaced the Best Overall JBL PartyBox 300 High Power Audio System with the updated JBL Partybox 310 Speaker version. All ten products on the list have been removed and replaced with seven updated and better products and added Party Chain vs. Single Speaker, Access to Power, and Connecting Multiple Devices information.
05/22/2020 – Added our Indoor or Outdoor Party Speakers Sizing Guide
05/09/2020 – Replaced the Altec Lansing XPEDITION 8 with the Anker Soundcore Rave Mini
04/28/2020 – Replaced the Sony GTKXB7BC with the newer Sony XB72. Added the JBL Partybox 300 to the list that edges the Sony XB72 for our Top Pick! Removed the Sylvania SP328.
Thanks for your feedback!