We've put together a list of the hottest, most powerful, and loudest Bluetooth speakers available on the market. We ensured to only include speakers that are able to match their volume with high-quality audio performance. Because we understand that everyone's speaker choices are unique and tailored to their own requirements, we've included some of the loudest Bluetooth speakers of all budgets, sizes, and shapes.
This article is all about buying a loud Bluetooth speaker, and because of that, we've added a Safe Music Listening Guide at the end with tips on protecting your hearing. This should help you understand loudness, how it's measured, and what to be aware of so you can enjoy your music for years to come.
Meet Our Winners
Quick List – All Our Category Winners
The Loudness of Our Selection
So how do the loudest Bluetooth speakers stack up against each other when we compare their decibels? Well, we've literally done that for you in the graph below. This should give you a good idea of the relative volume output of each speaker on our list in relation to the others. You'll see that, surprisingly, some of the smaller speakers here actually hold the candle pretty well to the bigger ones.
Volume is listed in dB as published or confirmed by independent 3rd party tests.
Comparing Apples to Apples
We see plenty of lists on the internet where people simply bundle every available loud Bluetooth speaker into a single list and pick the one that kicks out the most Watts. That's not quite fair (or very useful), as you're not really comparing apples to apples. We wanted to provide a more balanced approach, so we took the loudest Bluetooth speakers from our list and mapped out the weight in comparison to the Wattage. This allows you to easily see where you may be trading off convenience for loudness, or vice versa.
Speaker weight with batteries included
I think it's safe to say that comparing the third generation Soundboks to the Anker Soundcore 2 makes little sense. The amount and size of woofers, tweeters, passive bass radiators, and active drivers that you can fit into a 34 lbs vs a sub 1 lbs package are just not comparable. So, we've split our list of the loudest Bluetooth speakers into 3 groups:
Large and Loud – These are big Bluetooth speakers. They are large, bulky, and built for sound. Clearly not made with portability in mind. While most of our selection can be picked up and carried relatively easily, they are not the type of speakers you just throw in your backpack and head off to the beach. These are big speakers which have the potential to make enough noise for a house party. These types of speakers are ideal if you have a large dedicated entertainment area in your home for instance.
Solid Mid-Size – These are the everyday speakers you'd have in and around your house. You can easily carry them from one room to another, or even outdoors. While they're portable they are slightly larger than our petite speakers and therefore pack more of a punch and generally deliver a better sound. Chances are this is the speaker you want to be listening to every day.
Petite yet Powerful – These are small, but they are still among the loudest Bluetooth speakers on the market, especially when looked at in relation to their smaller scale. They are compact portable Bluetooth speakers which still manage to surprise with their pronounced sound. Toss them in your backpack, take them to the beach, camping, on your bike, wherever.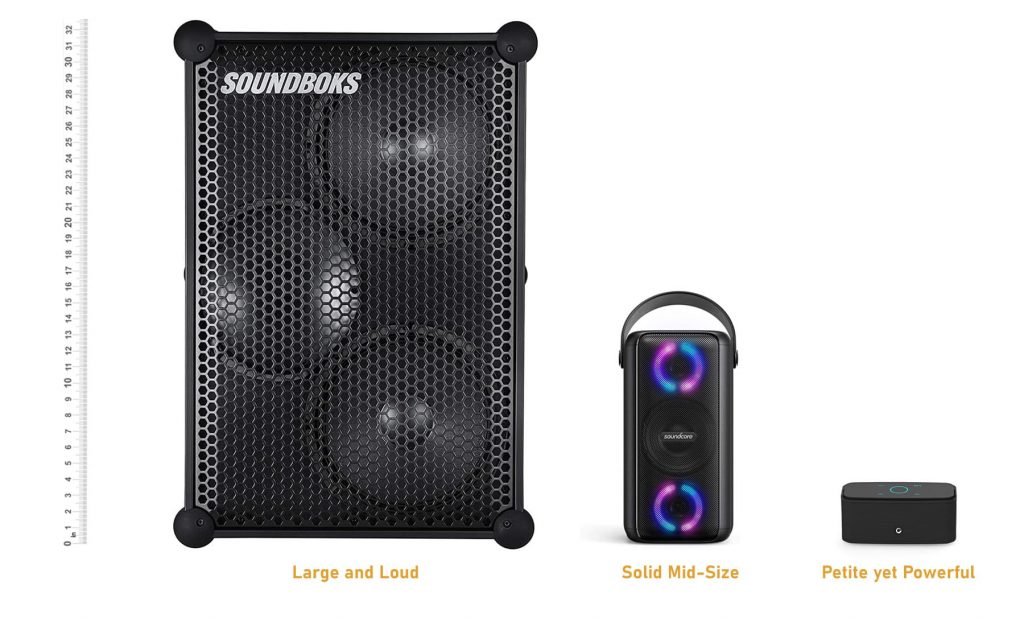 How Did We Pick These Speakers?
When creating this list of the loudest Bluetooth speakers, we carefully scoured through dozens of popular products and chose only the best to recommend. While not every loud Bluetooth speaker made the list, we did try to include the highest quality, while also taking your budget constraints and intentions into account.
We understand that while volume is important to you. You may also be limited by budget, space, or local availability. Because of this, you'll find that our selections range from speakers that are small, portable and affordable, to some absolute monsters that cost thousands of dollars. We also went through the process of ensuring that volume isn't the sole focus and all of the products listed had to also perform well at those high volumes.
One of the limitations or challenges of driver design is that most speakers notoriously start distorting their sound and lose quality as you crank up the volume. We're selecting speakers that will deliver crisp undistorted lows, mids, and highs when performing at top volume.
These first 3 speakers are the big boys. These big Bluetooth speakers are also some of the loudest Bluetooth speakers on the market today. They all deliver upwards of 100 dB of sound. Even in this small group, there's a rather large price difference between the speakers. So what should you expect to pay?
These are serious speakers that cater to the highest demands of both volume and quality, so be prepared to spend up to $1000; however, we have included one option at under $700, which while certainly not a budget product, is the more affordable option when it comes to this bracket of the loud Bluetooth speakers. Too rich for you? Jump to the Solid Mid-Size (and price!) options.
The next 4 speakers can best be described as the "workhorses" of Bluetooth speakers. They are substantially lighter than the speakers above, and as such, they are easier to use on a day-by-day basis. These are the speakers that you're likely to park in a room and expect them to fill with great sounding (and in this case loud!) beats. So what should you expect to pay?
There are some amazing speakers in this weight class and we've picked a selection that ranges from about $70 to $160. You can get some amazing value for money from these.
In the last part of this article, we've included a list of 5 small loud Bluetooth speakers. Although small, these speakers still pack a punch! The small Bluetooth speaker market segment is quite saturated and very competitive. You can check out our list of the best portable Bluetooth speakers here.
In this small selection, you'll find speakers as cheap as $28 while some of the premium brands will cost between $100 to $150.
Safe Music Listening Guide – Understanding Loudness
What Makes a Speaker Loud?
The intensity of a given sound is measured in decibels (dB), but there are various ways to drive up the volume of a speaker within the speaker's design. By the time a signal has made it to your speaker, the signal has been converted from a digital signal to an analog electrical signal. Afterward, the electrical signal is translated into mechanical energy (i.e. the woofers and tweeters moving) and then into acoustical energy once the air starts moving. The magic happens when that wiggling air vibrates our eardrums and we hear that as sound!
So how do speakers make more air vibrate? Well, there's a reason you probably assume that the biggest speakers are the loudest. Increasing the size of a speaker is the simplest way to make it louder because a larger speaker can move more air and thus create more volume. (See our graph about Comparing Apples to Apples above)
Another way to increase the perceived volume of speakers is by getting a speaker with better frequency response. Frequency response is a measure of a speaker's accuracy, it measures how accurate the sound waves the speaker produces are compared to the electrical signal the speaker received. This is why a small Bluetooth speaker sounds better than laptop speakers because it is slightly bigger and has a better frequency response than the speakers on your laptop!
What is the Relationship Between Power (W) and Volume (dB)?
In the speaker world, power (measured in watts) is electrical power provided by an amplifier, which is usually a separate piece of equipment from the speakers. Decibels (dB) are units used to measure a sound's intensity on a logarithmic scale. volume is subjective, loud noise to one person may be quiet to another, so the decibel scale compares sounds relative to other sounds. Decibels show the ratio between different signal levels whereas watts are an exact measurement of an electrical circuit's rate of energy transference.
The relationship between watts and decibels is confusing at first because watts are an exact unit and decibels are a relative unit.
A rule of thumb is that doubling your power will get you an increase of 3 dB and increasing the power 10 times will increase your dB by +10 and only double perceived loudness. This means that simply adding power is a very inefficient way to increase volume due to the dynamic driver speaker's inherent design flaws. This relationship is a great way to illustrate the fact that speakers are some of the most inefficient products we commonly use today since only 1% of power actually turns into sound and most of the power sent to speakers actually turns into heat!
What are A-Weighted Decibels? (dBa)
A-weighted decibels (dBa) are units measuring sound pressure levels just like regular decibels but adjusted to account for relative loudness factors as perceived by human ears. The relationship between dB and dBa is illustrated by a specific graph where a curve called the 'equal-loudness contour' is projected on top of a typical logarithmic dB scale. Essentially, A-weighting is like leveling the playing field for decibels.
The human ear hears different frequencies differently because our ears evolved to accentuate and ignore different sounds as necessary for our survival. This means that in order to hear a very low-pitched frequency, like 20Hz, at the same perceived loudness as a noise of 1kHz (1000Hz) you would need to increase the dB by +50. Again, this is all due to the natural way our ears perceive sounds.
If that was confusing to you, try to think of it like this. Very high and low-pitched noises sound quieter to us, but they aren't actually quieter. A-weighting is simply the process of accounting for that relative change in perceived volume. A-weighted decibels (dBa) are just decibels (dB) adjusted to reflect perceived loudness.
What Influences How Loud a Speaker Sounds?
Ignoring the acoustic properties of the room where your speakers are located can pretty much ignore all the great (and expensive) features that made your speakers appeal to you when you first picked them out. If your speakers have a great frequency response but your room is filled with hard surfaces that reflect noise, your sound quality may still be muddy. There are, however, quite a few ways you can improve your speaker's sound quality right now.
The most obvious change you can make to your speaker setup to try to enhance your sound quality and perceived loudness is to tweak your speaker arrangement. Sit in the same spot and play the same song or clip from a film and make small, measured adjustments to the location of your speakers, be sure to get creative! All rooms are different so take notes on increases and decreases in quality; you will be surprised how much a small adjustment can change your audio experience.
Another way to change up how your sound system sound is to try to soften your room's décor. Place throw rugs where sounds tend to bounce off of hard floors or add a few canvas paintings to your walls. Both of these things will dampen sounds, meaning the sound from your speakers won't bounce off of hard surfaces and clash with the priority signals playing from your speakers.
Relative Loudness Compared
The easiest way to explain decibels is to explain how sounds compare to other sounds. Human beings can hear very weak sounds at ~10 dB all the way up to the threshold of pain at ~140 dB.
Starting at the low end, let's list a few quiet noises you may hear in your day to day life:
0-5 dB – Recording studio
10 dB – Computer running in a quiet bedroom
30 dB – Whispering
40 dB – Refrigerator
60 dB – Living room with the TV on
Next, some reasonable volumes you have probably encountered recently:
70 dB – Shower
80 dB – City traffic
90 dB – Helicopter overhead
Finally, common sounds that can damage your ears if you aren't careful:
120 dB – Sirens
130 dB – Plane taking off
140 dB – Fireworks (Warning: Threshold of pain!)
Here's a more visual comparison of these decibel levels on a graph: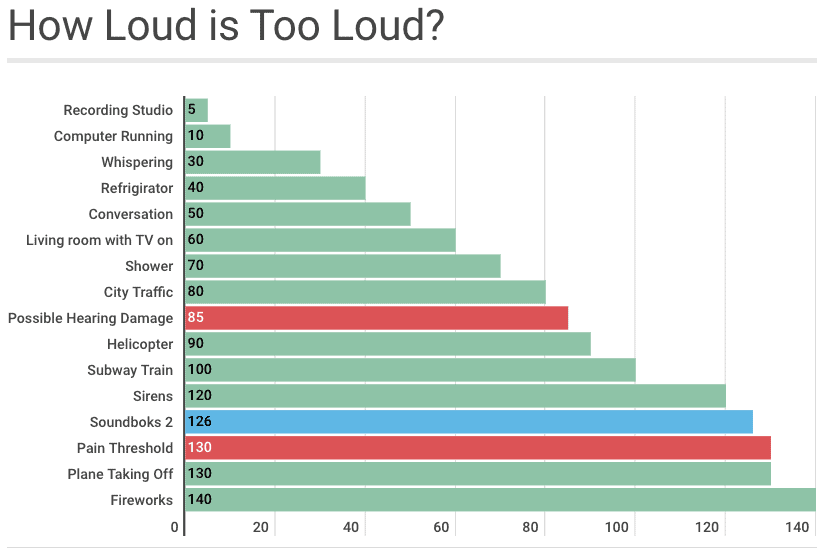 Now that you've seen some examples of sounds that range from barely audible to pain-inducing, it's important to note that as a rule of thumb you should wear protection for your ears when around any sounds above 85 dB, especially if it's for an extended period of time. If you want to spend your whole life listening to great speakers, the best approach is to be sure you protect your hearing.
How Can I Test How Loud my Speakers Are?
Manufacturers measure the loudness of their speakers by measuring the SPL (sound pressure level) and dB of their speaker with a microphone one meter away. This is usually represented as 'dBs @ 1W/1m' or 'dBs @ 2.83V/m' respectively.
The best way to measure the loudness of your speakers at home is to place a microphone with a dB meter connected to it 1 meter in front of the speakers just like the manufacturer did before the speakers were sent out to stores. This time, however, you can feel free to change volume settings on your amp and take note on your phone or notepad of what dB level is achieved at the amplitude levels on your amplifier. This will be the easiest way to test the loudness of your sound system at home.
If you don't have access to high-quality audio equipment like dB meters, don't fret, you can get an app on the app store for a dB meter, check the reviews in the app's description before downloading to see each dB meter app's reliability and accuracy. Standalone hardware dB meters usually cost anywhere from $50 to $300, so the app can get you a lot of functionality at a much lower price point.
How Can I Prevent Hearing Damage?
Always be aware of the irreversible damage that can be done to your ears when listening to loud (100+ dB) noises, especially for extended periods of time. When using headphones, it is common knowledge to never listen at max volume, but with speakers' people have differing opinions about what levels are comfortable for them.
Many speaker systems have great frequency response and don't require extreme volumes to hear details in the audio signals you are listening to. When listening at louder than normal volumes in the cases of concerts, festivals, and parties it is always wise to wear earplugs to protect your ears. The best policy for protecting your hearing when listening to loud music is to be aware and conscious of the dangers of listening to extreme volumes.
In the case of audio, you can have too much of a good thing, so protect your hearing now to enjoy more time with your favorite music before your ears are too damaged to hear those timeless favorites you once enjoyed.
Wear earplugs in loud public settings like concerts or construction sites, and at home, don't crank that knob all the way!
6 Current Bluetooth Speaker Trends
1. The Move to Bluetooth 5
It feels like Bluetooth speakers have come a long way in such a short space of time. The most significant improvement for Bluetooth speakers is the release of Bluetooth version 5.0. While the technology has been around for some time, we're now seeing more Bluetooth speakers adopt the new wireless technology en masse.
While Bluetooth 5.1 has been announced, it doesn't seem to have any significant improvements for audio. Jump here for a rundown of some of the key features of Bluetooth version 5.0.
2. WiFi and Bluetooth Connectivity
Bluetooth still remains the wireless technology of choice for brands, but we are seeing some Bluetooth speakers include WiFi connectivity too. The proliferation of smart speakers has made it more desirable to be able to connect your speaker to your home network and pair it with the likes of Alexa and Siri.
3. Improved Battery Life
One feature which continues to improve is battery life. It wasn't long ago that 10 hours of battery life was the best you could get. Now speakers are getting upwards of 20 hours with some Bluetooth speakers managing 40 hours plus.
Another spin-off feature of improving battery technology is that many Bluetooth speakers no also double as a power bank to charge your other devices.
4. Better Sound Quality
Sound quality continues to improve. Brands like JBL, SOUNDBOKS, Bose, and Sony continue to deliver on sound quality. These brands do charge a premium, but the quality is far superior to the budget end of the Bluetooth speaker market. Having said that, even budget Bluetooth speakers are sounding better with every release. For example, the Soundcore Trance is undoubtedly Anker's best-sounding speaker to date.
5. There's An APP For It
More and more brands are releasing apps for their speakers. Even at the budget end of the spectrum. Through these apps, you can often access settings and features which cannot be accessed using the speaker's onboard controls.
6. Mic Included
Speakerphone technology is improving, and in some cases, getting worse. Even the premium brands battle to get this right. We have noticed several products have chosen to drop the speakerphone feature altogether. I think this is a wise option. I would rather have that money go into features we actually use.
Having said that, the built-in microphone is useful for accessing voice assistants like Alexa, Siri, Google Assistant, Bixby, and others. More and more Bluetooth speakers are also including Alexa integration with the ability to connect with Echo devices. It won't be long until many of these speakers have Amazon Alexa built in.
And finally…
Meet the
Devialet Gold Phantom
Positively the most powerful Bluetooth speaker aka "What can I get for the silly money?"
At the start of this article, we mentioned the Devialet Gold Phantom and promised that we'd get back to it. Here it is!
While this may not be the loudest Bluetooth speaker, this speaker is positively insane, not only in power output and "loudness" but also in the quality of sound. While not the loudest Bluetooth speaker we've come across, just listen to this: the 4500 peak watts are enabled by 108 patents. A titanium tweeter offers a frequency range of 14Hz to 27kHz and 108 dB of sheer madness. And of course, it comes with Wi-Fi, Bluetooth, AirPlay, Spotify Connect, Web Radio, and all the trappings you'd expect in a high-end modern-day Bluetooth speaker.
All of that awesomeness comes at a price though. Find out how much exactly for yourself.
But before you do, check out the video below and just love it with us.