The Bottom Line
Despite playing in a competitive space in the market, the HD77 from Treblab can go toe-to-toe with bigger brands in performance, even at its affordable price point. Compared to the HD7, the younger brother of the HD77 – you'll be getting a lot more volume, wider response range in the bass frequencies, shorter charging time, and longer battery life. Overall it's tough not to recommend the HD77 as an affordable portable Bluetooth speaker.
Compact design with modern features
Good sound quality for a great price
Water-resistant and durable build
No 'low battery' notice period
Only one device can be paired to the HD77 at a time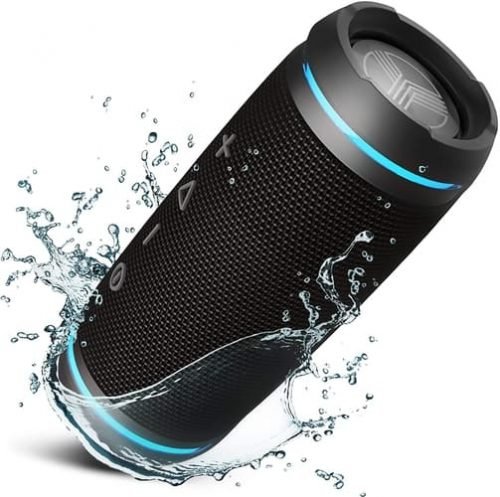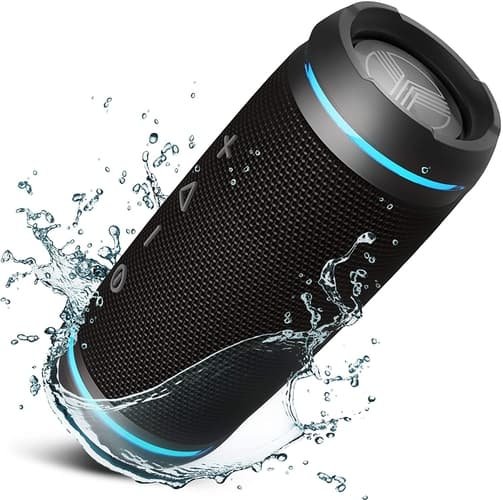 Our next adventure into Treblab's range of Bluetooth speakers takes us through the HD77- the middle sibling between the soda can-sized HD7 and the mighty HD Max. The HD77 shares many features with the rest of Treblab's series of Bluetooth speakers. Let's take a look: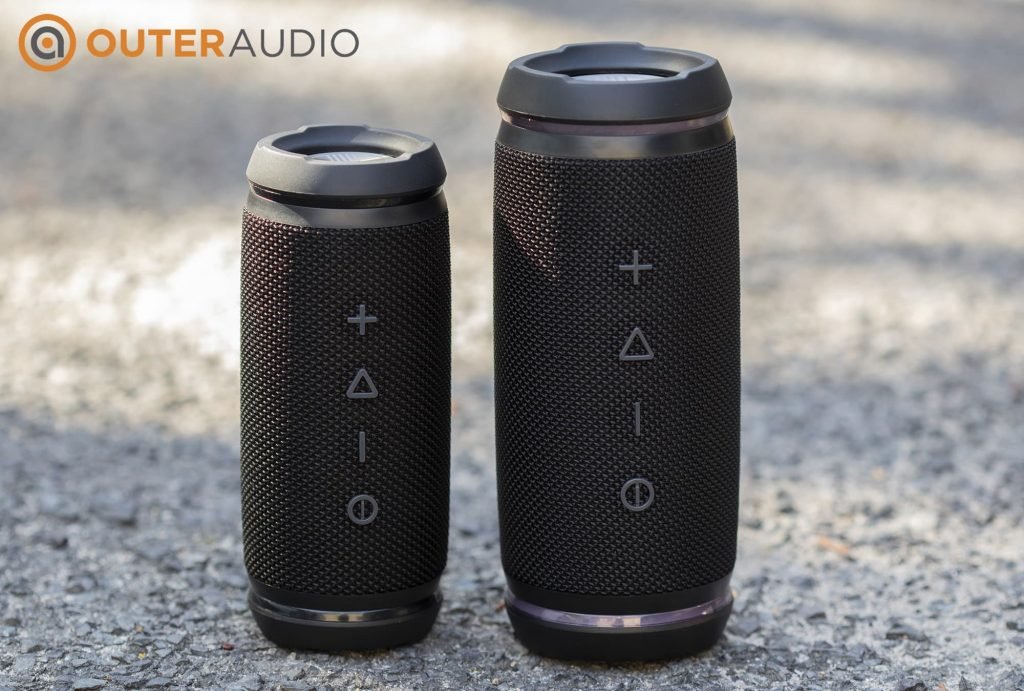 Durable Build and Design
The Treblab HD77 is the middle-sized model in the HD range of Bluetooth speakers. The HD77 is comparable to a standard bicycle water bottle, which is still relatively portable. To aid its portability, the Treblab HD77 comes with a carry strap with a carabiner that can be attached to your backpack or belt or sling the strap over your shoulder. 
An IPX6 weather-resistance rating means the Treblab HD77 can be taken anywhere with you as long as it doesn't end up underwater. It can withstand splashes from all directions of varying pressures and rest gently on the sand or snow. In addition, the HD77's enclosure is fully shock-proof and can survive a gentle drop from hand height to the ground.
Easy Setup and Pairing
As with the rest of the HD range of Bluetooth speakers, Treblab has made an incredibly easy-to-use speaker. I managed to set up this device within seconds, and both devices remember each other to allow for automatic pairing every time the speaker is turned on (provided your Bluetooth is always activated on your source device)
My only complaint so far would be that only one device can be connected at any time, which can be a slight annoyance if you want to bounce between songs with friends.
The range of the Treblab HD77 is standard here, allowing for a distance between devices of up to 33 feet. The connection remains strong and powerful across this range but suffers some loss outdoors.
The HD77 is also capable of True Wireless Stereo (TWS) pairing, allowing you to connect two Treblab units to form a stereo pair. This improves the stereo spread if you're using it for film viewing or critical listening. The inherent volume boost is great for party-like environments. 
As for controlling the speaker, the onboard buttons on top of the unit are easy to understand and use. The buttons control the basic features (power on/off, play/pause, volume up/down, etc.) and some phone call-related features, which we'll get into later.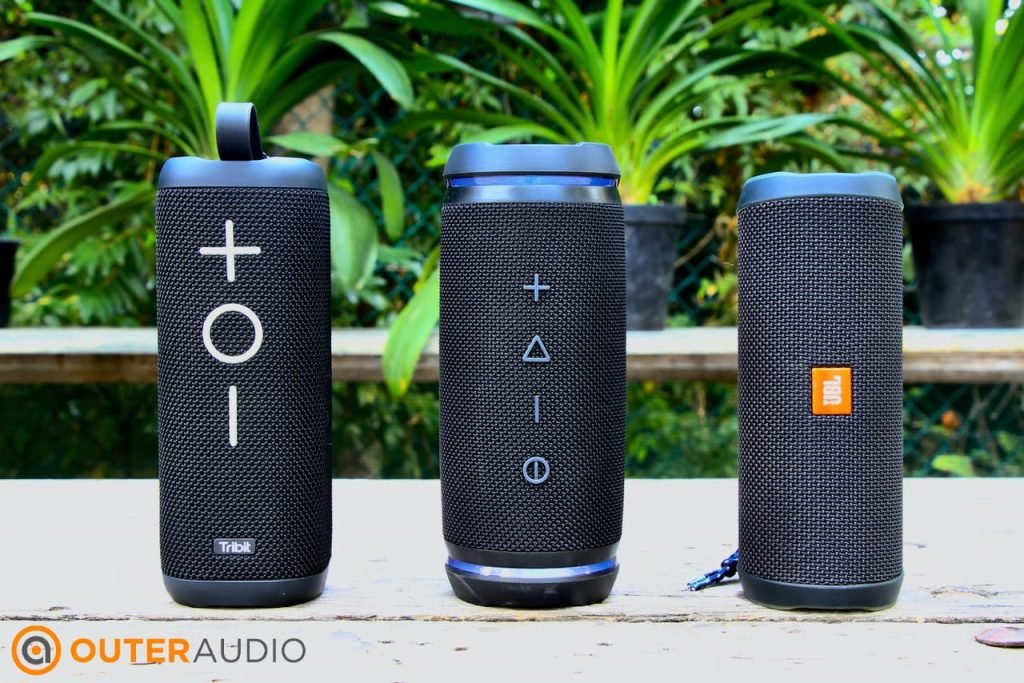 Impressive Sound Quality
Treblab is known to draw attention to sound quality and ease of use rather than lights and other gimmicks regarding their Bluetooth speakers. They consistently produce great-sounding equipment; the Treblab HD77 is another model that proves this correct.
The HD77's frequency response only begins at 80Hz, which has quite an impact on the low-end response of the speaker. While the Treblab HD77 may not be able to produce the bone-shaking bass you might be after in bass-heavy music, it provides just what you'd expect from a speaker of this size and does not disappoint. It goes without saying that compared to the smaller HD7, the HD77 can output a slightly more powerful bass response. If you're looking for a Treblab speaker with the same features but a greater bass response, look at the HD Max.
The midrange of the Treblab HD77 is tight, warm, and clear: great for guitar-based and singer-songwriter music. This is where the HD77 shines sound-wise, and the warm lower midrange body makes up for the lost depth in bass response. As for the high-end, one can expect bright and crisp tones here. While the Treblab HD77 does not explore the entire upper range of human hearing, a threshold of 16Hz is enough for most uses. After all, it is a portable Bluetooth speaker and not designed for critical listening. 
Volume-wise, the HD77 is capable of reaching fairly loud volumes, though not to the degree of some of the larger, louder Bluetooth speakers on the market. While you may experience slight distortions and pops at high levels, you must push the speaker to that point to hear this. For casual at-home listening or for carrying around hiking, camping, fishing, or at the beach, the Treblab HD77 provides enough volume for personal background music or to provide some ambiance when relaxing with a small group but aren't necessarily looking for a pumping party (if you're looking for a party speaker check out our selection of party speakers here instead).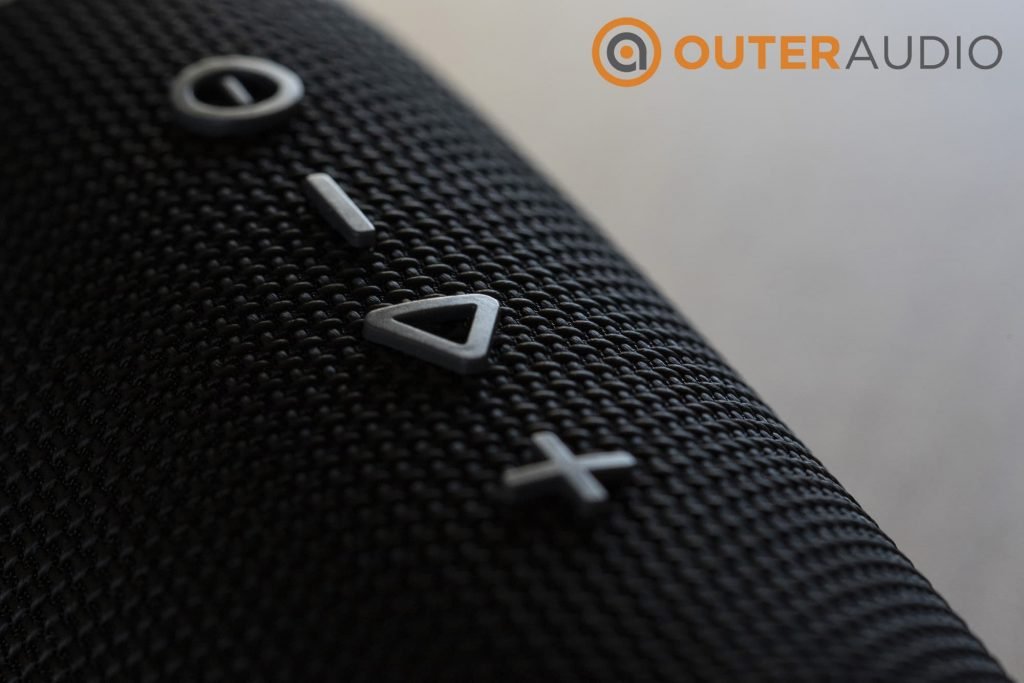 Great Battery Life
Treblab is great when it comes to the battery life of their devices. The Treblab HD77 can run for 20 hours straight when played at a lower to medium volume level and 9 continuous hours at full volume. The battery life can be further extended by using the 3.5mm auxiliary connection rather than Bluetooth.
The HD77 obtains a full charge in 4 hours or less and can still play music while on charge. The only downside here is that the HD77 does not notify you incrementally as the battery weakens and only lets you know about low power once it is practically about to die, so keep track of the battery life and charge the speaker fully before taking it out with you. 
Additional Features
Treblab is good at building decent-quality microphones to incorporate into their speakers. In the case of the Treblab HD77, a CVC 6.0 microphone is included, providing hands-free use while the speaker is connected to your phone or laptop. The HD77 will automatically pause playback when an incoming phone call or Skype/Zoom request is detected, and you can accept, reject or hang up using the speaker's buttons. Once the call has ended, the HD77 automatically resumes playback. The microphone sounds good enough for a Bluetooth speaker. There are certainly worse-sounding mics out there.
Final Thoughts
The HD77 is another great, compact, powerful Bluetooth speaker from Treblab. They did a great job covering a nice range of products in the HD series, where you have everything from pocket-sized to boombox-comparable designs, and the HD77 is a perfect fit right in-between. The HD77 has all the basic features you could want in a portable Bluetooth speaker and sounds great for its size and price point. 
Thanks for your feedback!