The Bottom Line
The Treblab HD7 offers a compact Bluetooth speaker solution for travel or bicycle mounting. There are some trade-offs to be made with the HD7, though. You won't get the same bass response as some larger Bluetooth speakers. However, the mids and highs do well to present an overall good quality audio experience. At just over 6″ long, you won't have problems finding space for this speaker.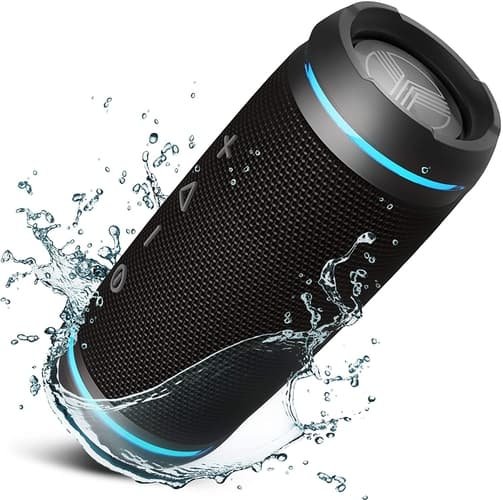 We recently looked at Treblab's HD Max Bluetooth Speaker – which was pretty impressive, so we decided to get more of Treblab's Bluetooth speaker range. This article reviews the HD7 Bluetooth Speaker, the smallest HD series designed primarily for outdoor and casual personal usage.
Before we go further, I'd like to point out that if you're looking for a speaker that can power your party, the HD7 isn't for you. Look at Treblab's HD Max- the HD7's bigger brother that has no problem pushing serious volume over a large crowd and with a bass response to match that. The HD7 is designed for personal use around the house or for outdoor activities shared between a small group. If you're looking for something in-between, check out the HD77 model.
Portable and Lightweight – Incredibly Convenient
When choosing a Bluetooth speaker, portability is a significant factor. The size and weight of a speaker will affect various other specifications too, so it is vital first to evaluate your needs/wants to find the perfect speaker for you. 
Though the HD7 is not what we would call a small Bluetooth speaker, it is the smallest and inherently the most portable of the HD range of Treblab Bluetooth speakers. It also features various outdoor-appropriate abilities for an excellent wilderness-conquering Bluetooth speaker. 
IPX6 Waterproof – Take it Practically Anywhere
A water-resistance rating of IPX6 means the HD7 can withstand practically any contact with water aside from being completely submerged. The HD7 will survive anything from light water droplets from rain, the shower, or the pool to high-pressure water impact from any angle. The HD7 can be taken under a waterfall, to the desert, on the beach, or in the snow without facing any damage.
The HD7's weatherproof abilities perform as expected, and the speaker is incredibly comfortable to carry around. I would have preferred an IPX rating of at least 7 for such a small speaker that could easily be dropped into water. However, the IPX6 grade provides enough protection for versatile use. The HD7 doesn't come with a carry case- something I also would have liked to see, though its shockproof body protects from waist-height drops, and the weather-resistance properties and design do a great job at keeping dust, sand, and water out of the speaker.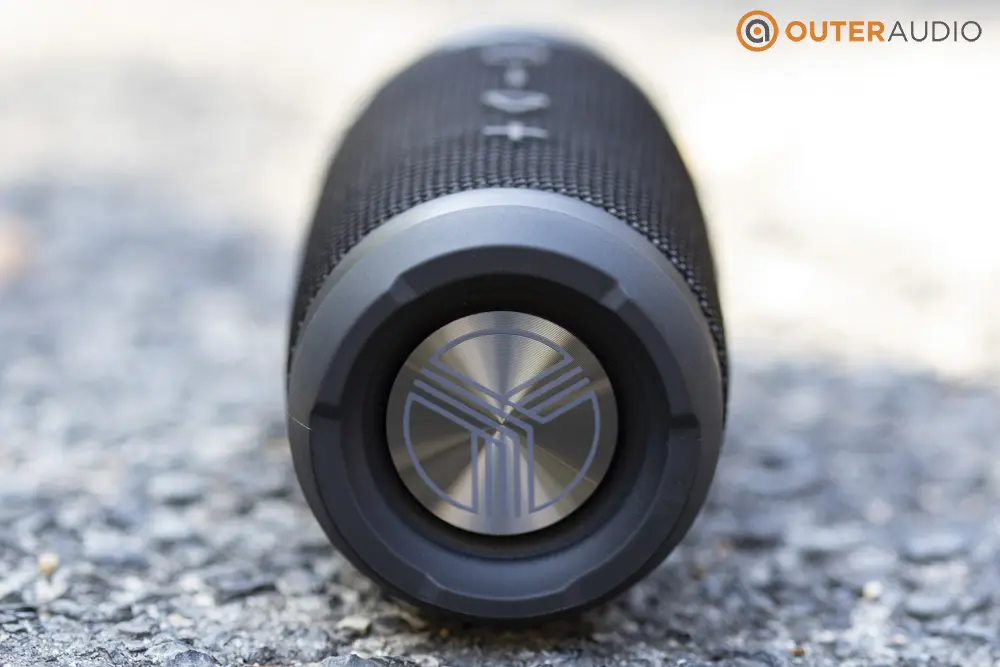 Layout and Design – Easy to Use and Well-Built
The HD7 comes with an attachable carrying strap with a carabiner so the speaker can be secured to your backpack, belt, or even just over your shoulder. The Treblab Bluetooth Speaker Mount can be purchased separately to securely mount the HD7 to your bicycle, golf cart, or boat while maintaining access to all the buttons and controls. The speaker mounts securely hold speakers of varying sizes and shapes, not only the HD7, and work as they should. It is worth remembering that the HD7 is also incredibly small (around the size of a soda can) and can easily fit into a backpack (or its cup holder compartment) or in a handbag without occupying too much space.
As for the actual design of the speaker, the HD7 is round, with flattened spaces along the edges to prevent the speaker from rolling around. All the buttons and controls are on top of the speaker and can perform all basic commands relating to music playback, phone communications, source toggling, and stereo pairing.
Beneath the speaker, you will find the pull-away panel that exposes the Micro-USB port for charging the HD7, the 3.5mm Auxiliary port, and the bike mount attachment.
I was expecting to see a USB port for charging your phone, like many modern Bluetooth speakers are capable of, especially for a speaker that carries many outdoor and adventure-related features, so I was slightly disappointed to see the HD7 is incapable of this.
Sound Quality – Thin Bass but Great Quality for its Size
The HD7 boasts 360-degree sound emission capabilities due to its 4 onboard speakers positioned at such angles to create a wide listening zone while the speaker is placed flat on a surface with the controls facing upwards. Treblab also advertises the HD7 as being able to operate in an upright position. This will cover one of the bass drivers, which is situated on either side of the speaker, partially muffling the bass response, which may not sound entirely terrible depending on what surface it is on (how reflective or absorptive the surface it will affect how the sound resonates within the room.
Due to the size of the speaker and its drivers, one can't expect deafening volume levels from this device, but it is certainly enough for personal use or a small gathering; the HD7 packs enough power to provide some quality background entertainment. The HD7 sounds great indoors and outside, and the overall quality of the sound doesn't deteriorate as the volume is pushed to the max. As for the sonic contents of the sound the HD7 produces, I noticed a few things:
As much as I love this speaker, I must admit that the bass response is poor. However, this didn't come as a surprise, as one can't expect bone-rattling low-end from such tiny drivers. The frequency response of the HD7 only begins at 180Hz, which means the lowest possible tones we can hear on the HD7 will be the warm-sounding lower midrange, and subsonic and bass frequencies are practically nonexistent.
Where the HD7 falls short in low-end response, it makes up for in midrange and higher frequency clarity across the volume spectrum. While the HD7 may not be well-suited for those who are into bass-heavy music, if you're a fan of jazz, pop, or instrumentally-lead genres such as guitar, piano, or orchestral, the HD7 won't be a disappointment at all. This speaker also sounds great with radio, podcast, or audiobook playback.
If you're after something with more volume, consider our list of the loudest Bluetooth speakers.
Onboard Microphone and Call Features – Gets the Job Done
If you're looking for a speaker to form part of your home office setup, the HD7 is a great choice due to its small space occupancy, long battery life, and ease of use for phone calls or online meetings.
When an incoming call is detected, the HD7 automatically mutes whatever music is playing, and the call can be accepted or rejected using the onboard controls. While there is no AI or virtual assistant compatibility, the microphone quality is just as decent as your cell phone's mic, and the speaker will automatically resume music playback once the call has ended.
Battery Strength – Surprisingly Long for its Size
The Treblab HD7 uses a reasonably large 2500 mAh battery, which can power the speaker for up to 25 hours, depending on how you use it.
If you play your music at full volume every time, the battery life will be more like 18 hours, which is still impressive for such a small speaker. Alternatively, the battery life can be extended by using the auxiliary connection rather than Bluetooth.
Overall, the battery charges quickly enough to avoid inconvenience and will last long enough for a party, weekend-long outdoor adventure, or a standard day in the office. Given the speaker's volume-pushing abilities, unless you're hosting a party, it is not expected that you'd be running the HD7 at 100% volume level anyways.
Wireless Connectivity – Works as it Should
The Treblab HD7 uses Bluetooth 4.2 to wirelessly connect your source device to the speaker. This makes for a reasonably strong connection, allowing for a distance of up to 33 feet between devices- more than enough for use around the house or in most outdoor situations. 
Establishing a Bluetooth connection is extremely quick and straightforward, and the HD7 remembers paired devices so your devices are instantly connected upon powerup, provided your Bluetooth remains activated on your source device.
It would be nice to pair multiple source devices to the HD7 simultaneously. However, such a small speaker is best suited for personal use rather than a party situation, so this feature is unnecessary.
True Wireless Stereo abilities allow you to pair two individual HD7s together to form a stereo pair. This is a great feature for wireless speakers, as even the 'stereo' models don't provide a detailed stereo field, and I'm glad to see this ability on the HD7. 
Treblab HD7 Bluetooth Speaker Conclusion
The HD7 is incredibly compact, lightweight, and therefore easy to carry around, whether to the beach, on a hike, or fitted to your bike. Despite its small size, the HD7 is packed with enough features to provide you with everything you could need in a portable Bluetooth speaker, and my only complaint would be the lack of bass (which might not be an issue for you, depending on your music taste) and absence of a power bank feature. However, this may not be too big a deal, depending on how and where you plan on using the HD7.
Overview:
The Treblab HD7 may not be the best speaker to power your house party or provide thumping basslines to rattle the windows, but it is clear that it was not designed for this purpose. For a speaker made to be as small, lightweight, and convenient as possible, Treblab was seriously successful here. I recommend the HD7 to anyone looking for a budget-friendly and compact speaker at home or when out and about. That sounds great and has all the standard features.
Compared to similarly-sized and priced Bluetooth speakers, the Treblab HD7 stands out due to its competitive price, strong battery life, fast charge time, loud volume capabilities and sound quality, and lightweight design.
What's in the Box?
Thanks for your feedback!