If you are one of those people who cannot imagine their morning without their favorite beats, then this article is the just the thing you need. If you want to have trustworthy speakers that will last you for years, and make your life much more exciting, it's time to think about in-wall speakers.
Now, you may say that any kind of speaker will do the job, but that's far from the truth. What you need are in-wall speakers. Not only do they deliver great sound and bass, but they also won't occupy the space in your room. In addition, they will make it a bit more stylish.
Pros and Cons of In-Wall Speakers
The most obvious advantage of in-wall speakers, just like in-ceiling speakers, is that they take up little space. Since they are installed in the wall, well, you will have much more room on your floor. The same goes for shelves. This is why these speakers are perfect for small apartments.
They are also ideal for anyone who wants to maximize the space in their house and have stylish speakers to show off. Of course, the great design is accompanied with an excellent sound; otherwise, the speakers won't be very useful.
Speaking of sound, that is the next advantage of these speakers. They make a great addition to home theaters since they will work great as rear surround-sound speakers. BUT, here comes the catch – you have to position them in the right way so that they can deliver optimal sound.
This leads to the installation – The biggest disadvantage. This is why most people hate to deal with in-wall speakers. We know it and you know it – installing these speakers is a hassle. First, you have to be careful where to make holes, because the wires mustn't come into the touch with plumbing, electrical wiring, etc. It goes without saying that not knowing where these things are at your house/walls can be dangerous. So, before even considering these speakers, make sure to know where you could install them.
Next, you will have to be careful, so as not to drill too many unnecessary holes in the wall. Obviously, you don't want the walls in your house to be full of tiny holes, as that won't be very attractive.
Also, we would suggest you call someone to help you with installing in-wall speakers because it would be much faster and easier. Sure, you can try to be a handyman, but we warned you. Also, keep in mind that you should take good care of your speakers, too.
So, if you want a top-notch listening experience to soothe your soul, then this is the way to go. We bring you a buyer's guide and the ten best in-wall speakers so as to help you on your way to more happiness and fun.
1. Polk Audio RC85i In-Wall Speakers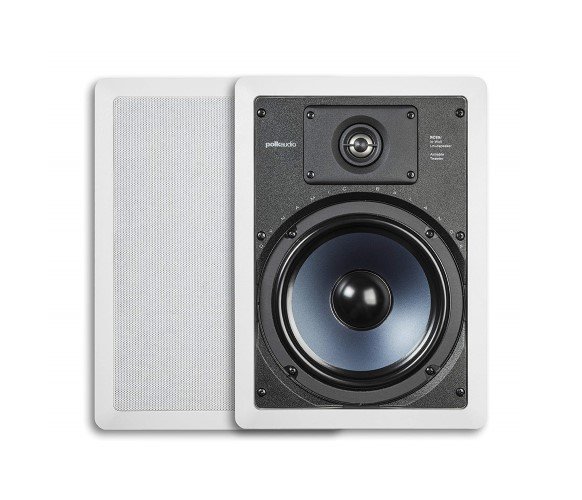 First off, we have a speaker coming from Polk Audio – one of the most popular names in the audio world. Here we have a pair of 2-way in-wall speakers, perfect for bringing clear highs and mids into your home. These speakers can work on their own or be part of your sound system. Either way, you will be happy with their performance and price.
Now, these speakers sound great. They produce a full and rich sound, thanks to an 8-inch dynamic-balance polymer composite cone that is filled with minerals and connected to rubber surrounds. Just to point out, rubber surround systems last much longer than foam ones and contribute to better sound dispersion. What also helps the sound disperse better is the swivel-mounted tweeter since you can aim it in whichever way you want.
The tweeter is crafted from a metalized material and is soft domed with dynamic balance. This ensures it provides crisp, clear sounds regardless of which direction it is facing.
As for durability, these speakers are made of quality materials and are moisture resistant, so no worries about that. You can also install them in wet conditions, such as bathrooms and saunas.
On the downside, the bass tends to overpower the rest of the sound, which some people didn't like. But, if you love a truly powerful bass, then you will also love these speakers. In addition, the installation can be a bit tricky, depending on how handy you are.
This impressive bass is due to the way in which the Polk speakers use the enclosure created in the wall to boost the sounds; bass is always the most dominant of these sounds but it can be adjusted to a more acceptable level. These speakers are particularly effective when linked to the Polk audio monitor series.
The speakers are 12.2 inches by 5 by 10.5 inches and weigh 5.5 pounds each. When fitting to a stud wall it is advisable to attach them to one of the studs; this will ensure they remain safely in place.
You will need a depth of at least 4 inches in your wall; assuming you have a 1-inch dry lining. Your hole will need to be 12.75 inches by 8.75inches. The speaker grill is whit but it is possible to paint it; if you desire. This could make it blend into the wall perfectly!
The trickiest part of the install is getting the wire through your wall and to your stereo; if you are unsure of the best way to do this you may need to consult professional help.
Overall, the Polk Audio RC55i delivers clear and full sound, has a 35Hz – 20 kHz frequency response, and is made of quality materials. Not only will they last for years but they are also moisture-resistant and can be installed in a bathroom or under your eaves, allowing them to effectively disappear while giving you quality sound anywhere in your home.
On top of all that, they come at a good price, making them a worthy investment for anyone who loves music.
2. Micca M-8S 2-Way In-Wall Speaker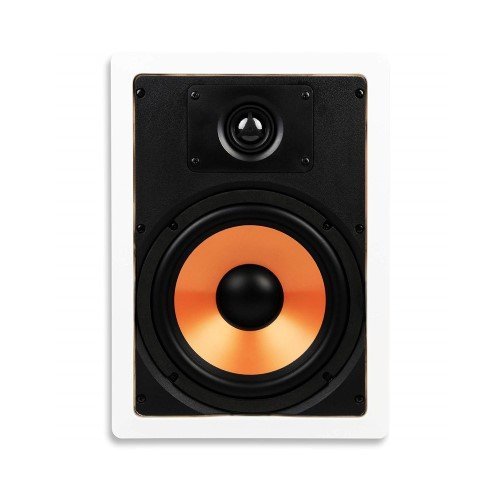 Here we have another pair of 2-way speakers. But, these are more affordable, making them ideal for those on a budget. You should be able to get these for between $40 and $75.
This pair of speakers is just the thing you need if you are on a quest to find speakers on a tight budget. Good performance, great looks, and easy installation – these speakers are worth every penny.
What makes the Micca M-8S stand out from the crowd is the look. The combination of black, white, and orange make these speakers easy to notice and quite attention-grabbing. So, they will add a modern and unique touch to your home. However, if you feel creative, you can paint the speakers and bring some rich colors to your world. This is part of the attraction of the Micca's; they can blend into your room or become a feature point; the choice is entirely yours!
As for the sound performance, these speakers are solid. With their price, the sound quality is as good as it gets. An 8″ poly woofer, a 1″ soft dome tweeter, and good bass work together to deliver a crisp, clear sound. Highs are not so good, though, but, hey, did you see the price of these speakers?
However, despite their prices, these speakers are sturdy and long-lasting, since they are cleverly designed and made of high-quality materials.
What you will definitely appreciate about these speakers is the easy installation. You will need basic tools and basic skills and you're good to go.
The speaker's measure 10 inches by 14.5 inches and you will need to cut a hole 8.75 inches by 12.75. You will also need to verify that the depth of your wall cavity is at least 4 inches to ensure it will take the speakers; there is little point in having in-wall speakers sticking out of the wall!
The Micca M-8S have a good frequency response range, from 40Hz to as high as 20,000Hz. They also come complete with a 12dB crossover which helps to ensure every sound is as crisp as it should be. The speakers have an impedance of 8 ohms and a 90dB sensitivity rating; which is above the recommended minimum figure.
Overall, this pair of speakers deliver great sound, and offers the possibility to paint them so as to match the room's interior; and they are a breeze to install. All this means that these speakers are one of the best models for that price range, and you should not be having second thoughts about buying them.
The poly woofer and dome tweeter are designed to cover a broad range of music; while this means that you may suffer if you have specialized tastes; for the average person the sound will be perfect
You can opt for one set of speakers or choose to have several sets; one for each room. They can all be linked to the same stereo set-up and even connected to your television; allowing you surround sound for your favorite movies.
As an extra pointer, you can improve and increase the bass sound from these, or any in-wall speaker, by making your own enclosure for them; before you fit them into the wall. But you should note this is not a necessity.
3. 5252W Silver Ticket In-Wall Speaker with Pivoting Tweeter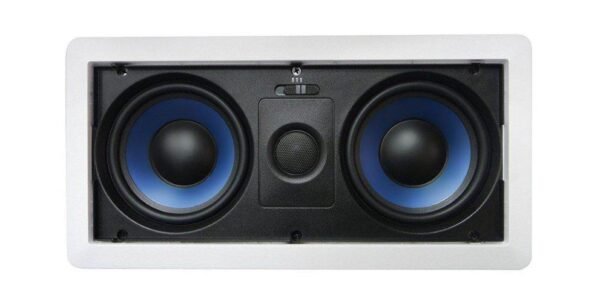 Our third product comes from Silver Ticket Products. Whether or not you have heard of this company, you won't be disappointed with this speaker, as long as you don't expect too much. This speaker costs less than $50, and as such, it cannot deliver the same sound quality as ones which are three, four, or even five times its price. However, it still is a good choice for those of you who are satisfied with the average sound performance.
Let's talk about the sound. First, this speaker has 40 watts of nominal power and 80-watts peak power. This means that while the sound isn't that loud, its quality is decent. The bass is solid, though the treble tends to be dimmed. Also, you will need to get a strong amplifier because it draws a lot of power when used.
The frequency response is 63 Hz – 20,000 Hz which is quite impressive, although some of the lowest notes will be distorted or not even heard; the impedance is 8 ohms.
The 20 mm silk dome tweeter gives you a smooth sound, while a 15-degree pivot allows you to direct the sound wherever you want it to go.
However, there is one thing that definitely makes this speaker worth mentioning, and that is the construction. Even though this is one of the most affordable in-wall speakers, its high-quality construction is on par with the much more expensive models. The speaker is solidly built, and won't break. It will last for years to come, and this is only one more reason why you should buy this speaker.
As for the looks, it does not impress us very much, but it is not bad at all. The blue and black combination can make a great contrast with the colors of your walls, which is a bonus; unless your walls happen to be blue and black…
In fact, although not recommended it is possible to paint the fronts of the speakers and their grills; this will ensure your in-wall speaker looks fantastic.
Another benefit of choosing the 5252W Silver Ticket is that it can easily be mounted vertically or horizontally on your wall. This increases the options regarding the location and makes this a very attractive proposition.
The speaker weighs just 4 lbs and is 14.7 inches, by 7.4 and 3.1 inches. In order to fit it, you will need a hole 12.75 inches by 2.5 inches. The depth needed in your wall cavity is just 3 inches. This is what makes the speaker so attractive; the ease in which it will fit into virtually any wall.
It is worth noting that if you have insulation in your wall this will not affect the operation or efficiency of this speaker; it doesn't matter if it touches it.
This speaker is sold individually and is compatible with all 5.1, 6.1 and 7.1 systems; making it the perfect companion for your existing set-up.
Overall, this speaker is very affordable, yet it offers exceptional durability and good sound quality, so you should not miss out if it's in your ballpark.
4. Polk Audio 255C-RT In-wall Center Channel Speaker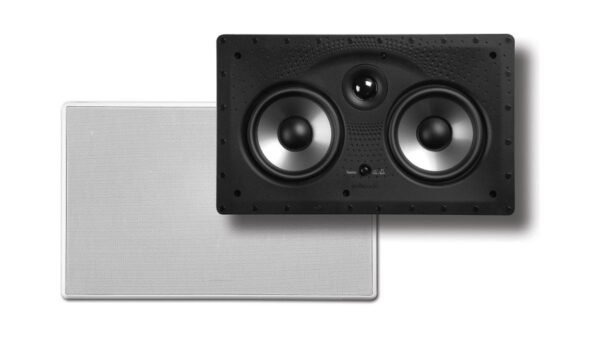 Here we have another model coming from the well-known Polk Audio. Here we are talking about the 255C-RT in-wall speaker that makes easy work of complementing your home sound system. With its great features, this speaker delivers a mean sound, and thanks to that you will hear the entire nuance found in a song or a movie. Listening to your favorite song will be like you're hearing it for the very first time. It's definitely one of the best in-wall speakers money can buy, and rightly so.
It is also available at a surprisingly affordable price; for such a quality speaker. You should be able to pick one up for less than $200. Although this is much more expensive than the other options on this list so far; it is an excellent quality speaker and is worth considering. This is especially true if you have a desire to have a top of the range sound system.
The bass ports, having a dual-band design, are very effective in small spaces. They direct the low frequencies of the woofer smoothly and efficiently.
They are protected by a magnetically fastened Sheer-Grille, which protrudes by around 7 millimeters from the speaker. However, this sheer grill can easily give the illusion that the speaker is not even there; without needing to paint the wall!
Coming from Polk Audio, this speaker is built to last. It features high-quality parts and has a sturdy construction, so you won't have to worry about getting a new speaker in years. In addition, this speaker looks amazing. The black color makes it looks elegant and powerful at the same time, making it a worthy addition to your home theater.
Best of all, the Polk Audio 255c-RT is a breeze to install. It seems that Polk Audio thought of everything to make you satisfied, so they also provided you with a template and simple instructions. Thanks to this, you will easily install the speaker. Not only that, but there is a patented Rotating Cam system, that will give vibration-free sound. However, the attachments needed for the installation aren't included with the speaker, so you will have to buy them separately.
The speaker is 6.6 pounds and measures 9.8 inches by 14.8 inches by 9.3 inches. You will need to cut a hole in your wall measuring 13.1 inches by 7.6 inches. You will also need a depth of 3.3 inches spare inside your wall.
The Polk 255C-RT has a frequency response of 30Hz to 27,000Hz; making it one of the best currently available on the market. Its sensitivity is 90dB and it runs at 8 ohms. You can also add an amplifier, although Polk recommends limiting this to 1à watts.
The speaker is described as a center channel speaker which means it is designed to fit in the center of your system and gives an excellent range of sounds across the range; as supported by the frequency response abilities.
The cones are made from a composite polypropylene and silk/ polymer material which means they will last and be flexible enough to continue producing crystal clear sounds into the future.
Overall, this stylish and elegant speaker is simply a must for any audiophile.
5. Pyle In-Wall Dual 8.0" Enclosed Speaker Systems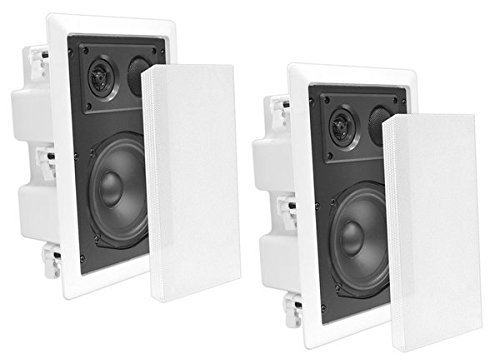 The next entry on our list is some stylish stereo speakers coming from Pyle. An elegant and rich sound, powerful bass, and classy design, Pyle knows what a high-quality speaker is supposed to be.
Like some previous models on our list, this one also has a 2-way design. It delivers both the highs and the lows equally, so you definitely won't miss out on any nuance in a song. This is emphasized by a solid 400 watts of peak power. The 8-inch long-throw woofers and 1-inch titanium dome voice coils make sure that the sound is accurate and with just enough bass to keep every listener happy. Enclosed housing ensures that the sound is nicely dispersed, without distortion.
What you will surely appreciate these speakers is the way they look. Thanks to its classic design, they can fit into any interior, leaving a modern and simple touch on the walls.
The speakers are 10.2 inches by 14.4 inches with a depth of 4.4; making them one of the biggest speakers in our list so far. This is part of the reason they have such excellent sound, yet you can still get 2 speakers for less than $100.
Now, what you won't love about these speakers is installation. Not only does it take time, but it is also a real pain. You might also want to get some help; otherwise, this will last for ages. However, on the bright side, once you are done with the installation, you will enjoy a great sound quality.
The main issue with installation is not cutting a hole in your wall; it is getting the wires to run through from your speaker position to the stereo set-up. This is an essential part of in-wall speakers but can be very difficult to achieve.
You will need to cut a gap of 8.8 inches by 13 inches in your wall. More importantly, you will need to first verify that you have at least 4 inches of clearance within your cavity. If not these speakers will not fit.
The Pyle speakers are designed to run with either a 4ohm system or an 8ohm one; making them one of the most flexible options you can purchase. They will cover the majority of the frequency range; from 50Hz to 20,000Hz. This leaves only the very high and very low notes as un-catered for. In most cases, you will not even notice that they are not there.
The speakers are covered with a white grille that will blend effortlessly into your walls; you can even paint them if you wish to match the decor of your room. In fact, these speakers can be fitted to your ceiling if you prefer. You will just need to ensure they are securely fastened. They may only weigh 15 pounds but that will hurt if it falls on your head.
All in all, even though the installation itself is a pain, the sound quality, design, and sheer power of these speakers more than makes up for it.
6. Klipsch R-5650-W II In-Wall Speaker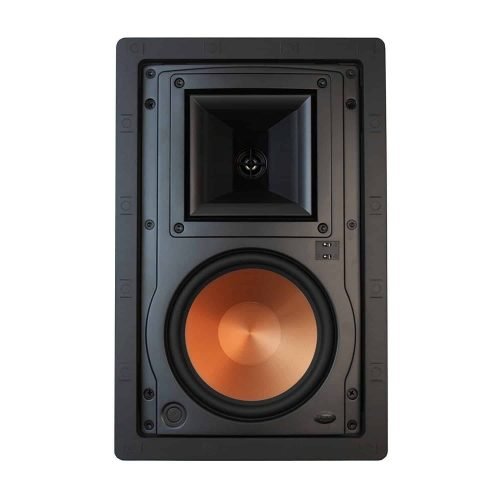 Klipsch has been making speakers and entertainment goods for many years and they have become very good at it. This particular example has a 1-inch titanium dome compression driver. This is similar to many high-quality speakers. But what really makes the difference is that this is coupled to a 4-inch square Tractrix horn.
You will also find a 6.5-inch Ceramettalic woofer; the two parts together provide crystal clear sound at all volume levels; distortion is a thing of the past.
To improve the quality of your listening experience even further Klipsch has created a moveable tweeter; it can be directed at where you are sitting to give you the best possible experience.
Alongside this, there are also switches to control the range of treble and even the midbass; as well as an IR receiver knockout; reducing any distortion to virtually zero.
Each speaker is sold individually but there is virtually no limit to the number that you can connect to your system; provided the system is able to produce enough juice to power them all.
One speaker weighs 7.1 pounds and is 9.3 inches by 14.3 inches. The depth is 3.8 which means you will need at least 3.3 inches of clearance within your cavity wall. The cut-out dimensions are 13 inches by 8 inches and they should be installed on the brackets supplied.
If you cannot secure them firmly to a brick wall you should attach them to a stud in your stud wall; this will prevent any damage occurring to your wall or the speakers.
It is worth noting that these are high-powered speakers, they can handle 200 watts of power and it is recommended you connect them to an amplifier producing at least 100 watts.
They will operate on 8 ohms only with a frequency response rate of 40Hz to 23,000Hz and a sensitivity of 94dB, one of the best you are likely to come across. The inbuilt crossover kicks in at 2,600Hz; which separates the sounds perfectly.
The fact that the Tractrix horn pivots simply adds to the experience as you listen to your favorite tunes. It can be pivoted up to 15° in any direction allowing you to experience the sounds quicker and clearer.
The speakers look fantastic but they also come with a slim grille that can be painted to match your room. They will become virtually invisible; if you wish! This has already been aided by several improvements to the attest version of this speaker; the front grill is 80shallower than before and the frame size has been reduced by 90%.
Even the diaphragm on these speakers has been made with lightweight metal to ensure it is able to offer a precise response to your sound requests.
It is worth noting that you can purchase a specialist installation kit to ensure these speakers are secured properly in just the right place; this is an optional extra which can be purchased separately.
If your budget can stretch to it these are the speakers to get; you will not be disappointed with the sound quality and their ability to balance all the frequencies to create the perfect mix for your ears. The fact that they are extremely durable is a bonus!
7. Bose Virtually Invisible 891 In-Wall Speaker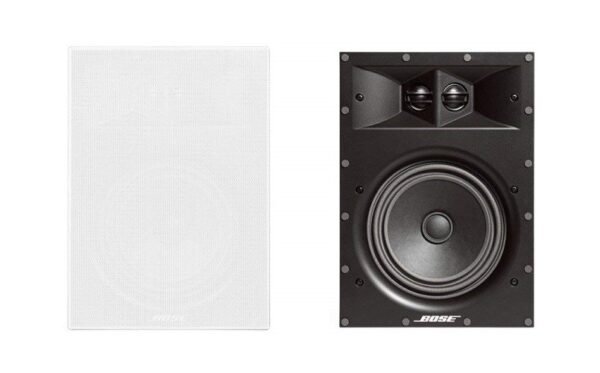 The name of this speaker gives it away! Boss has chosen to make a speaker with minimal bezels, magnetic grill clamps, and a paintable grill. This should make a properly installed speaker invisible in your walls.
Of course, you can choose not to paint the grill and allow the clean white lines to stand out against your painted room. You can even leave the grill off and expose the 7-inch woofer with two tweeters set above it at an angle. Both the tweeters are 1 inch in diameter; their position is designed to provide excellent high-frequency music across a room. In fact, this speaker is designed to provide the stereo sound that you normally associate with two speakers or more.
It is possible to purchase a pair of these for anywhere between $500 and $700. This high cost is justified by the look of the speakers and the sheer quality of music you are paying for; you will find it hard to locate another set of speakers which can provide the same level of sound quality.
Each speaker weighs 9.4 inches by 13 inches; the biggest in our list so far. These impressive beasts can be installed in your walls but you must pay careful attention when fitting them. You will need a depth of 3.5 inches in your cavity walls to ensure you have adequate room for the speakers and their mounts. The cutout hole will need to be 11.5 inches by 7.75 inches and each speaker weighs a respectable 5.22 pounds.
These speakers do an excellent job by themselves but to truly finish your system you should invest in a central speaker and a subwoofer; along with the appropriate amplifiers.
The maximum power these speakers can handle is 200 watts although the manufacturer recommends an input of 100 watts. An amplifier is a great idea when purchasing these high-quality speakers.
Providing they are installed and used correctly the speakers come with a five-year warranty; this is a testimony to the quality of the product.
Each speaker has a unique room-filling stereo Everywhere design which ensures the sound is realistic and all-encompassing; regardless of where you are sitting in the room. There is no need to direct the speaker or have pivoting tweeters; this patented technology allows you to feel like the music is being directed at you even when it is not.
One speaker on each side of the room and a small amplifier will be all you need to really appreciate your favorite song or movie. The speakers can be connected to virtually any stereo or television set.
The woofer and the tweeters are made of a metallic composite which ensures distortion is minimal and the sound quality remains excellent, regardless of the volume setting you choose.
You will find that these speakers are exceptionally easy to install. All you need is four clamp screws and you will be able to slot this speaker into your drywall and secure it firmly into place.
Once in position the speaker, although already enclosed, maximizes its sound output and the clarity of its notes by using the natural enclosure effect created by the cavity wall the speaker has been sunk into. The infinite baffle design ensures it is not necessary to build your own speaker enclosure for each one.
There is no doubt that this is one of the best speakers you can purchase at this moment in time; if your budget is irrelevant or you need the best then this is the one to go for.
8. JBL SP6II 2-way, 6-Inch In-Wall Loudspeaker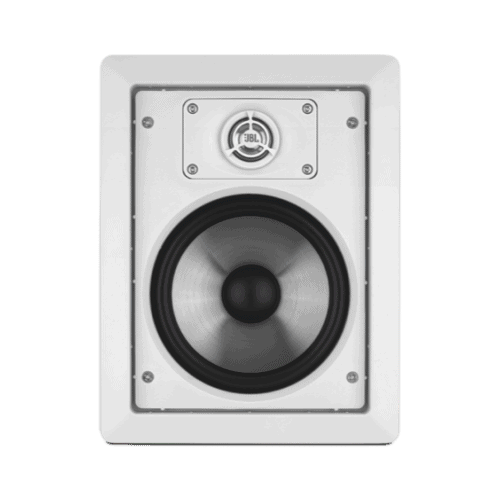 JBL is another firm which has been creating high-quality speakers and electronic equipment for many years. This makes it unsurprising that they have an excellent product to offer in the guise of the SP6II.
It is, of course, a 2-way speaker which means that it concentrates on the bass notes and the high notes. While on many speakers this can lead to mid-range distortion and a lack of clarity the JBL does not appear to suffer from this.
The speaker is crisp and clean in white; looking almost futuristic although with the grill on it could easily be mistaken for an air vent. This ensures you can hide it successfully in any room. You can even paint the grill to add to the effect!
It has one 6 ½ inch woofer made from titanium laminate with rubber surrounds. This helps to increase the lifespan of the speaker without reducing the quality of the sound. The rubber surrounds are very good at absorbing distortions; preventing them from being heard by you. They are also excellent for durability; helping to ensure the speaker lasts for as long as you need it to.
There is also a one-inch tweeter mounted centrally above the woofer cone. This is also made from titanium laminate. It can be swiveled to face your preferred direction and enhance the quality of your listening experience.
The speaker has a frequency response range of 38Hz to 20,000Hz and has been designed to handle up to 80 watts of amplified power input. Although the speaker can handle higher watts at this point the sound will start to distort.
Each speaker has an inbuilt crossover set at 2,800Hz with a sensitivity of 88dB. They are designed to run at 8 ohms and can be purchased for under $100 per pair. It is important to shop around for this price as you will also find retailers selling them for in excess of $250.
Each speaker is 9.7 inches by 7.1 inches with a depth of 3.9 inches. To install them you will need to make a hole 9 inches by 7 inches and your cavity wall should be at least 4 inches deep. You will note there is not much difference between the size of the speaker and the cut out required. It is important to proceed with caution; one slip could leave you with a hole in your wall too big to fill.
You should also consider how you will get the cables from your speaker to your sound system; this can often be the most difficult part of the install.
The actual installation is incredibly simple. Your new speaker will arrive with dog ear clips. These can be fastened to your drywall and then used to secure your speaker in moments. It is important to take your time and complete the install properly, one speaker weighs 10 pounds; you will not want it falling out of your wall.
It is not necessary to create an enclosure for the speaker and it will not enhance the sound quality, these speakers are built to perform in the cavity walls and will use the acoustics within the walls to amplify the sounds.
There is no limit to how many of these speakers you can install providing your sound system has enough output to feed them all. The sound quality and look of these speakers is truly amazing considering the price you can purchase them for. If you decide to purchase these you will not be disappointed.
9. Yamaha NS-IW760 6.5″ 2-Way In-Wall Speaker System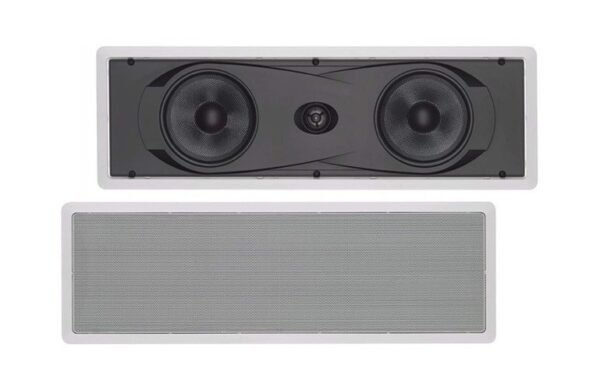 This impressive-looking speaker offers 130 watts of pure power. This is listed as the maximum input capability of each speaker; you should be able to purchase it for under $100.
Yamaha has been creating electronic equipment, including speakers and a host of other technical items for many years. In fact, they are one of the oldest firms still in existence; they were first founded in 1887; 130 years ago. As such, they know what they are doing and this speaker is an excellent example of their abilities.
The speakers benefit from two 6.5 inch woofers made from the usual mixture of polypropylene and rubber. This ensures the sound does not become distorted even when you turn the volume up.
In addition there is a single 1-inch soft domed tweeter sat in the middle of the speaker; between the two woofers. This creates a distinctive and attractive look; you may choose not to cover it with the standard mesh grill.
The speaker measures 23.44 inches by 7.69; which makes it the largest speaker on this list. However, it is only 3 inches deep and you will only need just over 3 inches of depth in your cavity wall. Funnily enough, this makes it one of the shallowest in-wall speakers you will come across.
Each speaker weighs 5.1 pounds and you will need to cut a hole 6.8 inches by 22.5. It is worth noting that while the vertical installation is relatively straightforward if you wish to put your speaker horizontally into the wall you will need to cut through one of the struts. This means you will have to ensure the wall is still well supported; it will make the job more complicated and time-consuming.
The Yamaha NSIW960 operates between 50Hz and 24,000Hz; the response is excellent and you will find the music is well balanced; covering all the main highs and lows of your favorite tunes. You may also be interested to note that it has its own crossover built-in which cuts in at 6,500Hz.
It is magnetically shielded and can be mounted near the television if desired. It requires 6 ohms to work properly and has a sensitivity of 88dB.
The initial design lends itself very well to use as a center speaker in a 7.1 surround set-up. But you can also use it on the left or right channels.
Before or after installation it is very easy to remove the grille and paint it; this will allow you to match it to your walls and make it virtually invisible. Alternatively, you can leave the stylish white grille in place; although you may find this does not blend into your room well.
When installing more than one of these speakers in your room it is advisable to position them at least 6ft apart; the maximum distance should be 10ft for optimal sound quality. Each speaker is held in place with six specifically designed clips. They work exceptionally well with standard house drywall and should make it very easy to fit the speaker into your wall.
You do not need to build an enclosure behind the speaker although you can choose to add insulation to the wall this is more for the benefit of the room than the speaker.
To summarize, although this speaker is large it uses this to its advantage, producing excellent quality music. The magnetic shielding will allow you to mount directly in-line with your television to act as a center speaker. Two ore for left and right channels will give you one of the best sound experiences money can buy. This is backed up by the comprehensive 2-year warranty offered by Yamaha on each of their speakers.
10. Monoprice Caliber In-Wall Speakers 8 Inch Fiber 3-Way
The final in-wall speaker on this list can be purchased for between $100 and $150; in addition, it is a 3-way speaker. Despite the low price, this speaker represents excellent value for money.
The speaker is housed in a white frame with a white grille; which is held in place with magnetic clips. It is stylish and will fit into any room, but if you prefer to keep it hidden you can paint the grille the same color as your room.
Monoprice products are generally well made with quality materials and this in-wall speaker is no different. In fact, this speaker uses a Kevlar cone to ensure there is minimal possible distortion when playing your music.
In addition, the magnets are extra large to ensure there is the best possible bass response and the ¾" tweeters have titanium silk domes to ensure the best possible clarity in the high notes. The tweeters can even be pivoted; allowing you to direct them to your seat and maximize the listening experience.
These speakers offer a frequency response rang if 50Hz to 20,000Hz with an impressive 90dB sensitivity rating. The maximum rated power is 200 watts although Monoprice recommends at least 100 watts per speaker; this can be directly from your sound system or via an amplifier. It operates at 8 ohms.
An added feature that many of the speakers in this selection do not have is the ability to adjust the octave crossover. It is set at 12dB but can be changed to 0, -3 or even 6-dB. This feature allows you to adjust the speakers and ensure they sound fantastic in every environment; no matter how good or bad the acoustics are.
Its ability to handle large power inputs stems directly from the products used to create it; the more you reduce distortion the harder you can push the speaker.
The speakers are 14.1 inches by 10 inches and have a depth of 3.9 inches. This means you will need a cutout in your wall matching to 12.8 inches by 8.7 inches. Assuming you have standard drywall the depth of your cavity will need to be at least 3.6 inches to ensure a comfortable fit. The grille will be flush with the wall; whether you paint it or not.
Both the main cones are Kevlar; the 9-inch bass cone carries a 30-ounce magnet while the midrange woofer is 3 inches and has a 5.4-ounce magnet. They are both surrounded by rubber to maximize their life expectancy and improve the quality of your music. The entire speaker weighs in at 17.6 pounds; this has largely to do with the oversized magnets which have been used.
Installation is surprisingly easy, providing the cables are already in place; even without experience, you can install a speaker within 30 minutes. It is worth pointing out at this stage that you usually buy this in-wall speaker in pairs. Although it has an excellent range of frequency it works best as your left and right speaker. Add a quality center speaker and you will have the perfect set-up.
Reviews of the Monoprice speakers have, so far, been excellent. There are even people who have chosen to fit them into their ceiling to improve the direction of the sound.
On a final note, the speaker is well designed; the main woofer is at the bottom of the speaker with the mid above to the right and the adjustable tweeter above to the left. They look attractive and can be put in your wall without the grill; if desired.
Whichever option you choose you will be happy with the Monoprice speakers.
The Ultimate Buyers Guide to In-Wall Speakers
Deciding that you need in-wall speakers is simply the first hurdle. There are several steps you will need to move through successfully before you are able to get the speakers home and look at installing them:
Convince Your Partner
The first stage in any buying process is to make sure that you and your partner, or anyone else who has a say in your home, is agreeable to the idea of in-wall speakers.
Many people are concerned over the look of the speaker or that the room will be filled with bass. You will need to reassure them that the purpose of the speakers is to improve the sound quality; not the quantity.
It may help if they have already heard a similar set-up n a friend's house, they will appreciate the fact that in-wall speakers are designed to improve your enjoyment of the music.
It's important to make sure everyone is happy with the idea of the purchase; it will make it much easier to choose and buy a set. Additionally, it may also help to point out that the majority of in-wall speakers have paintable grilles; helping them to become invisible.
Decide Your Budget
Once you have got the approval from those that matter you need to start considering your budget. In general you will get what you pay for; however, there are some excellent speakers which can be purchased for around the $100; as this guide has already demonstrated.
It is worth noting that a quality speaker does not only produce a high-quality sound; it is also designed to last and is likely to continue working for years into the future; making your speaker a worthwhile investment.
Of course, your budget will also take into consideration how much funds you have available; not just the amount you would like to spend.
Learn the Technology and Terminology
One thing you will have learned by now is that there are a lot of technical terms in place when dealing with speakers. You may have never heard of crossovers, ohms or impedance before.
The best way to learn is to pick up a few magazines dedicated to speakers and study the terminology used. They may have a glossary that can help you or you can look up any unfamiliar terms on the internet. This list should help you get started:
| | |
| --- | --- |
| 2 Way Speaker | A speaker with two drivers; designed to offer a good high range and low range response. These are not generally so good at the mid-range sounds. |
| 3 Way Speaker | One which has three drivers, one for each of the low, mid, and high frequencies. |
| Central Speaker | This deals with the dialogue and special effects in a movie; it must be located near the television and central to the room. |
| Crossover | This device separates frequencies, allowing only certain ones through to each of the drivers inside your speaker. This is imperative for high-quality sound reproduction. |
| Decibel | Quite simply how loud a device is. Humans can distinguish a 1dB difference in volume. |
| Diaphragm | When you watch a speaker you will see it moves in and out; the part that moves is the diaphragm Tweeters tend to have dome-shaped diaphragms while woofers have cone-like ones. |
| Frequency Response | Humans can hear sounds ranging from 20Hz (bass) to 20,000Hz (high). The best speakers will accommodate the entire range of frequencies to ensure you hear every nuance of the music. |
| Impedance | This is an electrical term that shows the resistance given by a speaker to the amplifier or music system. If you have speakers with 4 ohms or lower you may have problems if you try to put too much power through them; 8 ohms is a better option. |
| Sensitivity | This shows the efficiency that power is converted into volume. The higher the percentage the better. In general, it is best to avoid sensitivity ratings below 80% |
Of course, there are many more but the above should help you choose the right speaker for your needs.
What do You Want the Speakers For?
The next question you must ask is what you want the speakers for. Your choice of speaker will be different if you simply want to enjoy some calming music compared to wanting to feel like you are at the center of the latest action film.

Television systems usually deliver the best sounds when connected to a surround sound system; your in-wall speakers will be a part of this. In this instance, you will need a good quality central speaker.
In contrast, an in-wall speaker to enjoy your favorite tunes and chill out to does not need to offer high wattage; it needs to give you the full range of frequencies.
Space Availability
You will now need to assess the space you have available. In-wall speakers are often considered because they become virtually invisible and they take up no floor space. Although these are good features the speakers will still prevent anything else from going on the wall; such as pictures, or in front of them; such as a dresser. This means that your wall space needs to be dead space; you probably do not want to relocate them on a regular basis.
The wall space you have available may also affect your choice of speaker as you may need to have a moveable tweeter or even the larger drivers.
To help confirm you have the right location and type of speaker you can hold a radio or another speaker in each location to assess what it sounds like in the center of the room.
Installation
In-wall speakers have their cables hidden; this is part of the attractiveness of the design and will help convince your partner that they are a good idea.
However, this is an extra challenge when it comes to fitting your speakers. You need to be confident that you can cut the right size hole in your wall; without damaging any of the studs. If you make it too big then your speaker will not be secured and you will have some repair work to do.
In addition you must get the cable from your music system or television to your speaker. It needs to go inside the wall and this can be very difficult without drilling lots of holes.
Before you buy your in-wall speakers you will need to decide if you are comfortable doing this or if you need to hire a professional. This cost may impact the budget you have available.
Do You Need an Amplifier?
Deciding speaker location and your use of these speakers will help you to establish if an amplifier is required or not.
Amplifiers are generally seen as ways of boosting the volume level of your music. While this is something they can do it is not the only thing. An amplifier increases the quality of the signal going to the speaker; which means you will have better sound at lower volumes.
You will also need to consider where an amplifier would fit into your system. It is important to keep it accessible without keeping it on show. Equally, it will need airflow to ensure it works properly and does not overheat.
Read Reviews and Shortlist
You are almost ready to select your in-wall speaker! Before you commit it is worth looking at guides, like this one, that has reviewed many different speakers and can tell you which the best ones are currently.
You can also find reviews in magazines but you may find it better to look at online forums and speak to friends who already have in-wall speakers.
Although your choice will be unique, as your personal perspective and home is different to theirs; it can give you a guide as to which speakers are either very good or very bad. From this, you can create a shortlist of speakers you will consider.
View and Listen to the Products
Viewing the speakers at a friend's house is good, but once you have created your shortlist you will need to assess each one. The best way to do this is to visit a sound shop; even if you are intending to buy the speakers cheaper on-line.
A good sound shop will have several speakers set up; allowing you to listen to the entire range of notes and assess their abilities.
This is critical as a speaker that sounds good on paper may not be well designed for the size of room you have. The smaller the room the smaller the bass woofer needs to be; or it will drown out all the other sounds.
Buy Online and Test at Home
The final stage of your buying process should be to look on-line at the speakers you have chosen. It is likely that you will be able to purchase them cheaper from the internet.
But, there is more to this than just finds. Internet purchases cannot be seen before they are bought. This means you can assess their look and sound quality as soon as you receive them. If you don't like it then you can actually return it straight away; without being penalized.
This is one of the biggest advantages of internet shopping and a perfect way to perform a final test on your chosen speaker. Of course, you can't fit it into your wall space; as soon as you do that you will be unable to return it.
Conclusion
With these ten in-wall speakers, making a decision won't be easy, because they are all worthy investments. So, think twice before you opt for any of these models, to get the best one for your home. With a good sound system, you will enjoy movies, and music from the comfort of your home, while having all the enjoyment for yourself.
It's okay to be selfish when it comes to buying the speakers because it all starts with music. Obviously, if this is a joint financial purchase or a shared home it is important to consider the opinions of others. After all; you don't want them damaging your new purchase just because they don't like it!
The speakers selected for this guide will all provide you with years of high-quality music; you will certainly not regret purchasing one. But, it is advisable to look through the buyers' guide and pay attention to it before buying. This guide can help ensure you purchase the speaker that is right for your room or your home; not just the one that looks good.
This is one time when it is good to listen to your heart but also important to consider the cold, hard facts. A combination of the two will ensure you purchase and fit speakers you will be happy with and will complement your music system and your home.
Thanks for your feedback!