To understand what a center channel speaker is, we need to talk about surround sound. Surround sound is achieved when you use several speakers in your home setup to provide a more immersive experience with an increased soundstage. The center channel speaker gets placed between the left and right channel speakers or under/over your TV screen.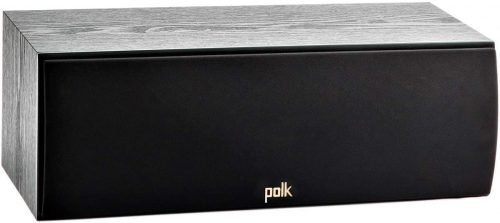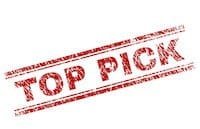 It features 100 watts of true max power, clear audio, and an easy setup. It delivers clear dialogue; you can measure its sound against a theater's. Wide dispersion 1″ tweeters and drivers project an expansive sound for a three-dimensional listening experience.
Editors Note: We constantly curate our content to keep it fresh and relevant. This list was updated on June 24th, 2023, to reshuffle our product recommendations based on new testing.
Our Category Winners

Best Center Channel Speaker
The Polk Audio T30 Center Channel Speaker is a great affordable center channel speaker for your home system. The T30 is a spectacular option and delivers quality audio, and its classic and modern look makes it easy to fit in with your home decor.
Best High-End Center Channel Speaker
If you are looking for a high-end and luxurious option – the Definitive Technology CS-9060 center channel speaker is the one to go for. It has full range clarity to help you hear every nuanced moment of the instruments, special effects, or vocals.
The Best On A Budget
The Micca MB42X-C is a great budget-friendly and versatile center channel speaker option. At around $70, it performs well audio-wise and can double as a bookshelf speaker. Its modern design helps it blend in with your interior styling, and the audio quality is relatively good for its price.
Widest Response Range
The Yamaha NS-C210BL has a vast frequency response of 65Hz to 45 000 Hz, making it exceptional at reproducing frequencies from low bass to the absolute high tops audio wavelengths (even higher than our actual hearing). The speaker is paired with an 86dB output volume, creating a pleasant listening experience with accurate frequency reproduction.
What Does a Center Channel Speaker Do?
The center speaker transmits most on-screen dialogue and music vocals. They tend to cover the midrange and high-end frequencies best. The sound it transmits accounts for all panning, e.g., the distance and location of different sound pieces in the audio being played. Because of this, the center channel speaker is an essential piece in your sound system that helps tie together the sound given by left and right channel speakers.
The soundstage should seamlessly depict the on-screen action, and adding a center channel speaker in your home setup aims to create a smooth and powerful soundstage. You can tailor its features by using different placements of the center speaker.
Our Top Center Channel Speakers
The following products are what we consider reliable, good-sounding center channel speakers that can be trusted. Most of these speakers have been on the market for years. After all, why fix what isn't broken?
1. Polk Audio T30 Center Channel Speaker
Dimensions
6.5″ x 19″ x 8.5″
Freq. Response
55Hz – 24kHz
The Polk Audio T30 Center Channel Speaker is a quality speaker that can be measured against today's more expensive speakers. It delivers clear dialogue; you can measure its sound against a theater's. Wide dispersion 1″ tweeters and drivers project an expansive sound for a three-dimensional listening experience.
Design & Build
It has 5-way binding posts, which provide an array of secure wire-hookup options. So it is simple to set up, supports DTS and Dolby, and can connect with various stereos, home theatre processors, or theatre receivers. Updating your center speaker can make a huge difference in sound performance. It provides an immersive experience when streaming series and movies or watching sports – even when listening to music. Audio enthusiasts and sound professionals alike can appreciate this classic Polk center speaker.
This speaker is only available in black, making it adaptable to any home decor or office space. It's sturdy and built to last, and it includes a 3-year warranty if anything should happen. It comes in a horizontal rectangle shape with vented driver enclosure types. On its left and right front side are the two main 5.25″ mids/woofers, and in between those two is one 1″ tweeter. The driver enclosures are round in an attractive silk dome.
The manufacturers have made sure that you can match it with its predecessors in the Polk "T" series – therefore, you can set it up and use it together with previous speaker models of that same series.
Why The Polk Audio T30?
This speaker is made for an entry-level setup but is very reliable and versatile, and its sound will fill up a room. It is conveniently small to fit on bookshelves and is a splendid addition to a surround sound setup.
High peak power handling of 100 watts
Wide frequency response range
Sleek and modern design
Branding on the exposed tweeter (with the grill removed) can be polarizing
2. Definitive Technology CS-9060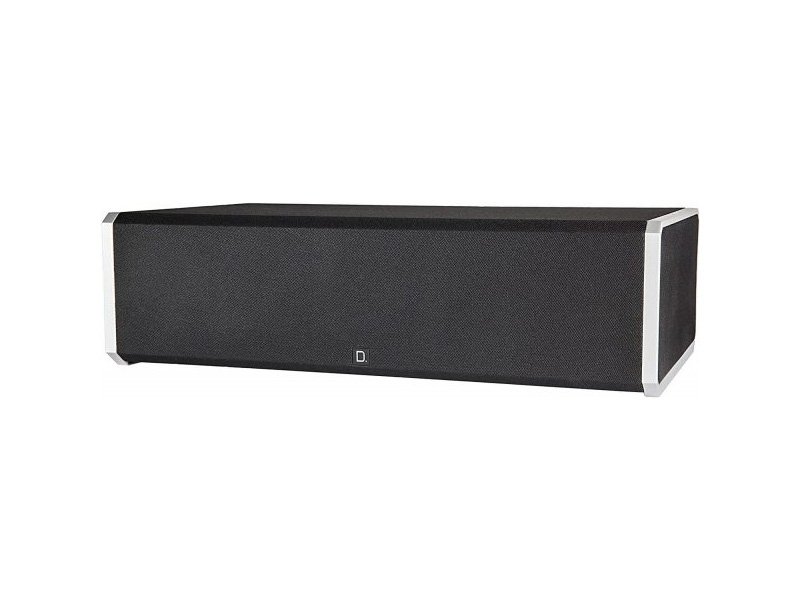 Dimensions
5.95″ x 20.75″ x 12″
Freq. Response
32Hz – 40kHz
The Definitive Technology CS-9060 center channel speaker has a great sounding full-range frequency response and tweeters that deliver clarity to every action scene in your favorite movies and help you experience the audio in fine detail. It allows each sound effect to come to life.
Design & Build
CS-9060 is classic black and will blend seamlessly with your TV, stand, and left and right speakers. This speaker has an anti-resonant construction to make way for clean sound. Anti-resonant design decreases the chances of bass frequencies resonating and creates an unwanted buildup of noise that makes the box vibrate.
Its resonance-free cabinet creates beautiful and clean sound, improving sonic accuracy. The inert and resonance-free cabinet is created through strategically placed bracing made of aircraft-grade aluminum crates that help with rigidity. 
Definitive Technology has produced a speaker with two round BDSS 4.5″ mid and bass woofers paired with a 1″ round aluminum dome tweeter – but that is not all. The CS9060 has an integrated 8″ powered subwoofer with Intelligent Bass Control. The subwoofer allows for more depth and power than a system with a center channel speaker without a sub. More impact leads to better and more immersive audio.
Sound Quality
The integrated subwoofer helps this center speaker in its sound performance. Its bass is deep, the highs and mids sound great, and it adds clarity to any vocals or music. The woofer ensures the distribution of low frequencies is even throughout your living room.
The center of any sound system is critically important for more than one reason. In many films, the sound effects are in the center, so we get clarity on voice, dialogue, and impactful sound effects with this center channel speaker. It has focused on the "whole picture" in terms of sound.
Why The Definitive Technology CS-9060?
The CS-9060 is a slightly larger center-channel speaker, and it excels in providing a lot of volume without sacrificing audio quality. Perhaps the standout feature of this speaker is the built-in 8″ subwoofer which results in truly impressive bass performance.
Intelligent Bass Control
Built-in 8″ subwoofer
Even bass distribution
Resonance-free cabinet
Offers a lot of volume
3. Micca MB42X-C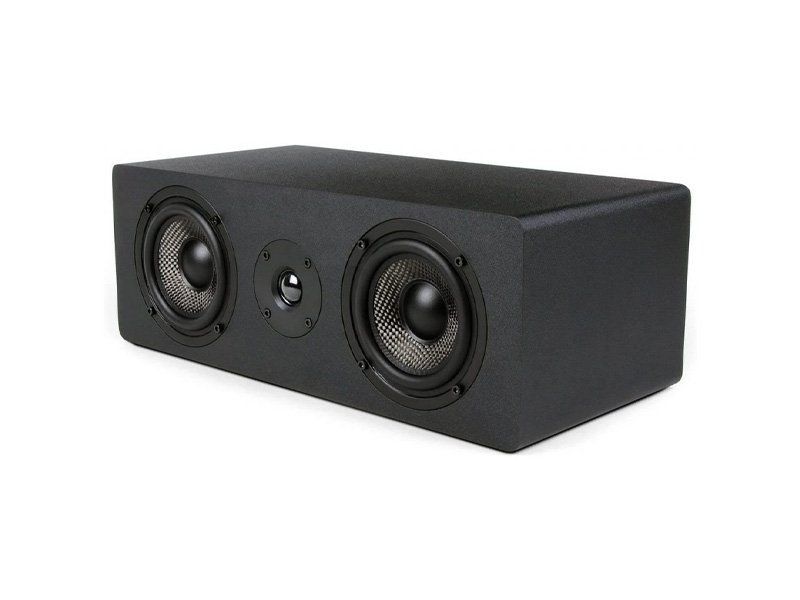 Dimensions
5.3″ x 15″ x 7.1″
Freq. Response
60Hz – 20kHz
The Micca MB42X-C sounds as good as it looks! The style is neat and classic, with two woofers and a silk dome tweeter in the middle. It is a very affordable center channel speaker with lots to offer. If you wish to use it in your surround sound setup, it is possible to use it for stereo imaging with a set of two speakers – purchase two of the MB42X-C's, and you have a new set of splendid bookshelf speakers.
Design & Build
This is a seriously attractive-looking speaker. The design is modern, cool, and with a touch of grit because of its dark wooden-like facade. If you wish, the MB42X-C can be used in a stereo setup and look just as neat. Design-wise, it has classic contours and looks very stylish. It has carbon fiber cone woofers and a silk dome tweeter with a ported enclosure and can be tilted towards the listener for a good audio experience. 
Size-wise, they come in a suitable, portable size for your bookshelf, below or above your tv, or in between your left and right surround speakers. There is an MB42 and an MB42X speaker – yet the newcomer: MB42X-C, has even more to offer. It utilizes a 9-element crossover with all 18dB/octave alignment and compensation networks.
Sound Quality
The crossover means that the audio coming out of this center speaker is even more dynamic and balanced. Its full-size 5-way speaker wire binding posts and hex fasteners add to the specs of the X-C, and it is fine-tuned and sophisticated for accurate audio imaging. The two 4″ woofers are made from carbon fiber cones with *rubber surround.
The MB42X-C produces good, crisp, and clean audio performance. The cups move as you play the music through them. They have great low-end performance and present an attack-sharp image. They are indeed budget-friendly, so the sound is not as big as you would expect from a high-end speaker. However, these still produce good clarity and detail at high volume, which is essential when looking for a center speaker.
Why The Micca MB42X-C?
The MB42X-C is a smaller center channel speaker that is best suited in small or medium-sized rooms. Despite its small size, it's still capable of producing 86dB of volume, with a 100W output. One of the big selling points of this speaker is its affordable price tag.
Compact
Doubles as a stereo speaker when used vertically
Highly optimized 9-element crossover
Affordable
4. Klipsch R-52C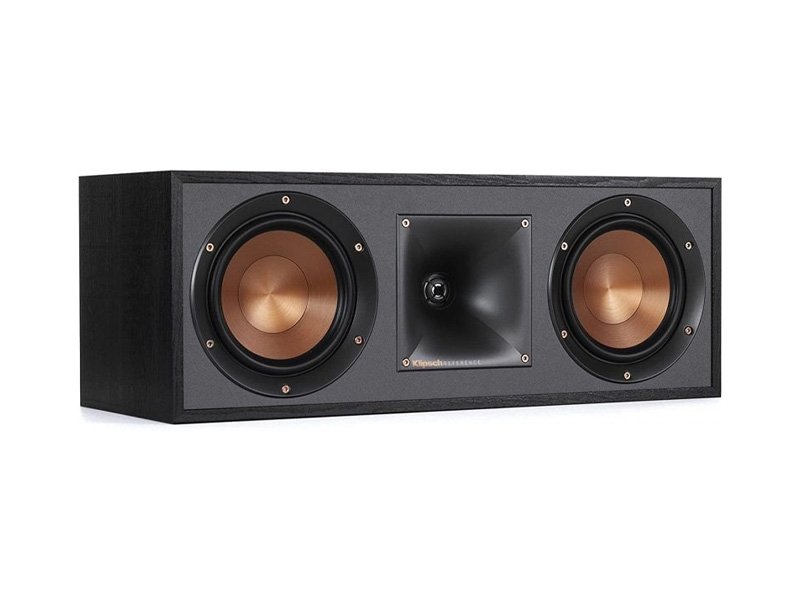 Dimensions
7.3″ x 18.75″ x 7.6″
Freq. Response
89Hz – 21kHz
Built in 2018, this Klipsch center speaker comes in a very aesthetically pleasing style and has components of some of the best speakers in the world. Using LTS tweeters, the Klipsch speaker trademark, this R-series uses modern technology and rugged materials, resulting in a highly polished, good quality, and high-class speaker in the R-52C center channel speaker.
Design & Build
Talk about design – this Klipsch R-52C can seamlessly fit in OR stand out in home decor. Fashionable and suitable for most modern homes, it has rare subtle touches. Copper spun bass woofers that make it stand out, or use the magnetically attached speaker grills for a lesser in-your-face look. It features an MDF cabinet with a textured wood grain vinyl finish, and the scratch-resistant cabinet helps with durability and looks cool. The lack of rear vents allows for hanging it close to the wall for a minimalistic look.
Sound Quality
With 100 watts of continuous power handling and 400 watts of peak power – this speaker gets as loud as 95dB. The dual 5.2″ bass drivers and injection-molded graphite woofer cones are lightweight yet static, producing great low-end and minimal distortion – a big plus in this center speaker.
The 0.9″ Tractrix Horn-loaded LTS tweeter can produce high and clear vocals – an exclusive Tractrix horn technology that delivers a music experience with as natural audio as possible. The LTS technology and Kapton material used in the tweeter suspension provide improved audio resolution. This speaker weighs about 13.5 lbs and includes four rubber feet in its accessories.
The copper-spun bass cone produces great-sounding bass, helping balance the left and right speakers and ensuring impactful sounds in action scenes come alive. Any home cinema speaker system Klipsch offers can be combined with this center speaker. 
Klipsch is famous for its horn-loaded treble units. This speaker continues the tradition with Tractrix horn tweeter surround (90° by 90° tractrix horn) – making sure dialogue and other high-frequency elements come to life and is clear and audible. A tradition of horn-loaded treble units, the R-52C carries on with its Tractrix horn tweeter surround. This gives this speaker a highly direct and precise sound that reveals every dialogue detail.
Why The Klipsch R-52C?
The Klipsch R-52C is a reliable center channel speaker that packs a punch for its size. While it's not the smallest speaker on this list, the 95dB sensitivity rating is especially impressive for a speaker less than 20″ long. The Klipsch R-52C can cater to fairly large rooms with ease.
Eye-catching copper-spun styling woofers
Balanced sound signature
Deep and punchy bass
Lots of volume
Noticeable low-end improvement with a dedicated subwoofer
Fairly pricy
5. Polk Audio Series S35
Dimensions
4.125″ x 24.4″ x 6.1″
Freq. Response
53Hz – 40kHz
Polk Audio created a slim, neat, and great-sounding center speaker for just over 200 bucks with this Polk Audio Series S35 center channel speaker. It has a detachable magnetic grill and a well-balanced sonic structure. Polk Audio has been around since 1972 and strives to create products that are accessible and available for all – and at the best possible price.
Design & Build
The S35 speaker has a tall and slim profile and comes in two color choices – a washed black walnut and a classic brown walnut. Both look great – which one to choose is just a matter of what interior design color scheme you have going on at home. This speaker can fit spaces that larger built boxes cannot. It can be used vertically and horizontally and is easily wall mounted.
Sound Quality
This cool-looking speaker weighs about 14 lbs and features a 1″ round tweeter and 6 3″ round mid/woofer. It has something called Power Port – Pol Audio's patented design that evenly transitions air flow from the speaker's port into your listening area at home. It extends the bass port to provide a larger surface area to eliminate unwanted noise and distortion. This port offers 3dB more bass output than traditional ports do.
This center speaker balances your center soundstage with outstanding sound quality and upgrades from the previous Polk CS10. It is timbre-matched and designed with similar components as the previous S-series to achieve smooth speaker-to-speaker blending in multi-channel systems. Polk has brought a large surround sound experience home and has succeeded in its quest with the S35 center speaker.
Why The Polk Audio Series S35?
The S35 is a slimmer speaker with less height, making it greater for those working with limited vertical space in their entertainment area. The use of six individual low/midrange drivers also gives a good soundstage presence to the listener.
Detachable magnetic grill
Slim and sleek profile
3dB of extra bass reproduction
Driver size limits low-end performance
6. Sony SSCS8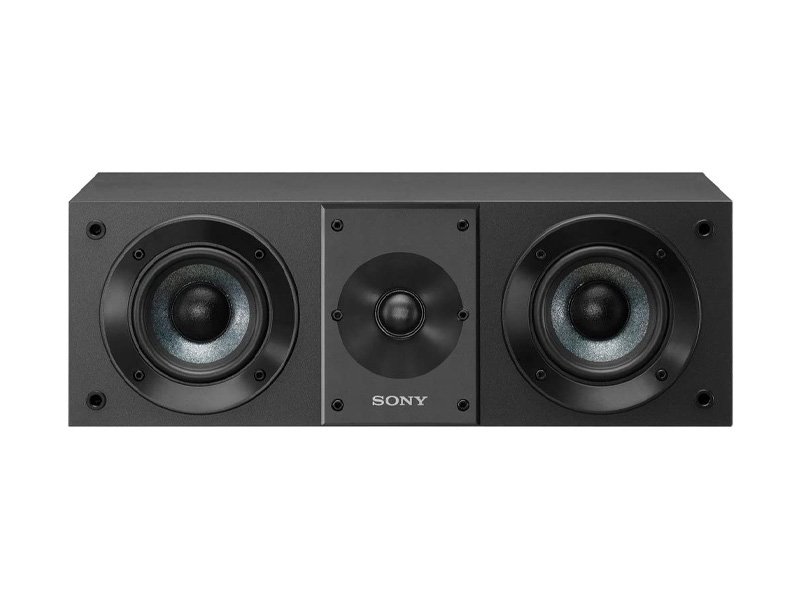 Dimensions
17″ x 5 ¾" x 8 ¾"
Freq. Response
53Hz – 50kHz
The SSCS8 from Sony forms a part of their wider home entertainment systems within the CS model range. The Sony CS range is a reliable range of speakers adopted by many homeowners over the years. Despite their initial release around ten years ago, they remain relevant, affordable, and great-sounding.
Design & Build
This speaker is simple in design and doesn't try to do anything special with a simple material cover with branded Sony logo at the lower center. In terms of form factor, given that this speaker houses two 4″ woofers and a 1″ tweeter, it's not particularly large. It can easily be used in different scenarios around your home, making it a versatile choice. The SSCS8 looks best, in our opinion, with the drivers exposed, but this will, as always, come down to personal opinion.
If you use this speaker with the drivers exposed, consider that they appear distinct and may look unusual when paired with speakers from a different range. However, when one piece together other speakers from the CS range, the result is a cohesive and aesthetic array of speakers that can take your home entertainment area to the next level. The fact that these speakers weigh only 5 lbs also adds versatility and can easily be moved between rooms without hassle.
Sound Quality
The Sony SSCS8 has two 4″ woofers that use a Mica-Reinforced design, which results in smoother upper frequencies, while the low end is enhanced for a stronger bass presence. The bass isn't overly tuned or unnatural in any way. Instead, it is tight and authoritative, bringing a hard thump without a muddy rumbling low-end experience. Sony's optimized crossover frequency with the CS range also reduces signal loss, resulting in higher audio intelligibility.
This speaker is rated for an output of 145W with a sensitivity of 86dB (1m).
Because center channel speakers are often limited in driver size, if you want to get the most out of your audio experience with the Sony SSCS8, you could pair it with Sony's dedicated subwoofer to help bring some extra low-end depth. That's not to say that this speaker can't provide enough bass for most situations. However, a dedicated subwoofer can go a long way if you're looking for that theatre-quality sound that brings full immersion.
This speaker pairs extremely well with the Sony SSCS3 floor-standing speakers for a larger audio setup, which is also an extremely high-quality pair of speakers for their price. You can pick up the SSCS8 center channel speaker and the SSCS3 floor-standing speakers for just over $300. Alternatively, if you're utilizing a smaller space and don't need large speakers, it can be paired with the SSCS5 bookshelf speakers with good results.
Why The Sony SSCS8?
The Sony SSCS8 is a fairly affordable center channel speaker that is lightweight and reasonably compact. This speaker can easily be used with a home theatre setup or as a single dedicated speaker in an office or bedroom.
Lightweight
Excellent audio clarity
Versatile
Not the loudest in this size range
7. Pioneer SP-C22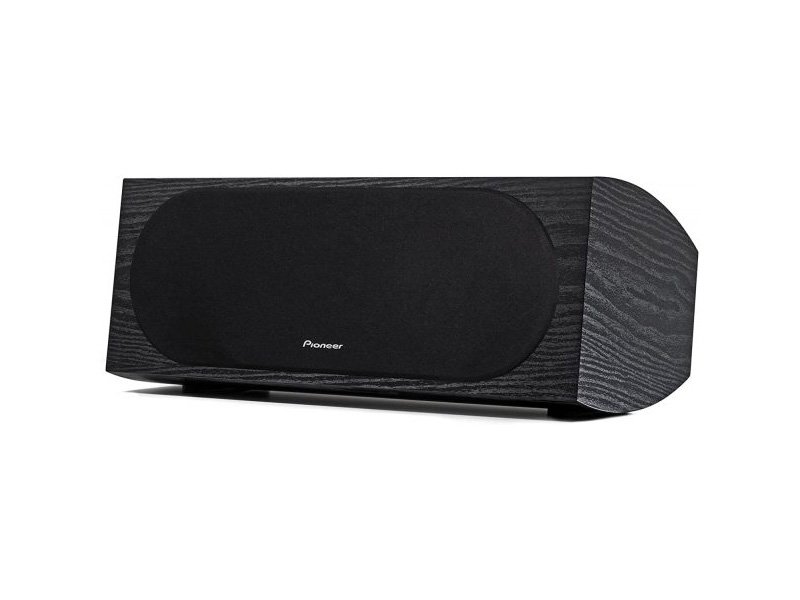 Dimensions
7.12″ x 18.11″ x 8″
Freq. Response
55Hz – 20kHz
Pioneer came out with the SP-C22 in 2012. It has since then been a great affordable option for those looking for elegance in a center speaker that reproduces audio exceptionally well. The importance of the center channel speaker is great, and Pioneer has understood that importance through this Jones-designed center speaker. 
Design & Build
Andrew Jones, a speaker designer with a reputation for designing budget-friendly speakers that sound great, too, has developed this Pioneer Center speaker.
It is a reasonably affordable speaker as well. The speaker has a fashionable but unusual curved cabinet design resulting in a stiffer cabinet wall – eliminating standing waves, a combination of sound waves resulting in unwanted sound interference. The SP-C22 has stylish speaker grills that look good and do a fantastic job protecting the drivers.
Sound Quality
The speaker has two 3.9″ cone woofers and two 0.9″ soft-dome tweeters. Its maximum input power of 90W makes it quite loud, and it has a good frequency response range of 55Hz-20kHz with a six-element high-quality 3kHz crossover. The crossover's job is to break the audio signal into low, high, and mid-range frequencies using circuitry – like inductors or capacitors. It helps ensure accuracy in sound performance.
A phenomenal bass response provides optimal value and is a smart buy for those who do not want to spend much. This speaker also reproduces the upper-frequency range well, and dialogue seems clear and able to cut through the noise of sound effects and background noise in a home theatre environment (which is the reason for considering purchasing a center channel speaker in the first place). Besides using it placed center in your 5.1 or 7.1 surround sound setup, they can be used as a left and right setup. They are user-friendly, easy to connect, and have regular connectivity options.
Why The Pioneer SP-C22?
The SP-C22 isn't the cheapest on this list, but it does strike a good balance between cost and performance. It's not as loud as other options in this price range, but it remains a reliable and trusted product.
Spectacular quality for a reasonable price
Authentic audio reproduction
Sophisticated six elements, high-quality crossover
The low end lacks some punch
Fairly bulky design
8. Yamaha NS-C210BL
Dimensions
13.37″ x 4.13″ x 5.2″
Freq. Response
65Hz – 45kHz
Yamaha has developed this high-quality NS-C210BL center channel speaker – that can handle 140 watts of peak power and project up to 45,000 Hz.
It weighs roughly 4.4 lbs, is small but elegant, and comes in a Yamaha Piano Black finish. You can also choose from three other finishes to match your room decor easily.
Design & Build
The slim design is neat and functional as it easily pairs with a flat-screen TV. It includes built-in hasps to hang it on the wall and works well, particularly in a smaller-sized room. Unfortunately, the cloth screen on its front is not removable and could be slightly challenging to dust-clean. However, this is a small negative outweighed by the many positives.
Sound Quality
This center speaker has a good frequency response range of as low as 65Hz and up to 45kHz – and can reproduce the lowest subs to the highest high frequencies and anything in the mid-range (speech, clarity, music). It has a ⅞" balanced dome tweeter and dual three ⅛" cone woofer, and its woofer uses light aluminum cones that bring a hyper-fast audio response.
The NS-C210BL allows for a maximum input of 120 watts and nominal 40 watts of power, which is more than enough for you to enjoy your favorite music, movies, and tv shows.
Why The Yamaha NS-C210BL?
Not only is it easy to set up, but the Yamaha NS-C210BL speaker has excellent sound quality and good power output and is easily paired with a previous Yamaha Reciever or subwoofer – for example, the YST-SW216. It can be compared to a higher-end system and is designed to reproduce the dynamic sound of various HD sources. Overall, a good center channel speaker!
2-way Bass Reflex
Slim design that matches flat-panel TVs
A lot of power
9. Definitive Technology Procenter 1000 Compact Center Speaker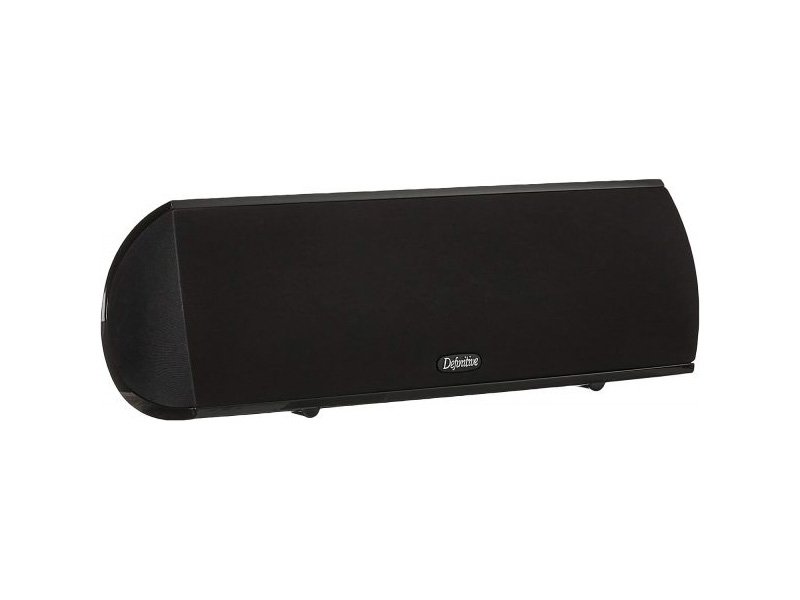 Dimensions
5″ x 14.25″ x 5″
Freq. Response
47Hz – 30kHz
The ProCenter 100 Center speakers produce quality audio and can reproduce from 47Hz to 30kHz, picking up small details in sound effects, dialogue, or music. They go as loud as 90dB with a power output of 200 watts and in a modern look and style.
Design & Build
It comes in a classic black and white finish – modern and easily paired with different home decor. Definitive Technology has a signature look and very much comes out in this center speaker. It is relatively small, making it easy to fit in or mount in the center of your home entertainment setup, and it weighs about 8 lbs. They can be paired up as a stereo speaker pair. A good investment for under 200 bucks!
The ProCenter 1000 has an aluminum tweeter – light yet stiff and excellent for a driver like this. It reproduces insanely high frequencies, creating clean but accurate highs for balance and depth in the home tv room. Two 4.5″ woofers with Balanced Double Surround System – creating a well-balanced cone excursion. The BDSS enables the speaker woofers to produce bass of larger drivers. It also has an anti-resonant launching pad for additional cone excursions.
Sound Quality
A good amount of bass thanks to its passive radiator. Top-of-the-line models all include BDSS drivers – and the same goes for this ProCenter 1000. They have combined it with planar pressure coupled mid/bass radiators for great sounding home setup sound quality.
A similar speaker of the same small size would suffer in the low-mid audio range – but not this one. Thanks to the BDSS technology drivers, there is great warmth coupled to mid/bass radiators on each speaker's side – without increasing the speaker enclosure size.
Why The Definitive Technology Procenter 1000?
One of the most compact options on our list, the Procenter 1000 measures under 15″ wide, making it an ideal choice for small home entertainment setups or versatile use scenarios where the speaker may move between locations. Despite its smaller size, it's still capable of producing an impressive 90dB of volume.
High tonal accuracy
Small in size and fits in a smaller space
Wall-mount option
It sounds a bit hollow without a subwoofer
10. Cerwin-Vega SL-45C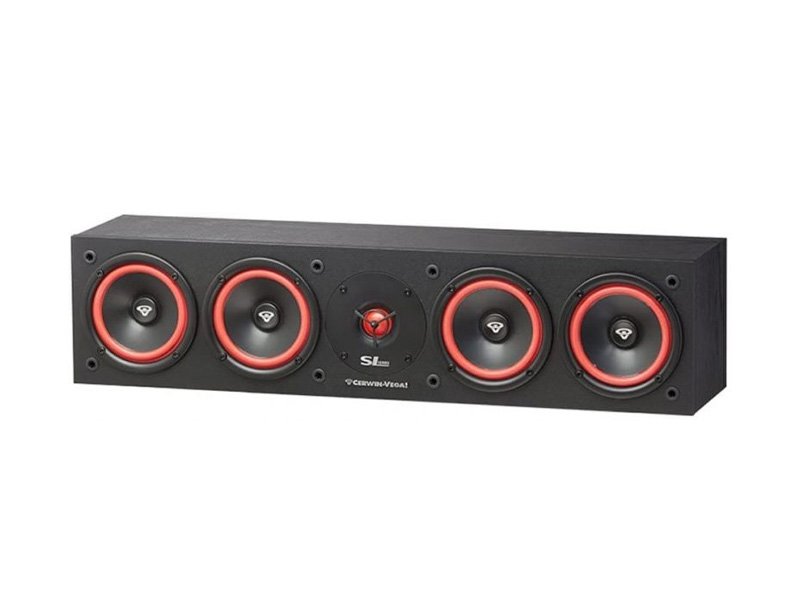 Dimensions
6.52″ x 27.58″ x 7″
Freq. Response
55Hz – 26kHz
Cerwin-Vega has been in the industry for over 65 years, and this Cerwin-Vega SL-45C Center Channel Speaker made it to our Top 10 Center Channel Speakers. This speaker delivers delicate and clear highs and power for over 200 bucks. It has a removable grill and is part of the SL series offering high-performing speaker models.
Design & Build
The design is a classic style black cabinet with a removable grill and is easily paired with other speakers in the SL series – this fits in with just about any home decor. It comes with red details, suitable for a more daring and youthful style preference.
Featuring 4 x 5.25″ drivers, this 18 lbs weighted home theater speaker has a removable grill and an internal brace reinforcing its structure to provide resonance elimination inside its cabinet. It has five-way binding posts to quickly and securely install and mount it.
Sound Quality
The speaker's bass reflex system makes sure there is solid bass reproduction. It does not only produce good bass but has pretty decent high-frequency intelligibility too. It suits as part of your surround home setup. It would be best if you powered it up with your favorite amplifier. It delivers excellent midrange clarity and can be paired with other SL series speaker models.
Why The Cerwin-Vega SL-45C?
This large center channel speaker stands out with the drivers exposed. It is best served as a center channel speaker for a lively entertainment area or room where subtlety isn't the focus. The four 5.25″ drivers provide a wide and clear sound presentation with a good soundstage.
Youthful design
High power peak output
Great vocal intelligibility
A vibrant design won't appeal to everyone
The high end could be improved
Center Speaker Placement Tips
When you have purchased your center speaker, the first thing you need to look at is placement. The more you care about where you place your speaker and how it is tilted – the better the audio outcome. It will, quite literally, sound best in a specific spot.
You must ensure the speaker is always tilted/pointed toward the listening position. If possible, try to keep it at ear height. That is how you will get the most direct sound.
Follow the checklist below to place your center speaker correctly.
Place above or under your screen: Place it closest to your listening position and possibly ear height.
Tilt towards the listening position: If you cannot place it at the correct height, at least tilt it to ensure you will hear direct sound for optimal clarity and not sound bouncing off the walls (reflected sound never sounds good).
Make sure it is placed center: Do not place your center speaker further right or left – it is called the center channel speaker for a reason.
Ultimately, the main front speakers can be placed with the tweeter at what is quite literally the 'head level' of the listener when they are seated. The center channel should come directly on-axis to the primary listening position. If the speaker does not fit in your AV furniture, a stand mount at ear level is a good option for correct placement.
Should you Match your Soundstage?
A common question is whether to mix and match your speaker setup – called soundstage. Should you mix brands? And can you swap the Left speaker for a Center speaker?
Separating or Matching Speaker Brands
Manufacturers recommend pairing their central speakers with left and right speakers from the same line. This is because the speakers are part of a system. However, you can technically mix and match brands, but you need a deeper understanding to do so successfully. 
Understanding the speaker's role and specs is crucial if you mix brands. Some speakers have a specific frequency reproduction range and can or cannot reproduce all frequencies equally well. In this instance – swapping out a center channel speaker for the right channel speaker could be disastrous regarding audio reproduction. 
The left, center, and right front speakers are separate units, but the left and right ones usually match. You may be able to match your left and right pair speakers with a different center channel speaker from another brand. But it is not recommended. Before mixing up your speaker setup, let's look at vital features to consider.
A center channel speaker should reproduce 70% of the audible sound. Mixing it up and using the left channel speaker in the center could change how you hear the output – even tonal changes in an on-screen voice.
Instruments are panned differently, and music is mixed differently, so swapping out your center speaker for a different one might eliminate certain frequencies where you want them the most. Because of how sound bounces off surfaces in a room, some frequencies must be kept center stage – like bass frequencies, more commonly referred to as "low end." If the lows are spread out too much, your audio output can become muddy and sound effects or conversation can become inaudible. 
Another consideration here is the aesthetic of the speakers. Mixing and matching your audio setup can be done, but having it look good is challenging. Carefully consider how your center channel speaker will look with your existing home audio system.
Most recommendations conclude that using the same brands creates coherency and ensures consistency in tonal qualities, which you want. 
Things to consider when looking for The Best Center Speaker
What will You Be Using it For?
One of the first things to consider is what you will use the speaker for. Ask yourself – are you mainly going to watch movies with your surround setup, or are you looking to use it for gaming or perhaps for music? 
Think of what sort of soundscape each of those categories involves. Games include many sound effects, especially those with heavy bass and many high-frequency sounds. This plays a significant role in the game's audio design. On the other hand, you want to hear the audible dialogue in movies and TV shows while not deducting any bass from large-impact action scenes. 
The balance between the frequencies is crucial to its performance. And perhaps you want a center speaker that fits all those usage areas.
What are the Acoustic Properties you are Looking for?
A speaker's acoustic properties include how well the speaker material sounds and how it can affect frequencies transmitted. For optimal sound reproduction and tonal qualities, consider the frequency range of the center speaker before making your purchase. 
For example, while some speakers have superb sub-bass reproduction, others do not. Each speaker is different in this regard, so it is important to note. Say you will mainly listen to blockbuster soundtracks, then opt for a good low-end speaker that can push enough volume to keep the bass punchy. 
Device Compatibility
It is imperative to ensure your speaker is compatible with your screen, TV, and the rest of your surround or stereo setup. Be sure to check your speakers' brands and specifications, and consider what type of left and right speakers you have in your setup. Consider whether they are powered and if they require additional cabling or mounting options. 
Understanding your Speaker's Crossover Coverage
Let's get into more of the nitty-gritty of speaker specifications. A speaker's crossover coverage may not be clear to the regular speaker buyer. Don't worry; we have it covered (pun intended).
Simply put, the crossover frequency indicates the point at which the input signal in a speaker is split to separate areas or zones inside the speaker – feeding different amps and drivers. This is necessary because all drivers cannot handle the same frequencies. Some drivers are meant to handle high frequencies, and others are intended to handle lows or mids. The crossover helps divide the signal and distribute it to its correct zones.
Monitor speakers often have two or more speaker drivers to cover the frequency range with accurate power handling. We call them the 'woofer' and a 'tweeter.' Woofer stands for the bass-mid driver, and tweeter deals with high frequencies. The actual crossover frequency depends on the driver's size and other parameters.
Controlled Directivity
When talking about speaker directivity, we mean the signal's directivity and how it reaches the listener's ear. Speaker placement is essential in getting a clean audio experience. Placing speakers next to a wall will result in sound reflecting off nearby surfaces, and when it reaches the listener, the sound can seem scattered or even boomy or muddy.
Using speaker placement and optimizing your space in a room is important whether you use central speakers, a stereo setup, or surround sound. Try moving your speakers around and then listen until you find what sounds best, or look up a guide on "how to place your speakers" online. The best placement depends on the speaker and room size, and its acoustic properties affect sound quality.
Frequency response
The frequency response is often mentioned in a speaker specification sheet – but what does it mean? It directly correlates to how well the speakers will sound. Measured in Hertz, or kiloHertz (a thousand Hertz), it determines how well and accurately a speaker converts and reproduces frequencies coming into the speaker. 
Each speaker has a frequency response range, from the lower frequency part of the spectrum to the high mids or high-frequency spectrum. Some specification sheets even have a frequency response chart, a curve showing decibel (volume) variations across the spectrum to explain how well that speaker reproduces frequencies at different volume levels.
Impedance
Impedance shows the resistance level to an electrical current flow – and is measured and written out as 'Ohms.' A speaker's impedance should match the amp impedance when considering speaker specs. This is to avoid damaging any components inside the equipment.
Sensitivity
When mentioning speaker sensitivity, we discuss the volume output produced from a given input level. Some speakers have high sensitivity and will yield a specific output level. In contrast, low-sensitivity speakers will produce lower output levels and, in turn, have lower maximum output volume (measured in SPL – Sound Pressure Level). 
Frequently Asked Questions About Center Channel Speakers
Will the Distance Between My Speakers from the Audio Source Affect My Sound Quality?
In surround sound setups, the speaker placement has a somewhat significant impact on sound quality. Place the center speaker as close to your TV screen as possible – either in front or behind. But always ensure the speaker is angled at the listener, and mount it at ear height if possible. Since nearly 70% of audio comes through your center speaker – you want it to be placed accurately and for wide sound dispersion across the listening position. 
Can I use any Speaker as a Center Channel? 
A center channel speaker is the most important speaker in your sound system. And because of this, it is advised that you use a speaker aimed to provide a great center channel listening experience – focusing on bass, vocals and tuned to accurate dialogue reproduction. Clear vocals are crucial. A good center speaker should have a "three-way design" with a vertically-aligned tweeter and midrange. So if your chosen speaker has these main qualities, you can try using it as a center speaker but always opt to purchase a speaker designed for these purposes.
Are a Soundbar and a Center Channel Speaker the Same Thing?
A soundbar and a center channel speaker are not interchangeable. The difference is that the soundbar uses three front channels, namely left-right and center, while a center speaker only uses a center channel. A soundbar is generally more straightforward than a complete surround system using left/right and center-channel speakers. It leaves you with a duller sound experience – sacrificing quality sound. 
Can you Connect a Soundbar to a Receiver?
A soundbar may come as an active speaker, providing its own amplification. On the other hand, a surround sound speaker amplifies its sound externally (called a passive speaker), which is a vital reason why connecting a soundbar to a receiver is a bad idea. It would amplify the sound above what the soundbar can handle and possibly damage your equipment.
Thanks for your feedback!