While the peacefulness of a cycle or listening to the roar of the engine beneath your body is what many bikers enjoy about the passion, there are times when some music can elevate the experience. There are several options on the market to deliver your favorite tunes while enjoying a bike ride or cycle, and the one best suited to you can depend on various factors.
In this article, I'll run you through the most popular audio solutions for bicycles and motorbikes. While there are some similarities between the way both these speaker types are mounted, that's not always the case – so understanding what each speaker is designed for and the limitations it brings is essential.
Have You Considered Wireless Earbuds?
Before we jump in and look at specific speaker solutions for bikes or motorbikes, have you considered wireless earbuds? Earbuds are the most logical first step when achieving audio while riding your bike. Whether you're riding a motorcycle or a bicycle, wireless earbuds can provide a versatile solution that can be used both on your bike and in your daily life.
New earbud models offer the latest Bluetooth versions, which ensure a reliable connection, whether your phone is stored in your pocket, jacket, or the rear compartment of your motorcycle. Noise-canceling earbuds also effectively reduce the amount of ambient noise, meaning you can reduce the sound of your engine and others on the road, giving your music the same immersive experience you're used to.
Earbuds will work well whether you're on a bicycle or motorbike, but some forms of mountain biking may require a tighter fit to ensure that they don't fall out while riding. Focus on a design that you know fits well in your ear. Additionally, one should be aware of the potential safety risks of noise-canceling earbuds, which can reduce the sound of emergency sirens on the road and other important audio cues.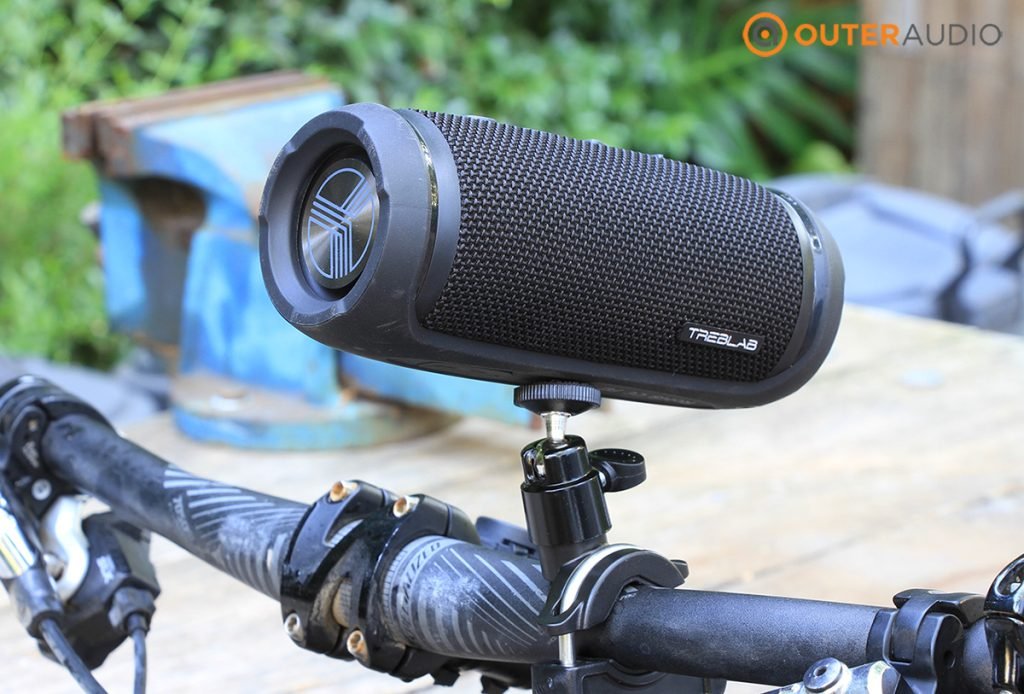 Speaker Options For Bicycles
Handlebar-Mounted Speakers
Handlebar-mounted speakers come in various styles, but there are two primary types. Some speakers have a mounting frame mechanism that can attach to motorcycle handlebars; others have a simpler handle or loop that can be placed over the handlebar. These can be used for bicycles, though we now see more bicycle speakers with locking mechanisms.
Handlebar-mounted Bluetooth speakers for bicycles can be separated into two different types. The first is an intentional bicycle-mounted speaker design similar to those found on motorbike handlebar speakers. They feature either a clamp or a strap that keeps them tied to the handlebars. An example of this style of speaker is the JBL Wind 3.
The other type of speaker is more versatile but comes with its drawbacks. These portable Bluetooth speakers can be looped over your handlebars and tend to hang rather than sit in a fixed mount. Speakers like the JBL GO 3 are commonly used in this manner. Their small size and versatility mean they can be used while looped to your bicycle handlebars or as an everyday Bluetooth speaker.
There is also the option to buy an aftermarket mounting tool that can attach to your handlebars and fit a specific Bluetooth speaker model. These mounts are generally fairly affordable, though they are typically made for mini Bluetooth speaker styles.
Handlebar-mounted bike speakers are usually weatherproof, though their degrees of weather resistance varies from model to model. Such speakers usually pair with your source device via Bluetooth, though certain models can play media from a USB drive or connect to AM or FM radio stations. As for power, a rechargeable onboard battery either powers handlebar-mounted bike speakers or connect to your bike's battery.
If you're a cyclist, I'd recommend checking out some portable Bluetooth speakers, particularly the compact ones (think JBL Flip 6, Treblab HD7, etc.) that are small, lightweight, durable, and battery-powered as options for your bike. These speakers can also be used for other applications; some can fit into specialized bike-mounting clips compatible with the speaker.
When it comes to handlebar-mounted bike speakers, you'll want to consider the following before making any serious decisions:
Warning: Loud Music Can Distract You From The Road
While there are options available that are loud enough, and few better feelings than enjoying your favorite music while on the road, it's worth being careful of not going too loud; playing your music at an extreme volume can be distracting to both yourself and other riders, and can also potentially prevent you from being aware of critical warnings around you. Keeping your listening level to an enjoyable and safe volume is highly recommended.
Water Bottle Container Fitting Speakers
If you're a cyclist and not too keen on mounting a speaker to your handlebar or helmet, you can always slip a portable Bluetooth speaker into the water bottle holder on your bike's frame (or purchase a second one). If you're an offroad cyclist, you may need to secure your speaker, depending on the
Alternatively, you could always place the speaker in your backpack, or if it's small enough, carabiner it to your clothing or bike frame.
Rear-Mounted Bike Speakers
Another option for listening to music while on the road is to invest in a set of rear-mounted speakers mounted on the back of the bike or a rack or pannier. These speakers are designed to provide audio to the rider and the people behind them. Some rear-mounted speakers also include lights that can be used as a safety feature to make the rider more visible during rainy, foggy, or darker riding conditions.
Generic Bike Fit Speaker Kits
Some brands, like Treblab, have recognized the growing popularity of bike-mounted Bluetooth speakers and provide kits that enable you to mount their speakers, like the Treblab HD77, to various places on a bicycle. The Treblab kit can be fitted to any part of the bike tubing to the frame that is large and sturdy enough to accommodate the velcro strips and speaker backrest.
Speaker Solutions For Motorbikes
Handlebar Mounted Motorcycle Speakers
Handlebar-mounted bike speakers are an incredibly popular option. These bike speakers are generally mounted in the center of your handlebar and project sound upwards toward your head. Since the speaker is in the middle, your balance isn't compromised, and the controls are within a few inches from your hands, allowing for quick and safe adjustments.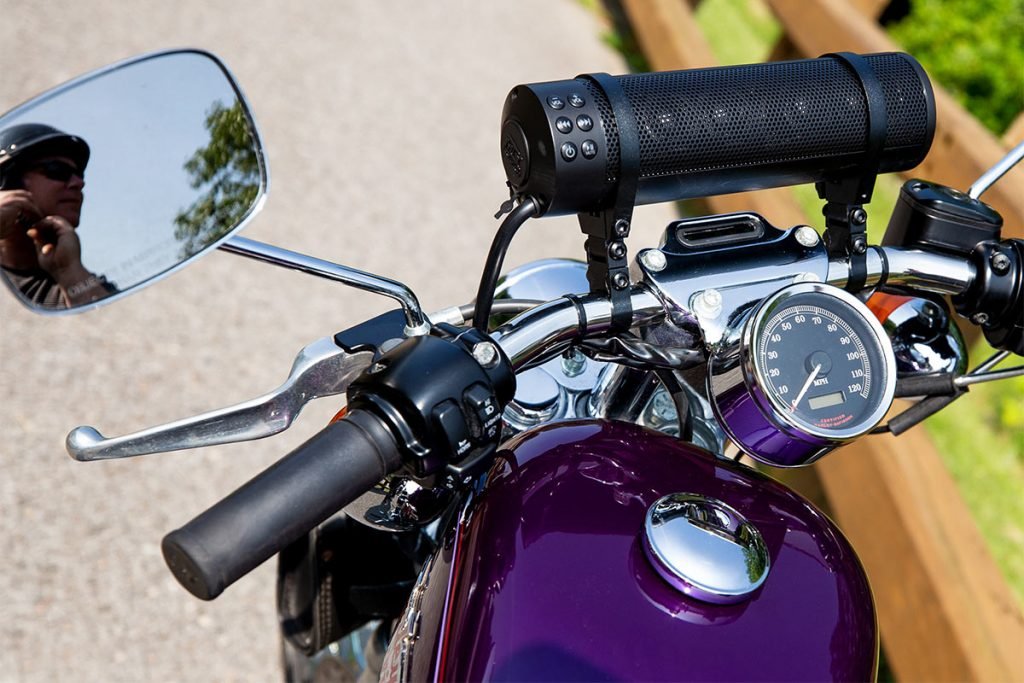 Helmet Speakers
Helmet speakers are another prevalent audio solution for bikers who want to enjoy listening to music or other forms of media while riding. These speakers are mounted inside the bike helmet, transmitting audio directly to the biker's ears without the discomfort earbuds can cause after several hours.
These helmet-mounted speaker systems are often paired with handy features such as GPS navigation, enabling the rider to listen to their directions without mounting a GPS unit or cell phone to the bike. Helmet speakers also often allow hands-free calling, or if Bluetooth-compatible, can pair with other helmets, allowing the biker to chat with his/her passenger or other riders in the group.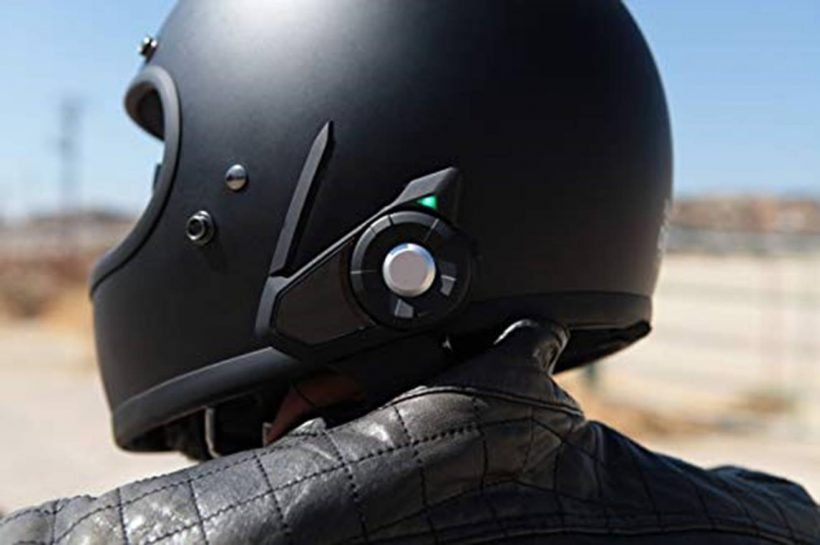 A third advantage of helmet-mounted bike speakers is that some offer bone conduction capabilities, a technology in which audio is transmitted through vibrations sent through the rider's cheekbones rather than through their ear canal. While the sound quality here isn't as pristine as other methods, bone conduction technology offers safety since the ear canals are still available to hear potential warnings, allowing the biker to remain aware of their surroundings.
The biggest downside to this audio style is that it's not very versatile. The audio is going to be for you and you only. This differs from the handlebar-mounted style, which can be used to share a vibe together while you're stopped along the roadside, checking out the view and sharing a drink.
Considerations when selecting a helmet-mounted speaker
Several important factors must be considered when looking at helmet-mounted speakers for your motorcycle. Like any other audio-related device, sound quality and volume capabilities should be a top priority – you want to hear what you want to listen to, and it should sound good.
Some may require additional mounting hardware or may not fit certain helmet models. It is important to check the compatibility of the speakers with your helmet before purchasing.
Another consideration is the battery life of the speakers, as some helmet speakers have longer battery life than others. It's also important to consider how the speakers are charged and whether they have a built-in battery or require external power.
Thanks for your feedback!