The JBL Charge Series is arguably one of the most popular portable Bluetooth speaker ranges on the market. From the original Charge right up to the Charge 3, JBL has continued to improve and refine the speaker to make it one of the best portable Bluetooth speakers on the market. The latest version is the JBL Charge 4 portable Bluetooth speaker. It's only a smidgen larger and heavier than the Charge 3, however, there have been several feature changes all of which we discuss in this article.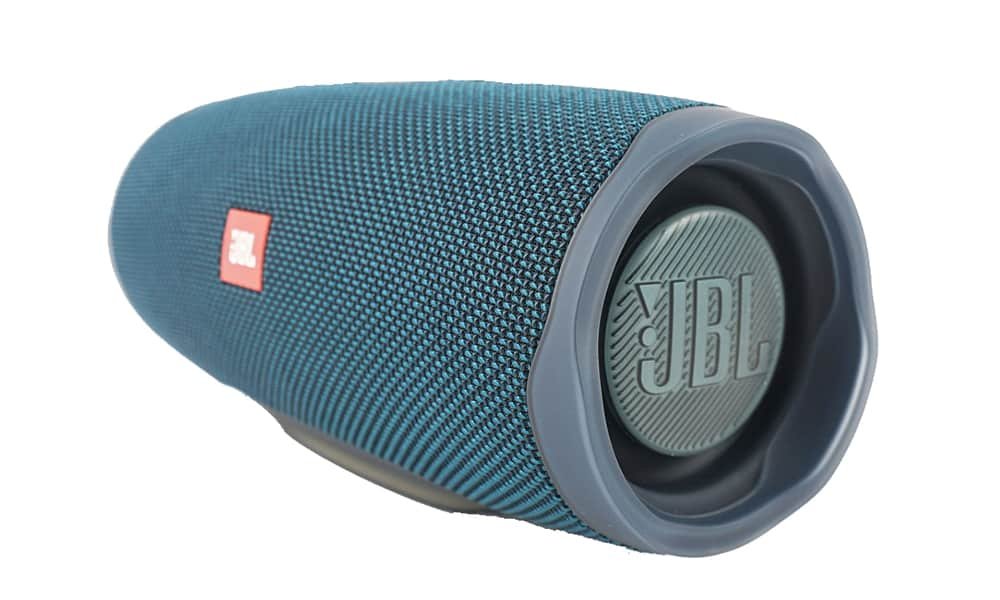 The first change is in the speaker driver design. Previous Charge models had dual full-range speaker drivers. The JBL Charge 4 features a single 2" x 3.5" full-range driver delivering 30W RMS of power, performing better than any preceding Charge speaker. There are two bass radiators at either end of the Charge 4 to improve low-end performance. I've noticed some reviewers online have expressed their disappointment because the speaker is no longer stereo. For true stereo separation, you need around 4 to 6 feet between the speakers so please ignore any suggestion that a single speaker in a portable Bluetooth speaker is less superior because it's not "stereo".
The new speaker design works really well, the bass response is on par with the JBL Charge 3 but the mid-range and high-frequency response from the Charge 4 far exceeds previous Charge speakers. For a small portable Bluetooth speaker, the Charge 4 delivers a surprising amount of clarity and frequency separation to deliver a quality listening experience. The Charge 4 is also powerful with enough sound to fill a small room easily.
One thing the Charge 4 has retained is the signature rubberized waterproof mesh cover. The speaker comes with an IP67 (IPX7) waterproof rating which will protect your Charge 4 against submersion in water of up to 1 meter (3.2 feet) for 30 minutes. Not to worry if the water you are in is deeper than 1 meter, the Charge 4 floats! So, if you drop the speaker off a boat or the deep-end of the pool, the Charge 4 will pop up to the surface and even still play music.
In addition, the mesh cover offers durability preventing against dings and scratches. The speaker feels like it can survive a drop or two but I wouldn't test this theory.
The Charge 4 connects two devices via Bluetooth or ⅛-inch AUX. There is also a USB port for charging mobile devices. Unfortunately, this is a USB charge output only and can't be used to play audio files from a USB drive. One new feature people are most pleased with is the change from micro USB to USB-C which is great. USB-C is makes charging quicker and pretty soon will likely replace micro USB completely.
One feature which hasn't changed from the Charge 3 is the 20-hour battery life. The Charge 4 retains the same battery but it's not as great as JBL claims. You can only achieve this by listening to music at around 40% volume using the AUX input rather than Bluetooth connection. As soon as you connect via Bluetooth and play at 50% volume the battery life goes down by about half. Still, 10 hours is better or on par with most portable Bluetooth speakers on the market.
From flat, the JBL Charge 4 battery will fully recharge in around 4 hours. Not the fastest recharge time when compared to the competition, but at least you can charge the speaker overnight while you sleep. The being said, the 7500mAh battery is strong enough to double as a power bank allowing you to charge your phone or other devices from the speaker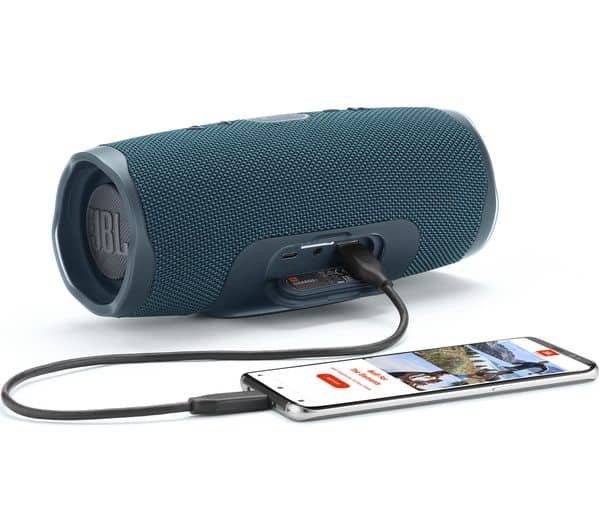 Another thing that hasn't changed on the Charge 4 is the button configuration on top of the speaker. You still have play/pause, volume up, volume down, JBL Connect+ and then power and Bluetooth in the center.
If you are unfamiliar with JBL Connect or Connect+, it's a feature that allows you to pair 100 or more JBL Connect or Connect+ speakers. If you're planning to buy 100 JBL Connect+ speakers, you may as well purchase a full PA rig and host concerts! At least it's good to know you have that option available. Unfortunately, you can only pair Connect+ speakers with other Connect+ speakers. You can't cross-pair Connect and Connect+ models.
One feature missing on the Charge 4 which was present in the Charge 3 is a speakerphone. Why? Because there is no microphone on the Charge 4. So this also means no voice commands to Siri or Google. It's not clear why JBL chose to leave this feature out. Personally, I find the speakerphone feature to be unnecessary. I would much prefer a manufacturer allocated space and budget to a better speaker system rather than worry about adding a microphone and speakerphone. Still, some people like this feature so, if this is a deal breaker for you, then maybe go with the JBL Charge 3 instead.
Should You Buy the JBL Charge 4?
Absolutely! At Outeraudio we are massive JBL fans, with their products making it into just about every best product list we make! We think the JBL Flip series remains the benchmark all Bluetooth speakers are measured by. The Charge series gets better with every release with the JBL Charge 4 taking sound quality to the next level from the Charge 3. The sound is much cleaner and more refined with good definition on the low-end and exceptional clarity in the mids and treble.
The Charge 4 also retains the features we love most, which include: being waterproof, durable mesh cover, long battery life, and a stylish aesthetic. The only thing missing is, of course, a built-in microphone which is good or bad depending on whether you like to make calls or have a party. At just under $125 the JBL Charge 4 is well priced when compared to similar premium portable Bluetooth speakers.
Thanks for your feedback!