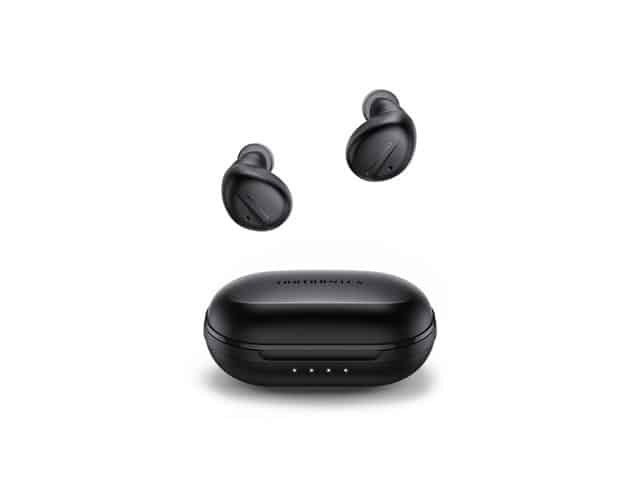 Introduction
Noise-canceling wireless earbuds (or earphones) are gaining extreme popularity for their convenience, and modern models have the greater appeal of features such as water resistance, long-range connectivity, and high-quality audio replication.
Chinese-based technologists, TaoTronics, have recently released their SoundLiberty 94 True Wireless Earbuds. Available at a great price, considering its features and quality, it is slowly climbing the ranks in the wireless technology market. When buying a wireless earphone set (or any audio product, really), there are a number of factors to consider before rushing into any purchase, and the TaoTronics Soundliberty 94 ticks all the boxes! Let's jump into the technical talk and discuss why these wireless earphones are making waves on the scene…
Design and Features
The SoundLiberty 94 is housed within a slick-looking, portable carry case that charges the earbuds while not in use. The case also aids in the connection process; simply remove them from their enclosure, and they will automatically connect to your device (provided you have previously established a connection. The TaoTronics SoundLiberty 94 can function on two modes- ANC (Active Noise Cancelling) and Ambient. 
Active Noise Cancelling mode enables innovative phase-reversal principles to cancel out up to 35dB of background noise effectively. This is accomplished by using two onboard microphones, one inward-facing and one outward-facing. These signals are combined and one of their waveforms is flipped by 180 degrees to achieve phase cancellation. This is incredibly useful when listening to music/radio/podcasts in noisy environments such as gyms, busy roads, airplanes, etc. 
Ambient mode allows you to hear background noise while the earbuds are used. This allows you to play media at a low volume and still stay aware of your surroundings, colleagues' voices, and, more important, background information. 
For the gym enthusiasts out there, TaoTronics has a special feature just for you: water and sweat resistance, which allows your wireless earbuds to operate at optimum performance levels no matter the conditions. The SoundLiberty 94 can also maintain a connection at a distance of up to 15m/50ft, so there is no need to keep your phone/iPod in your pocket while at the gym. Notably, the water-resistant technology IPx5 is great for sweating while gyming/running, but I wouldn't take the risk of using these in the shower or rain…
TaoTronics also boasts extended playtime capabilities with its SoundLiberty 94 earbuds. A low power consumption chipset is used to ensure a longer playtime of up to 8 straight hours with Active Noise Cancellation mode disabled and 32 hours when used with its charging case when not in use. Active Noise Cancelling and Ambient mode can be toggled by tapping the earbud.
The charging case operates at 360mAh and fully charges your earbuds in 2 hours or less! The case accepts a USB-C cable (included in the box)
Now that we know everything about the SoundLiberty 94's amazing features let's take a look at the sound quality these earbuds produce…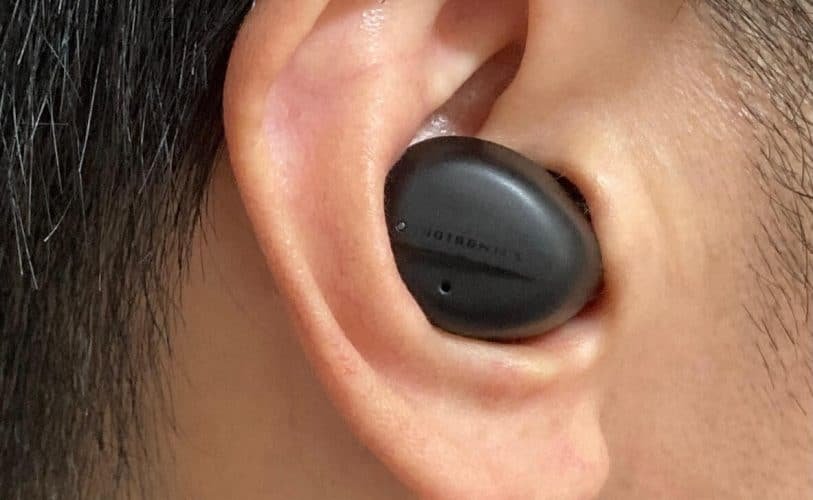 Sound Quality
As for sound quality, the SoundLiberty 94 will not let you down. In fact, it will surpass many expectations. The earbuds can operate on two codecs (infrared/Bluetooth data transmission code), SBC (standard-grade code, CD Quality), and AAC (Apple-native, higher quality sound and connection), and both codecs run on the latest Bluetooth 5.1 technology. 
As previously discussed, the Active Noise Cancelling technology allows you to stay more focused on your music/radio/podcast as background noise is effectively blocked. The large 9.2mm driver allows for greater bass response, and a relatively flat frequency response is present here, giving you greatly accurate sound replication, the way the music was intended to sound. 
Controls and Functions
The TaoTronics SoundLiberty 94 has a variety of features and control functions available that can be accessed and enabled on the earbuds themselves, these include Play/Pause, Volume Up/Down, Next Track/Previous Track, Answer/Decline Incoming Phone Call, End Current Phone Call, Power On/Off and Active Noise Cancellation On/Off.
All of the above functions can be activated by tapping or holding the earbuds in different manners, more info on this is available in the detailed and easy-to-follow user manual. 
Technical Specifications
Audio Codec: SBC (standard) or AAC (Apple-specific, high quality)
Bluetooth Version: 5.1
Bluetooth Range: up to 15m or 50ft
Battery Capacity: 50mAh (earbuds) and 360mAh (charging case)
Charge Time: up to 2 hours for a full charge
Waterproof Technology: IPx5
Playtime: 8 hours with Active Noise Cancelling disabled, 32 hours with charging case
What's in The Box?
1 x TaoTronics ANC True Wireless Stereo Earbuds (model code: TT-BH094)
6 x Ear Tips (two are already attached to the earbuds)
1 x User Manual
1 x QuickStart Guide
1 x TaoTronics charging/carry case
SoundLiberty 94 vs. SoundLiberty 79 
TaoTronics have a variety of models available in the SoundLiberty wireless earphone range, here we will compare the SoundLiberty 94 to the older model, the SoundLiberty 79
| | | |
| --- | --- | --- |
| | SoundLiberty 94 | SoundLiberty 79 |
| Release Date | 2020 | 2020 |
| Design/Style | In-ear Earbuds | In-ear Earbuds |
| Sound | Deep bass via 9.2mm dynamic driver | CD Quality sound via 6mm PEEK+PU Driver |
| Bluetooth | Version 5.1 at 15m or 50ft | Version 5.0 at 10m or 33ft |
| Device Playtime | 8 Hours | 8 Hours |
| Playtime with Charging Case | 32 Hours | 30 Hours |
| Charging Cable | USB-C Cable | USB-C Cable |
| Water Resistant | IPx5 | IPx8 |
| Other Features | Hybrid Active Noise Cancellation Technology4 onboard microphonesAmbient ModeSingle/Twin | Smart Al Noise ReductionSingle/Twin Mode |
| Recommended | Commute, Travel, Sports/Exercise, Flight | Business calls, Commute, Travel |
Conclusion
Overall, the TaoTronics True Wireless SoundLiberty Earbuds are an incredible product available at a highly competitive price. It provides all the necessary and expected features, plus more, and the sound quality is impeccable. Operating at a surprisingly long range while maintaining great sound quality and sweat resistance makes it perfect for gym and exercise use, and its noise cancellation functionality allows for massively versatile use in all environments. The toggle nature of this technology allows for safe use where background noise must still be heard.
The long battery life of the SoundLiberty 94 allows for long periods of use. The charging case, which doubles as a carrying device, is portable, professional-looking, and easy to use. It also extends the battery life of the earphones while they are housed within the enclosure.
Whether you're using it for gym/exercise, music listening, travel entertainment, or streaming movies, the TaoTronics SoundLiberty 94 will exceed your expectations.
Thanks for your feedback!