The Bottom Line
The Tronsmart T6 Plus is an impressive, portable Bluetooth speaker available at an astonishingly affordable price. While the sound quality isn't the greatest, its versatile features, durable build, and unique design make this a speaker worth checking out.
The Tronsmart Element T6 Plus Bluetooth Speaker from Tronsmart is one of their more popular models in their range of over 20 portable Bluetooth speakers. The Tronsmart T6 Plus draws influence from the classic JBL-style design with their own twists and is available at a shockingly low price. Let's take a deeper look…
First Impressions
The Tronsmart T6 Plus is relatively compact, measuring just under 8 inches long by around 3.5 inches thick, and weighs 1.48 pounds. The speaker is cylindrical in shape and has its control panel and I/O ports along one side. I must say I'm not a massive fan of this design choice, as the speaker has to lie on its control panel to keep from rolling around on whatever surface it's placed on, which means you'll need to pick up the speaker to access the controls. Alternatively, you could stand it upright, though this would muffle the bass driver.
The Element T6 Plus has a water resistance rating of IPX6, which allows for high-pressure water contact, but not submersion. The speaker feels durable enough to withstand outdoor use and can certainly take a knock.
Design & Features
As mentioned, the Tronsmart T6 Plus follows the JBL pill-style design, with some minor tweaks. The control panel is far more interactive than that of the JBL speakers, where you usually can control volume, play/pause, power, Bluetooth, and True Wireless Stereo (TWS) where applicable. The control panel on the Tronsmart Element T6 Plus gives you access to the following useful commands: power, TWS, previous track, next track, source, and EQ (more on this later). The buttons along the control panel feel great as they aren't too sensitive or difficult to operate.
An interesting design choice of Tronsmart is the Element T6 Plus's volume control placement: rather than a volume up and volume down button on the control strip, they installed a knob on the one side of the speaker, where you'll usually find the second bass driver on a JBL-type design. I really like this, as it can be annoying to continually press a button to make volume adjustments on your speaker. This knob is built quite well, and still functions incrementally- you'll feel little clicks as the knob is turned.
This volume knob also functions as a switch for the onboard virtual assistant, where you can execute voice commands using the speaker's onboard microphone. The Tronsmart Element T6 Plus is also available in red, at around $10.00 extra.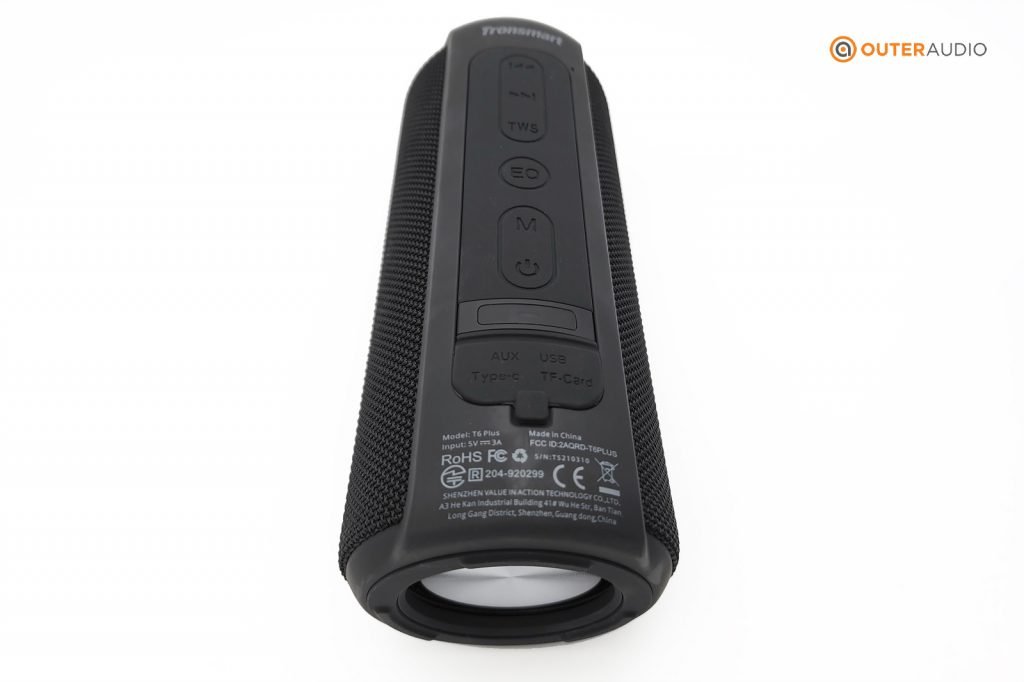 Connectivity Options
The I/O options of the TronsmartT6 Plus are also far more versatile than most similarly-sized Bluetooth speakers, accepting Bluetooth, auxiliary in (3.5mm), and TF card. The TronsmartT6 Plus can also charge a USB-powered device from its battery. These ports are found under a rubber pull-away tab on the control side of the speaker and are made pretty well; if closed securely, water shouldn't mess with the inputs & outputs at all.
The Element T6 Plus utilizes Bluetooth 5.0 for wireless pairing, which gave me a low-latency experience when using this speaker with visual media, and the wireless range is reasonable (around 60ft)
Tronsmart T6 Plus Battery

The Tronsmart T6 Bluetooth speaker is advertised at 15 hours of playtime. I found this to be accurate, provided you keep an eye on the volume level. Playing the speaker at 80% volume or higher will give you a battery life of around 6.5 hours, so keep this in mind. Using the auxiliary input can preserve battery life while charging your USB devices will dramatically shorten it. The battery took around 3 hours to reach full charge once it was drained. Compared to other Bluetooth speakers, this battery life isn't special at all but is certainly more than I expected from such an affordable speaker.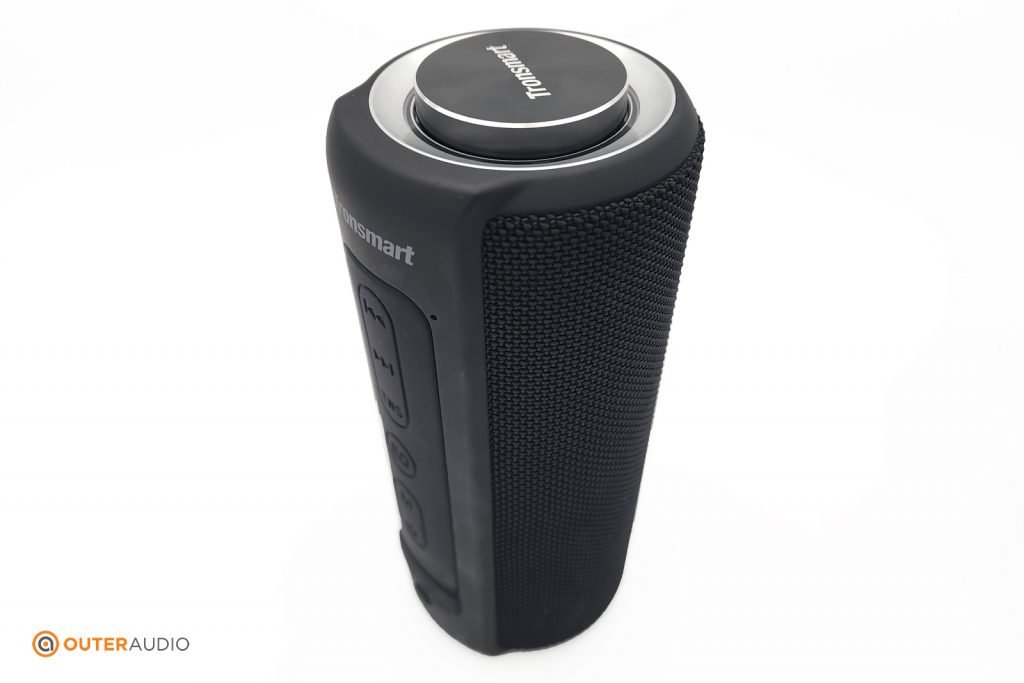 Sound Quality
For a speaker that sells for practically $60.00, I feel it's fair to say I wasn't expecting much in terms of sound quality. However, leading up to the point of actually powering this speaker up, the design, build, and features have really impressed me, so let's take a look at how it sounds.
I always start off by testing spoken word content to see how the speaker replicates the delicate midrange, supported by some low-end content in deeper voices, and I can get a good idea of the upper midrange and highs when certain words are spoken, particularly those with a lot of air behind them. The T6 Plus sounded great when digging into a podcast, so I have higher expectations than I initially did for music reproduction.
I immediately noticed a severe lack of low end, this caused the speaker to sound incredibly thin as all the depth, warmth, and punch were missing. For softer music styles like acoustic and jazz, this doesn't sound too bad.
The Tronsmart T6 Plus has an EQ button on the control panel, which has three modes to choose from standard (no EQ), 3D deep bass, and extra bass. Each equalization setting activates a different light color, so you always know what mode you're on.
The 3D deep bass and extra bass modes really make a massive difference, and bass heads will certainly be satisfied here, however, much of the upper midrange and highs are muffled by the overwhelming bass. This makes it challenging for pop, rock, and metal listeners, where you want a slightly emphasized low end, but much of the magic occurs in the upper regions of the frequency spectrum. For bass-heavy music styles, the Tronsmart T6 Plus certainly does the trick.
Volume-wise, the Tronsmart T6 Plus can't go bone-shaking loud, but for a group of fewer than six people, the speaker packs enough power.
Compared to the Treblab HD77, which is similar in both price and size, the Element T6 Plus doesn't sound nearly as good, but it can get quite a lot louder.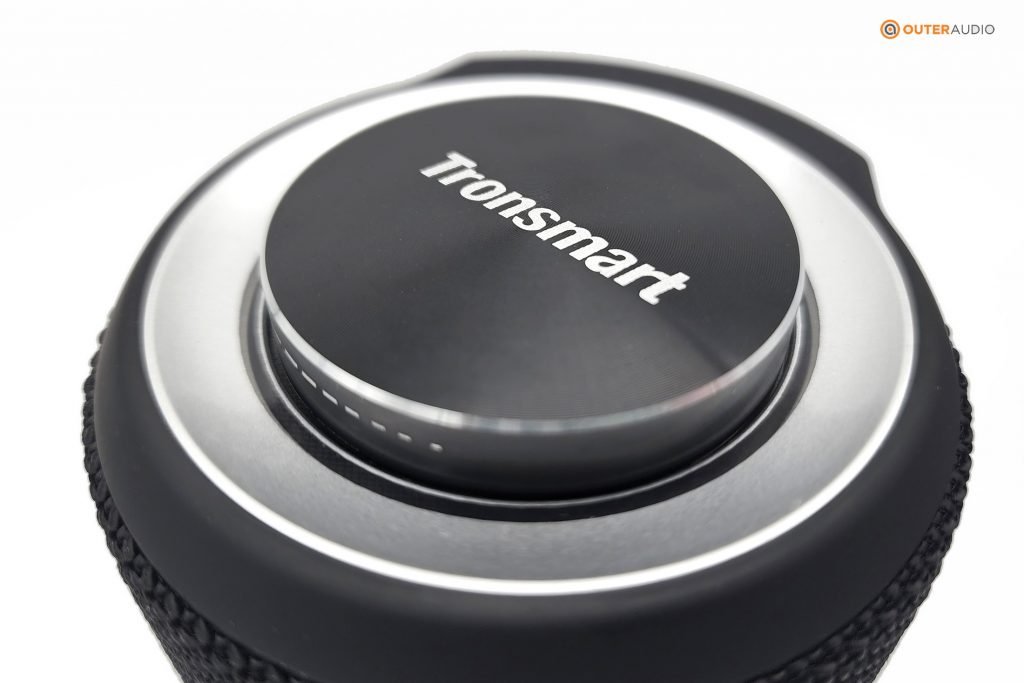 Tronsmart T6 Plus Conclusion

While the Tronsmart T6 Plus doesn't sound as good as the similarly-priced Treblab HD77, or the JBL models it mimics, its unique design and versatile features make for a worthwhile purchase, especially considering the shockingly affordable price point. If you're looking for a compact, reliable, good-sounding, and durable speaker, I'd recommend rather taking a look at the Treblab HD77– while they're very much alike, the Treblab is miles ahead in terms of sound quality. At this low price, I'd consider the Tronsmart T6 Plus a great backup Bluetooth speaker, or a secondary unit in case you're not comfortable taking your JBL or Bose speaker outdoors.
What's In the Box?
Thanks for your feedback!