The Bottom Line
Drawing 50W of power to feed four monstrous drivers; this Bluetooth speaker seriously pumps! The HD Max features three sound modes, each possessing its own unique equalization properties designed to optimize the speaker's performance in certain environments.
With portable Bluetooth speakers becoming a household item, many audio manufacturers attempt to breach the market with their own innovations in Bluetooth speaker technology. Today we're taking a look at Treblab's HD Max – a portable Bluetooth speaker designed to provide hours of loud, bold entertainment in any setting. 
The First Impression- Unboxing
Treblab presents the HD max in a well-labeled, beautiful box, as with all their other products. When removing the HD Max from its packaging, the box simply fell apart, it was easy enough to piece back together, but this was an unexpected surprise nonetheless. Inside the box, I found the following:
The Treblab HD Max and its additional components are well-made, they look and feel great, and all the buttons and switches are of excellent quality. The control buttons are situated on top of the speaker for easy access while the HD Max is in use; however, I will admit I'm not a fan of the power bank and auxiliary input placement. As these features are located underneath the speaker, you need to lay it at a sideways angle to avoid damage to your cables.
Pairing and Setup
The Treblab HD Max is incredibly easy to set up each time. The speaker can be powered up by pressing the Power On button, and pairing is automatically initiated. The speaker operates as expected as far as pairing and disconnecting are concerned; however, I don't like that it does not automatically shut down after a period of inactivity. This may not be a big deal, but I like the extra security of guaranteed battery life.
Portability, Durability, and Versatility
The HD Max holds a water-resistance rating of IPX6, allowing for exposure to the elements to the point of high-pressure water engaging the speaker at all angles. Making the speaker suitable for use by the pool, the shower, the beach, or a boat – just don't drop it in the water!
The speaker is reasonably lightweight considering its size, the attachable carry strap provides comfortable transportation, and the bottle opener is a nice feature. The battery strength of the HD Max may not be the greatest in comparison to others at a similar price and style, but for use around the home, it is more than sufficient, running at a total of 20 hours of playtime on a single charge.
I will admit that I'm disappointed to see no improvements in battery life potential since the previous models. Considering the Treblab HD Max is much larger in size, and if you're planning on hosting a party – be sure to keep the speaker near a power outlet, as it will only last around 5 hours when blasting at maximum output volume.
The onboard charger works like a bomb and will revitalize your cell phone quickly enough; just remember this will decrease the speaker's battery life.
How Does the Treblab HD Max Sound? 
It doesn't come as a surprise that the HD Max is incredibly loud for its size, drawing 50W of power to feed four monstrous drivers; this Bluetooth speaker seriously pumps!
The HD Max features three sound modes, each possessing its own unique equalization properties designed to optimize the speaker's performance in certain environments. The three modes available are Indoors, Outdoors, and Bass Boost.
The Outdoor Mode provides a noticeable drop in low-end energy, and higher frequencies are enhanced to assist the speaker in projecting over a greater distance outdoors. This technique is effective, but I would not recommend using this mode in any other setting as the tonal quality is incredibly thin at a close range.
Indoor Mode is my preferred preset of the three options – it has enough clarity and intelligibility in the midrange and higher frequencies, while the low-end remains tight and punchy. This setting works well with any style of music and fills space nicely.
The Bass Boost setting, as expected, provides an intense accentuation of the low-end. While this is great for bass-heavy music styles such as dance or hip-hop, much of the clarity of the remaining frequency spectrum becomes clouded as it becomes increasingly difficult to decipher lyrical content. Some details, such as cymbals and higher-pitched percussion instruments, seem to almost disappear due to the overpowering low-end energy. Sure, it generates a foot-stomping bassline for certain music styles, but for me, too much of the quality content of a song is sacrificed.
For a Bluetooth speaker, the Treblab HD Max has a decent frequency response that can be dialed in to suit your listening style using the three sound modes available; however, there were times when I just simply couldn't get a piece of music to sound right. Additionally, the stereo spread of the speakers isn't the greatest; however, this can be resolved by pairing the HD Max with another of its kind to create a stereo pair, thus widening the field and creating a greater sound stage.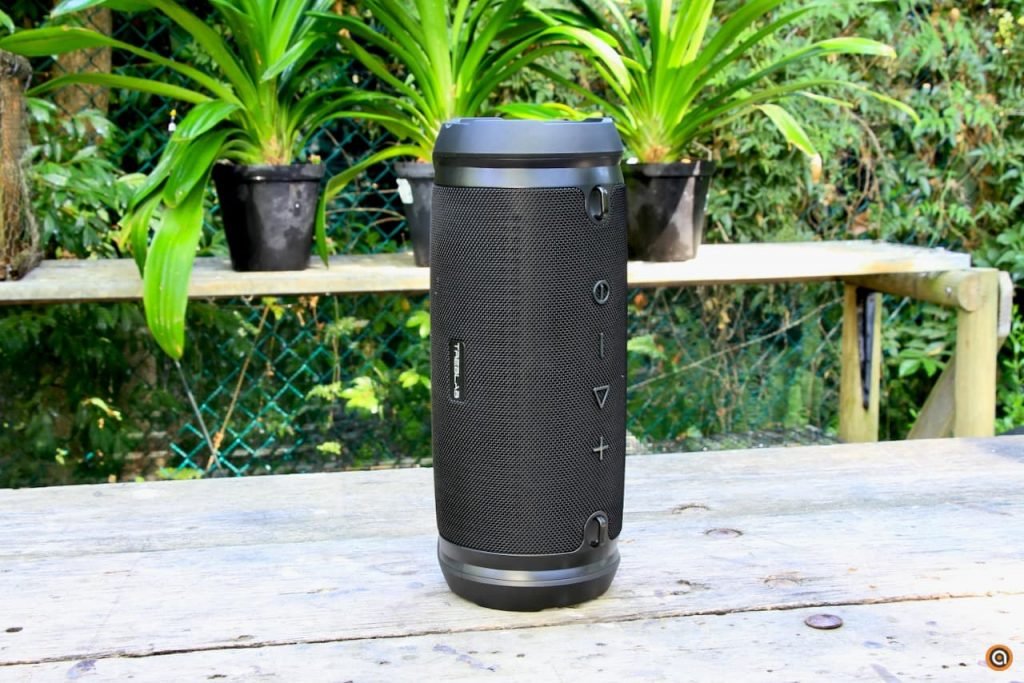 What We Like
What We Dislike
Treblab HD Max Conclusion
The HD Max is a great speaker for various uses and will certainly last a lifetime if taken care of. I would recommend trying this speaker out in-store if you can, as the sound characteristics might not be what you're looking for, in which case, there are many other options in a similar price range.
Thanks for your feedback!