Best Overall
Soundcore Motion Boom Plus
The Motion Boom Plus is the top choice for an 'everyday speaker.' Easy enough to carry but large enough to put out impressive sound.
For The Outdoor Lifestyle
Turtlebox 2
A rugged, waterproof Bluetooth speaker built with the outdoors in mind. This extremely loud speaker is great for the outdoor enthusiast.
For Indoor & Outdoor Use
JBL Boombox 3
The Boombox 3 blends a relatively subtle boombox design with excellent sound quality to provide a speaker solution for both indoors and outdoors.
For Use Anywhere You Go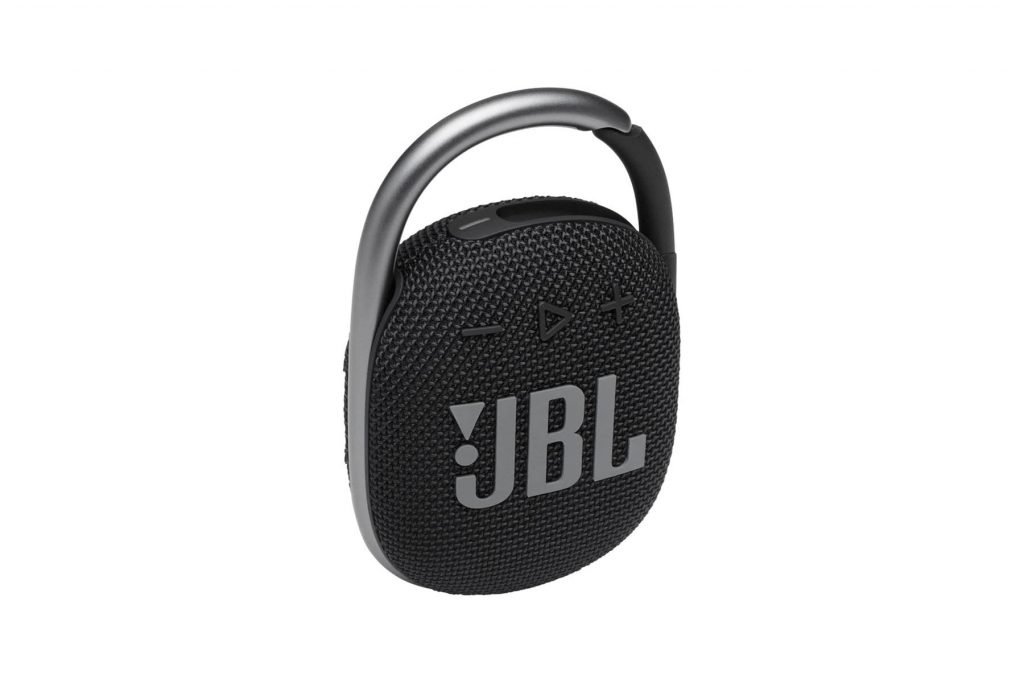 JBL Clip 4
The Clip 4 is a speaker for those needing something they can stash in their pocket, on the bars of their bike, or hang in the shower. If you don't need a lot of volumes, this may be for you.
Waterproofing used to be a special feature of select Bluetooth speakers. Nowadays, most manufacturers include it in most of their products to varying degrees. A waterproof Bluetooth speaker will provide peace of mind when using your speaker outdoors and allow you to use it comfortably in new environments where traditional Bluetooth speakers are at risk of permanent damage.
Our Category Winners
Understanding Waterproofing
For our list, we decided to exclusively include speakers that not only offer IPX7 protection but also come with the added benefit of being dustproof. In recent years, we've seen new iterations of speakers that have traditionally been IPX7 now offering IP67 protection. When one thinks of a waterproof Bluetooth speaker, chances are you're thinking about taking it outdoors, to the beach, or on a camping trip.
While you may not immediately think of it, there's a good probability that, at some point, you will want to use your waterproof Bluetooth speaker in an excessively dusty or sandy environment. So the problem with recommending IPX7 speakers on this list isn't that IPX7 is bad. The water protection is the same on both types – but by recommending speakers that also offer dust protection, we can help ensure that you minimize the risk of potential damage to your speakers.
Reading the following guide will provide additional insight into the classification of waterproof ratings.
Our Recommendations At A Glace
We've compiled the following table to help you better compare the speakers on this list and some of their core features.
Looking for Underwater Speakers?
Although all the speakers on this list are IPX7-rated and can be submerged in 1m of water for up to 30 minutes, they were intended to be used above water. True underwater speakers are designed to accommodate the difference in transmission and sound dynamics between air and water. If you want to listen to music underwater (yes, you can!), look at our Guide to Underwater Speakers.
The 10 Best Waterproof Bluetooth Speakers
The speakers listed below are some of the best waterproof Bluetooth speakers on the market. They offer the most impressive weather protection and quality sound and features. We have also covered our methodology for these selections further below.
1. Anker Soundcore Motion Boom Plus
Dimensions:
15.31 x 5.51 x 7.7″
While the Anker Soundcore Motion Boom Plus follows a similar boombox style to the Boombox 3, the Motion Boom Plus is designed with budget in mind. The Motion Boom Plus is roughly one-third the price of the JBL Boombox 3. Some sacrifices are made when opting for the more affordable choice, but the Motion Boom Plus can still contend with the Boombox 3, depending on what you're looking for in a speaker.
The Motion Boom Plus is an upgrade from the original Motion Boom, which we have extensively tested. One of the most apparent differences is the size of the two speakers. The Motion Boom Plus is a bit bigger than the original and heavier, too – but it is still quite a bit lighter than many other boombox speakers. A carry strap can also be attached to the speaker to make the carrying process easier.
This increase in weight and size is mostly due to the upgrade in the speaker drivers, which sees the original Motion Boom's full-range drivers being replaced with larger, dedicated woofers along with independent tweeters in the Motion Boom Plus.
The result is that the Motion Boom Plus holds several advantages over the original Motion Boom when it comes to sound and has a foot up over many other speakers in this market space. The volume is a lot more powerful, which is an impressive feat, considering the Motion Boom wasn't the softest speaker out there, to begin with. The bass is really where we see the Motion Boom Plus excelling. This speaker's deep low range can also get the party going. The two dedicated woofers have helped the Motion Boom Plus offer booming low-end that we like to see in a boombox-styled speaker.
When it comes to the midrange and the highs of the Motion Boom Plus, it's bright enough to work in unison with that deep low end to provide a sound that has slightly elevated highs and lows. This is one of the areas where the JBL Boombox 3 outperforms the Motion Boom Plus, especially around the 6kHz range, where the Motion Boom Plus comes off a little harsh. If you're looking for a more accurate representation of a song and consider yourself a critical listener, the Boombox 3 may be the one for you, as the Motion Boom Plus has more of a 'fun' sound to it.
We can recommend the Motion Boom Plus to anyone who likes the boombox speaker style but is limited on funds. It's quite difficult to fault the Soundcore Motion Boom Plus with all it has to offer at around $150.
Does it Float? Yes
Why The Soundcore Motion Boom Plus?
This speaker offers great value. Its performance exceeds the price tag. This fun-sounding speaker is ideal for those who need a bit more power than those provided by smaller, more traditional portable Bluetooth speakers. If you're looking for good bass, strong volume, and a lot of value, the Motion Boom Plus is a treat.
Value for money
Suitable for parties 
Easy to carry
Impressive bass
Highs can be harsh to those sensitive to treble peaks
RGB lights would have been a welcome addition given its potential party use
2. Turtlebox 2
Dimensions:
12 x 8.75 x 7″
The Turtlebox 2 is a powerful waterproof Bluetooth speaker for those with high demands. With around 120dB of volume output, the Turtlebox 2 isn't just one of the loudest waterproof Bluetooth speakers but also one of the loudest speakers in the portable Bluetooth speaker space. This speaker is also made with a focus on ruggedness, and the release of this speaker was tied with imagery of an outdoor lifestyle. That's because, in conjunction with the impressive IP67 waterproofing, the Turtlebox 2 is also extremely durable and can easily be moved around without fear of damage.
When we first tested the Turtlebox 2, we were surprised by the sound, given the somewhat compact form factor that lets the Turtlebox be carried around with relative ease, even in one hand. At 10 pounds, it's not exactly light, but easy enough for most to carry, thanks to the built-in handle.
The sound quality of the Turtlebox 2 is impressive, especially at around 70 to 80% volume. To quote our one writer, who tested the Turtlebox in our full review: "The low end is tight, punchy, and warm, while the midrange is full-bodied yet bright enough to not be overpowered by the bass, and the higher frequencies are clean and crisp." Overall, the sound on the Turtlebox 2 isn't going to show its strengths during critical listening, lacking a touch of stereo imaging. Still, you're almost guaranteed to impress the average outdoorsman or casual listener.
That's not to say the Turtlebox 2 doesn't suit more casual environments; it's a versatile, loud Bluetooth speaker that can cater to almost any environment, and that's what we love about it.
Does it Float? No
Why The Turtlebox 2?
If you're looking for a waterproof Bluetooth speaker that can cater to larger gatherings of people, the Turtlebox 2 is near to being the perfect speaker. With a fairly substantial battery life of up to 18 hours of traditional listening, the Turtlebox 2 can easily accompany fishermen out on their journeys with minimal risks or be placed around the campfire on a camping trip.
Incredibly loud
Extremely durable
Long battery life
Driving bass
Quite expensive
Not the most balanced sound
3. JBL Charge 5
Dimensions:
8.7 x 3.67 x 3.76″
The JBL Charge 5 is not too different from the popular Flip 6, the latest installment from the extremely popular Flip series, which has arguably been JBL's best flagship portable Bluetooth speaker. When it comes to protection, the Charge 5 holds a slight advantage over the Flip in that it also offers a dustproof rating on top of the IPX7 waterproofing and also provides more volume and more impressive battery life. Where the Flip 6 can only provide around 6 hours of battery life, the Charge 5 gives a substantially more impressive 14 hours of power.
The JBL Charge 5 is fairly small, at only 2 pounds of weight, and less than 9 inches long. You can easily carry this waterproof Bluetooth speaker around in one hand, which makes it an ideal choice for a portable speaker on the go. There are smaller waterproof Bluetooth speakers on this list, but there are sacrifices you'll need to make when scaling down. We find that the Charge 5 brings a good balance of versatility, portability, and sound quality to the table, whereas smaller options often require sacrifices in sound quality.
Looking deeper into the sound quality of the Charge 5, this portable speaker produces a fairly impressive 90dB of volume, which, while not enough to power a large party, can more than suffice for personal use and smaller gatherings, such as picnics, slumber parties and chilling by the pool.
The sound signature isn't what we'd consider a traditional V-shape, but a slight emphasis in the mid-treble makes for a fairly bright and warm response toward the upper range. The upper-bass response is quite good, with a punchy sound, but you're not going to get the same deep bass as you'd find on alternative speakers with larger drivers.
While the overall sound quality of the Charge 5 is impressive, there isn't quite as large of a soundstage as the Flip 6.
You can expect the same reliable, high-quality build from the Charge 5 found with most JBL products.
Does it Float? No
Why JBL Charge 5?
The JBL Charge 5 can be thought of as a safe choice of waterproof Bluetooth speaker, as it's an extremely popular speaker, and not without reason. The Charge 5 may not do anything to perfection, but it does extremely well in almost all ways. The Bluetooth connectivity is reliable. The build is sturdy yet good-looking. And then the volume and sound quality are also both impressive. This speaker covers most needs in one simple package.
Trusted brand & model
Lots of volume
Easily portable
Relatively balanced sound
No aux
Charging is a little slow
4. UE Wonderboom 3
Dimensions:
4.65 x 4.53 x 4.65″
The Ultimate Ears Wonderboom 3 is a unique speaker in that it can go head to head competing with the JBL Flip series and even come close to the Charge in some metrics, but it is a fair bit smaller than both the Flip and Charge, measuring in at only 4.65 inches tall. This size profile places the Wonderboom 3 between a micro-speaker and a traditional portable Bluetooth speaker.
Both Wonderboom 2 and Wonderboom 3 are relevant at this time and offer value. However, the Wonderboom 3 has a much better battery life, improved Bluetooth, and a cleaner midrange sound, while the Wonderboom 2 can put out a little more volume.
Despite the unintimidating appearance, this compact, waterproof Bluetooth speaker provides more value than one may assume. You can expect around 87dB of volume from the Wonderboom 3. It must be said that the treble isn't quite as warm as you may find in the Charge 5, despite UE's claims of "booming bass" on this. In our opinion, the bass of the Wonderboom 3 is a bit more natural and balanced than that found in the Charge 5, which comes down to preference. The Wonderboom 3 also has a tight bass response, whereas the Charge feels deeper and looser.
The Ultimate Ears Wonderboom 3 perhaps shines the most when one takes a look at the soundstage, and this isn't too surprising, given that one of the big marketing points made by UE with the Wonderboom 3 is the 360-degree sound. We're no strangers to the 360-degree speaker design, but it sometimes feels weak in performance. That's not the case with the Wonderboom 3, which presents an impressive sound in all directions, which is great for small group gatherings where everyone can sit around the speaker.
The battery life of the UE Wonderboom 3 is another standout feature. As we touched on, the battery life was markedly improved compared to the Wonderboom 2, now offering a truly impressive 22 hours.
Does it Float? Yes
Why The UE Wonderboom 3?
Despite its small size, the Wonderboom 3 can produce some seriously impressive sound. I was surprised by its 87dB output and the clarity at which it delivered that sound. If you enjoy a good soundstage, the Wonderboom 3's 360-degree sound is going to scratch that itch with great efficiency.
Amazing soundstage
Great volume for its size
Very portable
Great battery life
5. Tribit Stormbox Pro
Dimensions:
18 x 9.6 x 9.6″
The Tribit Stormbox Pro is an affordable speaker that offers a fair amount of versatility through its design. It is fairly similar to the Ultimate Ears Boom 3, but we've opted to recommend the Stormbox Pro over the Boom 3 for one main reason, it's more modern and, in turn, brings through some more impressive features around Bluetooth and battery life.
The Stormbox Pro offers the latest Bluetooth 5.3 connectivity, ensuring you have the most advanced Bluetooth compression, faster transfer rates, and extended range. As mentioned, the Stormbox Pro offers an impressive 24-hour battery life in addition to the more sophisticated Bluetooth. While this manufacturer-stated 24-hour battery life is achievable at lower listening levels, you'll likely retain a relatively impressive 18-20 hours of use, even at slightly louder volumes.
When we compared the Stormbox Pro to the original Tribit Stormbox, the Stormbox Pro has better connectivity. Aside from newer Bluetooth, it also offers a charging port for mobile phones and a lot more power, with the original Stormbox using 24 watts. The Stormbox Pro brings 40 watts of power to the table. The other positive change is the shift from IPX7 to an IP67 rating – meaning this speaker can survive short submergence and be protected from sand and dust.
Tribit's approach around the sound profile on the Stormbox Pro is interesting. Usually, brands like Tribit that operate in a more general consumer market focus on boosting bass and pushing up the highs in aggressive V-shaped tuning. The Stormbox Pro aligns more with a balanced sound approach, where the bass, while present – is not the driving force of the speaker. The Stormbox Pro is tuned in a manner that audio enthusiasts may appreciate, though this isn't what we'd consider an audiophile speaker.
If you're looking for a bass-heavy speaker, this isn't it. If you're someone who prefers a balanced, neutral sound with some rich, warm mid-tones and highs but find yourself limited on funds, the Stormbox Pro can bring offer this to you at just over $100.
Does it Float? Yes
Why The Tribit Stormbox Pro?
The Tribit Stormbox Pro offers much value for money, with a sound signature usually reserved for more expensive speakers. The Stormbox Pro manages to provide a relatively balanced sound, so if those bass-heavy speakers are not your kind of speaker. However, if you still want the versatility of a portable Bluetooth speaker, the Stormbox Pro will suit you.
Voice assistant
Bluetooth 5.3 connectivity 
Fairly balanced sound signature
Prone to low-end distortion when the volume is pushed
App could be improved
6. Bose Soundlink Flex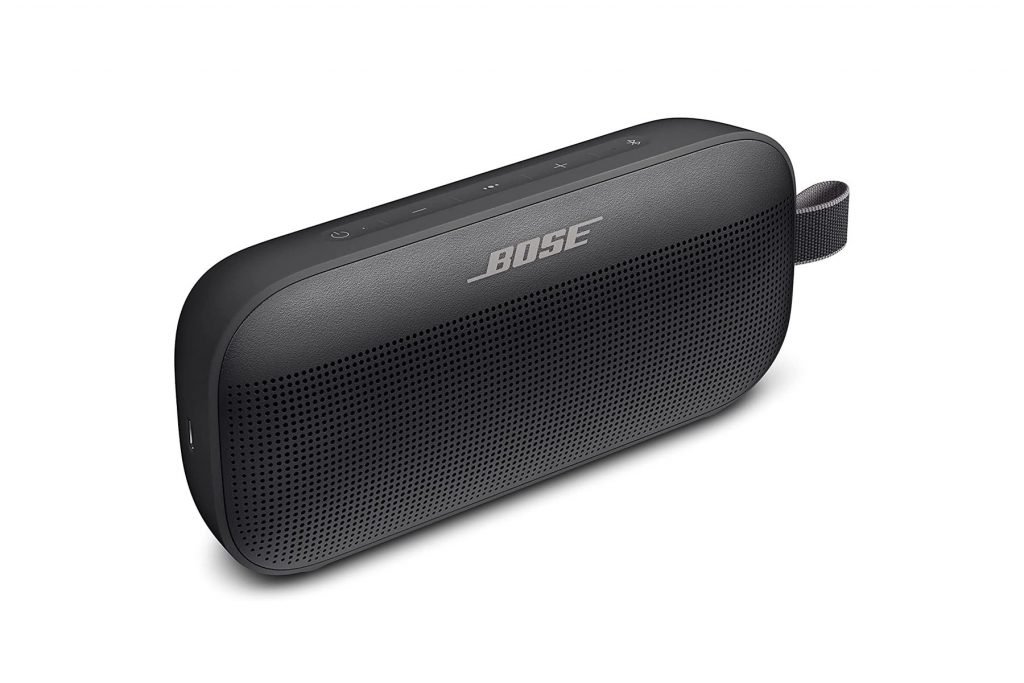 Dimensions:
2.06 x 7.93 x 3.56″
While the BOSE SoundLink Flex may not be the most attractive Bluetooth speaker, this speaker's strengths lie in other areas. Though that's not to say the design is a weakness, BOSE opted for a design focused on performance and durability rather than aesthetics (though beauty remains in the eye of the beholder).
This speaker is quite similar in specification to the JBL Flip 6, and the two are comparable in many heads-to-heads. The Flip 6 is slightly smaller than the SoundLink Flex, but BOSE takes the win when it comes to volume.
BOSE's design features certainly pay off when it comes to both sound quality and weatherproofing. The SoundLink Flex offers IP67 protection, so you're protected from dust and water, and it does so with a good deal of authority, with the speaker even offering impact resistance.
One of the most impressive features of this speaker is how it performs compared to its size. The SoundLink Flex is a small speaker that weighs a little over a pound and is less than 8" long. This form factor makes it great for carrying around with you and can even be placed with your towels and swimming gear the next time you hit the beach.

This is where this speaker excels, as a compact waterproof Bluetooth speaker with much more to offer than one may first think. This speaker's volume is truly impressive; at around 87dB, the SoundLink Flex can edge out the Flip 6 in raw volume. The sound profile of the BOSE SoundLink Flex has accentuated bass, particularly in the upper bass, and some also slightly elevated in the low treble. This profile creates a fun and vibrant sound without coming across as piercing in the highs or distorted in the low end.
With all that is so promising about the SoundLink Flex, that doesn't mean there aren't some drawbacks to the speaker. Since it was released in 2021, the BoseLink Flex still features Bluetooth 4.2, so there are better options for those looking for lower latency and more range than the later Bluetooth versions. For most users, Bluetooth 4.2 is still completely viable and bundled with several audio products on the market. There is also no auxiliary input, something that is found in most Bluetooth speakers in this price range.
Does it Float? Yes
Why The BOSE SoundLink Flex?
The BOSE SoundLink Flex is best suited to those who focus on toughness. This speaker is deceptively well-built and can handle just about anything you can throw at it (within reason). This speaker also sounds great for its size in conjunction with the impressive build quality.
Rugged design
Impressive volume and bass for its size 
Fairly affordable
Older Bluetooth 4.2 connectivity
Sound signature is more 'fun focused' than accurate
Somewhat limited battery life
7. JBL Boombox 3
Dimensions:
7.9 x 19 x 10.1″
The JBL Boombox 3 is a larger speaker that, out of the speakers on our list, could most closely be compared with the Turtlebox 2. The Boombox 3 is around 50% heavier than the Turtlebox. The Turtlebox is more targeted towards a rugged lifestyle, while the JBL Boombox 3 brings home comfort with a significantly more interior-friendly design. The Boombox 3 has an improved sound profile, but the Turtlebox 2 had more volume.
The JBL Boombox 3 is the successor to the Boombox 2, which we highly recommend. The Boombox series has always offered a lot of volume in conjunction with a crisp and rich sound. While they have always had a bit of weight, the design, which features a durable carry handle, makes them fairly easy to carry.
The Boombox 2 outperformed the Boombox 3 in raw volume, but that doesn't tell the whole story. The Boombox 3 saw vast improvements to the overall sound design, with the JBL Boombox 3 performing better in the low bass range and brighter in the midrange. In short, the Boombox 3 outperforms the previous model in low-end response and warmth, providing a more enjoyable listening experience.
This shift away from volume towards a better sound profile is something we've been seeing in the last year or so from JBL, and as an audio enthusiast, I've got to respect it.
As with the other speakers on this list, the Boombox 3 has an IP67 rating. This is also a step up from the IPX7 rating that the previous model used. The addition of dustproofing means you no longer need to worry about taking your speaker to the beach or camping with you, lending more outdoor versatility to the Boombox series.
The Boombox 3 also offers the latest Bluetooth 5.3 technology, ensuring low latency and good wireless distance.
Does it Float? Yes
Why The JBL Boombox 3?
The JBL Boombox 3 is a speaker that caters to those with high demands for sound and who also appreciate a well-balanced sound profile. It isn't the loudest speaker on the list, but it offers sophisticated sound and a design that feels welcome in indoor and outdoor environments.
Outstanding sound quality
Vastly improved over the Boombox 2
Long battery life
Bluetooth 5.3 connectivity
8. Marshall Eberton 2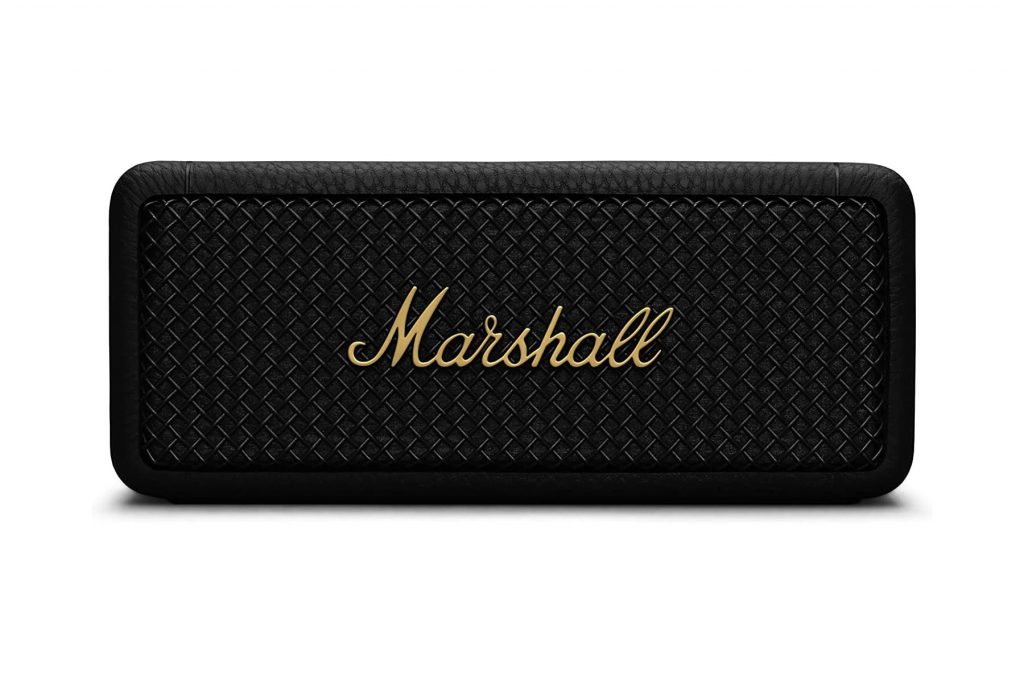 Dimensions:
2.75 x 6.25 x 2.75″
Marshall is perhaps best known for their amplifiers, but the company has recently invested more in Bluetooth speakers. While many Marshall Bluetooth speakers aren't portable, the same can't be said for the Eberton 2.
The Marshall Eberton 2 is made to compete with the JBL Flip series and Soundcore Motion+, standing considerably smaller than the likes of the Stanmore or the Woburn.
It doesn't stray too far from the original Eberton in design, with the two speakers sharing what is primarily the same shell. But there are marked improvements to the original speaker. What Marshall has done with the Eberton II is update the speaker with a better battery, improved Bluetooth, weatherproofing, sound quality, and more volume. Regarding the sound improvements, the Eberton II has a wider sound with a more impressive bass response and brighter highs extending further into the upper treble.
Compared to other speakers in its size range, the Eberton II performs well, producing around 87dB of volume, which is extremely similar to the volume levels of the Flip 6, for instance. If you're unsure which speaker to go for, the Eberton II has a seriously impressive soundstage that exceeds that of the Flip 6. Still, it's not simple, as the Flip 6 offers better dynamic performance. The Flip is arguably a little more rugged in its build. One area where the Eberton II stomps its authority is its impressive 22-hour battery life, three times more than the Flip 6. The two downfalls of the Eberton II are a rather basic app EQ settings and the lack of stereo pairing.
Does it Float? No
Why The Marshall Eberton 2?
The Marshall Eberton II is a bit of a slept-on speaker that deserves more recognition than it gets. It can go toe-to-toe with a lot of popular portable waterproof Bluetooth speakers on the market and, in some areas, even outperform them. This speaker is well-priced and has much to offer the average consumer. It is an excellent blend of practicality and aesthetics.
Unique design
Great battery life
Quite loud
Modern connectivity & battery updates compared to the original Eberton
App EQ could be better
Sound quality suffers a bit at higher volume
9. JBL Clip 4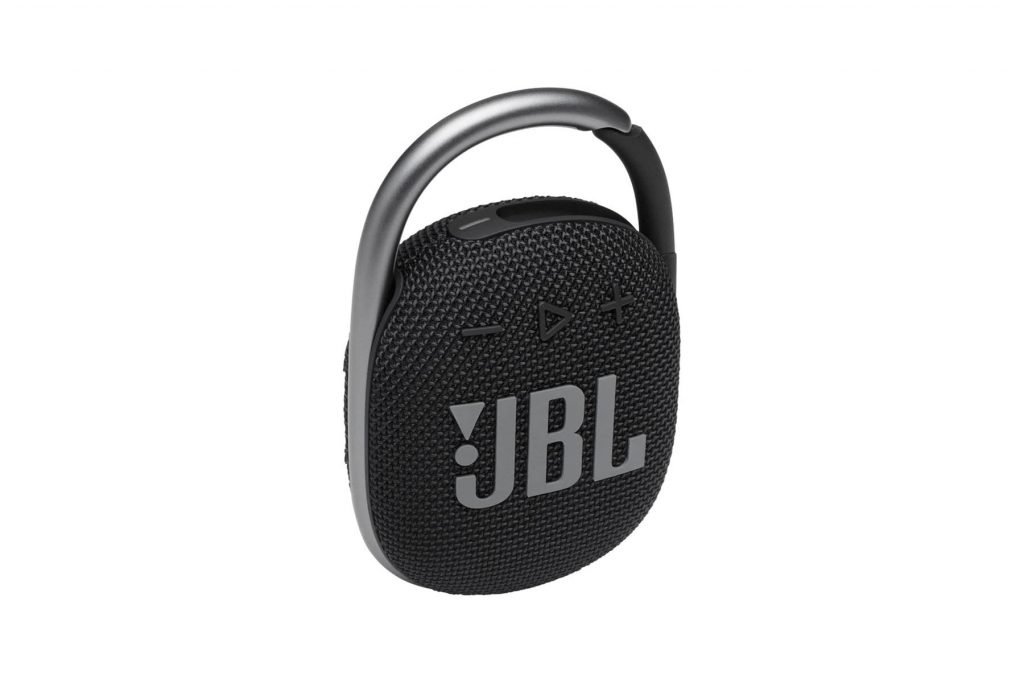 Dimensions:
1.8 x 3.4 x 5.3"
The JBL Clip 4 is the smallest speaker on our list and our top pick for a small, easily portable, waterproof Bluetooth speaker. This speaker is made with ultimate portability and versatility in mind. The Clip 4 can easily be attached to the handlebars of a bicycle, the top of your shower head, or even onto your jeans. At only 8.4 ounces, this lightweight speaker can be taken anywhere.
With this smaller size format, sacrifices will always be made compared to some of the larger waterproof Bluetooth speakers on this list. First, one should remember that the JBL Clip 4 is not a loudspeaker. It's not for entertaining groups of people and is more suited to an individual's listening experience.
When we compare the JBL Clip 4 to the previous Clip 3 model, the Clip 4 is an upgrade to the previous version with a more impressive bass presence, newer Bluetooth technology, and improved weather protection.
There is also the JBL Go 3, which competes very closely with the Clip 4. Still, we opted to recommend the Clip 4 over it because the JBL Clip 4 offers a more impressive low-end sound, better battery life, and a much-improved soundstage, which, while unable to compete with larger speakers, is still impressive for a speaker of this size. Both speakers perform within a similar realm of volume, but the JBL Clip 4 takes the lead from a pure sound quality perspective.
While a lot of these smaller speakers tend to suffer in the battery department, the Clip 4 offers a reasonably impressive 10 hours of battery life on a single charge, which may not seem too impressive compared to others on this list but is still twice that found on the Go 3 for example.
You may also be interested in our list of shower speakers, which feature the Clip 4, along with some other dedicated shower speakers.
Does it Float? No
Why The JBL Clip 4?
We understand that not everyone is looking for the largest, loudest option. If you're after a speaker you can grab off your table on the way out the door and know it'll survive the task, the JBL Clip 4 has much to offer.
Extremely portable
Lightweight
Impressive battery life for its compact size
Not very loud
Lacks bass
Sound quality is inferior to larger speakers
10. Sony SRS-XG300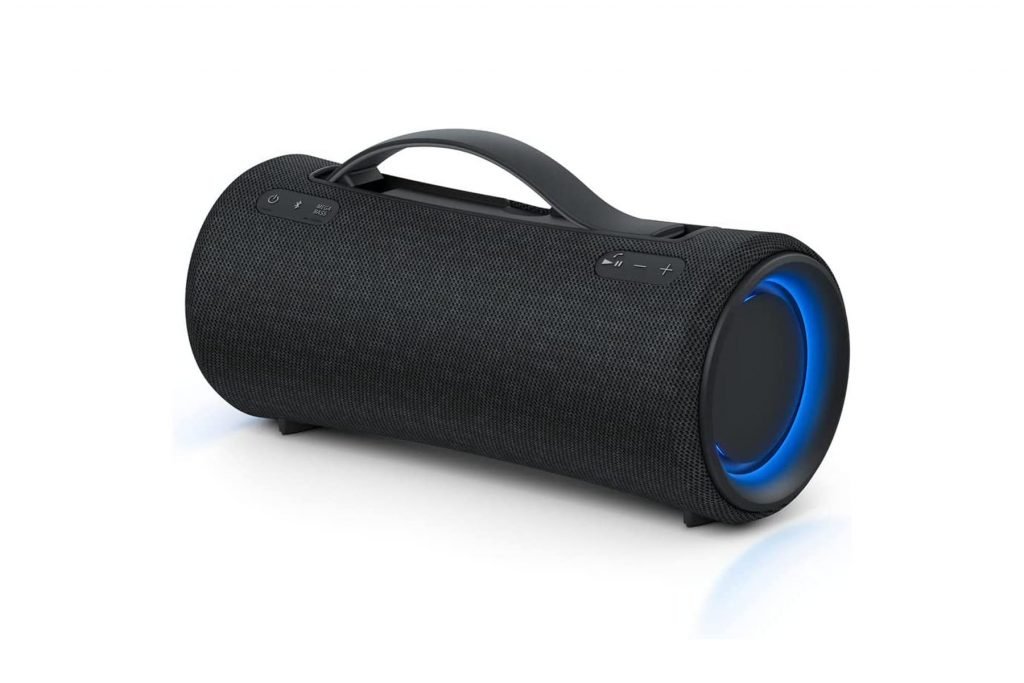 Dimensions:
13.94 x 6.5 x 8″
The Sony SRS-XG300 forms a part of the X-Series range and is a unique multipurpose speaker that serves well for indoor and outdoor use. While many outdoor speakers are made with durability in mind, the speaker's design often doesn't lend itself to blending into your interior decor. The SRS-XG300 manages to do both, with a sleek design to sit next to your vinyl player and durable enough to take to the beach with you.
The SRS-XG300 isn't quite your traditional boombox speaker, as the drivers are located on the opposite ends of the cylinder. But with that said, the SRS-XG300 does compete with the JBL Boombox series in some ways. The Sony is still smaller and significantly lighter than the Boombox 3, but that's not to say that it can't keep up volume-wise. Despite being closer to a medium-sized Bluetooth speaker, the SRS-XG300 produces a big sound. We were quite surprised to see the SRS-XG300 push over 96 dB.

Another interesting and perhaps even more valuable comparison is between the SRS-XG300 and the Soundcore Motion Boom Plus, given that both speakers are targeted towards a very similar audience and come very close to one another in both metrics and performance. However, the SRS-XG300 is around $100 more expensive. It's also worth noting there is a marked difference in weight between these two speakers, with the Sony being an overall heavier speaker.
Both of these speakers focus on bringing together some home speaker features, such as a voice assistant with an outdoor survivability factor, with impressive IP67 weatherproofing being offered with both of these speakers. Both speakers have limitations in this department, but for how much versatility they bring to the table, I can't say that I'd expect the types of features we find on modern smart speakers.
Regarding sound quality, the SRS-XG300 performs well but falls short of the Boombox 3 and is more closely aligned to the Motion Boom Plus, though some prefer the signature on the Sony over the Soundcore. The bass is fairly punchy but not particularly noteworthy during the mids, and the treble sounds well-balanced.
If RGB lighting is important to you, the SRS-XG300 holds a clear advantage here. Many of these medium-sized waterproof Bluetooth speakers don't include RGB lights, so seeing the SRS-XG300 come to the table with a feature we deem essential in party speakers is a welcome addition.
Does it Float? No
Why The Sony SRS-XG300?
I'd recommend this speaker to those looking for something that can look aesthetically pleasing on their kitchen cabinet but that they can also take on the go and be protected from the elements. This speaker is highly versatile and does many things well, just not exceptional, which is reasonable given that this isn't a $400 speaker.
Design that works well both indoors and outdoors
Lighting effects
Impressive bass
Great battery life
Sound quality suffers a little when the volume is pushed due to compression.
The soundstage could be improved
Buyer's Guide – What You Need To Know When Buying a Waterproof Bluetooth Speaker
If you're still not sold on any of the speakers above, that's not a problem. We'll run through our buyer's guide, which will help inform you on what to look for in a quality waterproof Bluetooth speaker. The importance of certain features and which marketing traps to avoid.
What Are Your Needs?
What do you need your speaker to do for you? Answering this question is the first step to making an educated decision. Some speakers offer basic functionality, lacking an auxiliary input and relying solely on Bluetooth. Other speakers go as far as offering some smart speaker features, such as voice assistant.
In the same way, if you're looking for a speaker for your personal use, you're going to be choosing a speaker vastly different from the one you'd be buying if you're regularly throwing parties and are looking to entertain a larger audience.
If you live an active lifestyle and spend a lot of time outdoors, we'd suggest looking for a speaker that not only offers IP67 but is also made with general durability in mind.
Suppose you're someone who prefers the comforts of home. In that case, we'd recommend paying more attention to the speaker's aesthetic, making sure it looks good – it doesn't hurt to consider some smart features and additional wired connection ports.
For the party person, volume and lighting will be two valuable traits. While lighting isn't always essential, you'll need a larger, louder Bluetooth speaker to get the most enjoyment from your purchase.
How Much Can You Spend?
Set realistic expectations of costs for what you need from a waterproof Bluetooth speaker. It's worth noting that if you do opt for cheaper speakers, there are likely to be some downsides that come along with it. That's not to say you need to spend a lot of money, but you must match your expectations with your finances.
If you find that these speakers fall outside your budget, there may still be some similar models by the same manufacturer that cut some of the additional features to create a lower cost point.
You may find some smaller, limited-volume speakers for quality waterproof Bluetooth speakers for around $50. However, we'd recommend establishing a budget of between $100 and $150 for midrange options and closer to $400 for large, loud, waterproof Bluetooth speakers that can cater to larger audiences.
Connectivity Concerns
While it's not generally the most talked about feature of a speaker, connectivity plays a much bigger role than you may think. Bluetooth technology, for instance, has constantly evolved over the years, and the capabilities of the Bluetooth we had ten years ago are vastly inferior to the technology we're given today.
Many people don't think of upgrading because, to them, their speaker works just fine – but upgrading to a newer Bluetooth version can be a game changer, releasing you from strict proximity requirements to retain your connection and even reducing the latency between the source device (such as your phone) and the speaker.
In addition to Bluetooth, your speaker may feature several optional connectivity ports, the most common of which is an auxiliary input. An aux-in, such as a TV, will connect a non-Bluetooth source component to your speaker.
Consider what you want to use your speaker for and ensure the connections you want to use are supported.
Making Sure It Sounds Good
Sound is always a bit of a nuanced topic because it's quite personal to the listener, and while there is the idea that a balanced sound signature is the best one, this isn't true for the average consumer. Those passionate about audio gravitate towards a balanced sound since it is most accurate to how the music was intended to be listened to. When the song is produced, mixed, and mastered, much time is typically spent ensuring that the frequency is shaped in a way the artist wants.
However, a balanced sound is not always the most fun-sounding profile. Many listeners prefer a v-shaped signature where the bass is accentuated, and so is the treble. This type of sound profile may not have the same feeling as the artist intended to create, but it may make it a lot easier to dance to or simply more appealing in a party environment, for instance.
When we talk about sound quality, we consider these things, but in a way where we don't rule out speakers that offer a different sound signature. Throughout this list, you'll find that I've included speakers that may not be balanced but still offer a rich, crisp sound in the mids and treble that doesn't sound metallic and thin. Similarly, we steer away from speakers that distort heavily on the low end when the volume is pushed.
How Easy Is It To Carry?
Portability is a topic that becomes especially important when we talk about waterproof Bluetooth speakers, as these speakers will typically be used outdoors. Pay attention to the weight of a speaker before purchasing. Some speakers can be extremely heavy and difficult to move around. While these speakers suffice for static locations around the house, we don't recommend these for everyday consumers.
We've avoided adding particularly heavy speakers to this list, but even with these products, you'll notice that some differences in weight may affect your purchase. Heavier speakers can be problematic if they don't offer a sufficiently easy way to carry them. That is to say, look for a speaker with a handle if you want something more weighty.
There will be tradeoffs you need to make when it comes to portability, as the smaller a speaker is, the smaller the drivers are typically going to be. This results in less volume and, while not always true, can also mean less overall sound quality.
Can It Handle Your Lifestyle?
Buying a Bluetooth speaker is a little bit like getting a dog. There are thousands to choose from, and each one isn't like the other. A speaker is designed to be incorporated into your lifestyle; not all speakers match your life. If you prefer romantic nights in the Jacuzzi listening to soft jazz, the speaker that works for you isn't likely to be the same model as the one that would suit someone who spends his weekends on the beach sitting around a campfire.
If you live an outdoor lifestyle, focus on waterproof Bluetooth speakers with a rugged design to handle dust, water, and impact. Speakers like the Turtlebox, the JBL Clip 4, and BOSE Soundlink Flex are all examples of rugged, outdoor-centric, waterproof Bluetooth speakers.
On the other hand, if you're more focused on speaking, being aesthetic, and matching your interior decoration, something like the Sony SRS-XG300 or Marshall Eberton II may be a more appropriate speaker for you.
Regardless of what it is exactly you prefer, consider this when planning your purchase.
Tips for Keeping Your Waterproof Speaker Waterproof
Submerging or even exposing a waterproof speaker to water still feels uncomfortable to most people, no matter how waterproof it claims to be! If you buy a waterproof speaker, here are a few common-sense tips to ensure your speaker retains its waterproof integrity and when to be cautious of exposing it to water.
How We Picked The Speakers on Our List
While we've been maintaining this list for several years, this year, we decided it was time to change our approach. When one buys a waterproof speaker, there is an assumption for consumers that the speaker you're buying will be able to survive outdoor conditions. Yet, many IPX7-rated speakers performed poorly when exposed to dust, sand, and other debris.
In this latest list, we've only included speakers that have adapted IP67 protection and, in turn, protect from both dust and water. All speakers selected are rated to withstand submergence in 1 meter of water for up to 30 minutes.
In this latest list, we've only included speakers that have adapted IP67 protection and, in turn, protect from both dust and water. All speakers selected are rated to withstand submergence in 1 meter of water for up to 30 minutes.
Note that an IPX7 or IP67 speaker does not mean that it should be put in the water. In most cases, these waterproof ratings are to save the speaker in an emergency, but some models are designed with the intent to float. We've listed which speakers float and which do not – as this is a feature many are looking for in a waterproof Bluetooth speaker.
With budget being a consideration in almost everyone's purchases, we didn't want to recommend expensive, premium speakers solely. Our list comprises larger and more expensive options, including products that fit lower budgets yet offer great value.
Our Scoring Method
When scoring these speakers, we take a unique approach with each list, ensuring we give weight to what is most important in the speaker type. Our scores are calculated mostly from a value perspective for waterproof Bluetooth speakers. So, while one speaker may objectively be better than another, we will adjust the score in accordance with the costs and provide a subjective interpretation of where we think the most value lies.
Frequently Asked Questions
Can I put an IP67 speaker in the pool?
Only place dedicated pool speakers into the water of your swimming pool. While IP67 waterproof speakers should survive an accidental fall into the water, we recommend avoiding this in most cases. Speakers like the Soundcore Motion Boom Plus are noted to be able to float in the water, and in these cases, it should be viable without damaging the speaker, but there is often an inherent risk that comes with it.
What does IP67 mean?
An IP67 speaker can survive 1 meter of submergence for up to 30 minutes. It is also protected from dust, sand, and debris.
Is it dangerous to put a Bluetooth speaker in the pool?
Because Bluetooth speakers tend to operate on a low voltage, you should be fine even if the battery gets wet. Most IPX7 and IP67 speakers are sealed to the point where this is typically not even a concern.
Can I connect multiple waterproof Bluetooth speakers?
Pairing capabilities vary between speaker models. We recommend looking for speakers offering party pairing or TWS to connect multiple speakers.
Do waterproof Bluetooth speakers float?
Some do, and some don't. This is unique to each speaker model and a feature often highlighted by the manufacturer. Remember that just because it floats doesn't mean it should be left in the water.
Update History
09/19/2023 – Streamlined content by shortening the category winners list and reviewing the products for availability.
02/01/2023 – Updated all our speaker recommendations to represent the current market better. Only included speakers with an IP67 weatherproof rating. We also updated our FAQs and buyer's guide.
05/28/2020 – Removed 13 speakers from the list that are not IPX7 rated – the baseline requirement for future speakers on this list. Updated the layout to structure the content into three size categories and improve the navigation.
Thanks for your feedback!