Best Overall
8 Watts
DuoTen Pool Speaker
A versatile floating speaker that can also be stuck to shower doors. Good audio quality is paired with a lot of extra features.
Best Lighting Effects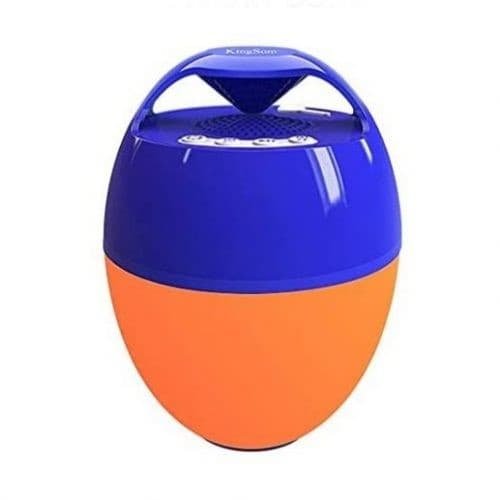 6 Watts
Kingsom Speaker
The Kingsom offers both quality audio and impressive lighting options. Perhaps its most impressive feature is the IP68 waterproofing.
Best Battery Life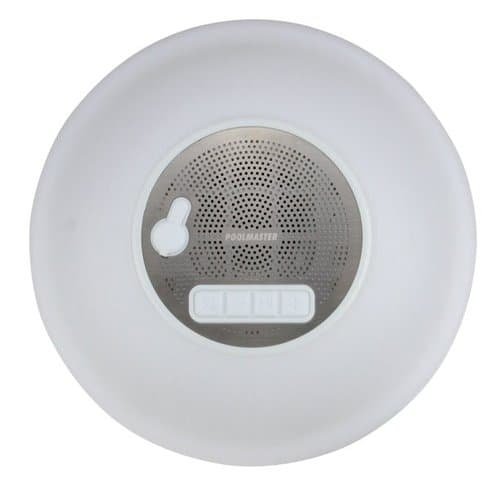 5 Watts
Poolmaster 54504
Another top contender on our list, the Poolmaster offers clear audio and a battery life of up to 10 hours, setting it apart from the competition.
Best Value
10 Watts
Blufree Speaker
With an affordable price, 10W of output, and good sound quality, the Blufree speaker covers all bases without denting your wallet.
While most of us are familiar with waterproof speakers, floating pool speakers are different because they aren't just made to withstand water but are designed and manufactured specifically to float. This differs from Bluetooth speakers that happen to also float in the sense that they can continue to provide clear audio quality – something that is often not the case with Bluetooth speakers that can float but isn't designed with that intent and purpose.
We need to mention that while floating pool speakers have a lot of benefits, one also needs to set realistic expectations. Smaller brands typically manufacture floating speakers and don't carry the same hefty R&D budgets that their bigger brand counterparts do.
Because of this, you will typically find that the audio quality probably doesn't match that of your regular JBL Bluetooth speakers, for instance. This isn't to say that the audio quality is always bad either, though they will more than suffice for most uses. We've also ensured that our list evaded products that didn't meet the basic standards for audio quality or have a history of manufacturing issues.
Please Note
Floating pool speakers are placed on top of the water of your pool or hot tub. Their drivers typically face upward and do not provide audio underwater. If you want speakers capable of producing audio underwater, read our Underwater Speakers guide.
The Best Floating Pool Speakers
1. DuoTen Floating Bluetooth Speaker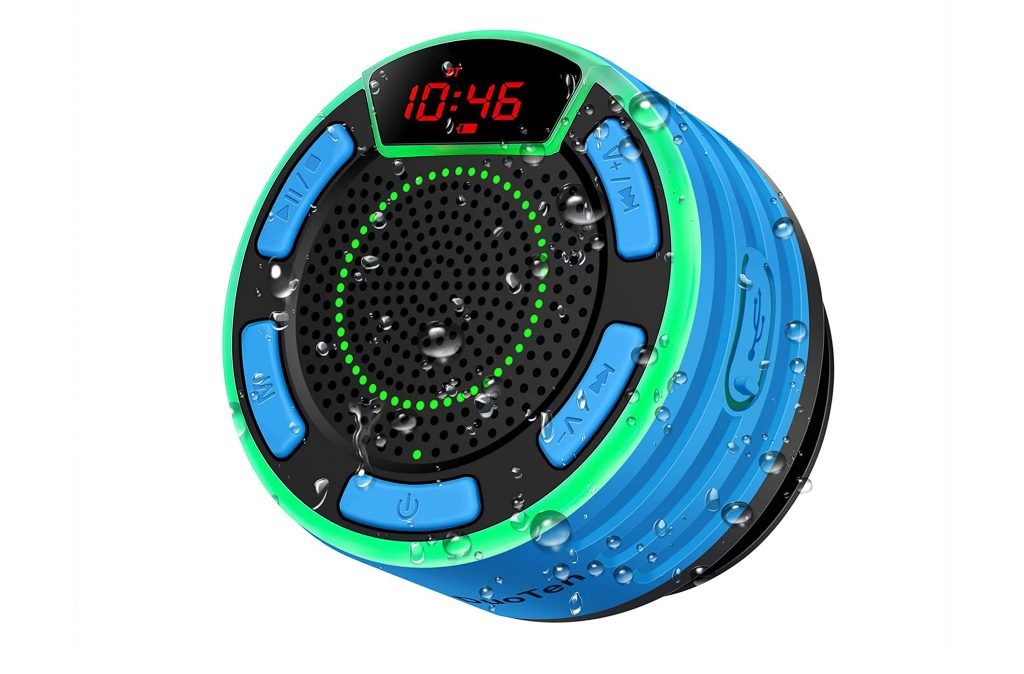 Battery Life:
Up to 8 Hours
Next up is the eye-catching and innovative DuoTen Bluetooth Speaker. This DuoTen speaker is housed in a bright blue and green enclosure and can be used in various applications in and outside the swimming pool.
The DuoTen Bluetooth speaker is rated IPX7 water-resistant, allowing for use in rain, dust/sand, and snow, as well as in the water, where it can withstand a shallow submersion for a short time if necessary. The DuoTen speaker can be clipped to a carabiner and hung attached to your backpack or belt on a hike, and its lightweight design adds very little noticeable weight to your person. It can also be mounted to a bike frame to accompany you on a mountain or street cycling journey.
Design & Features
A feature I like about this speaker is its integrated suction cup on the base of the unit, so you can attach it to any appropriate surface, such as a shower wall, car or boat windscreen, or stand-up paddleboard safely, without worrying about it potentially falling off. The IPX7 rating of the speaker also grants it the ability to float in the water with you with minimal risk of product damage.
As for connectivity, the DuoTen supports Bluetooth pairing, where a stable transmission range of around 66 feet is expected, and it also supports FM radio compatibility, where the attachable antenna can be extended to enhance signal quality.
Because the DuoTen is so compact, the biggest issue we came across is the potential to capsize if one is jumping in and out of the pool, so it's best used in water where there isn't going to be an excessive risk of turning over, even though the IPX7 rating will mean you have time to turn the speaker over and prevent damage should it turn over.
Sound Quality
The sound quality of the DuoTen speaker is good enough for its size and price point; again, as with practically all the speakers on this list, it doesn't offer anything special, but the quality of the audio here exceeded my expectations. The DuoTen supports true wireless stereo pairing with another for louder listening level potential and a wider stereo field.
The control panel of the DuoTen speaker is located on top of the unit, and the buttons are of high quality and easy to use. The control panel also features a small LED screen that displays the current source signal (Bluetooth or FM), battery status, and a digital clock- lovely stuff! The speaker also has an LED light show feature where you can select a stable color, allow the device to scroll through the seven available colors, or activate the beat-driven light show where the LEDs flash to the beat of your music.
The bottom line: The DuoTen Bluetooth speaker holds a range of incredible features at a highly affordable price. I love the additional functions, such as the suction cup, the digital clock, and FM radio connectivity, which you don't often see on these floating pool Bluetooth speakers. The downsides are mainly based on some issues in the battery saver mode that causes some audio to sound glitched, as well as the smaller size making it more prone to turning over.
2. Mcanbr Floating Bluetooth Speaker
Battery Life:
Up to 5 Hours
The Mcanbr floating speaker is another compact, kid-friendly product great for use in any water-based environment. The Mcanbr holds an IPX7 water-resistance rating, allowing for full waterproofing, and can even survive a shallow submersion for a short time, should it accidentally end up underwater. The Mcanbr's pairing process is incredibly straightforward with regards to Bluetooth pairing, and the wireless range is surprisingly strong. The speaker also accepts a TF card loaded with music.
The Mcanbr floating Bluetooth speaker adopts a UFO-type shape, with speakers on top of the disc facing upward to the sky, along with the control panel and LED system.
Sound Quality
The Mcanbr utilizes a pair of tweeters and three passive bass radiators to deliver astonishingly decent sound quality. Compared to speakers of this size, the Mcanbr replicates low-end energy well enough, with enough clarity in the upper midrange and high end. Sure, it lacks some depth and punchiness, but at the end of the day, this speaker exceeded my expectations. Volume-wise, the Mcanbr can get loud enough. Again, I'm impressed here as I didn't expect such a small speaker to reach the volume levels it is capable of.
Features & Battery Life
The onboard LED lighting system can be activated/deactivated on the speaker's control panel, and a series of lighting color schemes can be selected to suit the current mood. The LED brightness can also be adjusted, and when operating at full brightness levels, it adds some cool effects to your swimming pool at night. The Mcanbr is also available in different color schemes (Green/White, Red/Black, or Blue/Yellow)
The battery life of the Mcanbr is quite poor. The 2000mAh battery can provide up to around 4 hours of playtime when the device is set at around 50% volume and the LED system is deactivated. So, the speaker should survive for a swim of about 1-1.5 hours at full volume with the lights enabled. Anything more than that would be risking it.
Overall, while the sound quality is impressive for a speaker of this price and size, one must weigh this up against the lack of additional features and poor battery strength. If you're looking for a good-sounding fun speaker to join you for short stints in the pool, the Mcanbr will certainly do the trick. However, this speaker wouldn't accompany you on a camping trip or day out on the lake without requiring a recharge.
3. Poolmaster 54504 Floating Pool Speaker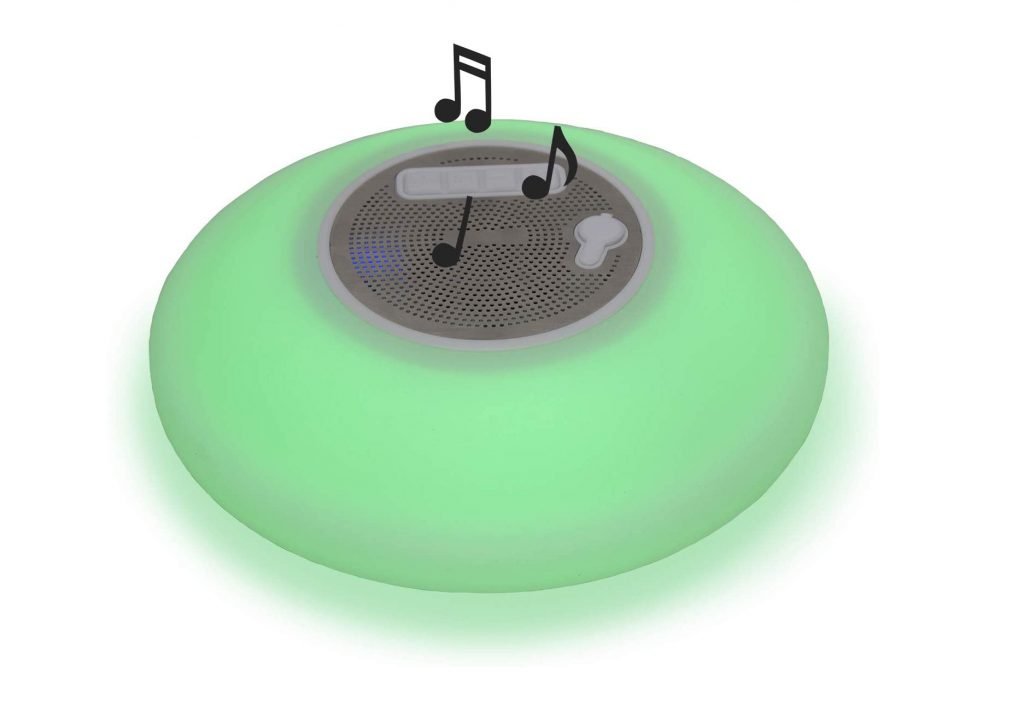 Battery Life:
Up to 10 Hours
The Poolmaster is a versatile pool-friendly floating speaker that promises handy features and excellent sound quality in another UFO-shaped speaker. The Poolmaster is rated IPX7 water-resistant, allowing for any exposure to the elements up to and including a shallow underwater stint, though this isn't recommended.
Build & Design
The Poolmaster supports Bluetooth connectivity, providing a reasonably strong connection range of up to 60 feet. Additionally, two Poolmaster speakers can be paired via Bluetooth to establish a larger speaker network for a stereo effect or simply for louder music.
The Poolmaster also supports hands-free calling, a feature I like on some of the other models. The Poolmaster will identify your incoming caller and the call can be accepted, rejected, or redialed using the control panel on top of the speaker. The call quality on this speaker is pretty much as good as your mobile phone, and there is little delay.
Like most floating pool speakers, the Poolmaster has an LED function to add ambiance to your nighttime swim or outdoor party. There are seven colors to choose from to suit the environment/mood and they can be cycled using the controls on the speaker. The bright and vibrant LED and the controls are easy to navigate.
While the Poolmaster is advertised as a floating speaker to use in the pool, lake, river, or hot tub, it's worth mentioning that it also sounds great indoors.
As for sound quality, I again am impressed by the volume capabilities and fullness of the sound from such a small and affordable speaker. Sure, it's not for audiophiles or anyone serious about music. Still, for casual background listening or spoken-word-based listening, such as podcasts or audiobooks in the pool, the Poolmaster certainly does the trick.
Battery Performance
The Poolmaster's battery is another impressive feature. Where I managed to run this speaker at around 70% volume with LED disabled for around 10 hours, I suspect a full-volume listening session with colorful lights and stereo pairing will enable around 5 hours of playtime. So while it may not be enough for a weekend away at the lake, for some casual use in the pool here and there, the Poolmaster's battery is sufficient.
In conclusion, for the reasonably low price of this speaker, its sound quality, battery life, and additional features make for a great floatable pool speaker for kids, parties, or casual use. Its durable design allows for use in rainy conditions and can easily be thrown into the truck and taken on a camping/hiking trip with you.
The Poolmaster does lack in one area, that's Bluetooth connectivity. While Poolmaster advertises up to 60 feet of connectivity, there appear to be issues with least some unit's receivers that impact the distance your Bluetooth source can be from the device before it drops the connection.
4. Uufoo Floating Duck Speaker
Battery Life:
Up to 5 Hours
Uuffoo has married Bluetooth speaker technology with arguably the most iconic floatable item: the rubber duck. The floating duck speaker is designed for use in the pool, bath, hot tub, or lake alongside you to play your favorite tunes in whatever aquatic activity you find yourself in!
Design & Build
The floating duck is pretty small and lightweight. Its polyethylene plastic build allows for buoyancy. It is supported by an IP67 weather-resistance rating if the speaker is used correctly: the speaker driver is on top of the duck and should not be submerged. However, it can withstand splashes and other forms of water contact.
The PE plastic construction also adds durability, protecting the duck from accidental drops. The floating duck is white but advertised as paintable, and an onboard LED lights up the entire duck in various colors, controllable by the remote. The remote also provides control over music playback and volume adjustment commands. No buttons or switches are located on the duck itself, except for the power on/off slider.
The floating duck is charged using a charging dock, providing around 4.5 hours of playtime at maximum output level and using the neutral LED rather than other lighting options. This battery life is reasonably poor compared to similar speakers, but one must remember this is more of a fun, gimmick-based product and less of a high-performance speaker.
Sound Quality
As for sound quality, I didn't expect much here, and in that way, I can't say I was disappointed. A speaker of this size and enclosed within polyethylene won't sound the best- the bass response is practically non-existent, and an unpleasant 'boxy' midrange dramatically alters any sounds you play through it. The floating duck also can't reach party-starting volume levels and distorts horribly when the output volume is pushed beyond 70%.
Overall, the floating duck is a fun speaker for kids to play with or for adults to enjoy a podcast while floating in the water. Above that, I wouldn't recommend this speaker to anyone serious about sound quality. The floating duck can also function purely as a color-changing rubber duck. However, I'm sure a cheaper alternative could be found if you only want a light-up floatable item. I'd say this is a great stocking-filler item, nothing more.
5. Kingsom Portable Bluetooth Pool Speaker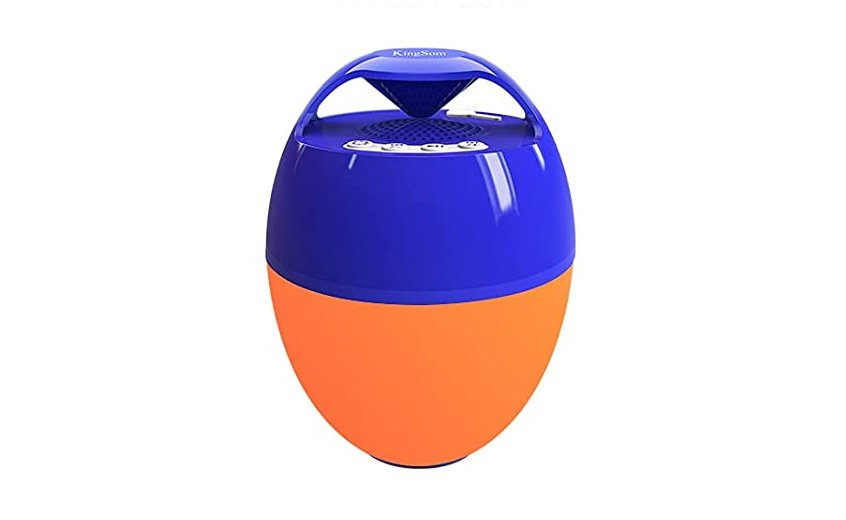 Battery Life:
Up to 7 Hours
Available in both blue and purple, the Kingsom floatable Bluetooth speaker is a stylish and versatile speaker for indoor, outdoor, and aquatic uses. This Kingsom speaker is rated IP68 water-resistant, allowing for use in all conditions and even submersions up to 3ft underwater for about 2 hours. The Kingsom supports Bluetooth pairing only and utilizes the technology's 5.0 edition to support pairing up to a distance of 85 feet.
Design & Build
The Kingsom Bluetooth speaker features a built-in LED lighting system to light up your pool at nighttime. Eight color themes are available, including fast flashing, slow flashing, and fixed colors on or off. The egg-like shape of the speaker positions the light beneath the water's surface, acting as an underwater lighting system that illuminates your entire pool rather than the water's surface.
The Kingsom floating pool speaker also works great as an all-purpose Bluetooth speaker. However, I wouldn't take it further than the front door as its cheap plastic build may not withstand a camping trip or hike, should it be accidentally dropped or crushed by something.
Sound Quality
The sound quality of the Kingsom took me by surprise, reaching decently loud volumes for a speaker so small and maintaining a fair level of stereo spread and balanced frequency response. While you can't expect a speaker of this price, size, and construction to produce audiophile-grade sound, this speaker sure sounds good enough for casual listening without cringing at the thin, boxy sound most speakers like this produce.
Additionally, the stereo spread of this speaker is also wider than expected. It is a pity that true wireless stereo is not supported here. The battery life of this speaker is also decent, allowing up to around 7 hours of playtime on about 80% volume, with LED features enabled. The Kingsom also automatically enters sleep mode after 20 minutes of inactivity and powers down after 60 minutes to enhance battery performance.
Overall, for the price, the Kingsom Bluetooth floating pool speaker offers great value for money, delivering relatively good sound quality, strong battery life, and mesmerizing LED lighting for your pool. While it may not be the most well-built Bluetooth speaker, it certainly is worth the money and should survive until it is upgraded if taken care of.
6. Blufree Bluetooth Speaker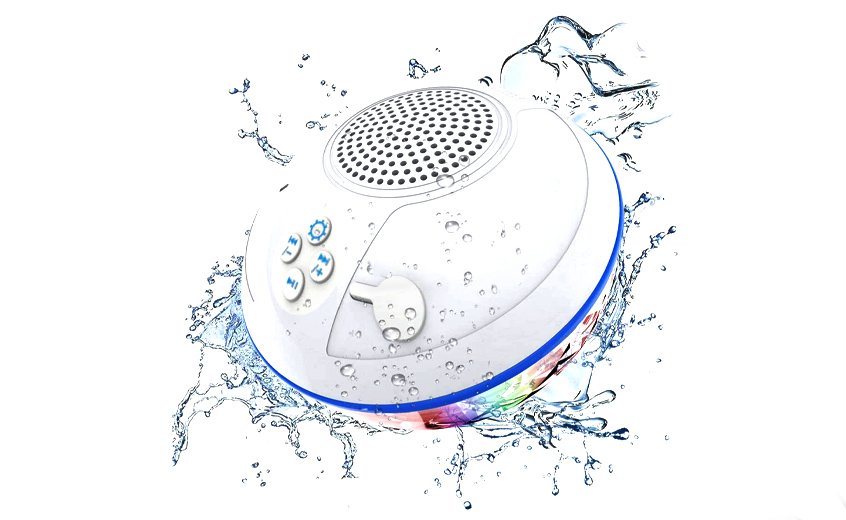 Battery Life:
Up to 5+ Hours
Next on our list is a compact, basketball-shaped speaker from Blufree that delivers all the lovely pool-friendly and fun-filled features, great for gifts, kids, or use around the house. The Blufree speaker is another IPX7 speaker which can tolerate practically any exposure to hazardous conditions, including a brief and shallow underwater experience.
Design & Features
The Blufree is built relatively durably, although I wouldn't feel comfortable throwing it around in a truck like some other speakers can withstand. I'd feel more at ease using this speaker around the house inside and out rather than taking it out to the beach, lake, or river. The control panel on the unit provides control over all music playback functions, including play/pause, skip/rewind, and volume up/down, as well as LED lighting modes and power, of course.
The Blufree supports Bluetooth pairing of up to around 50 feet and also accepts a USB input when used away from the water. Additionally, two Blufree speakers can be linked together to form a stereo pair or simply a louder system.
Sound Quality
As for sound quality, this Blufree speaker can get reasonably loud, although I wouldn't power a house party using this speaker. This speaker has enough power to drive some beats and get the dancefloor open for casual use around the pool or for a small gathering.
Regarding the sonic quality of this speaker, I was surprised by the low-end response of this speaker; At the same time, it wasn't exactly bone-rattling bass for a speaker of this size, price, and plastic build. I certainly didn't expect the warm-ish lower midrange and relatively fat bass I received. The high end seemed a little 'tinny' although this was to be expected, and the speaker could reach decent listening levels before some distortion occurred. However, the sound quality did fall apart a little at such volumes.
The Blufree speaker accepts hands-free calling, and the microphone is good enough, although it can become difficult to be heard if you're more than 4 feet from the Speaker.
Overall, I can't say I'm disappointed with the shockingly low price of this speaker. However, I'd rather spend a little more and get some extra features and improved sound quality.
7. Skywin Hot Tub Bluetooth Speaker
Battery Life:
Up to 5+ Hours
While all the speakers on this list are suitable for use in the hot tub, this Skywin portable Bluetooth speaker has specifically been designed for use in one, with a stylish color scheme and design to match most hot tub builds.
Design & Build
The circular shape of the Skywin speaker means it can be placed in various settings; whether it be hung from the ceiling, placed on the coffee table, or floating in the water, the sound quality and projection should remain the same. The Skywin speaker is quite a bit larger than most speakers on this list (around double, I'd say), so it may not be ideal for carrying around with you or taking along on a camping trip, but for use around the house and in the water, it'll sure do the trick.
The Skywin Bluetooth speaker is IPX7 water-resistant, making it appropriate for use in virtually all conditions, including short periods of time spent underwater. The design of the Skywin speaker situates the drivers and control panel on top of the floating unit, with the LED lighting system hanging beneath the surface to light up your pool.
Battery & Sound Quality
As for battery life, the Skywin Bluetooth speaker can play for around 5 hours at 80% volume while the LED lights are disabled. This would translate to around 2-2.5 hours of maximum output volume listening with lights activated- not the greatest battery life, but not far off from most items on this list.
The sound quality of this Skywin speaker isn't the greatest. Compared to others on this list, one would notice a distinct lack of low-end, thin, harsh high frequencies that easily distort when volume levels are pushed. This speaker will perform as advertised for soft background music, but I wouldn't recommend using it for high-energy, loud music. The built-in microphone is about as good as the mic on your cellphone, and hands-free calling is a breeze using this device.
To conclude, Skywin offers good value for money and has all the basic features you want in a floating pool speaker. However, for just a little more, you could end up with a much better speaker that offers greater versatility, audio quality, and additional features.
How We Selected Our Products
When selecting our top picks for the best floating pool speakers, we removed all initial products with common manufacturing or reliability issues. Since floating pool speakers are manufactured mostly by smaller companies, this has already knocked quite a few products off the list.
Next, we wanted to make sure that all our options had sufficient waterproofing to allow for a margin of error should you accidentally submerge your speaker for a brief period. The lowest rating on our list is IPX7, which means you have sufficient time to rectify any capsized speakers before they become damaged.
We then excluded all products where the audio quality wasn't up to scratch. That's not to say that all our listed products sound great; in some cases, we may have included lower-quality sounding speakers because other product elements offer something beneficial or different from other models.
Because we realize that everyone requires different things from their floating pool speaker, we've tried to include some variety in the types of speakers.
Smaller products like the DuoTen are versatile and, in its case, filled with functionality. Other products focus less on features and provide options that are less prone to capsize or have better Bluetooth receivers.
Why Trust Us
Unlike many other affiliate review sites, we believe in transparency and openness about our recommended products. We hate knowing that our readers are potentially wasting money on a product that doesn't perform as expected.
Our writers understand audio. You may notice that many online review websites covering the audio niche have very little understanding or passion for speakers. We love nothing more than getting our hands on new products and thoroughly testing them.
Floating Pool Speaker or Waterproof Bluetooth Speaker?
The most common and logical question you may have is whether you need a floating pool speaker or a waterproof Bluetooth speaker. While both could fall under the umbrella of a waterproof Bluetooth speaker, the floating pool speakers, as touched on earlier, are unique because they are made to float for hours at a time.
Floating pool speakers are a great choice for parents looking for a Christmas or Birthday gift for their child. It will keep them occupied and arguably more valuable because it will provide a soundtrack to their youth that can live on fondly in their memories.
They also benefit from traditional Bluetooth speakers for those who spend much time on large bodies of water. What could be more fun than some time on the lake with friends? Well, having a speaker you can toss in makes it much sweeter.
Most floating pool speakers also come with some LED light, many of which can bring life to your pool area at night and are also loved by kids.

Regular waterproof Bluetooth speakers offer superior audio quality on average, but they are far more limited around water. Waterproof Bluetooth speakers will save you from damaging your speaker if they accidentally fall into the water, but you won't be able to use most of these in the water.

When a waterproof Bluetooth speaker is placed in water, the audio quality will traditionally drop as well, as the drivers will often end up submerged, at least partially. The result is that the sound quality can sound muffled or have abrupt changes in sound clarity as water levels rise or drop around the speaker.
Benefits of Floating Pool Speakers
Benefits of Regular Bluetooth Speakers
In short, if you're looking for some audio in or around your swimming pool or hot tub, we'd recommend opting for a waterproof Bluetooth speaker. However, if you're looking to buy a speaker for children who spend a lot of time in the water, want a pool speaker that offers some LED lighting at night, or if you spend a lot of time on large bodies of water, a floating pool speaker will be the best choice.
Buyer's Guide – What you need to know about floating pool speakers
In this buyer's guide, we'll review what you must consider when purchasing a floating pool speaker.
As we've touched on, floating pool speakers are not high-end audio products that seek to cover broad frequency response ranges or be able to withstand falling down a flight of stairs. They are mostly novelty by design, but that doesn't mean they can't provide endless hours of fun.
Battery Life
Taking note of battery life is important for almost all portable speakers, and floating speakers are no different. The last thing you need is to have the music stop during your experience due to bad battery life.
Not all battery requirements are the same. If you're someone who spends only an hour or two in the pool and you're looking to purchase a floating pool speaker for that use alone, you'll be able to get by with most products on the market; however, if you're someone who spends a lot of time in other areas of water, perhaps in a lake while out on holiday, you may want to make sure that your floating speaker can provide you with enough battery life for you and your friends to spend the day out in the water.
Also, remember that battery life is usually determined by how you use it. While some manufacturers will show you an inflated number based on low-volume use, we always recommend seeing the estimated battery life at full volume for a better idea of what to expect. Similarly, if you use the LED lighting effects on your speaker, your battery will wear out quicker too.
Something to look out for here is a lithium-ion battery. A well-integrated lithium-ion battery that can be recharged with a micro USB or regular USB cable is convenient. You do not want to have always to be buying batteries.
We found that the Poolmaster and the KingSom offer some of the best battery life on our list.
Audio Quality
As with any speaker, audio quality is something you'll want to pay close attention to. However, when buying floating pool speakers, you should accept that they aren't likely the same wide audio experience you may find in many of the higher-end Bluetooth speakers on the market. This is especially true for the frequency response ranges.
Floating pool speakers place more of the development budget on waterproofing, affordability, and unique design approaches, such as the lighting effects often found on these speakers.
Please don't get it misconstrued, though. We're not saying that all floating pool speakers sound bad. We came across some surprisingly decent performances when exploring these products. They will, in most cases, suit their use as desired. But if audio quality is very important to you, we recommend looking at your options. If you're looking for some sound at your swimming pool, you'll more than likely have a more fulfilling experience with a quality waterproof Bluetooth speaker placed on the side of your pool.

We found some of the best audio performances in the KingSom, Poolmaster, and Mcanbr.
Waterproofing
Arguably the most important topic when it comes to speakers meant to sit in water. Good waterproofing and a solid design will ensure that your floating speaker doesn't encounter problems during its intended use.
Because these speakers aren't usually created to be fully submerged, the most typical designs revolve around fully waterproof elements. In contrast, other parts of the speaker are more prone to water damage if they flip over or end up submerged.
However, floating pool speakers will typically consider this with the design. They will still be able to survive for a fairly long time before they start encountering issues of leaking and subsequent product damage.
Our list's products tend to be IP67/IP68 or IPX7. While these are all acceptable levels of waterproofing, IP68 will have the most resistance. And while we don't recommend submerging floating pool speakers, you will be protected if an accident happens and your device ends up tipping over or becoming submerged for a short period.

If you're unsure of water-resistant ratings, you can always reference our guide here.
Controls
It may not be the first thing you think of when buying a speaker, but for floating pool speakers, in particular, having a well-thought-out control decision can make the experience much better.
If you purchase a floating speaker with no control panel, keep in mind that you'll have to use your phone (or Bluetooth source) to change the volume, the song, pause the music, etc. We find that a good control panel with a good layout and easy-to-press buttons can make using a floating speaker that much easier.
Durability
Durability is always important to remember, especially if you're purchasing a product for a child. It is more than likely that your speaker will see some impact at some point. Ensuring that your product is made with durable materials will give you peace of mind about how long it will last.
As with most purchase decisions, it will mainly be based on what you plan to use the product for and the type of environment it will be used in. If you're looking for an ambient speaker to float around your pool while you have a late sedate late-night swim, durability isn't as important in comparison. You wouldn't need to worry about the decay of materials due to hours of sunlight, nor would you need to worry about someone doing a cannonball directly onto it.
Stereo Pairing
Stereo pairing essentially turns two of the same device into their own unique audio channel, with one speaker becoming the left and the other becoming the right.
Stereo pairing isn't just for high-end Bluetooth speakers anymore. We're seeing more of the Bluetooth market adopting this approach of creating more audio depth, and floating pool speakers are no exception.

Suppose you have a very large pool or plan to use the speakers in a large body of water. In that case, it's worth considering the idea of stereo pairing your speaker to increase the depth of your sound and create a larger area of sound out on the water. Because paired speakers are usually placed slightly apart, you can ensure that both the shallow and deep ends of your pool receive audio.
The stereo pairing will typically work with the same brand and model of floating speaker. That is to say, if you have a Poolmaster floating speaker, it will likely only pair with other Poolmaster floating speakers.
Bluetooth Connectivity
While all of our listed models offer Bluetooth connectivity, it should be noted that not all Bluetooth is equal. Bluetooth 5 technology will ensure faster transfer speeds along with more connection range.

Since almost all floating pool speakers use Bluetooth as their sole connectivity method, you don't want to slack on this area. Suppose you only use the speaker within a few meters of your mobile device. In that case, the Bluetooth version probably isn't an issue, regardless of whether you use Bluetooth 4 or 5, but for those who plan to have their Bluetooth source far away from the speaker, you will need Bluetooth 5.
Unfortunately, not all manufacturers specify the Bluetooth version in their notes, so if you're looking for a lot of range on your speaker, we highly recommend ensuring that the product you choose offers Bluetooth 5 functionality.
Lighting Effects
While most LED lights are unnecessary, they are typically just placed to add a bit of flair to a product. With floating pool speakers, however, the included lighting in most models can offer more than just something exciting for the kids to look at. They can offer value for those who enjoy a summer dip in the pool at night.
That's not to say, however, that all floating pool speakers offer viable lighting that can help illuminate your speaker or the water around it to the degree you may be looking for. For instance, the Mcanbr offers a lot of lighting on the top of the device but nothing that illuminates the water. On the other hand, models like the Skywin, Bluefree, KingSom, and Poolmaster offer more thorough lighting additions, which are made to light up the water around them.
Warranty
Because smaller companies typically create floating pool speakers without an established brand authority, we recommend that if you're looking to spend money on one of these speakers, look at the warranties provided by the manufacturer. With a quality warranty, you can remove some of the stress from the purchase and rest easier knowing that should your floating speaker not behave as advertised, you can get a refund or replacement.
Frequently Asked Questions
Are Floating Pool Speakers Waterproof?
You can expect most models of floating pool speakers to offer some protection against water. However, that doesn't mean they are made to be submerged. Pool speakers are designed typically to provide a platform where the speaker driver is housed and for that panel to be water-resistant at a minimum. If you're worried about your speaker submerging during use, we recommend an IPX7-rated speaker.
What's the Difference Between a Floating Pool Speaker and a Pool Speaker?
While both are considered types of pool speakers, when referring to a pool speaker, it is typically a mounted speaker placed around your pool area. These are often a type of patio speaker that gets mounted under the eaves of your patio. Traditionally mounted pool speakers will cost much more on average than a floating pool speaker, but they will also provide superior audio quality.
We recommend mounted pool speakers as a permanent and wider-encompassing audio solution for your pool area.
Do Floating Pool Speakers Work Underwater?
While these speakers sit on top of the water, you won't be getting underwater audio. One can achieve underwater audio using aquasonic speakers, though these cost thousands of dollars.
Update History
03/30/2022 – Replaced all products with new models. Added comparisons with waterproof Bluetooth speakers. Rewrote our buyer's guide.
05/29/2020 – Restructured the content to focus on floating pool speakers and update ratings.
03/31/2020 – Removed the Sharkk 20 from our list. Great speaker but just too many issues with availability.
03/31/2020 – Removed the Aomais Surf. Not listed on their site anymore and seems to have been discontinued.
03/31/2020 – Removed the Sharper Image SBT606. Just not good enough to be on our list.
Thanks for your feedback!