The Bottom Line
Despite its fairly unassuming appearance and appealing price range, the Soundcore Motion Boom is able to go head to head, and even edge out other popular speakers in its space. We loved the portability of the Soundcore Motion Boom, which when matched with good audio performance creates a very special little portable Bluetooth speaker.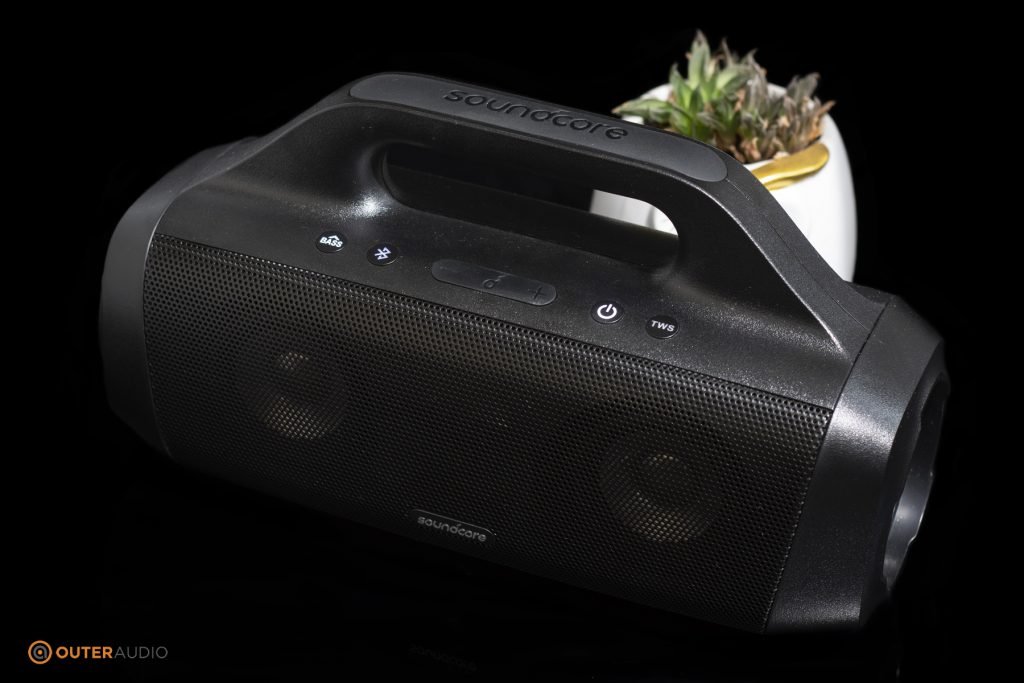 While familiar brands like JBL, Bose, and Sony have dominated the Bluetooth audio market, there are several reputable brands lurking in the shadows, releasing products of similar quality (sometimes better) within the same price ranges. Many of these lesser-known brands are evidently copying the design and features of popular Bluetooth speaker models from these household brands, however, some succeed in developing game-changing speakers that carry a serious potential to knock some fan favorites off the pedestal.
One of our favorite brands to employ such tactics is Anker, with their range of Soundcore speakers that feature a large variety of sizes, styles, and designs, with each speaker fulfilling a specific purpose, and doing a great job at it! Today we'll be taking a look at the Motion Boom Bluetooth speaker, which resembles traditional boombox speakers but with a smaller form factor. Anker has excluded the flashy aesthetic of the modern boombox and drawn greater focus on developing a durable, portable, and easy-to-use speaker that packs serious power in its minimalistic enclosure design. Let's take a deeper look:
Design & Build
The Soundcore Motion Boom utilizes a pill-like design with an integrated carry handle for ease of portability. The speaker is incredibly light, weighing only 4.0 pounds, and measures roughly 13 x 5.5 x 7.6 inches. The control panel is found on top of the unit and grants the user control over all the basic functions relating to music playback and pairing (more on this later)
Behind the speaker, you'll find a pull-away tab that reveals the input/output options of the Soundcore Motion Boom. I much prefer this placement than to find the inputs beneath the speaker as many manufacturers do- making it difficult to charge or use alternative inputs while the speaker is in use.
The secure nature of this pull-away tab lends itself to the Motion Boom's IPX7 waterproof rating: this grade of waterproofing provides protection from practically any hazardous element including rain, snow, dust, and sand, the Motion Boom will even float if dropped in water and will function as it should- just remember the plug the pull-away tab before dropping it in the deep end!
Control-wise, the top panel of buttons gives you control over volume (up/down) pause/play, power on/off, Bluetooth activation, and more. The TWS button enables true wireless pairing, where you can link two Soundcore Motion Booms together to establish a stereo pair, and the BassUp button activates the bass enhancement feature.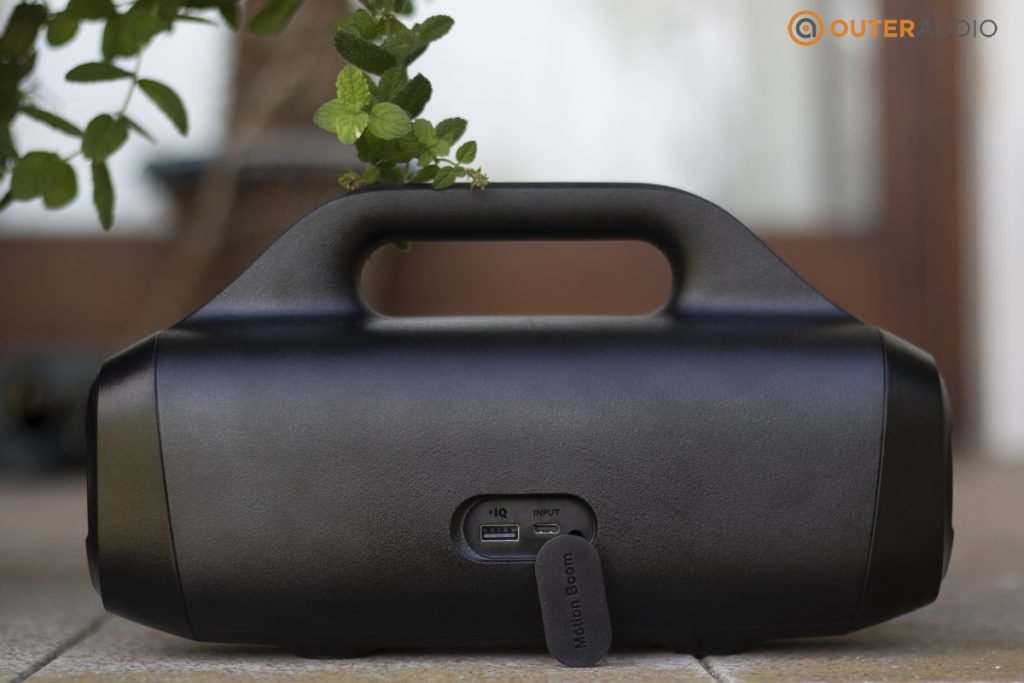 As for inputs/outputs, the Anker Soundcore Motion Boom, unfortunately, does not feature an auxiliary input (a feature I always like to see) but it does have a built-in power bank, where you can recharge a mobile device using a USB cable. The quality of the buttons and ports on this speaker feels well-made and I have no doubts about them failing me at any point. Additionally, the handle is easy to grip and won't slip out of your hand easily.
The battery strength of the Soundcore Motion Boom is pretty decent, it doesn't outperform any others in a similar price range or size, but works as it should at 24 hours of playtime on a single charge. This figure can vary depending on how you're using the speaker, for example, pumping music at full volume or using the onboard power bank will drastically shorten the speaker's lifespan, but even then, the Motion Boom holds enough battery power to last for a night-long party or several hours of on-off playback during a weekend away.
How Does the motion boom sound?
The Soundcore Motion Boom utilizes a pair of 15W full-range drivers and passive bass radiators to deliver full-bodied sound at considerable volume levels. The Motion Boom can get pretty loud (around 97dB at full volume) while the sound quality remains clear and doesn't become harsh at any point.
For indoor usage, this speaker can fill a medium-sized room with well-rounded sound, though I actually prefer the tonal qualities of this speaker when used outside. For most music styles, the Soundcore Motion Boom sounds great, I noticed a slight lack of lower midrange warmth on certain songs within bass-heavy genres such as hip hop and rock, but the vocals and other upper-midrange focused content are well defined.
The BassUp feature acts as a low-end enhancer the same way similar features work on many Bluetooth speakers, however, its influence over the frequency spectrum is slightly different. Generally, triggering a bass boost function will cause anything from a subtle to the extremely overpowering heightening of the low end, and often causes the upper midrange and high end to suffer dramatically.
The Anker Soundcore Motion Boom provides a subtle, yet noticeable accentuation of the low frequencies but does not kill the remaining frequency spectrum as much, while it does darken the higher range, it doesn't rob it of all its sparkle and clarity. Due to this, I must say the Motion Boom possesses my favorite bass enhancement of all Bluetooth speakers I've heard.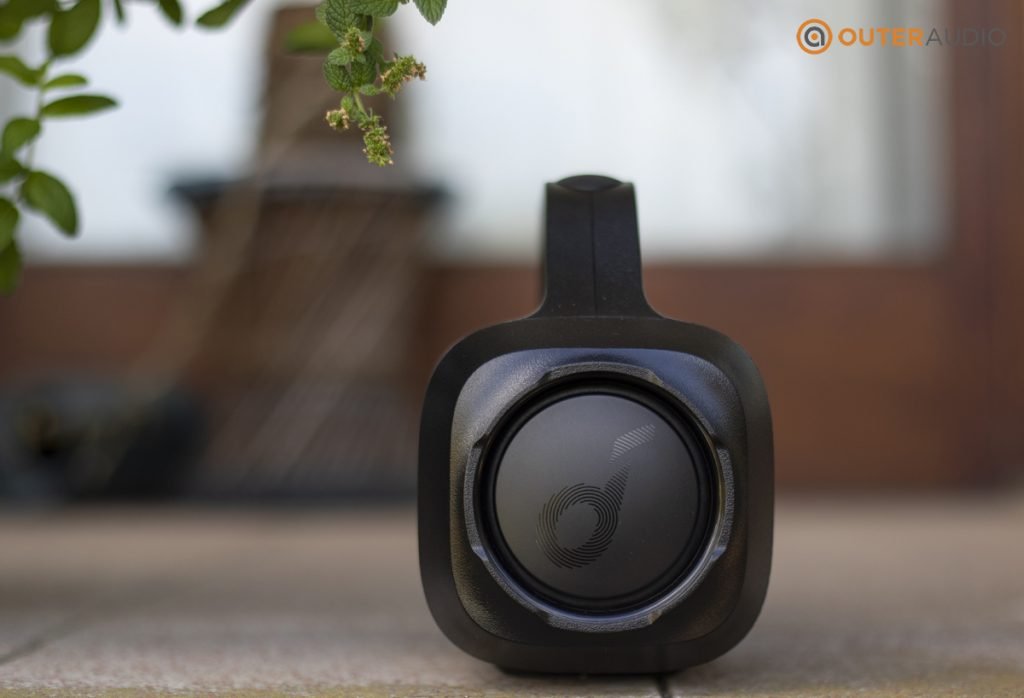 In addition to the bass boost function, the Soundcore app allows for further fine-tuning of the speaker's frequency response, where you can select from one of the Anker presets (though there aren't many to choose from) or craft your own signature equalization patch using an interactive graphic-style EQ tool. The app also allows you to adjust the automatic shutdown timing and activate/deactivate audio prompts.
As for the stereo spread, I have to admit the Motion Boom doesn't excel in this department as I expected it to, based on other products from Anker. The stereo field is noticeably narrow, which, for some music, styles won't pose any problems, but for certain genres or if you're using this speaker to watch a movie, you'll definitely notice the lack of depth on this speaker. That said, this issue can be solved by establishing a stereo pair using two Soundcore Motion Boom speakers wirelessly, if you have access to a second unit.
The Bluetooth strength of the Motion Boom is fairly strong, supporting a connection of up to 33 feet in a line-of-sight environment. I did however notice a slight delay in synchronization between motion picture and audio on this speaker, this latency has improved with the latest firmware update, so hopefully, it will be reduced to zero sometime soon. The Motion Boom's onboard microphone sounds decent enough for phone calls, though the quality obviously suffers once you begin to move further away from the speaker.
Overall, I'm impressed by the sound quality of the Motion Boom for casual listening or house party circumstances- if you're looking for a true definitive sound signature for critical listening, the Motion Boom is not the speaker for you, but then again, you'll struggle to find a Bluetooth speaker that accurate.
For this reason, the Motion Boom is in my opinion one of the better-sounding Bluetooth speakers for audiophiles- not only because it just sounds good and doesn't add too much sonic coloration, but the fully adjustable EQ means you can rebalance the tonal qualities to suit your ears, your music, and your surroundings.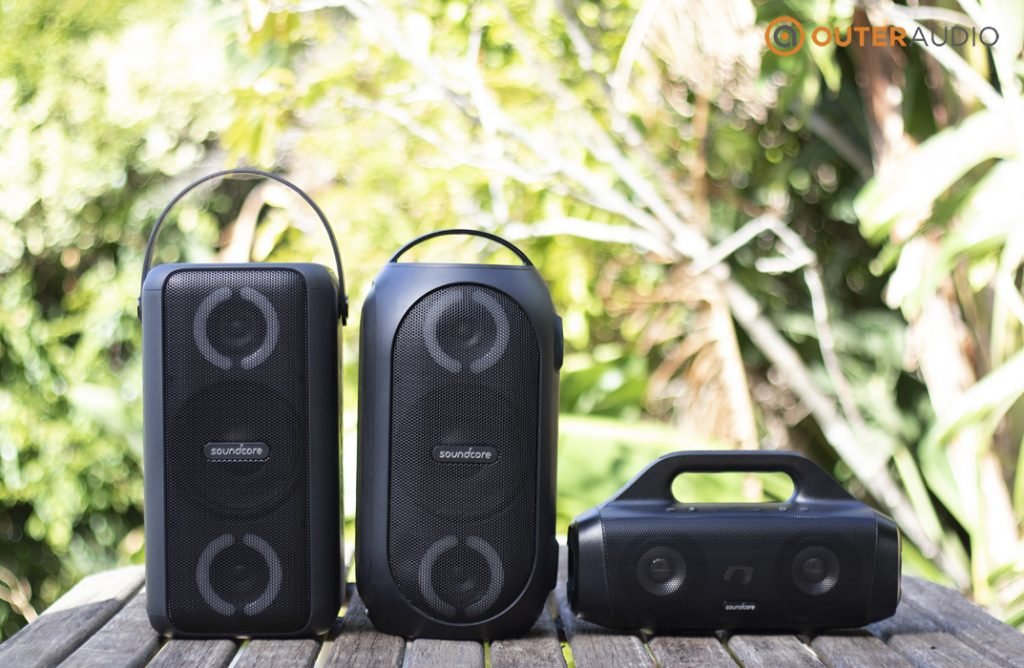 How we Felt About The Soundcore Motion Boom

It's difficult to compare this speaker directly with another as it seems Anker has successfully married all the best components of some fan favorites to craft this unique speaker. The closest comparison size-wise would be the Treblab HD Max, which is slightly larger and more expensive but isn't quite as versatile when looking at tweakable sound characteristics, and the remaining features are practically the same as far as connectivity, volume, and water resistance are concerned.
For an even bigger price jump, you could look at the JBL Charge 5, which again doesn't quite have all the useful features of the Motion Boom but is considerably smaller, or the JBL Boombox which I'd say is a little more comparable as far as features are concerned but is remarkably larger and more expensive than the Motion Boom.
To conclude, I feel the Soundcore Motion Boom is an outstanding Bluetooth speaker, especially considering its reasonable price point. Compared to other speakers in a similar price bracket, the Motion Boom is by far the best value for money option. Its durable build and waterproof grade allow for use in almost any environment, and it is surprisingly lightweight for its size.
The Anker Soundcore Motion Boom packs enough volume to provide some background music in the pool, or to power a small party at home. The sound quality is fairly impressive and its companion app allows for near-limitless tweaking of the Motion Boom's sound signature to suit your personal preferences.
Thanks for your feedback!