The Bottom Line
The JBL GO 3 has its own set of strengths; the speaker has good durability and a balanced sound signature. However, the shortfalls in battery life and bass presence hold this speaker back from its potential. The built-in loop design is handy for portability but is also a feature found across many other Bluetooth speakers of this size.
Durable build quality
Balanced sound signature
Quick to charge
Soundstage is mediocre
Low battery life
Lacks bass presence
The GO 3 is one of JBL's smallest Bluetooth speakers and shares many of its features with the JBL Clip 4. It's unclear why JBL opted to release both these speakers, as they seem to be focused on the same intentions. At the end of this review, we'll look at the similarities between these two speakers and discuss which is the best small speaker.
Build & Design
JBL's GO 3 is built for an outdoor lifestyle. You find any plastic or metal components on display, with the speaker featuring a woven fabric wrap along with what are primarily rubber accents. At 211 grams, it's a lightweight speaker that can easily be carried around in even your pocket. It offers reliable waterproofing and an impressively durable design.
Durability of Finish: 8.2/10
Feel of Buttons: 8.3/10
Weatherproofing: 7.9/10
The design of the JBL GO 3 is unique, with a rectangular design with rounded corners covered in a tightly woven fabric that wraps most of the speaker. There are rubber accents across much of the speaker, whether it be the branding along one side of the speaker or the two resting pad areas along the other side and bottom of the speaker.
The controls are all easy to access, with the play and volume buttons on the top of the speaker (when placed vertically) and the power and Bluetooth pairing buttons on the edge of the speaker. On the opposite edge of the speaker, you'll find the USB-C charging port, along with a handle loop. This design choice makes sense, as both the power and Bluetooth buttons will be used less than the more prominent volume and play control buttons.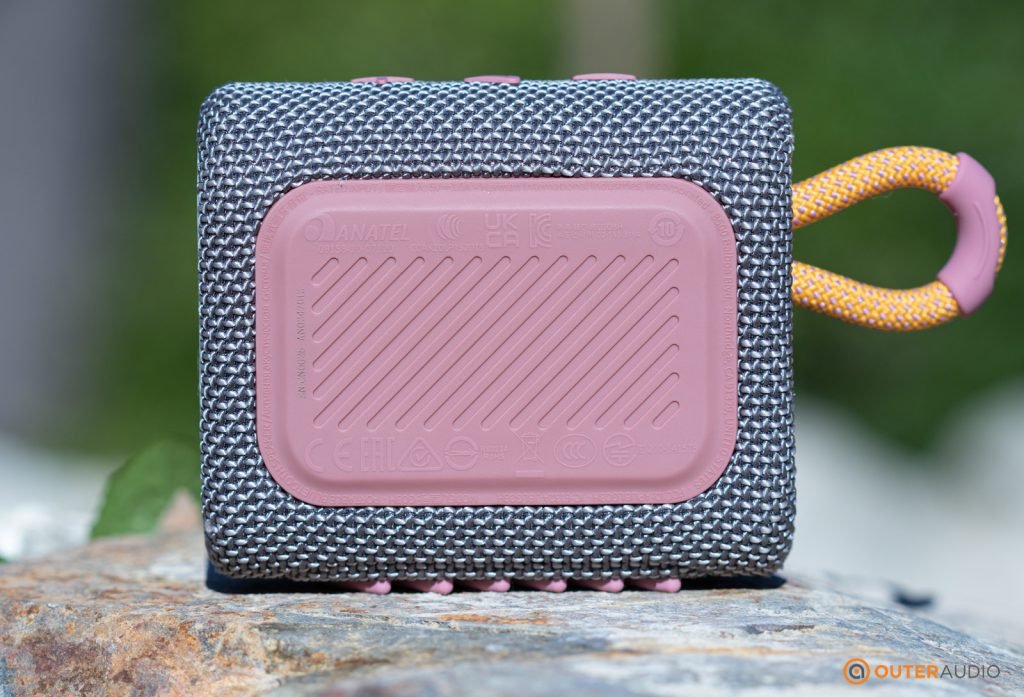 In terms of build quality, the JBL GO 3 feels durable and well-constructed. The fact that JBL opted to use rubber in place of plastic across the speaker, along with the woven fabric, allows the GO 3 to go through some trying conditions without showing wear. These two elements mean this speaker can handle a number of bumps and drops without seeing the typical scratch damage we see from plastic or metal Bluetooth speakers intended for the outdoors.
JBL's GO 3 is one of the more robust in its weatherproofing and features an IP67 waterproof rating, meaning the speaker is protected from dust as well as submergence in less than 3 feet of water for up to 30 minutes without damage. If you're looking for the best waterproof Bluetooth speakers, we've also covered that topic in depth.
It is also worth mentioning that both the Clip 4 and GO 3 are popular choices for speakers that can be used as a shower speaker.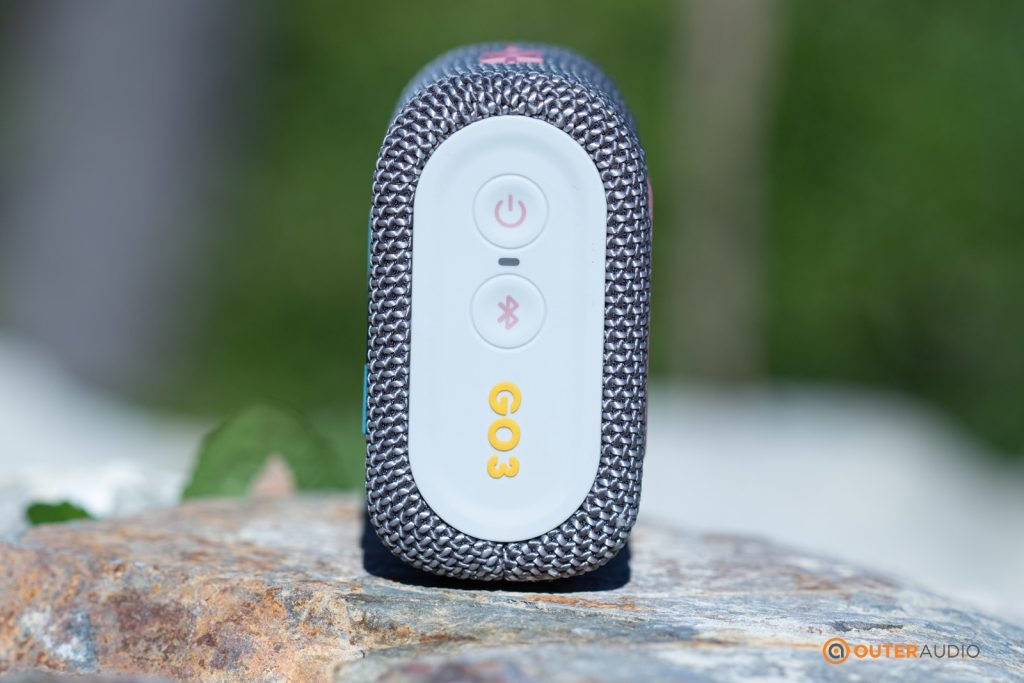 Sound Performance
The JBL GO has a relatively balanced sound signature and good dynamic performance. However, it lacks a low-end presence. The vocals in tracks sound best in acoustic productions, and I found some electronic instrumentals to get obscured by the extreme vocal presence in some mixes. The JBL GO 3 is best suited towards podcasts but lacks much of a presence when listening to bass-centric genres like hip-hop and EDM.
Bass Performance: 5.8/10
Mid-tone Performance: 6.4/10
Treble Performance: 6.7/10
Volume: 7/10
Balanced Sound: 7.8/10
To test the JBL GO 3's performance, I stacked it against the Sony XB13, Oontz Angle Solo, and Anker Soundcore Mini. I was toggling the same tracks between all these speakers. I found that the JBL GO 3 was a middle-of-the-pack performer. Thanks to relatively good dynamics, it could hold its own in terms of clarity, especially when pushed to higher volume levels. Still, it lacked the detail experienced with the Sony XB13.
The GO 3's sound profile is best suited for podcasts and casual listening, but the lack of low-end response makes many genres of music feel a bit dull. There is a noticeable lack of bass across most of the low frequencies. This may not be a problem for everyone, but for those who enjoy listening to more bass-heavy music, you'll hear that the songs you love don't sound like they usually do.
It's not that the JBL GO 3 sounds inherently bad; the midrange and treble are quite clear, and sufficient volume is offered. Still, the most pressing of concerns for the JBL GO 3 is the current competition it goes against. Sony's XB13 is just one of several similar speakers that cost nearly the same price but outperforms the JBL GO 3 in audio performance.
I must admit that I did enjoy the way the GO 3 sounds when playing acoustic tracks – the lack of low-end is barely noticeable, and the upper midrange sounds rather bright for such a small speaker. The vocals in these acoustic tracks sound rich. However, when we move to tracks with electric guitars, the instrumentals feel like they're just barely in the mix, with vocals being dominant.
When it comes to soundstage, the JBL GO 3 suffers from the same problem as many others in this size format. Because the speakers face in one direction, with a solid back to the speaker, the sound is very directional, and while things sound quite good when the speaker is facing your direction, if you're seated behind the speaker, you will get a distinct loss of audio clarity.
For this reason, this speaker is best suited for individual or couples listening – if you want a replacement for your phone speaker and something you can take out with you when you go cycling or skating. However, if you're looking for a speaker to entertain a group of friends, having a speaker with a better soundstage will allow everyone to enjoy the same quality of audio.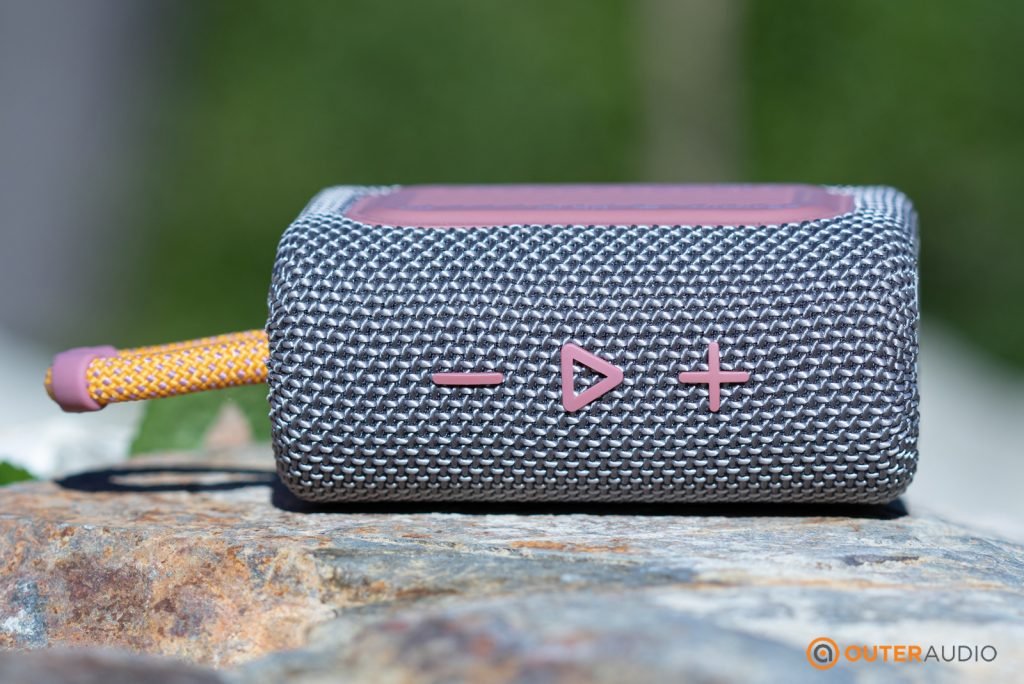 Battery Life
Charging Type: USB-C
Estimated Playtime: 5 Hours
Playtime: 5 Hours and 17 Minutes
Charging Time: 2 Hours
The battery performance on the GO 3 is unremarkable but within the realm of standard for many speakers this size. It offers a total playtime of 5 hours during regular volume levels and is fairly true to these manufacturer-provided estimates. This is disappointing for a speaker released in 2021. Battery technology has been moving forward at a rapid pace, and with a brand like JBL behind the product, I expect research and development to surpass lower-budget alternatives.
This isn't the case. We've seen better battery life offered by both the Soundcore Mini and Oontz Angle Solo, two speakers that many would consider budget alternatives to the GO 3.
Despite the disappointing battery life, the charging time on the GO 3 is impressive and can reach full charge within 2 hours. This is around twice as fast as some of the similar-sized competitor speakers.
Keep in mind that your battery maintenance can also affect your battery performance over time.
JBL GO 3 Vs. JBL Clip 4
The JBL GO 3 is similar to the JBL Clip 4, another mini Bluetooth speaker focusing on portability. JBL has marketed both speakers as outdoor speakers that are made to incorporate active lifestyles.
These speakers aren't just comparable in their design but also their technologies. Both speakers have Bluetooth 5.1 and a rather bare-bone approach that doesn't try to be anything other than a simple Bluetooth speaker.
With the battery performance on the GO 3 being sub-par, you may hope to see a more impressive offering on the Clip 4, but unfortunately, the Clip 4 only offers marginal improvements in battery life, with around an extra 45 minutes of playtime.
The biggest differences between these two speakers are apparent in the audio performance and sound profile. While the JBL GO 3 had relatively good dynamics, the Clip 4 is not as impressive, and you will notice less audio integrity at higher volumes. However, the Clip 4 performs better than the GO 3 in both soundstage and frequency response, as the Clip 4 has more bass presence, giving the Clip 4 a bit more depth.
If you prefer having more flexibility with your volume levels, the GO 3 is the better of the two, but for those who tend to listen to music at a lower volume, the Clip 4 is the better choice. Otherwise, these speakers are remarkably similar outside of their design.
Conclusion
Overall, the JBL GO 3 is a decent speaker with a relatively balanced sound profile, durable design, and impressive build quality. Still, this speaker falls short of what JBL should be offering with its R&D budget. The speaker's low battery life is perhaps one of the biggest concerns, as nowadays, we want to see at least 10 hours of battery life on a speaker meant for the outdoors. Sure, modern power banks can easily charge the GO 3 if you need to – but this speaker is falling behind cheaper alternatives in more than one area.
Look at the Sony XB13 or even Sony XB100 for a speaker that offers much of the JBL GO's benefits but has better audio performance and battery life.
Thanks for your feedback!