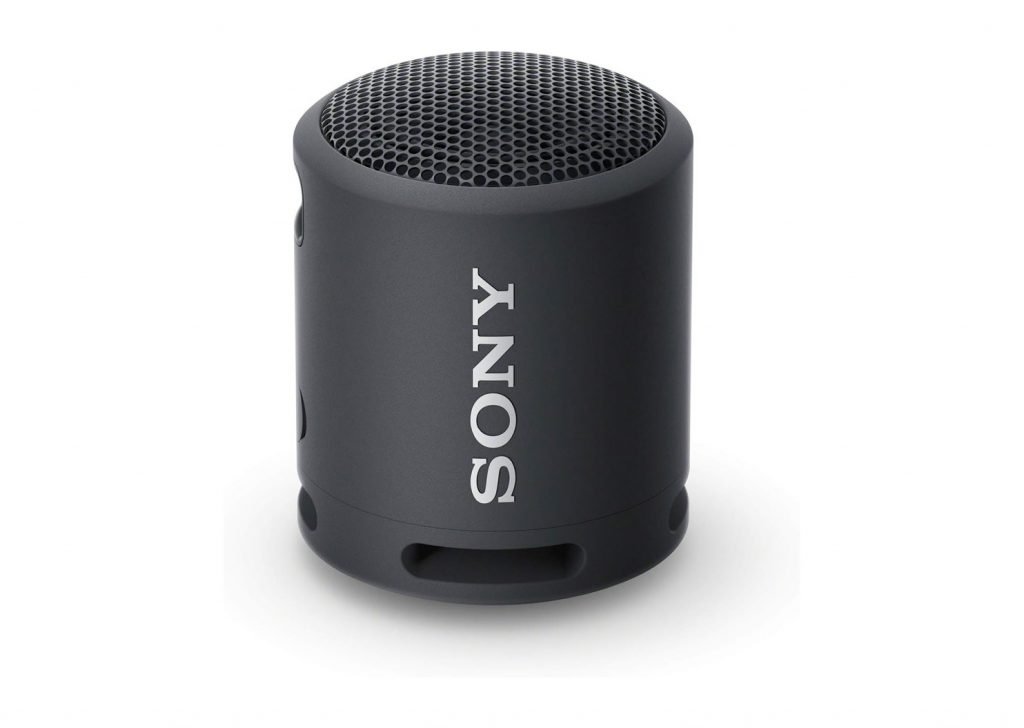 The Bottom Line
The Sony XB13 is an excellent little Bluetooth speaker with a great bass response, clear midrange, and treble. While it lacks some volume, it has impressive dynamics that retain audio quality even at its highest volume. The XB13 is one of the most impressive mini Bluetooth speakers we've tested.
Deep low-end response
Waterproof
Affordable
Impressive soundstage
Only offers Bluetooth 4.2
Limited volume
The XB13 is on the larger side when compared with other mini Bluetooth speakers but similar in size to the Oontz Angle Solo and the JBL Go 3. It's available in eight colors, offering both neutral tones and vibrant, colorful options. Even though the Sony XB13 is focused on sound quality, it doesn't prevent it from also offering reasonable features.
Even though the XB13 is a relatively new speaker, released in 2021 – Sony has just announced their new XB100, which is a nearly identical speaker in terms of size and design but is made in part with recycled plastic. The XB13 has the benefit of more color choices and being lighter but falls behind on the Bluetooth version, offering 4.2, whereas the XB100 offers the latest Bluetooth 5.3. The XB100 has the benefit of a UV coating and echo canceling too. These two speakers initially retailed for the same price, but the XB13 has seen a dramatic reduction in retail price and is now available for around $20 cheaper than the newer XB100.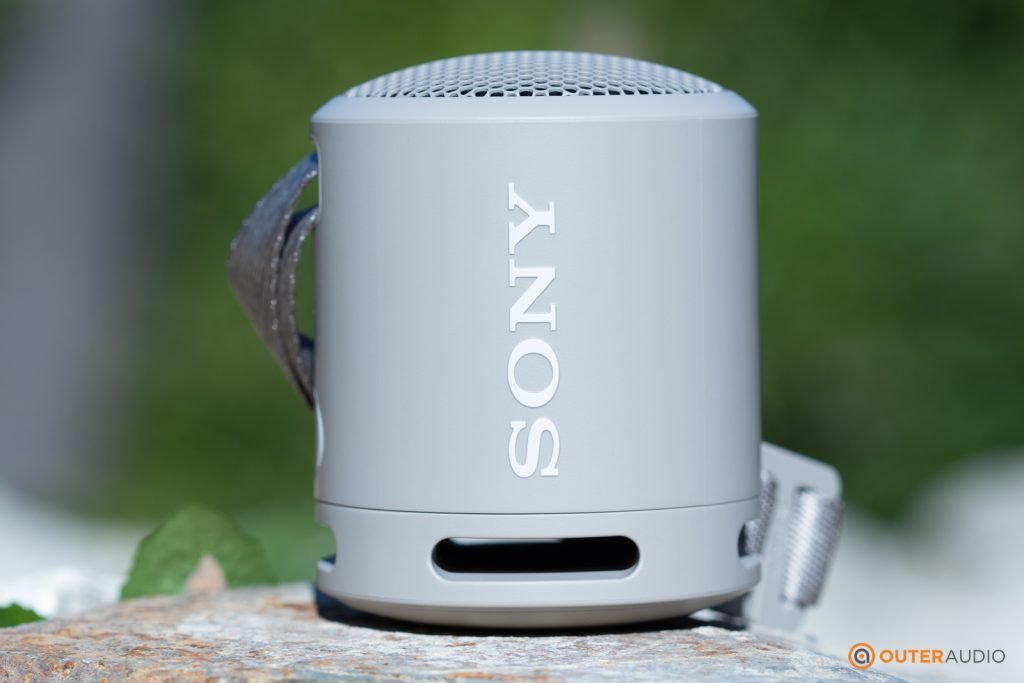 Design & Build
Durability of Finish: 7.8/10
Feel of Buttons: 8.5/10
Weatherproofing: 8/10
The Sony XB13 has a short soda-can style design that measures 3.7" tall, with a diameter just shy of 3". While it's not the smallest Bluetooth speaker in its size range, it's also not the largest, with the JBL GO 3 being an example of a slightly larger variation of what we'd consider a 'small' Bluetooth speaker.
Designed For More Immersive Sound
Design-wise, the XB13 features an upward-firing driver with a metal grill covering the cone, while the lower portion of the speaker features ducts to help with soundstage and bass representation. The design is somewhat similar to the Anker Soundcore Mini, but the Soundcore Mini lacks the venting and has a smaller driver.
The controls are located just above these ducts and feature a power button, Bluetooth pairing button, a play/pause button, and volume controls. These buttons are responsive and don't take much pressure to activate. The fact that these button icons are raised off the speaker is a very useful feature for those with visual impairment. The charging port blends in seamlessly, located under an easy-to-open seal just to the right of the controls.
Weather Resistance
Water resistance is not a problem for the Sony XB13. In fact, it offers a robust IP67 waterproof rating that protects it from both water and dust. An IP67 rating means that the speaker protects from dust, with IP6 protection, while the waterproofing itself is essentially IPX7. You can use the XB13 in moderate rainfall without risk of damage, but it is worth noting that Sony themselves state the following about the XB13:
This speaker does not have a design that is resistant to water pressure. Use of the speaker in a location where high water pressure is applied, such as in the shower, may cause a malfunction.
Additionally, they state the following about using this speaker in a sandy environment:
Do not place the system directly on the sand, such as sandbox or sandy beach.
These restraints keep this speaker from being as durable as some other Bluetooth speakers, which are able to be used freely on the sand and washed off with a pressure hose. The XB13's IP67-rating is, therefore, not quite as rugged as it may sound on paper. But as long as you practice the recommended usage practices, you shouldn't encounter any issues in this regard.
Versatile in Design
Sony does market the XB13 as an outdoor speaker, and I'd agree that it does a good job of providing an affordable Bluetooth speaker for the outdoors. What I like about this speaker is that it still looks good, even when used indoors – and the amount of color variations ensures you can find one that matches your room's design aesthetic.
While the Sony XB13 has a very reasonable build quality, particularly with the outer casing – it's not immune from damage when dropped. This is a somewhat common complaint, and I recommend not dropping the XB13 off any surfaces higher than a foot, especially on hard surfaces.
The Sony XB13 Offers a Refreshing Audio Experience
Bass Performance: 7.4/10
Mid-tone Performance: 7/10
Treble Performance: 7.2/10
Volume: 6.8/10
Balanced Sound: 6.2/10
The Sony XB13 has a dominant bass profile with a surprising amount of low-end presence for a speaker of its size. The single driver powering this speaker measures 2.8". Elevated bass profiles are almost always polarizing, but when it comes to speakers of this nature, the goal here is to have a fun listening experience and not to get an accurate representation of sound for the purpose of mixing.
Because of this, the bass works in Sony's favor here. One of the issues I had with the Angle Solo was the lack of bass, and I can happily say that the Sony XB13 has much better bass, not just in the amount of thump the speaker provides but also in the bass frequencies it covers.
In terms of the bass presentation itself, you're still not going to get that extreme low-end bass that larger Bluetooth speakers can create with their bigger drivers, but for the form factor – I've got to say that the Sony XB13 has some of the most impressive bass I've heard from a small Bluetooth speaker, particularly those utilizing a 3" driver or smaller.
Midrange
The midrange sound on this speaker is also impressive, offering clarity and a relatively balanced presence. The heavy bass does obscure the low-end midrange a bit, with a slight loss of integrity, but this is always going to be the case with a bass-heavy Bluetooth speaker with a driver of this size. I wouldn't say it is particularly warm-sounding, but it performs better than the Soundcore Mini and Oontz Angle Solo in this regard.
Treble
The sound profile in the treble range is also a welcome change from so many small Bluetooth speakers, which try to mimic brightness by overturning their treble. The result is typically a harsh and piercing sound. The XB13 doesn't fall into this trap. Instead, the treble is vibrant enough to give depth to the sound, which sounds enjoyable and far from the usual experience.
Sound Profile & Soundstage
When it comes to the soundstage, I found that the upward-firing driver design, along with the vents, help create a rather impressive soundstage that I'm not used to finding on small Bluetooth speakers. I find that the dispersion of sound is wider than that of the Anker Soundcore Mini, which follows a similar design style.
Real World Performance
In my recent review of the Oontz Angle Solo, I used a track by VNV Nation titled Epicenter to show how the Oontz failed to produce some of the low-end frequencies essential to the song's bassline presence. Below are two snippets, one showing how the Oontz performed and the other showing how the Sony XB13 performs comparatively.
As is easily audible, you'll notice that the Sony comes across with a fuller sound that picks up on elements of the track that the Angle Solo wasn't able to.
Dynamics & Frequency Response Range
Another noticeable benefit of the XB13 lies in its dynamics. Small Bluetooth speakers have a tendency to sound decent until the volume is pushed up, and then their faults become pronounced. Even when pushing the volume limits on the XB13, it retains its sound quality with little in the way of distortion.
In summary, the Sony XB13 has a wide frequency range for a speaker of its size and manages to offer a relatively bass-dominant Bluetooth speaker that still manages to present with a clear and intelligible midrange and treble. While the volume levels are only enough to cover a fairly small room, this is to be expected for a speaker under 4 inches tall.
Battery Performance
Charging Type: USB-C
Estimated Playtime: 16 Hours
Playtime: 12 Hours 15 Minutes
Charging Time: 4 Hours
Sony claims that the XB13 can provide up to 16 hours of listening time, and this seems reasonable at lower volumes. When testing at moderate listening levels, we were able to get 12 hours and 15 minutes out of the battery. I suspect that at lower listening volumes, this speaker can get between 14 and 15 hours of playtime. The charge time is about standard, at four hours and thirty minutes. Giving us a ratio of around 3 hours of playtime for every hour of charging. There's also a built-in battery-saving feature that turns off the speaker after about 15 minutes of non-use.
Apps, Features & Connectivity
Supported Codecs: SBC, AAC
Compatible Profiles: A2DP/AVRCP/HFP/HSP
Bluetooth Version: 4.2
Bluetooth Range: 10 meters
Frequency Transmission Range: 20 Hz – 20,000 Hz (Sampling frequency 44.1 kHz)
App Support: No
While the Sony XB13 does well in build, design, and sound quality – there isn't much in the way of features or app support. There's no companion app to use with the XB13, meaning you'll need to use a third-party EQ app if you want to adjust the sound profile.
Inputs
The XB13 doesn't try to do much in this department. There is also a lack of auxiliary input, a feature afforded to us by the Oontz Angle Solo and Soundcore Mini. This is something I feel could have been beneficial to this speaker, as it doesn't add much to the weight or production cost but adds a quality-of-life feature.
Stereo Pairing
Thankfully, we do get wireless stereo pairing with this speaker, allowing you to increase your audio and provide a more immersive listening experience. The pairing process is relatively straightforward, and while its function is limited given the driver's position, it is a neat feature to have available.
Bluetooth Considerations
When it comes to wireless connectivity, the XB13 utilized Bluetooth 4.2, which is now a little outdated. However, this older Bluetooth technology isn't as big of a deal as it would be with a larger speaker that has more audio range. The reason for this is the way one uses the Sony XB13. This is a small speaker with limited volume, and chances are you're not going to be very far away from the speaker while controlling it. Additionally, the performance enhancements seen on newer variations are not going to be as noticeable on a speaker of this type.
Microphone Quality & Call Feature
Worried about missing a phone call while you're connected to your XB13? No problem. The speaker offers an integrated calling feature using the built-in microphone underneath the control area's play button. In terms of microphone performance, however, the XB13 fails to impress, with a distinctly lower quality recording sound than that found on your phone (depending on the model). Below is an audio snippet comparing the microphone quality of the XB13 with the built-in Samsung S22 Ultra microphone.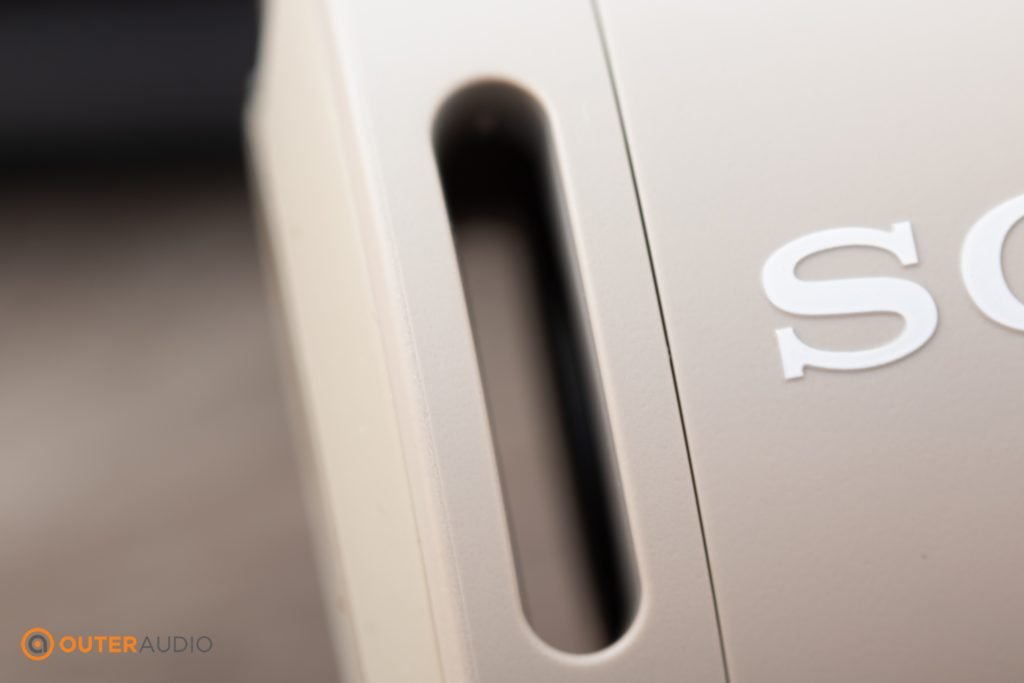 Summary Of The Sony XB13
Despite being recently replaced by the XB100, the Sony XB13 manages to stay relevant, providing much of what the XB100 brings to the table, but at a discounted price. The older Bluetooth version is the most noticeable of the differences, but only when one is comparing. In most cases, the 10-meter range offered by Bluetooth 4.2 is sufficient for a speaker of this type.
The audio performance is excellent and can easily outperform larger Bluetooth speakers regarding sound profile. In fact, you can put this against some of JBL's popular models. While the Flip series offers more volume, the sound profile of the XB13 is preferable and comes in at a fraction of the cost.
The limited features may turn off some buyers who are looking for a more modern approach, such as something with WiFi support. Though larger models almost exclusively offer these features.
It is rugged enough to handle being dragged into the outdoors, but limitations exist with regard to its use around both sand and water, making the IP67 waterproofing feature feel like it comes with a bit of fine print.
If you're in the market for a small, portable Bluetooth speaker, I recommend the Sony XB13 as a top contender.
Thanks for your feedback!