The Oontz Angle Solo from Cambridge Sound Works is a triangle-shaped Bluetooth speaker that can fit in the palm of your hand. Available in four different color variations (red, black, white, and blue), the Angle series has a distinct personality of its own. That's not to say the design is not somewhat familiar to us, as I have previously spoken out about how well Cambridge Sound Works' larger Oontz Angle 3 performed, especially for an affordable small Bluetooth speaker.
The Bottom Line
The Oontz Angle 3 is an affordable, small speaker best suited for personal use. While the audio quality lacks some bass and clarity, the speaker compensates somewhat with a durable build and price point of under $30.
Durable plastic shell
IPX5 water resistance
Easy to carry
Highly affordable
Struggles with bass
Lack of overall sound clarity
No track-skipping buttons
The Oontz Solo is the smaller sibling and can be considered a more portable, toned-down variation of the Oontz Angle, and while there are differences, particularly in the driver size and the battery capacity, there is no denying their similarities.
Before going into the details of how this speaker is built and how it performs, I feel it's vital to mention that this speaker retails for around $30. Though I regularly see it marked down to between $20 and $25, making it one of the most affordable solutions on the market. Typically, I expect to see similar speakers listed for closer to the $40 range, and this is something to keep in mind, as lower costs do mean limited performance in most situations.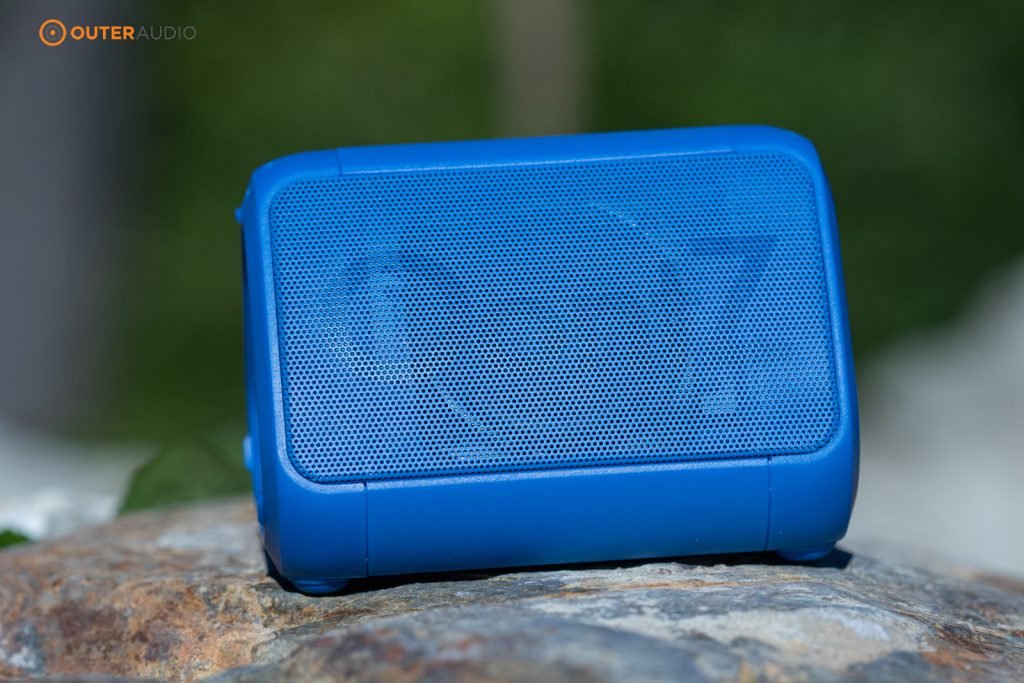 Design & Build
Durability of Finish: 7/10
Feel of Buttons: 7/10
Weatherproofing: 5/10
The Oontz Angle Solo shares the same design principles as the larger Angle 3 and Angle Pro, with a triangle-shaped housing that features drivers that are angled slightly upwards along the branded grill side of the speaker. When stationed upright, the rear of the speaker has a rubberized seal connection port area. The fixture used to seal these ports feels durable, and while a small detail, the way the closure is angled allows one to easily pop it up without needing to wedge their nails into it.
One side of the Angle Solo features a series of vented ports for enhanced bass presentation, while the other side of the speaker features the main controls. Here you'll be able to adjust your volume, pause and play music, turn the speaker on and off, as well as toggle the Bluetooth connectivity. The rear of the speaker has four rubberized areas placed on each corner, which helps the speaker remain stable and useful when you turn the volume up.
The finish of the Oontz Angle Solo is great; it features a durable plastic that doesn't seem to scratch easily, and in cases where small scratches occur, they seamlessly blend into the design. This is a benefit we often see from thick plastic designs as opposed to those finished with paint, where damage is easier to notice and ultimately more prevalent. I was surprised by how light the speaker is, weighing less than the smaller Soundcore Mini by Anker.
For the outdoors, the Angle Solo does what it needs to but doesn't excel at the task. For speakers this size, we've come to expect fairly rigorous waterproofing, and while the IPX5 rating offered by the Angle Solo is nothing to scoff at, it also leaves me wanting more. What stood out here was that the Angle Solo is also advertised as dust resistant but only offers an IPX rating. We would have expected to have seen an IP65 or similar rating, which would give us more of an idea of just how dustproof it really is.
The fact that we see IPX5 at least lets us know that the Oontz is a viable shower speaker too. An IPX5 water resistance rating means this speaker can handle limited exposure to streams of water, though it must not be submerged.
The Angle Solo is also a great audio option for hiking or camping. While it won't be able to entertain a group of friends around a campfire for couples or individuals, there is enough volume to improve your standard phone audio quality.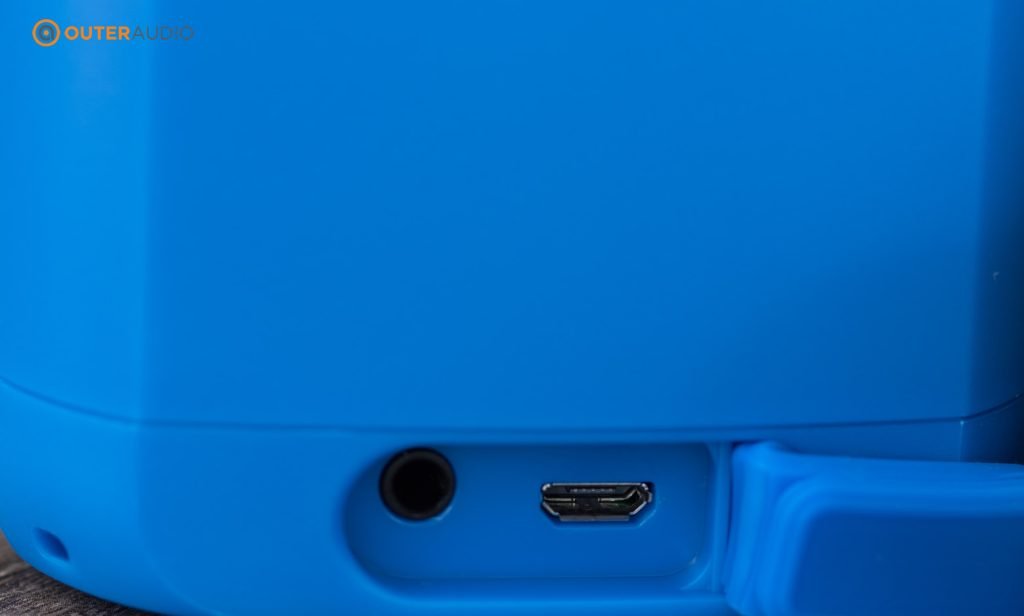 The buttons on the Angle Solo are satisfying to press with their rubberized nature. They are sufficiently responsive but require some decent pressure to activate. I prefer this approach as it tends to protect from accidental button pressing while in transit.
The biggest strength around the Oontz Angle Solo's design is the structure, which allows for reliable seating that can be placed on a rock during a hike or on the side of your shower. Ultimately, there are few situations where you aren't going to find a place to put the Oontz.
How The Oontz Angle Solo Sounds
At the center of the Oontz Angle Solo's sound is a single driver being run with a 5W internal amp. While there is no specification on the actual driver size included, it appears to be a 2" neodymium driver. Driver size is typically the most restraining factor of audio quality when it comes to small Bluetooth speakers, and the Oontz is also limited in its capabilities because of this.
Bass Performance: 4.3/10
Mid-tone Performance: 5.1/10
Treble Performance: 4/10
Volume: 6/10
Balanced Sound: 4/10
Summary of Audio Performance
The Oontz Angle Solo performs fairly average for a speaker of its size but is quite good for its price point. Its biggest limiting factors are the single driver configuration and the driver size. It handles midrange frequencies the best, though they still lack detail and crispness. The bass is there but is thin and more present as a one-dimensional kick than a nuanced depth. There is a distinct lack of low-end bass performance.
When it comes to the overall audio performance, the Oontz Angle Solo will do just fine for casual listening when out on a hike or if you're in the shower. But I wouldn't want to bring this out around a group of friends to try to flex my speaker's capabilities.
Despite its limited size, the Angle Solo can still produce decent volume, and there isn't a noticeable quality degradation as the volume increases in most tracks. However, there are some pieces of production where the extra volume may make the lack of separation more noticeable.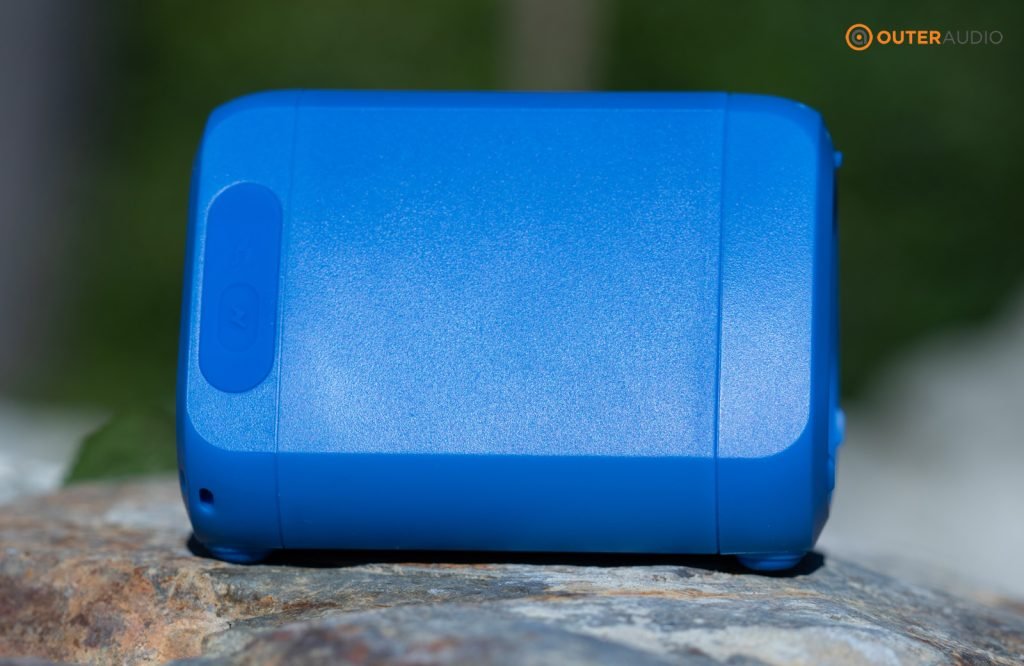 A Deeper Dive Into The Angle Solo Sound
To test the performance of the Angle Solo, I played a few different genres at various volumes to get an idea of how the speaker performs in everyday usage.
When listening to Fuel's Shimmer, the Oontz Angle Solo handles the acoustic introduction with a natural, clean, and intelligible vocal tone. However, the result becomes a little messier when additional instrumentation kicks in with more aggressive tones. There is a limited degree of separation across instruments, and elements like the vocals, drums, and guitar have a habit of stepping on each other's toes, so to speak.
Next, I opted to test the Angle Solo with a more electronic-focused production. Epicenter from VNV Nation has an introduction that sees a steady kick drum with a subtle clap accented with panning effects and a bass melody. I frequently use this song to determine speakers' performance, as many smaller drivers often struggle to carry across all the instrumentals due to the lack of separation and depth.
The Oontz failed this test, performing similarly to my Samsung Galaxy S22 Ultra when it came down to picking up the finer details of the bass melody. In most areas, the Oontz performs far better than the phone speaker, but I'd really have liked to see more detail on the low end, particularly within the mid and low bass. No matter how the volume was increased, these frequencies were absent from the audio.
Above is a recording of the intro to Epicenter, recorded at 2 feet with the Angle Solo. Below is a direct recording of the same intro. You can easily hear the differences between these two tracks and the lack of frequencies in the first sample.
Across songs and genres, the same strengths and drawbacks continued to make themselves heard. The Oontz Angle Solo does a fair job in the midrange, though it does definition. This lack of definition exists across all frequencies, with the highs not feeling lively and the mid-tones sometimes just falling flat.
Since this is a single-driver speaker, we naturally see a lack of stereo imaging. And I think it's important at this point to note that while speakers of this size are by no means terrible, they are somewhat limited by their design. So when I talk about audio performance, I do need to specify that most small Bluetooth speakers will suffer these same problems.
I've seen other reviewers claim this speaker offers a 360-degree sound. This is not the case. Audio is directed upwards and outwards from the driver at an angle, and the speaker's positioning directly influences the integrity of the perceived audio quality.
Again, I feel it's vital to conclude our discussion around sound quality because this speaker can be purchased for around the same price as a steak dinner. One should set reasonable expectations regarding budget products, and while the sound quality does lack, that doesn't mean it lacks value.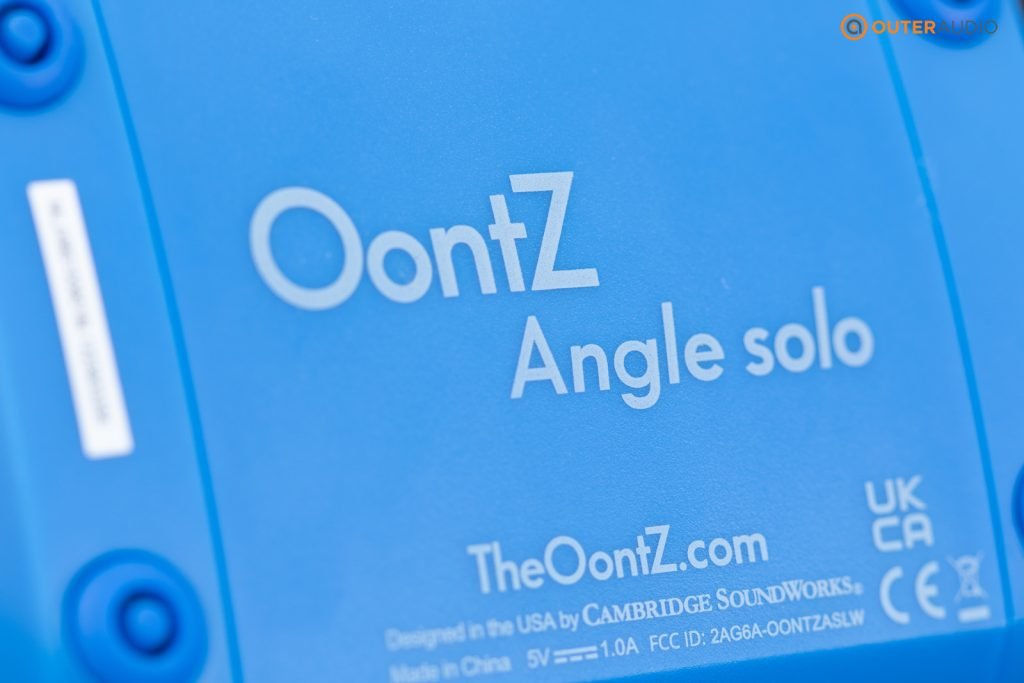 Battery Performance
With a speaker this size, the limits on battery size often result in limited playtime. With this speaker, Oontz claims you can achieve a total of 10 hours of playtime. I tested this independently to see just how realistic these claims are.
With an hour of regular volume listening, the battery life didn't drop below 95%, and at a moderate volume, we saw just over 10 hours of playtime. Oontz has a good reputation for its advertised battery performance versus the actual amount of playtime found during testing.
The Oontz Angle Solo also benefits from a fairly fast charging time. It takes around 4 hours to charge the battery from zero to 100 percent.
Apps, Features & Connectivity
While Oontz does have its own mobile app, there isn't support for the Angle Solo, only the larger Angle 3 and Angle Pro series speakers. While this is somewhat disappointing, it's also understandable, as the OontZ Angle Solo is created primarily for casual listening and portability. This means you are stuck with the preset sound signature without the possibility of EQing it.
Features are also few and far between in smaller Bluetooth speaker models; the Oontz Angle Solo is a fairly barebones speaker that is limited to volume control and general play functions. It offers the ability to dual pair, though this process is sometimes difficult to work correctly.
The Angle Solo has Bluetooth 5.0 connectivity. Although it's not the latest, 5.0 is sufficient enough to provide a reliable wireless connection over a range of up to 100ft. However, this is a bit optimistic and is based on a theoretical Bluetooth connection range.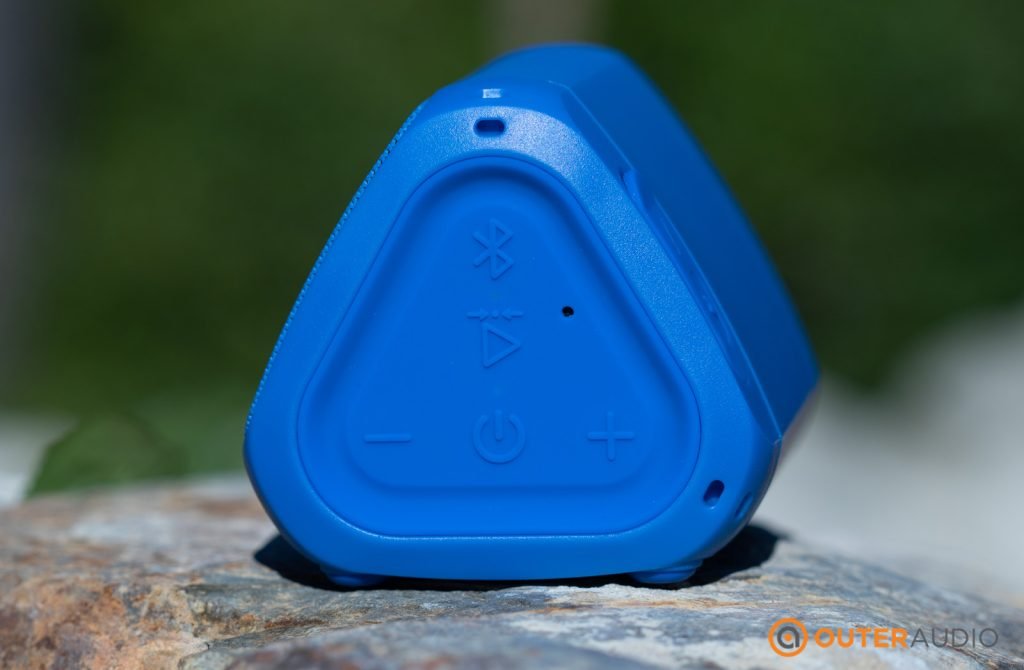 Summary of the Oontz Angle Solo
The Oontz Angle Solo isn't the best-sounding small Bluetooth speaker I've heard. It lacks low-end bass, and the midrange sounds recessed and a little muddy. It's also not the worst sounding, providing sufficient volume without losing further audio integrity at higher volume levels.
For its price point, the Oontz Angle Solo does a great job – but if you're looking to stack it up against more expensive Bluetooth speakers of the same size, there are noticeable flaws in the Angle Solo's audio.
The biggest strength of the Angle Solo lies in its colorful designs and durable plastic finish. While it offers waterproofing and dust protection, I would have liked to have seen an allocated dust protection rating for further peace of mind.
Thanks for your feedback!