Shower speakers are a great way of bringing audio to your bathroom on a budget. Whether you're looking to catch up on podcasts or jam out to music while showering, a good shower speaker can prove a great addition to your morning routine. We've compiled a list of the best shower speakers on the market.
This is one mean little speaker, perfect for the shower. It offers superb sound and is simple to use and connect.
Our Top Picks
Overall Top Choice
The IFox IF012 is our top choice for the best shower speaker, offering all the basic functionality that one could want in a shower speaker, and it does so at a really good price.
Loudest Shower Speaker
The Oontz Angle 3 is the loudest speaker on the list, with 10 watts of power of great sound. While the Angle 3 works great in the shower or around the bathroom, it is a versatile option that can also be used as a general Bluetooth speaker.
Best Sounding Shower Speaker
It's a close competition, but the JBL Clip 4 is, in my opinion, the best-sounding speaker on this list, which, while not the most bass-heavy of speakers, does a great job at the sound quality. With the JBL Go 3 and Angle 3 following closely.
Best Battery Life
The Oontz Angle 3, the biggest speaker of the bunch, also packs a larger battery. You should be able to squeeze out nearly double the amount of playtime with the Angle 3 over other shower speakers,
Most Versatile
Regarding versatility, the JBL Clip 4 has the most to offer. The Clip 4 is a popular Bluetooth speaker choice for active lifestyles and has IP67 water protection, making it ideal for shower use.
Best For Lighting Effects
Donerton shower speakers feature lighting effects that can enhance your bathroom's sensory experience. If you want to add color to your shower experience, this speaker has five lighting modes to assist.
What Do you Look For in a Shower Speaker?
Besides the obvious requirement that a shower speaker should be waterproof (we prefer IPX7-rated speakers) tell us what the features are that you look for in selecting a shower speaker.
The Top 3 Features of a Good Shower Speaker?
Our Selection of the Best Shower Speakers
1. iFox iF012 Bluetooth Shower Speaker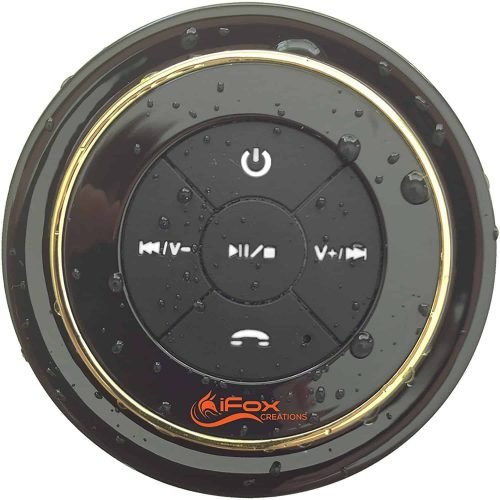 Why We Picked It: The iFox iF012 is a powerful shower speaker that takes up little space. At around $35, this shower speaker also caters to those on a budget. You also get a similar large button design to the SoundBot, meaning this speaker caters to easy control access.
The IPX7 water resistance rating means you'll have the peace of mind that the speaker won't get damaged. The IPX7 rating means it can be fully submerged in the water up to 3 feet without damage. Despite this speaker being a couple of years old at this point, it still brings Bluetooth 5.0 to the table, ensuring great connectivity over longer distances than older Bluetooth versions.
Another really cool feature of the iFox iF012 is the Siri compatibility that comes with the call features on this shower speaker. This means you can perform queries and commands through Siri while showering if you're short on time to complete admin.
Battery life on the iFox iF012 is impressive, with up to 10 hours of playtime at a lower volume. For typical use, you can expect around 6 hours of battery life.
Features
Large buttons for easy access while showering
IPX7 water resistance ensures safety from damage during regular use
Bluetooth 5.0 brings modern codec compression and better connectivity
10 hours of playtime equate to around 40 showers before needing a recharge
Our Thoughts
The iFox iF012 features a classic shower speaker design with large buttons for easy control. While the sound quality isn't the best on this list, this speaker has everything you'd want in a shower speaker.
Buttons for easy control

Decent volume output
Well waterproofed
Affordable
The sound quality isn't on a JBL level
Battery life seems lower than advertised
2. JBL Clip 4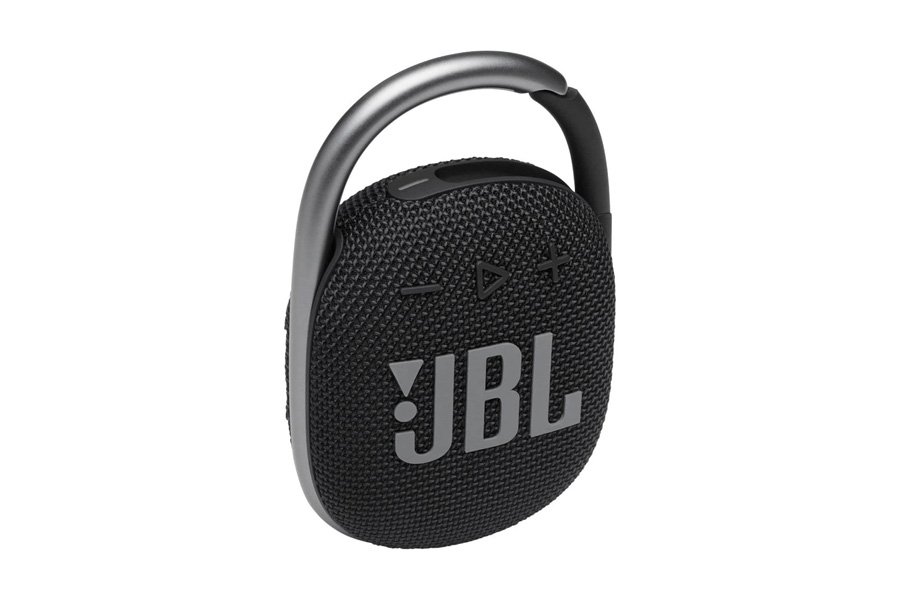 Why We Picked It: The JBL Clip 4 is the smallest of the two JBL Bluetooth shower speakers on this list. With dimensions of 1.8 x 3.4 x 5.3" and a weight of just 8.4 ounces, the Clip 4 can even fit in your pocket. Because this is not a dedicated shower speaker, it also means it comes with a whole lot of versatility. The Clip 4 is made to be thrown onto your bicycle handles, attached to your belt loop when working, or used in the shower.
I feel comfortable recommending this speaker as one of the best shower speaker options because of the renowned quality of the Clip series as a whole and the extensive waterproofing that it offers. With a resistance rating of IP67, the Clip 4 is not only protected from limited submergence but also carries a dust protection rating.
The Clip 4 is one of the latest releases on our list, offering Bluetooth 5.1 connectivity. In addition, it holds a slight edge over the JBL Go 3 in that it provides more volume (5W vs. 4.2W) and has a longer battery life of up to 10 hours.
Features
Bluetooth 5.1 connectivity, ensuring faster transfer speeds and better codec compression
10 hours of battery life on a single charge
IP67 resistance rating, protecting it from both dust and water submergence
The lightweight and versatile design means this speaker can be a lot more than just a great shower speaker
Our Thoughts
Similar to the JBL Go 3, the Clip 4 is the latest version of the Clip series and is another speaker that isn't dedicated as a shower speaker but offers enough versatility to move between your shower, your belt buckle, and your bicycle.
Great build quality
IP67 water-resistance
Loud and sounds great
Extremely versatile
Rather expensive
Limited controls on the speaker
3. Donerton Shower Speaker With Radio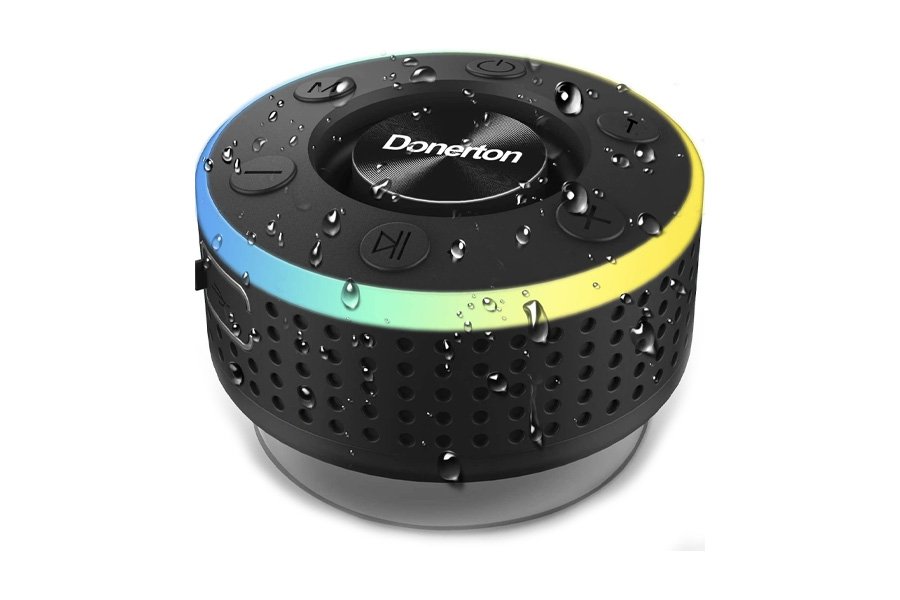 Why We Picked It: I've added the Donerton shower speaker primarily for its FM radio functionality, which is often sought after yet not present on any of the other shower speakers on this list. The Donerton has a classic shower speaker design, featuring a circular appearance with large, easy-to-access buttons. These larger buttons make controlling this speaker in the shower a breeze.
The company claims that the speaker is IP7 waterproof, though we suspect this is a mistranslation, as an IPX7 waterproof rating wouldn't align with how they have marketed this speaker. They specifically note not to submerge this speaker in water, though it will still work completely fine in the natural showering environment where its protection will keep it safe from moderate splashes and sprays of water. The Donerton is also one of the few shower speakers with LED lighting effects. A gradient-style lighting display comes with 5 different modes you can toggle between.
The sound quality of the Donerton shower speaker outperforms many other budget shower speakers on the market, with fairly impressive clarity. In terms of battery life, you will get around 7 hours of typical use out of this shower speaker. You will also be able to select between either a black or blue model of the speaker.
Features
FM Radio functionality provides a feature found on few shower speakers
Colorful LED lights can bring some flare to your shower experience. These light settings can also be toggled
Bluetooth 5.0 connectivity brings modern speeds and sound quality
The large button design makes for easy control of your music
Our Thoughts
The Donerton shower speaker brings the party to your shower with the addition of LED lighting and FM radio functionality.
FM Radio functionality

Large buttons for easy control access

Lighting effects
4. Oontz Angle 3
Why We Picked It: The Oontz Angle 3 is one of the larger Bluetooth shower speakers, and that's because while it's not technically just a shower speaker, the Oontz Angle 3 is an all-around versatile Bluetooth speaker, similar to the JBL Go 3 in that it can be used in or out of the shower. However, the Oontz Angle 3 is a larger speaker with a larger battery, meaning you will get a lot more battery life from the Oontz Angle 3 (Up to 15 hours).
The sound quality is one of the key features of the Angle 3, providing 10W of audio output, enough for not only shower use but for general portable Bluetooth speaker use as well. The speaker also comes with IPX7 waterproofing, so you won't need to worry about speaker damage, even if it comes in moderate to heavy contact with water.
In addition to the mentioned similarities between the Oontz and the Go 3, the Oontz also comes in a wide array of colors, allowing you to add a splash of color to your bathroom. You won't have the same rope attachments for easy placement as the JBL Go, but you will get more volume in exchange.
Features
IPX7 water resistance will protect from pressure spray and even limited submergence
10W max output provides great volume
Various color options are available to match your personality
Our Thoughts
The Oontz Angle 3 is a brilliant little waterproof speaker. While you won't find the features of a dedicate shower speaker, this speaker can be used in the shower, bath, or even out on the patio table as a garden speaker.
Highly versatile

Great sound

Excellent value for money
Great battery life
Rather expensive
Simply massive, it can be difficult to move
No battery, only AC power
5. INSMY C12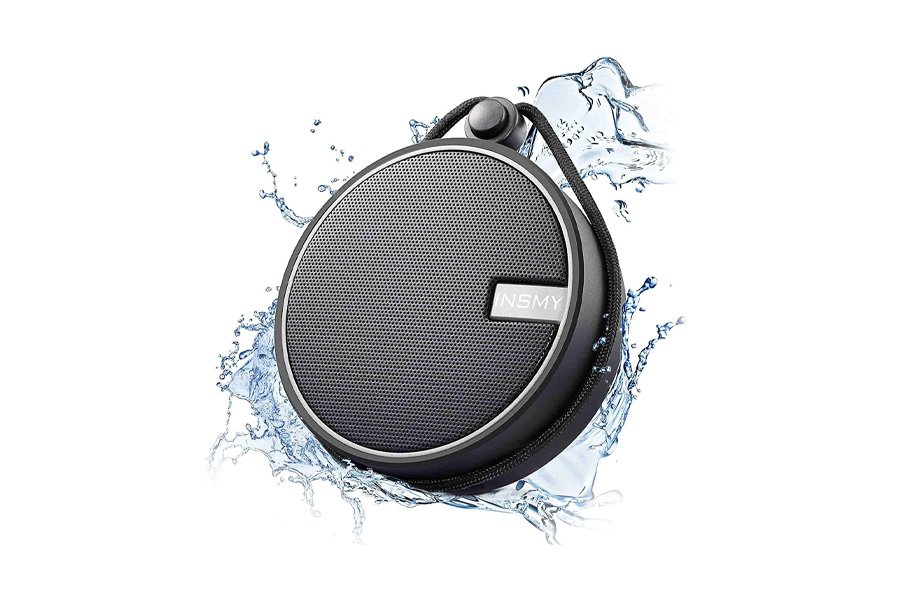 Why We Picked It: While the INSMY C12 doesn't bring a household name to the table, it does carry everything we look for in a good Bluetooth shower speaker. The INSMY C12 is comparable to the JBL Clip 4 but settles with IPX7 and Bluetooth 5.0 – by themselves, these features are still in line with what we expect from most modern shower speakers, but they do fall short of the Clip 4. However, you will also be paying close to half the price for the INSMY C12, making this a great budget alternative.
The INSMY C12 can provide you with 12 hours of playtime, meaning you'll be able to get around 48 showers out of one charge. A cool feature of the INSMY C12 that the Clip 4 doesn't have is the addition of a detachable suction cup, making it even more versatile around the bathroom. Additionally, the buttons on the C12 are easy to press.
There is a newer version of the C12 (C13), which improves battery life and waterproofing. But the new model lacks the suction cup that we felt is useful to those who may not have a shower design that caters to using a carabiner.
You're not going to get quite the same sound quality as the Clip 4, but with 5W of audio output and an overall good sound representation, this is still one of the best shower speakers on a budget.
Features
IPX7 water resistance allows for protection from sprayed water and even limited submergence
Bluetooth 5.0 brings modern connectivity and codec compression
A detachable suction cup can be removed to turn the speaker into an all-around portable waterproof Bluetooth speaker
12 hours of battery life means you only need to worry about charging this speaker once every few weeks
Our Thoughts
INSMY's C12 shower speaker is an affordable option that brings impressive sound quality in the mids and highs but lacks bass response as most small speakers will.
Affordable

IPX7 waterproofing

Great battery life
Good sound
6. JBL Go 3
Why We Picked It: The JBL Go 3 is an extremely portable and versatile Bluetooth speaker that is suited not only for shower use but can be used everywhere. We've selected this product because it carries the same reliable quality in build and sound that we expect from a JBL product while still being priced similarly to other white-label brands.
The IP67 rating ensures that this speaker is not only just waterproof at an IPX7 level but also offers dust protection. We also love that the Go 3 is available in a multitude of color variations, meaning you can select your speaker to match your bathroom decor. The built-in rope handle, in combination with its small and light design, means you can easily hang this speaker from your shower trim.
You can get up to 5 hours of use from a single charge or around twenty 15-minute showers. In addition, the JBL Go 3 comes with the latest Bluetooth 5.1 version.
Features
IP67 water resistance protects from both water and dust
Various color options allow you to customize your aesthetic
5 hours of battery life with regular use
The latest Bluetooth 5.1 technology
Our Thoughts
Not specifically a shower speaker, the JBL Go 3 is a versatile Bluetooth speaker that can double as a shower speaker with its small size and impressive IP67 waterproof rating.
Great sound quality

Versatile

Bluetooth 5.1
Not many controls
Somewhat low battery life
7. Atomi Removable Magnetic Bluetooth Shower Speaker
Why We Picked It: The Atomi Shower Speaker stands out from the crowd with a very unique and interesting design that replaces the showerhead of your speaker with one that includes a Bluetooth shower speaker.
Despite what comes across as a fairly well-engineered product, the Atomi shower speaker doesn't break the bank and can typically be purchased for around $30. This speaker is split into two main components, a shower head attachment and a portable speaker. The portable speaker part can be used outside of the shower, where it will need to be charged while the main shower head attachment remains in place, making sure your shower remains functioning during showering.
While this product is only rated as IPX4, the way it is designed means this lower-than-standard rating doesn't impact the performance or life of the speaker too heavily. I would recommend removing the speaker from the showerhead when the shower is off to prevent any high-pressure water from hitting the speaker.
The unique nature of this speaker, the way it integrates with your existing shower setup, and the overall sound quality that one gets from this speaker earn it a place on this list.
Features
IPX4 water resistance rating is below standard but is not of concern due to the design
A magnetic attachment system makes it easy to add or remove the showerhead attachment
3-watt output means this isn't the loudest shower speaker on the list, but the audio quality is not bad
Bluetooth 4.1 connectivity isn't cutting edge but remains an efficient and prominent Bluetooth version
Our Thoughts
The most unique product on this list by far, the Atomi shower speaker head is a shower head that doubles as a shower speaker. While the sound quality doesn't match some of the other speakers on this list – the unique design features will appeal to many.
Unique design
Decent battery life
Lacks some volume
Slightly older Bluetooth version
Only rated IPX4
8. SoundBot SB510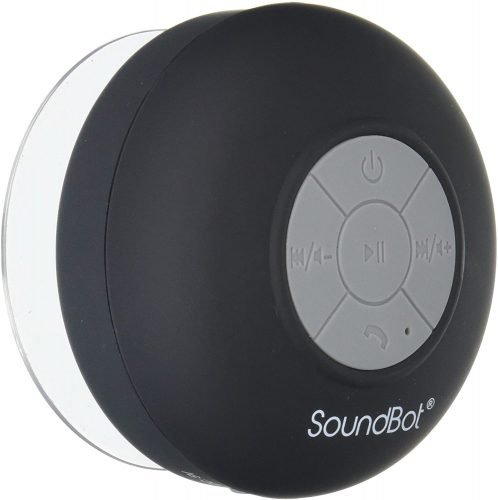 Why We Picked It: The SoundBot SB510 HD brings a different style to the table with the inclusion of a suction cup. This is a dedicated shower speaker that lacks the same versatility as the Oontz or JBL – but it does what it is made to and does it at an unbelievably low price.
A feature that sets it apart from the JBL speakers on this list is the easily accessible, large buttons which means you can easily skip tracks, adjust the volume, or even take a call while in the shower.
While I always prefer to see IPX6 or higher with shower speakers, the SoundBot SB510 offers slightly older specifications than the more expensive options on this list. The areas where this is most noticeable are the water resistance rating and the slightly older Bluetooth 4.0 connectivity.
These speakers are also available in multiple color options ranging from traditional black and white to more eccentric options like lime green, yellow, blue, or pink. Despite the slightly older tech, the SoundBot SB510 HD is still great value for money and can still offer you up to 6 hours of playtime for your shower sessions off a single charge.
Features
Up to 6 hours of playtime on a single charge
Large buttons for easy control
Suction cup to mount it on your shower out of the direct stream of water
Bluetooth 4.0 technology is slightly dated, but given the proximity of mobile phones to the shower in most cases, this shouldn't be too noticeable
Various color options
The extremely low cost makes for low investment risk
1-year warranty from the manufacturer
Our Thoughts
The SoundBot SB510 has a suction cup design that can easily stick onto your shower door. It comes in various colors and has a lot to offer for its price.
Easy controls

One year warranty

Affordable
Slightly older Bluetooth technology
Battery life could be better
How To Choose A Shower Speaker
While all of the shower speakers on our list are products we could recommend, they have specific features that vary between each model, and the product you buy should cater to the features you are most interested in or that best suit your home design. For instance, showers that don't have somewhere to hang the speaker may be best served with a suction cup design.
If you're someone who isn't a fan of playlists and want to be able to change the track that you're listening to – a shower speaker that has buttons will be essential. Similarly, larger button designs are easier to use in the shower. Buttons won't be necessary if you're okay with setting your playlists before getting into the shower.
For waterproofing, if you're planning on using your speaker in a shower, you can typically use anything from an IPX4 to an IPX7-rated speaker. While the lower IPX ratings will still protect a product from light splashes and sprays, an IPX7 or IP67 speaker is the best choice if you plan to place it in an area where it may become overly wet or submerged.
When you look at the Bluetooth versions of the speaker, you may notice some differences in version 4 vs. version 5. However, these benefits are typically most noticeable when your source device is further from your speaker, as the range is a big benefit of newer Bluetooth devices. I wouldn't recommend worrying too much about your Bluetooth version unless you plan your source device (phone, tablet, etc.) to be more than 3 meters from your speaker.
While lighting effects aren't going to be for everyone, children and adults can enjoy the light adding a bit more to the experience when combined with the music. 
Battery life is, of course, another important factor when purchasing any Bluetooth speaker. Shower speakers typically provide 5 to 10 hours of usage off a single charge. If your average shower is 15 minutes long (7 minutes longer than the average), you can get a good 40 showers into the battery life of a single charge for some products. For some, battery life is more important than others. If you don't mind charging your device regularly, battery life isn't too huge of a concern.
Volume and sound quality are another consideration and one of the most important ones when buying any speaker. Because showers are usually very acoustic, one doesn't need a lot of volume at all. Most of the speakers on our list are between 4W and 10W output, which in most cases will be enough for a full audio experience in the shower. Just don't expect the same high-fidelity sound you'd get from a pair of bookshelf speakers, for example.
Why is my shower speaker volume low?
With Bluetooth devices, we commonly forget that their volume control is often limited by the source device and not the speaker itself. If your shower speaker isn't loud enough, ensure your source device (Phone, Tablet, etc.) has its volume turned up.
Do I need a suction cup design?
The design you choose should be based on your shower setup. If you have a material divider instead of a glass door for instance, a suction cup may not be the best choice. Either a suction cup or hanging design will suit most showers.
My sound disconnects or is choppy. What is wrong?
A bad Bluetooth connection typically causes choppy sound quality. This can often be due to older Bluetooth technology being used, or if your phone is too far away from the speaker. Moving the phone closer will in most cases resolve this problem.
Is it best to go with a dedicated shower speaker or a waterproof Bluetooth speaker?
If you want the best sound quality possible, opting for a portable Bluetooth speaker that can be used in the shower will often give that, but they are also more expensive. Dedicated shower speakers are less versatile and find themselves more limited in their use, but their larger control buttons and suction cup designs also hold value.
How many watts should my shower speaker be?
You only need around 4W to 10W for a shower speaker. An efficient 3W speaker can even provide enough audio – as showers cause sound to reverberate heavily.
How important is battery life with shower speakers?
Battery life is always going to be important if you're someone who hates charging devices. Thankfully because the average shower only lasts 8 minutes, a single charge can get you a month or more worth of showers.
This is one mean little speaker, perfect for the shower. It offers superb sound and is simple to use and connect.
Thanks for your feedback!