The Bottom Line
The Soundboks 3 holds nothing back with its monstrous 126dB of volume, making it the loudest portable Bluetooth speaker available on the commercial market. The only real drawbacks with the Soundboks are their relatively large size and weight, meaning it's not the most easily portable speaker. If being able to move your speaker around frequently is a requirement, the Soundboks Go may be a better choice.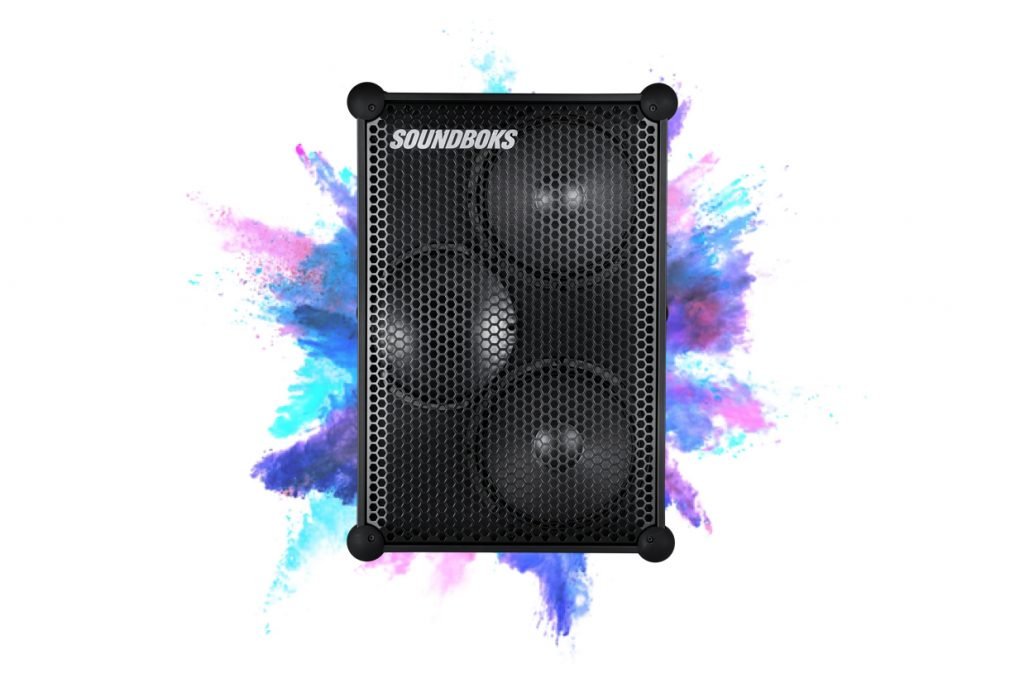 A familiar face: The Soundboks speakers make regular appearances on our best lists, often ranking in high positions or earning a spot as the best speaker in our category of the day- the Soundboks is an all-round highly usable, and awesome Bluetooth speaker that's great for house parties, tailgates, camping trips, karaoke and more.
A Big Speaker With Big Sound
The Soundboks Gen 3 is a reasonably large speaker, weighing in at 34 lbs. and measuring 25.6 x 17 x 13 – having a friend to help carry this around will definitely help! I'll start off by saying the size of this speaker is definitely justified by the outstanding volume levels this speaker can reach (more on this later.
The Soundboks is constructed from plastic-coated Poplar plywood, while the speaker grille is made using powder-layered steel and can be swapped for a different color version using the supplied Allen key. This is a small improvement from the previous Soundboks model, which utilized birch in place of plywood for the speaker's main cabinet design. Another minor upgrade that is not visible to the eye is the balls on the corners of the enclosure- the 3rd Generation model uses silicone rather than aluminum.
There isn't much to say about the design of the Soundboks, as it ignores the need for flashing lights and other gimmicky additions and rather pours deeper focus into developing a simple, durable, and easy-to-use workhorse Bluetooth speaker. Aesthetically, the Soundboks can complement any environment and won't necessarily stick out anywhere.
The Soundboks 3 also features a speaker stand hole with a thread that supports most industry-standard stands for use in party environments. While the speaker itself doesn't hold any water-resistance rating, the internal components are all graded IP65, which will protect them from splashes, dust, or sand.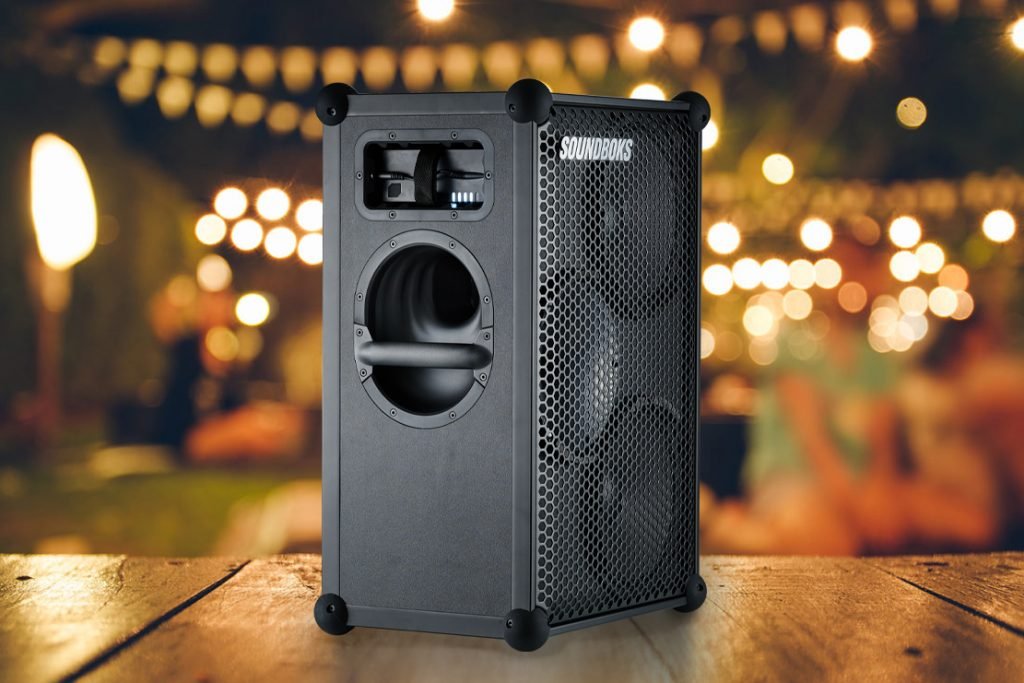 With Up To 40 Hours of Battery Life The Soundboks Stands Out
The Soundboks 3 claims to hold a battery life of 40 hours when running at moderate listening levels and 5 consecutive hours at full volume. I found this figure to be pretty accurate, though not much of an upgrade from the Soundboks 2. While 5 hours might sound a little disappointing if you're planning on using the Soundboks all night long for a house party, you most probably won't need to run this speaker at maximum volume output level- unless you're trying to attract the attention of the police. Aside from that, 40-hour battery life for a Bluetooth speaker is incredibly impressive.
Once the battery has completely depleted, the Soundboks takes around 3 and a half hours to recharge fully, and if you find yourself separated from AC power, the Soundboks accepts a 'Batteryboks', which is a brick-like removable battery that you can swap with the current battery unit, allowing playback to continue while you recharge the battery separately. 
The Connectivity & Controls Of The Soundboks Gen 3
The Soundboks Gen 3 offers Bluetooth 5.0 connectivity as well as an auxiliary input and output. This auxiliary input can be used to either stream music from a non-Bluetooth source device or form a wired link between speakers. The Soundboks also includes 2 x combo jack ports that accept both ¼-inch jacks for electric instruments such as guitars, basses, keyboards, or XLR cables from microphones, mixers, DJ controllers, or other sources.
I really like this feature on the Soundboks, especially because it suits the PA speaker-like aesthetic. However, I would have liked to see an independent control for microphone/jack volume level if you're using the Soundboks for karaoke or just jamming along to a track with your instrument.
A feature they removed on the 3rd Generation model, which I also miss, is the two sound modes for quick and easy sonic tuning. However, the 3rd Generation Soundboks is compatible with a mobile app where you can adjust the tonal response of the speaker using a graphic EQ type feature or select one of the presets available, which include a bass boost function
The Soundboks 3 promotes simplicity of use and excludes music playback controls you'll often see on Bluetooth speakers, such as play/pause, skip/rewind, etc.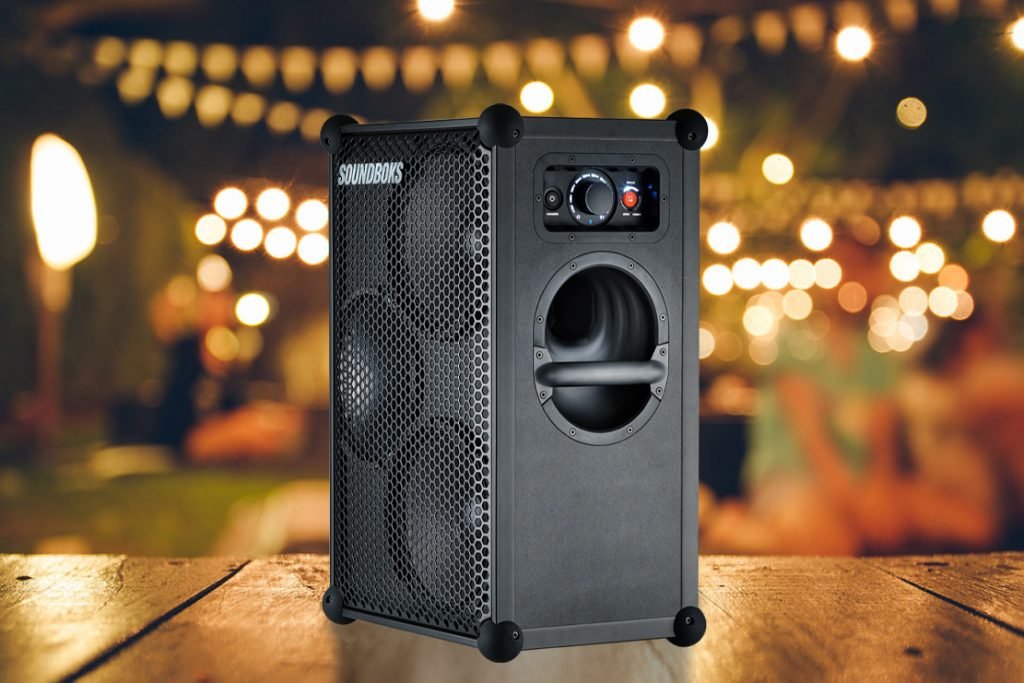 Huge Bass!
Aside from the capability of reaching insanely high volume levels, the Soundboks also produces surprisingly tight, full-bodied, and well-defined sound. The Soundboks 3's 'sweet spot' sits between the 40-60% volume level where the drivers are given enough space to breathe but aren't exactly being pushed to their limits just yet.
The Soundboks houses 2 x 10-inch subwoofers and a single 1-inch tweeter, this has effectively improved definition at higher volumes, where the Soundboks 2 would normally distort heavily in the ultra-low and high end. However, this comes at a small cost: I noticed a slight lack of lower-midrange fullness compared to the previous version, although this can be solved using the graphic EQ on the companion app (Android & iOS) or the Bass Boost button on the speaker.
If you're looking for exciting volume levels but don't want to sacrifice sound quality, you could pair multiple Soundboks speakers using one of two options: a wired 1/8-inch cable or wirelessly using the easy-to-follow controls below the volume knob labeled Host, Join, or Bond. This wireless technology, named TeamUP can support a wireless connection of up to 5 Soundboks speakers, and an unlimited amount can be linked using a wired connection.
The Soundboks 3 Stands Out In The Loud Portable Bluetooth Speaker Niche
The 3rd Generation Soundboks is a great speaker for those who love entertaining guests: whether you're the socialite who hosts all the popular house parties, the busking musician looking for a portable PA-like solution, or just a music lover in search of a speaker that can perform like a professional system when you need it to. 
The main selling point of this speaker is its ability to reach shockingly loud volume levels while still maintaining a relatively good sound structure. What the Soundboks lacks in additional features, it makes up for in sheer strength, durability, and user-friendliness- I feel it wasn't designed to do a million things, just one thing really well, and that is, play music as loud as humanly possible.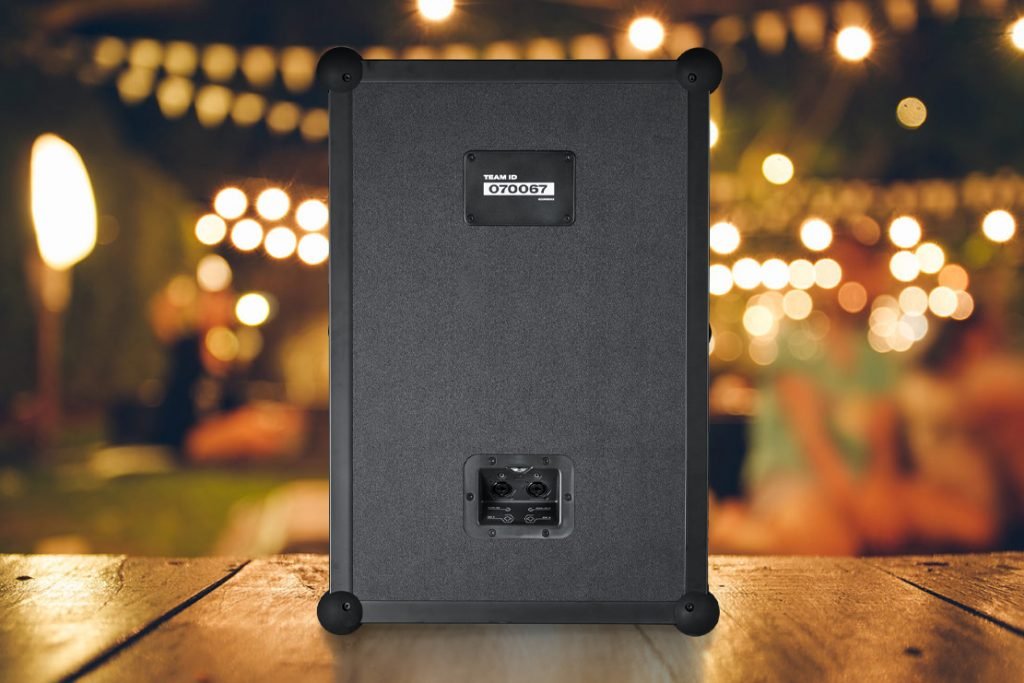 Is it worth upgrading from the Soundboks 2?
The Soundboks 3 is nearly identical to its earlier version, but what's on the inside makes the difference here. The Soundboks 3 will give you a considerably stronger listening experience than the 2nd Generation model across practically all volume levels. The Soundboks 3 also improves the mobile app usability and customization of the speaker's tonal qualities. Lastly, the 3rd Generation model uses higher-quality materials in the speaker's build, which ultimately makes for a more durable portable Bluetooth speaker.
If you're happy with how your Soundboks 2 sounds and feels, I'd say there's no real need to upgrade. The price difference is quite a bit between the two versions, so unless you're serious about that improved audio quality and build characteristics, I'd say hang onto your Soundboks 2 as it is still an incredibly portable Bluetooth speaker that will last a lifetime, can overpower virtually any other speaker on the market volume-wise and sounds great.
How Does It Compare With The Soundboks Go?
With the recent release of the Soundboks Go, you may be wondering which speaker is the best one for you to buy. The truth is that both speakers have a lot to offer and remain some of the loudest Bluetooth speakers in the world, but each has its own unique reasons for buying.
If the volume is your focus and little else matters, the Soundboks Gen 3 will still provide you with more volume and better bass response. However, the Soundboks Go is not too far behind with his 5 decibels less output.
The Soundboks Go is better suited for those who plan to move their speaker around a lot and require a little more portability. The Soundboks Go is around 14 pounds lighter than the gen 3. You'll lose a small amount of lower-end bass response, but it's not like the Go is a particular slouch in this area.
In terms of battery life, the two are fairly similar in playtime from typical use, at an impressive 40 hours. However, the Soundboks Go can offer up to 10 hours at maximum volume, while the Gen 3 typically lasts around 5 to 6 hours at extreme volume.
Is It Really The Loudest?
You'll see a lot of references to the Soundboks Gen 3 as the loudest portable Bluetooth speaker on the market or even called the loudest Bluetooth speaker. But just how accurate is that?
When the Soundboks Gen 3 was released, there was little doubt about the power it held, and it was quickly branded as the loudest portable Bluetooth speaker in early reviews. As it stands, whether or not this is true depends on how one defines portability. For example, while JBL doesn't release the decibel measurements of their products, it's widely believed that the JBL PartyBox 1000 can edge out the Soundboks Gen 3 in terms of volume.
The PartyBox 1000 though, weighs more than double that of the Soundboks Gen 3 – so whether or not it's a portable speaker could lead to debate. On the consumer market, the Soundboks 3 offers the most volume for a speaker that weighs in at a similar weight point.
Alternative Choices
If the Soundboks seems to be ticking the right boxes, but you're not quite convinced, find it too pricy, or if you have other features that are more important to you than just volume, check out some similar speakers that share many of the same attributes:
Turtlebox Gen 2
Since the release of the Turtlebox Gen 2, it's been tough not to bring it into discussions about the Soundboks series. The Turtlebox is slightly more comparable with the Soundboks Go, focusing on durability and portability. At 120dB, it's only 1dB lower than the Go, but still falls relatively far behind the Gen 3. If you're looking for a speaker that is loud but is more based on an outdoor lifestyle, the Turtlebox is a winner.
Ultimate Ears Hyperboom
If you're looking for high-quality sound with a little more than loudness, the Hyperboom by UE offers excellent quality sound in a much smaller form factor that doesn't cater to quite the same use as the Soundboks, but instead brings with it extreme portability weighing in at only 13lbs and delivering just short of 100dB of sound.
You're not going to get the same window-rattling volume, but you will get a versatile Bluetooth speaker that can host a small party or be easily moved between the rooms of your home for your own daily usage.
JBL PartyBox 1000
Since you're looking at the Soundboks Gen 3, we figure you may be looking for some truly next-level speakers. The JBL PartyBox 1000 fits this definition with its 1100w output that can produce sound levels that may well be louder than the Soundboks Gen 3 (JBL isn't known to publish its decibel output). The PartyBox 1000 is far from being what we consider easily portable, at over a meter tall, and weighing over 70 lbs! If you're looking for the ultimate party speaker, complete with lighting effects, the PartyBox 1000 will keep you rocking all night.
Thanks for your feedback!