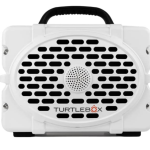 The Bottom Line
Rugged, loud, and eye-catching, the Turtlebox Gen 2 is one of those unique speakers that delivers on almost every promise. If you're an outdoor person or somebody who hauls their speaker to wild and crazy places, then it's hard not to love the 2nd Generation Turtlebox.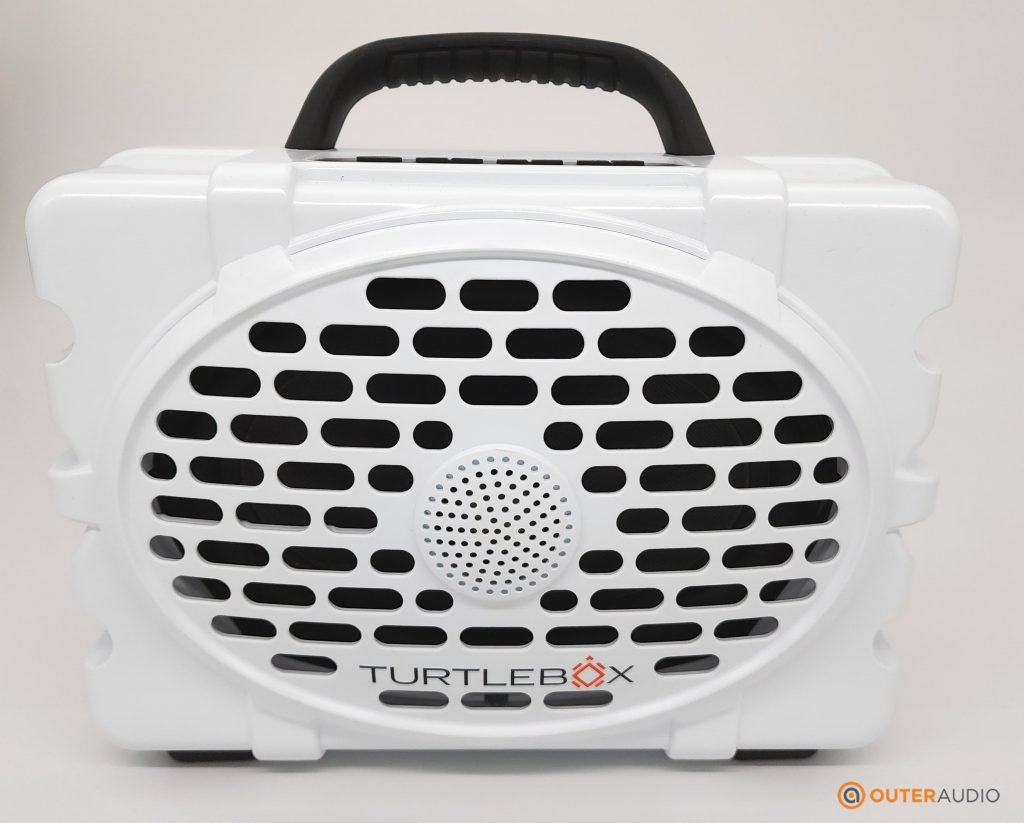 Making an appearance on our loudest Bluetooth speakers showdown, the Turtlebox Bluetooth speaker grabbed our attention from the moment we first heard it, and we have since decided to take a deeper look at this unique portable Bluetooth speaker.
The Turtlebox is a heavy-duty Bluetooth speaker. It's so durable I'd place it in the military-grade speaker category, if such a thing existed. Designed for outdoor use, the Turtlebox is rugged, weatherproof, and loud. While we reviewed the white model, the Turtlebox is available in green and gray variants.
The white version does look very clean, but it is worth noting that it is more prone to superficial discoloration when bumping into objects, as is often the case with rugged Bluetooth speakers. Choosing the black model will assist in preventing these small scuff marks.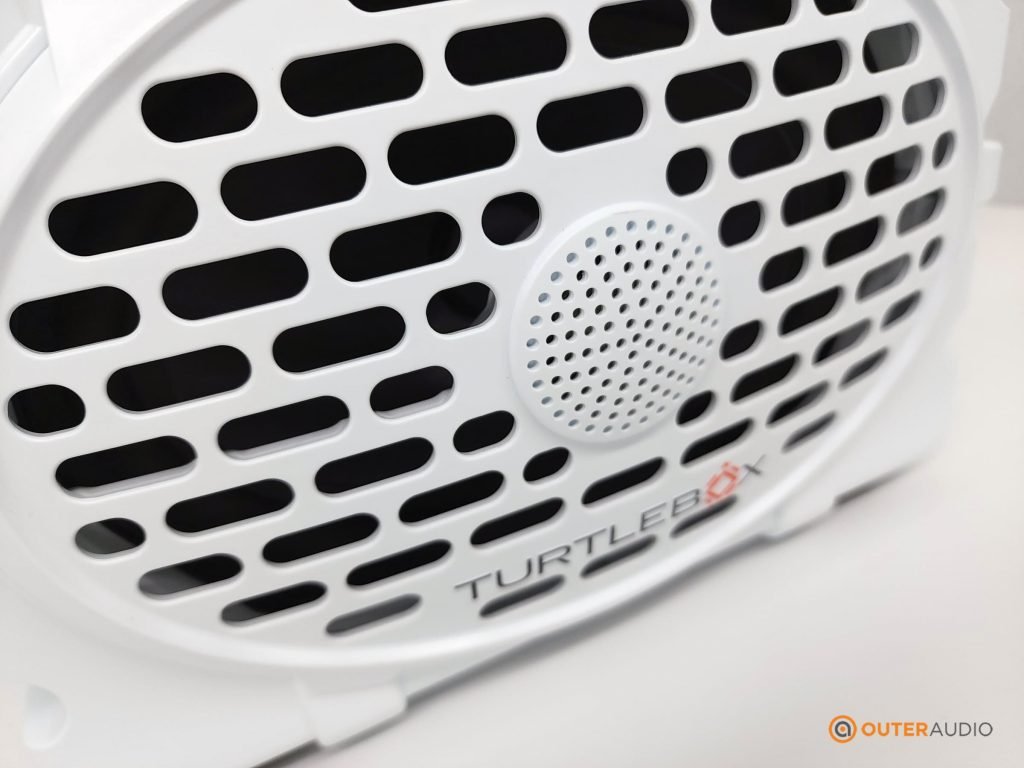 Design, Build and Feel
The Turtlebox is the most durable Bluetooth speaker on the market that offers 120dB or more of volume thanks to a rugged design.
An IP67 weather-resistance rating means the Turtlebox can take most elements you can throw at it.
Compact in design, the Turtlebox offers a lot of bang for your buck.
The Turtlebox Bluetooth speaker is housed in a rugged case resembling a military lunchbox or airstrike coordination device made from corrosion-resistant stainless steel. This, coupled with the waterproof cap over the speaker grille, makes for an IP67 weather-resistance rating, which deems the Turtlebox waterproof, dustproof, and impact resistant.
The integrated carry handle is covered in a rubber-like plastic for a secure grip, and the control panel is found beneath this handle. The buttons on the control panel are sealed with a rubber-like material that feels secure enough to repel water from the electronics but is still easy enough to press and control. The inputs and outputs are underneath a flip-open type seal, protecting them from exposure to the elements.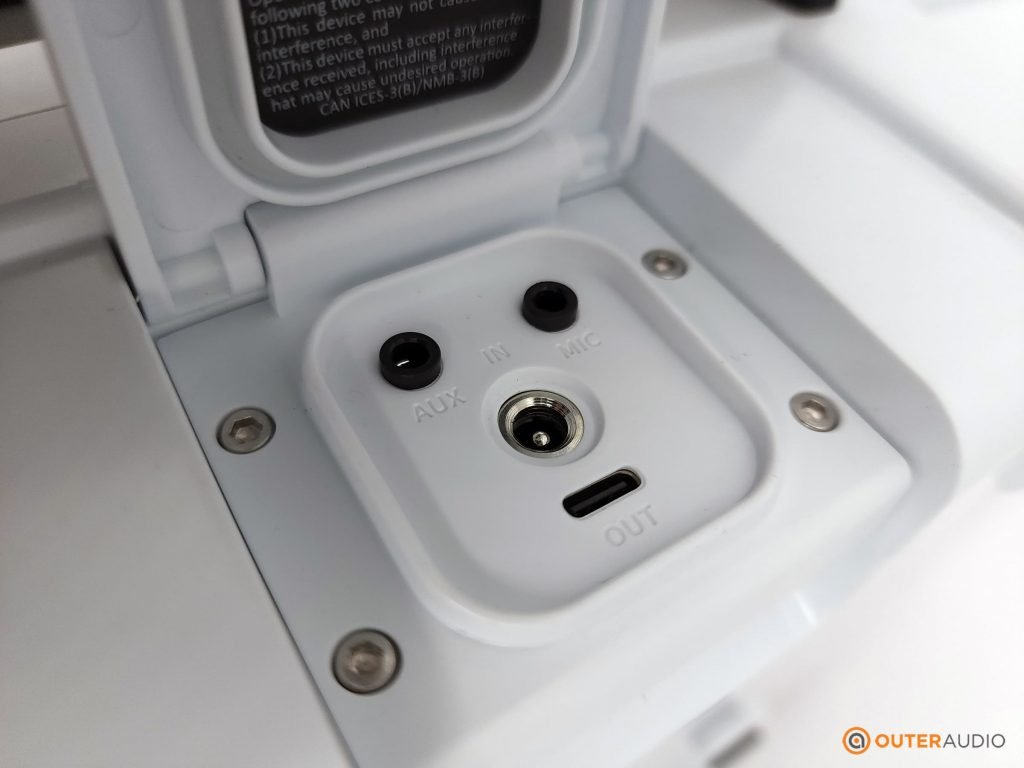 While this lid does its job of keeping hazardous materials out of the speaker's internal components, it doesn't seal shut that easily, which is quite a risk. The latch also feels like it could break off at some point, compromising the entire device's IP67 rating.
Overall, the speaker's design is unique and eye-catching, and its ruggedness is effective. However, this negatively impacts the user experience in some way: the Turtlebox is incredibly heavy. While this shouldn't be an issue for tailgates or house parties if you plan on taking the Turtlebox to the beach, hiking trail, or anywhere else where a bit of walking is required, the way it gets carried can be uncomfortable for some.
Otherwise, the Turtlebox is reasonably small considering the output volumes it's capable of, which we'll discuss in further detail later on. Compared to other similarly-sized Bluetooth speakers, the Turtlebox is by far the most durable we've experienced and was awarded for its ruggedness in our loudest Bluetooth speakers article.
Connectivity
Bluetooth 5.0 provides a high-quality wireless connection in most scenarios.
Offers a USB-C output that can charge your mobile devices.
Both 3.5mm auxiliary input and mic input are offered.
Aside from Bluetooth 5.0 technology which provides stable connectivity over long ranges and a latency-free listening experience, the Turtlebox also supports auxiliary connections through a 3.5mm cable. I really like a wired connectivity option on Bluetooth speakers, so I'm pleased to see this on the Turtlebox.
The speaker also supports a 3.5mm microphone input for karaoke sessions. The microphone preamp doesn't sound that great, and the 3.5mm connection is awkward, but for some loose karaoke jams or party announcements, it'll do just fine. Another loud and powerful Bluetooth speaker that supports microphone and instrument connectivity is the Doss PartyBoom, which features independent volume and echo controls for each input.
Lastly, the Turtlebox also supports mobile phone charging, though it doesn't have a conventional USB output but rather a USB-C type output. The previous Turtlebox model supported a USB-C input, which is quite a nice feature, though it's less commonly seen nowadays. The current Turtlebox model runs on an upgraded Bluetooth codec though, so I guess I can live without it.
The Battery
Capable of running for around 8 hours at high volume levels.
Typically battery life is between 12 and 18 hours.
The Turtlebox's battery is advertised as capable of running for 25+ hours. If you're listening at close to max volume, you shouldn't expect more than 8 hours of listening time, but at lower volume levels, we found that the Turtlebox would consistently give us in excess of 15 hours of use, even with loud listening levels at times.
On the Turtlebox's control panel, a strip of LED lights shows the speaker's current battery charge level. This is a great way to monitor the battery status rather than listening 'in the dark' to suddenly hear a "battery low" prompt.
Sound Quality & Volume
At 120dB of volume, this is one of the loudest Bluetooth speakers in the world.
The Turtlebox is able to push high volume levels with minimal distortion.
Stereo imaging is better than most Bluetooth speakers but still falls just behind the UE Hyperboom.
Before I go into how the Turtlebox sounds as far as dynamics, frequency response, and the stereo field are concerned, I need to take a moment to discuss this thing's monstrous volume capabilities.
For a speaker measuring just under 11.5 x 9 inches, the Turtlebox seriously pumps. This speaker is so loud I have to lower my source volume to 0% and dial it up from there, as I'm terrified of accidentally hitting Play while this thing is set on full blast. Reaching an average reading of 120dB at a distance of 6 feet, the Turtlebox can power a medium-sized house party indoors or outside.
The Turtlebox is designed for outdoor use, and its sound signature has been crafted to excel in outdoor environments where others fall short. If you're in a windy or generally noisy environment, not only can the Turtlebox overpower many sounds, it maintains high quality, crisp and well-defined sound at any volume level. This really impressed me, as many speakers begin to fall apart as they approach maximum output levels.
The Turtlebox's sound signature is unique but undoubtedly one of my favorites. No matter your listening preferences, you won't be disappointed with the sound quality here. The low end is tight, punchy, and warm, while the midrange is full-bodied yet bright enough not to be overpowered by the bass, and the higher frequencies are clean and crisp. At lower volumes, the low end can be a bit muddy, depending on the track, but generally, I feel this speaker sounds best when its volume level is running at around 30% or higher.
For a speaker that runs on a single driver and tweeter, the frequency range is nicely represented, though, with all speakers, it has a 'sweet spot', which I found here to be in the lower midrange between 100 and 350Hz.
As for stereo imaging, the Turtlebox separates left and right information better than many other speakers on the market, though it still can improve. Two Turtlebox speakers can be linked to form a stereo pair, which will solve this issue, provided you have another on hand. Compression-wise, I was surprised to see how the Turtlebox retains dynamic separation at high output volumes. This makes the Turtlebox an appropriate speaker to use for watching films.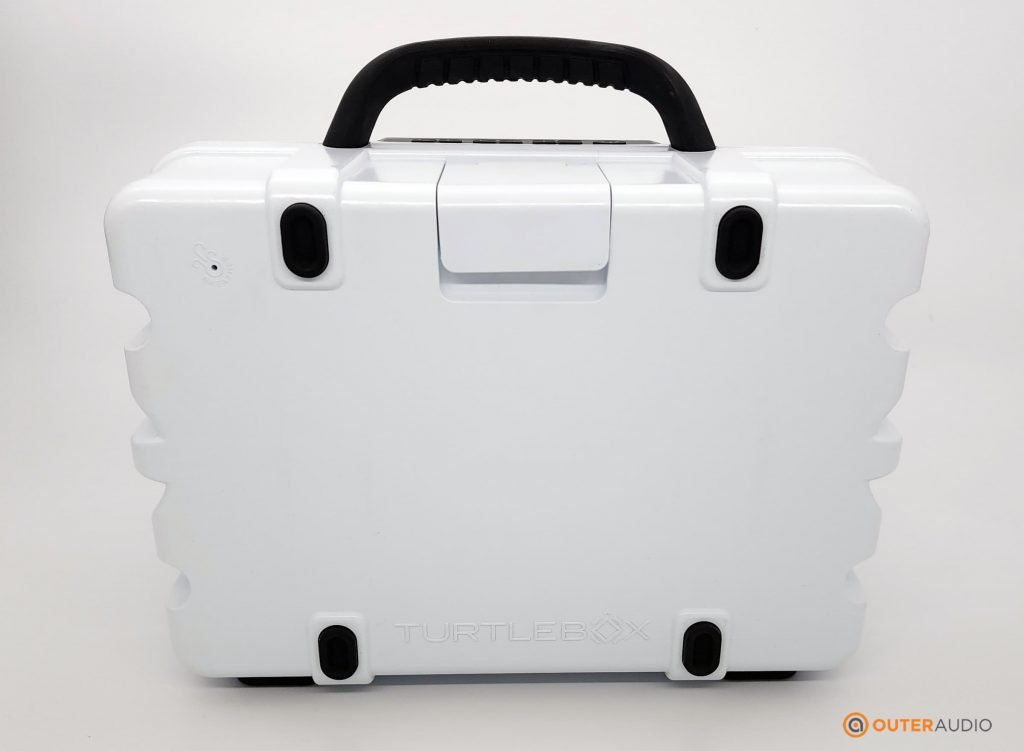 Portability
Weighing just 10 lbs, the Turtlebox is extremely easy to carry around – though the handle position may feel awkward for some when walking.
The rugged design allows the Turtlebox to be treated more like a piece of camping equipment than a speaker.
When considering the loudest Bluetooth speakers on the consumer market, it's hard not to bring up the Soundboks Gen 3 or the new Soundboks Go. While these are great speakers, and there are pros and cons to consider when comparing these brands, the Turtlebox does hold one up on them in that it is extremely portable and lightweight in conjunction with its superior weather-resistance rating.
The Turtlebox looks a bit like an industrial lunch box that can easily be tossed on the front seat of your car without much thought, and with the rugged design, you can even toss it in the back of your truck without much thought. The hooks on the speaker's sides can also be used for tying it down to trucks, boats, or four-wheelers. Given that the speaker also weighs in at only 10 lbs, you won't find anything lighter with this amount of volume in a portable Bluetooth speaker.
Our review staff had conflicting thoughts on how comfortable it was to carry, but me – I didn't have that I had any real qualms when handling the Turtlebox.
The Turtlebox Is A Fairly Small Speaker With Big Sound
The Turtlebox is one of the most unique Bluetooth speakers we've reviewed, and while it isn't packed with loads of crazy features, it just simply does its job and does it well. Designed primarily for outdoor use and in hazardous conditions, the Turtlebox also makes for a great speaker around the house, although it may not be everyone's cup of tea aesthetically.
Thanks for your feedback!