Thanks to Apple's Airpods, wireless earbuds have become increasingly popular. There are a ton of new earbud brands and products flooding the market, especially on the budget end. One of those brands is Raycon. You might have seen your favorite Youtuber talking about Raycon Wireless Earbuds. Raycon is the brainchild of American singer, rapper, songwriter, and entertainer, Ray J. He launched the brand with a mission and passion to create premium everyday electronics for honest and affordable prices.
In this article, we'll take a closer look at each of the Raycon Wireless Earbuds and see which you might prefer. The range included is the E25, E55, and E100 Wireless Earbuds. In 2019, the E50 was upgraded and is now the E55.
Which earbuds are right for you?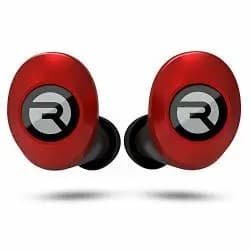 E25 Earbuds
Starting at $79
Ideal for everyday use
Up to 6 hours of battery
24 hours of battery life with charging case
Water-resistant (IPX4)
E50 Earbuds
Discontinued Item
Built for clear audio playback
Up to 5 hours of battery
25 hours of battery life with charging case
Water-resistant (IPX4)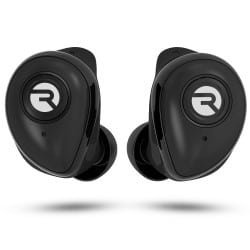 E55 Earbuds
Starting at $99
Designed for a perfect fit in your ears
Up to 6 hours of battery
36 hours of battery life with charging case
Wireless charging enabled
E100 Earbuds
Starting at $119
Ideal for sports and fitness
Up to 5 hours of battery
25 hours of battery life with charging case
Waterproof up to 3 feet (IPX7 rating)
The Design and Features
Starting with the cheapest model, the Raycon E25 is perfect for those on a budget. The design is somewhat standard when it comes to earbuds, and the E25s should fit most ear sizes.
The Raycon E25 is designed specifically for commuters. The earbuds themselves are smaller than the E55 and E100 models, while the E25's capsule-shaped charging case is ultra-compact, making it easy to store in your pocket when not in use.
The E55 is very similar to the E25, but with a tiny lip on the earbud for a more secure fit. The E55 is a slightly more versatile earbud designed for both commuting and working out.
If you're looking for an earbud for working out, then the E100 is going to be your best option of the three. The E100 features wing tips to keep the earbuds securely in place, no matter how intense your workout.
Waterproof
Also, the E100s are IPX7 waterproof rated, making them suitable for use in water. You could use these in the pool, but the IPX7 rating only protects the earbuds to a depth of 1m (3.2 feet), so I would do any diving while wearing the E100s. With that IPX7 rating, you can go straight from your workout into the showers with your music still playing, which is pretty cool.
Both the E25 and E55 are IPX4 rated, making them splash-resistant. IPX4 will protect these models against sweat or a bit of rain.
Moving on to battery life. The E55 feature the most superior battery with 12 hours more battery life than the second-best E25. The E25 features a 24-hour battery, versus the E55 36-hour battery.
Keep in mind; this battery life is from the case. When you compare playing time, both the E25 and E55 come out the same at 6 hours. One thing the E55 has over the other two models is wireless charging. If you have a wireless charging mat, you can simply place the E55 case on top to charge.
The E100 features a 20-hour battery life in the case with 5-hour playing time. It's a little confusing why the flagship model would have the worst performing battery, but then the E100 is better in other areas.
All three models allow for quick charging. From just 15 minutes of charging, you'll get 1.5 hours of playing time.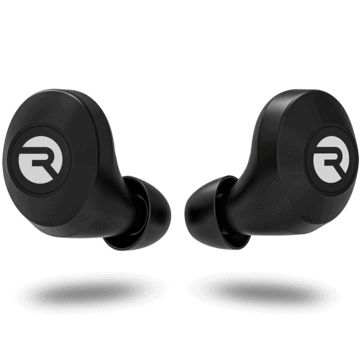 Controls and Connections
All three Raycon Wireless Earbuds feature Bluetooth connectivity. You won't have any issues pairing these earbuds, and the quality of the connection is excellent.
You'll be pleased to know the Raycon Wireless Earbuds feature the latest version of Bluetooth V5.0. If you like streaming videos via Netflix, Amazon Prime, etc., then you'll be pleased to know there is zero latency or lip-sync issues. On YouTube, however, there is a slight delay. This latency on YouTube is a little disappointing for a Bluetooth 5 product.
All three models feature a built-in microphone for hands-free calling. Call quality is decent enough for a quick call, but for longer or important calls, you might want to switch to the handset. The microphone is sensitive and can pick up a lot of extraneous noise. So, if you're in a busy public area with lots of background noise, chances are the caller will battle to hear you. In quiet environments, you shouldn't have this issue.
To control your Bluetooth device, Raycon has included a button on each earbud. Button functionality will allow you to play/pause, skip tracks, adjust volume, and manage incoming calls. The Raycon Wireless Earbuds are also compatible with voice assistants like Siri or Google.
What Do The Raycon Wireless Earbuds Sound Like?
As with all earbuds, there is minimal bass to speak of in all three models of the Raycon Wireless Earbuds. The E100 provides you with the best bass response, but still not as chunky as many might like, especially for working out.
The mid-range and treble response is perfectly acceptable. Only slightly better than the average earbud under $100. Again, the E100 is the best sounding of the three models.
Overall, the sound quality is on par with the TREBLAB X5, which we reviewed in September.
What's in the Box?
Included with the Raycon Wireless Earbuds:
2 x earbuds (either E25, E55, or E100 – depending on your choice)
Charing case
Micro-USB charging cable
Conclusion
If you're looking for premium sound, you're not going to get it from the Raycon Wireless Earbuds. These earbuds are a budget alternative to the more premium brands like Apple or Beats.
What I do like about the Raycon Wireless Earbuds is the sleek, low-profile design. Unlike the Airpods or TREBLAB X5, which stick out of your ears, the Raycon Earbuds are a little more discrete.
Another great feature, which I didn't mention above, is the ability to use just one earbud instead of having to use both. This can be useful when commuting on a bike or running through traffic when you want to hear what's going on around you.
The waterproof features of the Raycon Earbuds are also impressive. The E100's IPX7 rating is especially useful for those who might want to use these earbuds in the pool or even the hot tub.
Thanks for your feedback!