Speakers are an essential part of any Hi-Fi system and enable us to enjoy audio associated with our favorite movie, series, or musician. The science around speaker placement is an issue that usually gets ignored.
It's like, "Oh, bass, cool"
You know how you make the bass better?
Crank the bass up (yeah)
You wanna make the kick drum better?
Just crank the bass up
And it's like, "No, not really"

A quote from the song Glimmer by Tame Impala
Sound is created by vibrations moving through the air in the form of pressure fluctuations. Space, depth, width, and height all play a role in perceiving sound. And can all vary depending on how you set up your speakers within a room, not to mention how the dynamics of a room alone can alter sound if the right precautions are not taken into consideration?
With this guide, we will go through some of the fundamental theories of space, how it affects the sound and how you can best utilize your space and speakers for optimum volume. To gain accurate sound without overextending your hearing time with loud volumes to compensate for poor dynamics and harsh reverberations.
Space and How it Affects Sound
The main factor affecting sound quality involves how sound waves bounce around the room. We have stated how vibrations are a vital component in the formation of sound. These vibrations can react differently within a room depending on the space and speed they hit the area or objects within—for example, the walls in your living room.
Within that same room, if you were to play the same sound in an empty space versus a fully furnished space, there would be a noticeable difference that the human ear can interpret. The term best used to describe this phenomenon is called reverberation. While reverb can enhance the sound in some scenarios, in most cases, it will distort it and create an unpleasant listening experience. So even before we place speakers in the room, we have to be careful in choosing the type of room that will be applicable for what we want.
The downfall of reverberation is that when sound is continuously being produced, it builds up from repeatedly bouncing off walls and crossing over other sound waves produced in real-time. This affects the clarity and quality of the sound being produced from the speakers, impacting your hearing experience.
Studio Space Versus Household Space
Remember that a recording studio doesn't have the same features that a living room possesses. A living room will have more furniture while recording studios are mostly clean empty rooms that cater to groups of people and musical instruments.
There are two methods that can help eliminate or decrease sound from bouncing within the room and achieve our goal. These two methods are called acoustic treatment and soundproofing.
Acoustic Treatment
We try to achieve acoustic treatment in our living rooms and beginner studios because very few spaces have the physical qualities that accommodate true sound. The core elements of acoustic treatment are absorption and diffusion. With the help of acoustic foam, one can reduce the amount of echo produced with these items in a studio setting.
Diffusion keeps sound waves from being directed in one area so that there aren't any hot spots in a room. Diffusion makes any room appropriate and useful for recording or monitoring sound with a high degree of accuracy. Essentially these acoustic foams act as the furniture of the studio room in comparison to a living room where space is filled. Furniture helps with the absorption of excessive vibrations that have bounced off walls in a living room. Essentially, it has similar properties to acoustic foam to absorb sound waves bouncing off the walls within a room.
Soundproofing
On the other hand, soundproofing has a different use in comparison to acoustic treatment. In summary, acoustic treatment aims only to control sound reflections within the room and improve your sound monitoring use. Soundproofing is intended to minimize the level of sound that travels in and out of your room. In other words, the noise produced within the room will not escape where it can be heard by your neighbors, for instance, and any noise coming from outside the room will not travel in. Professional studios and theaters are spaces where you experience the benefits of a soundproofed room.
Additional solutions include adding soundproof windows that can be very helpful in an urban setting and inserting Z-shaped resilient channels that can be put in place during the construction of a room to create what's known as a decoupled wall. This effectively stops sound waves from passing through the wall.
Factors You Should Consider When Setting Up a Room
Steps You Should Consider When Placing Your Speakers
After choosing your ideal space, you can follow these instructions to help optimize your speaker's performance.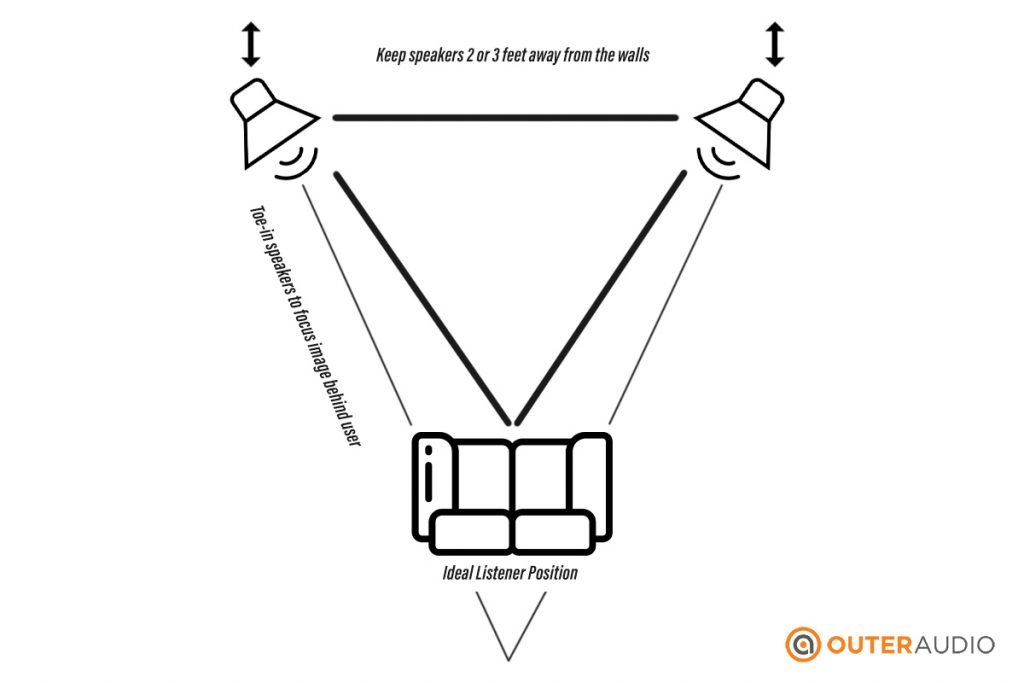 Why do These Steps Matter?
It all comes down to controlling stereo imaging and sound reflections. A balance between the speakers and listener allows for accurate stereo imaging. Stereo imaging can be best described as the width of the sonic output of a particular song. Proper speaker placement allows for the opportunity for the speakers to produce the impression of sounds coming and going from different areas within the room. There is poor stereo imaging if your hearing experience feels like it's coming from 1 signal point (mono). This is usually related to the sound system being positioned inaccurately. All these steps are vital in getting the most out of your speakers and improving your listening experience on a daily basis.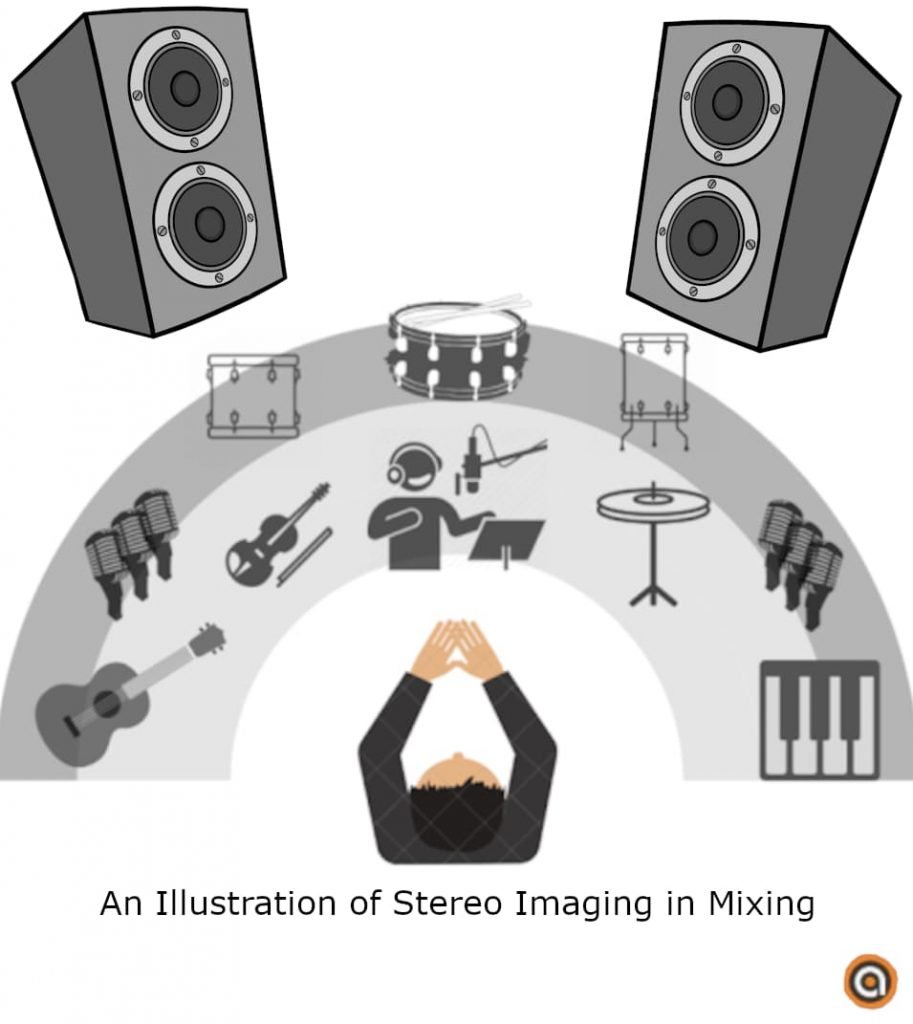 Optimum Speaker Performance
It is important to note that the following steps are not definitive and that these guidelines are adaptable to the type of space available to you. Attaining great sound from your speakers involves trial and error. It is important to play around within the parameters of the guideline to find that sweet spot.
Between the different variables of sound waves, frequencies, acoustic treatments, and your sound system, you will find that all of these elements are intertwined in bringing out the best performance of your speakers. Even with the most expensive speakers, you will not get the quality and clarity you deserve if it is placed in an environment that will not produce its best sound.
This article hopes to showcase that the point of reference for clarity and loudness does not come from increasing the volume of your speakers. By understanding the science behind sound reflection and the byproduct (reverberation), you will be able to identify the acoustics of any room you walk in, good or bad. With this information, you'll be able to manipulate any variations that do not appease you, and you're listening experience.
Thanks for your feedback!