Speakers don't come much smaller than the EWA A106 Pro. At less than 2" tall, it's around the same size as a golf ball, causing other models of mini Bluetooth speakers to feel large in comparison. It is one of Amazon's best-selling speakers with an overwhelmingly positive user sentiment. Let's examine how the EWA A106 Pro performs compared to similar speakers and whether it lives up to the hype.
The Bottom Line
EWA's A106 Pro is one of the best selling mini Bluetooth speakers online for a good reason. It produces clear and detailed audio while being smaller than a shot glass. The speaker's upward firing driver produces impressive dispersion of sound while the IP67 waterproofing makes it well-suited to outdoor use.
Relatively clear and detailed sound
Extremely compact design
Carry case included
IP67 Water-Resistance
Lacks depth compared to larger Bluetooth speakers
Concerns around the durability of the carry case
Lacks low-end bass
Limited featured
Build & Design
The EWA A106 Pro is an extremely small speaker that can be carried between two fingers. It has robust weather protection and an easy to use design, but there are concerns around the durability of the included carry case. It features a single control button, which provides sufficient control options.
Durability of Finish: 7.6/10
Feel of Button: 8.8/10
Weatherproofing: 8/10
This speaker features an intentionally stripped-down design, void of the numerous buttons and controls we are used to seeing. Instead, there is a single button that lights up when the speaker is turned on. By holding down the button, you can toggle the speaker on and off. Once turned on, a single press will play or pause the track you're listening to, and pressing it twice will skip tracks. I enjoy the simplicity of this design, as even with the single button – you're still afforded some control via the speaker. A micro-USB charging port can be found on the opposite side of the speaker.
The speaker's top has a unique and aesthetic grille design along with a discreet EWA logo branded in the center. Along the perimeter of the bottom of the speaker is a rubber ring to hold it in place on surfaces. A small detail that may go unnoticed is the inclusion of three small rubber pegs that elevate it above the surface; this feature allows for better dispersion of sound, particularly low-frequencies out the bottom of the speaker. Additionally, a reset button can be found at the center of the speaker's base in order to troubleshoot potential problems that may occur.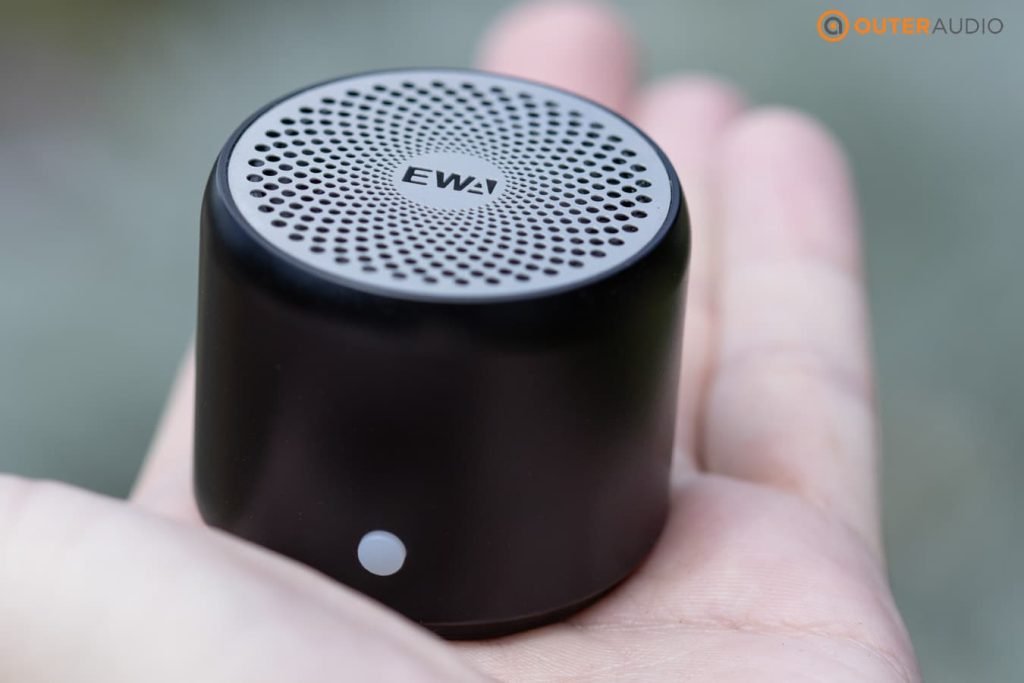 The EWA A106 Pro's most unique feature is its size and subsequent portability. Because it weighs just 4.23oz, it can be stored in handbags or even one's pocket. You'll also receive a carry case which helps improve the speaker's longevity by protecting it from scratches. The case has cutout holes along the top so that you can even play the speaker while it's in the case. I think including the carabiner clip is a great addition, adding even more versatility to the speaker and allowing it to be used similarly to the JBL Clip 4.
Unfortunately, during testing – the clip broke off while carrying the speaker outside. While the speaker itself seems fairly durable, the area where the clip material attaches to the carry case seems to, at least in my case, be a weak point. I've included an image below demonstrating how the material snapped off, indicating a fragile joining point. This is most likely a defect on the unit I tested, but something to keep in mind. Should you also encounter issues, you can find more information in EWA's return policy.
I love that this speaker offers a high degree of water resistance, with an IPX rating of IP67. You can use it in any weather conditions, and will even survive accidental drops into the water. For perspective, IP67 is the same waterproofing that we find in flagship Bluetooth speakers.
With regards to connectivity, the A106 Pro keeps things simple with Bluetooth 5.0 being the sole method of connection. The 5.0 version ensures better latency and more reliability in its connectivity.
Sound Quality
The overall audio performance on the A106 Pro lacks compared to larger alternatives, with limited depth, particularly towards the low-end. However, when compared to similar sized and priced speakers, the A106 Pro does an impressive job, able to produce decent volume and clarity.
Bass: 6.3/10
Midrange: 7.2/10
Treble: 6.4/10
One of the most challenging parts of reviewing speakers of this size is allowing yourself to be critical of the audio performance while also acknowledging the limitations of the design. After all, driver size is an important variable in how a speaker sounds.
They say first impressions are everything, and out of the gate, the A106 sounded better than I had imagined for a speaker of its size. Some low bass frequencies fall outside of its capabilities, but in the mid-bass range and up, it does a respectable job with its low end. There is a noticeable thump that can be compared with larger speakers like the Oontz Angle Solo.
There are limitations to both the volume capabilities and depth of audio. When compared to the JBL Go 3, it isn't able to reproduce the same depth in vocals and instruments toward the upper frequencies, occasionally sounding a bit harsh with some noticeable sibilance
This speaker is best suited as a replacement for your stock phone speakers. Once you've used it, you'll find it tough to return to the subpar performance of mobile phone audio. I also found it great for listening to podcasts, where the voice clarity lets you easily follow the conversation, even in the shower.
Overall, however, I think EWA has done a very good job at engineering this speaker. Its strengths lie in its versatility and simplicity. Yet it still outperforms most similarly sized options on the market. The sound profile is ideal for solo listening or with small groups of friends. It excels as a bathroom speaker you can use while bathing or showering.
Battery Performance
Playtime: 6.5/10
Charging time: 7.8/10
Small speakers require small batteries, a limiting factor in battery performance. The EWA A106 Pro has a 700mAh battery that EWA claims can provide a guaranteed 5 hours of playtime or up to 8 hours at 50% volume. During my testing, I got 6 hours and 32 minutes of playtime at around 75% volume.
I was impressed by the charging time. Granted, there is limited battery capacity to charge, but it takes less than an hour and a half to charge fully. This rapid charging time is particularly useful if you have a power bank, letting you quickly top up the A106 Pro while out and about.
Conclusion
With hundreds of small Bluetooth manufacturers flooding the market in recent years, finding a high-quality speaker that isn't from a reputed brand can be challenging. The EWA A106 Pro is an example of what we're hoping for from a mini Bluetooth speaker. It has a good sound while also incorporating robust weather resistance. If size isn't a concern, there are better-sounding options for similar prices, such as the JBL Go 3. But they come in at around three times the size.
Thanks for your feedback!