Having speakers on your patio can completely transform your home garden experience. Whether you're looking to entertain guests around the BBQ or want to take your music outside with you, so you can add to the atmosphere while you relax with a drink on a warm summer day, outdoor patio speakers will achieve precisely this.
There are a few options you have when choosing speakers for your patio. If quality is important to you, we recommend against using a small Bluetooth speaker that you have lying around the house. While your budget Bluetooth speaker is a great choice if you're not too concerned about quality and only rarely spend time out on your patio, you won't be achieving the same rich sound quality you'd find with dedicated outdoor patio speakers. Furthermore, the lack of directional sound provided by many Bluetooth speakers can become an annoyance when it competes with the chatter of guests.
Performing well in open spaces like across your pool room or even backyard. In smaller spaces, the Atrium 6 will offer great clarity and defined bass, even at lower volumes.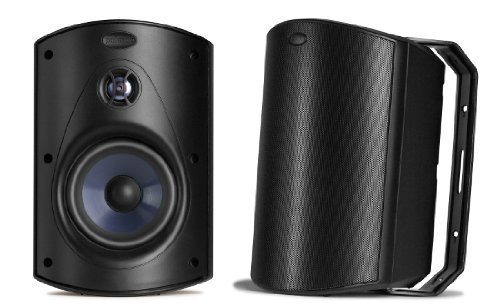 But… What About the Neighbors?
As strange as it may initially sound, installing speakers on your patio can help reduce noise pollution in your neighborhood. Many outdoor TVs, for example, have built-in speakers at the rear panel, which often results in a higher volume being required outdoors to compensate for the speaker positioning. Likewise, portable Bluetooth speakers often need to have their volume cranked up to compensate for the lower-quality audio.
When installing outdoor speakers on your patio, you'll be able to position the sound exactly where you need it, and the higher quality audio means that, in the end, less volume is needed. Having said that, you can still pump it up occasionally to impress your friends and annoy the neighbors.
Our Selection of the Best Outdoor Patio Speakers
We've compiled a selection of the best outdoor patio speakers for our readers. In this selection, you'll find something for everyone, from cheap outdoor speakers and wireless outdoor options to some premium outdoor speakers for those who want to impress their guests.
This article focuses on the compact outdoor patio speaker. This type of outdoor speaker is best suited for easy listening, background music, and improving sound for outdoor patio TVs or small parties and gatherings.
1. Polk Audio Atrium 6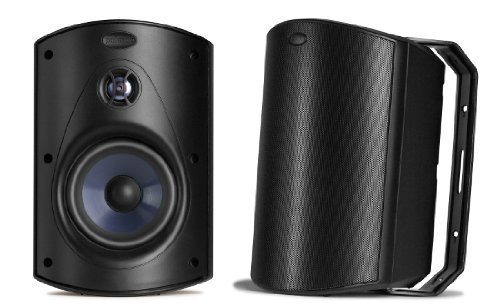 Polk Audio Atrium Series
Polk Audio has become synonymous with affordable home audio equipment. The Atrium Outdoor Speaker Series is designed specifically for outdoor use. Even though these outdoor patio speakers are designed to withstand harsh outdoor conditions, Polk recommends you mount the Atriums where there is some cover. So under the eaves, for example. This will prolong the life of the outdoor speaker.
The anodized aluminum tweeter domes include rubber surrounds to provide ultimate protection from the elements. The input and speaker terminals are gold-plated to prevent corrosion and offer a superior connection. Polk Audio has designed and tested the Atriums to withstand the worst elements, including salt, fog, UV, extreme temperature changes, or heavy rains.
The Polk Audio Atrium Outdoor Speakers come in white or black color options. If you would like the speakers to blend in with the surrounding decor, wall color, or vegetation, then it's recommended you purchase the white color option, which can then be painted. Polk has included instructions on painting your Atrium outdoor speakers in the user manual.
We have looked at three options for the Polk Audio Atrium Series, the 4, 5, and 6. We'll look at these three outdoor patio speakers in detail to give you a better idea of which will best suit your needs.
Design
The Atrium outdoor speaker design offers a wide dispersion of sound to cover a greater area. This is important for outdoor speaker design, where the sound isn't focused on one area, like the sofa in front of the TV.
Another shared feature of the Atrium Outdoor Speaker Series is Polk's Speed-Lock Mounting System. This mounting system allows you to mount the bracket on the wall or pole, then pop the speaker onto the bracket and tighten either end. If you are familiar with mounting speakers on a bracket, you will know this can be tricky to line up the screws and fasten the speaker in place, especially by yourself.
The Atrium 4 & 5 are best suited as outdoor patio speakers. These speakers perform best in small, confined outdoor environments. The Atrium 6 is slightly bigger than the 4 & 5 and delivers more bottom-end or bass frequencies. The Atrium 6 will also perform better in open spaces like across your pool room or backyard. The Atrium 6 will offer more clarity and defined bass in smaller spaces, even at lower volumes.
If you are on a tight budget, the Atrium 4 or 5 will be the preferred option, with the 4's coming in at under $100. If you want superior sound quality and more volume, the Atrium 6 will be the better option.
Read our full review of the Polk Atrium 6.
Benefits
Impressive bass response
Aesthetic design
Weatherproof
Drawbacks
Design limits banana jack support (unless 90 degrees)
2. Definitive Technology AW6500 Outdoor Speaker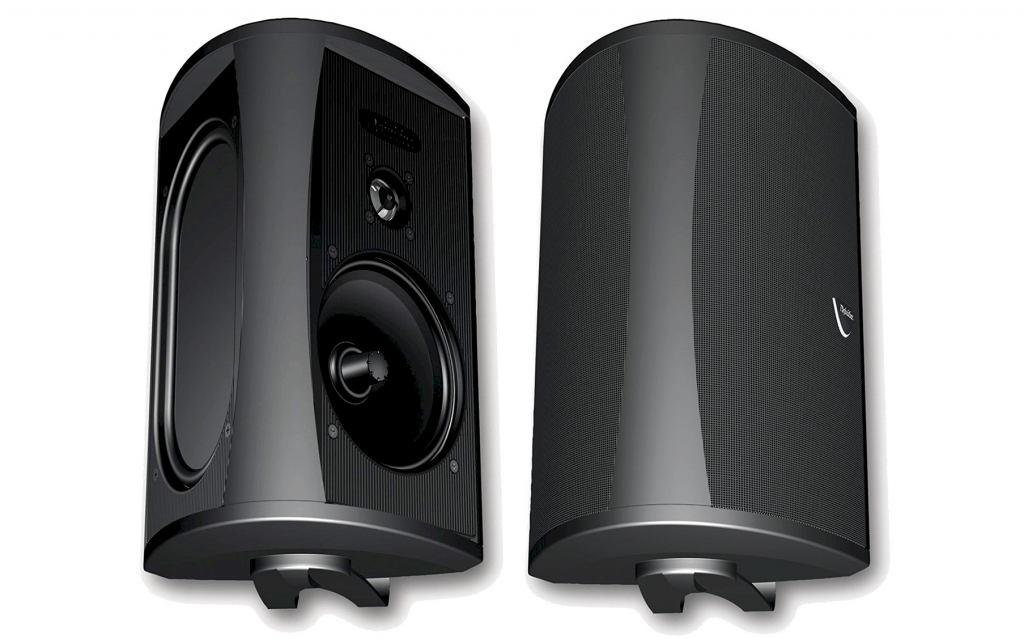 One issue with small speakers is they lack bass frequencies. Definitive Technology has addressed this shortcoming with the AW6500 by adding a bass radiator or driver. The bass radiator is on the opposite side of the mid-range and tweeter drivers. Bass is omnidirectional, so it doesn't have to face any specific direction to be effective.
If you intend to mount your AW6500 outdoor speaker close to the eaves, ceiling, wall, or other hard surfaces, the bass will be accentuated when reflecting off these surfaces. Definitive Technology has made it easy to identify which way to direct the AW6500 by placing the logo on the side with the tweeter. So you'd need to face the logo towards the area you wish to cover.
While the AW6500 outdoor speaker can be installed as a single speaker, you would want to purchase a pair to be truly effective. The speakers are designed for wide sound dispersion and are just as effective mounted vertically or horizontally. The aluminum grilles, PolyStone enclosure, and fully sealed design ensure the AW6500 can be installed where it is fully exposed to the elements.
While this outdoor speaker is weatherproofed, Definitive Technology recommends you mount the AW6500 where the speaker won't be 100% exposed to the elements like the eaves of your roof. This cover will ensure the extended life of your outdoor speaker.
Benefits
Easy to mount
Excellent sound quality
Solid build quality
Drawbacks
Can be a bit large for some eaves designs
3. Yamaha NS-AW150 2-Way Outdoor Speakers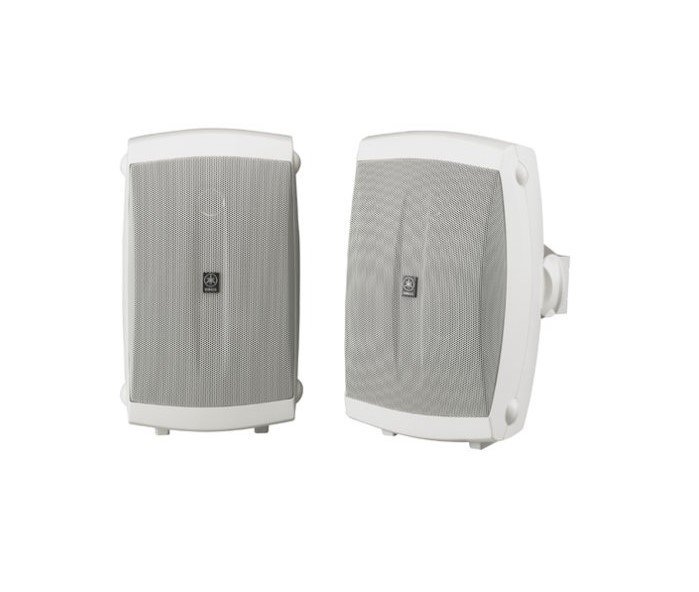 Yamaha is possibly one of the world's top 5 professional audio manufacturers. The company is renowned for the high quality of its products and excellent after-sales service. The Yamaha NS-AW150 is the most affordable in our list of the best outdoor patio speakers.
These ultra-compact outdoor speakers deliver wide sound dispersion and can be just as effective whether mounted vertically or horizontally. Yamaha recommends the NS-AW150s should be mounted no further than 6'10" apart. This will ensure good audio coverage. Should your outdoor area exceed 400ft², consider installing a second pair of NS-AW150s opposite your primary one.
Yamaha has included a magnetic shield in NS-AW150s. This will prevent any magnetic interference if placed near a flat-screen TV. The NS-AW150s speaker enclosure is sealed to protect against rain, snow, dust, and insects. While these outdoor speakers are weatherproofed, installing the NS-AW150s in a position offering some protection, like roof eaves, is advised. Yamaha has included a safety cable for each speaker.
In the unlikely event that the speakers come loose, the safety cable will prevent the speaker from falling, possibly inflicting injury. If you are installing these outdoor patio speakers in a public area, this is a safety feature most health and safety regulations will require. So this is a small convenience and cost-saving.
The Yamaha NS-AW150s are available in black or white. If you wish to customize the color, you can purchase the white and paint them. Instructions on protecting the speaker when applying paint can be found in the user manual.
Benefits
Affordable
Easy to mount
Good sound on mids and highs
Drawbacks
Bass performance could be better
Grills can become loose over time
4. Klipsch AW-650 Outdoor Speakers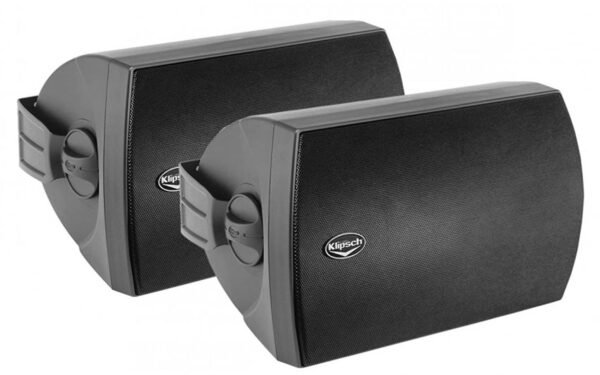 Klipsch is undoubtedly the leader in consumer audio. This American brand designs and manufacture products to the highest quality and standards. As Klipsch is a US-based company, after-sales service and support are easily accessible nationwide. This makes purchasing any Klipsch product a safe option.
The Klipsch AW-650 Outdoor Speakers are in a UV-resistant ABS enclosure with a rustproof aluminum grille. The zinc C-bracket, stainless steel hardware, and easy-draining input cup mean the AW-650s are built to survive wet and snow conditions.
With 350W power handling and 95dB sensitivity, the Klipsch AW-650s packs a serious punch with surprising bass and definition. These outdoor speakers will easily fill most garden patios and sound crisp and clear at low and high volumes with minimal distortion. You will probably find you will rarely need to turn these outdoor speakers up full. They're seriously loud, given the compact size. If you are serious about your outdoor speaker setup and have a good budget allocated, then the Klipsch AW-650s are the best outdoor patio speakers we can recommend.
Like most outdoor speakers on the market, the AW-650s are available in black and white, and Klipsch provides special instructions for painting the speakers inside the owner's manual.
Benefits
Crisp treble and midrange
Excellent build quality
Deep, rich bass
Loud
Drawbacks
Can be a bit large for some eaves designs
Expensive
5. OSD Audio AP670 Outdoor Speakers
OSD stands for Outdoor Speaker Depot, so these guys are focused on manufacturing the best outdoor speakers. The OSD Audio AP670 is part of OSD's range of outdoor patio speakers. The ABS polymer frame, rustproof grille, and sealed make the AP670s fully weatherproof and protect against the elements.
The gold-plated connectors offer both resistance to rust and superior connection. Having noted these weatherproofing features, the AP670s will not stand up to excessive direct rain and wet conditions. Installing these outdoor speakers on a covered patio or under the eaves of your roof is recommended.
The OSD Audio AP670s have specially designed bass ports between the speaker driver and the tweeter. This bass port delivers improved bass, often lacking in compact speakers. The AP670s are designed to be mounted vertically and horizontally, delivering a wide sound dispersion in either position.
A pair of these outdoor patio speakers will perform well in small to medium size patios but wouldn't be recommended for open areas. For larger patios consider adding a second pair of AP670s.
Despite the grills being sold as rustproof, the rust popping up after a while seems to be an uncommon but present problem with this speaker. This will most likely impact you if you live near the coast and have higher persistent humidity. Some customers also seem to report that their grills suffer from some chips in the paint, though these are outlying experiences.
The AP670s come in black and white, and OSD Audio has included instructions on how to paint these outdoor speakers in the owner's manual should you wish to do so.
Benefits
Affordable
Good midrange sound
Easy to mount
Drawbacks
Grill deterioration
Bass could be more better
6. Dual Electronics LU53P Outdoor Speakers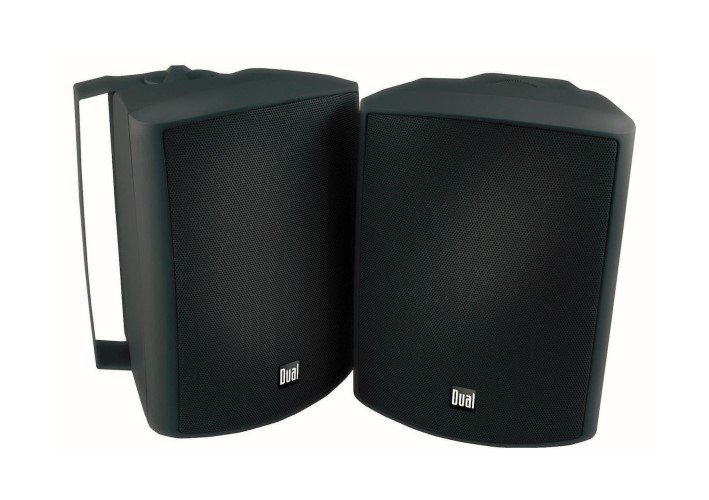 The Dual Electronics LU53P is the most affordable outdoor patio speaker featured in this article. At under $60, a pair LU53Ps won't break the bank, but they probably won't break sound records either. These low-cost outdoor patio speakers are recommended for small patios where you don't need a significant amount of volume. With the frequency response starting at 100Hz, the LU53Ps don't offer much bass, either.
The speakers are coated in a UV-resistant resin and housed in an ABS enclosure to protect against the elements. Gold-coated connectors prevent corrosion and offer a good audio connection. The Dual Electronics LU53P outdoor speakers are manufactured and tested to be weatherproof but not waterproof.
These outdoor patio speakers will not be affected by slight amounts of moisture from dew but will not survive wet conditions, including rain. Dual Electronics do, however, manufacture the LU53P as a waterproof rock speaker which can be placed out in the elements.
The LU53Ps deliver a wide sound dispersion. This wide dispersion is effective whether mounted vertically or horizontally. The grille on the LU53P cannot be removed and, therefore, cannot be painted to your preferred color. The outdoor speaker is however available in black, white, and waterproof rock for the garden.
Benefits
Extremely affordable
Easy to mount
Drawbacks
Lacks clarity at high volume
Lacks bass
7. Yamaha NS-AW194 Outdoor Speakers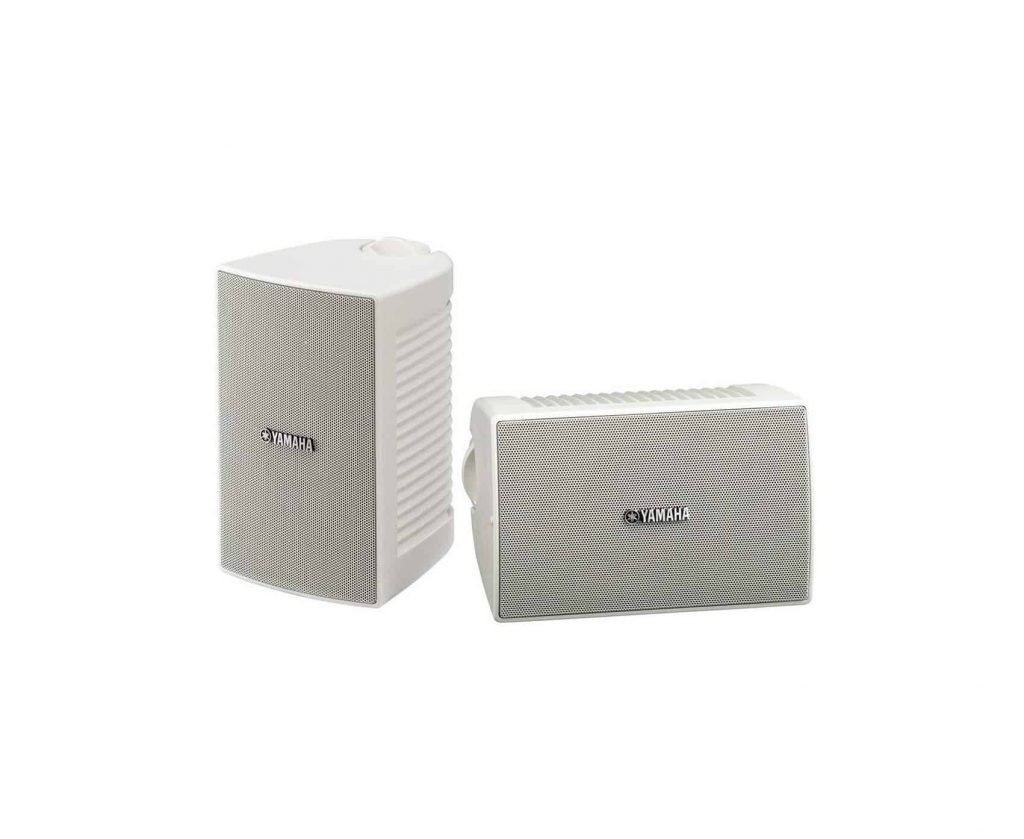 The simple yet stylish Yamaha NS-AW194 outdoor speakers will look good in most indoor and outdoor living spaces. The NS-AW194 is both weatherproof and waterproof, with an IPX3 waterproof rating. The IPX3 rating gives protection from direct water sprays 60° from the top of the device.
This means your Yamaha NS-AW194 outdoor speakers will be protected from rain but probably won't survive a splash from the pool or sprinkler system, which would usually come from below the speaker. Even with the IPX3 rating, you would not want to mount the NS-AW194 speakers in a position where they will receive direct rain or sunlight. Some cover from a patio roof or eaves would be best advised.
The NS-AW194 outdoor speakers can be mounted either vertically or horizontally. In the vertical position, they deliver an 81° dispersion pattern. This is wide enough for a pair of these speakers to cover most patios. If you plan to mount them horizontally, you would want to mount them at 30°-45° downward facing. This will offer good dispersion from a wall mount. Ideally, the NS-AW194 would be best mounted on the ceiling, angled 45° down from the ceiling toward the area you wish to cover.
The Yamaha NS-AW194 will lack some bass, with the frequency response only starting from 100Hz. These speakers would be best suited for general background music or as a speaker upgrade for your outdoor TV. The Yamaha NS-AW194 is available in black or white.
Benefits
Easy to install
Durable construction
Drawbacks
Bass may be a bit light for some
Buyer's Guide
To help you find the best outdoor patio speakers, we've put together a brief buyer's guide to help you understand the terminology and decide which outdoor speaker is right for you. One thing I cannot stress enough is always to read the user manual, especially when it comes to outdoor electronics. The manufacturer will always list the limitations of the outdoor speaker, which, if not followed correctly, could mean your outdoor speakers live a short life. We recommend following the best practices for maintaining your speakers.
Weatherproof vs. Waterproof
Be aware that there is a difference between weatherproof and waterproof speakers. A weatherproof speaker does not mean it is waterproof. Weatherproof speakers are designed to be installed outside and can handle some moisture, rust, dust, and insects, but unless the manufacturer states the outdoor speaker is waterproof, do not assume they are.
Waterproof speakers are designed to withstand direct exposure to water, like splashes from the pool or rain. These outdoor speakers include resin-coated speaker cones sealed with rubber to prevent water from entering the speaker enclosure.
Always pay close attention to IPX ratings where provided, as these will allow you to easily get an idea of what your device is manufactured to go through and what conditions could leave your speakers permanently damaged.
What is Frequency Response?
The frequency response is an important feature that many buyers overlook when purchasing any type of speaker. Checking the frequency response of your outdoor speaker is important because it'll tell you what the speakers will sound like. Human ears typically hear frequencies from 20Hz to 20kHz. This is typically referred to as a full-range speaker because it is the full range of our hearing.
Bass Frequencies
20Hz to around 250Hz is your bass frequency range. Without these frequencies, your speakers will sound "thin" or treble-heavy. This will be okay for speech, but music, movies, and games won't sound as rich.
Mid Frequencies
250Hz to around 1kHz is your mid-frequency range. This is where you get definition in your sound. Without the mid-range, your speakers will sound muffled.
High Frequencies
1kHz to 20kHz is your treble or "highs." This is where you get sibilance and clarity from your speakers. Without the high range, your speakers will sound muffled and harsh, much like a megaphone.
So the goal when selecting the best outdoor speaker is to aim for as close to 20Hz to 20kHz as possible.
For a more comprehensive look at the topic of frequency response and how it factors into your audio experience, be sure to check out our frequency response article.
Active vs. Passive Outdoor Speakers
One of the most common descriptions of speakers is whether they're active or passive. This is important because it will determine whether or not you will need an external amplifier. The purchase of an amplifier or receiver for your passive outdoor speakers obviously influences the cost.
Active Outdoor Speakers
Active or powered speakers have a built-in amplifier. This means all they need is electricity from a socket and an audio feed, and you're good to go. In a pair of active speakers, usually one is active and the other passive. The amplifier from the primary speaker powers the second speaker via a standard speaker cable.
When purchasing an active outdoor speaker, make sure where you plan to install the speaker is covered. Active speakers are connected directly to your mains, so any water getting inside the power socket will trip your power or damage the speaker. Check whether or not your active outdoor speaker is waterproof if you intend installing in the open.
Passive Outdoor Speakers
Passive speakers require an external amplifier or receiver to get power and an audio signal. In many cases, especially if you require stereo sound or your amplifier can only power one speaker, you will need to run two separate cables, one to each speaker.
Active vs. Passive – Which do I Choose?
In an outdoor environment where socket power might be far from the primary speaker, passive speakers hold the advantage, which is why you'll see that our list only contains passive speaker options. You also need to consider audio input. A receiver for passive outdoor speakers may be easier to access to plug in your laptop, mobile phone, or TV. Audio signal for active outdoor speakers must be plugged in at the primary speaker. Unless, of course, you have active wireless outdoor speakers which can be paired via Bluetooth.
What is Speaker Impedance?
The simple explanation of speaker impedance is the resistance the speaker applies to the amplifier's current or voltage output. Typical outdoor speakers are going to be rated 6 or 8 ohms. For the purposes of this article, it won't be necessary to go into too much detail. All you want to ensure is to make sure your outdoor speakers match the impedance output of your receiver or amplifier.
What is Speaker Sensitivity and Power Output?
Speaker sensitivity is measured by placing a microphone 1 meter away and then running the speaker as loud as possible at 1 Watt. So the higher your speaker sensitivity, the louder the volume of your outdoor speakers. The sensitivity is measured in decibels or dB.
Speakers also have a power rating measured in watt or W. For a passive speaker, this will be a recommendation of the amplifier output. For active speakers, this will tell you the power output of the built-in amplifier. The higher the wattage, the louder the speaker.
Wireless Outdoor Patio Speakers
A feature many consumers look for in speakers today is wireless or Bluetooth. Wireless outdoor patio speakers are almost always active, making them the easiest outdoor speaker option available. All you need to do is mount the wireless speakers, power them via a socket, and you're good to go. Aesthetically, wireless outdoor speakers will look better without the need for power and audio. Some wireless outdoor speakers come with cable and Bluetooth inputs which means you can have your primary device permanently plugged in and then connect a Bluetooth device when needed.
Installing Outdoor Patio Speakers
When installing outdoor speakers on your patio, you need to keep a few things in mind. Outdoor conditions can be brutal for electronics. Even if your outdoor speakers are weatherproof and waterproof, you will want to try to install your speakers where they will be at least partially covered. If you do plan to install your speakers in the open, try to fit them so you can easily remove the speakers and bring them indoors when you don't intend to use them for extended periods of time. If you live near the ocean, you would want to store your speakers indoors as often as possible. Salt air is very unforgiving, even for the most waterproof outdoor speakers.
The speakers are not the only part of the installation you need to weatherproof. Make sure you include some weatherproof cabling and connectors with your outdoor speakers. Wherever possible, bury any cabling to protect it from UV and other possible damage.
If you plan to mount your outdoor speakers, consider using safety cables. Safety cables are used in professional installations as an extra safety measure in case the speaker bracket fails, or the speaker is somehow knocked off the bracket. Not only will your safety cable stop the speaker from falling on someone, but it will also prevent damage from a fall. Safety cables can be purchased ready-made, or you can purchase some 7×7 stainless steel wire and make them yourself. Ensure the safety cable is rated for at least three times the weight of your speaker. This will ensure the cable will hold up against the jerk of the slack from a possible fall.
Painting Outdoor Patio Speakers
If you want your outdoor speakers to blend in with the decor or surrounding vegetation, a good option is to paint the speakers. Most manufacturers will offer a white, paintable model of their outdoor speaker. Painting speakers will involve some disassembly and cover of connectors, speaker cones, and tweeter. Details of how to paint your outdoor patio speakers and what precautions to take will be found in the user's manual or the manufacturer's website.
How We Selected Our Products
When it comes to our selection, we have included products that impressed us both in their audio quality, pricing, and their frequency range.
Audio quality is our primary focus, where we take a look at the performance across frequencies and see how the performance stacks up with other products on the market. While important, the audio quality is only one of the metrics that we look at. Of equal importance with patio speakers is ensuring that they are suitable for their installation location. For this, we took into account how the speakers do in harsher weather conditions, excluding products that we believe wouldn't make the cut for a reliable patio speaker system.
Because we want to help ensure that your money is well spent. We've constructed our list based on what we believe represents the best outdoor patio speakers while also taking into account the different demographics looking to increase their outdoor audio quality. After all, for those on a budget, the best option isn't going to be the highest-end speaker on the market.
We looked at each speaker's ability to withstand the weatherproofing advertised by the manufacturer, the price of the product, design, features, overall audio quality as well as volume. Instead of simply selecting the loudest, most expensive options we could find, we sought rather to provide high-quality products that offer something unique to the buyer.
While aesthetics play a role, we understand that it's more subjective than audio quality and didn't weigh aesthetics as a particularly important factor when building our list. Of more importance was the volume. All products on this list have volume capabilities that should suit most practical uses. We don't want just to select the loudest options, as most of us rarely push our speakers to the limit. Instead, we looked at the practical use of the available volume in conjunction with the audio quality.
Trustworthy brands were also given slight preference, as you can typically expect better build quality, reliability, and longer warranty periods.
Frequently Asked Questions
How do I install patio speakers?
The installation of patio speakers varies between the types of speakers you're using. For instance, an active speaker will require an outlet nearby. You'll be able to install the majority of patio speakers with some simple home DIY, as there isn't any advanced electrical engineering required in the process. Depending on where you're setting it up, you may just require some additional wiring.
Where do I place my outdoor patio speakers?
We recommend placing patio speakers under your eaves as this area is prone to less wind, rain, and direct sunlight. In addition to this, you'll find that in most patio designs, placing them under your eaves will leave you with less visible wiring. Mount the speakers above head height and make sure they face slightly downward, angling the audio towards your most frequented locations.
How far apart do I place them?
If you have a small porch, finding the best place to install your patio speakers will be easier as you have less area of coverage to take into consideration. Placing them on either side of a small patio space will usually do well to ensure the area is well-covered. For larger patios, the location of the speaker installation will primarily depend on where on the patio you typically sit or entertain your guests. Ensure your speakers are spaced far enough apart to cover your entertainment area.
Can I attach them to my outdoor television?
Most certainly. In fact, this is one of our favorite uses for outdoor patio speakers. Outdoor TVs often offer audio quality that doesn't quite match up with the quality of the TV visuals. To really bring your outdoor TV setup to the next level, a pair of patio speakers will do a great job.
Which are better, wired or wireless patio speakers?
You'll find that, by and large, wired patio speakers will provide you with higher-quality audio in most situations. However, there are a number of quality wireless patio speakers that are still capable of producing high-quality audio. If you're more focused on the ease of setup and less on the audio quality – going for a pair of wireless speakers would be the recommended option.
Thanks for your feedback!