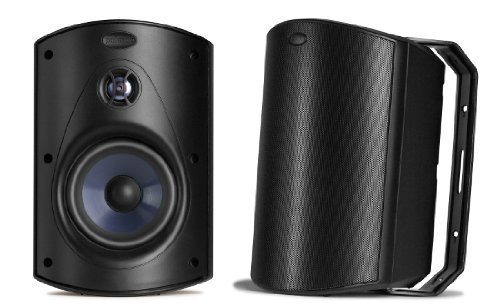 The Polk Audio Atrium 6 Speakers are one of the most powerful outdoor patio speakers in the Atrium series, falling just shy of the more powerful Atrium 8 variant. When filling larger spaces with sound, we found that the Atrium 6 does an excellent job.
This pair of patio speakers are built to withstand extreme weather conditions and extreme temperature elements. The cone driver and the butyl rubber pump in the speakers will give you the ultimate bass response in a compact design. The anodized aluminum dome tweeter and the magnet have great power handling and a very smooth response, meaning that the Atrium 6 can cover both highs and lows well.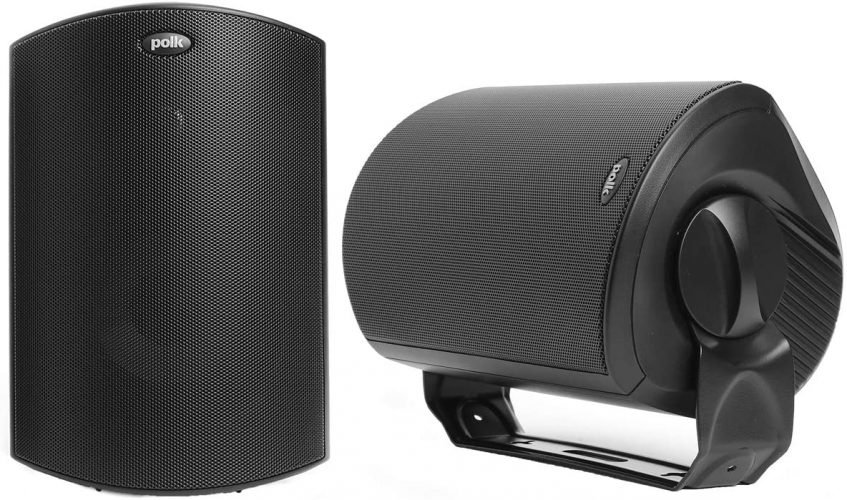 Sound Quality
The sound quality of the Atrium 6 is where the speaker shows its worth. The bass is deep and punchy and doesn't interfere too much with the lower midrange, which is warm and vibrant. The high end also delivers a sound signature that comes across as precise and not excessively sharp or tinny.
The 5.25″ drivers on the Atrium 6 do a great job covering the mids and lows, while a 1″ tweeter accurately represents the high end of the frequency.
Features Overview
The Atrium 6 has a water-resistant PowerPort, similar to the other models within the Atrium series, and a regular feature of outdoor patio speakers in general.

What we love most about the Polk Atrium 6 is its balance between sound quality, volume, and price point. You'll be hard-pressed to find better value for money.
This is a completely water-resistant product, but as a best practice, we recommend installing it under the eaves, where things are a bit more protected. This will typically mean you need to provide less maintenance to your speakers.
The Atrium 6 has fantastic coverage to it – compared to the Polk Audio Atrium 5 and also boasts better adaptability. The listener will be able to hear a mid and high-frequency dispersion without having to listen to noise pollution or the distortion of sound.
The cabinet design on these speakers has a molded-in bracing that sounds very realistic. It can put up seasonal changes while still emitting a pure sound. The technologies incorporated into these speakers supply a fantastic performance that eliminates the driver and the tweeter artifacts.
Listeners can expect superb sound reproduction at both high and low levels. This is a product that is completely weather-certified and with impressive military specs. The certification on this product can withstand the worst rains and temperatures without it being damaged externally or internally.
Polk Audio Atrium 6 Speakers Features:
Stainless Steel Hardware
Aluminum Grilles
No Rust
Gold Plated 5-way Binding (Easy and secure to hook up)
Black or White Finish
This series is made up of the best material in speakers. It consists of advanced manufacturing and has gone through many tests so that the producer could ensure that it was up to par (as a new and improved Polk Audio Atrium version.)
It really can give you the performance that you desire with perfect sound quality. The PowerPort bass venting on this model is also a more prominent feature, meaning you will be getting a bit better bass response.
Transform your Outdoor Space
When you are looking for the perfect outdoor sound, you'll want coverage control. Even with the largest yard and patio, you should be able to hear the sound from all spots in the locations you're targeting. By using the right outdoor patio speakers, you can transform your outdoor space into one of the most enjoyable locations in your home.
The most common problem with people investing in outdoor speakers is the cost. Installing these doesn't have to break the bank, although you should be realistic about your budget for quality.
Typically outdoor patio speakers range in price from around $150 to $800, and you can usually expect what you pay for. But that's not to say that there aren't some great value products out there, such as this Atrium 6.
The Speaker Installation
Many consumers would have an A/V integrator install the speakers, which can cost a lot of additional money. The Polk Atrium series are extremely easy to install, and you may even be able to do it yourself following this installation guide.
The new and improved angle design also allows you to install it as you please within any direction. This is your best bet if you have a larger property or backyard and want to cover the entire area. Although this isn't a wireless product, you can mount these patio speakers in conjunction with a Bluetooth receiver or Bluetooth amplifier to achieve Bluetooth functionality.
The surface you choose to mount the speakers on should also be strong enough to support them. It isn't recommended that you put them onto a cedar or aluminum wall and test them out in various locations to get the most balanced sound possible. Take note that the higher you mount these speakers, the further the sound will project throughout your yard (within reason).
More Power for Less
We found excellent stereo image and maximum dispersion with this specific model. With how much they cost, you'll be hard-pressed to find high-quality outdoor speakers.
Thanks for your feedback!