The Bose 251 is a favorite for us in the 'outdoor speaker category.' This is an outdoor speaker that's built to produce a flawless sound and withstand harsh weather conditions that could otherwise easily affect a product's quality. These Bose speakers consist of a multi-chamber design that provides them with the durability that we all want when investing in an audio device.
Upon using the speakers for the first time, we were extremely impressed by the high-quality sound they deliver. The bass is present in a way that isn't overturned but is still capable of providing a good thump, especially when the bass is dialed up on the amplifier. The mid-tones are warm and clean, with the higher frequency also being crisp and bright. Overall, they have a tone that lends well to outdoor use and even larger social gatherings.
The power of the Bose 251 outdoor speakers outshines many other products in their market, as they are one of the few 100+ watt sets that can be invested in for a reasonable price.
You can choose the aesthetics depending on the home decor. The speakers have a modern look to them, and you can purchase them in white or black. Just remember that while a white outdoor speaker can lend a lot to the aesthetic, they may require more frequent cleaning if you're looking to keep up appearances.
If you're looking for convenience in a speaker set, these are extremely mobile. They are thinner than a lot of other patio speakers, which also makes them easier to fit into tighter locations along your home. They come with mounting hardware and a rubber foot covering so that you can prop them up on any surface.
Due to the fact that these speakers are built for the outdoors, you can depend on their longevity. They are designed to maintain their quality even during extreme weather conditions.
While some seem to think that the cost of the Bose speaker is overpriced, you'll feel that it's reasonable due to the sound output and how clear it is in comparison to various other outdoor and indoor speakers.
Even if something were to go wrong with the speakers, you could rest assured knowing that Bose provides a 5-year warranty. This promise makes it a lot easier to invest in the product is that it is a bit more expensive than your average outdoor speaker.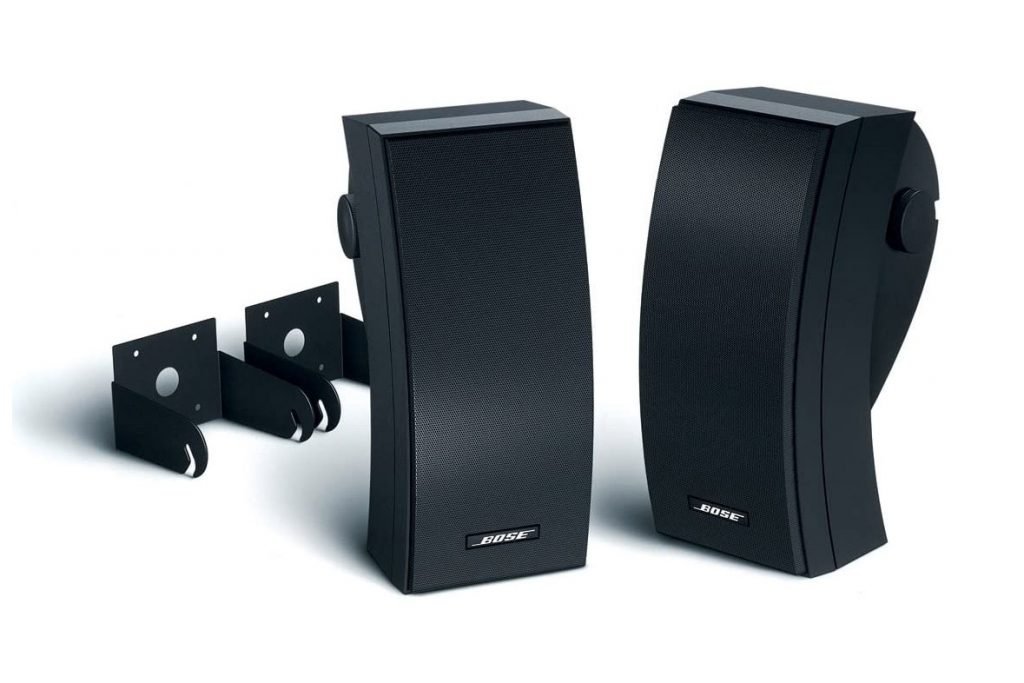 Zero Sound Limitations
The bass response is one of the best features of the Bose 251 Environmental Speakers. Although the size isn't massive, the sound quality is extremely life-like, with a tight, punchy sound.
If you like to watch movies outside on large project screens, then these speakers can easily and conveniently complement that. These speakers deliver powerful audio that's up to par with large entertainment speakers. You can watch movies easily and even hook them up to an amplifier when you have a lot of people over.
Just because these are sold as outdoor speakers doesn't mean they can't do great things indoors. In fact, these are one of the more popular patio speakers used indoors – as we'll discuss further below.
Bringing the Party Outdoors
The Bose 251 Environmental Speakers have yet to show any signs of aging. If you've ever owned outdoor speakers in the past, you may already know how difficult it is to separate a good and bad quality outdoor speaker just from the listings.
A lot of outdoor speakers claim to last, claim to have great sound, and otherwise make a lot of claims that they don't live up to. The outdoors can be harsh on electronics, and the reality is that a lot of smaller brands that enter the outdoor market space don't have what it takes to create a quality outdoor speaker.
That's why we always recommend going with a trusted brand like Bose when buying an outdoor speaker. Even though these aren't exactly expensive speakers, it is always worth investing more in quality than having to replace your speakers in a few years.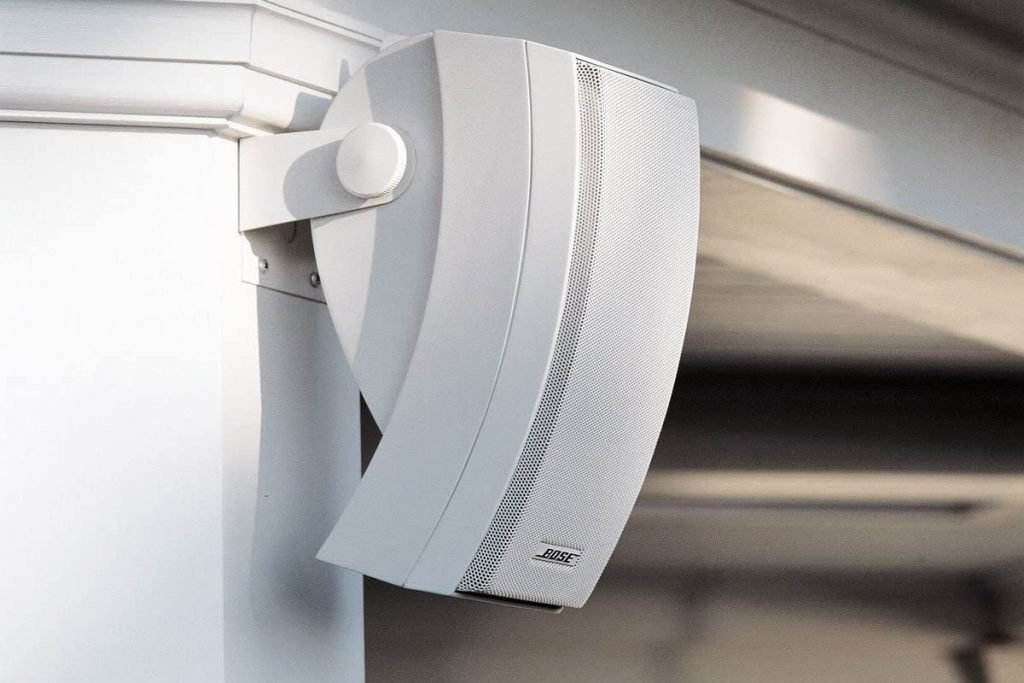 Using them Indoors
So, you've chosen to use these indoors and outdoors due to the sound production that Bose has engineered with these speakers. This is a definite trademark product of Bose, with its precise angles that complement the audio output. The angle allows it to build more coverage and produce a wider sound so that there is consistency in audio effects. The design is multi-chambered, which helps to reduce the distortion that stems from lower frequencies.
Even the lowest and highest tones are distributed smoothly, making the music and movie process an enjoyable one for your guests and yourself. The size of the speakers also blends into the size of the furniture you have inside your living room.
You can easily set these up in your office room if you tend to spend a lot of time on the computer. By mounting them to the wall, you can get the sound you desire and do so without disrupting the activities of others around you. It's also prominent to note that they are safe in any extreme temperature. You can set them up in your kitchen, outside, or in your garage without having to worry about speaker damage.
In most cases, bookshelf speakers are a better option for indoor audio, but if you only want to invest in one pair of speakers for both indoors and outdoors, the Bose 251 Environmental speakers are able to cater to that.
Bose Brings Quality
Overall the Bose 251 Environment is a great outdoor speaker that, even years after its release is still as relevant as the day of release.
The sound is relaxed yet powerful, and it can really do some damage if you have subwoofers. These are by far the best 80 to 120-watt speaker products, and by now, you should have more than enough reasons to at least give them a try.
Thanks for your feedback!