When bringing music to your garden, there are a few options. The most inconspicuous of which is the outdoor rock speaker. Outdoor rock speakers blend neatly into the landscape of your garden while at the same time being able to greatly enhance the time you spend outside.
While patio speakers, wireless outdoor speakers, and even waterproof Bluetooth speakers can all bring high-quality audio to your garden, outdoor rock speakers are made for a more widely encompassing audio setup which allows you to bring the party to your whole garden without blasting the neighbors with a single large party speaker that's cranked up.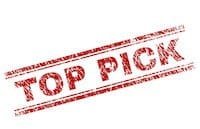 The AWR-650-SM is a premium outdoor rock speaker that offers broad, rich sound that stands out from the competition.
Of course, if you're going for an outdoor sound system, you need something that's able to withstand the elements, and with minimal maintenance, if at all possible. This is where rock speakers roll in, so to speak. Not only are their enclosures weatherproof and, more often than not, shock-resistant, but they are also designed and styled so as to blend in thematically with your garden.
Bluetooth vs Wired Outdoor Rock Speakers
In recent years Bluetooth connectivity has become extremely popular within the audio market, especially outdoor speakers. Outdoor rock speakers have seen the same evolution, but not without a cost. While Bluetooth connectivity brings unparalleled ease when paired with your smartphone (see how to pair with Android or iPhone), there are often issues within Bluetooth rock speakers where one cannot pair multiple speakers together or issues with battery life.
We have included some of the better Bluetooth options on the market, though we would still recommend opting for wired rock speakers. As touched on, battery life becomes a real problem with many Bluetooth rock speakers on the market, with some only allowing several hours of use. A battery-powered rock speaker becomes more viable when combined with a solar charger.
If you plan on only using your outdoor rock speakers occasionally for rare, short-lived gatherings – then you may not mind the idea of having to swap out your batteries. On the other hand, if you're looking for a permanent rock speaker solution that's ready to go when you need it, in most cases, a wired option will be your best bet.
Matching the Rocks to Your Garden
If you're looking for a specific color of outdoor rock speaker to match your garden design, here are some popular options that most closely align with the color classifications:
Our Selection of The 9 Best Outdoor Rock Speakers
This list looks to provide you with the most reliable outdoor rock speakers on the market. We've included both wired and Bluetooth options.
1. Klipsch AWR-650-SM Outdoor Rock Speaker
Color:
Granite, Sandstone
Whether you're trying to rejuvenate your pool area, or just adding some finishing touches to the garden, getting a decent outdoor sound system sounds like a good idea, and the Klipsch AWR-650-SM certainly fits the bill. Moreover, as the name might suggest, this is also a decent indoor speaker, although it really comes into its own when you place it outside. It's available in a granite or sandstone finish, whichever floats your boat.
The cabinet is made of durable UV-resistant plastic, fully able to survive the worst that the elements can throw at it, and with minimal maintenance, to boot. It might be a little bit over what you might feel comfortable spending for a speaker, but rest assured you'll hear where each and every cent went. You should be able to locate one speaker for approximately $275 to $325.
This is what the experts call "true two-way design"; translated into plain English, this means the speaker actually contains separate drivers for highs and lows. For the former, there are two polymer dome tweeters, while the latter is taken care of by a lonesome voice coil polymer woofer. The max output power on these is 200 Watts.
One minor note – you may be confused as to why most speakers come in pairs, whereas the Klipsch Rock comes as single. It's because most outdoor speakers can't handle stereo – Klipsch can; perhaps because the company has over 6 decades worth of experience in making quality audio equipment; you are simply benefiting from their accumulative knowledge.
It is fair to say that the Klipsch offers the best performance of any outdoor speaker you can purchase; making it well worth the price tag. Although it is designed to be used as a stereo speaker; if you wish to really up the ante in your garden you can wire it for mono output and add a second speaker; dramatically increasing the sound available in your garden. You may also want to know that the rock has a port for bass reflex; which dramatically increases the quality of the bass note produced by this speaker.
The speaker weighs 9 pounds and is big enough to be noticed at 15 inches by 11 inches by 9.5 inches. But it still looks like a rock! You can choose between a white or black enclosure; both come with grilles to help protect the speaker from the elements. You can even paint the grille if you desire!
The Klipsch AW-650 is designed to provide a frequency response of 70Hz to 20,000Hz with a sensitivity rating of an impressive 95dB!
The speaker does come with C style mounting brackets or you can choose a different style depending on your need and the location of the speaker. It should be wired with 12 gauge wiring and waterproof connectors should be used after the supplied 3 feet of wire has expired.
The product will arrive with a lifetime warranty; providing you use it only for its intended use; you will be able to have your concerns addressed at any time in the future.
2. OSD Audio RS850 8″ Outdoor Rock Speaker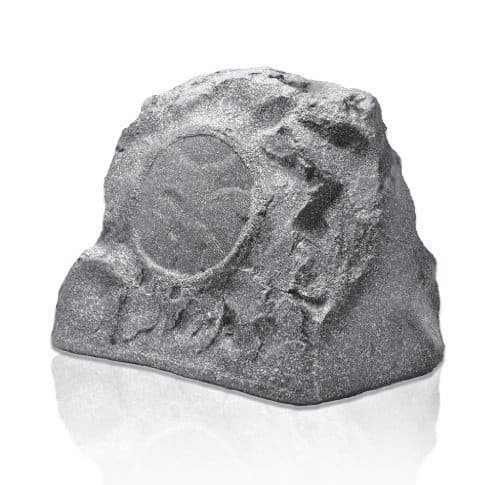 Color:
Granite, Slate and Sandstone
This is OSD Audio's largest outdoor rock speaker, standing over 20-inches tall. The reason for this large form factor is due to the massive 8″ woofer that is contained inside. In addition to the large woofer, there is also a 1-inch dome tweeter to take care of the high frequencies response. The RS850 boasts an impressive 200W of power, with a frequency response of between 28Hz to 20kHz.
What sets the OSD RS850 outdoor rock speaker apart from some of the other powerful contenders is its clear audio quality. We found a lot of distortion present on some brands of rock speakers when pushing the volume up, while there is a limit on these too – we felt they were a bit more forgiving when the volume is pushed.
The construction of outdoor rock speakers is an important factor, as loose parts or badly fitted speakers can cause rattling that degrades your audio quality. The RS850 is well constructed and offers excellent weather protection thanks to the aerospace-grade composite cabinetry. This also ensures that your speakers do not absorb water, in turn also protecting them from freezing and cracking in the winter.
When it comes to the aesthetics of the RS850, you can choose between 3 colors (Grey, Brown & Slate). Having these multiple color options available is extremely useful when you want to blend your outdoor rock speakers to any existing rock features your garden may already have. The finish on the speakers is of high quality and the colors fit well into one's natural garden environment.
3. Innovative Technology Outdoor Rock Speaker (ITSBO-513PS5)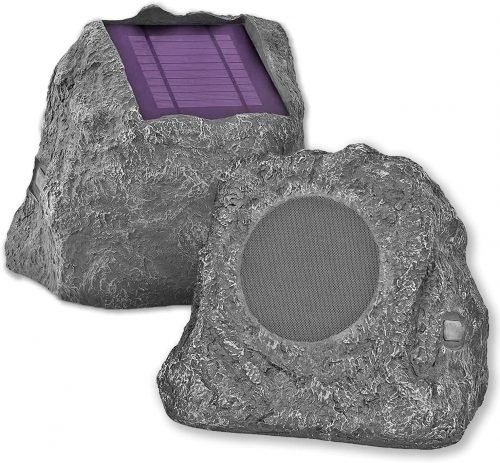 The Innovative Technology Outdoor Rock Speaker is sold as a set of two, for a very reasonable price. What separates this pair of rock speakers from most others on our list is that it combines both Bluetooth connectivity with a solar charging system. As we found when reviewing some of the other products, Bluetooth outdoor rock speakers tend to require regular battery recharging/replacement.
With the solar capabilities of this speaker, you'll have far less to worry about when it comes to keeping your Bluetooth rock speaker charged. It will require 15 hours of sunlight for it to fully charge the batteries, which pairs excellently with the fact that the battery can hold 50 hours of charge. During the summer months, you may find that you rarely have to worry about these batteries going flat. It uses Lithium Polymer batteries which come included.
These speakers will pair easily to your smartphone and smart devices – but do note that there is no aux input support with these. When it comes to Bluetooth coverage, you're going to have around 25-35 feet of range, so don't expect to be changing the tunes from across the garden.
Aside from the solar and Bluetooth integration, the other area where this speaker impressed us and to a degree even surprised us was the audio quality. Innovative Technology was able to bring really decent sound quality to what is otherwise a very affordable product. We find that the Klipsch performs better, with more rich and full sound – but these do come in at a fraction of the cost.
We would have liked to have seen more color options, but the grey design does tend to work well with most garden designs.
4. OSD Audio RX550 Outdoor Rock Speaker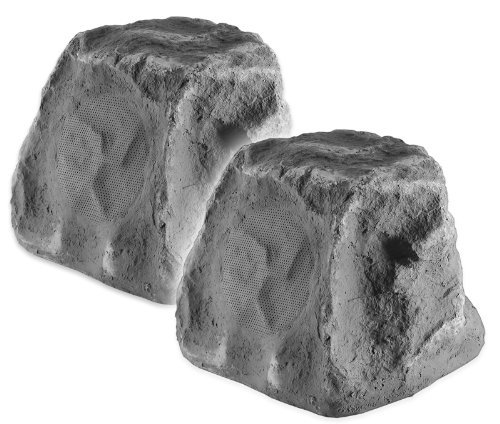 Color:
Slate, Granite and Sandstone
The enclosure is made to resemble a roughly hewn rock block, and is available in three colors – brown, gray, and white, if you want to match it with the overall tone of the garden (no pun intended).
Of course, it should go without saying that the enclosure is fully weatherproof, able to withstand rain, searing heat, the wind, salt fog, you name it. Acoustically speaking, this is an inert enclosure, which allows for realistic sound reproduction. This makes these speakers ideal for watching the Superbowl with a bit of a crowd.
As far as power handling goes, the speakers are rated at 100W, with 8 Ohm impedance, so keep that in mind when doing the wiring, unless you want to blow your amps. Since we're on the topic of sound, we should stress again that this is a two-way speaker, rocking a 5.25″ polypropylene woofer with a sealed voice coil and a .75″ stamped aluminum tweeter. The first, of course, take care of the lows, the latter of the highs and mids (but highs in particular). It is worth noting that a pair of speakers weighs 30 pounds and offers a respectable sensitivity rating of 91dB.
The speakers have a frequency response of between 65Hz and 20,000Hz; covering the majority of the sounds that human ears can pick up. There will be a few bass notes that are missed, but this is probably a good thing when entertaining in the garden; you want to be able to talk to your guests!
The speakers are 5.75 inches tall, just over 7 inches wide with a depth of 5.5 inches. This makes them small enough to fit virtually anywhere in your garden but not so small that they will be overgrown! They look incredibly authentic and can be located anywhere you would expect to find a rock in your garden!
It is important to note that these speakers are wired. The maximum voltage they can handle is 660Volts through copper wire. You should use wire which is between the ranges of 22-gauge and 8-gauge to ensure there is no risk of sound distortion or overheating. The wires can even be color-coded to the rocks!
The rocks come with 3 feet of speaker cable; the extra cable can be purchased but you must use waterproof connectors to ensure you do not damage your rock speakers.
These rocks are silicone sealed and can handle temperatures from -45 to 400° F. They can even be buried if required; although you will want to have the speaker grill exposed to ensure the sound comes out clearly.
You will also be pleased to discover that the speakers come with a 5-year warranty; this is a testimony to the quality of the product and faith that the manufacturer places in their craftsmanship. You are unlikely to be disappointed with these speakers.
You can also choose to connect these speakers to an amplifier or even your iPod dock; to increase the options available to you when entertaining or simply enjoying your own garden.
5. Theater Solutions 2R6G Granite Rock Speaker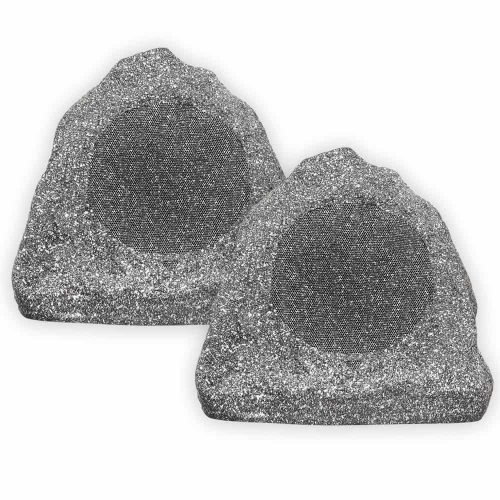 The Theater Solutions 2R6G Rock Speakers are the ideal thing for folks who are on a somewhat restricted budget but are unwilling to give up the quality of the tunes. For the price, the rich sound and tight bass these speakers deliver can safely be said to exceed all expectations. Seriously, if the phrase "bang for the buck" has ever made sense, it's when talking about these.
It should probably go without saying by now that the speakers are completely weatherproof, and should last you a good long while, all year round, even without additional protection. Still, why push your luck? Cover it with some tarp and fasten with a length of the cord during the winter, and rest easy. It's interesting to note that they have a "pigtail" connection, as opposed to the more common standard connector, which allows for a waterproof connection.
As far as the sound goes, the Theater Solutions Rock can shred with the big dogs, no questions asked. They deliver good, clean highs, with lots of clarity, and surprisingly good bass, given that most other outdoor speakers, particularly in this price range, are notoriously lacking in this department. This is possible thanks to the 6.5″ Butyl rubber surround woofer with poly-mica cones, at least where the bass is concerned; the highs come off great courtesy of the 1.0″ Ferro-fluid-cooled soft dome tweeters.
The speakers are designed to handle between 10 and 200 watts each; allowing you the luxury of setting the exact volume you want for your outside event; whether small and intimate or a full-on party.
The frequency response of these speakers is a respectable 60Hz to 20,000Hz with the sensitivity set to 96dB. The speakers are designed as 2 way running on 8 ohms. The 6.5-inch woofer has sealed voice coils to complement the Poly Mica woofers and Butyl rubber surrounds; providing clear sound quality and long durability. Even the wires are encased in silicone to protect the speaker and ensure it lasts for as long as you need it.
The rock cabinets are multi-layered and silicon sealed to ensure they remain waterproof; no matter what Mother Nature throws at them. Even the grilles have been coated to ensure they are rust-resistant and will last for years. Their design should protect them from temperatures as high as 140° F
They have also considered the location of these speakers and set the drivers at a 20° angle; helping to ensure the sound rises out of the ground and sounds crystal clear at your ears.
Each speaker weighs 12 pounds and measures 9 inches by 10 inches by 8. You should be able to pick up a pair of these for between $75 and $150 which is a worthwhile investment. Choose from granite grey, lava or sandstone to ensure they blend perfectly with your backyard.
It is worth noting that the speakers should be connected to an amplifier; this will power them and ensure they provide the volume and clarity that you were looking for. All fitting instructions arrive with the speakers; making it a simple job to do.
6. Sakar Margaritaville Outdoor Rock Speaker (MA111-MGV)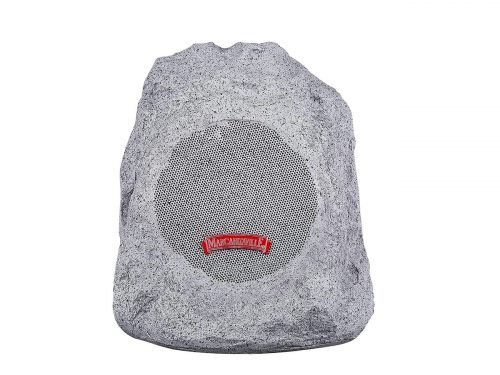 Sakar Margaritaville may not be a recognizable brand for most, but its outdoor rock speaker has become a popular choice for garden audio. What sets the Sakar Margaritaville rock speaker apart from a lot of other rock speakers on our list is that it's a fairly new release, which also means that it offers capabilities some of the older rock speakers don't.
Bluetooth functionality is a great example of this. The Bluetooth capabilities allow for wireless connection of up to 30 feet from your pairing device. The one big drawback here for Apple users, however, is that if you're looking to pair two of these speakers, this can only be achieved using an Android phone, with iPhones only being able to pair to one speaker at a time.
Because the Sakar Margaritaville are wireless speakers, they do require a battery. They make use of a Lithium-ion battery which can provide up to 4 hours of power, which is lower than we'd have liked to see. As a consumer, you should ask yourself how you want to use your outdoor rock speakers. If you're planning to have them running for extended periods on a regular basis, these aren't going to be your best choice as you'd need to regularly swap out the battery.
These rock speakers are best catered towards occasional outdoor usages, such as for parties or social gatherings in your garden. We'd have liked to have seen a solar panel for charging.
When it comes to the audio quality, these rock speakers fall about the middle of the field. The frequency response range isn't provided by the manufacturer, but it does seem to lack in the lower frequencies. That said, the woofer is able to perform decently in the midrange. Highs come across a bit metallic but again, in line with many other products in this sub-niche, and even outperforms some of the more well-known brands in this regard.
Design-wise, the biggest drawback we came across was the unusual choice by the company to include their company branding over the front of the speaker in red. With the allure of rock speakers being that they blend into the environment, this is a choice we really don't understand. However, if this doesn't bother you, the Sakar Margaritaville offers a really decent outdoor rock speaker option at a good price.
7. OSD Audio RX640 6.5″ Outdoor Rock Speakers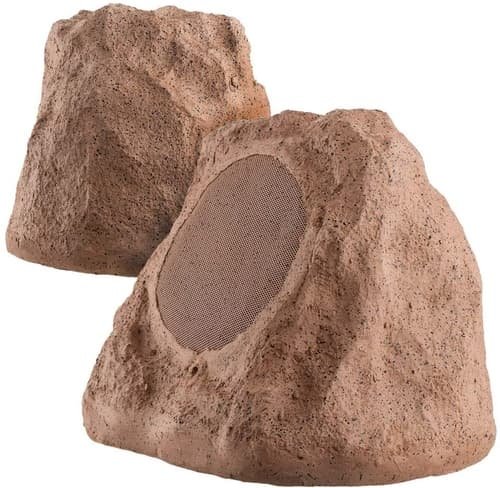 Color:
Granite, Slate and Sandstone
The speakers come as a pair and have a 6.5-inch woofer with a polypropylene cone and a sealed voice coil.
They also have a 1″ tweeter made from coaxial polyamide and dome-shaped with an aluminum coating; offering a good range and clarity of sounds. They offer a frequency response of 35Hz to 22,000Hz and are rated at 150 watts; providing enough power for most garden events. They also offer a sensitivity of 91dB; which is good for any speaker; inside or out. You will need to run them on an 8-ohm system.
The speakers are available in either sandstone or granite grey and sold in twos with a one-year warranty. They are not wireless capable but are excellent value for money at between $100 and $150.
Each speaker is 12 inches by 14 inches by 10 and is built to an incredibly high standard. It is recommended that you use an amplifier to really get the most out of this product.
Thanks to the price and the quality of this product it is an exceptionally popular choice; in particular, people have commented on the excellent bass response. This is often an overlooked feature in rock speakers.
The speakers are constructed to withstand all the different weather situations, rain, snow, sleet, ice, and even sunshine. They will fade over time and for this reason, it is best to keep them in the shade. This does not mean that you cannot put them away in the winter but you should not feel like you need to.
It is important to note that these speakers are designed to be passive; they must be powered by the amplifier or your sound system; you cannot connect them directly to your cell phone or iPod. Of course, you can connect this to your music system and then allow it to play through your rock speakers.
The supplied speaker cables are 3 feet long. You will need to purchase additional cables if your speakers are further than this from your receiver and waterproof connectors. If this is necessary it is advisable to bury your speaker cable; this will ensure it does not become damaged by the elements or animals; potentially ruining your speaker before you get to fully appreciate it.
These speakers have been very well constructed. They are designed to be resistant to salt, water, and the majority of chemicals. They are created from the very best materials, including multi-layered enclosures and aerospace-grade materials. This will ensure they last for years in your garden providing excellent sound quality for the duration of their lifetime.
As well as being able to choose your color you can actually choose to have a larger speaker with all the remaining features the same. This will simply improve the volume of sound you can produce.
Each speaker weighs approximately 12 pounds; which is heavy enough to ensure they stay in position although you can purchase a mounting kit if you desire.
8. TIC TFS6CN 8″ Outdoor Stone Speaker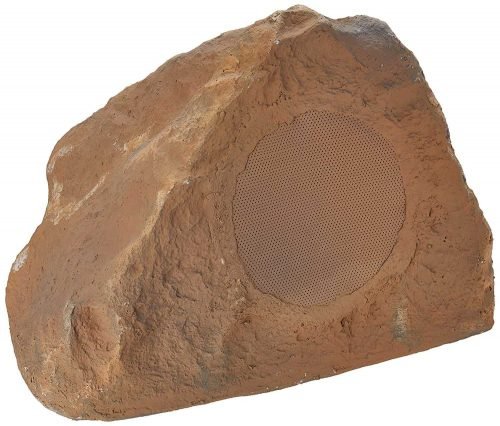 You may not have heard of the TIC Corporation but they have been creating industry-leading speakers for over 35 years. Their aim is to provide the best quality speakers at the best possible price; something they appear to have achieved with the TFS6CN; one of their latest offerings.
This speaker has a rugged and ridged shape to help persuade you that it is genuine rock and not a speaker. You might be surprised at how effective its disguise is; when you go back into the garden in the spring you may not even be able to locate it!
Its dimensions are 19.3 inches by 14.6 inches by 15.10 inches; it weighs approximately 14 pounds and can be purchased in a variety of colors. The favorite is canyon realistic stone but granite grey and sandstone are also good options.
You can select from a range of mounting options for this rock speaker; including mounting it on a wall or in a tree! It is worth noting at this point that the speaker will need to be hard-wired to your music system or amplifier. Bluetooth connection is not currently an option.
The speaker operates between 55Hz and 20,000Hz with a sensitivity of 89dB. Unusually the impedance of 8 ohms can actually be switched if required. However, you will need to add a 70-volt outdoor switch into your system to achieve this.
The speaker has built-in surge protection which is a useful feature if you ever experience a power surge. You will also benefit from a composite grill that will not rust.
The speaker has an 8-inch woofer and driver combined with a 1inch soft dome tweeter. You will also benefit from a full range crossover which ensures each woofer only receives the frequencies it is good at delivering; allowing a far superior level of sound quality to a speaker without a built-in crossover.
The tweeter has been created from Mylar while the main woofer is polypropylene with a butyl rubber surround. The enclosure is multi-layered and made with silicon to ensure it is weatherproof in all weathers. It can cope with rain, salt, fog, sun, and even ice.
The composite enclosure is made with the same materials that are used in the aerospace industry; this will make sure that your enclosure lasts and protects your speaker for years. The cables are connected to the base of the speaker allowing them to be buried with ease and disguising the fact that it is a speaker.
The speaker is passively powered and must be connected to your music system or an amplifier to work; it is important to bear this in mind when you first connect it into place. If your budget allows you to purchase one or two of these you will not be disappointed.
9. Alpine Corporation Solar & Bluetooth Rock Speaker (QLP542SLR)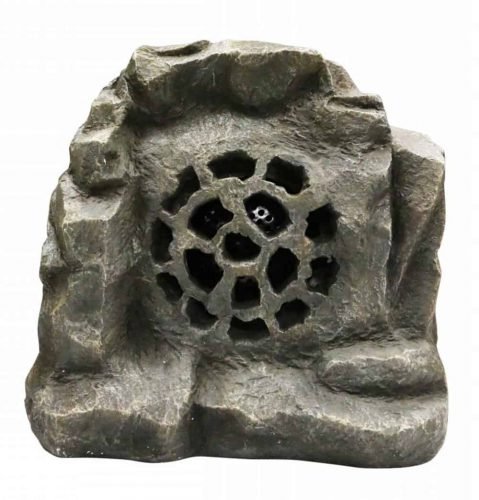 Color:
Granite and Sandstone
Alpine is not a stranger to the music industry and is certainly used to innovating. They have been at the forefront of speaker production for 50 years. It is certain that they know a few things about making quality speakers.
Their latest offering is described as revolutionary as it incorporates Bluetooth technology and solar technology. It should also be mentioned that the speaker can be charged through a conventional USB port if necessary.
Of course, the speaker is shaped like a rock; otherwise, it would not be included in this guide! However, what is unique about this particular speaker is that it can be easily moved according to your needs.
With no external power source and no wires, the speaker can literally be picked up and moved to your preferred location. Although it is built to exist outside it can just as easily be brought in when not in use and stored in your garden shed. Of course, it may not charge very well if stored inside; the more sun it has directly into its solar panel the better.
Once fully charged it should provide 12 hours of playback time; more than enough to cater for any party! It is also worth noting that the rechargeable battery inside this speaker can be replaced; extending its life virtually indefinitely.
The speaker has been created in a traditional gray-colored stone, or you can opt for a brown finish, allowing it to fit into most gardens with ease. It has a fifty-foot range; providing your Bluetooth device is within this range it will be able to play your music. This means that you can mingle with your guests and still control the tunes from anywhere in your garden!
The speaker weighs just 7.21 pounds and houses a 4-inch woofer. Although small it provides a surprisingly rich range of sounds; perfect for your barbeque or even a pool party. It is completely weatherproof and can handle rain, ice, wind, cold, and even heat. It also houses a 1-inch tweeter which amplifies the quality and clarity of the sound.
The grille is designed to protect the speaker from the elements. At just 13 inches by 9 inches by 11 you may be forgiven for misplacing it, but you will not want to!
You will benefit from dual cone technology which helps to provide you with crystal clear tunes. There is enough sunlight to charge the battery even on cloudy days and you can connect to the speaker through your Android phone, tablet, Windows computer, or even your iPhone.
You will also receive a year warranty from Alpine to ensure your peace of mind.
Rock Speakers Buyers Guide
Rock Speakers Buyers Guide
The number one reason why many people purchase outdoor rock speakers is so they can listen to music even when they are outdoors. This can be especially great when having a party at your home. The speaker can create a dynamic environment that is perfect for any party. Whether you choose to play soft music that adds to the ambiance of the party or plays dance music to bring excitement to the party, it will truly help to make your party special.
Rock speakers do have their limitations though, and we found that when pushed hard, most models start suffering in clarity. The Klipsch AWR-650-SM and OSD RS850 are some of the better speakers when it comes to producing clear audio at higher volumes. So if you are looking to crank up the volume, these may be your best choices.
Installation of Outdoor Rock Speakers
When deciding on purchasing outdoor rock speakers, something that is of importance to many in the process of getting them installed. Traditional outdoor rock speakers do require wiring which is typically fed underground to an amplifier. You can also feed your cables to an outdoor volume controller which then connects to your amplifier.
There are wireless rock speakers on the market (and our list), for those who really don't want to have to deal with the effort of wiring them up. However, we've found that wireless Bluetooth outdoor speakers tend to fall short in their quality when compared to the traditional wired options. So if you're not too concerned about audio quality, and ease of setup is more of your focal point, a wireless set could be preferable.
If you're really looking for the best quality sound, pair your devices with a quality amplifier and go through the effort of running these wires underground. You'll find the final results worth the extra effort.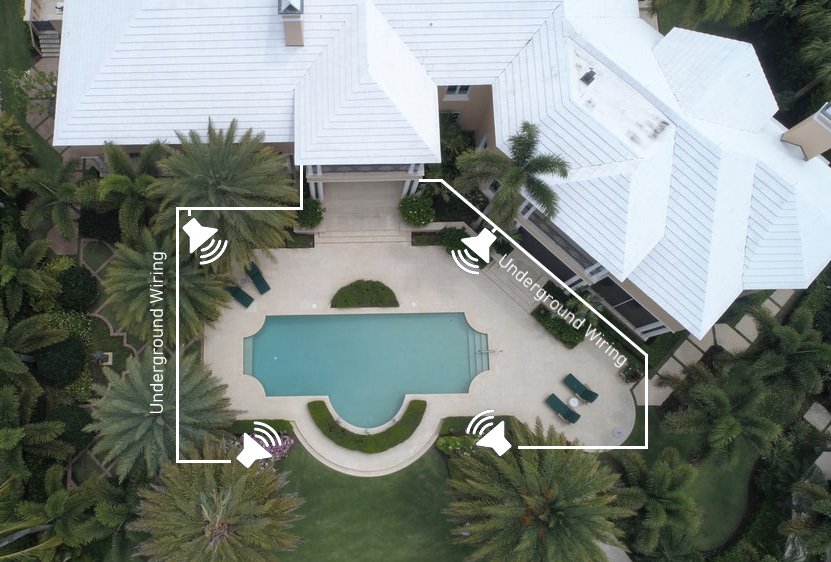 Benefits of Rock Speakers
Whether you place outdoor rock speakers on your patio or deck or install them in your yard or flower bed, they will have a natural look and go unnoticed by most guests. Many people like this option versus installing speakers on the walls of their home, garage, or deck.
Outdoor rock speakers are versatile and can be placed in areas of your garden that regular speakers can't. Because of this, you're able to bring audio to the desired locations of your garden without disturbing your neighbors. This is because you are able to hear more, with less volume with the speakers positioned closer to you or your guests.
Bluetooth outdoor rock speakers also often have the benefit of being wireless, meaning the setup is simple. But do make sure to read our thoughts on this topic, as covered above, if you haven't yet.
Different Types of Speakers
There are dozens of different styles and types of wireless outdoor rock speakers on the market today. They come in an array of different colors, shapes, and sizes. This allows you to find the one that matches the exterior décor of your home. One thing to keep in mind is that the size of the rock is not related to the sound quality or power of the speakers. There are many smaller rock speakers that provide a more powerful and crisp sound than some of the larger ones.
Quality Is Important
When looking to purchase outdoor rock speakers for your home, the look and quality are the most important features to consider. While you want to make sure you purchase rock speakers that will look great in your space, you also want to buy ones that will sound great too. There are several factors you should look at when searching for the best speakers, including the sound quality, durability, and what others think of the product.
Sound
Certainly, the main thing you want is a speaker system that sounds great. Think about the fact that you will be using the speakers outdoors, so you need to purchase one that has good sound quality and a wide frequency response range. This will ensure that you can still hear the speakers over other outdoor distractions like dogs barking, kids playing and airplanes flying overhead. It should have good volume control because there will be times when you want it to play loud and other times when you want a soft sound.

The range of sound offered by many outdoor rock speakers isn't going to impress audiophiles who are all about getting a rich depth. That's not to say they won't be able to impress you; we just want to make sure you're aware that you're not going to be receiving the same level of audio quality that you find in a pair of premium bookshelf speakers, for instance.
Durability
You are likely to want to keep your outdoor rock speakers outside throughout the entire year, or at least during the warmer months. This means that you want to find all-weather rock speakers. The majority of rock speakers are built to withstand all weather elements because the rock structure works to protect the electrical components of the speakers. However, just to be safe, you should check to make sure that any rock speakers you purchase are designed for consistent outdoor use. This will reduce the risk of damage to your speakers.
Placement
Not only does the placement of your outdoor rock speakers matter, but depending on what you're looking to get out of your rock speakers, there may be better options on the market. We recommend outdoor rock speakers if having your speakers blend into your environment is of importance or if you're looking to provide audio to an area away from your covered patio. However, if you're looking for high-quality sound for your patio, we'd actually recommend looking into dedicated outdoor patio speakers as an option.
How Many Are Needed?
Depending on the area you want to provide sound, the number of speakers you'll need can vary greatly. Typically, we'd recommend at least two for a small area, so you can have sound coming from more than one location, improving the perceived depth of the audio. Larger gardens may have more than a dozen rock speakers in place to cover the whole property.
In general, standard practice is placing them around 20 feet apart, depending on the model. This typically ensures that you can cover an area effectively. Louder models with 200W output can often be spaced a bit further apart. Most manufacturers will recommend a spacing distance for their speakers.
How We Selected Our Products
When reviewing the products for this list, we looked for products that can provide an audio quality high enough to warrant the price points. We excluded any products where we felt that the speaker quality was not living up to the cost. Because we understand that budget is always something to consider, we have included more affordable products in the list. These affordable outdoor rock speakers may not be able to bring the same quality of audio, but their price point will reflect this.
Sound Quality
The first thing we looked at is sound quality. While we don't think of outdoor rock speakers when we think of high-quality audio, some of these speakers are certainly able to deliver what is needed for outdoor entertainment. We excluded all products that we felt didn't match the basic requirements of what a consumer would require for their outdoor audio setup. We looked at the frequency response range, volume, and clarity. There were a number of products cut from the list which looked good on paper, yet when it came to their performance, they did poorly.
Design & Build Quality
Not only does having a range of color options assist buyers in finding a rock speaker that matches their landscaping, but more importantly the build quality of the speaker can define how long it's going to last and how much of a hit it can take. If you have pets, it's not uncommon to find your speaker dragged a few feet across your flower bed due to a dog with the zoomies. We looked at speakers which not only performed well but also looked good and had a somewhat rugged design.
Functionality
With technology constantly evolving, we wanted to make sure we bring you the best rock speakers for the current year. When we revised our list, we suspected that Bluetooth would be standard, but then started seeing that even today, the best outdoor rock speakers tend to be wired. There are a few decent Bluetooth options on the market, which we have included in our list. However, compatibility issues around speaker pairing, as well as battery life limits, kept us opting for wired options.
Why Trust Us?
We're open and honest about the products we feature and don't hesitate to highlight their strengths and drawbacks. We also believe that customers should know about the types of products that are buying.
We have a team of audio experts who are able to bring their knowledge to the table and provide accurate assessments of the products.
When it comes to the outdoor rock speaker market, you shouldn't expect to see many high-end manufacturers. The reality is that most of the products in this space are made by smaller companies that don't carry the same kind of brand recognition as bookshelf speakers, for instance, where you will see many high-end manufacturers focusing. That's not to say there aren't some high-quality outdoor rock speakers on the market. Klipsch, for instance, offers their AWR-650-SM model, which falls into a more high-end category than almost all of the competition – albeit at a higher price.
Additionally, brands like Innovative Technologies and OSD may not be household names, but their work with outdoor speakers, in particular, provides an outstanding balance between quality and affordability. You may not find the same rich audio quality and frequency response range as some more expensive brands, but many of these products can do more than hold their own.
Frequently Asked Questions
How Do You Sync Outdoor Rock Speakers?
The way your rock speaker syncs will depend on the brand of speaker you're using. While some simply connect with the native Bluetooth features of your phone, you may be required to sync them together initially before pairing to your Bluetooth device. We recommend following your product manual to get the best information for syncing your device.
How Do You Connect Outdoor Rock Speakers?
If you've opted for a wired product, you'll need to run the cable (typically underground if you have them out in the garden) from the speaker to your amp. You can always add additional features like a Bluetooth controller to your amp setup. If you opted for a Bluetooth outdoor rock speaker, your connection process is going to be a lot easier. Just follow your manual to quickly and easily pair them to your smart device.
Can You Pair Multiple Speakers to One Bluetooth Device?
The capabilities of multi-device pairing are heavily influenced by how the speakers sync and by the Bluetooth version included in the product. Some rock speakers need to be synced together and then connected as a single source. Others may only operate independently and not support multi-device connections. Pairing multiple speakers together is something that comes more native with the latest versions of Bluetooth.
How Far Apart Should I Place Outdoor Rock Speakers?
While this will depend on the output of your speakers, along with how many you have set up. This typically ranges from between 10 feet up to around 30 feet, though some models can be placed even further apart.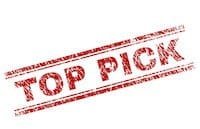 The AWR-650-SM is a premium outdoor rock speaker that offers broad, rich sound that stands out from the competition.
Thanks for your feedback!