The Bottom Line
The Anker Soundcore Trance is a moderate to large sized Bluetooth speaker that boasts over 100dB of volume at a very reasonable price. The Trance is versatile (and waterproof) enough to carry with you on camping trips or keeping at home for parties, where the LED effects can be a really fun touch. We love the Trance so much we've recommended it as the value choice on our article about the loudest Bluetooth speakers currently on the market.
Anker's Soundcore range of Bluetooth speakers often appears on our best lists in various categories- they're just simply great speakers. Here we'll take a more in-depth look at the Trance model, a great speaker for house parties, tailgates, or just casual listening around the house or garden. The Trance model is the latest update of the Rave Mini, which shares many features with the Trance.
Design & Build
The Soundcore Trance is reasonably small and lightweight considering the volume it can produce, measuring in at 7 x 7 x 13.3 inches and weighing less than 8 pounds, I can safely say the Trance can be taken around with you on camping trips or days out, and its build qualities only support this ability. The Trance holds a weather-resistance rating of IPX7, granting protection against high-pressure water contact at all angles. The Rave Mini model holds the same water-resistance rating.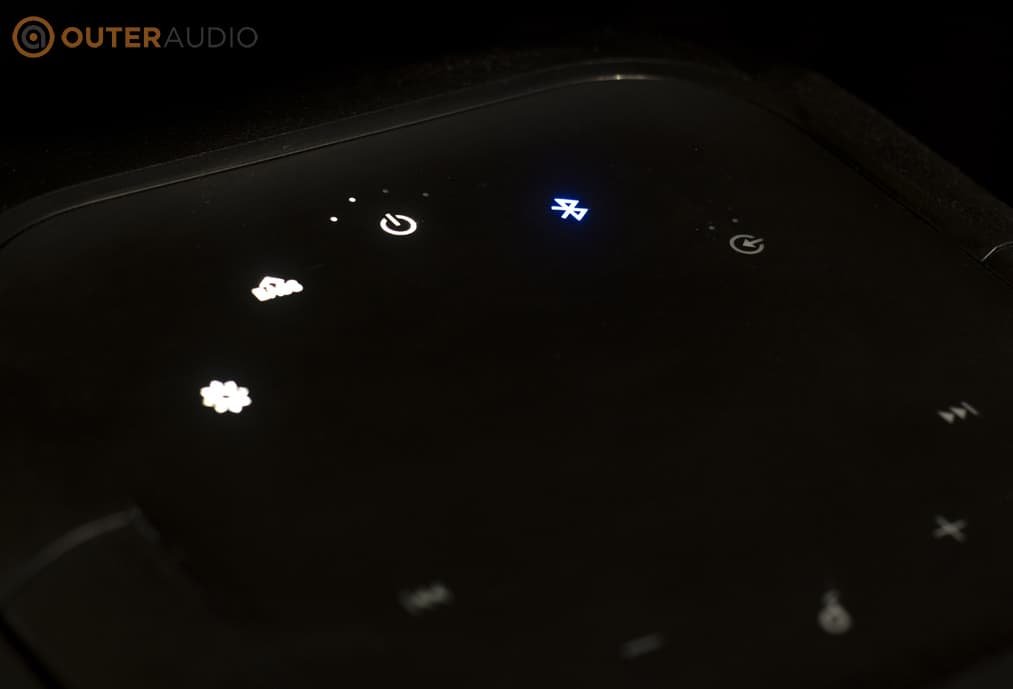 The Trance features an integrated carry handle that feels pretty sturdy to hold and can be moved 180-degrees in both directions. The Rave Mini's carry handle is made from the same material as the speaker enclosure and cannot be moved. I must say I prefer the handle style of the Rave Mini, as it feels sturdier, and the buttons can still be reached easily enough.  
All the Trance's controls are situated on top of the speaker, beneath this carry handle. On the control panel, you have control over all your essential music playback functions, as well as Soundcore's bass boost, named 'Bass Up,' and control over the onboard LED light rings.
The Soundcore Trance is rectangular, while the Mini has slightly curved edges. While this doesn't affect the speaker's acoustic properties, the softened corners will provide slight protection from bumps against walls, tables, and other items. The Rave Mini's handle design also allows for a horizontal speaker orientation which can be pretty handy in certain situations- the Trance's moveable handle gets in the way of this and thus only allows for vertical positioning, unfortunately.
Party-Friendly Lights & Games
The Soundcore Trance has two LED rings on the front of the speaker that move to the beat of your music and has several other animation modes that can be selected using the light button on the control section. The circular lights also collaborate with the Soundcore app to bring the Trance to the center of your party games: enjoy a game of Truth or Dare or Spin the Bottle and allow the LED ring to act as a turning dial with sound effects, or pretend to be a DJ using the virtual turntables on the app and watch as the LED rings spin in sync with your finger movement.
These are features I've never seen before on a Bluetooth speaker, and while they're pretty gimmicky, I find them to be fun little inclusions for a party-oriented speaker.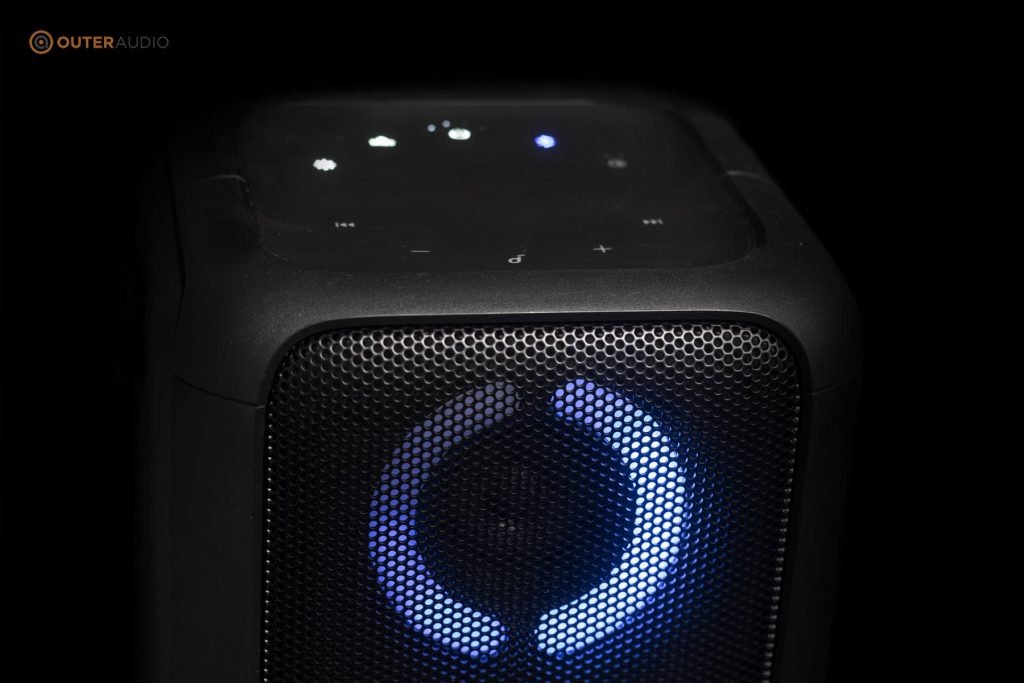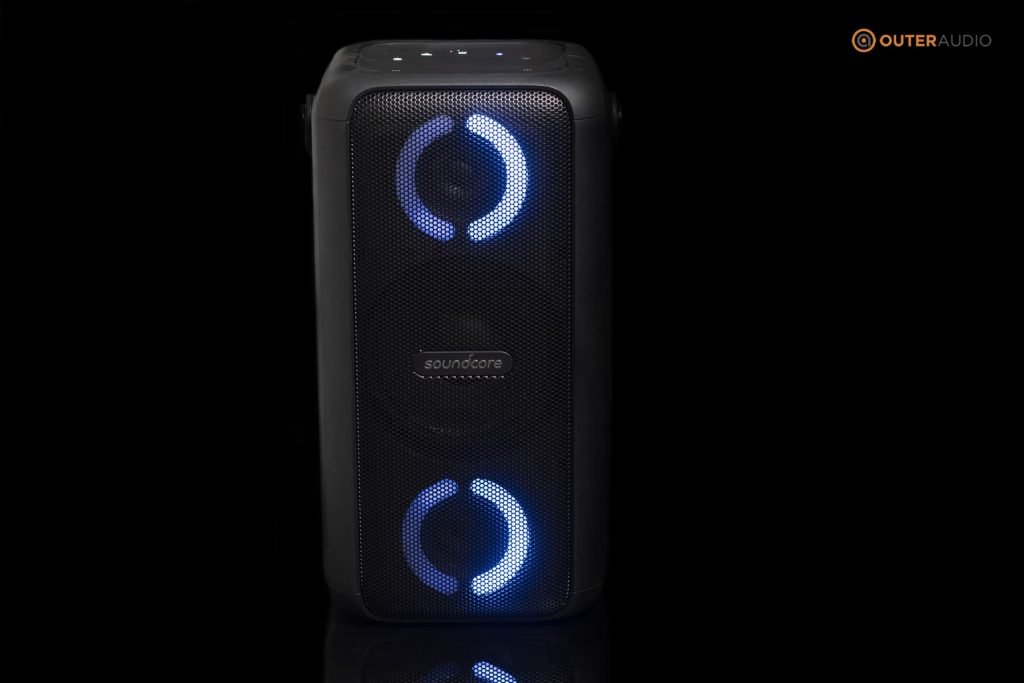 Connectivity & Battery Life
The Soundcore Trance is primarily a Bluetooth speaker which utilizes Bluetooth 5.0 to deliver stable and robust connectivity over a distance of up to 66 feet. I found this figure to be accurate in line of sight circumstances. As you can expect, the indoor range will shorten as walls and furniture come between your source device and the speaker. The Trance also allows for two simultaneous Bluetooth connections- I really love this option and quite frankly don't see it enough on Bluetooth speakers. This feature comes in handy for a speaker built for party use more than you'd think. 
The Trance also allows for 3.5mm auxiliary connectivity if you wish to preserve the speaker's battery life or use a source device that isn't Bluetooth compatible. The Soundcore Trance also allows for USB charging of your mobile devices, also found under the rubber pull-away flap on the back of the speaker. This pull-away tab feels strong enough, and I wouldn't need to worry about water getting inside the delicate ports as long as you close it securely enough.
As for the battery life of the Trance itself, it can run for around 18 hours at moderate volume levels. For party scenarios where the volume is at 85% or higher and additional features such as USB charging and the LED lights may be used, I'd say the Trance could operate for around ten consecutive hours. The Trance recharges fully in about 4.5 hours when the speaker is at 0%. 
Sound Quality
If you're looking to power a house party and fill a large room with vibrant, dynamic sound, the Trance will, without a doubt, keep you and your guests satisfied. It boasts 101dB of volume, making it one of the louder Bluetooth speaker options, especially in this price range.
The Trance app allows you to switch between two sound modes: indoor and outdoor.
Indoor mode resembles a Hi-Fi system with slightly accentuated low-end and highs, while outdoor mode provides a treble boost to aid sound projection over a greater distance. Both sound modes sound good in their intended environments, and indoor mode works well outdoors, too. I just wouldn't recommend using outdoor mode in an indoor setting. 
The Soundcore Trance maintains a tight, punchy sound until around 90% volume level, where some distortions might occur, depending on what you're listening to. It's worth noting that you shouldn't really need to push this speaker to this volume level in most instances, and for small to medium-sized house parties or listening around the house, around 20-60% volume should do the trick. We've also covered points to consider with regards to volume vs sound quality in more detail here.
As for the stereo spread, I was hoping for a little less ineligibility, and separation of the higher frequencies, and a more significant distinction between left and right channel information here, but I can't say I'm too disappointed. The Trance supports True Wireless Stereo, where you can pair 2 Trance speakers together to establish a stereo pair- simply station them at a distance from one another, and you have a monstrous-sounding system. 
The Soundcore Trance also incorporates the company's Bass Up technology to provide a bass boost at the click of a button. Like most portable Bluetooth speakers, this bass boost feature really brings the party to life and generates some ground-shaking tones; however, the quality of the remaining frequency spectrum can deteriorate quite severely.
How you use the Bass Up feature really depends on what you listen to; for electronic and other bass-heavy music styles, this feature can seriously improve the sound quality to match your music preference, but for different music styles that demand a little more clarity in the high end, you may find yourself having to make some compromises. 
Overall, between the two listening modes, paired with the bass boost feature, I'm confident that you'll find a balance that works for whatever your musical preferences may be. Comparing the Trance to its previous model, there are no noticeable sound quality improvements between it and the Rave Mini. 
Wrapping it up
In conclusion, I found the Soundcore Trance to be an incredibly useful speaker. While it isn't precisely backpack-friendly, it is portable enough for weekends away or days spent at the beach, and its water-resistance properties allow for stress-free use in such environments. The sound quality is one of the best I've heard in a Bluetooth speaker, and its versatile options consisting of indoor, outdoor, and bass boost modes will satisfy any music lover.
If you find the Trance to be a little out of your budget, you may be able to grab a Rave Mini at a better price, which is virtually the same speaker with very few hardware adjustments and firmware upgrades. Compared to other brands, it's challenging to place the Trance in a market space where its design is somewhat unique and is priced slightly below its apparent competitors. 
Overall, the Soundcore Trance offers incredible value for money for superior sound quality and fun party features in a durable and long-lasting design.
Thanks for your feedback!