Portable speakers that enable us to listen to our audio when outdoors are nothing new, but now it is possible to enjoy music even while swimming in the pool. There are water resistant outdoor speakers available for the job, but what about taking your speakers into the pool with you? These type of speakers not only float on water, but are able to deliver great audio and can be used without risk of moisture damage.
Most of them have also been designed to blend in seamlessly with your pool area, so your guests might just be left wondering where the music is originating from at your next pool party.  While not full blown party speakers, there are some great pool speakers and floating pool speakers that you can use either by the pool or they can float alongside you in the pool while playing music.
Jump to Floating Pool Speakers
The Best Pool Speakers
A great poolside speaker is essential if you want to throw a pool party or even if you just want to chill by the pool alone or with some friends. If you have ever switched on your living room sound system and tried to listen to music by the pool that way, then you will know what I am talking about. And while listening to headphones by the pool is always an option, it is very antisocial when you are in a group and you generally cannot go swimming with them. This is why you need a quality poolside speaker that is waterproof and loud enough for some summer fun.
Here are our 3 best poolside speakers: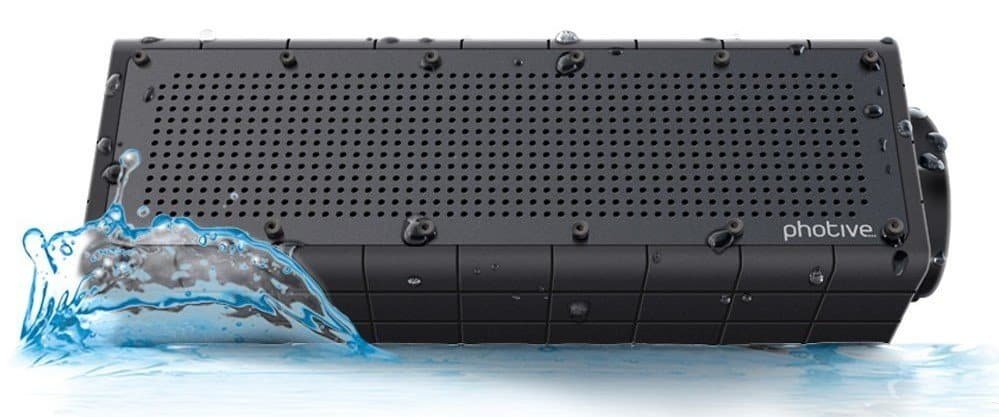 The Photive Hydra Wireless Bluetooth Speaker is so much more than a portable pool speaker. According to one Amazon review, this speaker withstood a raging tornado that destroyed the home it was held in and then laid out in the pouring rain for an entire day and still worked perfectly. If that is not proof of the durability of this speaker with its IP66 ingress protection, then we don't know what is.
This truly remarkable speaker offers you up to 8 hours of uninterrupted sound and thanks to its passive subwoofer and two 40mm drivers, the sound is crisp, clear and undeniably of the utmost quality.
With the Hydra, you can stream music through any of your Bluetooth devices such as your Smartphone, tablet, computer, etc. So best make sure that your playlist is fully stocked with all your favorite hits because you are not going to want to let go of this amazing portable pool speaker. You can also switch tracks or adjust the volume of the speaker with the use of some convenient buttons – and all this with Waterproof, Wireless, Shockproof, and Dustproof features.
While the Photive Hydra pool speaker has a rather simple industrial design, it outshines all its competitors due to its sheer quality in both built and sound.
Available at: Amazon.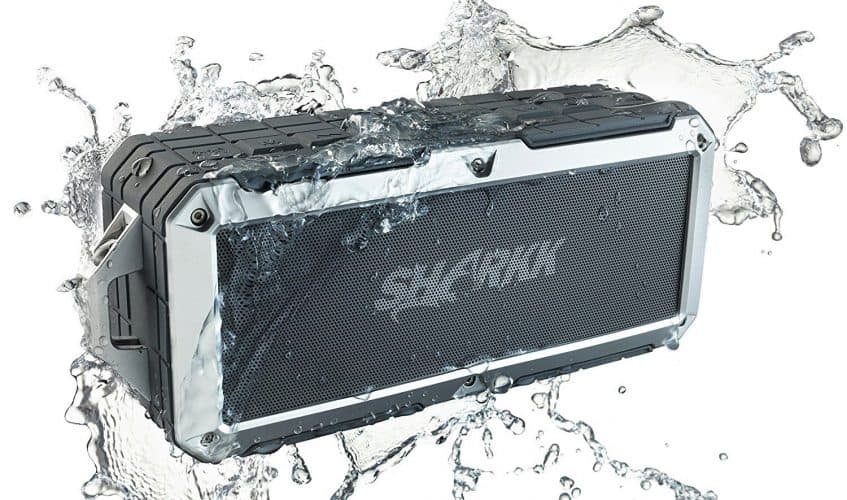 Are you looking for a truly outstanding portable pool speaker with a bit of a rugged look that can provide quality sound? If so, then the Shark 2O IP67 might be just what you are looking for. This speaker has the longest Bluetooth range on the market at a range of over 60 feet of uninterrupted music streaming and over 100 feet of connectivity capabilities. So your Smartphone or tablet or whatever device you are streaming from does not need to be anywhere near the actual speaker. For anybody looking for a pool speaker that offers remarkable portability features, the Shark 2O IP67 is the ideal purchase.
This solid speaker features a rubber coating that makes it both shockproof and dustproof so that you won't have to worry about such silly things. It also comes with a great IP67 rating which means that it completely waterproof and perfect for a pool party.
Unlike many other portable Bluetooth speakers, the Shark 2O IP67 can be connected to with via Bluetooth and an AUX cable. Further than that, it also features a MicroSD slot which means that you can make use of its portable function without having to connect to it via Bluetooth.
With up to 10 hours of battery, you can use this pool speaker to play music anywhere or for calls as it comes with a built-in microphone. It also comes with voice prompts that allows you to make and take calls and you can even use your Siri function through the Shark 2O IP67.
The Sharkk 20 speaker comes with a Velcro wrist strap, USB charging cable, power adapter, auxiliary cable, user manual and a one year warranty.
Available at: Amazon.
The FUGOO Sport is the perfect portable pool speaker for those of you looking for a more sporty look and some pretty sporty functions. Being a pool speaker, this model is waterproof with an IP67 rating. It can however only be submerged in the water at max 3 feet for up to 30 minutes. This is not a major flaw though since nobody other than the folks at Bikini Bottom actually wants to use a speaker to listen to music under the water. In addition to its waterproof feature, the FUGOO Sport is also both snowproof and sand proof. No adventure is too rough for this little portable speaker.
If you are the adventurous type, you will find many accessories designed specifically for the FUGOO Sport, such as a bike mount, strap mount, multi-mount and even a remote control. All these accessories are available in the same black and teal color palate as the actual speaker so that you can enjoy the rugged outdoors in style.
This pool speaker offers extensive battery life of up to 40 hours. This is four times more than most other portable pool speakers! All of this is produced through a powerful 360º speaker system which allows you to listen to clear unobstructed music no matter where you are in relation to the speaker.
What about the sound? Well, be ready to be amazed. When you turn on this tiny speaker it is hard to believe that it is actually producing such pure and truly incredible sound. Unlike many portable speakers, the designers did not focus merely on portability, but also on the actual sound quality and my oh my, did they get it spot-on. The pool speaker features six speakers in total that consists of two tweeters, two woofers, and two passive radiators. The speakers are tilted upwards at a perfect 8º angle to further improve the listening experience. If sound quality is very important to you then the FUGOO Sport is undoubtedly the way to go.
The speaker also responds to preset voice commands that allow you to answer phone calls or use Siri or Google Now with which you can do all the things you do with your phone, such as play music, call your friends, get a weather update, and so much more.
The FUGOO Sport is a bit more pricey, but for the extensive features and remarkable sound quality, it is well worth it.
Available at: Amazon.
The Best Floating Pool Speakers
If you want something a little more innovative than a poolside speaker, you can opt for a floating pool speaker. These little guys are completely waterproof and they will play music via Bluetooth while they float alongside you in the pool. These speakers are cute and fun and they never fail to impress your guests.
We looked at several floating pool speakers, and chose the three best ones on the market:
This speaker was designed specifically for all those people who love to enjoy the entire summer in the pool. It is completely waterproof and will float alongside you while you swim and dive and enjoy the feeling of the cool water under the warm sun rays – all the while playing your favorite music as you stream it remotely from your Bluetooth device.
When you buy the iJoy Beach Bomb, you won't be able to remember how you ever survived without it. It is a must-have for each and every summer-crazed water lover. If dropped in the pool it will simply float around and continue playing uninterrupted music, and no need to worry about accidentally submerging it in the water as it can handle being in debts of up to 3ft.
This floating pool speaker also features a hands-free option that will allow you to answer incoming calls to the connected device and use the built-in mic to have a conversation without ever being near your actual phone.
On the speaker, you will see 6 buttons including the power button, previous song, next song, volume down, volume up, and then finally a play/pause button which also acts as the answer phone button. This allows you full control over your music and phone calls, all the while splashing around in the water.
The iJoy gives you up to 6 hours of uninterrupted music and it can be connected to via Bluetooth, micro USB, USB, or Aux.
For all the summer fans out there looking for the perfect floating pool speaker – look no further than the iJoy Beach Bomb.
Available at: Amazon.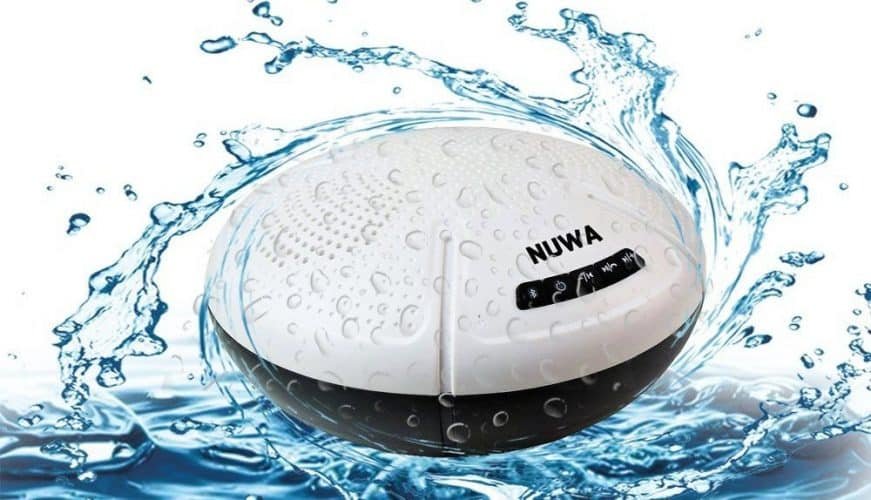 This new NUWA floating pool speaker is simply outstanding. It has a high IPX7 rating and unlike most similar speakers, it is not only splashproof or water resistant but it is shockproof, dustproof and damage resistant! There is no need to be gentle with this speaker since it can float in the pool with you or even while the kids are playing and splashing around. The speaker can even be submerged in the water at up to 3ft and it will just continue playing music.
All you need to do to stream music to this floating pool speaker is pair your smartphone, tablet or other Bluetooth devices to it and press play. Your music, podcast, audiobook, or whatever audio file you choose to play, will instantly play through the speaker in high-quality sound. With dual 5 watts of power, this little speaker's volume capabilities will surprise you.
When it comes to connectivity, we have to say that we were thoroughly impressed. The Bluetooth connectivity has a maximum connection distance of up to 120ft – which from having reviewed countless portable speakers, is a very impressive feature. The battery will also last for up to 5 hours, which will give you more than enough time to enjoy the sun.
Overall this floating pool speaker consists of high-quality materials and delivers high-quality sound and durability at an affordable price, making it the perfect choice for a pool speaker.
Available at: Amazon.
For a slightly different looking speaker, there is the Monster SuperStar, which is a very slim and sturdy portable offering. It has a silicone casing to keep the water out, but this also makes the speaker shockproof and very resilient. It has an IPX6 rating, so it can handle getting wet, but don't let it get completely submerged for too long.
The sound quality is equally impressive and while it is easy for a speaker to sound impressive in a small shower, the Monster SuperStar manages decent audio quality outdoors as well. It is capable of high volume levels without distorting your audio, even when floating around in the water. Audio quality can be a hit or miss with smaller speakers, but the highs on the SuperStar is crisp and the lows are rich. For very deep bass the speaker will distort slightly at high volume, but this is to be expected. As with most portable speakers, it comes with an integrated microphone for taking phone calls and the audio quality over the speakerphone sounds good too. While floating the front panel of the speaker points upwards and this is where the passive bass radiator and two drivers can be found.
With about seven hours of audio playback on a full charge, the SuperStar is able to handle long sessions of lounging in the pool. Included in the package is a protective pouch, which is not only well padded but perforated so that it doesn't interfere with the audio quality.
While it is not a cheap speaker, it delivers with solid performance and durable design.
Available at: Amazon.