Portable speakers that enable us to listen to our audio when outdoors are nothing new, but now it is possible to enjoy music even while swimming in the pool. There are water resistant outdoor speakers available for the job, but what about taking your speakers in to the pool with you? These type of speakers not only float on water, but are able to deliver great audio and can be used without risk of moisture damage.
Most of them have also been designed to blend in seamless with your pool area, so your guests might just be left wondering where the music is originating from at your next pool party.  While not full blown party speakers, the following five speakers are amongst the best options if you spend a lot of time in our around your pool and don't want to compromise on audio quality.
1. IPX7 100% Waterproof & Dust-proof Floating Bluetooth Shower Speaker
Compatible with all Bluetooth devices including iPhone 6, 6s, and Samsung devices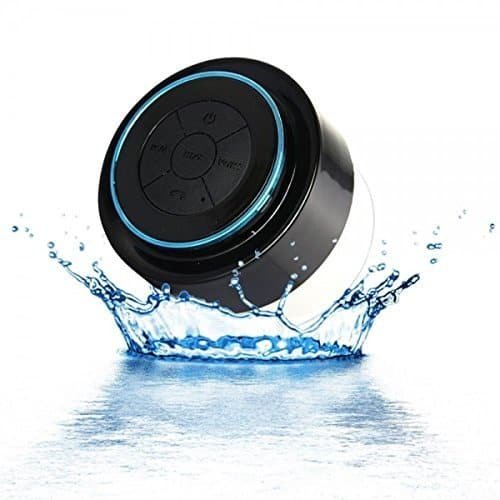 This speaker from Maze has an IPX7 rating, which means it can be submerged to a depth of up to one meter for up to thirty minutes without the water doing any damage. Not that you have to worry about this speaker sinking that deep as it is designed to float on top of the water. It connects to any Bluetooth audio devices, which makes it a breeze to pair with a phone for music playback.
Since this speaker uses rechargeable lithium-ion batteries you can expect playing times in excess of 15 hours. These batteries also only takes about four to five hours to fully charge. It can also be recharged via a computer using the USB port.
While the speaker is quite compact it definitely packs a big sound. It sounds great when used in the shower and even features a suction cup for mounting on any smooth, flat surface. Since the speaker can float you can take use it in the bath, hot tub or swimming pool as well and still enjoy your music. When connected to your phone it even allows you to answer phone calls.
The speaker features a nice round design and all the buttons are on the top of the device. In addition to the call button it has buttons for power, play/pause, and track forward or backward, the latter also doubling as the volume controls. Despite its light weight this little speaker is actually quite rugged as well.
For a loud, clear speaker that is very comfortable around or even in water this offering from Maze comes highly recommended.
Available at: Amazon.
2. NYNE Multimedia Aqua Floatable Waterproof Bluetooth Speaker
The NYNE Multimedia Aqua is another IPX7 rated Bluetooth speaker, so it has no problem with water. It has been specifically designed to float and features a stylish look that, according to the creators, is meant to resemble a mini tri-hull boat.
The Aqua connects via Bluetooth and has a 33-foot range, so your precious phone or tablet doesn't need to be anywhere near the water for you to listen to music. The Aqua is a bigger speaker than the one from Maze, but still manages a decent 10 hours of playback per battery charge.
I really like the sound quality of the NYNE Aqua and it even has four equalizer settings for those who want to adjust the playback. It features 2.0 stereo channel output with 2 passive radiators, which means it sounds as good in the pool as it does in the shower. In addition to audio playback it is also capable of hands-free calling thanks to the integrated waterproof microphone.
With its high quality rubberized finish cabinet the Aqua not only looks good, but is pretty durable as well. It is not a very heavy speaker, but the included strap makes it easy to carry around or hang wherever you need it. If you are away from water and want to connect an older device that doesn't have Bluetooth you can used the 3.5mm AUX input located on the sealed rear panel of the Aqua.
For a decent waterproof speaker that features a unique design the Aqua is a must.
Available at: Amazon.
3. Monster SuperStar BackFloat High Definition Bluetooth Waterproof Floating Speaker
For a slightly different looking speaker there is the Monster SuperStar, which is a very slim and sturdy portable offering. It has a silicone casing to keep the water out, but this also makes the speaker shockproof and very resilient. It has an IPX6 rating, so it can handle getting wet, but don't let it get complete submersed for too long.
The sound quality is equally impressive and while it is easy for a speaker to sound impressive in a small shower, the Monster SuperStar manages decent audio quality outdoors as well. It is capable of high volume levels without distorting your audio, even when floating around in water. Audio quality can be hit or miss with smaller speakers, but the highs on the SuperStar is crisp and the lows rich. For very deep bass the speaker will distort slightly at high volume, but this is to be exected. As with most portable speakers it comes with an integrated microphone for taking phone calls and the audio quality over the speakerphone sounds good too. While floating the front panel of the speaker points upwards and this is where the passive bass radiator and two drivers can be found.
With about seven hours of audio playback on a full charge the SuperStar is able to handle long sessions of lounging in the pool Included in the package is a protective pouch, which is not only well padded, but perforated so that it doesn't interfere with the audio quality.
While it is not a cheap speaker, it delivers with solid performance and durable design.
Available at: Amazon.
4. Sharper Image SBT606 Bluetooth Floating Party Speaker
Completely Waterproof With Responsive LED Lights That Move to The Music
Some portable speakers look function while others are a bit more adventurous with their designs, but the SBT606 is downright flashy. This is thanks to the responsive LED lights on it that blinks in rhythm with your playlist. This nifty gimmick doesn't detract from the design of the speaker either as it has an IPX7 rating.
While the LED lights are probably overkill for the bath or hot tub, they do add another dimension to pool parties. The party doesn't just have to be confined to the pool either as it is also able to light up a room with its multi-colored lights when placed on a flat surface. Incidentally, the lights can be set to pulse along with the music playing through the speaker or simply at random.
As with all good portable speakers the SBT606 connects via Bluetooth and pairing it with a compatible phone or tablet is very quick. When not immersed in water the speaker can also be connected to an audio device using an auxiliary wire.
The battery life of the SBT606 is very impressive and it can keep going for a couple of hours even if you had the lights going the whole time. The audio quality is generally very good, but at its best when in the water. This is because on a flat surface the speaker faces downwards, which obviously impacts the volume and quality.
If you are looking for a floating pool speaker that can do more than just play music you won't be disappointed with the SBT606.
Available at: Amazon.
5. Ivation Waterproof Bluetooth Swimming Pool Floating Speaker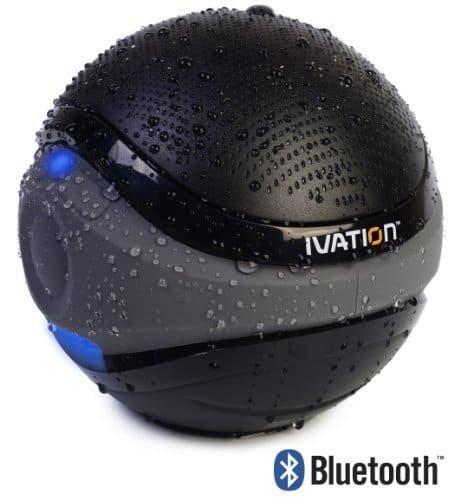 Out of all the pool speakers on this list the Ivatation offering is probably the only one that looks like it actually belongs in a pool. That is because it looks more like a bright mini beach ball than a speaker, but beneath its colorful exterior lurks a pretty powerful speaker.
The Ivation uses Bluetooth 3.0 technology, so it is able to stream from any compatible device up to a distance of about 33 feet. It has fully waterproof seals, so the speaker, batteries, controls and lights are all protected from water.
Anyone who enjoys swimming at night and want to chill out with some tunes will appreciate the cool blue mood lighting that the Ivation is capable of producing. This feature also makes it easier to locate the speaker at night, but can be switched off during the day. The rounded design of the Ivation is very nice, but limits its use outside of a pool. When immersed in water the audio quality remains crisp and because of the weight distribution of the speaker it remains right-side up even when used in a wave pool.
The Ivation is powered by 6 AA batteries, which offers a decent amount of playback time. Sound quality is not an issue either as the speaker is able to deliver plenty of volume along with some solid bass. Since it only has a single driver it is not going to be able to compete with more expensive speakers, but for its price range it is a solid performer.
If you are looking for a decent portable speaker that you will only be using in the pool the Ivation fits the bill.
Available at: Amazon.