Anker is renowned for its range of budget-priced speakers which provide above-average sound quality. The newly released Anker Soundcore Rave Mini is on course to be another "Anker Best Seller" with a ton of features and some serious sound.
Although the name suggests the Soundcore Rave Mini is small, it's more on the medium size when it comes to portable Bluetooth speakers. The speaker stands about 17-inches high and weighs just over 7 lbs. So certainly bigger than your average portable speaker. Still, it's lightweight and compact enough to carry just about anywhere.
Anker Soundcore Rave Mini Specs
LF Driver: 1 x 5.25" low-frequency driver
HF Driver: 1 x 2" tweeter
Power Output: 80W
Battery Life: 18 hours
Inputs: USB, ⅛-inch AUX, Bluetooth (version 5.0)
Dimensions (W x H x D): 7" x 17" x 7"
Weight: 7.17 lbs
Anker Soundcore Rave Mini Features

The Soundcore Rave Mini is possibly the most feature-packed Bluetooth speaker Anker has ever released. The most noticeable of which is the multicolored LED strips left and right of the woofer. There are a total of 6 modes that are controlled by Anker's Rave Party Lighting algorithm to deliver a visual effect for your music. The effects are pretty cool and you'll find a preset to pair with most genres of music.
IPX7 Waterproof
If you like to play music at the pool or in the shower, then you'll be pleased to know the Soundcore Rave Mini comes with an IPX7 waterproof rating. This will protect your speaker to a depth of 1m for up to 1 hour. The speaker's enclosure is pretty robust and should hold up against the odd bump, scratch, or drop, however, I wouldn't be in a rush to test this.
18-Hour Battery Life
The Soundcore Rave Mini features an 18-hour built-in battery so you can take the speaker out and about while playing beats. The USB port doubles as a power bank so you can charge your mobile devices on the go. Keep in mind the LED lights, volume, and charging devices will all reduce your 18-hour battery life. Check the user manual for more details on this.
The battery will fully recharge from flat in around 4 hours. The speaker has a five-stage battery meter so you always know how much power you have left.
Soundcore App
If you want more control over your Soundcore Rave Mini you can download the Soundcore App and connect the speaker to your smart device. From the app, you can play party games, adjust EQ and light settings, and switch between Indoor and Outdoor sound modes.
You can also pair two mobile phones so you can play back-to-back music with a friend or, you can control the music and they can control the lights.
Speaker Pairing
If you're looking to make double the noise, the Soundcore Rave Mini can pair with a second Soundcore Rave Mini in stereo or mono. The speaker comes with rubber feet on the bottom and side so you can position the Soundcore Rave Mini vertically or horizontally depending on your setup preference.
Anker Soundcore Rave Mini Inputs & Controls
You have three audio inputs or the Soundcore Rave Mini ⅛-inch AUX, USB, and Bluetooth. Anker has incorporated the latest Bluetooth version 5.0 so you can enjoy the best audio formats and solid connectivity.
To control your speaker there is a 10-button control panel located on top of the Soundcore Rave Mini. Buttons include power, Bass Up, lighting effects, previous track, next track, volume up, volume down, play/pause/multi-function, input selection, and Bluetooth. You can also access all of these controls via the app including additional EQ adjustments.
What Does The Anker Soundcore Rave Mini Sound Like?
The Soundcore Rave Mini features a 5.25-inch low-frequency driver with a single 2-inch tweeter capable of producing up to 80W of power. This little speaker is seriously loud for its size! The bass is fat sounding and, with Bass Up engaged, you can enjoy even more bass. The sound is not quite as tight as premium speakers like the JBL or Sony, however, it's got a nice punch and for EDM and urban genres, the speaker sounds awesome.
Mids appear a little recessed but you can still hear vocals clearly while the treble response has a fun sizzle to it. It's definitely not audiophile quality, but Anker has done a great job of making the Soundcore Rave Mini a fun speaker to listen to.
What's In The Box?
Included with the Anker Soundcore Rave Mini:
Anker Soundcore Rave Mini party speaker
Power cable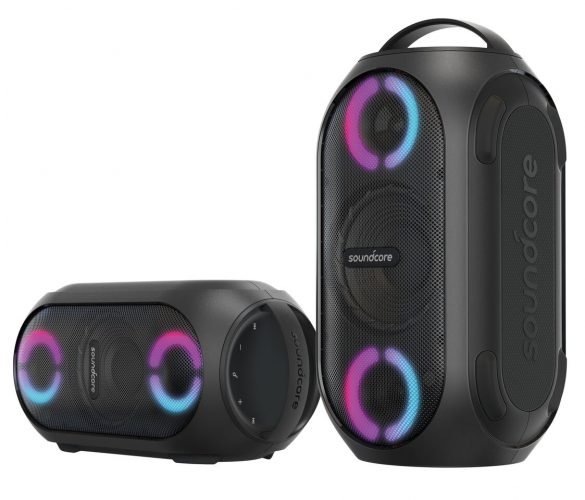 Conclusion
If you like the Sony, JBL, or Altec Lansing party speakers but they're a little out of your budget, then the Soundcore Rave Mini might just be the speaker you've been waiting for. At $150, the Soundcore Rave Mini is a lot more expensive than other Anker speakers, however, the speaker comes with way more features, it's relatively large, and provides some big sound. At this price, you can purchase two Soundcore Rave Mini speakers and it'll still be cheaper than the Altec Lansing and JBL party speakers!
Even though the Soundcore Rave Mini is a budget speaker the build quality is great and the features all work as advertised. By making the speaker waterproof, Anker has really added value to this awesome portable Bluetooth speaker.
If you're looking for a party speaker on a budget, the Soundcore Rave Mini is an excellent choice. It does most of what the more expensive brands do at more than half the price!
Thanks for your feedback!