Best For Full Sunlight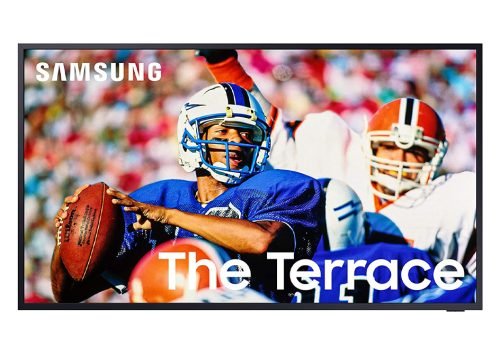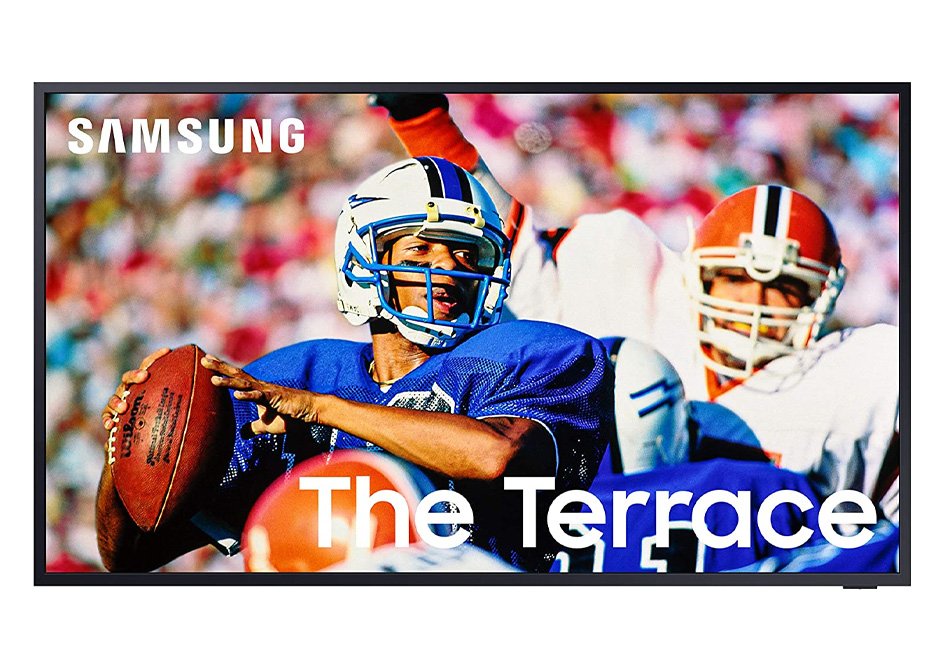 1500 Nits
Samsung Terrace
The Samsung Terrace is the best outdoor television overall and excels for full sun viewing. This Smart TV carries the same high quality expected from Samsung Electronics televisions, featuring a high-end QLED display with 1500 Nits of brightness.
Best For Partial Sunlight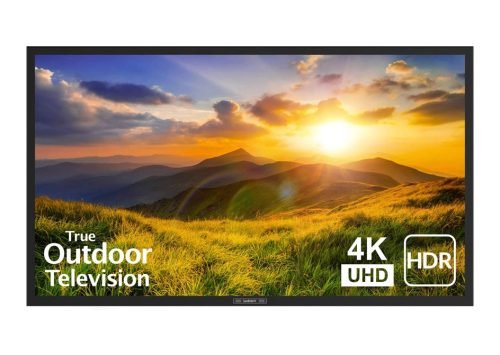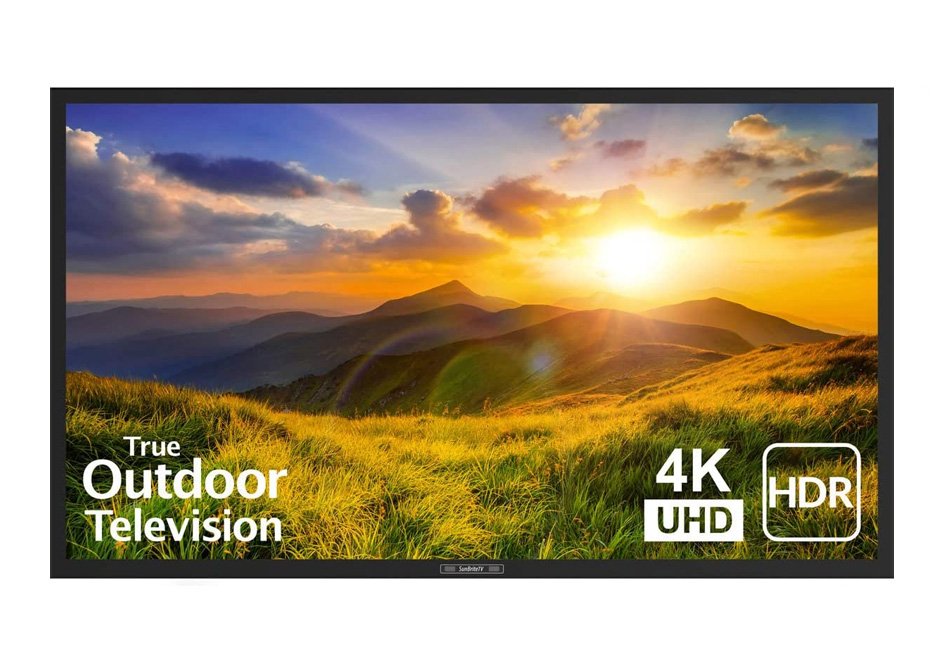 700 Nits
SunBrite Signature 2
The SunBrite Signature 2 Series is the best outdoor TV for partial sunlight areas. It offers a 4k resolution display and produces up to 700 Nits of brightness, and can be easily viewed from various angles in partial sun conditions.
Best For Shaded Areas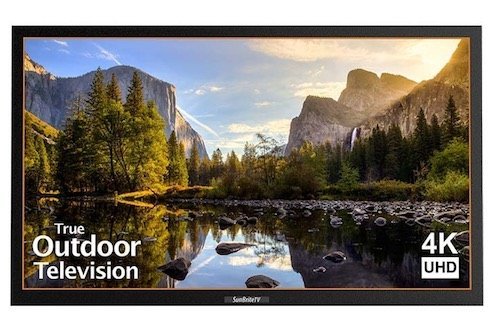 1000 Nits
SunBrite Veranda 3
The SunBrite Veranda 3 Series is the best outdoor TV for shaded areas and is a massive improvement over the Veranda 2 Series. It features full Smart TV capabilities and 4K resolution, and a refresh rate of 120Hz. Even though this TV is rated for shaded areas, it still offers IP55 weather protection and a weather-resistant remote control.
Before buying an outdoor television, it's helpful to understand the outdoor TV market and how they differ from regular indoor sets. Unlike traditional indoor TVs, you won't see the usual range of household electronic manufacturers apart from Samsung. Outdoor TVs are challenging to manufacture, and many low-quality models are on the market. Because of this, products are frequently discontinued. We update this list regularly to include the latest, reliable outdoor TVs.
The Three Most Important Considerations
Three considerations are central to your decision when buying an outdoor TV, and most other factors you need to consider relate to these three. They are:
Being an outdoor TV, it is highly likely that your device will be exposed to the elements to some degree. Your TV will need to be weather-resistant. In electronic devices, the level of weather resistance is expressed with an IPX rating.
Furthermore, your TV will have to perform well in areas with sunlight exposure. The quality and brightness of the picture, which is a factor of the nits, the refresh rate, and the contrast ratio of your TV, will help facilitate this. We've added a more detailed section to the bottom of this article to help you understand the numbers.
Finally, the installation location of your TV will often determine the model outdoor TV you should get. Outdoor TVs are designed for shaded, partial-sun, or full-sun environments. This is a good place to start. If you're ready to do so, pick the amount of sunlight exposure you think your TV will get below, and we'll jump you to our relevant recommendations:
Best TVs for Full Sunlight Areas
These televisions are designed for full sun exposure and feature more brightness than shade and partial sun alternatives. In addition, we see full-sun televisions offering more protection from heat, often incorporating cooling mechanisms that aren't found on partial sun or shade TVs.
Recommended Requirements for Full-Sun TVs
| | |
| --- | --- |
| Screen Size: | 55 inches or larger |
| Refresh Rate: | 120 Hz or more |
| Resolution: | 4K Ultra HD (2160p) |
| Resolution: (75+ inch screens) | 8K Ultra HD (4320p) |
| Contrast Ratio: | 7,000:1 or higher |
| Brightness: | 1,000 nits or higher |
| Minimum Temperature: | 32°F (0°C) or slightly lower |
| Maximum Temperature: | 113-131°F (45-55°C) or higher |
| Anti-Glare Features: | Yes |
A full-sun outdoor TV can be used in partial sun and shaded environments, so you will get a lot more versatility from these televisions, though they come at higher costs.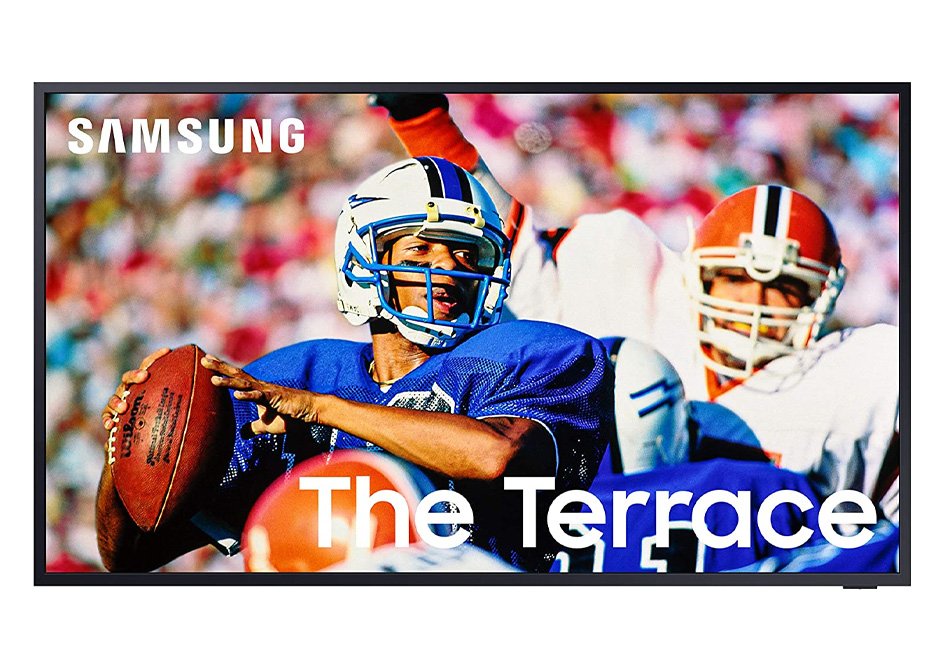 The Samsung Terrace Full Sun outdoor TV is a premium outdoor TV offering that incorporates smart TV features, a cutting-edge QLED display, and a durable design. The anti-glare performance from the Samsung Terrace is awe-inspiring and, when combined with the 1500 Nits of brightness, provides a TV that can easily be watched in full sun.
While smart TV features are a relatively new adoption for outdoor TVs, Samsung's Terrace provides streaming apps that make watching your favorite shows easier and includes a built-in Alexa voice assistant. It also supports 4k video, which includes AI upscaling to reduce noise in other media.
The inclusion of Quantum HDR23X is used to create a rich, dynamic picture that ensures there's vibrance when you want it. The Samsung Terrace (Full Sun) TV is a premium offering with many features and pristine clarity. It doesn't come cheap, but it may be your best choice if you have a high demand for your outdoor TV.
Input/Output
One of the stand-out features of the Samsung Terrace is the wireless connectivity options, which support both WiFi and Bluetooth. This will ensure your streaming services are easily accessed on your network and allow direct streaming from your source device through Bluetooth pairing.
Weatherproofing
The Samsung Terrace Full Sun has IP55 weather resistance, protecting you from dust and moderate rain. The panel of the Terrace is protected from direct sunlight for up to 6 hours. But remember that the duration in direct sunlight is often limited by environmental conditions (protected for this duration up until 104'F. In colder temperatures, you can run the TV safely for longer periods.
Remote Control
The Samsung Terrace remote control is distinct from most other TV remotes in its silver finish and unique design. Despite all the features and connections offered on this outdoor TV, the remote control is still fairly basic, with Netflix, Amazon Prime, and Samsung TV Plus quick access buttons. It is also rated IP56, protecting it from the elements, including moderate rain.
Why The Samsung Terrace?
The Samsung Terrace is our favorite outdoor TV. It brings magnificent QLED technology, producing a crisp picture with vibrant color. Aside from its outstanding audio quality, the Samsung Terrace also brings smart TV features and impressive weatherproofing.
QLED
IP55 weather-resistance
Extremely bright
Lots of connectivity options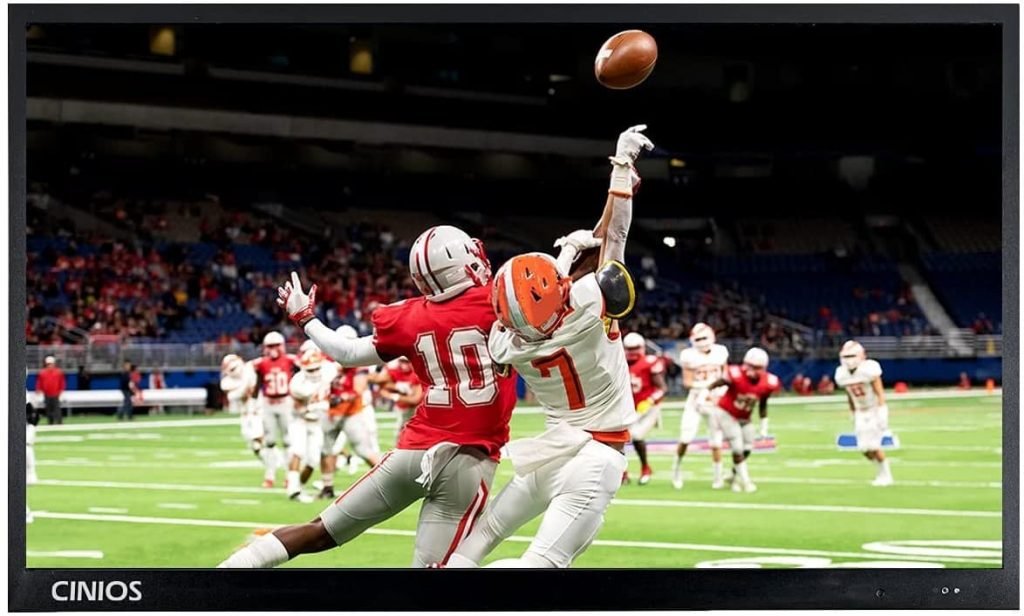 Cinios has two products under the Hurricane line, the 43in and 55in full sun outdoor TV. According to Cinios, 43 can operate in shaded and full-sun areas.
Receiver
Cinios has an impressive 43-inch Outdoor TV aptly named 'The Hurricane.' Like many of the TVs on this list, the Hurricane has an HDBaseT receiver, allowing the TV to operate in 4K resolution with full-array LED backlighting, yielding bright, detailed, and immersive picture quality. An anti-reflective display means a clear picture can be expected even when the TV is used in direct sunlight.
Weatherproof
The Cinios Hurricane Outdoor TV has a weatherproof rating of IP55 and can operate in fully exposed sunny environments. The TV can run in extreme temperatures between -4 degrees Fahrenheit and 113 degrees Fahrenheit, which is increased to -10 degrees Fahrenheit and 140 degrees Fahrenheit when the TV is not in use. All electronic components onboard are protected by conformal coating, and the housing cabinet is galvanized and rust-proof.
Input/Output
The Hurricane features various connectivity options, including the following: 3 x HDMI inputs, 3 x Component (YPbPr) inputs, 3 x Composite (RCA) inputs, 1 x USB Input,1 x Audio Input, 1 x RF Antenna Input. As for output options, S/PDIF Audio outputs are available.
Why The Cinios Hurricane?
The Cinios is one of the most affordable full-sun televisions that provide the type of quality we expect. The image quality is great for the price, and the fairly recent release date sees features added that aren't present on older models.
Affordable
IP55 water-resistance
Includes USB input
Best Outdoor TVs for Partial Sunlight
These outdoor televisions are focused on partial sunlight conditions, as you'd likely find on a patio or porch. They are intended to be used primarily in shady spaces but may also encounter indirect sunlight or short-lived sun exposure during certain day periods. Partial sunlight TVs can typically handle more heat than shade TVs and have increased brightness with more effective anti-glare technology. If your TV receives more than an hour of sunlight a day, we recommend being safe and buying a full-sun TV.
Recommended Requirements for Partial-Sun TVs
| | |
| --- | --- |
| Screen Size: | 43 to 55 inches minimum |
| Refresh Rate: | 60 Hz or more |
| Resolution: | 4K Ultra HD (2160p) |
| Resolution: (55+ inch screens) | 4K Ultra HD (2160p) or more |
| Contrast Ratio: | 5,000:1 to 7,000:1 |
| Brightness: | 700-1,000 nits |
| Minimum Temperature: | 32°F (0°C) or slightly lower |
| Maximum Temperature: | 104-122°F (40-50°C) or higher |
| Anti-Glare Features: | Yes |
While we've seen big leaps in shade outdoor TVs, the partial sun market still needs to catch up, and we're currently seeing full shade alternatives offering more brightness than many of the partial sunlight TVs available.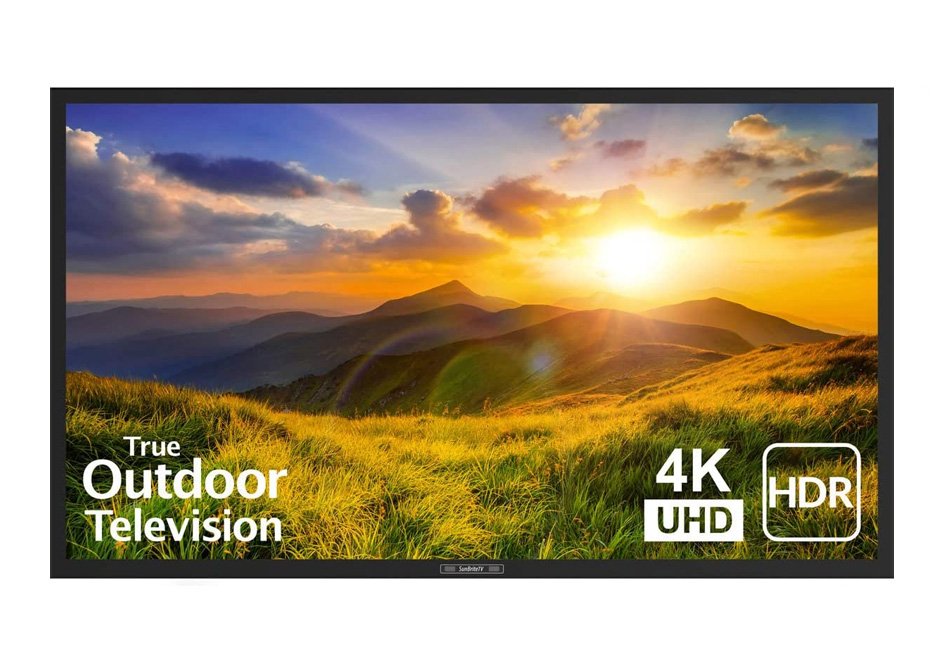 Weather Protection:
Unspecified
The SunBrite Signature 2 Series is an outdoor TV with 4k resolution and 700 Nits of brightness for partial sunlight. The Signature 2 Series (2019) is a slightly older TV than the Veranda 3 (2022), which explains why some features don't keep up with the Veranda 3 Series.
Despite being a partial sun TV, the Signature 2 provides fewer Nits than the Veranda 3. But it's important to remember that it's not just about brightness, and there are differences in the features used to reduce glare. The Signature 2 Series also utilizes a commercial-grade screen not found in the Veranda series. It offers 4k resolution at 60Hz or 30Hz using HDBaseT connections and is available in four sizes: 43", 55", 65", and 75".

The Signature 2 series does not include built-in speakers, and you'll need to either attach an existing speaker setup or buy the SunBrite 20W soundbar.
We expect that SunBrite may be preparing the 3 Series upgrade for both the Signature (Partial sun) and Pro Series (Full sun), but no release dates have been provided to us yet.

The Signature 2 Series is still a completely viable outdoor TV option, though, at this point, we would recommend only grabbing it if it's only on sale, as there are currently a few better options on the market at around the same price point.
Input/Output
The SunBrite Signature 2 has an Optical Toslink and 1/8″ analog headphone connection. There's also a YPbPr connection with Stereo Audio. An HDBaseT Connection supports 4k video at 30Hz. Regarding RF connections, there is Antenna/CATV (ATSC/QAM/NTSC) support.
While this TV offers two HDMI ports (HDMI 1.4, HDMI 2.0, HDCP 2.2), the lack of USB is disappointing.
Weatherproofing
The SunBrite Signature 2 outdoor TV offers protection from rain and snow, though we would have preferred to have seen a specific IP rating specified so that we could know just how protected the TV is. There is a two-year warranty on this speaker in case it doesn't handle the environments it claims to be able to.
In terms of temperature handling, during use, it's rated for between -24°F and 122°F or -24°F and 140°F for storage.
Remote Control
Since the Signature series is focused more on visual quality and anti-glare mechanics than on features, this TV's remote control is fairly basic, with standard volume controls, channel controls, and menu access. What we like about this remote is that it is well-built and easy to use. Additionally, it offers its own weather protection.
Why The SunBrite Signature 2?
The SunBrite Signature 2 series is a great outdoor TV but lacks some of the features we expect from modern partial sun televisions. We expect that SunBrite will release an updated version soon, but in the meantime, we can only recommend the SunBrite Signature 2 if you can find a good deal.
Impressive clarity
Wide range of connections
No smart features
Expensive for what it offers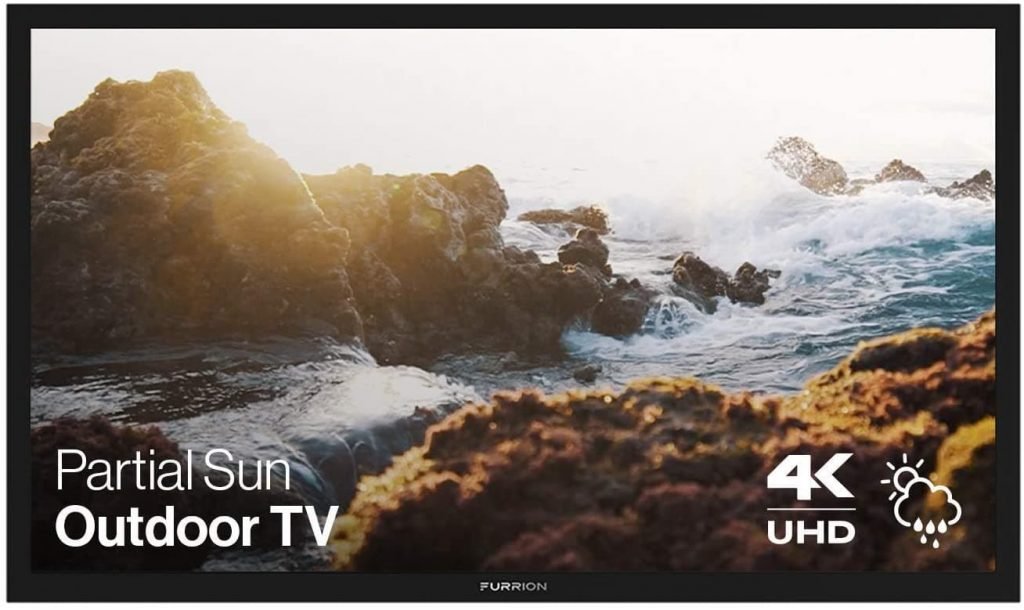 Built-In Speakers:
Yes (Low Quality)
Note that this TV's audio quality is subpar and performs best when used with an added soundbar instead of the onboard audio.
Furrion's Aurora outdoor TV is designed for use in areas with expected partial sun exposure. The Furrion Aurora boasts a weatherproof rating of IP54 on the TV's enclosure, allowing for permanent outdoor installation, which can withstand various invasive weather conditions and by-products such as rain, snow, dirt, salt, humidity, and UV rays to the unit.
The TV is designed to withstand temperatures of -4°F to 122°F while operating and from -27°F to 140°F while in storage. All input and output ports are effectively sealed using a series of gaskets to protect the TV and its components from potentially harmful elements.
The Aurora is designed and built to perform in extreme climate and temperature variations, ranging from sub-zero winters to tremendous summer heat. Internal components of the Aurora are kept safe at all times from hazardous heat waves due to 4 fans housed within the TV to keep cables and delicate electronic components at a safe operating temperature. The TV's remote control is also weatherproof, with a rating of IP67, and a 1-year warranty is included with the purchase.
Receiver
The Furrion has an integrated HDBaseT receiver with three HDMI inputs that are HDCP 2.2 support, enabling you to connect to and view any 4K and HDR content. The Aurora operates in the 4K resolution domain and boasts crystal clear and bright picture reproduction capabilities – this is made possible thanks to the anti-glare LCD screen running at 700-nit brightness mode. 
The brightness control can detect light and adjust accordingly to provide a hassle-free viewing experience. Wide-angle viewing enables greater visibility of the TV from anywhere on the deck, patio, or yard. Other handy features on the TV include a child lock, closed caption/subtitling supportive software, multiple language options, automatic channel tuning, and a sleep timer.
The Aurora also comes pre-loaded with a Netflix streaming service – log in to your account and get watching. The Furrion Aurora is available in various sizes: 43", 49", 55", and 65"
Remote Control
The remote control for the Furrion Aurora Partial Sun Series is the same as that of the full-sun series. With the IP67-rated waterproof remote control, you can control various features, including the child lock, closed caption support, multi-language support, auto-tuning, sleep timer, and more.
Why The Furrion Aurora Partial Sun?
The Furrion Aurora offers an affordable solution for a partial sun outdoor TV. It doesn't come with Smart TV features or as robust waterproofing, but it's a tried and tested budget choice with merit.
Good image quality
Very affordable
Subpar onboard audio
Limited features
Brightness could be improved
Best Outdoor TVs for Shaded Areas
The following televisions are made to be used inside a shaded area. While these outdoor TVs also offer protection from the elements, they don't have the same cooling mechanics we see in TVs used in sunlight. Outdoor TVs for shaded areas tend to be a little more affordable.
Recommended Requirements for Shade Area TVs
| | |
| --- | --- |
| Screen Size: | 32 to 43 inches minimum |
| Refresh Rate: | 60 Hz or more |
| Resolution: | Full HD (1920 x 1080 pixels) |
| Resolution: (43+ inch screens) | 4K Ultra HD (2160p) or more |
| Contrast Ratio: | 3,000:1 to 5,000:1 |
| Brightness: | 500-700 nits |
| Minimum Temperature: | 32°F (0°C) or slightly lower |
| Maximum Temperature: | 104-113°F (40-45°C) or higher |
| Anti-Glare Features: | Not Neccessary |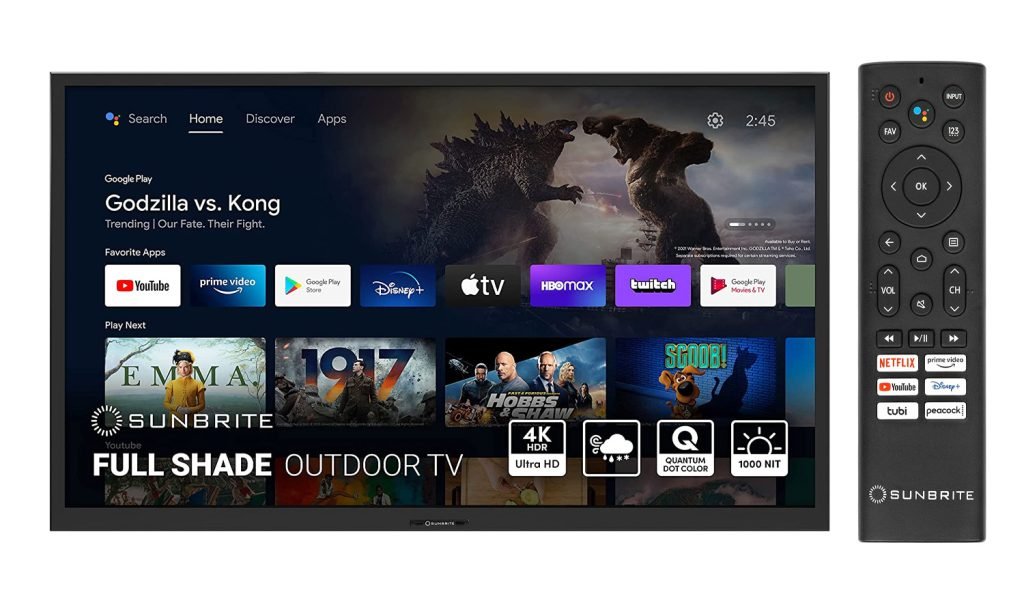 The SunBrite Veranda series 3 sees dramatic improvements over its predecessor and is our top pick for a full-shade outdoor TV. In particular, the new Veranda 3 series has improved brightness (1000 Nits), which is more than enough brightness for most outdoor shade TVs. Another advantage this TV has over competitors is that it's also a Smart TV. Despite the prevalence of smart features in traditional home televisions, most outdoor TVs have yet to adopt this approach. The SunBrite Veranda 3 Series offers full smart capabilities and supports Netflix, Disney Plus, Amazon, and Hulu Plus.

In addition to the built-in Android TV feature, this outdoor TV offers Bluetooth and WiFi support. We've barely seen this featured on outdoor TVs outside the Samsung Terrace and Kuvasong. These connectivity features make for a great entertainment television where you can easily connect to your smartphone or home network, ensuring you've always got something to watch.
The 120Hz refresh rate can enhance viewing, providing a smoother visual experience and making the TV better for gaming than low refresh rate alternatives.
In terms of audio performance, the SunBrite Veranda 3 utilizes 20W of power and is powered by a built-in 20W amplifier.
This series is available in 55", 65", and 75" sizes, ensuring you find the one that works best for your space.
Input/Output
This outdoor TV is not shy of features or inputs. You'll find a SPDIF output on the back, a single USB port, and four HDMI ports. Note that the first two HDMI ports only support 60Hz, with one of the 120Hz ports being an eARC-supported port, while the final HDMI port caters to all 4k video at 120Hz. There's also an antenna port, A/V input, audio out, and a dedicated service USB port.
The soundbar connector is located just off the rest of the inputs and sits next to the Ethernet port, on the top of the connections area.
Weatherproofing
The SunBrite Veranda 3 series offers IP55 weather-proofing for the TV, which protects it from light and moderate rain and dust damage. This TV will also be protected from snow, though do note the operating temperature limitations of -24° to 104° F and the non-operating limitations of -24° to 140° F.
There is also remote control weatherproofing, a feature often found on partial and full sunlight models but is less common in dedicated full shade options.
Remote Control
Firstly, as we just touched on, the SunBrite Veranda 3 Series offers a rather robust remote control that features IP65 weatherproofing that will protect it from rain and dust. The remote features standard Smart TV options, with six quick buttons to take you to your favorite streaming platform and a Google Assistant button.
You can access the main menu, switch input modes, adjust volume and channels, and more. The remote also feels well-built in one's hand, with rugged plastic construction.
Why The Sunbrite Veranda 3 Series?
The Veranda 3 sees massive improvements over the previous Veranda model. The Veranda 3 offers the same features we're used to seeing in expensive outdoor TVs, but do it at a very reasonable price. If you want smart features between $2500 and $4000 – it's hard to find better.
Impressive brightness
A huge step up from the previous version
Smart TV features
IP55 weatherproofing
Built-in speakers
More expensive alternatives offer better image quality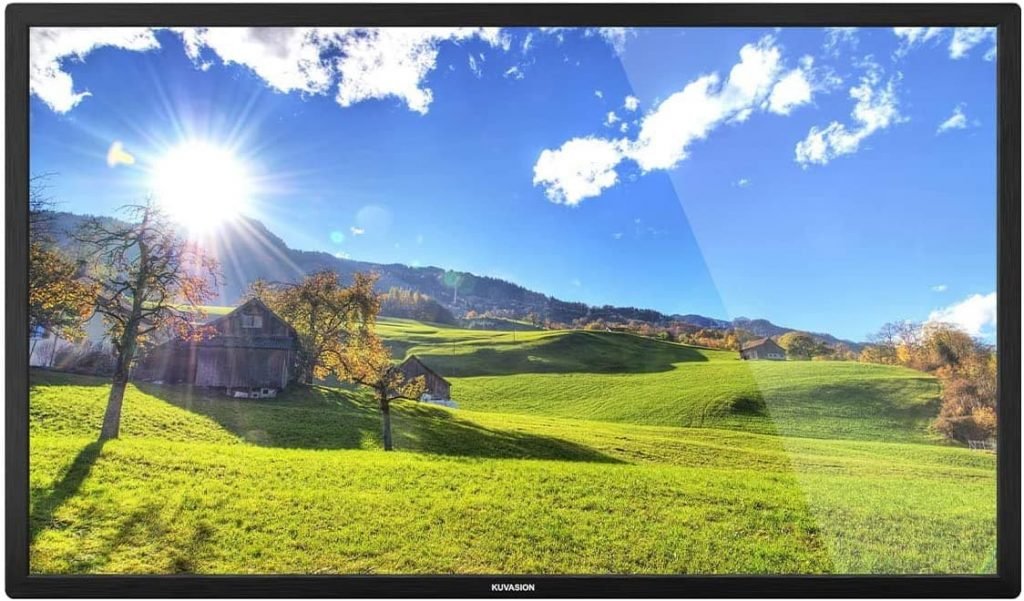 Built-In Speakers:
No (Included)
Kyvasong's Smart outdoor television is designed for shaded environments such as patios, decks, or partially exposed indoor/outdoor seating areas.
The Kuvasong Smart TV offers 4K resolution and comes pre-loaded with web apps, including Netflix, YouTube, VUDU, Facebook, Twitter, and Screencast, allowing you to log in to your account and enjoy your favorite online content at the click of a button. The Smart TV can also screen mirroring functions, enabling users to cast the content from their phone, tablet, or laptop to their TV screen.
As for audio, an external 40W soundbar-style speaker is included with the TV's purchase, reproducing high-fidelity audio and providing an immersive viewing experience. The Kuvasong Smart Outdoor TV is available in either black or white and in various sizes, including 32 inches, 43 inches, 55 inches, 65 inches, 75 inches, 86 inches, and 98 inches. Kuvasong can also manufacture a specially customized outdoor TV just for you.
Weatherproof
The Kuvasong Smart Outdoor TV is rated at a waterproof class of IP66, protecting from most weather and environmental conditions. This is one of the more impressive weather ratings from outdoor televisions we've looked at and is enough to protect from dust and rain. However, it should be noted that there is no specific protection from rain and snow mentioned by the manufacturer, and they recommend keeping it under cover – this could be more related to preservation from extreme temperatures.
The included external soundbar is also weatherproof and will prove to last if used in the correct conditions.
Input/Output
The connectivity options on the Kuvasong Smart outdoor TV are the following: 1 x Optical output, 3 x HDMI inputs, 3 x USB inputs, and 1 x AV input.
The TV is also equipped with RJ45 and WIFI connectivity, allowing you to connect to the abovementioned web programs. The Smart TV from Kuvasong is also fully compatible with ATSC+NTSC Television Systems.
Remote control
The remote consists of the usual controls- volume, mute, channel up/down, and a numerical keypad. The remote lets you control built-in apps such as Netflix, YouTube, VUDU, Facebook, Twitter, etc. This remote has Netflix, YouTube, and a home button, which will be useful when quickly changing between apps.
Why The Kuvasong?
The Kuvasong offers features and quality far outside of its price range. This is our favorite budget outdoor television. The features and performance on this TV are typically reserved for those twice its price.
Very bright screen
IP66 water resistance
Smart TV features
Includes soundbar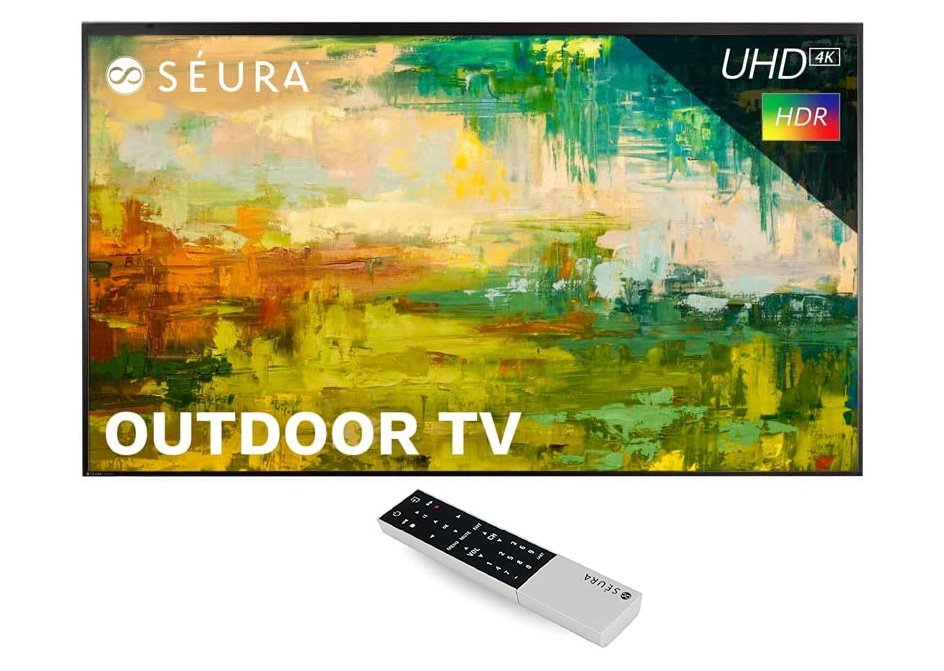 This is Seura's second iteration of their shade outdoor TV model. It offers everything that made the initial model so great but with some impressive improvements to brightness and more variation in size options. While the original Shade series only came in 55", the Seura Shade Series 2 is available in 43", 55", 65", and 75".
The Shade Series 2 can produce 700 Nits, a marked increase over the 450 Nits offered by the original Shade series. Even with the increase in Nits, this TV does best in a fully shaded area, where the brightness excels in providing a clear picture with great contrast.
This TV has several product variations, so it's important to ensure you pick the best option. This TV has no internal speakers but is designed to use an 80W Seura soundbar that attaches to the bottom. This soundbar can be purchased with the TV as an extra or separately.
Input/Output
Regarding connections, series 2 of the Seura Shade is fairly barebones. There are three separate HDMI outputs and a single USB port. Since most outdoor TVs do not offer smart TV capabilities, the best way to connect this TV to a streaming platform is to use a TV box or Google Chromecast.
Weatherproofing
The Seura Shade Series 2 offers an impressive amount of weather resistance. An IP65 rating ensures that the TV is protected from dust and rain, surpassing the protection offered by the previous version and many competitors. In addition, this TV is also protected from snow and can withstand temperatures as low as -24'F.
While this TV doesn't notably advertise the extreme temperature feature that the Seura Full Sun TV does, both speakers are rated to protect from heat up to 140'F, but note that this number is related to the heat of the TV itself and not the weather. Outdoor TVs can get very hot in the sunlight, and exposing the Seura Shade to direct sunlight is not recommended. The Seura Full Sun is a better choice for that type of use.
Remote Control
Because the Seura Shade is more focused on visual quality than features, the remote control is also quite basic and doesn't offer too many feathers. You will get all the basic controls and can switch channels, adjust the volume, and access the TV menu.
Why The Seura Shade Series 2?
The Seura Shade Series 2 may not offer all the bells and whistles of the Sunbrite Veranda. However, it still performs exceptionally well and offers robust waterproofing with more water protection than the Veranda.
IP65 waterproofing
Clear image quality
No smart TV capabilities
Limited features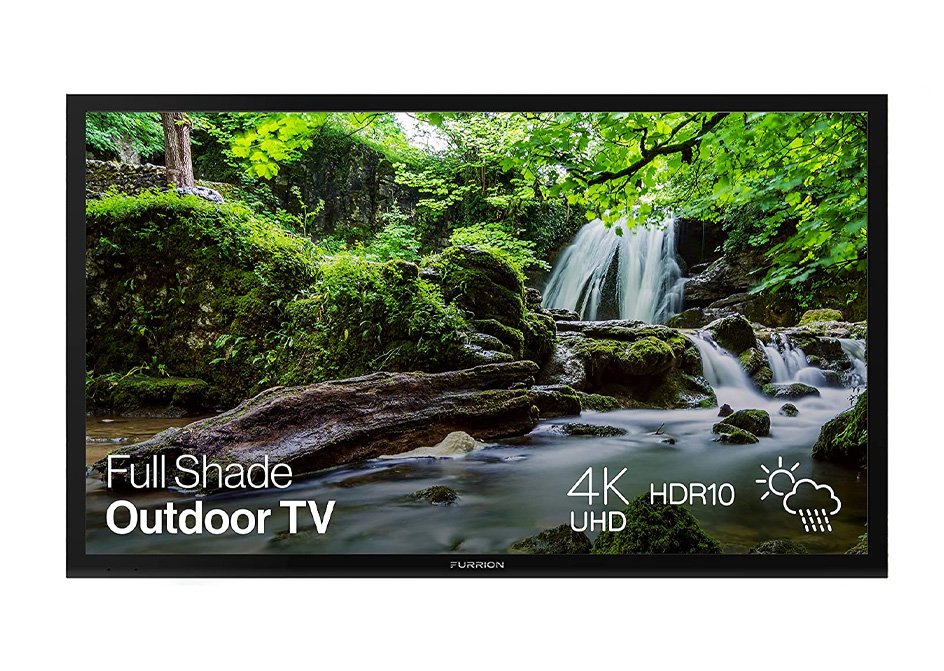 The Furrion Aurora Weatherproof 4K TV shares many similarities with the Aurora 4K Outdoor TV. This model is designed for fully shaded environments rather than partially exposed outdoor conditions. The Aurora Weatherproof operates in the 4K resolution zone and can represent crystal-clear pictures in a shaded environment. The TV can produce around 400 Nits, much lower than alternative brands. This should be a consideration if your shaded area is prone to reflections and challenging viewing conditions.
Wide viewing angles allow many viewers along your patio or garden to enjoy on-screen content, and improved picture contrast enables all to see clearly with minimized reflections. The Aurora Weatherproof TV includes various special features, including a child lock, closed caption/subtitling support, multi-language support, autotuning channels, and a sleep timer.
Weatherproof
The Aurora Weatherproof 4K TV from Furrion can function in extreme temperature and weather variations, from sub-zero to scorching heat, using built-in fans to keep the system's internal temperature at optimal operating settings. The Weatherproof Aurora TV is rated at a weatherproof rating of IP54 for the housing cabinet, allowing it to operate fully in the rain, snow, dirt, salt, humidity, or harmful ultraviolet rays. Additionally, the media bay at the back of the unit is sealed with gaskets to protect every input or output port from exposure to the elements.
Input/Output
The Furrion Aurora Weatherproof TV features the following input and output options available to you: 3 x HDMI inputs, 1 x D-Sub (VGA) input, 1 x Audio LR output, 1 x PC Audio input, 1 x Antenna (RF) input, 1 x Composite AV input, 1 x component (YPbPr) input, 1 x Coaxial Audio output, and 1 x USB input.
The Aurora Weatherproof can also support internet connectivity, allowing you to connect to any web-based streaming service or web browser for additional entertainment sources.
Remote control
The Furrion Aurora IP67-rated remote gives you full control of your outdoor TV. The usual volume, mute, channel up/down, and a numerical keypad is present, including more advanced controls such as cloud lock, closed caption support, multi-language support, auto-tuning, and sleep timer.
Why The Furrion Aurora Full Shade?
While the Furrion Aurora is the least impressive on paper, it is available at a much lower price and should be considered the choice for tight budgets.
Robust IP67 waterproofing on the remote
Plenty of ports
Affordable
Low brightness compared to other models
No Smart TV features
Understanding The Numbers
This article includes various data points relating to everything from weatherproofing and brightness to refresh rate and aspect ratio. While these may be familiar to those in the industry, we want to take some time to ensure you can understand these values meaningfully.
What Makes an Outdoor TV Different From An Indoor TV?
Aesthetically, there is little difference between regular TVs and outdoor TVs. The differences are hidden within the electronics in picture processing and additional layers of weather protection.
To achieve a clear picture outdoors, your flat screen needs some backlighting. This backlighting, paired with anti-glare and anti-reflective glass, enables your outdoor TV to display a crystal clear picture still. Most outdoor TVs allow you to adjust this backlighting to compensate for more or less sunlight. This feature can also be detected automatically by the TV.
The second major difference between indoor TVs and outdoor TVs is weatherproofing. Outdoor TVs live outside, preferably all year round. An outdoor TV needs significant weather, dust, and insect-proofing for it to work. A typical outdoor TV can withstand a temperature range of between -20℉ – 120℉; however, some outdoor TVs can incur lower or higher temperatures than this.
These additional features and insufficient competing products make outdoor TVs much more expensive than regular indoor TVs.
Outdoor TV Buyers Guide
The outdoor TVs listed above are great outdoor weatherproof TVs. If you're still unsure about which one to choose, below are some points to consider before buying:
Brightness and Anti-glare Features
Smart TV Features
Considering the following when buying an outdoor TV will help ensure you make an educated purchase and understand what you're buying. Not all outdoor TVs are the same, and some features are more important than others, and the priority you place on them will relate directly to what you need from your TV.
Understanding Your Choices
The outdoor TV market differs substantially from normal TVs, and understanding it is important to make an informed purchase decision. Outdoor TVs are specialized equipment; you must pick a set manufactured or supported by a trusted name in the industry. While you won't see many traditional electronic brands, others like Seura, Furrion, Cinios, and SunBrite are dedicated outdoor TV manufacturers with great products worth considering.
Outdoor Environment and Location
Before buying an outdoor TV, properly assess your TV's environment and the location it will be installed. Any form of shelter and protection, like an awning, pergola, or roofed deck, will reduce the exposure of the set to the elements and may impact the ambient light around the screen. These are some of the most important factors that will drive what type of outdoor TV you should get and can have a big impact on the ultimate cost of the equipment.
If your TV is to be installed poolside or in the open, exposed to elements like rain and snow, you must get a TV designed to withstand these conditions.
Screen Size and Display Quality
The best screen size for your outdoor TV depends largely on where it will be installed, how far away from it you will be while watching, and your budget. Larger screen sizes are more expensive, simple as that. Screen size becomes relevant if you're not within the optimal viewing distance from the screen while watching. This is more likely in outdoor situations as you may be moving around the barbeque or sitting in the pool, watching the game on the TV under the gazebo.
If there's a chance of your watching distance increasing, then opt for a larger screen than you normally would. Yes, it will likely cost a bit more, but it will make the outdoor viewing experience much more enjoyable.
Display quality is typically a factor in the type of screen technology you choose, the brightness, contrast ratio, resolution, and the effectiveness of any anti-glare features. You cannot over-emphasize the importance of good display quality on an outdoor tv unit. You will likely be watching TV in challenging and sub-optimal lighting conditions, and having a high-quality display to aid this is non-negotiable. Consider your budget and go for the best you can afford.
Weather Resistance and Durability
There are two approaches to buying a TV for outside. The first option is to purchase a dedicated outdoor TV with excellent weatherproofing that can be installed without worrying about weather damage. The second option is to focus on ensuring your installation location is heavily protected from the elements and opt for a TV that offers perhaps less rigorous weather-proofing.
Some companies retrofit standard name-brand televisions to become compatible and suitable for outdoor use. This is certainly another option to consider. Below, we discuss whether using an indoor TV as an outdoor TV is a good idea. Your outdoor TV will be exposed to the elements and, in some cases, even extreme weather conditions.
Because of the specific demands around weatherproofing and durability that come from that, suffice it to say that we suggest that you purchase a purpose-built outdoor TV set from the outset.
Audio Quality is Important
Always check whether or not your outdoor TV comes with built-in speakers. Some models are screen-only and require outdoor speakers to be sold separately. We have several articles on patio speakers where you are guaranteed to find the best choice to suit your requirements.
With that said, soundbars are being adopted more regularly as the go-to choice for adding audio to outdoor televisions. In many cases, the manufacturer may offer an independent soundbar specifically for their model or even have it as an optional add-on during the purchase.
Placement and Mounting
Picking the best placement position for your outdoor TV may very well be completely dictated by the layout of your outdoor living space. However, you must remember that most outdoor TVs are manufactured to function in brightly lit yet shaded areas, like under a patio overhang or in a gazebo. If you require your TV to hang in direct sunlight, you will find that your choice of good outdoor TVs that fulfill this requirement becomes pretty limited quite quickly.
As for actual mounts, there are several options you can choose from. A portable outdoor TV stand affords you the luxury of wheeling and shifting your TV around the entertainment area. A TV stand also exposes your cabling the most; you must bear that in mind when you plan. Other outdoor TV mount options are probably the most popular wall, ceiling, or roof mounts. Whatever TV mount you use will likely be dictated by where you plan to position your TV and how you intend to use it.
Set A Budget
Outdoor televisions range in price from just north of $1000 to $6000 and above. It is up to you to decide what you're willing to spend, and this is one of the factors that will decide the initial pool of TVs to choose from
Probably the single biggest consideration is where your TV will be installed. Some outdoor TVs are intended to be used in covered areas (like patios). In contrast, others are true weatherproof TVs and can be installed in direct sunlight somewhere out in the open. Check out our installation guide for more advice on installing your outdoor TV.
Using an Indoor TV as an Outdoor TV
Looking at our list of leading outdoor televisions above, you will undoubtedly notice that outdoor TVs are not cheap. Because of this, you may be tempted to buy an indoor TV, throw a protective cover over it, and use it as an outdoor TV. Be careful before you set down that path. Several factors must be considered in the design of good outdoor TVs.
Keeping moisture out is pretty obvious, but that's pretty easy and can, to some extent, be done with a cover on a regular TV. Shielding your TV components from the sun's rays is another, but that's quite easily achieved. The real challenge is finding effective ways to manage the television's heat.
Temperature Regulation
Your standard indoor television is designed to operate at a range not too far above or below normal room temperature. Everything is fine if you keep the TV at about that temperature point. The moment you move either up or down the temperature scale, it becomes a challenge. When temperatures drop too low, condensation can occur on the TV components, drops form, and well, we know what drops do when they mix with electric components. Built-in heaters are not uncommon in outdoor TVs.
On the other hand, an outside TV mounted in direct sunlight will accumulate heat that will have to be removed with heatsinks and fans or the components' life expectancy will drop dramatically. You can find indoor televisions certified to operate at relatively high temperatures, but that won't resolve the condensation issues that arise from an outdoor environment.
We suggest buying the best weatherproof TV you can afford if you plan to use it outside. While "winging" it with an indoor TV and a cover may work over the short term, it's almost guaranteed to prove the more expensive option in the long run. If you purchase an indoor TV for use outdoors, be prepared to buy it twice! While an outdoor TV costs considerably more, these outdoor models are designed to last outdoors. Outdoor TV warranties will protect against outdoor use where indoor TVs won't.
Outdoor TV Enclosures and Covers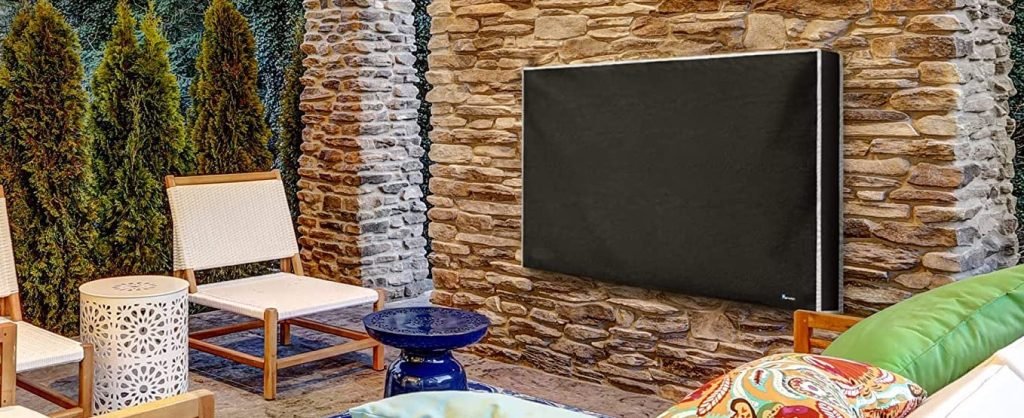 Do I need an enclosure or cover for my outdoor TV? The answer is: It depends. Outdoor TVs are designed to be used outdoors. Still, as we've already mentioned, some are intended to be used on covered patios or in gazebos. In contrast, others are more robust and can be placed in direct sunlight or areas with higher humidity. Adding a layer of protection to your outdoor set for periods when it's not in use is not a bad idea. There are three outdoor TV enclosure options for you to pick from:
Canvas Outdoor TV Covers
Buying a canvas cover is the easiest, cheapest, and simplest way of covering up your TV. These TV covers are usually manufactured from heavy-duty, high-density polyester. By applying a water-resistant PVC coating, you end up with a durable material that will protect your outdoor television from UV rays, dust, insects, and whatever the elements can throw at it. Most outdoor TV covers are easy to fit with industrial-strength velcro or some other fitment mechanism, and some of the cooler designs will even sport a little holder for the remote.
Hardshell Outdoor TV Enclosures
Your second option is to install a hardshell outdoor TV enclosure. These are often manufactured from aluminum, strong plastic, or other waterproof material. Your outdoor TV box may even come with a wall mount though most manufacturers have honed their designs to allow you to use some of the more standard outdoor wall mounts available. Your outdoor TV box may have a transparent face that allows you to view your television through the enclosure, but this may impact your viewing experience and image quality. Hence, several designs come with a door or removal face with a weatherproof seal.
Outdoor TV Cabinet
Another way to protect your outdoor set is to build a bespoke outdoor TV cabinet to enclose the entire television set. This allows you to create a more refined look using wood or any other material that will blend into or complement your decor. An outdoor TV cabinet also provides a great opportunity to manage the cabling and wiring required to install your set. Before jumping in and building a permanent outdoor TV cabinet, consider where you want to place your television. This fixture is, of course, more permanent and harder to move around or adjust afterward.
To conclude: They may not always look as elegant, but outdoor TV covers will certainly extend the life of your set. Just apply your mind and consider your budget before deciding what might work best in your entertainment area.
Final word
In comparison to indoor TVs, outdoor TVs still offer relatively limited choices. There are some well-designed and manufactured weatherproof TVs available. An outdoor TV is built to last a long time so you, your family, and your friends can enjoy your favorite TV entertainment outdoors. They are generally pricy, though, so do some due diligence before you buy and enjoy your TV.
Frequently Asked Questions
What makes an outdoor TV different?
Aesthetically, there is little difference between regular TVs and outdoor TVs. The differences are hidden within the electronics in picture processing and additional layers of weather protection.
Can I use an indoor TV as an outdoor TV?
There are several design factors required in an outdoor TV.  It has to be weatherproof to keep moisture out, has sufficient screen backlighting for bright light viewing conditions, shields your TV components from the sun, and, most importantly, has effective ways of managing the heat inside the television. Indoor TVs aren't designed to do this to the degree required for outdoor use.
Do I need an enclosure for my outdoor TV?
Not really, but why not? Outdoor TVs are designed to be used outdoors.  Most are specifically intended to be used on covered patios or gazebos, while others are more robust and can be placed in direct sunlight or areas with higher humidity. Adding a layer of protection to your outdoor TV set is not a bad idea.
Where should I place my outdoor TV?
Your outdoor living space's layout may dictate the best placement position for your outdoor TV. Remember that most outdoor TVs are manufactured to function in brightly lit yet shaded areas.  If you require your TV to hang in direct sunlight, you must find a design specifically for that. 
How do I install my outdoor TV?
Installing an outdoor TV is a little more involved and requires additional safety considerations than a normal TV installation, so you may be best served by contracting a professional installer to do the job.  If you decide to do it yourself, we've got a guide that may help you.
Thanks for your feedback!