Muzen is a company that isn't exactly a household name in speaker manufacturing, at least not yet. However, some of their speakers have gained popularity through viral videos, largely due to their unique speaker designs. The Muzen Wild Mini is one of their strongest offerings, so we were excited to see how it performs.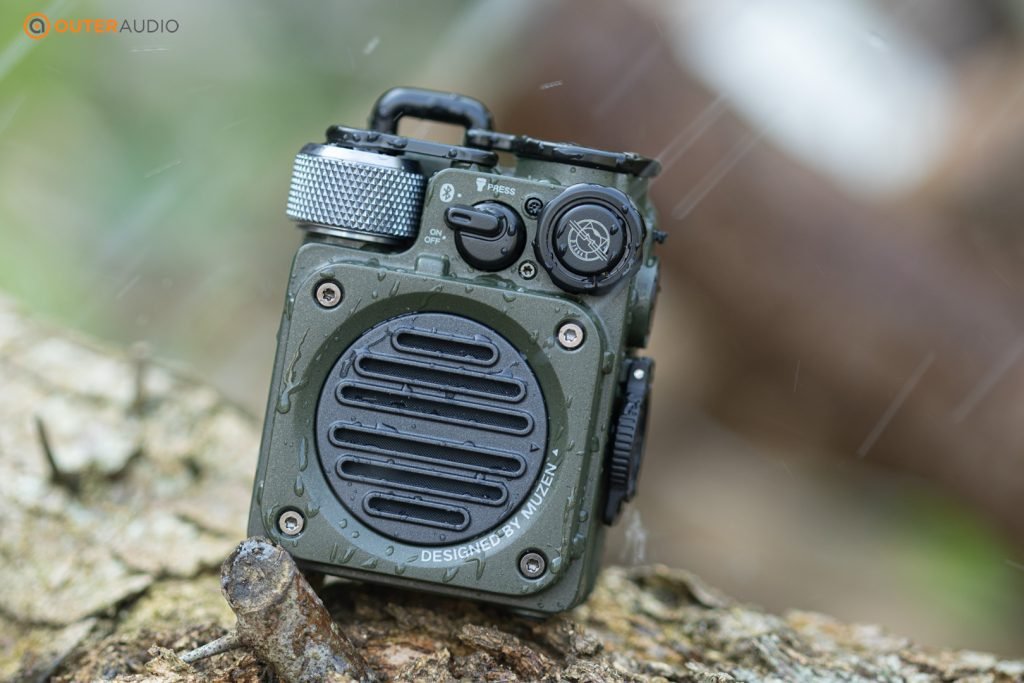 The Bottom Line
The Wild Mini by Muzen is a small, portable Bluetooth speaker that can easily be carried in the palm of your hand. It's a fairly weighty little speaker and will catch the attention of those around you with its unique design.
Intuitive & unique controls
Impressive volume capabilities
Rich sound with vibrant upper frequencies
Rugged design
Lacks low-end bass
Fairly heavy for the size
No stereo pairing
Only IPX5 water-resistance
Muzen's Signature Style Design
Muzen's approach to Bluetooth speakers differs from most other brands, putting novelty at the forefront. However, Muzen is one of the few brands to be able to produce such a speaker without sacrificing the build quality and sound experience.
Durability of Finish: 8.7/10
Feel of Buttons: 8.8/10
Weatherproofing: 6.5/10
Muzen is a brand best known for creating novelty Bluetooth speakers that offer something unique to the market, often with regard to both function and aesthetics. The Wild Mini is an example of Muzen's refreshing approach to speaker design, sporting a rugged build and resembling military equipment, especially in the case of the jungle green colorway that we used for testing.
The Muzen Wild Mini is made to either be placed upright or flat on its back – with rubber contact points on both sides to effectively hold the speaker in place and protect it from scratches. 
The Wild Mini looks more durable than it is in some areas while excelling in others. The materials used on this speaker feel high-quality, with most of the speakers made from metal and not the same plastics we are used to seeing on speakers of this style. Still, the Muzen Wild Mini isn't quite indestructible, with only IPX5 waterproofing offered.
I suspect the somewhat mediocre water resistance rating stems from difficulties in achieving a truly sealed speaker while utilizing many unique controls. IPX5 is still reasonable, however, and can protect the speaker from light rain and accidental splashes and spills.
Despite some better weather resistance being offered by competitors, the Muzen Wild Mini is still made to be a rugged speaker, and its construction does a good job of this. The driver is protected behind a thick metal grille, and the speaker can take more than just a few bumps. This makes the Muzen a good choice for camping, hiking, as well as other outdoor activities where rugged build is most important.
The Micro-USB charging port is behind the small plastic latch on the speaker's right side.
A Refreshing Approach To Controls
The Wild Mini has three separate control dials, which control everything from volume and track skipping to activating the built-in flashlight. Despite the unique control design, the Wild Mini feels intuitive to use, and the controls feel high quality.
This speaker looks a little intimidating on the initial view, with several dials, switches, and covers all looking a little unfamiliar, given that they don't follow the typical approach of Bluetooth speaker controls. However, after just a few minutes of use, I could control the Muzen as required, and the process feels more intuitive than many other Bluetooth speaker models on the market.
What I like about the Muzen Wild Mini's controls is that you don't need to remember how many times to press each button and how many seconds you need to press them to toggle between different modes. For instance, it is a common practice for the volume and track skip functions on other speakers to use the same button. Muzen makes this easier by offering distinctly different buttons for each purpose.
When you power on the Wild Mini, you're greeted with a Morse code message lasting a few seconds. This can become a little annoying, depending on your environment, and having the ability to mute it would be a nice added feature.
Volume Control
On the top left of the speaker, the volume is controlled using a silver dial that can turn infinitely in either direction. It makes small clicks when turned, and it doesn't take much for this dial to become a fidget toy.
Power, Pairing & Flashlight
To the right of the volume dial is the main power switch. Rotating this switch counter-clockwise for 3 seconds turns the speaker on (or off), whereafter, the switch returns to its original position. This same dial can also reset the Bluetooth connection by rotating it clockwise for 3 seconds. This button can also be pressed down for several seconds to toggle the flashlight feature. Once the flashlight is active, a single button press will toggle between the various flashlight modes.
Track Control
Lastly, on the top right corner of the speaker, there is a circular track control button, which can be rotated clockwise to skip to the next track or counter-clockwise to move backward in tracks.
This control approach feels far more intuitive, and after a single use, you will feel comfortable controlling this speaker. The ability to move back and forth between tracks is something that many smaller Bluetooth manufacturers leave out of their designs. Yet, its presence immediately feels like a quality-of-life improvement.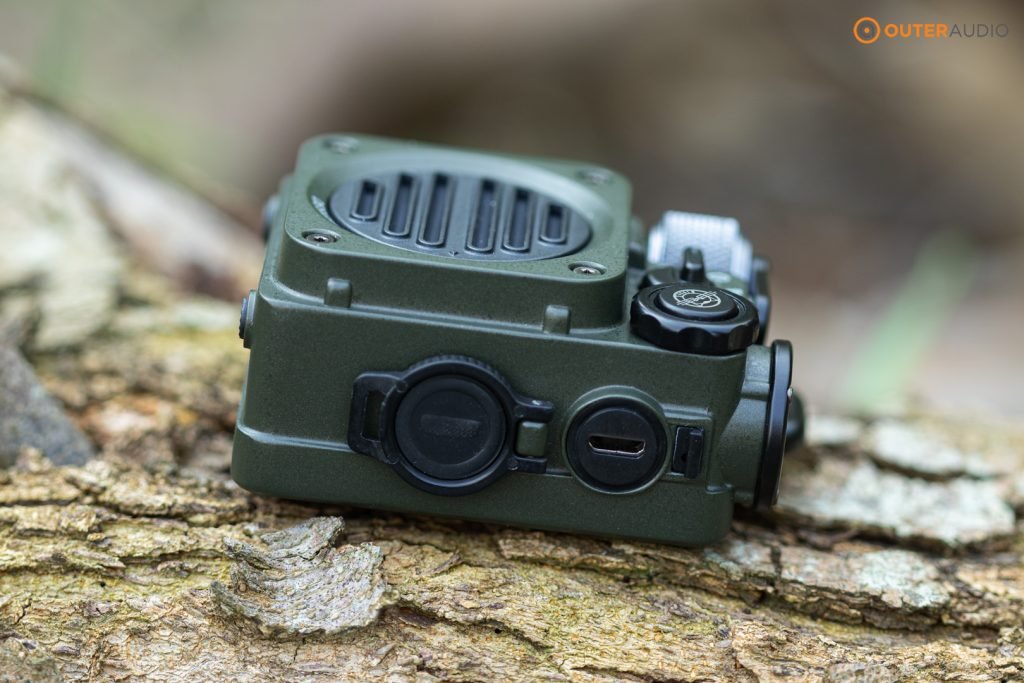 Powerful Sound With Limited Bass
The Muzen Wild Mini, despite its size, is capable of getting reasonably loud, and during testing, I was able to fill a small to medium room (25m²) room with good-quality audio. The Muzen Wild Mini does a good job of reaching high levels of volume without too much degradation in the overall audio quality, which is surprising given that a single 36mm driver powers this speaker.
Bass Performance: 5.1/10
Mid-tone Performance: 6.7/10
Treble Performance: 6.5/10
Volume: 8.2/10
Balanced Sound: 6.1/10
The midrange performance of Muzen is impressive and perhaps the strongest area of the Wild Mini when discussing frequency response. The upper range is also good across most genres and mixes, sounding very detailed. This profile works particularly well for darker-sounding electronic music, while some tracks with much treble presence can become fatiguing.
The bass is this speaker's weak point, and while I have the urge to be lenient on its bass performance due to its small size, the Muzen Wild Mini is a direct competitor to the Sony XB13, which at a fraction of the price produces a lot more low-end bass. However, the Sony XB13 lacks in volume when compared to the Muzen, which can get close to double the volume.
Overall, the Wild Mini is a good-sounding speaker that performs better than many other small Bluetooth speakers on the market, with impressive sound quality and a very reasonable sound profile. However, if you're looking for more depth from your Bluetooth speaker, you may want to opt for something like the XB13, which has more range to the low end.
Enough Playtime For The Outdoors
Charging Type: Micro-USB
Estimated Playtime: 8 Hours
Playtime: 6 Hours and 43 Minutes
Charging Time: 3.5 Hours
The Wild Mini has a 3.7v 800mAh Lithium-ion batter. It isn't of the highest capacity, but given the modest driver, it's still capable of producing relatively impressive performance. At ⅔ listening volume, the Wild Mini provides up to 8 hours of playtime, according to Muzen. During testing, I found that the battery life tended to last between 6 and 7 hours at a fairly loud volume, about 60%.
It's worth noting that using the torch feature will decrease the overall battery life a bit faster than without it.
From an empty state, the battery takes around 3.5 hours to fully charge. The charging port is a Micro-USB connection, which I'd have preferred to have seen offered as a USB-C, as most mobile phones no longer use Micro-USB, so the odds of having one on hand are low.
Conclusion
The Muzen Wild Mini is an impressive mini Bluetooth speaker that has a lot to offer. Its biggest strengths lie in its unique and intuitive controls. In terms of audio performance, it is strongest in the midrange and upper frequencies and sounds good even at louder volumes. More so than one would expect from a driver of this size.
It's an extremely compact speaker that can be taken with you anywhere, from camping and hiking to the beach. An IPX5 water-resistance rating adds some decent protection to the speaker, though the lack of dust protection is something to consider.
Should you buy the Muzen Wild Mini? There are some great small speakers with better response and improved water resistance, but the Wild Mini has its own strengths. The volume capabilities are impressive, the build quality is great, and the controls are extremely satisfying to use. As a hiking, camping, or general-purpose speaker, the Wild Mini is a justifiable purchase.
Thanks for your feedback!