The Bottom Line
Overall, I had a great experience with this speaker. The minor issues I do have aren't enough to justify a poor review, as there is a possibility of an upgrade at some point since they are all very small tweaks. Looking at the features of the Doss PartyBoom, it exceeded my expectations across the board and outperformed many other speakers within a similar price bracket.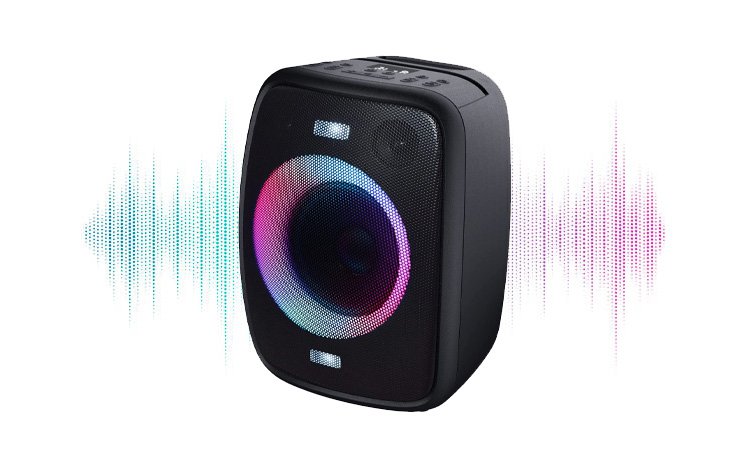 Doss has been around since the turn of the century and has subsequently produced an impressive range of portable Bluetooth speakers. At the time of this review, Doss has 11 Bluetooth speakers on the market and one set of wireless earbuds. Today we'll be taking an in-depth look at their PartyBoom Bluetooth speaker- the largest speaker in the Doss audio family geared toward party-goers looking for a compact, affordable, and loud Bluetooth speaker.
Design and feel
The Doss PartyBoom stands just short of 18 inches tall and weighs slightly above 11 pounds. The speaker's enclosure features slightly curved edges and an integrated carry handle on top of the unit. The carry handle is comfortable enough to hold, but I feel the front-heaviness of the speaker makes carrying it for longer distances uncomfortable and awkward.
Between the carry handle and the control panel, there is a slot for your phone to sit while the speaker is in use. It's long enough to fit the largest of phone sizes, but some thicker phone owners might find difficulty getting it into the slot (I use an iPhone 8, and there is only a tiny bit of extra space).
We recently included the PartyBoom in our list of recommended tailgate speakers as the budget choice, because even though it wouldn't be my first choice for a tailgate speaker, it is a very good choice for those who want something affordable and light to carry around to their social gatherings, while still being able to put out very decent sound. The inclusion of the guitar/mic input makes it that much better as a social speaker.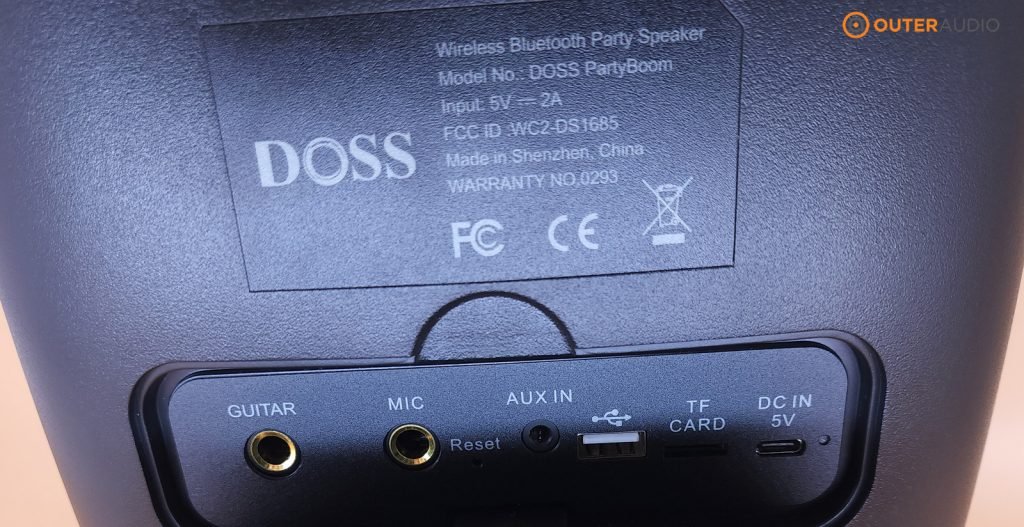 Behind the speaker, you'll find a rubberized pull-away tab that reveals the input & output options of the PartyBoom- closing this flap can sometimes be challenging. However, I feel confident that no dust or water can interfere with these ports once it is closed, under regular use conditions. The speaker has an IPX rating of 4, allowing for gentle splashes and sprays from any direction. If you were planning on using the speaker in wetter conditions, something like the Soundcore Trance, with a higher IPX rating and battery life may be better suited to your needs.
Overall, the Doss PartyBoom is well built, and I feel confident in carrying it around with me without worrying about anything breaking if it were accidentally dropped or tipped over.
What's it like to use the doss partyBoom?
A short jingle greets you upon power-up and shutdown, and the lights wake up. The Doss PartyBoom's main driver (a 6.5-inch Woofer) is circled by an LED light ring, which can either change colors or be set to one tone. Above and below the woofer are two extra LED neutral lights that flash to the beat of your music.
I'm usually not the biggest fan of flashing lights and other gimmicky features, but the PartyBoom's light modes do look pretty cool if I'm honest. In fact, I like it so much that a part of me wishes the PartyBoom had a mounting hole beneath the enclosure- this speaker is almost begging to be seen, and in a party situation, the height will also aid sound reinforcement.
The control panel is comprised of a small LED screen that shows the speaker's current volume setting (which runs from a scale of 0 to 16) as well as on/off statuses for Bluetooth connections, bass enhancement mode, and TWS stereo. Unfortunately, the buttons feel great to use but aren't backlit, making it incredibly difficult to use in darker environments- especially since there are so many buttons on this panel, and memorizing them will prove to be a pain.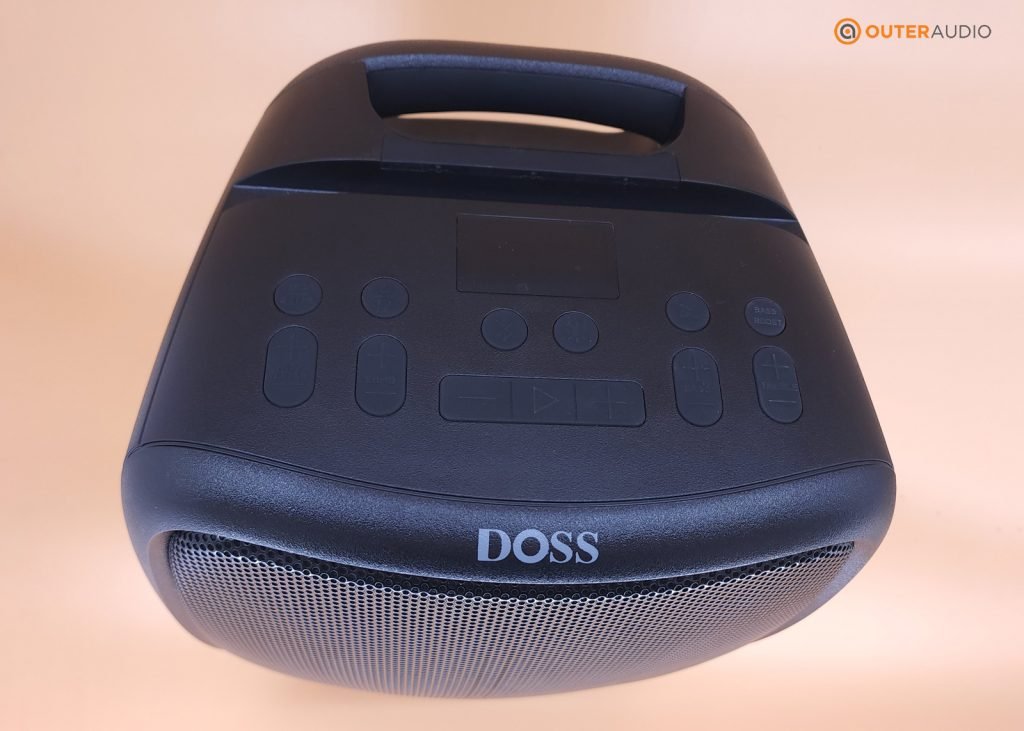 I also found that if you shut down the speaker while the bass boost mode is enabled, when the speaker is powered up again, the bass boost is deactivated, but the status indicator still shows it to be on. This means you'll need to turn it off and on again for the speaker to recognize this feature.
Establishing a Bluetooth connection on the Doss PartyBoom is incredibly straightforward, though only one device can be connected at a time. For a party-focused speaker, I would have liked to see a dual-connection ability here.
How does the doss partyBoom sound?
The PartyBoom has a guitar and a microphone input, which excited me quite a bit, so I decided to first test the quality of these components before pumping a mixed track into the system.
Since the microphone input is a ¼-inch TS jack and not a male XLR connector, I thought this might cause some noise issues, but I was honestly blown away by the amount of headroom available and the voice clarity itself. The onboard Echo feature is a plate-style reverb effect and can only be applied to the vocal/mic channel. The wet effect level can be adjusted as you see fit and does an excellent job at adding some depth and character to the incoming microphone signal- great for karaoke!
I tried the guitar input with both an electric and bass guitar. I ran both directly into the speaker to get an idea of the PartyBoom's preamp style first: the signal was clean enough, but as I expected, it sounds very dry and flat; it is a direct line, after all.
I then sent an amp-simulated line into the guitar input and was again overwhelmed by the Doss PartyBoom's performance. Sure, it doesn't sound like a dedicated guitar cabinet, and you can't expect it to, but it sure sounds good enough for some casual jams at home or if you plan on hijacking a house party.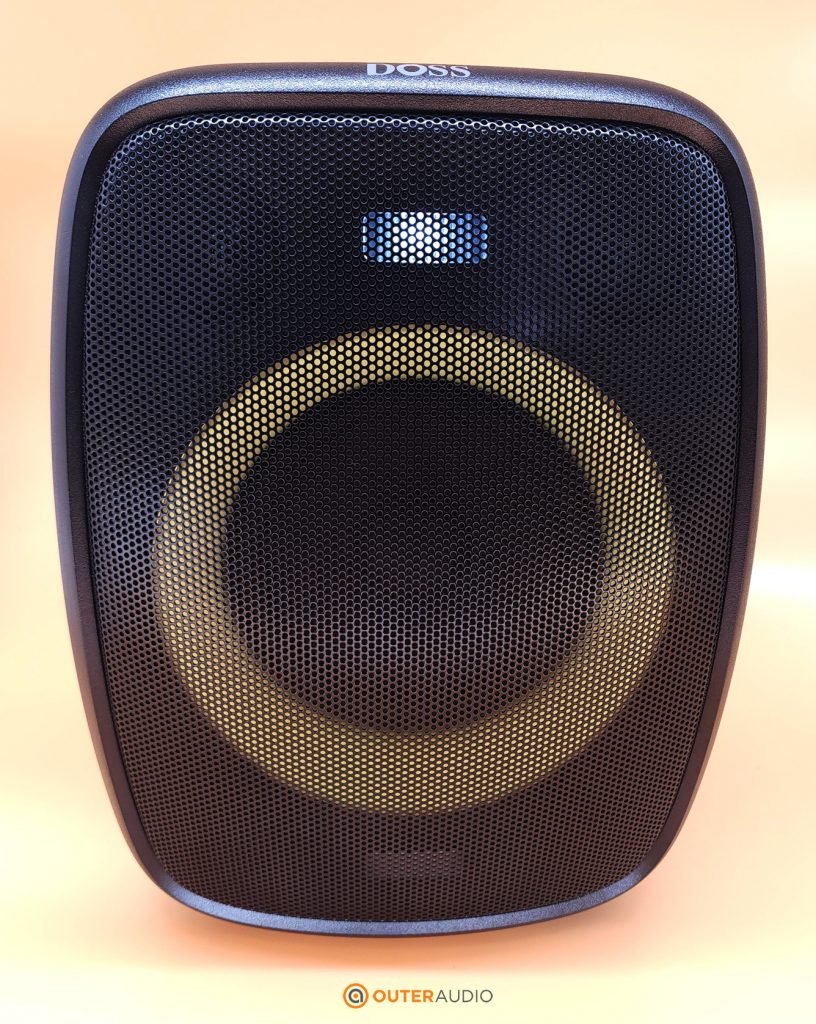 Using either input (or both simultaneously) in conjunction with Bluetooth playback is easy enough to set up, and each channel's levels can be balanced using the control panel on the speaker. I noticed some pretty intense RF interference when using the mic and guitar inputs, and while it only happened four times over the course of an hour, it's still something to be careful of as it will only worsen as the volume level climbs.
For music playback, the overall sound quality of the Doss PartyBoom is pretty good. I cycled through my reference playlist, which includes music of different styles and production, and I can safely say the PartyBoom didn't let me down.
I would have liked to feel a bit more low-end punch for music styles like hip-hop and electronic. The frequency content is present, though it feels a bit wobbly and can at times appear muddy. Applying the bass boost feature helps bring more life to the lower midrange and bass regions; however, on certain tracks, it became a bit too overwhelming, and some high-end clarity was lost.
Measuring the Doss PartyBoom's frequency response, it resembles a HiFi or car stereo system, which isn't really a bad thing if you're looking for a speaker that sounds good and enhances the sounds you push through it. If you're looking for a flat-sounding speaker, the PartyBoom isn't for you. Looking at the graphs, you'll notice an exaggeration of lows and low-midrange, even with bass boost disabled and a severe drop-off from around 15kHz, which I suppose is excusable for a party-based speaker, which will primarily be playing bass-heavy music anyway.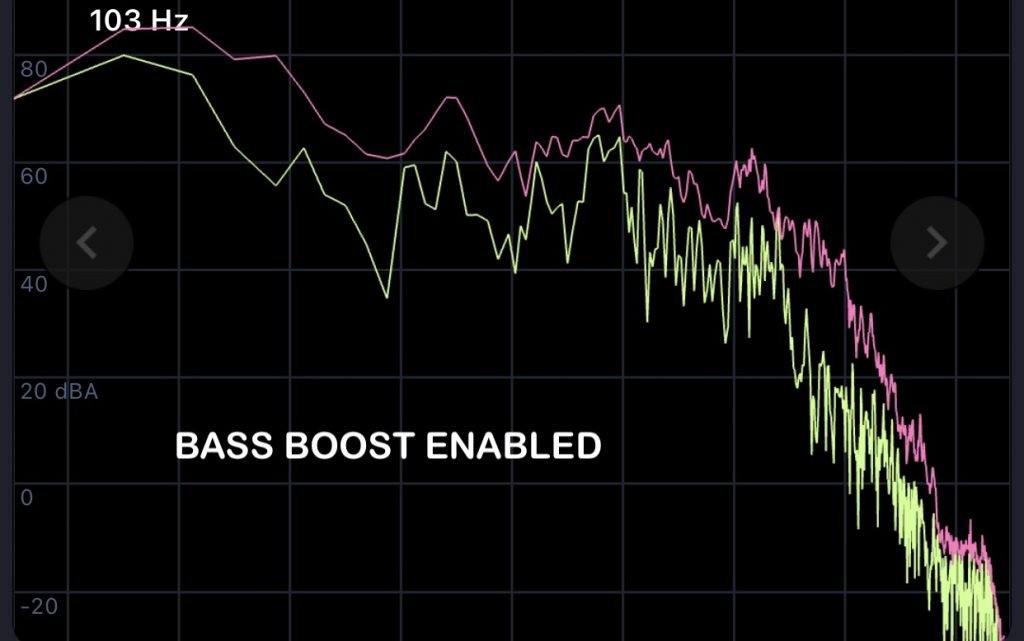 If you're a fan of anything in the rock, pop, country, jazz, or classical domains, the PartyBoom won't disappoint. I mostly listened to this speaker with the bass boost feature deactivated, and only made use of it when the listening material called for it. If you're primarily a hip-hop or electronic music consumer looking for something with ultra-low bass response, I'd recommend looking at speakers with a slightly larger woofer (start at around 8") though the Doss PartyBoom is more than capable of delivering a pleasing listening experience across the board.
As for volume capabilities, the PartyBoom does not disappoint. At full volume, I obtained an average reading of 80.5dB at a distance of 6ft.
As I mentioned earlier, the volume scale runs from 0 to 16. I found myself using it around 5/6 most of the time and pushed it to 10-12 when I felt like cranking it. This volume level is exciting, and there's still loads of headroom to play with. The PartyBoom couldn't deafen you even if you tried, but it can undoubtedly get loud enough for most house party situations. I'd say it can fill a medium-large-sized room for around 12-15 people easily.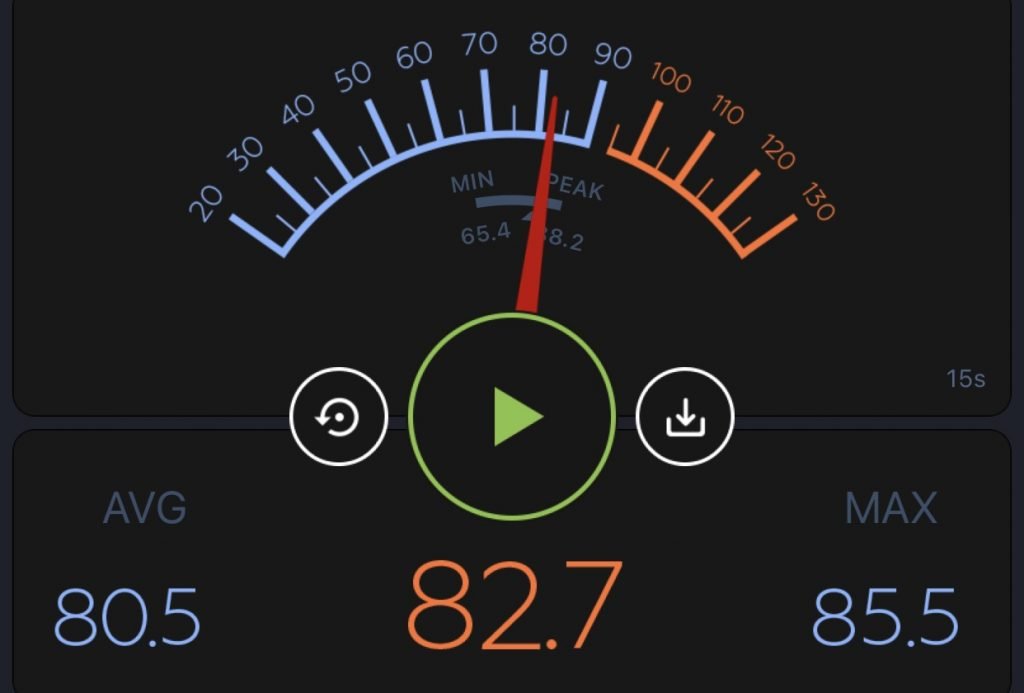 doss partyBoom connectivity options
Aside from the discussed guitar and mic inputs, the PartyBoom supports some other playback methods and charging solutions.
The Doss PartyBoom can be treated as a power bank; by simply plugging your mobile device into the speaker using a USB cable, you can recharge on the go. This will, however, dramatically drain the PartyBoom's battery life. The PartyBoom also accepts a TF card, which you can use to load and store music for a quick and easy playback option.
An auxiliary input is also available- a feature that always excites me on a Bluetooth speaker. Using the 1/8-inch auxiliary connection can preserve the speaker's battery life and allow for a latency-free connection between your speaker and, say, a television or other device that may not support Bluetooth pairings.
If you're missing the ability to connect to radio frequencies, a similarly-priced speaker I can recommend would be the Monster Rocker 270 Sport: It's a few inches smaller but shares virtually all the same features with the Doss PartyBoom, and is just about as loud. The Rocker 270 Sport supports radio connectivity and allows you to save up to 6 stations presets for quick and easy channel surfing. Aside from this, the only real difference between the functionality of these two speakers is the Rocker 270's incredible battery life, which is around double the strength of the PartyBoom.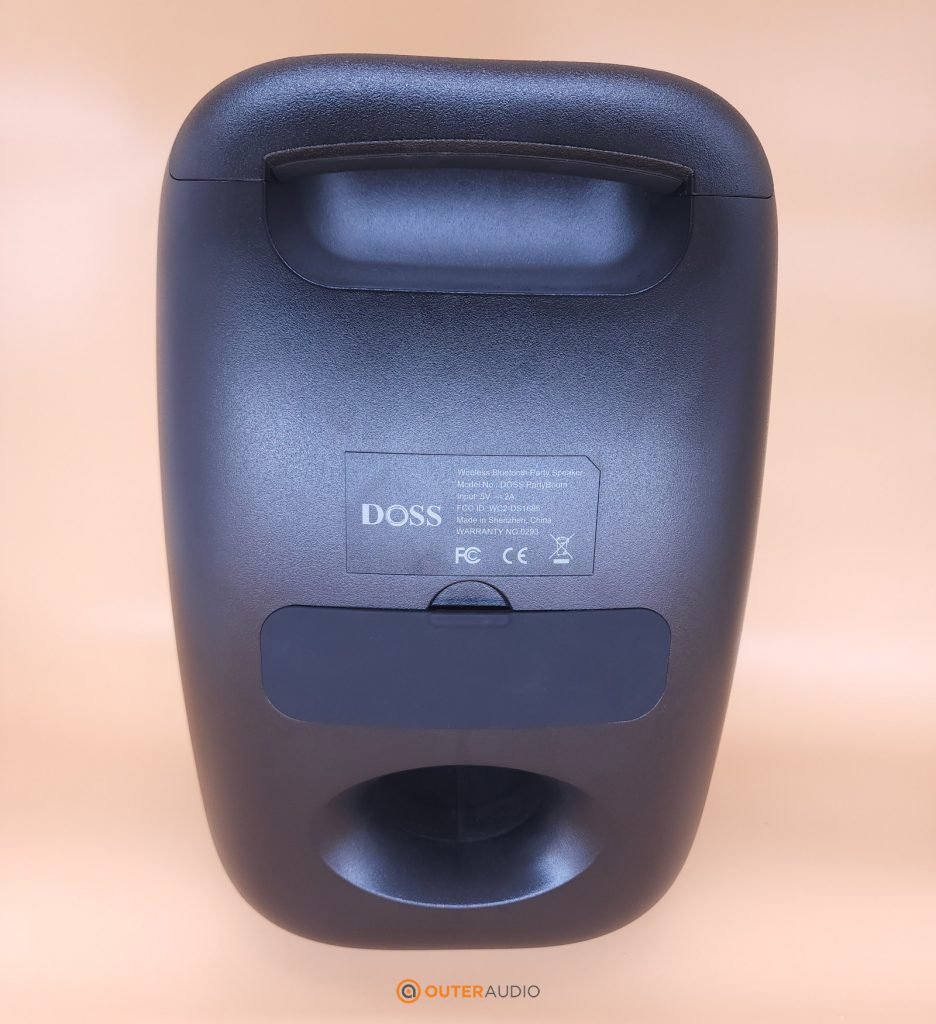 As discussed earlier, I could pair my phone or laptop to the Doss PartyBoom relatively quickly and painlessly, and the PartyBoom remembers active connections when it's switched on again. The Bluetooth connection proved to be stable over quite a long distance; I actually couldn't get far enough away from the source device to notice any signal dropouts or glitches. Again, dual connectivity would have been nice, but it appears to be a dying feature these days, so I can't express too much disappointment here.
The Doss PartyBoom also supports TWS pairing- I don't have a second PartyBoom to test this pairing process, but some users have explained how straightforward this procedure is. I have no doubts that a stereo pair of PartyBoom speakers would sound great, and if two isn't enough, you can link up to 99 PartyBoom speakers together and form a seriously crushing setup for your next block party.
How's the battery of the Doss PartyBoom?
The Doss PartyBoom is advertised as capable of running up to 12 hours on a single charge. This spec will vary depending on the connection type used (Bluetooth vs. Wired), output volume, onboard charging, and the usage of the LED lights. Even when all of the magnificent features were being used, I managed to get around 8 hours of playtime from the PartyBoom. The speaker can also be charged while in use and automatically shuts down after 30 minutes of inactivity- a convenient feature!
Final Thoughts On The Doss PartyBoom
Overall, I had a great experience with this speaker. The minor issues I do have aren't enough to justify a poor review, as there is a possibility of an upgrade at some point since they are all very small tweaks. Looking at the features of the Doss PartyBoom, it exceeded my expectations across the board and outperformed many other speakers within a similar price bracket.
If you're drawn to the design and basic features of the Doss PartyBoom but don't necessarily need the microphone and guitar connections, you could consider the Soundcore Trance by Anker. The Trance is slightly smaller and marginally cheaper but offers practically all the same functionality otherwise.
If you have a little extra to spend, the JBL PartyBox is another option worth looking into. While it comes at a higher price tag, you'll notice an improvement in sound quality, output volume, and battery life. The PartyBox comes in a few sizes, the smallest of which is still larger than the PartyBoom but is somewhat portable. Aside from the above points, the two speakers are virtually identical in functionality.
Thanks for your feedback!