Installing an outdoor TV is a little more challenging than an indoor one and requires specialized equipment or modifications. You can purchase a specially designed outdoor TV with weather protection and anti-glare modifications. However, these are usually more expensive than regular indoor TV. Apollo Enclosures designs and manufactures gear and equipment to install a regular indoor TV outdoors. The enclosures are designed to fit six screen sizes from 43-inch to 86-inch models. In addition, the company also manufactures wall mounts, dust covers, temperature regulators, and even commercial equipment and accessories.
In this article, we'll introduce you to Apollo Enclosures' products, which can save you a lot of money installing an outdoor TV.
Apollo Enclosures Outdoor TV Enclosures
Apollo's enclosures feature TIGHT SEAL™ technology, which seals and protects your TV from the elements, including rain, dust, and pesky insects. Even though your TV is completely sealed, the enclosures feature multiple internal fans that regulate airflow around the TV. These fans also enable your TV to operate at temperatures as low as -4 degrees F (-20°C) to as high as 122 degrees F (50°C). This is more than suitable for most parts of the United States.
At the base of Apollo's enclosures are sound ports, so you can still use your TV's internal speakers should you wish to. However, we recommend investing in quality outdoor patio speakers for the best sound quality.
At the rear of the enclosure is a watertight cable cover that allows you to feed cables to and from your TV without compromising any weatherproof features. Apollo also includes a 9-foot weatherproof power cord extension. A handy extra if your socket is not right next to the TV.
One of the most important features of outdoor viewing is anti-glare. Apollo's enclosures feature an anti-reflective safety glass for partial sun installations suitable for porches, patios, and covered deck areas. Direct sunlight will be an issue, so choose a wall where direct sunlight won't be an issue. In most cases, covered decks protect against direct sunlight. It's just sunrise and sunset where the sun is low that you may have a problem.
Various Size Options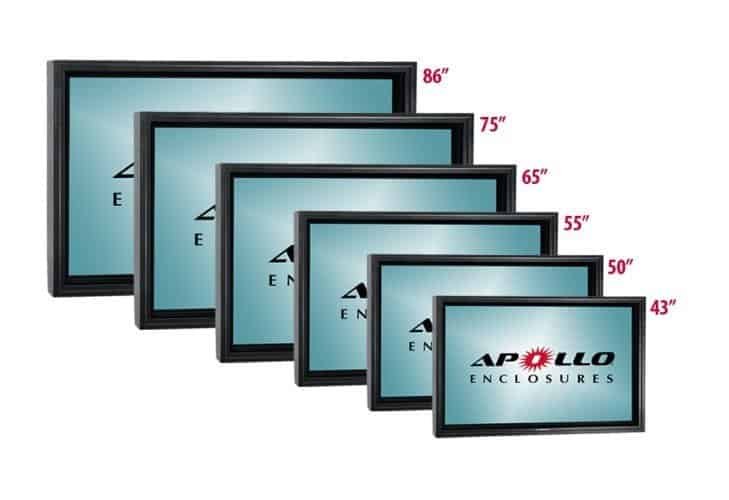 Apollo TV Enclosures come in the following sizes:
Make sure to check Apollo's recommendations, as one or two TV models won't fit the enclosure. In particular, LG's OLED LCD TV seems to have an issue fitting across all of Apollo's enclosures.
Apollo Enclosures Wall Mounts
Apollo also manufactures wall mounts. However, it is not included with the enclosure. This is because you have several wall mount options depending on how you plan to install your outdoor TV enclosure and what size you buy.
For protection against the elements, all Apollo Wall Mounts are constructed with high-grade aluminum and stainless steel hardware.
Articulating Wall Mounts
Articulating wall mounts are the most commonly used for outdoor TV installations. These mounts allow you to swing your TV 180 degrees in either direction. This allows you to watch from wherever you are on the patio, garden, or pool.
Apollo has two wall-mount options: the Single Arm Articulating Wall Mount and the Dual Arm Articulating Wall Mount.
Single Arm Articulating Wall Mount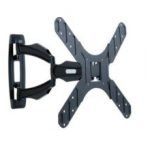 Designed for smaller TVs from 39-inch to 43-inch with a maximum load of 70 lbs. The Single Arm has an adjustable tilt with 2 degrees up and 12 degrees down.
Available at: Amazon
Dual Arm Articulating Wall Mount
Designed for larger TVs from 39-inch to 75-inch with a maximum load of 155 lbs. The Dual Arm has an adjustable tilt with 2 degrees up and 10 degrees down.
Available at: Amazon
Adjustable Height Ceiling Mount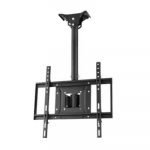 If you can't mount your TV on the wall, Apollo's Adjustable Height Ceiling Mount is an excellent alternative. Ensure your beams can handle the load before installing this ceiling mount.
The ceiling mount is designed for TVs from 39-inch to 63-inch with a maximum load of 155 lbs. The height can be adjusted from 28.44 inches to 48 inches and tilted 15 degrees up or down.

Available at: Amazon
Flat Wall Mounts
A flat wall mount is a great option if you don't need any articulation. The flat wall mount is also the only option for the large 86-inch enclosure. You must go with the Heavy Duty Flat Wall Mount option for this. While you don't have any swing, you can tilt the TV 12 degrees downwards, which is more than enough for most viewing positions.

Available at: Amazon
Apollo Enclosures Optional Accessories
Aside from wall mounts and enclosures, Apollo also manufactures a range of accessories for installing outdoor TVs.
Dust Cover
Even though Apollo Enclosures are watertight, you might want to protect your outdoor TV from excessive dust and debris from gathering on the installation. Apollo's dust covers feature velcro sides for easy fit and removal. The covers are coated with PVC to protect against dust and moisture. There are six sizes to fit all models of Apollo Enclosures.
Available at: Amazon
Modesty Frames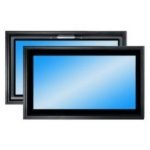 If your TV does not meet the specifications of Apollo's six enclosures but is between 43 and 86 inches, you can install a Modesty Frame for the TV to fit. You will need to purchase a frame bigger than your TV to be able to use a Modesty Frame. For example, if your TV is 70 inches, you must purchase the 75-inch Apollo enclosure.
There are six Modesty Frame sizes available from 39-inch to 80-inch.
Available at: Amazon
Heater Module
If you experience extreme heat and humidity, such as in parts of Florida, or extremely cold winters like Alaska, then an Apollo Heater Module is an accessory you'll want to consider. The Heater Module regulates the temperature inside the enclosure even when temperatures outside are as low as -4°F while filtering out moisture in extremely wet or humid conditions.
Available at: Amazon
Security Bracket Kit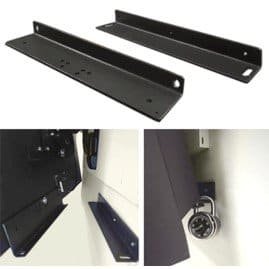 If you are concerned about someone stealing your outdoor TV, Apollo's Security Bracket Kit is recommended. The bracket fits on the wall behind the TV, which can then be secured to the enclosure with a padlock.
Available at: Amazon
Conclusion
If you're looking for an affordable way to install your outdoor TV while still ensuring you're getting the best protection for your investment, then Apollo Enclosures is definitely the way to go.
Where a quality outdoor TV will cost you thousands of dollars, you can install a regular TV with an Apollo enclosure for a fraction of the price. With Apollo's accessories, you can customize your installation to meet the requirements of your TV's position and your area's climate.
Thanks for your feedback!