After doing extensive research on the best tailgate speakers on the market, we think it is safe to say that the Ion Audio iPA77 Tailgater is the best bet for anybody planning to throw or attend a tailgater and need a speaker that can make some serious noise. With 50 hours of battery power, quality sound, durability, portability, Bluetooth, NFC, AUX, and even a microphone – it has everything you could possibly need.
Your average portable speaker is probably good enough for some mellow background music while out and about, but for a serious tailgate party, you need volume. In addition to volume, a good tailgate speaker should be able to deliver quality audio as well. Being loud means nothing if everything sounds clipped or distorted. Of course, a good looking design is always a plus for a tailgate speaker as it will be in the public eye.
Some people prefer light, compact party speakers that are easy to transport around in their vehicle, while others prefer something that looks as impressive as it sounds. Below we have the five best portable tailgate speakers and a quick review for each: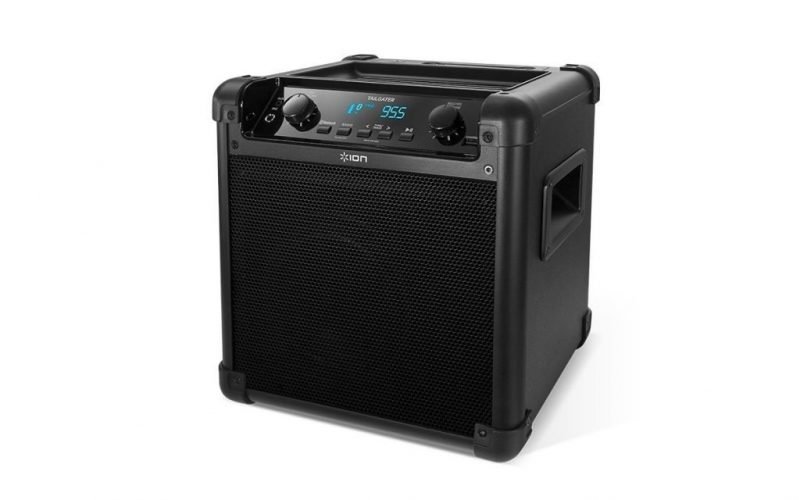 Our Favorite Tailgate Speaker. Comes with a Microphone, AM/FM Radio, and USB Charge Port. 
If you plan on throwing an all-night tailgate party and want a speaker that is going to last, then the iPA77 is the one to take along. This tailgate speaker features a 50-hour rechargeable battery with enough power to spare that you can use its USB power bank to recharge your other devices, such as tablets and smartphones. It features Bluetooth to connect with other audio devices and can even link up via near field communication. For playback from non-Bluetooth devices, you can use the auxiliary input instead. In fact, you don't even need any external devices for audio as the speaker has an integrated AM/FM radio. If any of your guests are in the mood for some karaoke, they can make use of the microphone that is bundled with this speaker to sing along.
This speaker is also compatible with a free app for iOS and Android that allows you to adjust its EQ settings amongst other things. Although it doesn't have wheels like the SBT1009BK, this speaker can be transported with ease using its two side handles. It is also a pretty rugged device and has reinforced rubber corners, so you don't need to worry about damage when shifting it around.
When it comes to sound quality the iPA77 is no slouch either as it has a robust woofer as well as a wide-dispersion tweeter. Even in wide open outdoor areas, this speaker is able to make itself heard. For a speaker with a solid build, great audio quality, and enough battery power to last the whole night you can't go wrong with the iPA77. It doesn't have any fancy gimmicks, like spinning disco balls but will still impress everyone at your next tailgate party.
Available at: Amazon.
For those who party in style – Powerful and clear sound, extensive sound settings, and endless connectivity options.
The Aiwa Exos-9 Portable Bluetooth Speaker is without a doubt one of the best tailgate speakers available on the market this year. Not only does it look and feel absolutely amazing, with high-quality materials – but with the latest technology, the Exos-9 stands out from its competitors.
When it comes to sound, you get a whopping 200 watts of continuous power and 5 drivers which include an outstanding 6.5″ dual-voice coil subwoofer that gives you epic bass. The sound quality is great and loud enough for a proper tailgating party, but if you want more power for a bigger party then you can link two of these babies together for a decent 75-guest party – and possibly some cops.
You can listen to the great sound of the Exos-9 while plugged in or you can charge it up and enjoy up to 9 hours of partying with its portable function absolutely anywhere.
Now, let's get to the really cool part of the Exos-9. Unlike most other portable tailgate speakers, this one gives you extensive control over your sound. You can literally change the music up by cranking the bass, mids or highs as you please or you can fine tune the EQ. With the sound control features, this tailgate speaker can be used for so much more than tailgating – listen to any music genre in clear and distortion-free sound at loud volumes, indoors or outdoors, and since it looks so classy, it will fit in perfectly with your living room for those days that you want to use it indoors.
Lastly, when it comes to connectivity, the Exos-9 has virtually no limits. You can connect it to your iPhone, iPad, any  Android device, any Kindle tablet, Windows device, PC, or Mac via Bluetooth with aptX and A2DP support. It also supports Android NFC and if wireless just isn't your thing, make use of a 3.5mm audio jack for direct connection.
Seriously, this tailgate speaker is just plain awesome. There are a few people who say it is too heavy but it is like 13 pounds. All I have to say to those people is; hit the gym and buy the Aiwa Exos-9.
Available at: Amazon.
Less Show – More Go. 4 Powerful speakers packed into a take-it-anywhere Bluetooth device.
If you're looking for a Bluetooth speaker that is both stylish and delivers some serious beats at a volume that would make the neighborhood dogs cringe, then the Big Blue Party Speaker should be your weapon of choice.
Weighing in at just 14.7 pounds it is light enough to haul onto the beach or up to your impromptu rooftop party.   4 Speaker drivers, a subwoofer, and a passive radiator kicks out a solid 72 watts (18 watts per channel, 36-watt sub).  Audio quality is very good and it is often compared to higher-end BOSE speakers – while a lot of reviewers on Amazon simply think it's louder!
As the Big Blue Speaker was primarily designed and constructed to be a party speaker, rather than just another tailgate speaker hidden in the trunk of your car, it is arguably also the best-looking speaker on our list of the popular tailgate and party speakers. The construction is solid, sturdy and durable. Nothing about this speaker looks or feels cheap or tacky. The design is stylish and hip yet timeless enough not to go out of fashion with every change of the season.  Simply put, it's s a solid high-quality product that comes highly recommended.
Finally, it's primary and preferred method of connection is via Bluetooth of course. No need for wires and no need to dock your phone or iPod.  Simply pair your devices and let the party begin!
Available at: Amazon.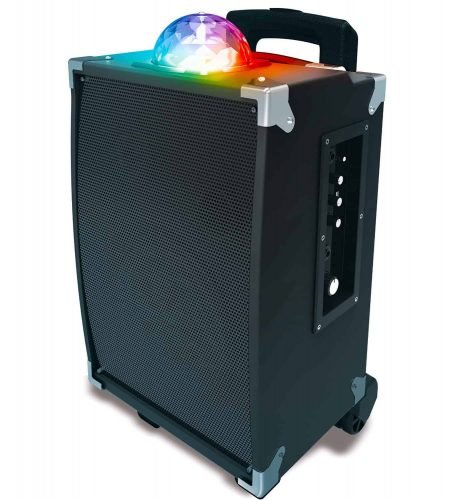 For the Show-Offs. Comes with a Disco Ball Light Show, Karaoke Functions, Wheels, and Microphone. 
To get a tailgate party started, and keep it going, the SBT1009BK is hard to beat. This Bluetooth speaker with wheels packs everything you need from a good tailgate speaker and then some. While it might look pretty sizeable the speaker is actually fully transportable thanks to its retractable handle and built-in wheels. It is also lightweight enough that it can be carried around using the attached handle.
With this speaker, you don't need to worry about being close to a power source either as it is rechargeable and able to last for hours. To ensure that everybody in the area can see that you have a party going the SBT1009BK features a disco ball right on top of the speaker. The disco ball actually rotates and uses multicolored LED lights to light up its surroundings for a great effect.
Another feature of this speaker that will make it a firm party favorite is its karaoke function, which comes complete with an included microphone. Whether you want to broadcast a message to everyone that is gathered around or simply sing along to your favorite tunes, this speaker will make it happen.
As this speaker features Bluetooth you can connect it to any compatible audio device to play music or make use of its aux-in plug for a direct connection if needed. It even has inputs for a guitar and microphone for those who want to make their own music at the next tailgate party. The sound quality doesn't disappoint either with crisp, clear audio that can be cranked very loud.
Anyone looking for a great tailgate speaker on wheels that is easy to transport to where you need it and can double as an amplifier should definitely add the SBT1009BK to their wish list.
Available at: Amazon.
For The Wetter Areas. Comes with Weatherproof 6.5 Inch Component Speakers, Built-in 450 Watt Amplifier and Cigarette Lighter Connector.
For the committed fans who won't let a bit of bad weather spoil their tailgate party, the ATV20 from Boss Audio is worth looking into. It doesn't look as flashy as the other tailgate speakers but makes up for it with great sound quality and exceptional durability. The 6.5" poly injected cone speaker and 1.5" high-performance soft dome tweeter are both weatherproof and waterproof, so you can keep the music going even if the elements are not cooperating.
This speaker features a 450 watts max built-in amplifier and can be installed or removed with ease thanks to its plug and play design. The auxiliary input allows you to connect it to any audio device with an auxiliary output in order to play your tunes. To keep the party going the ATV20 is powered using the cigarette lighter port of your vehicle and can even be hard wired to the battery.
While the Boss Audio ATV20 is a favorite amongst ATV owners its durability and sound quality, not to mention how portable it is, has won it plenty of fans among the tailgate crowd as well. Anyone looking for a great party speaker that can take a beating and still keep going and don't need all the flashy accessories will love what the ATV20 has to offer.
Available at: Amazon.
How to choose a tailgate speaker
So you have a tailgate party coming up and you need a suitable speaker. We can help you out. As with any speaker that is designed for a specific purpose, there are a few things that you will need to look for. Keep in mind that a tailgate party takes place in a parking lot or secluded area and except if you bring a generator along, there probably won't be electricity, so can't just take along any old speaker.
Portability
When it comes to tailgate speakers, they need to be portable. You will need to load it up and take it to the party and once you are there, you will need to be able to place it in the perfect spot where everybody will be able to enjoy the music and party hard. So in order for it to qualify as a portable speaker, it will need to have the following characteristics:
Battery powered – First and foremost, tailgate speakers need to be battery powered. This means that you need to be able to charge the speaker and then be able to play music through it, without it having to be plugged in. So make sure that you do not buy a speaker that needs to be plugged into a socket. Also, remember to make sure that its battery will last long enough so that it does not die in the middle of the party.
Right size – When it comes to the size of proper tailgate speakers you need to make sure that they are not too big or too small. Do not buy a small portable speaker that will barely make enough sound to entertain a hand full of people, nor should you buy a speaker that will be difficult to transport. It should be large enough to entertain a crowd, but small enough to fit in your vehicle.
Handles and wheels – Okay so this is probably not a necessity but it is definitely something to keep in mind. Take it from somebody who has had to carry a speaker that was not really made to be carried – tailgate speakers need handles or wheels – or both.
Power
So you want to get a speaker that is loud enough to entertain all the guests and has enough bass to at least make the earth shake just a little bit. Looking at the wattage is an easy way to determine the volume capabilities of a speaker, but with modern advances in audio, a low wattage does not mean the speaker is soft. So, take a look at the reviews and make sure that the people who have listened to the speaker say that it is loud and powerful enough.
Sound quality
There are several speakers out there that cost next to nothing but also sound horrible. Do you have any idea how annoying it is to have to listen to music through low-quality speakers all night long? Don't be cheap, buy a decent sounding speaker. Make sure that the tailgate speaker you buy has the ability to sound crisp and clear, as well as loud. If there is one thing in this world that you can be sure of, it is that you will never regret buying a great sounding speaker.
Conclusion
If you use this guide and our recommended tailgate speakers, you are sure to find the perfect speaker that will make your tailgate party a roaring success and impress all your friends. And as a plus, you can always use your tailgate speaker as a party speaker and take it with you when you go camping or do whatever. Personally, I think that a tailgate speaker is a must-have.