In searching for the best Bluetooth transmitter, whether for use in your car, living room, local gym, or workplace – one has various factors to consider. Our focus in this article is specifically on Bluetooth transmitters for TV or your car, each with unique features and uses. We've rounded up and reviewed a list of the best to help you decide which will suit your needs best. We'll also be discussing some of the basics of Bluetooth technology, and some frequently asked questions, including:
For those looking to find out which Bluetooth transmitter stands out for us in particular, here are our top picks:
With various connectivity options, onboard volume controls, impressively long-range, and immaculate audio quality!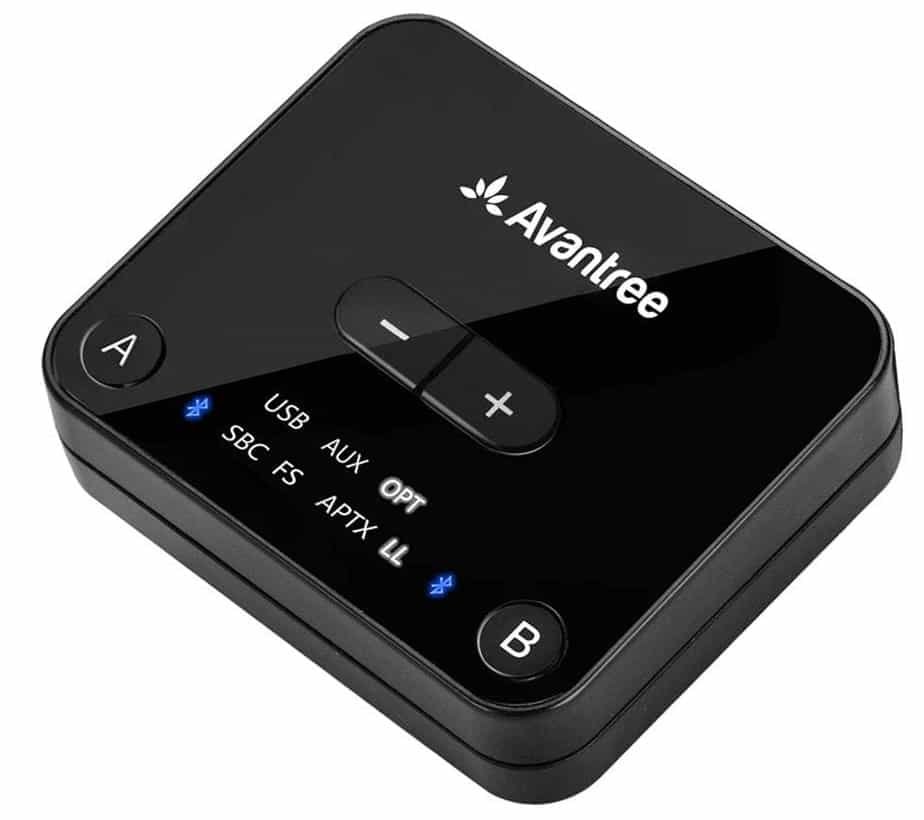 Best Long-Range Transmitter
The Avantree Oasis Plus can perform flawlessly at up to 164ft (50m). Various connections available and backward-compatible with older Bluetooth versions make this a great choice for all uses.
Best Bluetooth Transmitter for Car
At a highly affordable price, Nulaxy's FM Bluetooth transmitter takes first place in the car audio category. Several safety measures in place, fast charging capabilities, and various playback modes and EQ presets make for a safe and enjoyable drive.
Best Bluetooth Transmitter for TV
The Avantree Oasis Bluetooth Transmitter is an incredibly versatile and user-friendly option for one's home theater setup. Various connectivity options, onboard volume controls, impressively long-range, and immaculate audio quality will provide stress-free and endless viewing pleasures.
How does a Bluetooth transmitter work?
Before we get into the nitty-gritty, let's learn a little about how Bluetooth works and what to look for in finding your ultimate Bluetooth transmitter system.
Since Bluetooth's inception at Ericsson Telecommunications almost three decades ago, the world's most popular form of wireless data transmission has seen many upgrades and expansions over the years. Today, consumers have access to Bluetooth versions of up to 5.0, which can be used for various applications for home, sports, work, and leisurely purposes.
Connecting wireless headphones to your TV
Linking your cellphone to your car radio system
Adding a high-quality wireless mic to your phone
Bluetooth uses the available unlicensed industrial, scientific, and medical frequency range of around 2.4GHz to emit radio waves from a source device decoded by a receiver. These radio waves are similar to your cellphone, Television set, and FM radio use. However, Bluetooth operates in the short-range domain.
Take me to the reviews!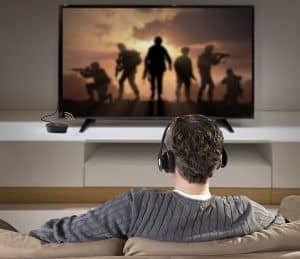 Bluetooth Transmitter for TV
For connecting wireless speakers or headphones to your TV and home theater system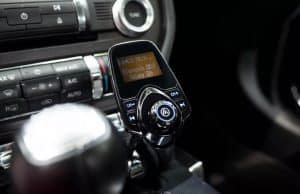 Bluetooth Transmitter for Car
For streaming music through your smartphone and making hands-free phone calls
Do I need a Bluetooth transmitter or receiver?
While many Bluetooth transmitters can function as both a receiver and transmitter (and even include bypass abilities), some can only operate as one or the other. To understand the direction of signal flow and which type of device you may need, one must first evaluate the intended uses for the Bluetooth audio system. 
Most of the Bluetooth transmitters on our list can function as either a transmitter or receiver, providing you with many options. 
Bluetooth Transmitter
A Bluetooth transmitter gives wireless power to a device that does not have wireless capabilities, such as a TV, Radio/HiFi/Stereo System, or a laptop/computer. The transmitter works by connecting via a wired connection (usually Aux, RCA, Optical, or USB) to this non-wireless hardware and using Bluetooth technology to establish a wireless link with a Bluetooth-enabled device, such as a Bluetooth speaker, wireless headphones, or AirPods. For example: use a wireless headset to watch a movie on your TV without cables. You'll need a Bluetooth transmitter. 
Bluetooth Transmitter Signal Flow Example:
Television 🡪 Aux, Optical, RCA or USB Cable 🡪 Bluetooth Transmitter 🡪 Wireless Signal 🡪 Wireless Headphones/Speaker
Bluetooth Receiver
A receiver works in the opposite direction, allowing you to send signals from a Bluetooth-compatible device (such as your cellphone) to a set of headphones or speakers that do not have wireless capabilities. Your Bluetooth-enabled source device will transfer audio to the receiver, which is then passed on to your receiving device using a wired connection. 
Bluetooth Receiver Signal Flow Example:
Cellphone with Bluetooth 🡪 Wireless Signal 🡪 Bluetooth Receiver 🡪 Aux, Optical, RCA or USB Cable 🡪 Stereo System
Best Bluetooth Transmitter for TV
This section evaluate each Bluetooth transmitter based on several factors, including the Bluetooth version, maximum range between devices, codec (audio transmission quality), number of connections, and functionality.
Avantree AudiKast Plus Bluetooth Transmitter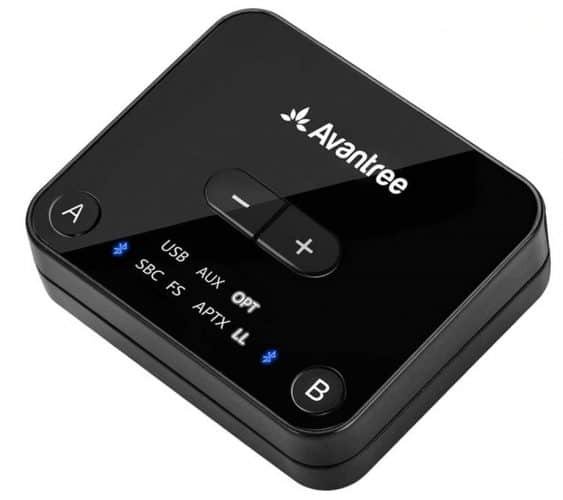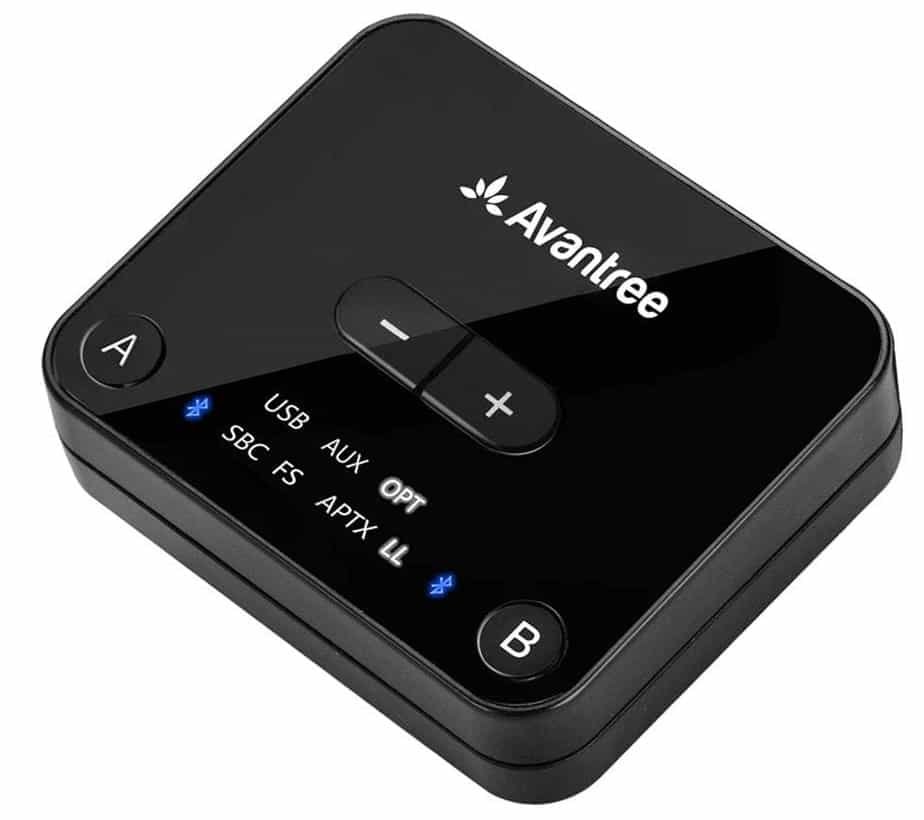 Avantree's AudiKast Plus 5.0 Bluetooth Transmitter is specifically designed for use with a television. Offering a wide variety of I/O and no audio-to-visual delays, this model will be the perfect centerpiece for your home theater system.
Design and Features
Compact and easy to use, the AudiKast Bluetooth Audio Transmitter can be set up within seconds. An impressive range of 100ft (30m) makes for consistent quality wherever you are in the room. A series of LEDs are included on the device to verify connectivity, which inputs are in use, and the current transmission codec in operation. Onboard volume controls on the AudiKast are also handy for listening devices without volume switches. 
Sound Quality
The Avantree AudiKast offers various connectivity options, including Aux, RCA, Optical, and USB. An HDMI adapter is also available from Avantree for those wishing to connect it directly to their TV box. The only downfall to these widely compatible features is the inability to bypass the device.  However, you can simultaneously run the onboard speakers and AudiKast on certain TV models. This unit operates on Bluetooth 5.0, providing long-range and high-quality audio transmission. 
While this unit is the priciest candidate on our top 10 list, its connectivity options and user-friendliness are its more impressive attributes, as the sound quality is pretty much on par with most other aptX and 5.0 supporting Bluetooth transmitters. Low-Latency technology is only operational when used in conjunction with aptX technology headphones.
Avantree Oasis 2-in-1 Bluetooth Transmitter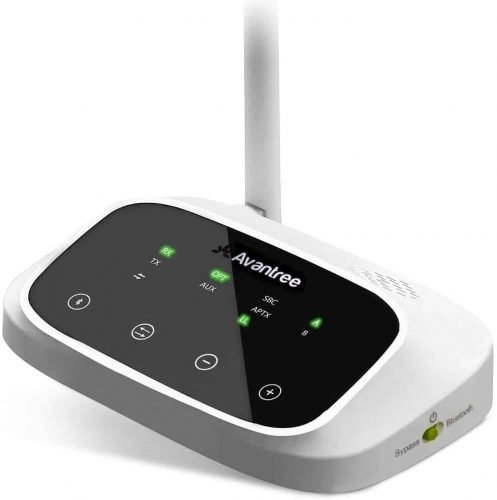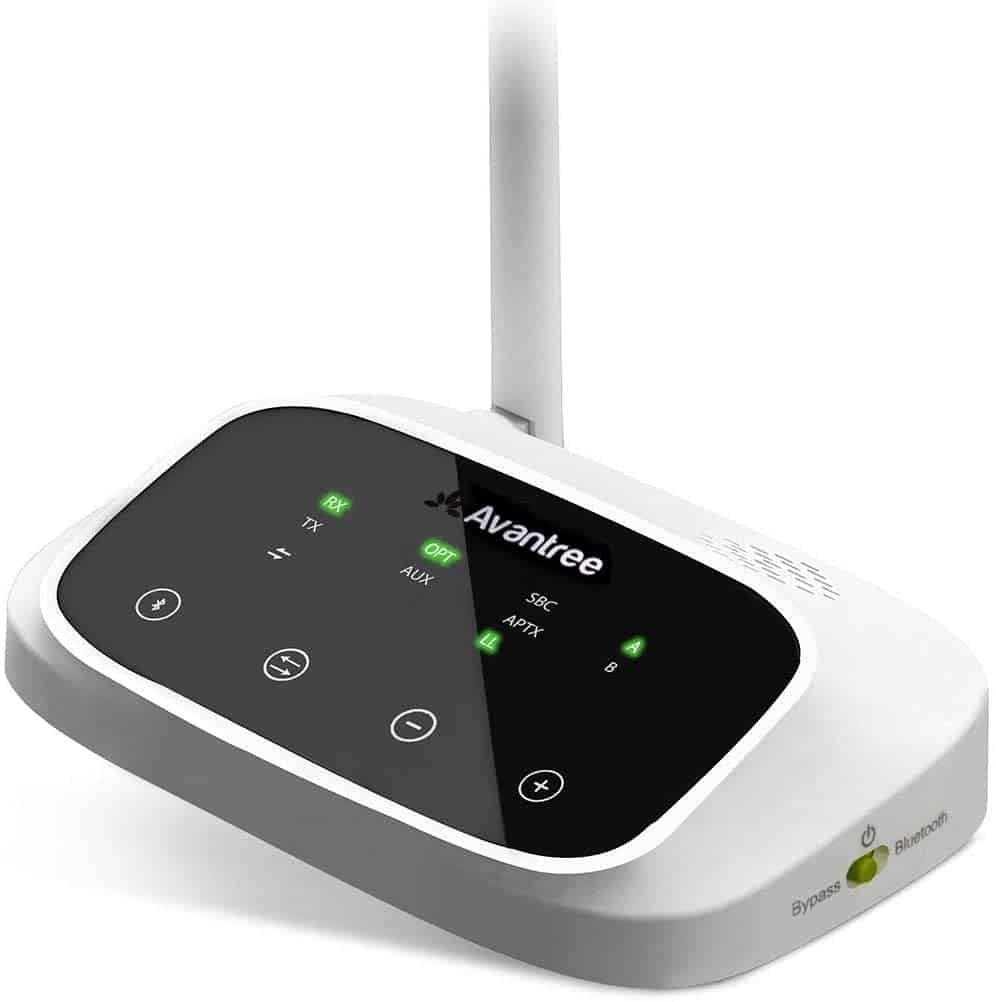 Specifically designed for home theater use, this Avantree Oasis Bluetooth Transmitter/Receiver is greatly versatile and reproduces high-quality sound.
Design and Features
This compact Bluetooth transmitter/receiver has an impressive range of up to 164ft (condition dependent) and operates on aptX, aptX-LL, and SBC codecs, on Bluetooth version 4.1. The Oasis can connect virtually any device utilizing Aux, RCA, or optical cables. 
A convenient function of the Oasis is its transmitter or receiver ability, allowing you to transmit audio to or from a non-Bluetooth device. The bypass mode also comes in handy as you can easily switch from Bluetooth audio to your onboard/external speaker system at the flick of a switch without needing to unplug and later reconnect any cables. 
Another great feature of this device is its voice-guidance abilities and onboard status indicators- this makes it incredibly simple to set up and navigate your way through all the features, as well as monitor the connections in use, current audio quality, and device mode (either transmitter or receiver) 
The unit also includes volume buttons, giving you an extra platform to control your entertainment levels easily. This is great when used with AirPods or headphones without onboard volume switches.  
Sound Quality
When used correctly, the Avantree Oasis Bluetooth Transmitter reproduces sound at a high quality. Audio is transmitted at a fast and accurate rate when used with a single device. However, the audio's definition will suffer when dual-link is used, as the Oasis will be forced to operate on a lower-quality codec.
This Bluetooth transmitter operates in the low-latency domain, eliminating the possibility of sync issues when using the device for TV viewing. However, when using the Oasis as a receiver, one may experience some audio-visual delays depending on the codec supported by the headphones. 
Suppose you don't mind spending the extra couple of dollars. In that case, the Avantree Oasis Bluetooth Transmitter/Receiver will, without a doubt, provide you with enough options for use with practically all home theater/TV systems and grant you endless hours of user-friendly, high-definition entertainment.
Anker Soundsync A3341 2-in-1 Bluetooth Transmitter
Coming in at a relatively low price, the Anker Soundsync A3341 2-in-1 Bluetooth Transmitter provides all the basic functionality one would expect from such a device. 
Design and Features
The Anker Soundsync A3341 features Bluetooth 5.0 for fast data transmission and uninterrupted high-quality audio at a distance of up to 33 ft (10m)
This easy-to-use device can last for 20 hours when operating as a transmitter and approximately 17.5 hours when set up as a receiver. The transmitter set allows any Bluetooth-enabled device to receive a signal from virtually any TV or stereo/HiFi setup. As a receiver, the Soundsync can pair with up to two devices to stream audio wirelessly to any speaker system. 
Sound Quality
Functioning on the latest Bluetooth 5.0 format and supporting aptX HD, the Anker Soundsync will transfer your music or movie wirelessly in a lossless manner. Various input choices are available: Aux, RCA, and Optical – allowing compatibility with TV, HiFi/stereo, and any car audio system equipped with an Aux input. The Soundsync features low-latency technology for a lag-free viewing experience when used for TV viewing.
Overall, the sound quality here is great for the price, and the 2-in-1 functionality makes for a highly versatile product.
Best Bluetooth Transmitter for Car
This section evaluate each Bluetooth transmitter for cars based on several factors, including the Bluetooth version, the number of connections, functionality, and quick-connect (QC) capability.
Nulaxy Bluetooth FM Transmitter for Car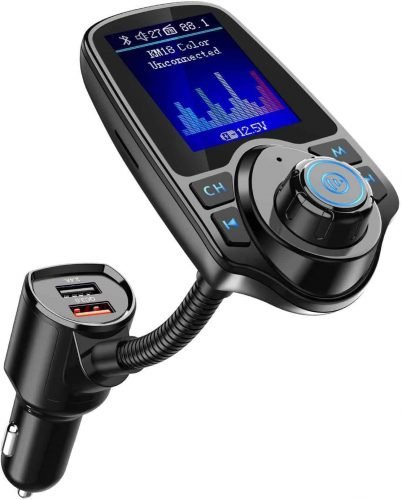 This Nulaxy Bluetooth transmitter is specifically designed for use in one's car, facilitating a connection between your mobile phone or iPod and your car's stereo system.
Design and Features
Connecting to your car's auxiliary power outlet, the Nulaxy Bluetooth FM Transmitter bridges a connection between your car's audio setup and your cellphone for music, radio, voice calls, and more. The transmitter features a 1.8" TFT color display, offering a visual guide for information such as song names, FM frequency, incoming phone calls, and monitoring of your car's battery voltage. 
An impressive feature of this Nulaxy Bluetooth transmitter is its ability to charge up to two devices via USB simultaneously and at extraordinarily high speed (4x faster than usual charging). An onboard control section allows for fast forward/backward and toggling between playback options of 'Repeat All,' 'One,' 'Folder,' or 'Random.' Audio can also be streamed via Bluetooth, microSD, or Aux connections.
The Nulaxy Bluetooth device includes over-current protection, over-voltage security, temperature control, and short-circuit protection to ensure entirely safe driving while protecting your connected devices. In addition to this, hands-free calling is possible with a stable connection guaranteed, and echo-cancellation technology eliminates unwanted background noise. 
While this Bluetooth FM Transmitter by Nulaxy does not have a power on/off switch, it can be easily powered down by removing the device from its connection. The display screen does not enter sleep mode at any time, allowing you to constantly oversee your battery/voltage status. 
The only requirements needed to use this product are a 12V auxiliary power outlet/cigarette lighter in your car and a radio capable of accessing FM frequencies.
Sound Quality
As for sound quality, the Nulaxy Bluetooth FM Transmitter provides all the basics plus more amazing features: 4 playback modes, multiple file-viewing options on the onboard display screen, and 5 equalization preset available. The EQ presets offered are Normal (flat), Classical, Pop, Rock, and Jazz. These play modes are used to customize the frequency response and characteristics of your car's stereo system in response to your music being played, adding a ton of versatility to this device.
Factors to Consider When Buying a Bluetooth Transmitter
While the various factors to consider when looking for a Bluetooth transmitter will largely depend on your intended use, there are certain general specifications to look out for. Let's take a closer look!
1. Bluetooth Version (and its impact on product performance)
At the moment, we have access to Bluetooth versions 5.0 and earlier. While most modern devices will utilize 5.0 technology, some still operate on older versions. The most important factor to remember is that a Bluetooth transmitter will only function as well as its slowest version in your signal chain. To break this down, using a Bluetooth 5.0 transmitter with your cellphone, which operates on Bluetooth 4.0, for example, will only deliver 4.0 quality sound. 
Using a Bluetooth 5.0 Transmitter in conjunction with your cellphone which operates on Bluetooth 4.0, for example, will only deliver 4.0 quality sound.
Another vital rule to remember is the amount of energy (power) Bluetooth will draw from its enabled devices. Bluetooth 5.0 operates in a low-energy mode, preserving the battery life of all connected devices. Older versions of Bluetooth will pull more power from your devices and reduce battery life. 
So before purchasing any Bluetooth audio system, check the versions supported by your current equipment to ensure compatibility between all devices and optimum performance.
2. Form of Audio Transmission (codec)
Now that we know the power of different Bluetooth versions, we must understand the tech-talk used to describe the audio quality and transmission speeds. When dealing with wireless audio communications between a pair of devices, it is important to look at the type of technology (known as the codec) as it has a major impact on the audio quality.
A codec of aptX or later is imperative
By today's standards, a codec of aptX or later is imperative. Older devices may not support modern Bluetooth transmission and revert to a less-complex codec called SBC. This aptX technology has seen various upgrades to support high-definition (aptX-HD) transmission and low-latency (aptX-LL) operations. 
3. Connectivity Options
An equally as important factor as sound quality (determined by the codec used) is, so are the connectivity options available. This greatly depends on your intended uses of the Bluetooth transmitter, but I'd suggest purchasing a great all-purpose setup. You never know when it could come in handy. Fortunately, things don't get too complicated here for most applications. Connections to look out for include: 
Optical Cable (for TV use)
USB (TV or PC)
3.5mm jack (Aux/Headphone cable)
RCA (Red and white cables for TV or HiFi/Stereo System)
4. Wireless Range
For use in your car, a short-range transmitter will do just fine. However, if you plan to stream music from your phone to your HiFi/Stereo System or pair headphones to your TV for wireless viewing, you may need a longer-range setup. Later Bluetooth versions are capable of long-range connectivity. With the current version of Bluetooth (version 5.0), one can expect an effective range of 32 – 164 feet.
5. Maximum Number of Connected Devices
This shouldn't be considered a make-or-break factor to consider when looking to purchase a Bluetooth Transmitter. However, one must remember that while many Bluetooth transmitters offer dual-link connectivity (two devices connected at once) the same form of audio codec (usually aptX, aptX-LL, or aptX HD) may not be available for both dual and single-use, thus degrading audio quality when more than one device is linked to the transmitter.
while many Bluetooth transmitters offer dual-link connectivity, the audio codec may not support it, thus degrading audio quality when more than one device is linked to the transmitter.
6. Ability to Bypass Bluetooth
When using your Bluetooth Audio Transmitter for TV, the speakers that are either built-in or externally wired to your television will be inactive. Some users may desire the ability to toggle between their wireless speakers or headphones and the wired or onboard speakers. A bypass button on the Bluetooth Transmitter provides easy switching.
Unfortunately, this is not available on all units. You may be forced to shut down the Bluetooth transmitter and then re-pair the devices when wireless connections are needed.
This is mostly a preferential aspect and depends greatly on the device in question, as some units support hassle-free pairing and connections (some even pair automatically by accessing a memory bank of previously paired devices). In contrast, others require a re-entering of pin codes. 
Common Bluetooth Issues (and How to solve them)
While all the devices on our list are incredibly user-friendly and easy to set up or pair (some even connect themselves or remember previously established connections), some users may face problems occasionally. Here are some frequently encountered Bluetooth issues and their solutions.
Basic Troubleshooting
Before performing in-depth troubleshooting, it is recommended to check the basics of any Bluetooth connection by doing the following:
01
Turn Bluetooth off and then on again: this might help re-establish a faulty connection between devices, and oftentimes, a simple restart is all Bluetooth needs to return to its regular state of operation.
02
Confirm that all devices in question are paired/connected: it is easy to sometimes mistake a successfully paired connection for a connection in progress; double-checking the connection status can save lots of time in searching for unknown problems.
03
Restart all devices involved in the connection: Upon revival, the devices in use will require a re-pairing, sometimes needing a security pin (depending on the device and user preference)
Compatibility Issues
As we discussed earlier, Bluetooth is reverse-compatible with older versions. However, some difficulties may arise when establishing a connection between two different Bluetooth forms. An easy solution to this issue is to watch for Bluetooth updates. Not only will it automatically resolve any issues, but it will improve the overall Bluetooth experience. 
Another less-common cause for compatibility problems is the form of Bluetooth profile. Cellphones often feature many Bluetooth profiles, and which one you use depends on what you intend to use your Bluetooth system for. The most common profiles available are:
HFP (Hands-Free Profile)
PAN (Personal Area Network)
A2DP (Advanced Audio Distribution Profile)
HFP, as the name suggests, is used for hands-free calling, PAN is the profile used to establish local networks for file-sharing, and A2DP is for music streaming purposes. 
Simply deselecting the unneeded profiles from the options will allow for more processing power for necessary uses.
Bluetooth Can't Connect
When one has trouble forming a paired connection between two Bluetooth devices, there is usually a very simple fix. To troubleshoot, check the following:
Bluetooth Cuts Out
A common Bluetooth issue is a momentary loss of audio signal, also known as stuttering. There are various causes of this problem, so be sure to evaluate this troubleshooting guide to determine the source of the issue and what steps to take to solve it. Some common things to watch out for are:
Stay within the operating range of the Bluetooth devices, as the wireless signal weakens as distance increases.
Bluetooth signal strength may deteriorate if you use a device stored in a protective case, particularly one with thick material or metal.
Proximity to other Bluetooth devices: the radio frequencies may interfere with your current Bluetooth pairing. This also applies to non-Bluetooth devices that operate within a similar frequency range, including microwave ovens, refrigerators, computers, etc. To avoid this issue, disable any unused connections for optimal performance.
File size- when transferring large files via Bluetooth, one can expect delays in communication.
When paired with your car:
When experiencing issues connecting your cellphone to a Bluetooth transmitter for use in your car, oftentimes, it is sensitive alterations made to your mobile device's operating system that cause miscommunication between devices. A simple solution to this problem is clearing the cache or forcing your phone to forget previously established Bluetooth connections. This will cause your mobile device to recreate the correct files needed to support Bluetooth pairing once the connection has been recreated.
When paired with a computer or laptop:
When using Bluetooth to transmit audio from a computer or laptop while connected to a wireless network, your WiFi router may cause disruptions to the Bluetooth signal as they sometimes occupy the same frequency band. This can be solved by altering the channel used by your wireless router/modem. This is done through the WiFi settings page on your PC/laptop. The number of Bluetooth devices connected to one computer can also disturb your connection. Try minimizing the number of operating devices paired with your PC.
If you're using Bluetooth with a PC or Mac computer and are still struggling after completing these steps, the onboard troubleshooter may be able to assist. To access the troubleshooter, complete the following instructions:
For PC:
First, ensure your Bluetooth drivers are correct and up-to-date. Next, complete the following steps:
Start Button 🡪 Settings 🡪 Update & Security 🡪 Troubleshoot
Then select 'Bluetooth' under 'find and fix other problems' and start the program. The software will guide you through the necessary steps you may need to follow to resolve your issue. 
For Mac:
Resetting your PC's Bluetooth module on a Mac computer may solve your issues. To restart the module, do the following:
Hold the Shift and Option (Alt) Keys while simultaneously clicking the Bluetooth symbol in your menu bar on the top of your screen. If the Bluetooth icon is not on your menu bar, find Bluetooth preferences in the settings menu, and select the box allowing the icon to display on the main menu. 
Once the symbol has been clicked while holding the Shift and Option modifier keys, you'll be greeted with an option for Debug. Hovering your mouse over the option, click 'Reset Bluetooth module.' Once this task has been completed, restart your computer to confirm these changes.
If your issues persist after following the above troubleshooting steps, contact the manufacturer of your Bluetooth device- most units come with a great warranty package. If it has expired, the manufacturer may be able to guide you through the steps needed to solve your difficulties.
Any Bluetooth audio device will be long-lasting and fulfill your expectations when used correctly. Virtually any issue can be solved, as only a handful of common Bluetooth problems exist. Watching out for these causes will ensure a hassle-free and highly enjoyable Bluetooth experience.
With various connectivity options, onboard volume controls, impressively long-range, and immaculate audio quality!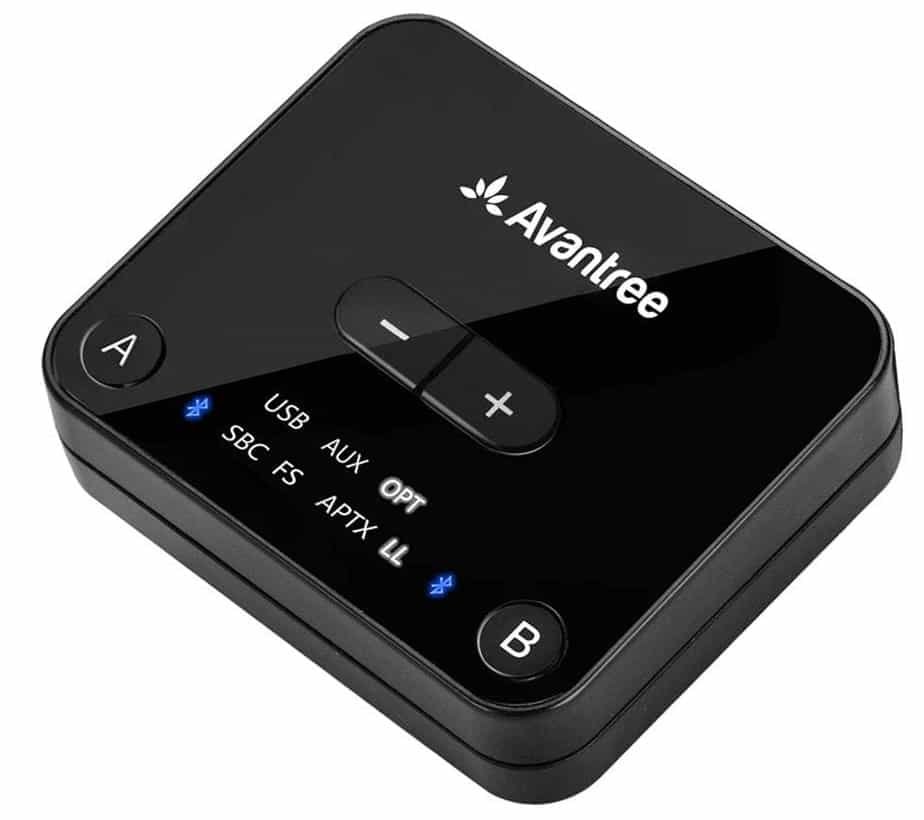 Thanks for your feedback!