Outdoor TVs are designed to provide a great display in any outdoor light conditions and survive most of what mother nature can throw at it. Any good Outdoor TV should be able to handle extreme cold, heat, rain, dust and moisture. Pair your outdoor TV with a pair of quality outdoor speakers to improve sound levels and quality.
Below we've listed three of the best Outdoor TV sets currently available.
1. Mirage Vision G Series 40″
Also known as the "World's Thinnest Outdoor LED TV", the Mirage Vision G Series is a 40′ LED Samsung TV altered internall and externally to permanently withstand outdoor weather conditions. The TV is resistant to rain, dust, insects, etc and can operate in temperature ranging from -25 to 145 degrees F. The TV boasts 16.7 million colors, TFT Active Matrix Liquid Crystal with Enhanced Brightness LED Backlight Modulation Technology. Even with a its high contrast the TV is 40% more energy efficient than traditional TVs.
Available at: Amazon.com
2. SunbriteTV 3260HD 32″ 720p LCD TV – 16:9 – HDTV
SubriteTV is well-known for their quality electronic products and widely seen as the most trusted Outdoor TV brand. Their Signature 3260HD Outdoor TV comes with a bright 32-in 1,920 x 1080 Full-HD LED display. To protect against outdoor conditions the TV has a ASA Outdoor Rated High-Impact Resin housing, multi-fan airflow system for cooling & drying as well as a water-tight cable entry system which seals out moisture and dust.
Available at: Amazon.com
3. Mirage Vision Gold Series 55″
Coming in at a whopping $2,650.00, the Gold Series 55″ is the big kahuna when it comes to outdoor TVs. As with its smaller brother the 55″ is a Samsung LED Smart TV modified for outdoor contidions. It's the outdoor TV used by companies such as Disney, Universal Studios, The U.S. Army, NASA, Kennedy Space Center, Sea World, CBS and many more. If you're looking for the best, then this is the outdoor tv to get.
Available at: Amazon.com
4. SunBriteTV SB-4660HDB 46-inch Outdoor LCD TV
The SunbriteTV 4668HDB is essentially the 3260HD's big brother with a larger 46″ 1080p full HD display and 4000:1 contrast ratio. It has all the same protection against outdoor conditions including the Resin housing, multi-fan airflow system and water-tight cable entry system. It supports remote control lock-out which prevents unauthorized users from changing the programming
Available at: Amazon.com
5. SunBriteTV SB5565HD-BL 55-Inch All Weather Outdoor LED TV
If the 4668HDB is the 3260HD's big brother then the SB5565HD-BL is the big daddy. At 55″ the SB5565HD is the largest of the SunBriteTV outdoor TV's. It's perfect for large patio areas where you might occasionally be more than a few feet away from the TV. It comes with RS232 serial control, rear IR receiver and premium quality built in speakers. The display resolution is 1080p and every TV comes standard with 2 HDMI Inputs, 1 PC Input, HD Component Video Inputs and Digital Audio Output.
Available at: Amazon.com
Summary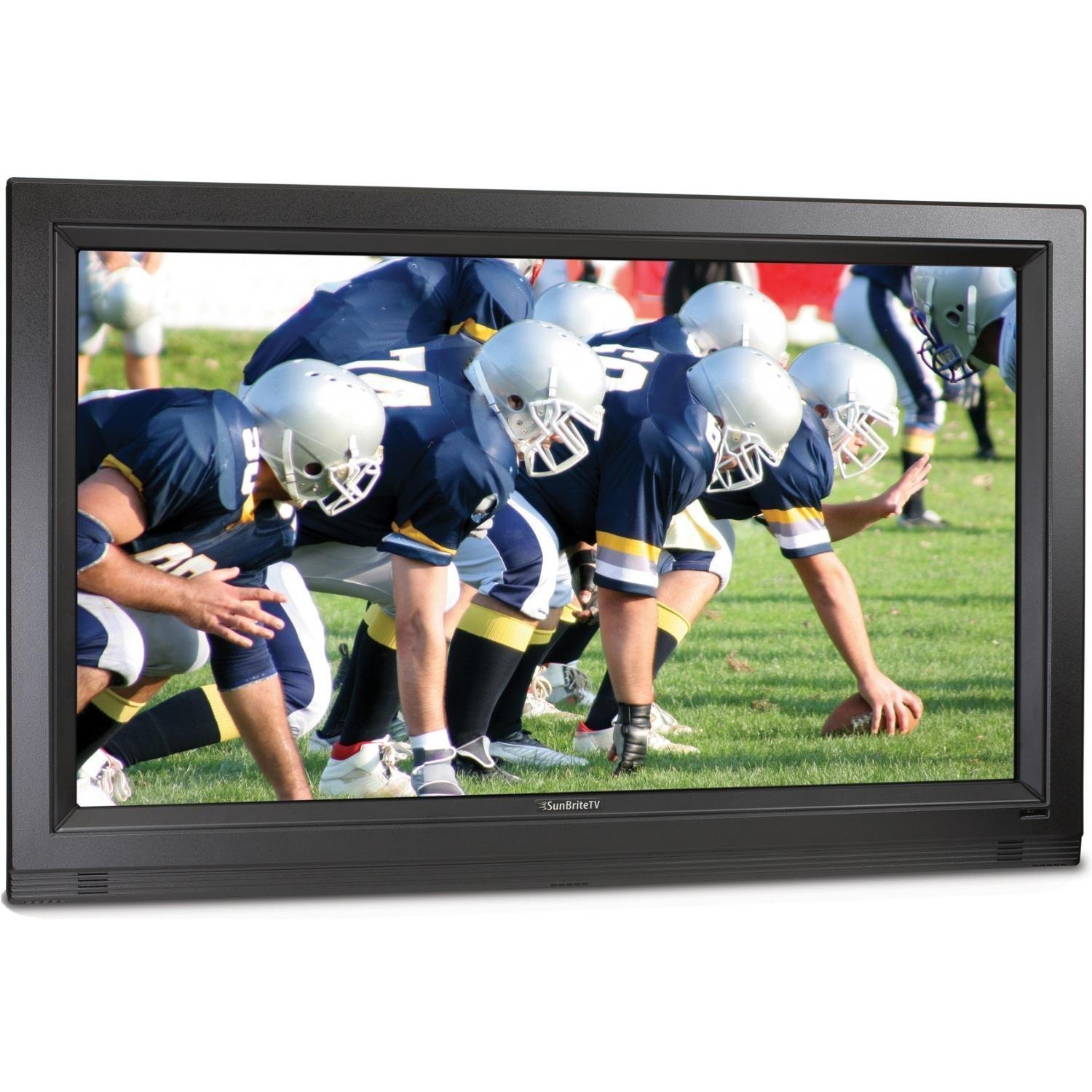 Article Name
Description
Whether you're relaxing in the pool, grilling on the barbecue or simply lounging on the patio there's an outdoor TV that will fit your space.
Author