If you're in the market for and outdoor television it's not going to take you long to realize that unfortunately your choices are pretty limited. There are a few companies out there like SunBrite and Mirage Vision who specializes and manufacturing or retrofitting brand-name TVs to be used au outdoor TVs.  Outdoor TVs are designed to provide a great display in any outdoor light conditions and survive most of what mother nature can throw at it.  The displays are tuned to provide the least amount of reflection under bright light conditions and some higher-end devices like the SunBrite pro series can be used in direct sunlight.  Any good Outdoor TV should be able to handle extreme cold, heat, rain, dust and moisture. Pair your outdoor TV with a set of quality outdoor speakers to improve sound levels and quality.
Here are 3 outdoor televisions we think you should consider:
1. Mirage Vision G Series 46″ Outdoor LED HD TV

Boldly claiming to be the "World's Thinnest Outdoor LED TV", the Mirage Vision G Series 46′ LED is a Samsung TV altered internally and externally to permanently withstand outdoor weather conditions. The TV is resistant to rain, dust, insects, etc and can operate in temperature ranging from -25 to 145 degrees F. The TV boasts 16.7 million colors, TFT Active Matrix Liquid Crystal with Enhanced Brightness LED Backlight Modulation Technology. Even with a its high contrast the TV is 40% more energy efficient than traditional TVs.
Available at: Amazon.com
2. SunBriteTV Outdoor TV 55″ Veranda 4K Ultra HDTV LED
SubriteTV is well-known for their quality electronic products and widely seen as the most trusted Outdoor TV brand. Their Veranda Series 4k UHD TV is best suited for outside living areas in the full shade like a covered patio.  This TV is at the high-end of the Sunbrite product line and sport a full 4k UHD screen.  Sunbrite claims that through it's direct LED backlighting this TV produces images up to 30% brighter than your normal lounge television.  The TV also has a set of quality speakers and 4 HDMI 2 ports, HDCP 2.2 and 2 USB ports to support any of your modern streaming devices and services. To protect against outdoor conditions the TV has an aluminium case which protects the device against rain, snow, extreme temperatures, dust, salt, and insects.
Available at: Amazon.com
3. Sunbrite TV 65″ Signature Series True-Outdoor All-Weather LED Television
The Sunbrite 65″ Signature Series is the big daddy. At 65″ the SB-6570HD-BL is the largest of the SunBriteTV outdoor TV's. It's perfect for large patio areas where you might occasionally be more than a few feet away from the TV. It comes with serial control, rear IR receiver and premium quality built in speakers. The display resolution is 1080p and every TV comes standard with multiple HDMI Inputs, PC Input, HD Component Video Inputs and Digital Audio Output.  If you're looking to turn your outdoor living or entertainment area into a primary viewing area and is not willing to compromise then this is the TV you should consider.
Available at: Amazon.com
What to look for when buying an outdoor TV
A good outdoor TV obviously needs to spoort a very specific set of features to enable it to deliver a good entertainment experience under more challenging light and weather conditions.  That aside enthusiasts who opt to install a TV on the patio or gazebo still expect the actual television to have the same types of features as any modern-day television.  This is why some companies, like Mirage Vision actually retrofit standard name brand televisions to become compatible and suitable for outdoor use.  You get all the great features, image quality an research benefits that comes from a large well-known brand, wrapped into a weatherproof package. Great aesthetics, simple controls, sufficient ports to integrate with modern streaming devices and services and much more ar basic but essential requirements..  When selecting the outdoor TV that would be best suited for your needs here are just a few things to keep in mind;
Your Budget – Outdoor televisions range in price from just north of $1000 to $6000 and above.  It is up to you to decide what you're willing to spend and this is one of the factors that will decide the initial pool of TVs to choose from
Trusted Outdoor TV Brands – Outdoor TVs are specialized pieces of equipment and it is essential that you pick a set (like one of those listed above) which is manufactured or supported by a trusted name in the space.  Your TV will be exposed to more severe weather for example and the technology and components will be challenged in new and different ways.
Purpose made or Retrofit – This may or may not be important to you but while some outdoor TVs are specifically manufactured to be used as outdoor TVs, for example the SunbriteTV series, others like the Mirage Vision televisions are actually regular name-brand TVs that has been retrofitted to be used as outdoor TVs. From where we stand it's really impossible to ay whether the one approach is inherently "better" than the other and we suggest you read the individual reviews on sites like Amazon before you make your final decision .
Where to mount your outdoor TV
Picking the placement position for your outdoor TV may very well be completely dictated y the layout of your actual outdoor living space. However, you do need to bear in mind that most outdoor TVs are manufactured to function in brightly lit yet shaded areas, like under a patio overhang or in a gazebo.  If you require your TV to hang in direct sunlight you are going to find that your choice of good outdoor TVs that fulfil this requirement becomes pretty limited quite quickly. For a TV that delivers great clear images in well in direct sunlight, we suggest you look at the Sunbrite Pro series. Outdoor TVs are specifically designed to be weatherproof yet it still makes sense to ensure you do not expose your TV unnecessarily to sever weather conditions. If you're Tv may be exposed to excessive rain, snow or strong winds consider building an encasement around it that can be closed with doors or even invest in one of the multitude of outdoor TV covers that are available on the market. It's a small investment that could save you a lot of money!
Final word…
By comparison to outdoor speakers outdoor TVs are still relatively limited in choice. There are some very well constructed and designed TVs available though that will last a long time and ensure you, your family and friends can spent hours of fun around the fire on the patio watching the game. Do some due diligence before you buy and enjoy your TV.
Summary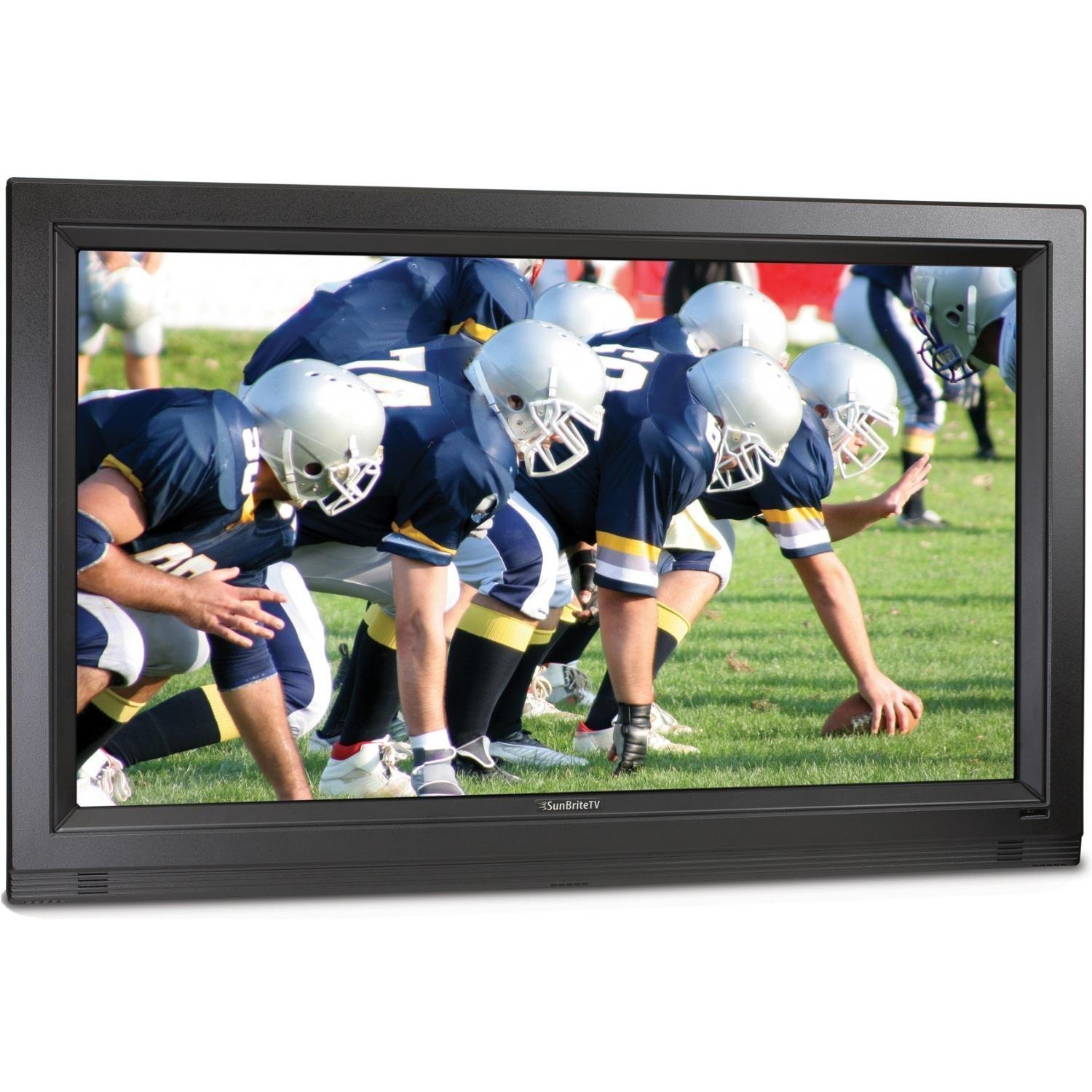 Article Name
Description
Whether you're relaxing in the pool, grilling on the barbecue or simply lounging on the patio there's an outdoor TV that will fit your space.
Author