After researching all the current models of outdoor TVs available on the market we believe the SunBriteTV 55-Inch LED Veranda 4K Ultra HD TV is the best outdoor TV for people who are looking for a well priced high-quality product. It delivers crisp HD images and is engineered and designed from the ground-up to be a real outdoor TV that will last for many years exposed to the elements.
If you're in the market for an outdoor TV it's not going to take you long to realize that unfortunately your choices are pretty limited. There are a few companies out there like SunBrite and Mirage Vision who specializes and manufacturing or retrofitting brand-name TVs to be used as outdoor TVs.  Outdoor TVs are designed to provide a great display in any outdoor light conditions and survive most of what mother nature can throw at it.  The displays are tuned to provide the least amount of reflection under bright light conditions and some higher-end devices like the SunBrite Pro series can be used in direct sunlight.  Any good weatherproof TV should be able to handle extreme cold, heat, rain, dust and moisture. Pair your outside TV with a set of quality outdoor speakers to improve sound levels and quality.
Here are 3 outdoor televisions we think you should consider:
SubriteTV is well-known for their quality electronic products and widely seen as the most trusted Outdoor TV brand. Their Veranda Series 4k UHD TV is best suited for outside living areas in the full shade like a covered patio.  This TV is at the high-end of the Sunbrite product line and sport a full 4k UHD screen.  Sunbrite claims that through it's direct LED backlighting this TV produces images up to 30% brighter than your normal lounge television.  The TV also has a set of quality speakers and 4 HDMI 2 ports, HDCP 2.2 and 2 USB ports to support any of your modern streaming devices and services. To protect against outdoor conditions this weatherproof TV has an aluminium case which protects the device against rain, snow, extreme temperatures, dust, salt, and insects. From a quality and value for money perspective this may well be the best outdoor TV you can buy.
Available at: Amazon.com

Boldly claiming to be the "World's Thinnest Outdoor LED TV", the Mirage Vision G Series 46′ LED is a Samsung TV altered internally and externally to permanently withstand outdoor weather conditions. The TV is resistant to rain, dust, insects, etc and can operate in temperature ranging from -25 to 145 degrees F. The TV boasts 16.7 million colors, TFT Active Matrix Liquid Crystal with Enhanced Brightness LED Backlight Modulation Technology. Even with a its high contrast the TV is 40% more energy efficient than traditional TVs.
Available at: Amazon.com
The Sunbrite 65″ Signature Series is the big daddy of weatherproof TVs. At 65″ the SB-6570HD-BL is the largest of the SunBriteTV outdoor TV's. It's perfect for large patio areas where you might occasionally be more than a few feet away from the TV. It comes with serial control, rear IR receiver and premium quality built in speakers. The display resolution is 1080p and every TV comes standard with multiple HDMI Inputs, PC Input, HD Component Video Inputs and Digital Audio Output.  If you're looking to turn your outdoor living or entertainment area into a primary viewing area and is not willing to compromise then this is the best outdoor TV for you..
Available at: Amazon.com
Outdoor TV Buyers Guide
The 3 outdoor TVs listed above are all good choices. If you're looking for more information before taking the leap and buying an outside TV here's a short buyers guide that will cover some of the questions you may have:
What to look for when buying an outdoor TV
A good outdoor TV obviously needs to support a very specific set of features to enable it to deliver a good entertainment experience under more challenging light and weather conditions.  That aside enthusiasts who opt to install a TV on the patio or gazebo still expect the actual television to have the same types of features as any modern-day television.  This is why some companies, like Mirage Vision actually retrofit standard name brand televisions to become compatible and suitable for outdoor use.  You get all the great features, image quality an research benefits that comes from a large well-known brand, wrapped into a weatherproof package. Great aesthetics, simple controls, sufficient ports to integrate with modern streaming devices and services and much more ar basic but essential requirements.  When selecting the outdoor TV that would be best suited for your needs here are just a few things to keep in mind;
Your Budget – Outdoor televisions range in price from just north of $1000 to $6000 and above.  It is up to you to decide what you're willing to spend and this is one of the factors that will decide the initial pool of TVs to choose from
Installation Location – Probably the single biggest consideration is where your TV will be installed. Some outdoor TVs are specifically intended to be used in covered areas (like patios) while others are true weatherproof TVs and can be installed in direct sunlight somewhere out in the open.
Trusted Outdoor TV Brands – Outdoor TVs are specialized pieces of equipment and it is essential that you pick a set (like one of those listed above) which is manufactured or supported by a trusted name in the industry.  Your TV will be exposed to more severe weather for example and the technology and components will be challenged in new and different ways.
Purpose made or Retrofit – This may or may not be important to you but while some outdoor TVs are specifically manufactured to be used as outdoor TVs, for example the SunbriteTV series, others like the Mirage Vision televisions are actually regular name-brand TVs that has been retrofitted to be used as outdoor TVs. From where we stand it's really impossible to say whether the one approach is inherently "better" than the other and we suggest you read the individual reviews on sites like Amazon before you make your final decision.
Where and how to mount your outdoor TV
Picking the best placement position for your outdoor TV may very well be completely dictated by the layout of your actual outdoor living space. However, you do need to bear in mind that most outdoor TVs are manufactured to function in brightly lit yet shaded areas, like under a patio overhang or in a gazebo.  If you require your TV to hang in direct sunlight you are going to find that your choice of good outdoor TVs that fulfil this requirement becomes pretty limited quite quickly.
For the best outdoor TV that delivers great clear images in direct sunlight, we suggest you look at the Sunbrite Pro Series. Outdoor TVs are specifically designed to be weatherproof yet it still makes sense to ensure you do not expose your TV unnecessarily to severe weather conditions. If you're TV may be exposed to excessive rain, snow or strong winds consider building an encasement around it that can be closed with doors or even invest in one of the multitude of outside TV covers that are available on the market. It's a small investment that could save you a lot of money!
As for actual mounts there are several options you can choose from. A portable outdoor TV stand affords you luxury of being able to wheel and shift your TV around the entertainment area. A TV stand is obviously also the method that exposes your cabling the most and you'll have to bear that in mind when you plan. Other outdoor TV mount options include wall mounts, probably the most popular, and ceiling or roof mounts. Whatever TV mount you those will likely be dictated by where you plan to position your TV and how you intend to use it.
Can I just use and 'indoor' TV as an outdoor TV?
If you've taken a look at our list of leading outdoor televisions above you would undoubtedly have noticed that outdoor TVs are not cheap.  Because of this you may be tempted to buy an indoor TV, throw a protective cover over it and use it as an outdoor TV.  Be careful before you set down that path. There are several factors to be considered in the design of a good outdoor TV.  Keeping moisture out is pretty obvious, but that's actually pretty easy and can to some extend be done with a cover on a regular TV.  Shielding your TVs components from the sun's rays is another, but that's quite easily achieved as well.  The real challenge is in finding effective ways of managing the heat inside the television.
You standard indoor television is designed to operate at a range not too far above or below normal room temperature.  As long as you keep the TV at about that temperature point everything is fine.  The moment you move either up or down the temperature scale it becomes a challenge.  When temperatures drop too low, condensation can take place on the TV components, drops form and well, we know what drops do when they mix with electric components.  Built-in heaters are not uncommon in outdoor TVs.
On the other hand an outside TV mounted in direct sunlight will accumulate heat that will have to be removed with heatsinks and fans or the life expectance of the components will drop pretty dramatically.  You will be able to find indoor televisions that are certified to operate at relatively high temperatures, but that doesn't resolve the condensation issues that arise from an outdoor environment.
Our suggestion is to buy the best weatherproof TV you can afford if you plan to use it outside.  While "winging" it with an indoor TV and a cover may work over the short term it's almost guaranteed to prove the more expensive option in the long run.
Do I need an enclosure for my outdoor TV?
The answer is: It depends. Outdoor TVs are designed to be used outdoors but as we've already mentioned some are specifically intended to be used on covered patios or in gazebos, while others are more robust and can be placed in direct sunlight or areas with higher humidity. In general it is not a bad idea to add an additional layer of protection to your outdoor set for those periods of time when it's not in use. There are basically 3 outdoor TV enclosure options for you to pick from:
Canvas Outdoor TV Covers

The easiest cheapest and simplest way of covering up your TV is to buy a canvas cover for your TV. These TV covers are usually manufactured from heavy duty, high density polyester. By applying a water resistant PVC coating you end up with a durable material that will protect your outdoor television from UV rays, dust, insects and whatever the elements can throw at it. Most outdoor TV covers are easy to fit with industrial strength velcro or some other fitment mechanism and some of the cooler designs will even sport a little holder for the remote!

Hardshell Outdoor TV Enclosures

Your second option is to install a hardshell outdoor TV enclosure. These are often manufactured from either aluminium, strong plastic or some other waterproof material. Your outdoor TV box may even come with t;s own waal mount though most manufacturers have honed their designs to allow you to use some of the more standard outdoor TV wall mounts available on the market. Your outdoor TV box may be fitted witha transparent face that allows you to view your television thought the enclosure but this may impact your viewing experience and image quality so several designs simple comes with a door or removal face with a weatherproof seal.

Outdoor TV Cabinet

Another way to protect your outdoor set is to build a bespoke outdoor TV cabinet to enclose the entire television set. This affords you and opportunity to create a more refined look using wood or any other material that will blend into or compliment your decor. An outdoor TV cabinet also provides you with a great opportunity to manage the cabling and wiring required to install your set. Before you jump in and build a permanent outdoor TV cabinet consider carefully where you want to place your television as this kind of fixture is of course more permanent and harder to move around or adjust afterwards.
To conclude: They may not always look as elegant but some sort of outdoor TV cover will certainly extend the life of your set. Just apply your mind and consider your budget before deciding what might work best in your entertainment area.
Summary:
Final word…
By comparison to outdoor speakers, outdoor TVs still offer relatively limited choices. There are some very well constructed and designed weatherproof TVs available though that will last a long time and ensure you, your family and friends can spent hours of fun around the fire on the patio watching the game. Do some due diligence before you buy and enjoy your TV.
Summary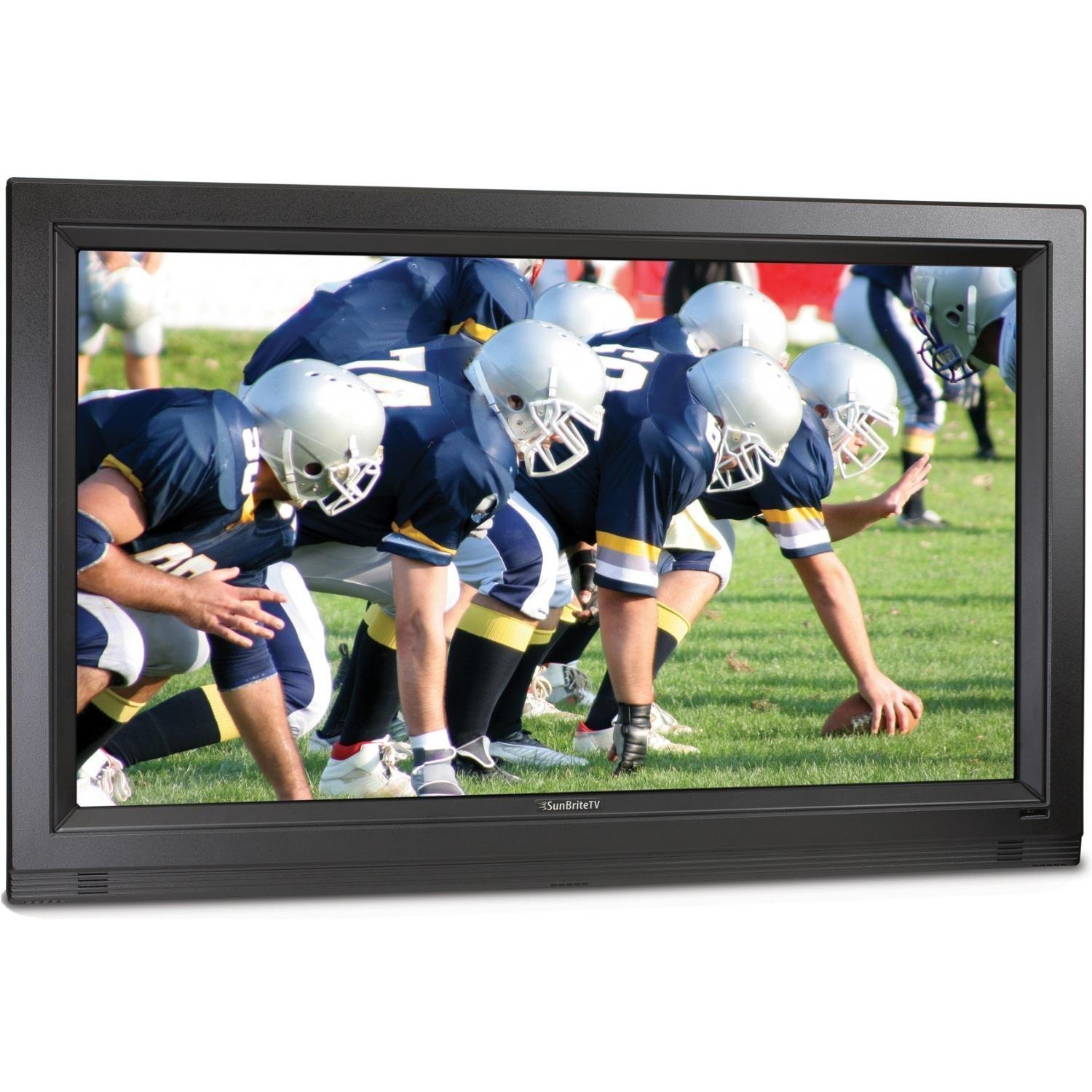 Article Name
Description
Whether you're relaxing in the pool, grilling on the barbecue or simply lounging on the patio there's an outdoor TV that will fit your space.
Author