Wireless technology for speakers is growing so fast that it's hard to keep up! Currently, most WiFi speakers are designed for in-home installation, with very few designed to be fully portable. But WiFi speakers are evolving fast, and it's not long before all Bluetooth speakers will feature WiFi capability as standard. This article reviews the best WiFi speakers with options for just about every size, budget, and application.
We've also included an FAQ section at the end of this article, compiled from common questions asked on the web. But first, let's get into our top choices of the best wifi speaker for each application.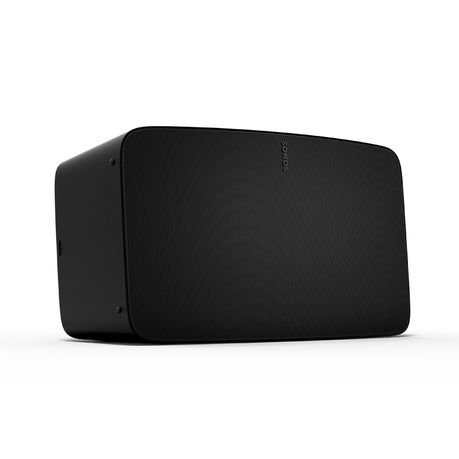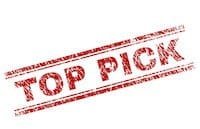 The Sonos Five is a great-sounding home speaker with a good amount of bass, a subtle aesthetic, and a reliable build.
Best Budget WiFi Speaker
A compact and lightweight WiFi speaker, the Bose SoundTouch 10 packs a serious punch and amazing sound quality for its price point.
Best Portable WiFi Speaker
The Ultimate Ears Megablast WiFi Speaker wins our award for the best portable WiFi speaker. It's lightweight and compact, provides decent sound quality, and is available at a great price!
Best Overall WiFi Speaker
A beautifully designed modern WiFi speaker, the Sonos Five supplies a reliable connection of multiple Sonos speakers to form a multi-room setup or surround sound system. With amazing advanced features, great audio quality, and various connectivity options, the Sonos Fives is the Best Wifi Speaker.
What is a WiFi speaker?
A WiFi speaker is a wireless speaker that can connect to your home WiFi network. Streaming over WiFi is far superior to Bluetooth in terms of audio quality and signal strength. With WiFi, as long as your device and WiFi speaker are on the same network, there is no issue with range or dropout. The audio quality is significantly better than Bluetooth, as there are less compression and latency.
Connecting your WiFi speaker to your TV over your home network is also far better than any Bluetooth connection. There are no lip-sync issues, and the sound quality is vastly superior.
Our Picks For The Top 8 Wi-Fi Speakers
Below you'll find more detailed accounts for our top products, including their specifications and how they perform. We've also included a few portable options at the end of the article, in case you're looking for a versatile solution.
1. Sonos Five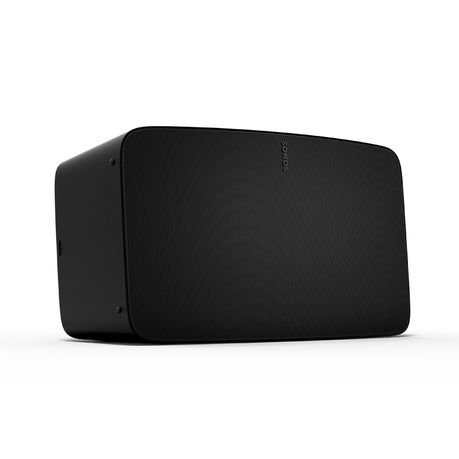 One of the most exciting WiFi speaker brands on the market at the moment is Sonos. I feel they are leading in many areas of the WiFi speaker market with a product for just about every room and application in the home. Their flagship stand-alone speaker is the Sonos Five which can be used as a single speaker or as Sonos multi-room and home theater installations. Let's take a closer look at the Sonos Five and see what makes it one of the best WiFi speakers on the market.
Design and Features
The Sonos Five is a modern speaker with minimalist features. The speaker is tapered on the top and sides so that when you look at it front on, all you see is the front speaker grille. This adds to the minimal footprint the speaker takes up, making it easy to blend in with the surrounding decor.
The Sonos Five features 3 x 4-inch woofers, 2 x left/right ¾-inch tweeters, and a center 1-inch tweeter. This speaker configuration gives the Sonos Five stereo imaging while providing a nice wide dispersion. Great for covering an entire living space from a single source. The Sonos Five produces an impressive 50W RMS and 80W Peak, which is more than enough power to fill medium to large living spaces.
Another impressive feature of the Sonos Five is its ability to be positioned vertically or horizontally. Sure, many speakers can do this. However, Sonos takes this to another level. The Five has a built-in gyro that adjusts the internal processing to deliver either a mono signal when vertical or a stereo image when horizontal. The Five also features frequency tuning abilities, analyzing your acoustic environment, and tweaking the speaker's response to best suit the room. 
The Sonos Five offers just two input options, WiFi and ⅛-inch AUX. You can also stream using Apple Airplay. There is also an Ethernet port on the rear for those who prefer a wired connection. Thanks to six internal WiFi antennas, Sonos Five offers exceptional connectivity which means, as long as your internet connection is solid and the speaker is in range, you should never experience dropout or buffering delays.
The Five can be controlled using the onboard controls or the Sonos app. Onboard controls allow you to play/pause, adjust volume, and skip tracks. The buttons are touch-sensitive, so you can tap or swipe on top of the speaker to access these functions. At the back of the Five is the Sonos Join button, which enables you to connect to other Sonos speakers. 
The Sonos app allows you to connect your favorite streaming services, connect and manage multiple Sonos speakers, adjust audio settings, and more. It is important to note the Sonos Five is Alexa compatible, which means you need an external Amazon Alexa device to use the voice assistant. To be clear, Alexa is not built-in to the Five. The Sonos Five is also Apple Airplay compatible.
What does the Sonos Five Sound Like?
In its size and price range, the Sonos Five is undoubtedly one of the best-sounding WiFi speakers on the market at the moment. The speaker delivers a controlled yet deep bass sound that is never overpowering. The mid-range is upfront and clear, while the highs are crisp and clean. For all genres of music and radio shows or podcasts, the Five performs well.
Why The Sonos Five?
The Sonos Five is an excellent, modern WiFi speaker. However, at $500 might be a bit more than many people would want to spend. I can say that the Five is well worth the price tag and worth saving up for. You get a great-sounding WiFi speaker, advanced features, and the ability to connect to other Sonos speakers for multi-room or home theater setups. If you're serious about sound quality and the latest in speaker technology, the Sonos Five should be near the top of your list of WiFi speaker considerations.
Lots of volume
Clear audio presentation
Smart features
Voice controls
Fairly expensive
No Bluetooth
Lack of physical controls
2. Sonos One (Gen 2) WiFi Smart Speakers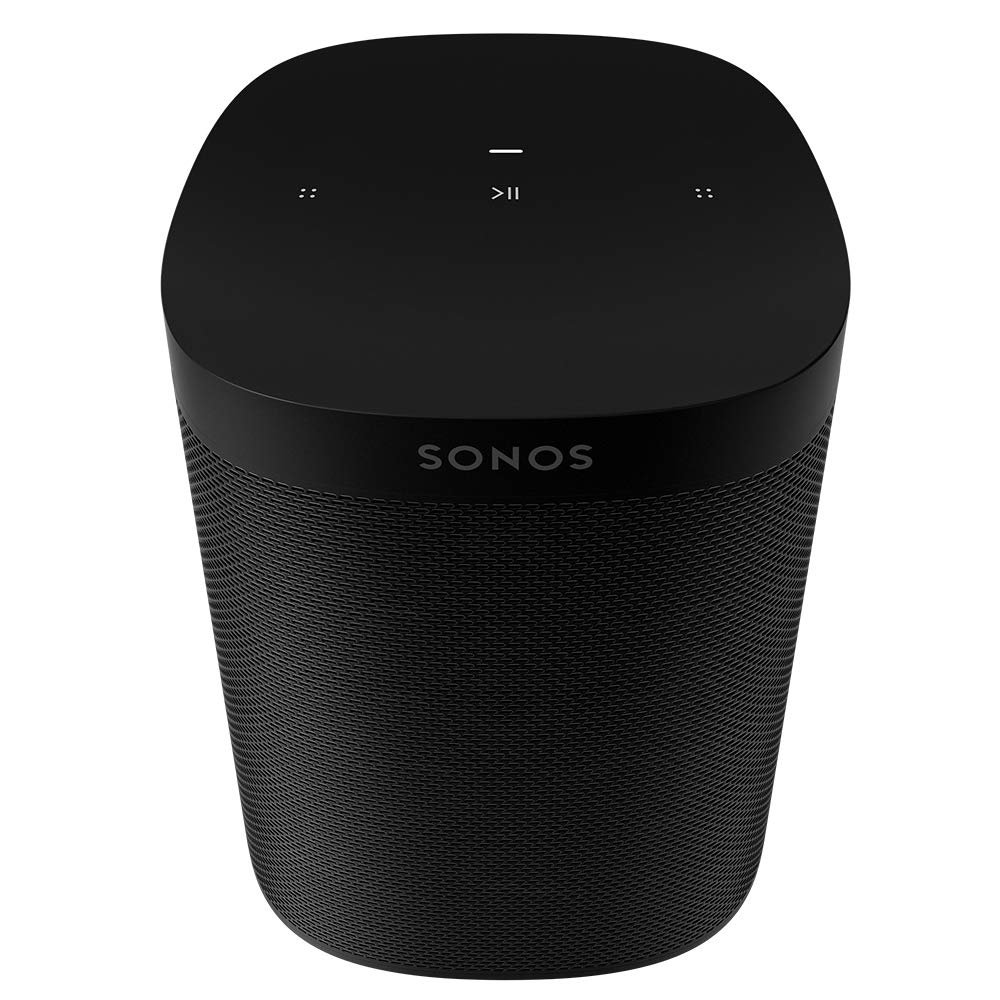 Mounting Type:
Table Top or Wall

At just 6.4 inches high and 4.7 inches wide, the Sonos One is compact enough to fit on most tables and shelves throughout the home. The speaker features a low-end driver with a single tweeter, producing enough power to fill most small living spaces easily. If you plan to use the Sonos One in the kitchen, study, or bedroom, you'll find the size and power of the speaker are just right for these spaces.
Design and Features
The Sonos One features an onboard capacitive touch control panel that allows you to play/pause, skip tracks, adjust volume, and mute/unmute the microphones. There are several microphones mounted on all angles of the Sonos One to ensure Alexa always hears your voice commands. To turn Alexa off, you can mute the microphones for 100% privacy. On the speaker's back is a Sonos Join button for a multi-speaker setup.
Sonos have decided to keep things simple with the Sonos One by only allowing for a WiFi input. There is also the option of Apple Airplay 2 for those with iOS devices.
The Sonos One can be connected to multiple Sonos speakers in either a multi-room or home theater setup. The speakers make excellent rear surrounds. However, if this is your only reason for purchasing the Sonos One, you might want to consider the cheaper Play:1 speaker instead. The Play:1 doesn't come with Alexa built-in, so this is one major advantage the Sonos One has over the Play:1.
What Does the Sonos One Sound Like?
I think anyone who is familiar with the sound of a decent compact speaker will be pleasantly surprised by the Sonos One. For its size, the bass response is impressive. Granted, it doesn't reach the sub-bass range, but the speaker is warm and punchy. Mids and highs deliver excellent clarity, especially for dialogue-heavy audio. While the Sonos One can fill most small to medium living spaces, it's best for proximity listening so, in the kitchen, bedside table, or office desk.
The Sonos One is essentially a baby version of the Sonos Five, except that the Sonos One features Amazon Alexa built-in. This is really convenient if you're looking for a compact WiFi speaker to use in smaller rooms of your home without the necessity for additional devices.
Why The Sonos One?
If you're looking for the best compact WiFi speaker, then the Sonos One is definitely the way to go. Even though this speaker is small, it packs a serious punch that will truly impress. At just under $380 for a pair, you get two premium WiFi speakers that can be used on their own or in a multi-speaker setup.
Compact build
Multiroom support
Great sound quality
Smart features
Lack of Bluetooth
Lack of aux
3. Bose SoundTouch 10 WiFi Speaker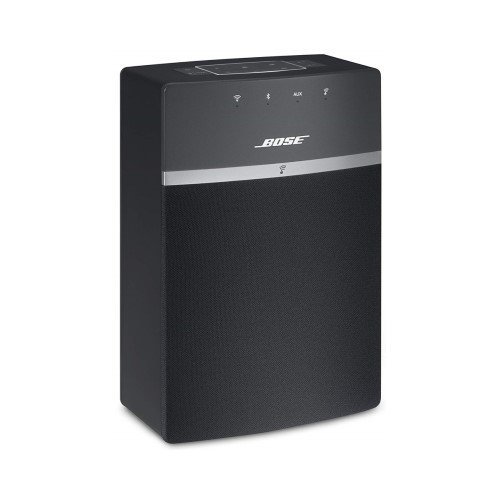 Inputs:
WiFi, AUX, Bluetooth
When looking at pictures, you might be inclined to think the Bose SoundTouch 10 is a large WiFi speaker. It's not. The SoundTouch 10 is ultra-compact and lightweight weighing in at a mere 2.89 lbs! While the SoundTouch 10 is small in size, it's certainly not small in sound. This WiFi speaker packs a serious punch with some awesome features to match.
Design and Features
The SoundTouch 10 is designed small, so it's semi-portable to easily take from room to room in the house. I say semi-portable as the SoundTouch 10 doesn't have a built-in battery, so it needs a power source. You have the option of ⅛-inch AUX, Bluetooth, and WiFi for audio inputs, which means very few devices won't connect to the SoundTouch 10.
You will need the SoundTouch app to connect your SoundTouch 10 to your mobile device over WiFi. This does require a sign-up to the SoundTouch app, but the features and benefits are well worth it. The biggest benefit is that you are not limited by your Bluetooth or AUX cable range and can move freely around the house with your device without any dropout or disconnection.
Through the SoundTouch app, you can play audio from your favorite streaming services, set up a playlist, and save your favorite podcast or streaming service as a preset for quick access. The SoundTouch 10 allows you to save up to 6 presets, which can be accessed via the SoundTouch app or on top of the SoundTouch 10 control panel, which has a separate button for each of the six presets.
The control panel on the SoundTouch 10 also includes a power button, Bluetooth pairing/input selection, and volume control. The WiFi speaker also comes with a remote so you can control the SoundTouch 10 at a distance without needing to access the app. On the remote, you also have the thumbs up and thumbs down buttons for use with streaming services.
How does the Bose SoundTouch 10 sound?
Bose doesn't specify the power output of the SoundTouch 10, but I can confirm this speaker kicks! Even at just 60% volume, you'll easily fill a small to medium-sized room. The SoundTouch 10 produces a decent amount of bass with a nice punchy low-end sound. Mids and highs are clear with both music and vocals coming through brilliantly clear.
Why The SoundTouch 10?
The Bose SoundTouch 10 is essentially a portable speaker for the home. The WiFi speaker is surprisingly powerful with incredibly good sound quality. The SoundTouch 10 has everything you need from a WiFi speaker. The compact size of SoundTouch 10 means the WiFi speaker can be moved around easily and placed on almost every house surface. For just under $170, the SoundTouch 10 offers excellent value for the money.
Bluetooth support
Clear sound presentation
Aux input
Multiroom support
Alexa device is sold separately
4. Denon Home 350 Wireless Speaker
Inputs:
WiFi, USB, AUX, Bluetooth
The Home Series speakers from Denon promise to fill any room with superior-quality wireless sound. The 350 model we'll be looking at here is powerful and provides an easy-to-use wireless listening experience. 
Design and Features
Delivering top-class audio quality, the Denon Home 350 is constructed of cutting-edge acoustic hardware, professionally-tuned DSP, and exceptional drivers. The Home 350 can be used with the latest voice assistant technologies, including Amazon Alexa, Google Assistant, and Apple Siri. Commands include music stop/start, volume up/down, skip track and more. To add to this, the Home 350 speaker has been fitted with onboard microphones for new voice-command features to be added via a firmware update. Aside from voice commands, the 350 has a series of 6 buttons to navigate through your music or perform basic tasks.
How does the Denon Home 350 sound?
A series of 6 Class-D power amplifier work together to power a range of woofers, mid-range drivers, and tweeters to deliver top-quality sound in any acoustic environment. The Denon Home 350 features 2 x 6.5" woofers, 2 x 2" midrange speakers, and 2 x 3.25" tweeters. This speaker configuration promises to provide a well-rounded listening experience. Up to three radio stations can be stored on the device for easy toggling and to minimize search time when finding your favorite stations. To further expand on the Denon Home 350 speaker's impeccable sound quality, two Home 350s can be paired using the HEOS application (available via Amazon), creating a stereo pair of speakers. 
Other smaller models in the Home series (150 & 250) provide similar quality features and audio streaming at a cheaper price point. 
The vintage style is extremely popular at the moment, and Klipsch has done a great job with The Three and the whole Heritage Wireless range. The Heritage Wireless Three not only looks great but sounds incredible too. The ability to connect every device, including your turntable, is what truly sets the Heritage Wireless Three apart from other WiFi speakers on the market. At a little under $500, the Heritage Wireless Three is pricey, but the quality and features surpass most WiFi speakers on the market.
Why The Denon Home 350?
The Denon Home 350 is an all-around well-performing wireless speaker with incredible sound reproduction qualities, a professional-looking design, and a user-friendly interface on a portable and compact speaker. Definitely a great purchase for those willing to spend the money on quality. 
Great overall sound
Voice control
Multiroom support
Bluetooth connectivity
Expensive
The setup is a little complicated
Lack of physical controls
5. Bose Home Speaker 500 WiFi Speaker
Mounting Type:
Table Top or Wall
If you're a Bose fan, you'll likely appreciate the Bose Home Speaker 500. The Home Speaker 500 shares similar design features to the new generation of SoundTouch speakers. However, sadly can't pair with any of the SoundTouch or SoundLink ranges.
Design and Features
One thing that's truly unique about the Home Speaker 500 is its LCD display. While it's not the biggest display, it is full color and displays album art and track information of the song playing. This obviously allows you to see what's playing without having to look at your phone. While it is unique, the real question is, "does it make the Home Speaker 500 more valuable?".
The Home Speaker 500 allows for three audio inputs WiFi, Bluetooth, and ⅛-inch AUX. The device can be controlled onboard controls or the Bose Music app. Starting with the onboard controls, you can play/pause, adjust volume, skip tracks, change inputs, pair Bluetooth devices, and switch between six audio presets.
With the app, you can connect streaming services, adjust audio settings, and program the six audio presets, which can be activated on the speaker or via the app. Setting up presets is really easy, and you have the option of assigning a track, artist, album, playlist, or internet radio station to each button. You can also change these at any time.
Alexa fans will be pleased to know the Home Speaker 500 features Alexa built-in. No need for an external device. There are multiple microphones mounted on all sides of the Home Speaker 500 to ensure voice commands are heard no matter where you are in the room. You can also mute Alexa for 100% privacy.
How does the Bose Home Speaker 500 sound?
As with most Bose products, there is definitely some bass enhancement on the Home Speaker 500. The speaker delivers a nice punchy bass sound which is going to be appreciated by urban and dance music fans. As is always the case with bass-boosted speakers, the Home Speaker 500 doesn't produce a perfectly clear mid-range response which might be a sticking point for audiophiles. However, it's more than adequate for the average consumer. Highs are crisp and clear, adding to the fun sound profile of the Home Speaker 500.
Why The Home Speaker 500?
The Home Speaker 500 does not disappoint. This speaker easily gives Sonos One a run for its money. However, I find the latter delivers slightly better sound quality and features. Where the Home Speaker 500 does beat the Sonos One is the bass response and loudness, so if you like your bass, you might want to consider the Bose instead. At just under $400, the Home Speaker 500 is priced at the high end of the spectrum, but the quality you get is well worth it.
Easy to use
Great sound
LCD screen is a nice touch
Bluetooth support
Expensive
Lack of aux input
Lack of physical controls
6. Audio Pro Addon C10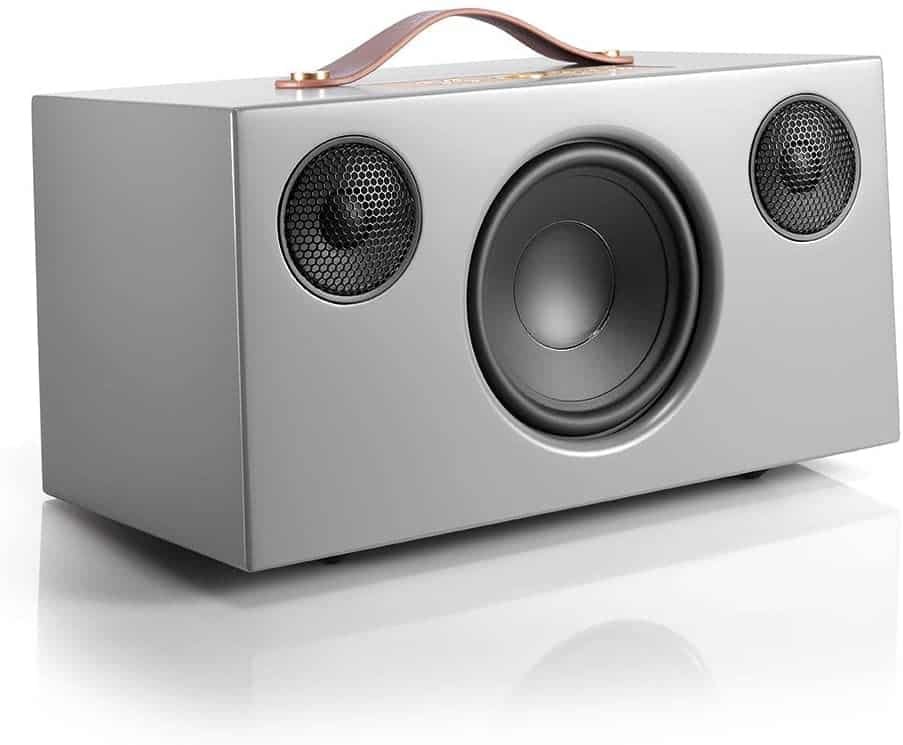 Inputs:
WiFi, Ethernet, BT, RCA, 3.5mm
Audio Pro's Addon C10 Multi-Room Speaker is a high-performance, user-friendly, and professionally designed speaker available at a great price considering its features.
Design and Features
The Addon C10 can be easily configured using the free app, connected through your home WiFi network. Additional speakers can be added to this setup if you wish. The Addon C10 can be paired with the most popular streaming services, including Spotify, Amazon, Tidal, Deezer, IHeartRadio, and more. A nifty feature of this device is the ability to add up to four personalized presets for easy access to your favorite playlists and radio stations. 
How does the Audio Pro Addon C10 sound?
The Audio Pro Addon C10 promises highly detailed sound reproduction that will impress even the fussiest of listeners. A pair of C10s can be linked to form a stereo pair of speakers, creating a HiFi-like listening experience. An impressive frequency range of 45Hz-22KHz can replicate warm low-end to highly-detailed high frequencies accurately, and a built-in crossover operates at 2.5KHz. Overall, I am impressed with the sound quality of these speakers.
Why The C10?
Audio Pro's Addon C10 multi-room system is user-friendly, reliable, and durable and reproduces high-quality sound while adding minimal coloration to the music. A highly recommendable purchase. 
Multiple color choices
Broad connectivity options
Aesthetic design
Easy to use
Lack of voice control
Lack of EQ ability
Expensive
7. Amazon Echo Studio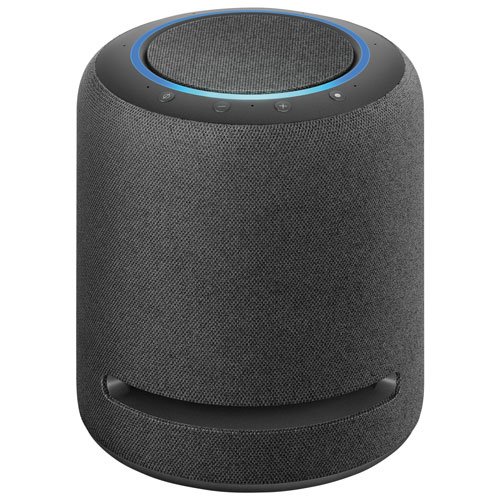 Inputs:
WiFi, BT, Mini-Toslink
Possibly the most popular WiFi speaker range is the Echo series by Amazon, designed to work with Alexa AI. The Echo Studio is the largest and more powerful in the Echo speaker range, measuring a diameter of 6.9" and a height of 8.1". The Studio is the latest model in the Amazon Echo range and includes a total of four onboard microphones, an improved speaker, aesthetic design improvements, and a trendy fabric finish around the outside of the speaker.
Design and Features
Currently, Alexa has more than 50,000 "skills," which are essentially commands that Alexa is capable of carrying out for you. These include playing a certain track, opening an app, sending a text message, or even shopping online. The great thing is Amazon is continually working to improve and update the technology with firmware updates, so Alexa will learn and grow without you needing to purchase a new Echo device.
How does the Echo Studio sound?
If you've heard any of the previous versions of the Echo Series (mainly Echo Flex and Echo Dot), you'll know there isn't much of a speaker to speak of. In fact, you get better sound from your mobile phone. The Echo and Echo Plus speakers are significantly improved, resembling audio quality reminiscent of a portable Bluetooth speaker., and the Echo Studio takes this quality to the next level.
The speaker configuration consisting of a 1" tweeter, 3 x 2" mid-range speakers, and a 5.25" woofer delivers a nice low-end punch with vast improvements to the intelligibility of the speaker, making it easier to hear audio and chat to Alexa from across the room. Dolby Atmos sound technology provides an incredible dynamic range and delicate clarity for a small speaker.
Aside from connecting to WiFi, the Echo Studio can also connect via Bluetooth, 3.5mm Aux cable, or mini-optical line in.
The best thing about the Echo speaker range is its ability to connect to other WiFi speakers. This allows you to have a fully integrated Alexa system allowing you to perform voice commands for your entire WiFi speaker system.
Amazon Echo Range
If the Echo Studio seems too powerful or expensive for you, there are other options available in the Echo family:
Echo Flex
At just under $25, the Echo Flex is a tiny 0.6" driver and can only operate through a 3.5mm Aux connection. As mentioned earlier, this is basically an external phone speaker, so if you're looking for loud sound and great sound quality, consider spending a few extra bucks on one of the more advanced Echo speakers.
Echo Dot
Sitting at barely under $50, the Echo Dot features a 1.6" speaker, Alexa capabilities, and line-in connectivity via a 3.5mm Aux cable.
Echo/Echo Plus
Similar to the Echo Dot. However, this features two speakers: a 0.8" tweeter and a 3" woofer for better sound replication and bass response. The 3.5mm connector can also operate in either direction, allowing you to add an 'extension' speaker to the signal chain for louder sound. 
Why The Echo Studio?
Amazon's Echo Studio is a great wireless speaker with many capabilities for the price. A compact speaker that's the ultimate upgrade to the already-existing range of speakers. 
Good sound quality
Easy to set up
Bluetooth support
Fairly heavy
Limited smart support
8. Audioengine A1-MR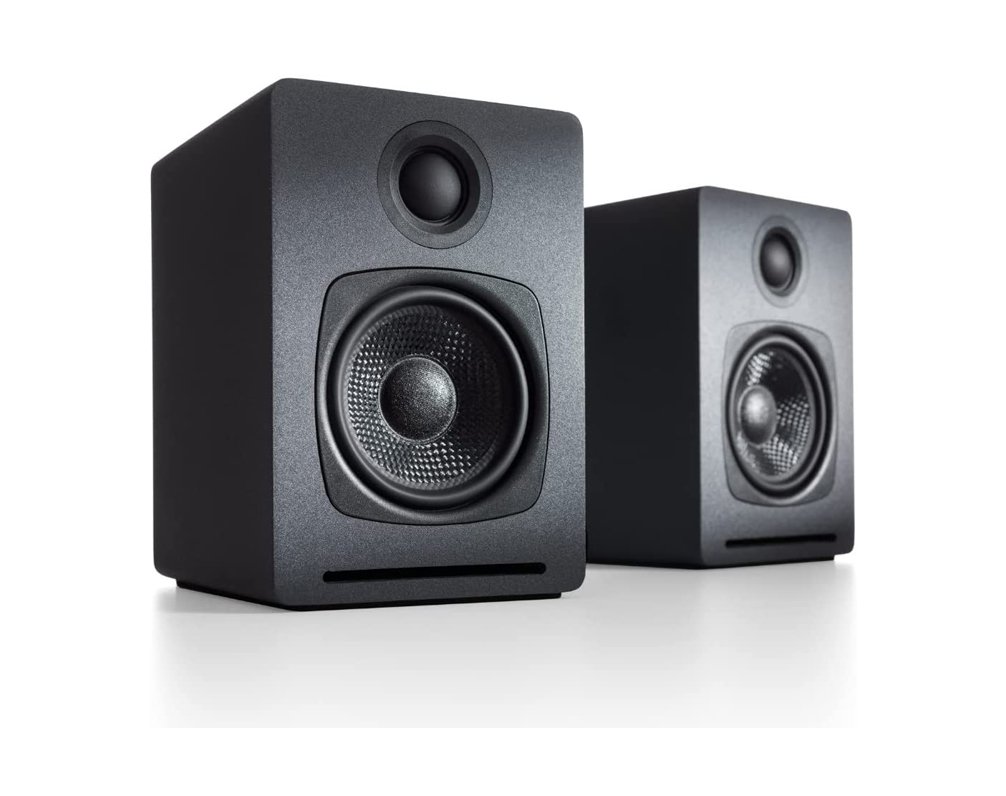 Mounting Type:
Table Top or Stand
The Audioengine A1-MR is a reasonably compact bookshelf speaker system that offers high-quality audio performance at an affordable price. They are designed to deliver clear, balanced sound with a wide frequency response range. This design lends itself to providing a versatile audio solution that you can move between multiple rooms of your home and use for a number of purposes, ranging from computer speakers to home entertainment use.
Given that they are fairly compact, these speakers won't be suitable for large entertainment areas, but they excel as bedroom TV speakers or other smaller rooms.
Design & Features
They also have a sleek and modern design, with a black matte finish and rounded edges that give them a clean and appealing aesthetic.
Measuring just 5.25 x 4 x 6 inches, they are small enough to fit on a desk or bookshelf yet have enough juice to cover a small to medium-sized room. The Audio Engine A1-MR doesn't let its size interfere with its ability to perform. These speakers have a frequency response range of 65Hz to 22kHz with a maximum output of 60W peak power.
The A1-MR speakers are easy to set up and use, thanks to their built-in amplifiers and various connectivity options. They come with a 3.5mm stereo mini-jack input, RCA inputs, and Wi-Fi connectivity to connect them in multi-room setups in conjunction with your other media. These speakers also offer support for Airplay, Spotify Premium Connect, DLNA Digital Music Streaming.
How Do The A1-MR Sound?
Regarding performance, the A1-MR speakers deliver clear and detailed audio with excellent clarity and balance. The midrange is particularly strong, making vocals and acoustic instruments sound warm and natural. The high frequencies are also well-defined, without any harshness or sibilance. The bass response is impressive for a speaker of this size, though it's not exactly going to rattle windows. If you're big into EDM and Hip-Hop, it may be worth using the bass boost function to get some more low-end presence.
One of the advantages of the A1-MR speakers is their versatility. They are equally suitable for listening to music, watching movies, or gaming, and can be used in a wide range of settings, from a home office to a living room.
Read our full review of the AudioEngine A1-MR.
Why The A1-MR?
The Audioengine A1-MR speakers are an excellent choice for anyone looking for a compact, affordable, yet high-quality set of speakers. They offer impressive audio performance, easy connectivity, and a sleek design, making them a versatile and reliable option for music lovers, movie fans, and gamers alike. While they may not have the power or bass response of larger speakers, they provide an enjoyable listening experience that exceeds most similar speakers on the market in this price range.
Very easy to set up
Well priced
Intelligible sound
Lack of Bluetooth support
No smart features
Honorable Mentions
Want something portable/ battery-powered?
Ultimate Ears MEGABLAST WiFi Speaker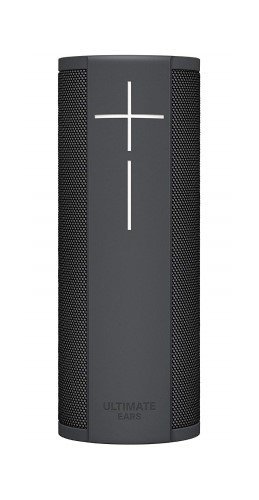 If you're looking to take your WiFi speaker on an adventure, there's no better option than the Ultimate Ears (UE) MEGABLAST. The MEGABLAST offers all the conveniences of a portable Bluetooth speaker but with the sophistication of a WiFi speaker. Not only is the MEGABLAST portable, but it protects against the elements too.
Design and Features
The MEGABLAST features an IP67 waterproof rating which protects the speaker up to a depth of 1m for 30 minutes of submersion. In addition, the MEGABLAST is also protected against mud and sediment and will continue to operate even when buried. The MEGABLAST is covered in a rubberized exterior that protects against drops and knocks. UE go to great lengths to make their portable speakers "everything proof," and the MEGABLAST is no different. This speaker will survive most of what the outdoors has to go through at it.
The MEGABLAST features a 16-hour built-in battery which is more than enough for most outdoor adventures. The great thing about a battery-operated WiFi speaker is you can move it around the house without having to worry about plugging and unplugging the speaker. With its IP67 rating, you can also take the MEGABLAST into the bathroom or shower. Something you just can't do with most WiFi speakers.
Another thing the MEGABLAST has over many WiFi speakers is 360° sound. The speaker features 2 x 2-inch full-range drivers with 2 x 1-inch tweeters mounted opposite each other. This coverage is especially useful for BBQs or around the pool. In addition to the four active drivers, there are also two passive bass radiators for an improved low-end response.
The MEGABLAST offers WiFi and Bluetooth for audio inputs. The speaker also features Amazon Alexa built-in, which adds to the incredible value the MEGABLAST offers. Unfortunately, it doesn't have full Alexa capability. Features missing include Alexa voice or video calling, Drop-in, notifications, and messaging.
On the speaker itself, there are just three controls for volume up/down and muting the internal microphones which operate Alexa.
For full functionality, you'll need to connect the speaker to the MEGABLAST app, which enables you to pair additional MEGABLAST speakers, connect streaming services, and adjust audio settings.
How does the Ultimate Ears MEGABLAST sound?
It's important to note that the MEGABLAST can't really be compared to other WiFi speakers. In essence, the MEGABLAST is a portable Bluetooth speaker with WiFi capability. At least, that's how I would describe it. The MEGABLAST delivers a fun punchy bass sound which is boosted but the bass radiators. This is a little woolly when compared to WiFi speakers but on par with a premium Bluetooth speaker's bass response.
The mid-range and highs are clean and clear but not at the quality of a home WiFi speaker. With that said, the MEGABLAST is fun to listen to and will certainly make a great party speaker. Urban and dance music fans will be especially happy with the MEGABLAST sound.
Why The Megablast?
If you're looking for the best-sounding WiFi speaker, you're not going to get it from the MEGABLAST. This speaker performs in other areas, such as portability and convenience, where other WiFi speakers are significantly limited. The MEGABLAST is also a great speaker to use as a multi-purpose WiFi speaker on your home network, in the shower, outside, in the kitchen, or just moving around the house as you go about your day. The MEGABLAST is available in several color options and comes in at a little over $200.
Sonos Roam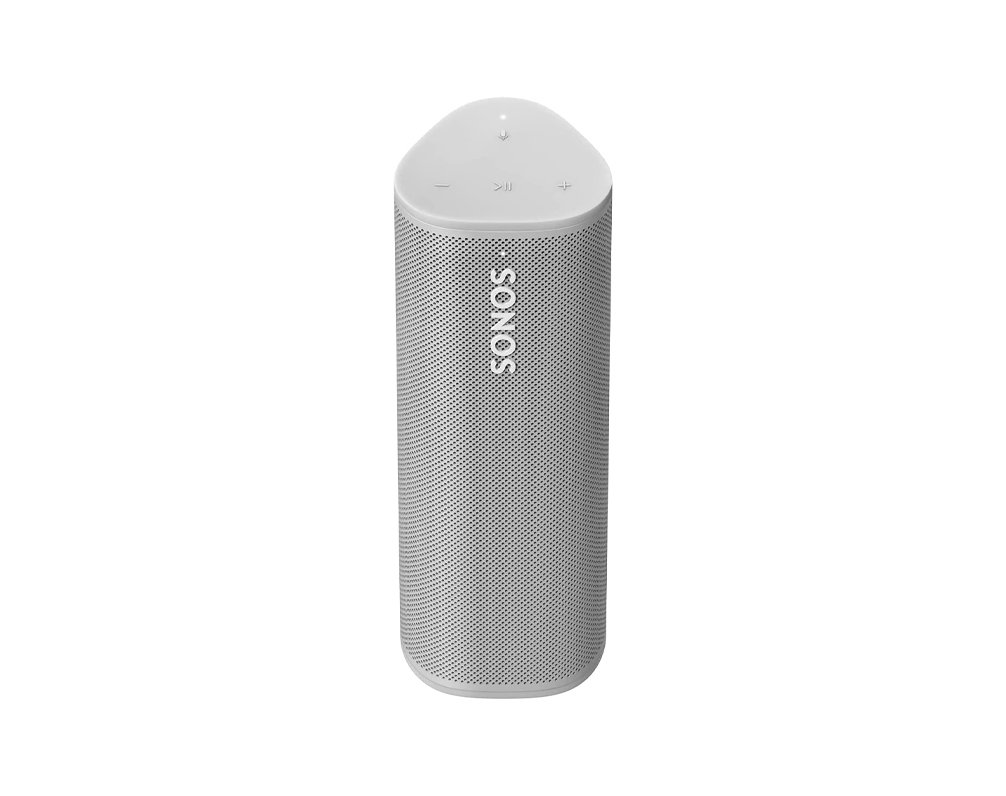 The Sonos Roam is a portable, wireless speaker that provides the high-quality audio performance we expect from Sonos. It is a versatile and easy-to-use speaker that combines the features of a classic portable Bluetooth speaker with features typically found in smart home speakers. Because of this, the Sonos Roam is the epitome of versatility. You can place it in your kitchen or carry it with you to the beach.
Design & Features
The Roam measures 6.5 inches tall and 2.5 inches wide, which is small enough to fit in your hand or a small bag. It features a sleek and modern design, with an angulated cylinder shape and a fabric finish that gives it a premium look and feel. It is available in either black or white.
We love the IP67 weather resistance rating, which means it can withstand being submerged in water for up to 30 minutes as well as being protected from dust.
Because this speaker is small and light, it is extremely portable and can be carried in most bags or effortlessly in one hand.
A weakness of the Sonos Roam is the button layout, which can cause the speaker to get turned on during transit, draining the battery accidentally. The Roam typically gets around 10 hours of continuous playtime from a single charge.
Despite looking like your average Bluetooth speaker, the Sonos Roam's smart features and Wi-Fi connectivity means it is suitable for use just about anywhere. You'll still get modern Bluetooth connectivity, but with the option for Wi-Fi.
How Does The Roam Sound?
When it comes down to sound, the Roam delivers a clear and subjectively loud audio performance. The speaker is driven by two Class-H amplifiers, a tweeter, and a mid-woofer, which work together to produce a frequency response range that spans between 62Hz on the low end to 20kHz on the upper range. The Roam also features Trueplay tuning, which uses your smartphone's microphone to analyze the acoustics of your room and adjust the sound accordingly, ensuring you get the best possible audio performance.
Why The Roam?
The Sonos Roam is a solid little speaker with loads of versatility and portability. The speaker's sleek design makes it fit into your home decor while also not looking out of place when taken outdoors. If you want a speaker that can move easily between rooms, as well as being rugged enough for the beach – the Roam holds a lot of merit.
Features to Consider When Buying a Wi-Fi Speaker System
With the WiFi speaker market booming, you'll find an abundance of speakers, each offering its own set of features. Which one is the best? The one that suits your needs. Let's take a look at some of the most important features to look at when trying to pick the best WiFi speaker.
Multiroom
One of the biggest selling points of WiFi speakers is their multi-room capability. Not only does having a speaker in every room give you the benefit of having sound in each room (duh!), but multi-room speakers can also sync up to play the same sound in every room simultaneously. Your dinner parties just went next level!

It's important to remember that when you invest in WiFi speakers, you're investing in an entire ecosystem within your home. Some WiFi speakers can work with other brands of WiFi speakers, while others don't. Remember this when purchasing your first WiFi speaker, as you might be locking yourself into that brand for all of your future WiFi speakers.
Smart Speakers
A category within itself, smart speakers have become a staple in every home. Here's the thing – all smart speakers are WiFi speakers, but not all WiFi speakers are smart speakers. Say what? Some speakers have an AI built into them, like the Amazon Echo Studio. While others, like the Bose SoundTouch 10, are Alexa-compatible. This means that they can work as smart speakers when paired with an Echo dot (or any other similar AI device).
Portability
As we mentioned at the start of this guide, most WiFi speakers are designed for stationary use within the home. When we talk about portability, there's can I move it from the coffee table to the console?" portable, and then there's "can I take it on a camping trip to the alps" portable.

Understand that prioritizing portability usually means sacrificing sound quality, though. Why? It's quite simple – the more portable a speaker is, the smaller it is. A smaller speaker means smaller drivers, and this often means a reduction in sound quality.
Understanding "Wireless" Speakers
Many people confuse the term "WiFi" with "wireless," using them almost interchangeably to describe different things. When we talk about wireless speakers, this term can either refer to the fact that they are battery-powered (portable) or that they can connect wirelessly.
Bluetooth vs. WiFi
This article deals with speakers that connect wirelessly using WiFi. Most of the speakers we've featured, with an exception or two, aren't designed to be portable and are, therefore, not battery-powered. On the other hand, Bluetooth Speakers are more widely available in portable battery-powered options.
While Bluetooth Speakers may offer more portability, WiFi speakers offer better sound quality and better range. They also work with the same subscription apps like Spotify or Apple Music, radio services like Pandora or TuneIn, and your own music collection.
WiFi speakers are better suited for use within the home, while Bluetooth speakers are better used outside the home – on vacations or camping trips.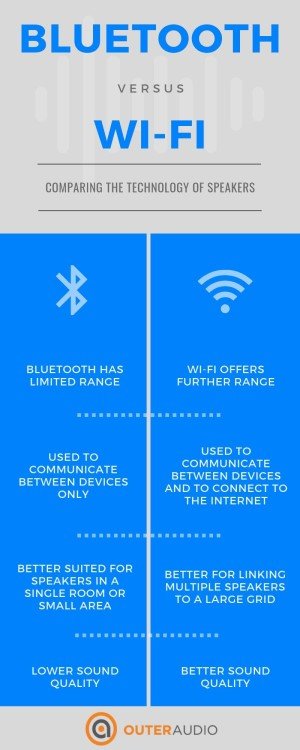 Smart Speakers
Artificial Intelligence (AI) technology is commonly used with wireless products, enabling voice navigation and commands. In the WiFi speaker world, the most frequently used AI is known as Alexa. If this feature is important to you, look out for the words "Alexa compatible" when looking at a WiFi speaker.
Assistant, which also offers many of the same features.
Who is Alexa?
Developed by Amazon, the Alexa AI can be used to play music, and movies, switch between apps, make calls or write texts, order products from Amazon, and so much more. The technology was developed by Amazon and continues to grow and evolve every day.
Incorporating Alexa into your home essentially allows you to have a 24-hour online assistant who you can summon at any time to perform a task for you. Currently, Alexa can perform over 50,000 skills or tasks, with more constantly added each day. Because an Alexa device is connected to the internet via your WiFi network, Amazon can regularly perform firmware updates that allow Alexa to constantly evolve and keep up to date.
What about Siri and Google Assistant?
Other AI technologies include Siri- an Apple-specific AI used to perform virtually any task on one's cellphone, laptop, or other Apple device, and Google.
Frequently Asked Questions (FAQ)
Do I need one speaker or multiple speakers?
If you're looking at installing a multi-room setup, stereo, or surround sound speaker system. Yes, multiple speakers will be required. For a multi-room system, the number of speakers depends on the number of rooms you wish to audio-enable. Connect two speakers and situate them in a left/right configuration for a stereo pair to achieve this. A surround sound system can be set up using WiFi/Bluetooth speakers, provided they are capable of surround sound signal routing and splitting of channel information. A surround sound speaker setup for 5.1 surround is as follows: Left, Centre, Right, Left Rear, Right Rear, LFE (subwoofer)
How powerful do my WiFi speakers need to be?
The size of your wireless speakers depends greatly on how loud you intend to stream music/media. Larger speakers generally provide greater output volume and require more AC power. The size of your room will also dictate the size (and power) of the speaker you'll need.
Do WiFi speakers require power?
WiFI speakers usually require a nearby outlet to feed the AC power. Bluetooth speakers are often battery-powered. So, consider this depending on your intentions with your new wireless speaker.
Does my WiFi speaker have to have Alexa built-in to work?
The short answer is no. Some WiFi speakers have Alexa built-in making it convenient by cutting down on the number of devices you need and the money you'd have to spend. Most WiFi speakers don't have Alexa built-in and are instead designed to be compatible with Amazon's Echo range which can then talk to you through your WiFi speaker.
If my WiFi speaker also has Bluetooth, which should I use to stream music?
As mentioned at the start of this article, WiFi is far superior to Bluetooth. I would recommend using WiFi for all streaming services. In some cases, WiFi speaker systems require their own app to stream music services. If you don't want to use the manufacturer's app, then you'll have to stream from your phone via Bluetooth. The big disadvantage of Bluetooth is its inferior audio quality and restricted wireless range.
Can I have multiple Amazon Echo speakers connected at the same time?
Yes, you can. This is a new feature, as you previously could not have multiple Echo Studio, Echo Dots, or Echo Plus Speakers linked together. Now you can have many, one for each room if you choose. To add additional Echo devices, open the Alexa App, click the "+" icon, and follow the instructions to add the new device.
Multiroom- what is it, and how does it work?
As the name suggests, Multiroom empowers the user to stream music wirelessly to multiple rooms in one house – either different songs per room or one track played throughout the building. Multiroom can be used with streaming services such as Spotify and Apple Music or your personal music library stored on your computer, cell phone, or even a home stereo system.
Multiroom works by developing a sub-network between connected devices within your WiFi connection in your home. A Bluetooth connection is also available in some newer multiroom-compatible devices. When used in conjunction with Apple AirPlay 2, speaker combinations can be selected to work collaboratively, and voice command technology takes this setup to the next level when used with Amazon Alexa, Google Assistant, or Apple's Siri.
Update History
03/23/2023 – Added Sonos Roam and AudioEngine A1-MR, improved layout and removed outdated product selections.
01/10/2020 – Replaced the Sonos Play:5 with the newer Sonos Five. Added the Denon Home 350, the Audio Pro Addon C10, the Amazon Echo Studio, the KEF LSX, and the Naim Mu-So Qb to the list. We also added the Devialet Phantom Reactor 600 to our list of honorable mentions. Removed the Hitachi W100 and Cowin DiDa.
Thanks for your feedback!