Like many portable Bluetooth speakers, JBL offers speaker-pairing capabilities, allowing multiple speakers to be linked together to either form a stereo pair or a larger network of speakers to take your house party to next level.
JBL makes use of two speaker-pairing protocols to make this possible, Connect Plus and PartyBoost. The PartyBoost is an evolution of the Connect Plus feature which became standard in later JBL models such as the Flip 5 and Boombox 2. The primary benefit of the PartyBoost is that it has double the pairing range of the Connect Plus. Both are still able to connect up to 100 devices, which hold a ton of value if you plan on holding a house party.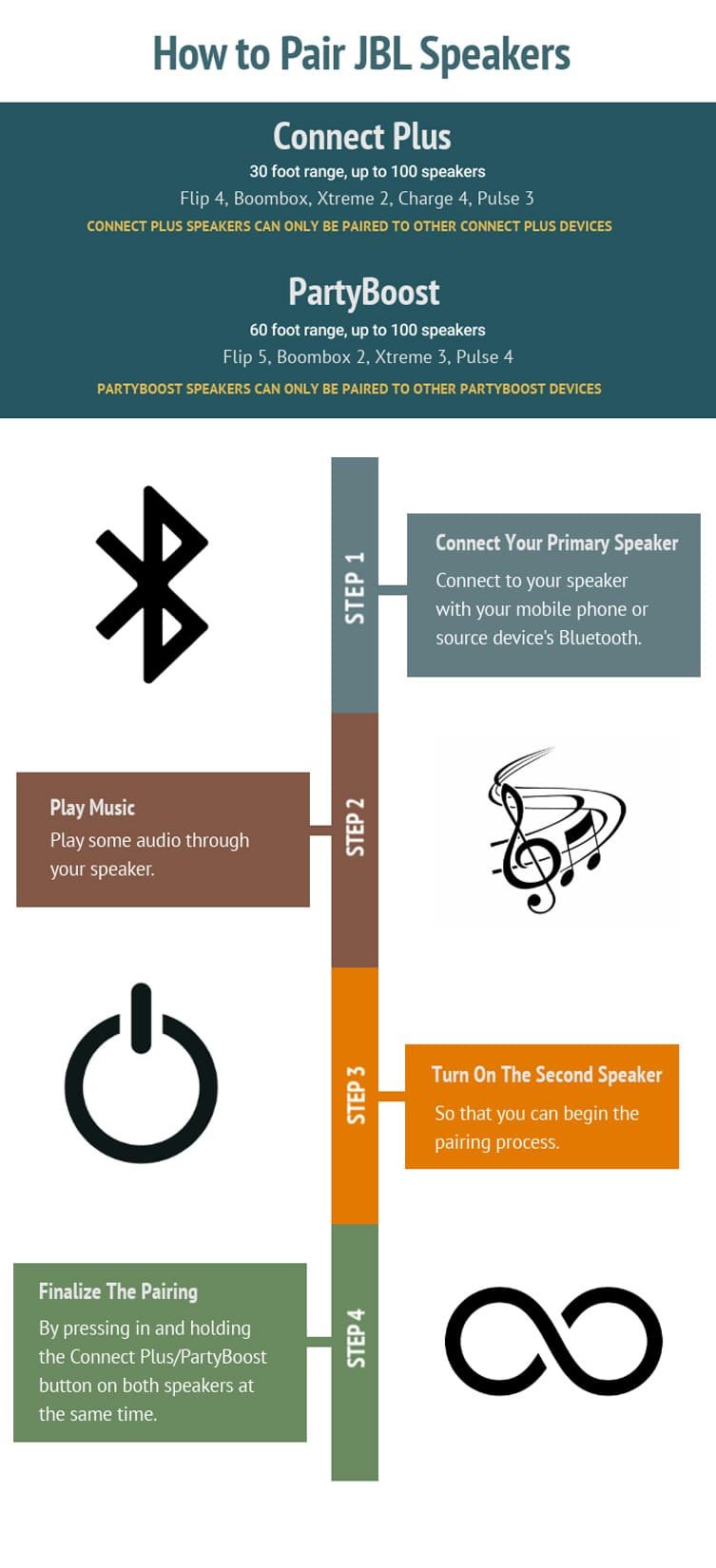 Pairing Technology & Compatibility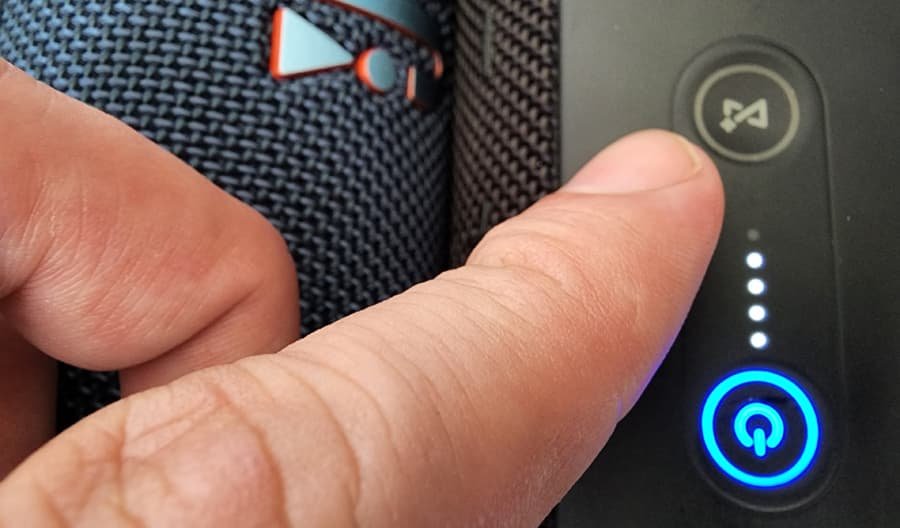 Connect Plus
Features
Can connect up to 100 devices with a range of up to 30 feet.
Compatible Devices
Flip 4, Boombox, Xtreme 2, Charge 4, Pulse 3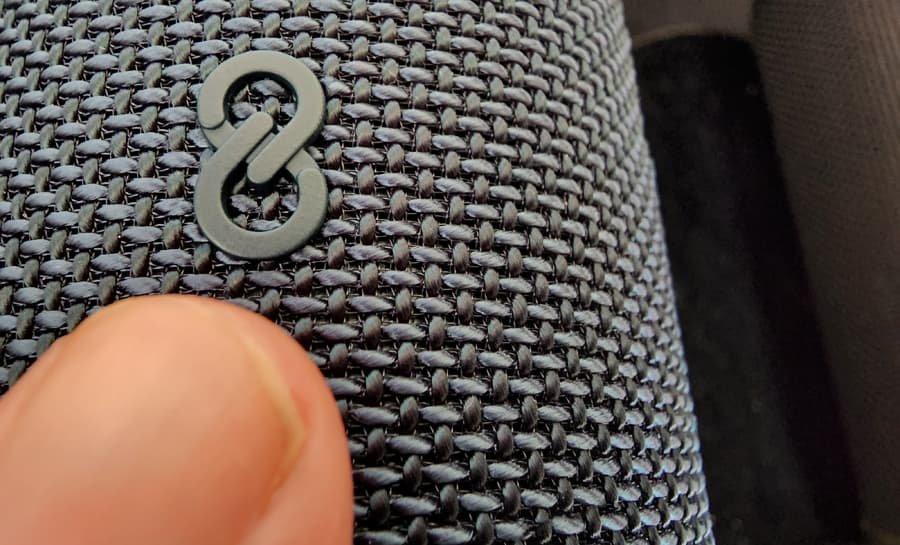 PartyBoost
Features
Can connect up to 100 devices with a range of up to 60 feet.
Compatible Devices
Flip 5, Boombox 2, Xtreme 3, Pulse 4
JBL speakers are cross-compatible, provided they fall in the same connection category. In other words, if you have a PartyBoost speaker you'll only be able to connect to other speakers within the PartyBoost category. Connections can be established through the relevant JBL Portable app (formerly known as JBL Connect) or by using the controls on the speaker itself- both methods are fairly straightforward.
How to Link JBL Speakers in 4 Easy Steps
To link JBL speakers using buttons on the control panel, complete the following steps:
Step 1 – Connect your primary speaker
First thing first, in order to link your JBL speakers, you'll need to power up your speaker and establish a Bluetooth connection. If it's your first time using this speaker, you might need to activate Bluetooth search on the speaker and connect from your mobile phone or laptop using your Bluetooth pairing menu. 
Step 2 – Play music on this speaker
Play a song on this speaker as you usually would, to ensure the first speaker is in working order.
Step 3 – Power up the second speaker and pair
After the second speaker has been switched on, press and hold the Connect Plus/PartyBoost button on both speakers. It will take about 3 seconds of holding the button in before it begins the pairing process.
Step 4 – Wait for a connection
It should only take a few seconds for a connection to form between the two speakers, and soon enough- you'll be enjoying the louder, fuller sounds of a linked speaker setup! 
The PartyBoost speaker range makes use of the same connectivity steps to link multiple speakers. 
To connect more speakers, simply repeat steps 3 and 4 for each additional speaker.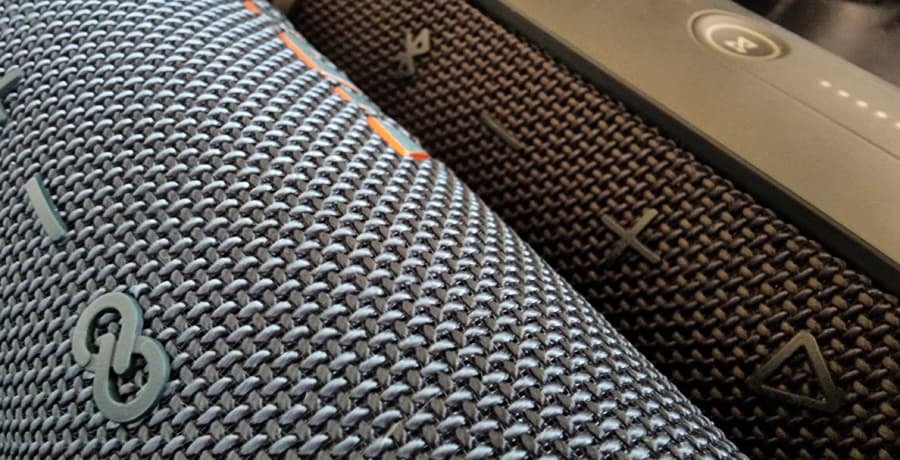 Uses for Connect Plus or PartyBoost
There are several benefits to linking multiple portable Bluetooth speakers together, some common uses of this feature include:
To create a wider stereo field that simulates the sound of a stereo system or HiFi. Due to the compact nature of portable Bluetooth speakers, the separation between left and right channel information may not be all that apparent, this method helps to create better spatial listening. 
If you have limited space in your home, connecting two speakers can form a home theater system that occupies far less floor/shelf space. 
If you want to gain some extra volume for your party, linking multiple speakers is an easy way to do so without pushing your speaker's volume levels to uncomfortable limits. You can also have speakers scattered in different rooms around the house, keeping the music pumping wherever you go. 
Frequently Asked Questions
Can I connect different JBL speaker models together?
JBL speakers are cross-compatible within their respective pairing protocols. Connect/Connect Plus supported speakers can connect with each other and PartyBoost supported speakers can connect with each other. But PartyBoost speakers cannot connect with Connect Plus versions.
Do I need the JBL app?
The JBL Connect or PartyBoost app isn't necessary to establish speaker linking, however, it provides another method of doing so, and offers a variety of additional features that may come in handy, especially in party-like environments.
The JBL app doesn't work on my Android device?
For Android users, one must be using an operating system of 5.0 or later in order for the app to function effectively on your device.
How do I disconnect one of my linked JBL speakers?
If you have a series of JBL speakers running together, whether it be via Connect Plus or PartyBoost, there are two ways you can disconnect speakers from the network individually:
1. Press and hold the Connect button again. This will remove it from the speaker chain and allow for independent pairing if you wish. 
2. Switch the speaker off. This won't affect the rest of the speakers in the system. 
Thanks for your feedback!