The Bottom Line
The Bose S1 Pro is a powerful speaker that is versatile enough to serve as a PA system or a party speaker. The S1 Pro, like most speakers on the market, isn't perfect and there is a slight lack of lower bass frequencies and stereo spread. However, the S1 Pro is still a great speaker with a lot to offer those looking for a powerful Bluetooth speaker option.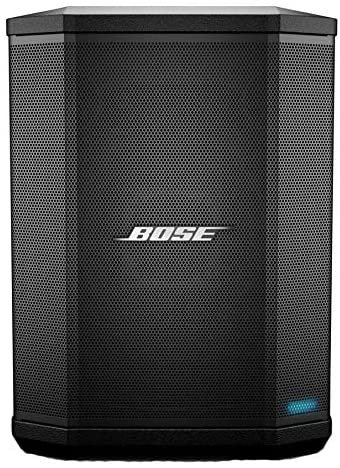 Regarded as one of the best speaker brands on the planet, Bose boasts an extensive catalog of portable Bluetooth speakers, home theater sound systems, portable PA solutions, and more. Their S1 Pro is labeled as a portable Bluetooth speaker, though it can function as a portable PA speaker for buskers, DJs, and more.
Design and Feel
The Bose S1 Pro adopts a professional look and feel, excluding flashing lights and eye-catching branding. The speaker stands 17 inches tall, weighing slightly above 15 pounds. This medium-sized speaker can be a little heavy if you're carrying it over a longer distance, though it can be carried with one hand using the integrated carry handle. Personally, I would have preferred this handle to be on the speaker's side rather than on top, as it can become awkward to carry in a vertical fashion when you have other items with you.
The speaker's enclosure is mostly plastic, with a metal grille to protect the drivers. The cabinet is angularly designed, allowing for vertical, horizontal, or tilted placements, much like a wedge-style PA monitor. There is also a 35mm mounting pole beneath the speaker for stand-mounting. All inputs, outputs, and controls are found behind the speaker, while the volume knobs for each channel are located on the angled side, promoting easier reach, no matter your placement of the S1 Pro.
Overall, the Bose S1 Pro and all its components feel well-built, and I was confident in carrying it around and leaving it exposed to the elements.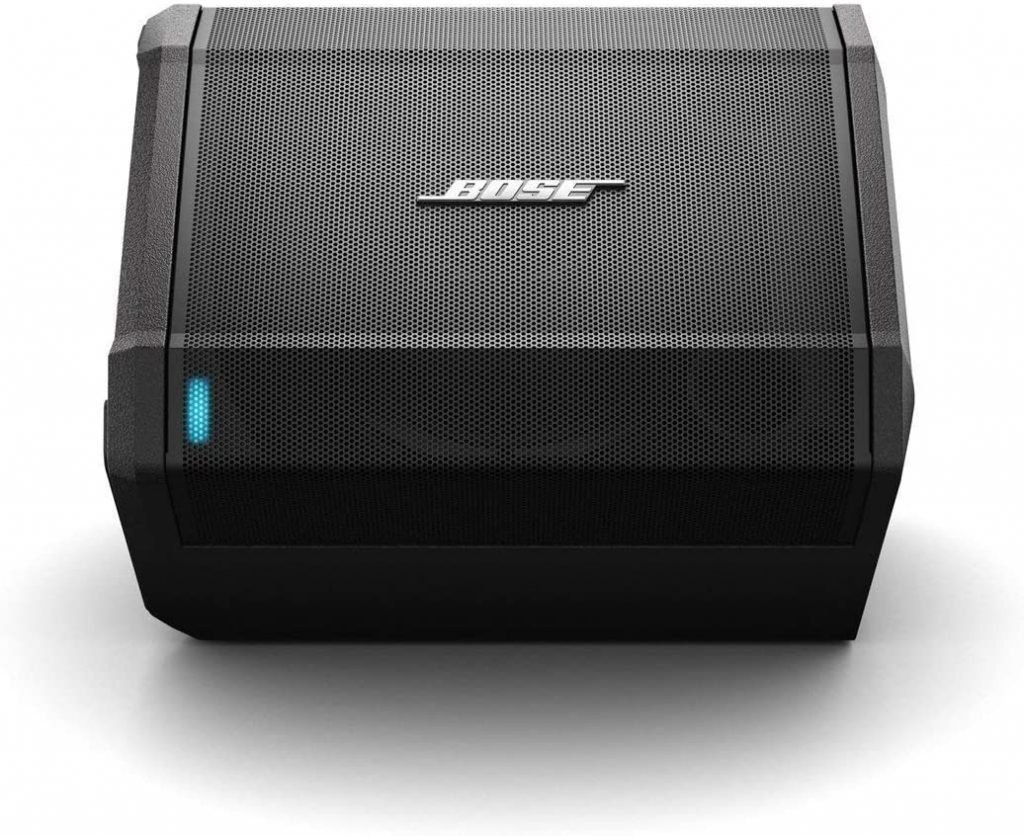 What it's like to use the Bose S1 Pro
The Bose S1 Pro's minimalistic design makes for an incredibly straightforward setup and operation. Let's first discuss the Bluetooth feature: establishing a connection is as straightforward as can be, and my wireless pairing functioned up to around 230 feet before dropouts began to occur. I was also pleased with the ability to pair two devices at once and didn't experience any latency when watching videos with the S1 Pro.
Aside from Bluetooth, the Bose S1 Pro also accepts a 3.5mm auxiliary input, another feature that I find very useful, especially for a speaker that can be used for semi-professional applications. The S1 Pro also has a ¼ inch line out, where you can link it with another speaker.
The Bose S1 Pro's musician-friendly inputs consist of a pair of high-quality XLR/TS combo jacks, allowing for either connector to be fed into the system. At the input stage, you can activate Bose's ToneMatch process for either an instrument or microphone line for an emphasized warmness and clarity to the sound. This feature can also be disabled if you wish. The microphone and instrument inputs can also be processed by means of a 2-band equalizer on each channel, granting control over the bass and treble frequency bands, or the reverb control.
I found the quality of these inputs to be relatively flat and natural sounding, and I really like how Bose has used combo jacks rather than TS jacks for both microphone and guitar inputs, eliminating the need for adaptors or custom cables.
The volume controls are found on the angled edge of the speaker, allowing for easy reach and adjustments in any position. Each channel has a signal status indicator above the volume knob, which can be pretty handy for buskers or DJs, and I found the LED to be visible in any lighting situation at any angle.
The Bose S1 Pro can be used with the Bose Connect mobile app available on both Apple and Android.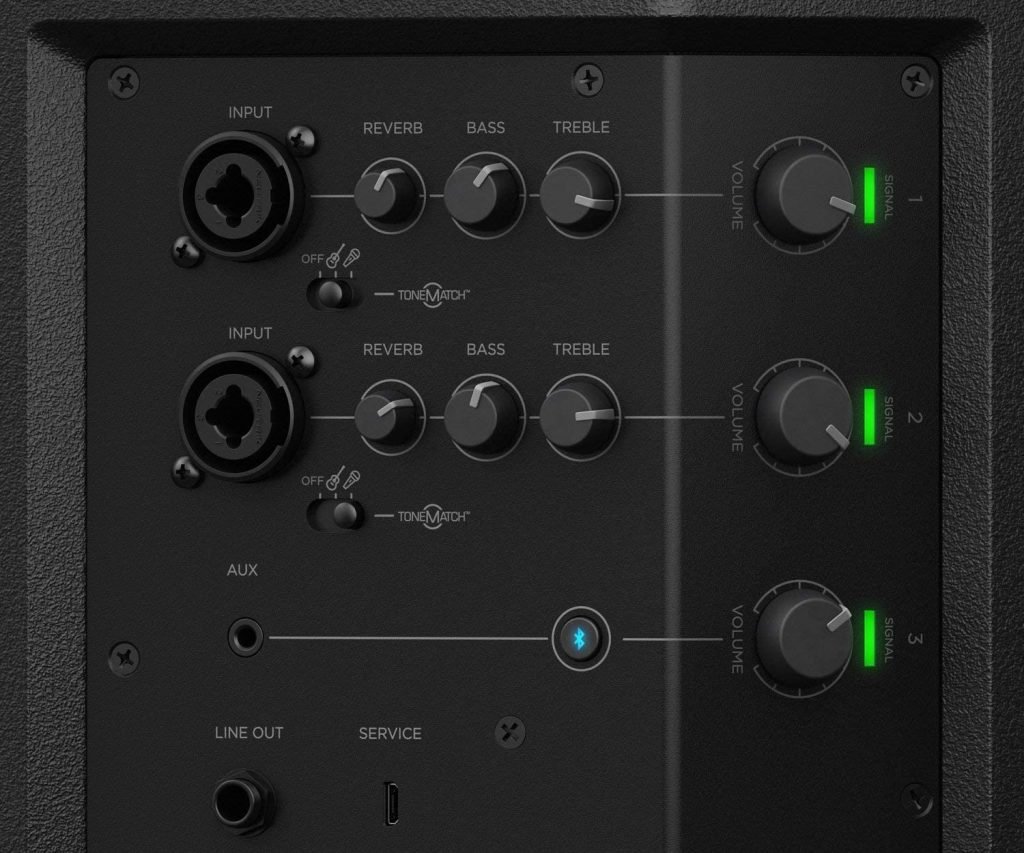 How does the Bose S1 Sound?
Bose often tends to stay away from over-emphasized sonic qualities and sticks to a flatter, natural, and accurate sound signature for most of their speaker models. The S1 Pro is no exception to this rule.
The first thing I noticed was a distinct absence of lower bass content, though there is enough of a bass boost happening between 100 and 250Hz, which will undoubtedly provide some of the fatness bass-heads may be after. The rest of the frequency spectrum is reasonably flat, which is not only great for casual listening but also for professional performance. The Bose S1 Pro makes use of another tone-altering DSP, known as AutoEQ, which senses whether the speaker is situated in a vertical, horizontal, or tilted fashion, and adjusts the frequency response accordingly to deliver optimal performance.
While the Bose S1 Pro sounds good tonally, its directivity and stereo spread was a little disappointing when compared to some other products. Any stereo content is summed to mono, which significantly affects the speaker's soundstage and immersive qualities. As a DJ, you should be using at least two of these at a time, in which case, you can simply send each speaker a dedicated left or right channel signal, and with a little careful positioning, you can achieve great results.
A busking musician can get away with using only one of these, depending on your instrumentation; if you're playing along to backing tracks, I'd recommend using two of these for greater definition. For house parties, casual listening, or watching movies with this speaker, you will notice the lack of stereo definition, and certain musical content simply won't sound good at all. For improved stereo spread and an overall better-sounding speaker, see the Ultimate Ears Hyperboom; it's marginally smaller than the S1 Pro, and offers similar power-handling specifications, but doesn't have any microphone/instrument inputs.
Sound quality aside, the Bose S1 Pro's performance on the volume spectrum is quite impressive. I measured an average SPL of 98dB at a distance of 6 feet but can reach a maximum volume of 109dB, explaining why we've featured the Bose S1 Pro on our loudest Bluetooth Speaker list which can be found here.
For a musician with an act that comprises a vocalist and any accompaniment, this speaker is a great portable solution for busking gigs or self-setup shows. If you're a DJ, or even just after the inputs for karaoke parties at home, it may be worth looking at the JBL PartyBox 310 or 100 models, where the speaker's sound signature is more appropriate for bass-heavy music, and the onboard LED party lights can bring an extra element of entertainment to your DJ set or karaoke session. The Bose is far more portable, though.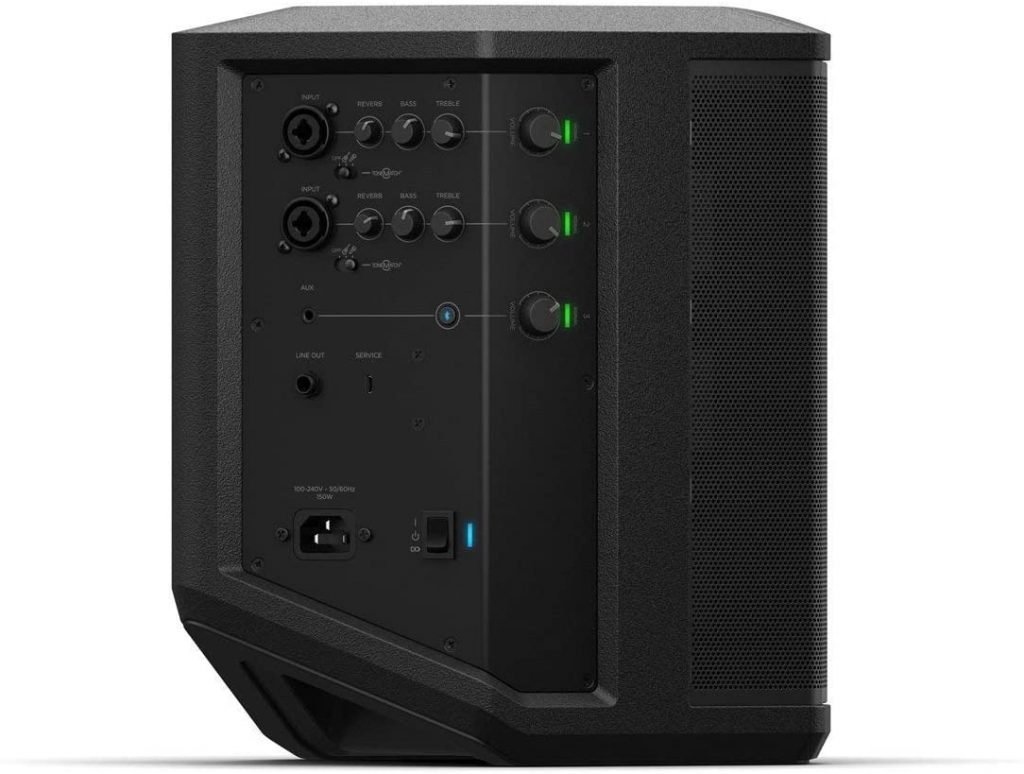 How's the battery life of the Bose S1 Pro?
Compared to other portable PA solutions or larger Bluetooth speakers, the Bose S1 Pro has excellent battery strength, capable of running around 10 hours on a single charge. The S1 Pro utilizes two stages of power-saving features: the speaker will enter standby mode after 1 hour of inactivity; this helps preserve battery life, though an hour seems a little excessive to me- an inactivity period of around 20-30 minutes should be enough to prompt standby.
The speaker also enters a sleep mode when it is not used for 30 consecutive days, this is a new feature to me, and I must say it's quite exciting, and I hope more portable Bluetooth speakers install this feature in the near future. To 'wake up' the S1 Pro after a month's rest, you'll need to plug it into an AC adapter and power it up to activate it again.
Overall, the battery performance of the Bose S1 Pro is good enough for a house party, DJ set, or a few scattered hours of casual listening around the house. The speaker can also be used while it is charging.
If you're after something a little more powerful in terms of battery life, take a look at the Soundboks, which also features 2 x combo XLR/TS jacks, but can perform for up to 40 hours and reach slightly higher volume levels than the S1 Pro. The Soundboks is considerably larger than the S1 Pro, measuring almost double in size.
Final Thoughts
I was initially really impressed and excited by the professional aesthetic of the Bose S1 Pro. The build quality is outstanding, and all inputs, switches, and knobs are made to a high standard. The speaker is fairly easy to transport and set up wherever you may need it, and it offers enough volume for practically any application.
While the sound quality is excellent for running one or two microphone or jack inputs into the speaker or using a stereo pair of S1 Pros from a DJ deck or mixer, it just doesn't sound that great on its own, especially when pumping a full mix into this system. The soundstage and directionality of this speaker were quite disappointing, and for this reason, I'd seriously recommend taking a look at others in this price bracket with an improved stereo field, such as the Ultimate Ears Hyperboom or JBL PartyBox, or purchasing a pair of Bose S1 Pros.
The Bose S1 Pro can be purchased with a backpack-style carry case, or with a removable rechargeable battery through Amazon.
What's In the Box?
Thanks for your feedback!