The Bottom Line
The Sony SRS XP700 is a large, loud, and fun Bluetooth speaker for parties or around-the-house usage. It can be a little awkward to carry around, though the SRS XP700 makes up for this in features and user-friendliness. This speaker is best suited to those looking for a party speaker that caters primarily to indoor use.
The Sony SRS-XP700 Doesn't Fail When It Comes To Build & Aesthetics
This speaker is large and heavy, and cannot be classified as easily portable.
Beautiful design and feel, an absolute pleasure to use.
Sharing a few design similarities with traditional Bluetooth speakers, the Sony SRS XP700 stands slightly below 30 inches tall by 12.5 inches wide, and can be positioned either upright or horizontally using the rubber feet along one side.
While technically portable, it's worth noting that this speaker weighs nearly 40 pounds, so carrying this over long distances can become extraordinarily uncomfortable. The SRS XP700 has two built-in handles on the top and bottom of the speaker, this interesting design choice looks slick but I can't seem to see how this makes carrying this speaker any less impractical than making this a two-man job would just prove to further complicate things. If the size of this speaker is just a little too extreme for your liking, there is a smaller version of this exact speaker, known as the SRS XP-500. 
The control panel is found on top of the speaker, when situated vertically, with buttons for Power, Bluetooth pairing, Play/Pause, Volume Up/Down, and Sony's MegaBass function. Behind the speaker, you'll find all inputs and outputs beneath a water-resistant panel. Removing this panel will reveal the charging port for the speaker, a 3.5mm auxiliary input, a USB input for music playback, a USB output for charging mobile devices, and two ¼ inch TS jacks, which can be used for microphones, guitars, or other sources, and each jack has its own volume control.
The Sony SR-XP700 is fitted with interactive LED lights that pulse to the beat of your music or can be set to an ambient setting for a more relaxed atmosphere.
Waterproofing Could Be Better
This speaker is best used indoors, although it can handle some gentle rain or splashes, it's not worth the risk
The Sony SRS-XP700 is rated IPX4 water-resistant, a rating which is rather unimpressive for a portable Bluetooth speaker, though a speaker this size shouldn't be exposed to too much water or other materials. The IPX4 rating means you can wipe it down with a damp cloth and some light drizzling or gentle splashes won't affect the speaker's functionality, just be cautious of high-pressure water contact, or any other dangerous conditions.
For a heavier-duty option, check out Sony's SRS-XG500 Bluetooth speaker, which adopts a boombox-style approach to design, shares many features with the SRS-XP700, and holds an IP66 rating, protecting it from exposure to water, dust, snow, and sand. The SRS-XG500 is available at the same price as the SRS-XP700 and is considerably smaller if portability is also important to you.
How's The Connectivity?
Offers an incredibly versatile range of connectivity options, wired and wireless.
The Sony XP700 operates wirelessly using Bluetooth 5.0 connectivity, supporting various codecs, including AAC, SBC, and LDAC. The Bluetooth connection strength is pretty much as good as it gets, as it streams high-quality audio over reasonably long distances with minimal interruptions. This Bluetooth version is also fairly generous as far as lack of latency is concerned, making it a great speaker for watching movies or setting it up as part of your gaming system.
Aside from the abovementioned Bluetooth connectivity, the Sony SRS-XP700 also has a 3.5mm auxiliary input for wired connections, or you can load a USB drive full of your favorite tunes and simply plug it into the speaker and let it play! If you've read my reviews before, you'll know I'm a fan of having a wired connectivity option on a larger Bluetooth speaker, but I'm even more excited about the USB reading capabilities- something that 'died out' long ago, but can be extra convenient in a house party situation if you'd rather keep your phone on you and don't need to worry about walking out of the Bluetooth range, spoiling the music for your guests.
The Sony XP-700 also accepts two ¼-inch TS jacks for microphones, guitars, or other instruments, with each input having its own volume control, allowing you to set up a perfectly balanced karaoke mix, or use this speaker as an on-the-go, busking system. The preamps here don't sound incredible but are certainly good enough for some harmless karaoke or party announcements.
Lastly, one can charge their phone or other USB-powered device using the speaker's battery and a USB cable. Note this will dramatically shorten the speaker's battery lifespan.
The Sony XP700 Sound Quality Makes It Stand Out From The Crowd
The sound quality is excellent, with room for adjusting and customization, should you feel the need.
The SRS XP-700 is driven by a pair of 6.75-inch woofers and three front-facing 2.4-inch tweeters, while a single 2-inch tweeter is situated on top of the speaker to fire sound in an upward direction. This creates an almost omnidirectional listening experience, which is ideal for parties and large gatherings.
Given the size of this speaker, it's no surprise that the Sony SRS XP-700 can reach pretty intense listening levels. This speaker can comfortably power a medium to large-sized house party, and no unwanted noises are experienced at high volumes. This volume capability may be a little overkill for some, so if you don't quite need all this headroom, I'd recommend taking another look at the SRS XG500, or the SRS XP500 for something more indoor-appropriate.
Let's start with the low-end: with the MegaBass feature disabled, the SRS XP-700 already delivers thumping bass, rich midrange, and crisp high-end. The MegaBass feature can actually stay off for most listening styles and environments, as I never felt the need for more low-end. Furthermore, the MegaBass equalization curve cuts serious clarity from the upper midrange and highs, so beware of what you're sacrificing before hitting that button.
The sound signature of the SRS XP-700 can be altered using the app, where you can choose between three sound modes: ClearAudio+, LiveSound, and MegaBass. I must say these equalization adjustments aren't the greatest, and while I would say you could do a better job on the custom EQ function, it only gives you control over three frequency bands, so it'll only take you so far.
Despite the monstrous volume levels, this speaker is capable of, I still feel its size is a little unwarranted. For around $100.00 cheaper, you can grab a JBL Boombox II or JBL PartyBox 300, which offer similar volume capabilities, great sound quality, and other features you may be drawn to with the SRS XP-700. The Boombox II is a little simpler, as it doesn't have any lights or karaoke features, while the PartyBox 300 is far more aligned with the SRS XP-700 in terms of features and functionality.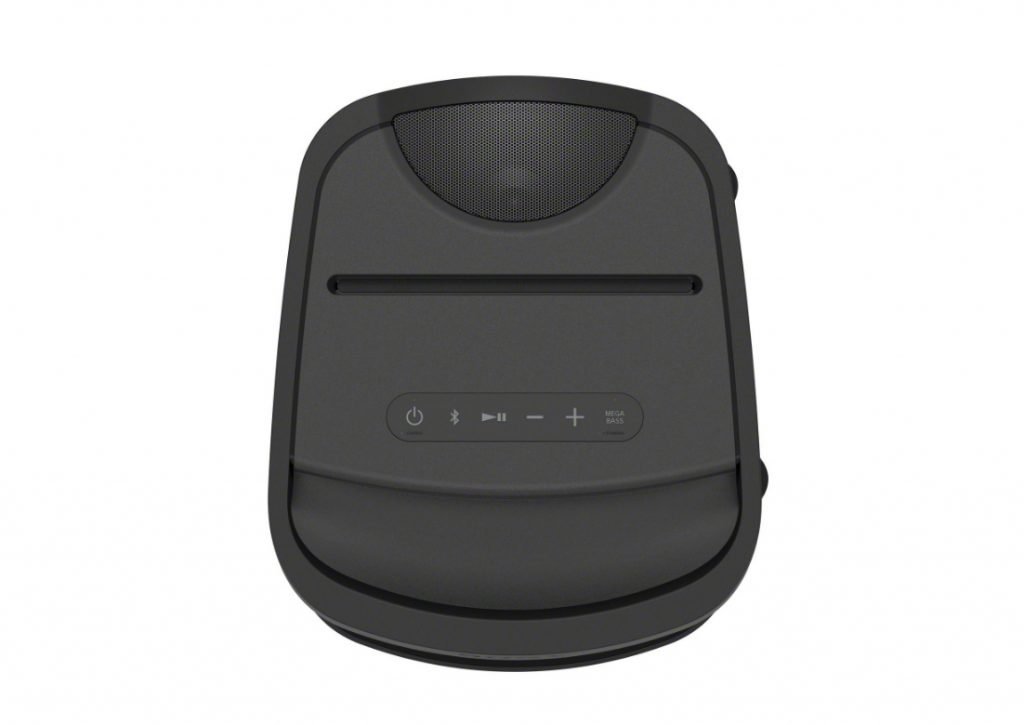 Looking At Battery Life
The Sony SRS-XP700 offers up to 25 hours of battery life, though drops to 5 hours when using all the features and maxing the volume.
The battery lifespan of the Sony SRS-XP700 is estimated at 25 hours, which is fairly decent for such a large speaker. It's important to note that this figure will radically decrease depending on how you use the speaker. Running the onboard LED lights while blasting full volume using Bluetooth streaming will provide a runtime of +-5 hours when you turn on the Megabass, lighting, and max the volume.
However, this speaker can be used while charging, so for house parties where the above is non-negotiable, you could always station the speaker close to an AC outlet, and it'll run non-stop. The Sony XP700 also offers fast charging and is able to charge up to 3 hours of use in just 10 minutes of charging time.
Mobile App Support
A well-laid-out, user-friendly app that gives you control over practically all of the speaker's functions.
Downloading the Sony Music Center app gives you control over the speaker's functions from your smartphone, which includes volume levels, lighting patterns, and adjusting the speaker's tonal response through equalization modes, as well as playing with DJ-like modulation and isolation effects. Generally, the companion apps for Bluetooth speakers can be rather boring and pointless, but I feel Sony has done a good job here in creating something fun for all users and handy to have on your phone.
My Final Thoughts On The Sony SRS XP700
The SRS XP-700 is a great Bluetooth speaker for house parties. For casual listening at home, I'd say it is a little too much, as you can find equally sonically impressive speakers at more affordable prices, especially if you don't need the intense volume this thing can push. That said, while this speaker looks, sounds, and behaves beautifully for house parties, it lacks the battery strength many party-friendly speakers have, and some may not always have access to direct AC power at all times. 
Otherwise, the sound quality, functionality, features, and design of the Sony SRS-XP700 make this an incredibly fun speaker to play with.
Thanks for your feedback!