Over the last few years, audio technology in the field of portable speakers and headphones has advanced in rapid leaps. Bluetooth speakers have become more rugged and sport higher waterproof ratings, making it possible to take your music wherever you go. Seeing those technological and design advances spill over into AM/FM radio devices is unsurprising. Our increasingly more mobile and outdoor, active lifestyles made the advent of outdoor radios almost inevitable.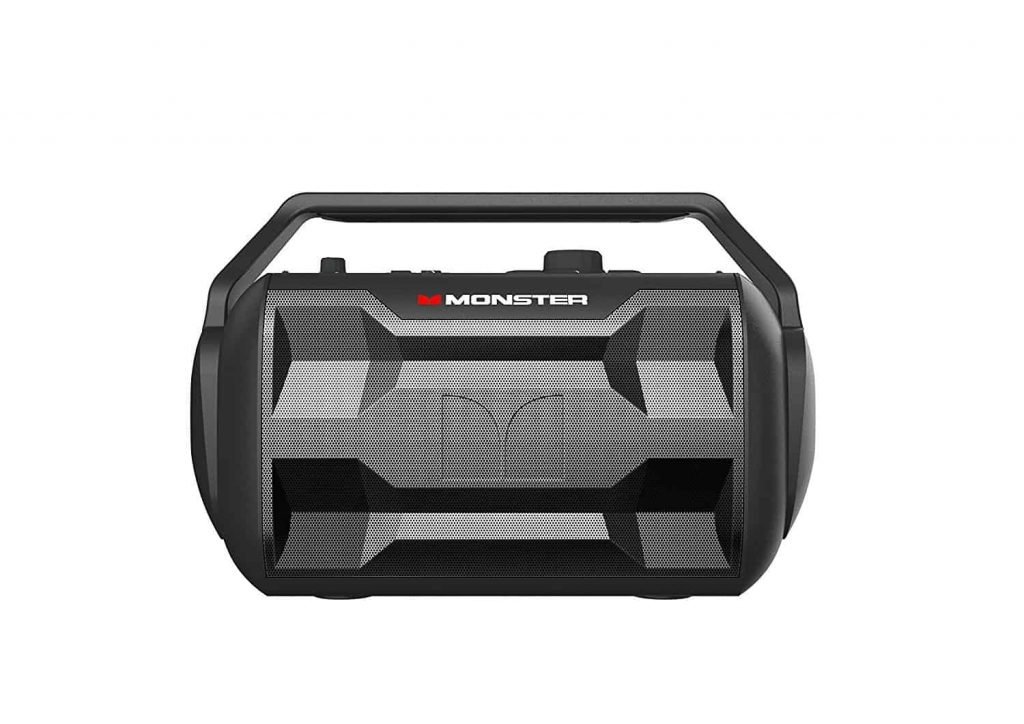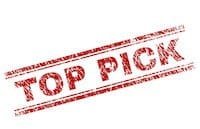 The Monster Roam 2 is an outdoor radio portable Bluetooth speaker combination. It sports an IPX4 waterproof rating, 30W drivers, and 20 hr playback time.
Our Category Winners
Top Everyday Outdoor Radio
The Monster Nomad is a versatile choice that aligns closest with an everyday radio. If you're after a general outdoor radio, this speaker is an easy recommendation that balances volume capabilities with portability and features.
Best Jobsite Radio
The Bosch GPB-18V-5CN is a rose amongst the thorns. While many jobsite radios claim to offer the durability and performance required from a radio of this sort, the Bosch is one of the few speakers that truly live up to those claims. It's durable, loud, and sounds good!
Best Emergency Radio
The FosPower offers a versatile emergency radio that offers both FM and AM radio signals and emergency alerts using N.O.A.A. This is also one of the few emergency radios that offer a noted IPX rating around waterproofing. Overall, the FosPower does a lot on a limited budget.
While AM/FM radio features were common in most forms of audio equipment, there's seemingly been a steady decline in the inclusion of radio, especially in Bluetooth speakers. Thankfully, we've seen the Bluetooth speaker market's explosion carve out its smaller niche products.
Outdoor radios fall into this category, as AM/FM radio features still aren't found on most flagship speakers but are offered as an alternative speaker range from a few of the larger brands in the audio space. That said, most outdoor emergency radios exist in the white-label space, and buying the wrong outdoor radio is easy.
We've created this list to make it easier to find the type of outdoor radio you're looking for without being concerned about the product's quality.
The Best Outdoor Radios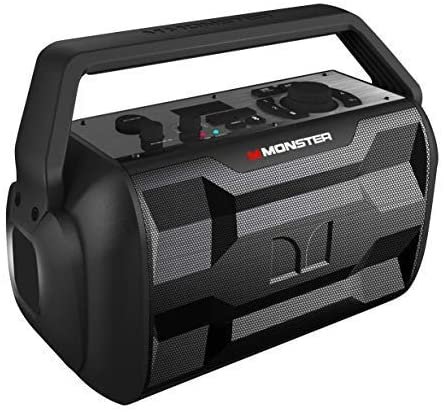 Also available from Walmart

Batteries:
Built-in Lithium-Ion
The Monster Nomad may not carry the name of a premium audio manufacturer, but Monster has released several impressive speakers in various small niches for a number of years now. Their Rockin' Roller 270, for instance, has earned itself quite the reputation in the tailgate speakers market.
What makes Monster speakers, including the Nomad, so appealing is the ease of use in conjunction with some seriously impressive build quality. While we are often left unimpressed with the build quality of smaller speaker manufacturers' materials or assemblies, Monster is a brand we can stand by in this regard.
Features & Weather Resistance
The Monster Nomad comes bundled with a lot of features, including Bluetooth connectivity, which is a strong selling point for this speaker. You'll also find access to a microphone/guitar with 3.5mm input and an additional 3.5mm auxiliary input, and be able to use the USB port to charge your phone.
The inclusion of an IPX4 weather rating on the Nomad is a welcome addition, which really lends itself to this speaker's durability outdoors. While we always look for slightly higher weather-resistance ratings, the IPX4 rating will protect the speaker against mild spillage or some very light drizzle. However, we do recommend doing your best to avoid wetting speakers with lower IPX ratings.
We loved the fact that the FM radio on the Nomad was less of a gimmick and more of a true feature, as this speaker easily lets you see which radio station you are tuned to, making it easy to move between stations, a feature that the Soundcore Mini does not really support.
Power, Sound & Battery Life
With 30 watts of power, the Monster Nomad is capable of producing a fair amount of volume with an overall good sound quality. You're not going to be getting outstanding sound signatures in these types of speakers, but the Nomad is at least capable of producing a sound that isn't excessively muddy or sharp. With the amount of volume output, this is more than just a personal speaker, and the Monster Nomad can easily entertain small groups of friends.
Regarding battery life, the Nomad does a great job at providing hours of lasting playtime. While Monster rate the Nomad for up to 30 hours of listening, we'd suggest lowering your expectations a little if listening at higher volumes. Still, around 20-25 hours of battery life during traditional listening sessions is impressive.
We'd recommend the Nomad outdoor radio to those who require a bit more volume out of their outdoor radio and those who have an affinity for the outdoors. While water resistance could be better in fair weather, this speaker does great, centered between a group of friends at a park or next to your tackle on your next fishing trip.
Why The Monster Nomad?
The Monster Nomad is best suited as a versatile combination between a jobsite radio and an everyday outdoor radio. It features easy-to-use controls, water protection, and fairly impressive volume compared to most other outdoor radios.
IPX4 water protection
Great battery life
Intuitive controls
Fairly loud for an outdoor radio
The sound quality could be better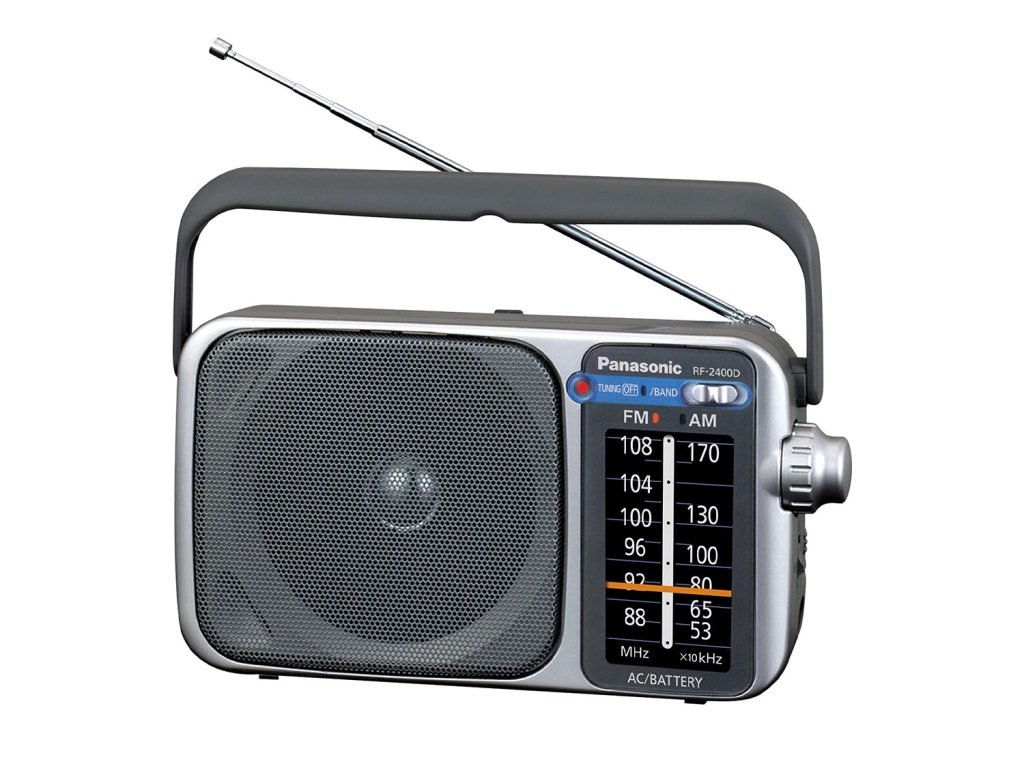 Also available from Walmart

Batteries:
4x AA (Not Included)
The Panasonic RF-2400D is an outdoor radio with a classic old-school design that has remained on the market for more than 20 years, providing itself as a reliable outdoor radio solution. While the EF-2400D doesn't offer any robust protection from the outdoor elements, it instead focuses on providing an extremely affordable solution that performs at a level above its costs.
A Simple Solution To a Simple Problem
We wouldn't recommend the RF-2400D to those looking for a durable and weather-resistant outdoor radio, but we can wholeheartedly recommend it to those who require a simple outdoor radio capable of offering the essentials of an outdoor radio, at an extremely fair price point, in fact, the RF-2400D typically retails for around $25.
In terms of functionality, the Panasonic RF-2400D may not come bundled with bells and whistles. However, you still receive both AM and FM radio frequencies, and with some excellent reception as well. A lot of outdoor radios suffer from offering subpar reception; this isn't an issue with the RF-2400D, which excels in this regard. Being an older speaker, there isn't Bluetooth connectivity or any digital wireless technology.
When it comes to battery performance, the RF-2400D utilizes four standard AA batteries. Thankfully, because this outdoor radio focuses on only the essentials and lacks the advanced features newer speakers offer, even with traditional AA batteries, you can achieve a very reasonable battery performance. Opting for rechargeable 2000 mAH batteries can ensure you get dozens of hours of use before needing to recharge.
Drivers & Sound Quality
The Panasonic RF-2400D features a classic 3.9" (10cm) driver, which is a fairly barebones build, and while you're not going to be getting a nuanced representation of unique sound signature on these outdoor radios, it still offers sufficient sound quality for most users. The bass isn't going to thump, and you're not going to be driving any parties with this speaker.

However, for around $25, you'll have an outdoor radio that can accompany you to any area of your garden, garage or out on a lakeside fishing trip. Just do take note of the lack of weatherproofing.
Why The Panasonic RF-2400D?
The Panasonic RF-2400D excels at its minimalist approach. Not everyone needs a speaker that's loaded with features that they pay for but never use; we recommend the Panasonic to those who have simple needs and are looking for an outdoor radio that's affordable.
Affordable
Simple but effective design
Great reception
Not very loud
No Bluetooth
No water resistance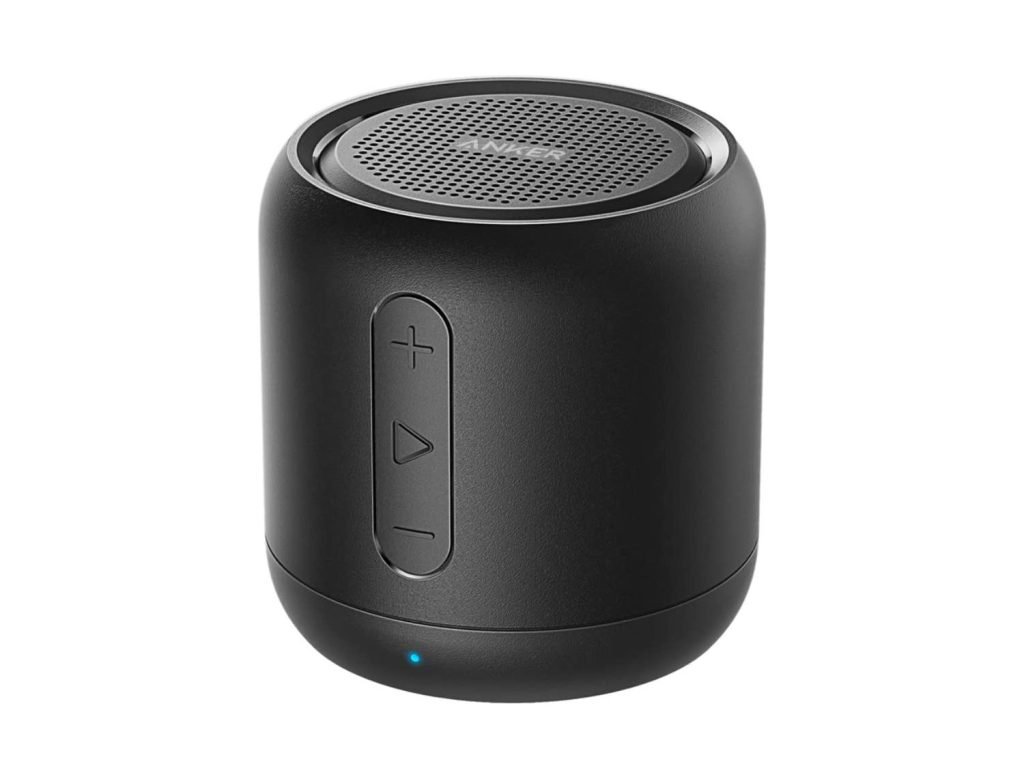 Also available from Walmart

The Soundcore Mini is a speaker that looks closer to a traditional small Bluetooth speaker than a lot of other outdoor radios which focus on more classic radio designs. The Soundcore Mini is small enough to fit in your bag or purse and can easily be carried around. It weighs in at just over 7 ounces. 
This speaker may be a Bluetooth speaker first and an outdoor radio second, but this is something that I've personally found the most appealing way to access FM radio. You get the versatility of a portable Bluetooth speaker while also enjoying its ability to provide FM radio features. We must say, however, that the tuner on the Soundcore Mini isn't the best we've seen, and it doesn't provide a readout of the station you're connected to.

While this isn't too concerning for those who listen to the same station regularly if you find yourself typically bouncing between stations, this outdoor radio may not be the best for your needs.
Limitations in Sound Due To Size
Because the Anker Soundcore Mini focuses on portability, there are going to be some limitations with volume compared to larger and, subsequently, louder options on the market. The Soundcore Mini features a single 5W driver with a passive subwoofer design to enrich the low-end.
While the sound from the Soundcore Mini is impressive for its size and remarkably clear for such a small speaker, it remains a speaker that is best suited for a small group of friends or your own enjoyment, but the volume isn't going to fill up a large room.
Rather, the Soundcore Mini feels at home when placed on the patio table, around the pool, in the kitchen, or when you're out having a picnic.
Battery Life, Connectivity & Weather-Protection
Despite its small size, the Anker Soundcore Mini still provides an impressive 15 hours of battery life from a single charge, but when it comes to weather protection, you're on your own with the Soundcore Mini. There is no water-resistance rating on this outdoor radio, so be sure that you don't require it if you're considering this option. The lack of IP rating means you should keep this speaker away from any water contact, whether it be the rain or the swimming pool.
When it comes to connectivity, given that the Soundcore Mini is now a fairly old speaker, you will unfortunately only get Bluetooth 4.0 and Micro-USB charging with the Soundcore Mini, which means a fairly limited range of around 60 feet and a lack of fast, modern codec support. However, the Soundcore Mini still offers a fair bit of versatility for such a small, affordable choice. It offers an auxiliary input, along with Micro SD card support and a built-in microphone that supports calls.
Even though the Soundcore Mini isn't as robust as some of the other outdoor radios on this list, if you've got a tight budget and not a lot of demand for additional radio features, we can recommend the Soundcore Mini as a cheap and effective solution.
Why The Soundcore Mini?
The Soundcore Mini is the closest thing to a traditional Bluetooth speaker on this list, but it still offers the radio functionality to make this an everyday outdoor radio. If you just want a small Bluetooth speaker that also offers radio, this is a great choice.
Good sound quality
15-hour battery life
Extremely portable
No weather protection
Limited volume
Micro-USB instead of USB-C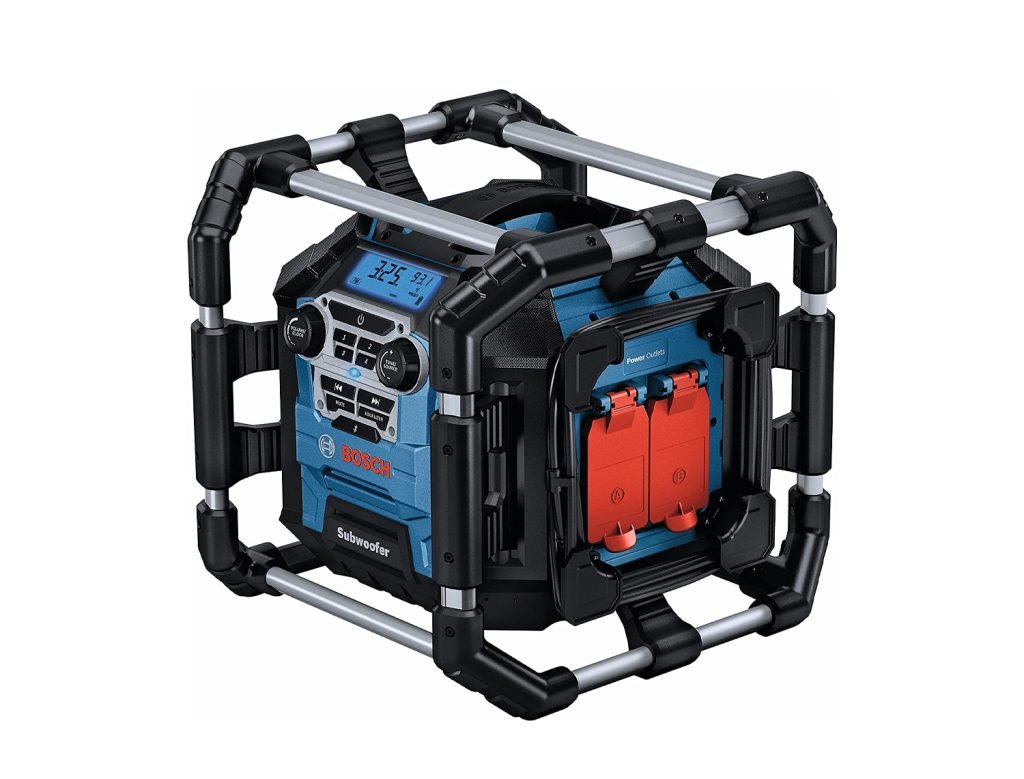 Also available from Walmart

The Bosch GPB18V-5CN isn't the cheapest jobsite radio on the market, but it is one of the most durable and loud options available. Just short of 20 pounds, while this outdoor radio may be a bit large and heavy, the powerful performance and reliability are worth the extra effort in portability.
Design & Durability
The Bosch GPB18V-5CN is a beast of a jobsite radio. It features a roll cage design with aluminum and rubber construction. The roll cage design ensures that your speaker can take a lot of tumbles without suffering damage. We really like how Bosch has layed out the buttons and controls for this speaker, making it extremely easy to control, regardless of how thick the gloves you're wearing may be.
When it comes to the battery, this speaker features two battery options. There is the onboard battery that's included with the product, but it can also be connected to Bosch's 18V Lithium-ion power tool batteries. This is a feature that adds a lot of value, as if the speaker runs out of batteries. You can easily attach one of Bosch's 18V tool batteries to keep the music going.
Connectivity, Features, and Sound
While many of the jobsite radios on the market have been in production for a number of years, we often find that the Bluetooth connectivity offered is not up to par with modern Bluetooth speakers. The Bosch GPB18V-5CN, on the other hand, utilizes Bluetooth 5.0, ensuring you have a good range and improved codec compression.
Naturally, as a jobsite radio – we expect to see radio functionality, and this speaker does well in its radio features. There are four presets for both AM and FM radio, with the radio channel shown on the built-in LCD screen.
When it comes down to the sound, Bosch has ensured that this speaker is able to be heard in even some of the loudest work environments and can utilize up to 40W of power. This power is distributed among four-way speakers along with a subwoofer, which is positioned in such a way that it allows the Bosch GPB18V-5CN to provide a 360-degree sound experience. The subwoofer goes a long way in producing some of that enjoyable low-end that we find missing in many jobsite radios. And if you're not completely happy with the sound signature, you can always use the built-in EQ settings to help customize your listening experience.
There are also several other small but neat features that add to the value of the GPB18V-5CN. The storage compartment for phones is especially useful in the workplace and can provide a safe, reliable location for you and your colleagues to store their phones.
There are also five separate power ports on the speaker. Four 120V AC outlets allow you to power larger devices, while a USB port allows you also to charge your phone.
Why The Bosch GPB18V-5CN?
The Bosch GPB18V-5CN is the ultimate jobsite radio. It's durable, loud, and also sounds good. If you work in a fairly loud environment and require a speaker that can still keep up with your demands but that is easy to control, even with gloves on, the Bosch excels.
Great sound
Quite loud
Durable design
Bluetooth 5.0
Somewhat expensive
Quite heavy
No specified IP/IPX rating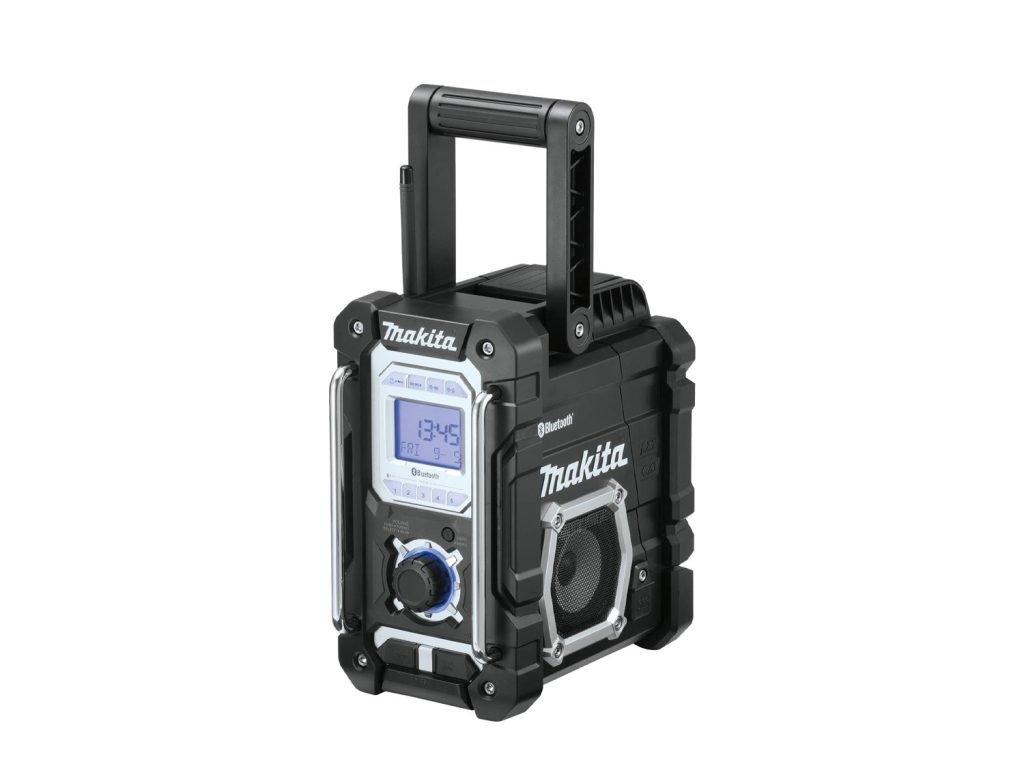 Also available from Walmart

The Makita XRM06B is another one of the few reliable jobsite radios which features all the essentials and a bit more. While the Makita shares a few features with the Bosch, this jobsite radio also brings its own unique offerings to the table in a device that's slightly lighter and smaller but equally as impressive.
Design & Build
We'd consider this a medium-sized speaker at 11.5″ long, 7″ wide, and almost 13″ in height. It weighs in at just over 8 pounds, making it a bit lighter than the Bosch, but still a slightly heavy speaker. Thankfully, Makita has included a carry handle which makes transporting this speaker to your job site much easier.
The XRM06B is made with durability in mind, an essential feature for any jobsite radio. It features both water resistance and dust resistance. While we'd have liked to have been able to quantify the level of protection, it seems more than capable of handling most jobsite conditions.
The buttons are large in size, making this speaker viable for those wearing gloves at work while also being intuitive.
Sound, Features & Battery
When it comes to sound, the volume produced by the Makita is enough to cut through most work environment noise levels, even through some power tools. However, the sound quality and volume are a bit behind that of the Bosch. The Bosch provides more sound in various directions using 360-degree audio, while the Makita features a more standard listening experience utilizing two 3.5″ drivers. However, we do love the fact that this speaker also comes with Bluetooth connectivity.
While there are some sacrifices to be made in the overall sound quality, that's not to say this is a bad-sounding speaker. It just doesn't match up to the clarity and depth of the Bosch, which is understandable, given the price difference.
When it comes to battery life, the Makita doesn't come with a battery included and instead is able to utilize one of many popular tool battery kits, with 7.2V, 12V max, 12V max CXT, 14.4V, and 18V LXT Lithium-Ion batteries all supported by the device. If you use an 18V 5Ah battery, you can expect up to 30 hours of battery life, while a 14.4V 2Ah battery typically gives you between 10 and 14 hours.
Why The Makita XRM06B?
The Makita XRM06B is considered a more affordable alternative to the Bosch GPB18V-5CN. It carries a lot of the same features, though you won't get the same levels of volume and durability – it still holds a lot of merit at its price point.
Affordable
Battery support
Bluetooth
Limited volume
No batteries included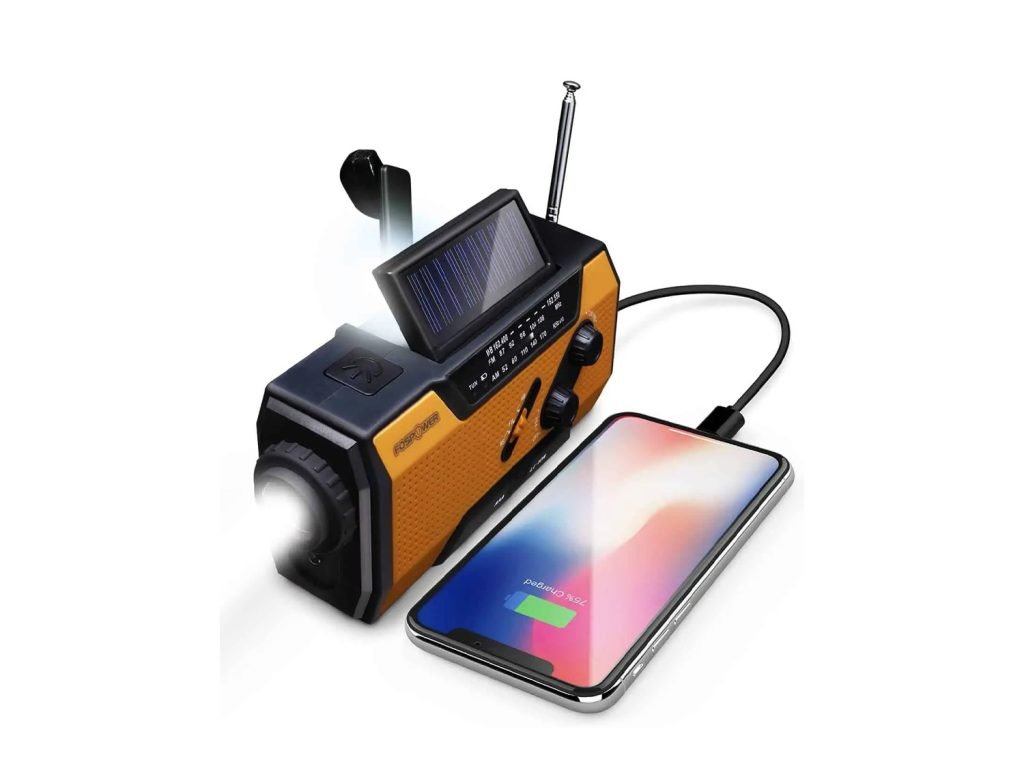 Also available from Walmart

The FosPower Emergency Solar Hand Crank Portable Radio is similar to other emergency outdoor radios in this niche but has a slightly different design. We really like the way that FosPower has developed this emergency radio, as it draws from many of the positives we see in other brands but also goes further in providing improved features and build quality.
Build & Design
While emergency radios tend to feel cheap and vulnerable to the elements, the FosPower manages to provide one of the more sturdy builds we've come across, even at its extremely low price point. The biggest positive change we see with this option is the candid nature of the water resistance, which is actually stated as being IPX3-rated. A lack of IPX ratings on most other devices makes it difficult to judge how versatile their water resistance is without damaging the product finding out.
The design is a bit sleeker and less accented than other brands, which also lends itself well to fitting into smaller carry bags or backpacks. The controls are easy to use and laid out well, so the radio also feels intuitive to use.
Features & Sound
It has a 2000mAh power bank that powers the radio but can also recharge phones, tablets, flashlights, or other devices. The battery can be charged via USB, built-in solar panels, or a hand crank. The radio can also be powered with AAA batteries.
The FosPower receiver will reliably connect you to AM/FM stations in the area or emergency NOAA weather forecasts and hazard alerts. Finally, the FosPower has two light modes a 1W flashlight for use in and around your base and a low-power 4 LED reading light.
This is a great compact emergency radio to take camping or keep around the house if you live in hurricane or tornado areas.
Why The FosPower?
We can recommend the FosPower as an overall quality emergency radio that brings a lot of features to the table in a versatile and easy-to-control way. While it may not have the best sound quality out there, it is still decent for an emergency radio.
Solar charging option
Hand-crank charging option
N.O.A.A alerts
Affordable
The sound quality is not great
IPX3 doesn't protect from most forms of rain
Also available from Walmart
Batteries:
3x AA batteries
Kaito prides itself on the fact that it has been a supplier of emergency outdoor radios to the State Department, the United States Army, the United Nations, the American Red Cross, and other government agencies and NGOs for their humanitarian relief efforts for many years. When you take a closer look at this rugged, versatile outdoor radio, it's easy to see why Kaito has managed to build these relationships.
Build & Design
The Kaito Voyager KA500 represents a classic emergency radio style design. It is compact yet also filled with features. This makes the design appear a bit busy, but the aesthetic qualities of an emergency radio hold little value in their own right. We love that the KA500 comes in multiple color options (Black, Blue, Green, Red & Yellow).
The build quality is a bit of a mixed bag in that the speaker, with fairly thin plastic, doesn't feel particularly premium by any means. But this is pretty standard for these types of emergency radios, as there is clearly a balance being sought between achieving all the functionality into a product that can still be priced affordably, and I'd consider the price point on the Kaito Voyager to be fair for the features it provides.
The button placement and design on the Voyager don't shout quality engineering, but they're easy to use, well-labeled, and aren't impacted much by hand size variation or even wearing gloves, something that can sometimes be a problem when in the cold outdoors. And while the Kaito Voyager is labeled water-resistant, there is no specification provided on the level of resistance. We recommend still taking care to prevent any meaningful water contact.
Sound Quality
Similar to most other emergency radios on the market, the Kaito Voyager sounds 'decent' but would not be able to compete with the audio quality of a modern Bluetooth speaker, for instance. There appears to be a single driver, perhaps around 3″, that drives this emergency radio.
Battery & Features
The Kaito KA500 can be powered in 6 ways. Being able to keep your radio powered and connected during an emergency is the single most important requirement. Without power, it turns into a doorstop. The Kaito has a hand crank generator, flip-up solar panel, a compartment for 3 AA batteries, 5V USB input, 5V AC/DC input with a wall power adapter, and a built-in 600 mAh NiMH replaceable and rechargeable battery pack. The battery doubles as a power bank for your other USB charging devices.
The Kaito comes with seven pre-programmed and numbered weather channels, and tuning to any other frequency is easy, and the controls are extremely accurate. We love the "alert" mode on this outdoor radio that will, when set, automatically switch the device on when it receives an alert signal from any NOAA weather broadcast.
As with most other emergency radios, this one also includes a built-in flashlight, reading light, and LED S.O.S. beacon.
Why The Kaito KA500?
The Kaito KA500 is a popular emergency radio that is often relied on for its combination of emergency alerts and its ability to receive FM/AM radio. It's not the cheapest option, but it does what it needs to when it matters.
Packed with features
Multiple colour options
Quite expensive for what it offers
Sound quality isn't great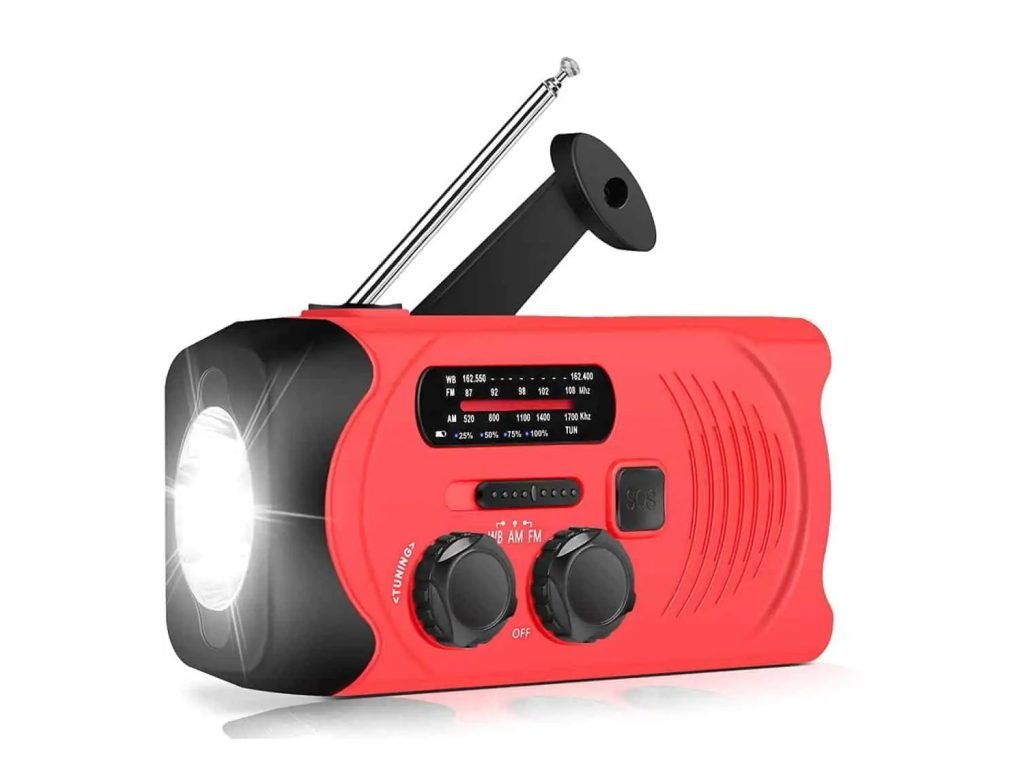 Also available on Walmart
Batteries:
Lithium Polymer
The RunningSnail MD-088P emergency radio is an upgrade of the ever-popular MD-088s model by the same company. The new version has a slightly larger body, but more importantly, the battery has been upgraded to a 2000mAh battery from the previous 1000mAh version, providing you with more assurance when you're outdoors. The solar panels are slightly larger, and they have added battery level indicators (which are really useful).
Design & Build
RunningSnail has not changed much from the original designs, and that's a good thing. This was already a great product, and these improvements are actual improvements while keeping the features that make this one of the best outdoor emergency radios available today. Sure, it doesn't carry quite the amount of bells and whistles that the Kaito does, particularly lacking a solar charging feature. But there are some distinct positives that come from the omission of excessive features, the most noteable of which is the affordability factor. The RunningSnail is typically available for around $25, providing excellent value for money.
As with many emergency radios on the market, the build is not exactly what we'd consider top-tier. While the plastic feels fairly thin, and there is a lack of focus on waterproofing and sealing of components, this is a budget device and should be seen as a solution for low demands.
Reception & Features
AM/FM and NOAA weather reception are crisp and clear, and you can keep track of your local hazard and weather warnings like pending storms or hurricanes.
This outdoor radio includes a 1W LED flashlight that is not the brightest flashlight you'll have but is more than sufficient for emergency situations. A dedicated SOS button will switch on a flashing red light with low power consumption to alert potential searchers or rescue teams of your location.
The RunningSnail MD-088P outdoor radio can be charged either via a USB cable, hand crank, or solar panels. The radio can double as a power bank to charge your phone or other devices in case of an emergency.
Why The RunningSnail MD-088P?
The RunningSnail MD-088P is one of the few emergency radios that features a robust 2000mAh Lithium-polymer battery built in. It carries much of the Kaito features but at half the price.
Affordable
Built-in Lithium Polymer battery
Lots of features
The build doesn't feel very durable
The sound quality could be better
Buyer's Guide – What To Know When Buying an Outdoor Radio
To provide a transparent glimpse into how we've approached these selections, our buyer's guide will help you understand what features we focused on, how outdoor radios may differ depending on the specific type, and what you need to keep in mind when purchasing one.
A Deeper Look At The Types Of Outdoor Radios
The outdoor radio market can be a little complex, and that's because there are so many different iterations of speakers that bring AM, FM, and radio alert functionality, but they also differ vastly in their design and additional features that they bring to the table. For this, we've broken outdoor radios up into three types:
Everyday portable outdoor radios
Everyday portable outdoor radios, for lack of a better term, are devices that are best suited for use on the beach or around the yard. These are, more often than not, portable Bluetooth speakers that double as FM radios. While including an FM or AM receiver into a portable speaker increases the cost and is therefore often left out, there are a fair number of manufacturers who still see the benefit of including this feature into their designs, effectively turning the speaker into an outdoor radio with all the benefits of a Bluetooth speaker.
Our selection of "everyday" outdoor radios focuses on products that deliver great sound and good AM/FM reception and includes some of the features you'd expect to see in an everyday-use music device. These are intended to be used outside, so we're looking for radios with some level of water resistance to enable them to deal with accidental or intentional water splashes and exposure to the elements. We've picked a few that look cool and sleek and will deliver on all these requirements.
Emergency Radios
Emergency radios differ from everyday outdoor radios in a couple of unique ways. First, emergency radios are named what they are because they are able to receive emergency alerts, typically severe weather alerts, from the N.O.A.A. While this tends to limit their usage to American or Canadian residents (depending on the emergency radio), it can prove extremely useful to those in areas prone to severe weather.
Another feature that we sometimes see on an emergency radio is the inclusion of a hand crank that can charge the battery in case of the existing battery power dies in an emergency situation. It should be noted that this feature isn't present on all emergency radios – but does come standard on several models.
Consider Portability
Because emergency outdoor radios are often made to be carried into the wilderness and into areas that may be hard to traverse, if this is your intended usage, keep portability in mind. Dimensions and weight will greatly impact the burden the radio places on you while outdoors.
Sound Quality Challenges
You should only opt for an emergency radio if you will be using it for specific emergency situations. A common mistake people make is thinking that an emergency radio is going to provide them with the same audio quality as a traditional outdoor radio.
Most emergency radios focus on providing features, but very few look to provide good audio quality. If you demand good-sounding speakers in an emergency radio, we recommend separating these needs into two devices because finding a good-sounding emergency radio is tough.
Job Site Radios
Job site radios are rugged, almost indestructible radios designed specifically to enable builders and construction workers to enjoy their favorite radio stations while on the job. Many of these are from well-known power-tool brands as an extension of their product offering and leverage existing technologies like battery power-packs used in other tools from the same brand. They are often designed with large control buttons and "roll-cage" type frames to protect them and make them easy to pick up and move around with gloved hands.
If you're looking for a job site radio, we suggest that you take into account a few essential points when choosing the best option for you:
Do you wear gloves at your job site?
If you often use thick gloves during your work, you'll want to focus on specific job site radios with larger buttons. If you tend to work without gloves, you'll be afforded more options and can often look at traditional outdoor radio options as well, so long as their weather protection aligns with your work conditions.
Is your work environment outdoors or in a dusty environment?
If you work outdoors and in rainy conditions, you'll want to ensure that your outdoor radio offers sufficient weather resistance. Likewise, weather protection, especially against dust, is important when working in dusty environments.
The Complexity of Weatherproofing On Outdoor Radios
While we are used to seeing very specific waterproof ratings on traditional Bluetooth speakers, typically noted using IP ratings, outdoor radios will typically not provide an IP rating. This can make it challenging to know exactly how durable the radio is.
If you're unsure about the weather resistance of your outdoor radio, it can be worth contacting the manufacturer for further clarification. However, in most cases, job site radios should protect from dust, and emergency radios may offer an unspecified level of water resistance.
How We Selected These Outdoor Radios
This list has been curated and changed over the years as we find better ways to represent the best products in this market. When selecting these outdoor radios as recommendations, we selected speakers that fall into the three categories listed above and then further refined the selections to remove products with subpar audio quality, build issues, or other unreliable features.
We also wanted to ensure that the speakers we recommend offer modern features you'd expect in the current years. We've chosen to remove previously recommended products in favor of models that have newer technology, especially when it comes to connectivity.
In turn, the speakers on this list represent the best-performing and most reliable outdoor radios for a broad audience, and we have specified the best-suited uses with each review.
Frequently Asked Questions
What you should know when it comes to outdoor radios
What's the difference between a Bluetooth speaker and an outdoor radio?
While some Bluetooth speakers double as outdoor radios, the difference between the two is that it's possible to have an outdoor radio that doesn't offer Bluetooth connectivity.
What makes emergency radios different from traditional outdoor radios?
Emergency outdoor radios typically focus on receiving severe weather and emergency alerts from the N.O.A.A and others. These are focused more on survival than listening pleasure.
How are job site radios different from traditional outdoor radios?
Job site radios tend to offer higher levels of protection, especially dust protection, as well as having a build that is focused on longevity. Larger buttons are also typically used, so they can still be easily used with gloves on.
What are the different types of outdoor radios?
There are three distinct types of outdoor radios, in our opinion: everyday outdoor radios, emergency radios, and job site radios.
Thanks for your feedback!