Installing speakers inside or outside your home can allow you to listen to music or watch movies anywhere, anytime. From surround sound for watching movies in your living room to the soft music playing on your deck, speakers can be a great addition to any home. While various wireless outdoor speakers are on the market today, you may decide that purchasing cabled speakers is the best style to match your needs.
Recommended Outdoor Speaker Wire: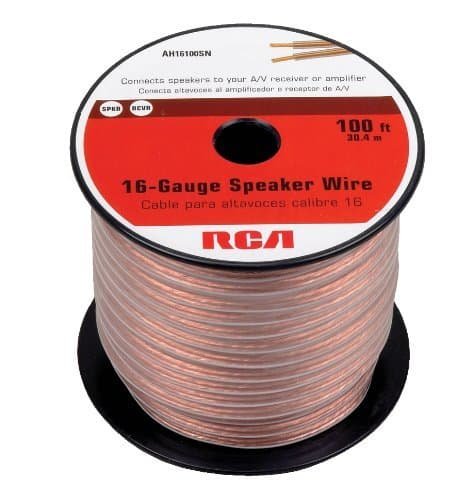 With over 4000 reviews on Amazon.com, RCA AH16100SR 100 Ft. 16-Gauge Speaker Wire is the defacto industry standard for affordable speaker cable. It's available in 14, 16, 18, and 25 gauge sizes and comes with a plastic spool in standard 100 feet lengths.
It can connect any A/V or Amplifier system to your outdoor speakers.
While these are often high-quality speakers, you must run cable wires from your receiver to your speakers. This can be easily done with just a little preparation and planning. One of the most important aspects of running this cabling in your house is choosing the best speaker cables to provide the best sound. Here are some tips when shopping for speaker cables for your home.
High-Quality
As you might expect, the higher quality of the speaker cable, the better the sound quality you will receive. Considering how much money you may have just put into buying your outdoor speakers and the cost of your stereo equipment, you do not want to lose any sound quality due to cheap cables. To find the best speaker cables that are of high quality, there are several things you should look at, including the type of material used, if the cables are shielded, and if the cables offer any special feature to improve sound quality.
Material
Almost all speaker cables are made of copper. This is primarily because copper is fairly inexpensive and is one of the best materials for conductivity. When looking for the best speaker cables, find ones made with copper or oxygen-free copper.
Shielded
Many of the best speaker cables are shielded to provide better sound quality. This means that there is a metal braid that surrounds the speaker cable. This works as a protector for the cables and can block electrical interferences that may be found in your home. This helps improve your speakers' efficiency and consistency and provides a clear, crisp sound.
Sound Quality
Some of the best speaker cables include additional features that help block interferences that can diminish the sound quality of your speakers. For example, Monster XLN12S-18SB Standard Speaker Cables include an XLN feature that provides noise resistance and Monster's special Magnetic Flex Tube that disrupts internal magnetic fields that can distort the speaker's sound quality.
Gauge Size Is Vital
Along with quality, you must purchase the right size gauged cable to meet your needs (see the table below for recommended sizes). This will help you find the best speaker cables for your home. All wire sold in the United States is based on the American Wire Gauge (AWG) system. A wire is rated anywhere from zero to 40 gauge. Speaker wire is typically between 12-gauge and 18-gauge.
| Wire Size | 2 Ohms | 4 Ohms | 8 Ohms |
| --- | --- | --- | --- |
| 22 | 3 | 6 | 12 |
| 20 | 5 | 10 | 20 |
| 18 | 8 | 16 | 32 |
| 16 | 12 | 24 | 48 |
| 14 | 20 | 40 | 80 |
| 12 | 30 | 60 | 120 |
| 10 | 50 | 100 | 200 |
The lower the number gauge, the thicker the wire. This is important because as the sound travels through the wire to your speakers, it can break up and get distorted. The longer the wire is, the greater chance there is this happening.
This means the longer the cable wire you need to connect your speakers, the thicker gauge cables you should purchase. Ideally, if you need less than 80 feet of cable, the best speaker cable gauge you can buy is a 16-gauge wire.
Likewise, 80 to 200 feet of cable requires a 14-gauge wire, and anything over 200 requires a 12-gauge wire. If you plan to install outdoor speakers, a 12 or 14-gauge wire will work best. You may also want to consider purchasing waterproof cable, like Aurum Waterproof PVC, 14-Gauge 2 Conductor Oxygen-Free Pure Copper Speaker Wire.
Cables for Inside Wall Installation
If you need to run the speaker cable through the walls or ceiling of your home, you should purchase a special cable designed for in-wall use, like the Monster CL1 Pro 14-2/500, 14-Gauge 2-Conductor In-Wall Speaker Cable.  These will be UL-rated speakers rated CL1 (class 1) or CL2 (class 2).
This rating means they are among the best speaker cables and have been approved by Underwriters Laboratories. To obtain this rating, the cables must pass a series of tests to ensure it meets all fire safety standards. Since this will be in your home's wall and/or ceiling, you should use this type of cable to protect your home and your family.
Cables for Underground Installation
If you are installing outdoor speakers, you may want to install the cables to your speakers underground to keep them out of the way. You must use a direct burial speaker wire, like the JSC Wire 12-Gauge AWG Direct Burial Speaker and Lighting Cable.
This cable has a special coating that protects the wiring from water damage. This can help make your cables last longer and keep the sound of your speakers consistent.  Some underground cabling, like the Phoenix DB Link SW12G25OZ, 12-Gauge Blue Speaker Wire, is a special bright color to make it easier to find if you need to pull it up later.
Length
Before purchasing cables to connect your speakers, you must measure the area and see how much cable you need. Measure along the walls or ceiling and around the corners if necessary. You want to keep the wiring you need to a minimum because a longer cable can directly affect the quality of your speakers. If you think you will require more than 100 feet of speaker cable, try to rethink your design and see if there is a way you can run your wire that requires less cable. This will help you get the best speaker cables for your system.
Selecting the Best Speaker Cable Conclusion
When looking for the best speaker cables, you must take your time and find the right cables to meet your needs. While the quality of your speaker cable is very important, it is equally important to purchase cabling that matches your specific speaker specifications.
First, you must determine what type of cabling you need, how much you need, and how you plan to run the cables from your receiver to your speakers. Then you can start looking for the best quality speaker cables available.
Thanks for your feedback!