The Zulu Audio Alpha Wearable Bluetooth Speakers combine the mobility of headphones without obscuring your surroundings. There are various headset options available for athletes who want to fuel their workout with music, but these tend to block out background noise which could at times be very dangerous.
The Alpha's are magnetic speakers that attach to your clothing, so you can enjoy your workout while still feeling safe when running or cycling in busy areas. Alternatively, forget the days of carrying around a boombox on your shoulder, these hands-free speakers offer a much lighter option that lets you bring the party to whoever is around you.
Full Specifications
| | |
| --- | --- |
| Product Dimensions | 25.8" x 1.9" x 0.8" |
| Product Weight | 7.9oz |
| Battery Life | 4 hours |
| Battery Type | Lithium-Ion |
| Charge Time | 2.5 hours |
| Charge Type | Micro USB |
| Standby Time | 7 days |
| Waterproof Rating | IPX4 |
| Bluetooth Version | 4.1 |
| Range | 17ft |
| Microphone | Yes |
| Frequency Range | 2402 – 2480 MHz |
| Frequency Response | 40 Hz – 20 kHz |
| Power Output | 5V 1A |
| Power Input | 2W x 2 |
| Operating Temperature | -10℃~40℃ |
| Color | Black or White |
Zulu Audio Alpha – Design
The Zulu Audio Alpha are disc-shaped speakers that measure around 2 inches in diameter, and about half an inch thick. They are relatively lightweight at approximately 75 grams making them comfortable and easy to wear. Both speakers have the Zulu Audio logo imprinted on the surface and are bound together via a plastic cable. The cable used to connect the speakers is adjustable and can be slid up and down to shorten the length to acquire a proper fit.
The front face of each speaker bears resemblance to a golf ball with holes punched all the way through to allow sound to really resonate. The right speaker holds all the controls which are: a power / multi-function button; and a volume up / down control. Also found on the right speaker is a Micro-USB charging port, LED light and a small microphone. The left speaker is plain and devoid of any buttons and features. The back of each speaker is flat and encompasses the detachable magnets.
The Zulu Audio Alpha includes a small carrying case which measures 4.25 inches long, 3 inches wide, and 1.25 inches thick. The case is fabric wrapped and offers sturdy support to protect your speakers when not in use. The Alpha's fit inside effortlessly, with the one side of the case being mesh to store your charging cable and extra magnet, and the other side to hold the speakers themselves. Aside from case protection, the speakers have an IPX rating of 4, which means they can withstand sweat, rain, and splashes from all directions. The Zulu Audio Alpha speakers are available in white or black.
Ease of Use
Most Bluetooth devices are relatively straight forward to use these days with easy instructions, the same can be said for the Alphas. The version of Bluetooth installed onto your device will, therefore, determine the quality of audio, and the distance you can separate your smartphone and speaker. The Zulu Audio Alpha comes with Bluetooth version 4.1 which adds less energy consumption and distances of up to 60 meters.
The speaker's setup is pretty simple, turn it on and the pairing process will begin. This is done by pressing the multi-function button for a few seconds when the device is off. The LED lights should then turn blue and red which means the speaker is ready to pair. Next, find "Zulu Audio" on your smartphone in the available Bluetooth devices and you're ready to go.
Playback is also standard. You can skip to the next track by holding down the volume + button for a couple of seconds, and go back to your previous track by holding the volume – button. The multi-function button provides additional features that also allow you to play and pause your music, answer and decline calls, and redial your last number. An incoming call will pause the music on your Zulu Audio Alpha Bluetooth speakers, and the music will resume once the call ends.
Wearing the Speakers
The wearable part of the Zulu Audio Alpha speakers is just as easy as the technical aspect. To get yourself started, remove the magnetic disc from the back of each speaker and place the speaker cable around your neck with the two speakers hanging on either side. Adjust the speaker cable accordingly so it fits comfortably around your neck and is positioned correctly for whatever activity you're about to do. The next step is to reach under your shirt and place the magnetic discs behind each speaker. The speakers should then magnetically lock to the discs creating a firm hold that will stay in place.
The instructions state that you should wear the speakers around your neck, but you can technically wear them on any part of clothing. An additional option is to secure them on any magnetic surface or use them around the house and car. Seeing as the Zulu Audio Alpha speakers have an IPX 4 rating, you could possibly hang them on your shower rod and listen to music while you're in the bathroom because they're also water-resistant.
It should be emphasized that the magnets are very strong and have no issues with staying in place. Activities such as running and cycling have shown to have no effect on the movement of the speakers, so we can, therefore, assume the build quality is of a relatively high standard.
Sound quality
Sound quality is definitely one of the major factors when choosing a speaker. Yes, a speaker with cool features and an innovative design might grab your attention, but you need your audio device to perform its basic function reasonably well. The Zulu Audio Alpha Wireless Speakers sound great, but mitigating factors can influence the clarity and loudness of your experience. When used correctly the Alpha's produce clear and crisp sound high notes and a respectable midrange. Most companies advertise their product frequency range as a key selling point, with most of us only knowing it relates to sound quality in some form.
Frequency response is measured Hertz, and generally the wider the range, the better probability your speakers will be able to reproduce the audio as it was intended. In a normal song, the bass is heard around the 20 Hz to 250 Hz range; instruments and vocals reside in the 250 Hz to 4 kHz range, which is the mid-range; and the remaining level of frequency is for the treble. The Alpha's have a frequency response of 40 Hz to 20 kHz. One would, therefore, assume the device should tick all the checkmarks for every type of music, however, this is not always the case. The wireless speakers innovate design has some drawbacks in some areas.
The speakers do sound great, but you cannot always hear the audio perfectly because of surroundings. The product is advertised as an excellent option for athletes on the go and it certainly performs the function in quieter environments. They sound just fine when cycling or running on the side of the road. The trouble comes however when you are in very busy areas like the highway with the sound coming in all directions.
Speaker Placement
Unlike headphones, the sound waves aren't being directly pushed into your ears, but most likely in a much broader direction. This can cause some of the music to be drowned out by loud noises, even when listening to the speakers on full volume. There is a simple solution to the aforementioned problem: wear the speakers as close to your ears as possible, preferably around the collarbone region. This solution seems blatantly obvious to some, but others may enjoy keeping their speakers on other parts of their bodies. So take this into consideration when you decide which area you're about to head into and, where you should position the Alphas.
The speaker also has a call function, and reception quality again depends on where you are. Like a smartphone, if you're in a quiet area, the other person should hear you just fine, whereas in busy areas you may have to speak up in order to be heard clearly. The microphone quality is clear though, and there are no remnants of static or interference when making calls.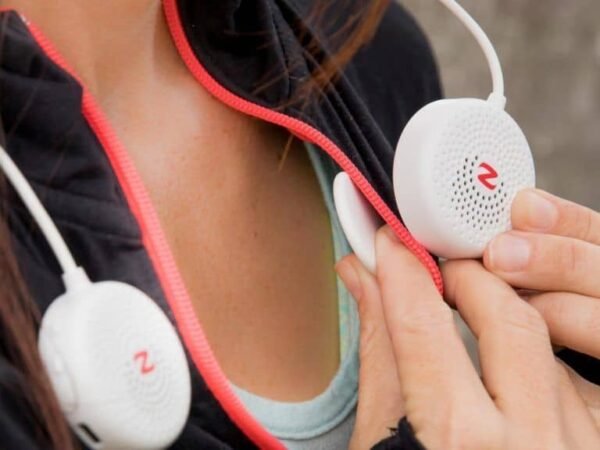 Battery life
The Zulu Audio Alpha Wireless Speakers are charged via a micro-USB connection which is included. A typical full charge will take around two and a half hours to complete and your device should be usable for the next four hours. When the battery is depleted, a red LED will begin to flash and this will indicate you need to recharge the speakers. These numbers can vary as it is shown that listening to your device at lower volumes can extend battery life. Again, depending on where you're listening to the speaker, you might be forced into keeping it at high levels.
What's in the box?
Zulu Audio Alpha Wearable Bluetooth Speakers
Micro-USB to USB Charging Cable
Carry Case
Cable Tie
3 x Magnets
Instruction Manual
Get Started Guide
Zulu Audio Alpha – Conclusion
The Zulu Audio Alpha Wearable Bluetooth Speakers are a really creative device suitable for just about anyone. The design is catered to safety and provides an IPX 4 rating ensuring durability. The Zulu's are also easy to use and pair effortlessly with your smartphone device. Sound quality is good, but background noise can depreciate volume levels if the speakers are not situated close to your ears. Battery life can be improved upon but can be increased depending on the volume level when playing music. Overall the speaker provides a great hybrid combination for headphones and speaker enthusiasts.
What We Like:
What We Don't Like:
Thanks for your feedback!