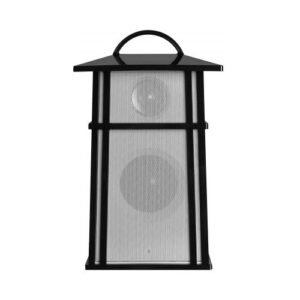 The popularity of outdoor speakers has grown immensely over the past several years. Thousands of people are realizing that they can take their music outside with them by installing speakers outside that connect to their stereo system or iDock inside. Families, in particular, have been able to create outdoor movie theaters right in their own backyard, with a projector, screen and high-quality outdoor speakers. For easier installation, many people are deciding to purchase wireless outdoor speakers rather than wired speakers.
Note: Some of the speakers discussed and listed here make use of traditional wireless audio transmission (not necessarily Bluetooth).  They all can be mounted outside and use battery or wired AC / DC power. They are meant as a permanent wireless outdoor audio solution.
Alternatively, you might be looking for:
Our Selection of The 5 Best Wireless Outdoor Speakers:
While there are many great speakers on the market today, a few stand above the rest. Below is a look at the top five wireless outdoor speakers that have a great sound quality, are durable enough to withstand the weather elements, and come at a good value.
Dimensions
13.9″ x 7.4″ x 8.4″
The Portable Wireless Speaker from Acoustic Research is pretty much what it says on the tin. It's fairly portable, thanks to weighing a mere 9 pounds, and measuring 7.38 x 13.88 x 8.38 inches (D x H x W). The enclosure resembles a lantern, and it comes in two flavors – Main Street and Mission Style. Both feature a handle where a real lantern would, so as to allow you to carry it around with you, or hook it on a nail, tree branch, or whatever protrusion seems promising.
The offer includes a single speaker and a transmitter, which is the heart of everything. It (the transmitter) allows you to connect multiple units at the same time, wirelessly, of course, to make your own acoustic environment. Moreover, it comes with 3 selectable broadcast frequencies to allow the best possible reception. As far as the range goes, it doesn't require a line of sight and should give you about 150ish feet of range. It can operate either on 6 AA batteries or via an AC/DC power adapter. If the former, you should get up to 12 hours of continuous playtime.
The downsides, or rather, limitations, are threefold. For a start, the speaker operates on 900MHz. This, in turn, limits the quality, making it not quite HD, but still great, comparable to FM. Secondly, the sound will become slightly distorted if you crank the volume all the way up, but that's ok, as even on medium the speaker pumps out strong tunes. Third, and final point is that you may get interference in areas crowded with other wireless devices. Then again, using portable speakers in an area where there is lots of tech kind of defeats the purpose.
Available at: Amazon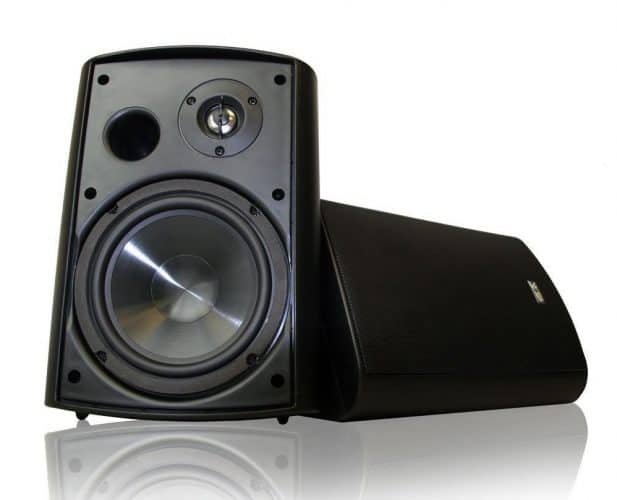 Dimensions
11.8″ x 7.5″ x 8.5″
The BT Blast Pro speaker pair by Sound Appeal is one of our top choices for best wireless outdoor speakers.  These speakers, like a lot of modern wireless outdoor speakers, utilizes Bluetooth technology and therefore music can be streamed from any Bluetooth enabled device like an iPhone or tablet from as far as 60 feet away.  As with all the other speakers discussed in this article, these speakers are intended to be mounted as permanent outdoor features on your patio or outdoor living area.  They are not intended to be used as lightweight portable outdoor speakers.
The shell of the speaker is weatherproof and made of a strong ABS material that will not fade in sunlight due to its UV resistant qualities.  The casing itself is designed to enhance the natural sounds from the high-quality speakers by suppressing any unnecessary resonance.  The speakers produce great sound quality at almost any volume level.
Sound Appeal has improved their 6.5″ woofer. Made from polypropylene it delivers some beautiful deep bass sounds and clear vocals.  To compliment this sound they've added a 1″ tweeter which does an exceptional job at taking the edges off those high notes and helping produce a wheel balanced and rounded overall sound experience. Finally, a high-efficiency Class D design internal amplifier delivering 2x40W RMS completes what is a great set of speakers that we can highly recommend.
Available at: Amazon
Dimensions
19.3″ x 9.0″ x 12.8″
Despite the long-winded name, the Mutant MIG-WS2-S Media Block Deluxe Weather-Resistant Wireless Outdoor Stereo Speaker System is simple to explain. All you have to do is look at the name itself. For starters, the enclosure is a stylish, sleek and sturdy piece of weatherproof plastic. True enough, it will handle a drizzle, sun, and the wind, but the design defies everything you might've come to expect from outdoor speakers; instead of trying to blend in, the MIG-WS2-S goes completely opposite – the speakers look so good that they can easily make for a great centerpiece.
Secondly, the speakers come with a wireless transmitter and remote control. Now, while the transmitter is excellent, the remote is not quite up to scratch, to be honest. Namely, there's one thing to keep in mind when placing the speakers – if they're not next to each other, the remote will affect only one at a time. Still, the system features an advanced proprietary scanning system – the Automatic Phases Lock Loop, which does an admirable job of minimizing signal interference. This makes the system great for indoors, as well as outdoors. This, arguably, would also make for the main selling point of this rig.
Speaking of the connectivity, the system is compatible with a wide range of wireless devices, as well as stereo systems, TVs, MP3 and CD players, as well as computers that are equipped with a 3.5mm audio output jack. Sound-wise, the diffusion plate built in the speakers enables them to equally distribute sound waves, which allows them to pump out the tunes at greater distances without losing on the sound quality.
If you're looking to get the best bang for the buck, then look no further.
Available at: Amazon
Dimensions
8.5″ x 8.5″ x 8.5″
The iFinity Wireless Speakers are the ideal thing for an audiophile who prefers cranking the volume all the way up. Whether it's an outdoor party, or just an attempt to annoy the neighbors from 2C who keep you awake all night, these puppies will pump out a powerful sound with an incredible amount of clarity. They work best in large spaces, though, so the first hypothetical example would be preferable. All this is possible thanks to the built-in amps that provide ear-splitting sound with virtually no distortion or clipping.
The system features a massive and rugged enclosure that comes in two flavors – black and white. More importantly, the enclosure is water-resistant, so you can organize that patio BBQ cook-off without fearing rain or accidental splashes. Each individual speaker weighs about 4.8 pounds, which makes it portable enough. On a similar note, the footprint is also almost negligible, with individual speakers measuring a neat8.5 x 8.5″ x 8.5″ (H x D x W).
As far as the range goes, these babies rock an improved wireless receiver that enables you to connect from as far as an impressive 600 feet, if unimpeded. Better yet, it can disregard any walls or ceilings, as well any potential interference from other wireless devices, courtesy of a sophisticated proprietary frequency hopping scheme. One downside is that the range drops sharply to about 150 feet if there are "less than optimal" conditions, in terms of obstacles. On the flipside, though, the sound will travel uncompressed, which further means true to life (as possible as it can be) sound quality. Speaking of which, you're guaranteed to have quite a deep bass response, as well as crystal-clear highs and a full-bodied midrange, thanks to the 5-inch woofer and a 1-inch tweeter.
Available at: Amazon
Dimensions
11.5″ x 6.0″ x 15.5″
The C2G Wireless Stereo Speaker is designed to be used as a part of either a mono or stereo system. Speaking of which, the system comes with a single speaker, which, as noted can be used in either Stereo or Mono mode, but to have a stereo playback, you need to purchase another separate speaker. This is a curveball right off the bat for someone who wants a stereo system and no complications, but it's palatable once you get to know the qualities of the product.
The rest of the set includes a transmitter and remote control. All you need to do is plug in your media platform of choice – whether it be an iPhone, iPod or iPad, desktop, stereo, MP3 or CD player (basically anything with a 3.5mm audio output), and enjoy a rich, full-bodied sound, with crisp highs, creamy mids, and tight lows. As far as the range goes, you can set your speakers up to 150 feet away and completely disregard any walls or ceilings, as the transmitter is fully able to break through.
One major drawback, however, is the fact that when the speakers are in use, the transmitter will kill your WLAN (Wireless Local Area Network, for those not in the know), which cuts off wireless internet access to every and any device in the vicinity using this type connection. The problem can't even be solved by unplugging the speakers, but you have to hard-reboot the router itself to be able to use the network again.
Available at: Amazon
Wireless vs. Bluetooth – Do They Differ?
The fairest answer to the question would be yes and no at the same time. Think of it this way – every Bluetooth is a Wireless, but not every Wireless is a Bluetooth. Makes sense? Don't worry, many folks get confused over it, so we'll discuss it in more detail, concentrating on differences. Just keep in mind that Bluetooth is a type of wireless technology, so there's no wiring included, but you do need the hardware for it.
For a start, wireless devices are fewer in numbers. Whereas Bluetooth is present in most of today's smartphones, tablets, laptops and desktops, the case is not the same for wireless. On a similar note, pairing up two devices is much more convenient with Bluetooth, as Bluetooth doesn't care about the manufacturer. On the other hand, wireless receivers usually come with a name brand device, which means they pair with only other brand devices or even that single device.
Moreover, Bluetooth devices are able to connect with a greater range of devices at the same time. Primary devices that use Bluetooth are cell phones, computer mice, and keyboards, as well as activity trackers and a whole range of office and industrial devices. Conversely, the primary devices that use wireless connection are notebook, laptops and desktops, as well as all the latest cell phones, and, of course, smartphones (yes, there's a difference, on a par with the one we're discussing here).
And that's where Bluetooth's edge ends and Wireless takes over.
On a first glance, it's plainly visible that wireless connectivity has, at worst, a range on par with Bluetooth, and at best, much greater. For example, the usual range of a Bluetooth device is about 30ish feet, whereas, for Wireless, that's only the minimum range. If you're using an 802.11b/g WLAN device, the typical range for indoors is around 30 feet, and up to thrice that outdoors, in optimal conditions (meaning nothing's standing in the way. A device with 802.11n WLAN has an ever greater range, which you can enhance significantly by using antennas, as well.
Wireless also has an edge over Bluetooth in terms of the frequency range, bandwidth, and bit-rate.In regards to the first point, whereas wireless operates on 2.4, 3.6 and 5GHz radio frequencies, Bluetooth is limited to 2.4GHz. This, naturally, affects the range, bandwidth, and speed. Secondly, wireless provides you with much better bandwidth, going up to 11Mbps, whereas Bluetooth rates at about 800Kbps. This, of course, affects the bit-rate, which is more important for the topic at hand – speakers (bandwidth is commonly used in reference to networking, and bit-rate for media transfer). For wireless, the bit-rate can go up to 600Mbps, while for Bluetooth, it won't go over 2.1Mbps. Is there a practical difference? Well, yes, as the device will have to compress the data to reduce the bit-rate, which affects the fidelity of the audio.
One final note before actually concluding this section – wireless devices will tend to have higher power consumption than their Bluetooth counterparts. This will, obviously, affect the longevity of the batteries, if it's a portable device, and portable speakers tend to fit the bill. Even so, most batteries, AA and built-in Li-ion (or whatever type you come across) will give you at least an afternoon of continuous tune time.
So, on a balance, would it be better to get a Wireless or a Bluetooth speaker? Honestly, it depends on your needs, as with most any product. For better range and true audio fidelity, go for the Wireless type, but if you'd like longer playtime between charging and wider compatibility range, you might prefer Bluetooth.
Benefits of Wireless Outdoor Speakers
In addition to easy installation, many people prefer wireless outdoor speakers because they do not involve any wiring that can be unattractive and a risk to small children and pets if left lying on the ground.
Wireless speakers are also very portable and you can easily pick them up and move them to different locations, whenever you want. This allows you to use your speaker both indoors and outdoors if you choose. The lack of wiring also allows you to place or install the speakers anywhere in your backyard that you want to; even in there is no electric outlet.
Types of Outdoor Speakers
If you are considering purchasing wireless outdoor speakers, it is a good idea to first understand the different types of speakers available. There are wireless speakers that are very portable and can just be brought outside and placed on a table. There are other types of speakers that can be mounted on the walls of your home, deck or garage.
This makes the speakers available whenever you want to use them. If you are concerned about mounting the speakers to your home or garage, you can purchase in-ground speakers. This type of speaker has a stake the goes into the ground to keep it secure and only part of the speaker sticks out from above the ground. If you prefer your speakers to go unnoticed in your yard, then you can use rock speakers that actually look like real rocks and blend in with the landscape of your outdoor space.
Connection Types
| Type | Description |
| --- | --- |
| RCA Adapter | Allow for the connection of RCA cables to the speaker system. |
| Auxiliary Input | Allow for the connection of another device to the speaker system. |
| iPod / iPhone / iPad Dock | Allow the speaker system to read and play audio from popular smart devices. |
| Home Theatre | Speaker system specifically designed to work with home theater system |
Things to Consider
Once you know what type of speakers you want to purchase, you want to take a closer look at the various speakers available on the market. There are several different specs and features you should consider each different model of wireless outdoor speakers. Below is a look at the top five things you should compare when shopping for the right speakers for your outdoor area.
Durability
Since your speakers will be used for the outdoors, you must make sure it can withstand all of the weathers damaging elements. High-quality outdoor speakers will specify that it is an all-weather product. This means that the speakers can remain outdoors during various types of weather, such as rain, hail, and snow, and still work great when using it. The speakers should have a protective covering that will ensure that it remains undamaged during bad weather.
Sound Quality
The sound quality may be the most important aspect to consider. After all, if the wireless outdoor speakers do not sound good, then you will not want to use them. You should check several specs and features with each speaker to make sure it will produce great sound quality, such as wattage (power), frequency response (pitch), sensitivity (efficiency) and woofers (bass).
Compatibility
It is crucial that the outdoor speakers that you purchase are compatible with the stereo, projector or other electronics that you want to connect to it. You must check this aspect out before purchasing any speakers, or you may be stuck with a product that you cannot use.
Warranty
You also want to see if the speakers come with a warranty, and if so, what is covered and how long it is. Since these speakers will be used outdoors, this is a fairly important feature to look for in each product. Companies that offer a warranty with their products are stating that they stand behind the quality of those products.
Review
Sometimes the best way to determine the quality of the speakers is to see what other users are saying. See if the speakers are getting good reviews and if there are any complaints about the speakers. This may help you narrow down your selection to find the right wireless outdoor speakers for you.
Finding the Right Speakers for You
Whether you choose one of the top-rated wireless outdoor speakers listed above or find another option, is entirely up to you. Just make sure you look at all the features that the speakers include before making your decision. Take your time when comparing different brands and models and consider how you want to use these speakers. This should help you find the right set of speakers that work great for you.