If you're reading this article chances are you were looking for a "wireless outdoor speaker" of sorts. Here at Outeraudio, we've reviewed and looked at almost every kind of wireless speaker you can imagine, and we've come to understand that people mean different things when they mention wireless speakers.
What does wireless mean? We're assuming it has to utilize some sort of wireless connection technology like Bluetooth, WiFi, or RF. Does it also have to be wireless in that it has a battery, or can it still rely on AC/DC power? Or maybe you're looking for a solar outdoor wireless speaker? Today, Bluetooth and Wi-Fi are dominating the market as connectivity technologies and we will focus on those to help you choose the best wireless outdoor speaker for your needs.
In this Article:
Wireless Outdoor Speaker Selection Tool
To simplify your decision process, use our selection tool below, answer two simple questions and we'll tell you which speaker we recommend for you.
Wireless Outdoor Speaker Trends
One of the biggest trends we're seeing is more brands offering lantern wireless outdoor speakers. These speakers often incorporate LED lighting to help set the mood in your garden. Setting these to white can also offer some practicality like lighting up the area around the BBQ to see when the meat is done or lighting up a pathway. Wireless lantern speakers are great because they come with a handle allowing them to hang wherever it's needed.
TOP TIP: A cost-effective solution for hanging your lantern speaker is using an existing pot plant hanger. If you don't have one, you can pick them up on Amazon for under $10. Cheaper than most speaker brackets for sure!
Battery life is also improving significantly. Previously, 7 to 10 hours was considered a good battery life for a wireless speaker, now there are models offering 20 to 30 hours! Power banks are also common allowing you to charge your mobile to keep the party going longer.
Multi-speaker features are also very common. Most brands offer a stereo configuration. However, you can get multi-speaker setups to create an awesome distributed wireless outdoor speaker system.
Sound has also improved a lot in outdoor speakers. Bluetooth outdoor speakers, in general, have always sounded a little boxy in the mid-range. While this hasn't changed a great deal, the bass response and overall intelligibility of the speakers have improved. This means you can enjoy better audio clarity at lower volumes. Good for your neighbors and your ears!
Your Buyer's Guide to Wireless Outdoor Speakers
If you're still unsure which wireless outdoor speakers are best for you, read through our comprehensive buyer's guide. We've researched consumers' frequently asked questions and put everything together below.
Wifi Outdoor Speakers vs. Bluetooth Outdoor Speakers
For a start, Wifi enabled wireless devices are fewer in number. Whereas Bluetooth is present in most of today's smartphones, tablets, laptops, and desktops, the case is not the same for WiFi. Similarly, pairing up two devices is much more convenient with Bluetooth, as Bluetooth doesn't care about the manufacturer. On the other hand, Wifi receivers usually come with a name-brand device, which means they pair with only other brand devices or even that single device.
Moreover, Bluetooth devices can connect with a greater range of devices at the same time. Primary devices that use Bluetooth are cell phones, computer mice, keyboards, activity trackers, and a whole range of office and industrial devices. Conversely, the primary devices that use WiFi wireless connections are notebooks, laptops, and desktops, as well as all the latest cell phones and, of course, smartphones (yes, there's a difference, on par with the one we're discussing here).
And that's where Bluetooth's edge ends and WiFi wireless takes over.
At first glance, it's visible that WiFi wireless connectivity has, at worst, a range on par with Bluetooth and at best, much greater. For example, the usual range of a Bluetooth device is about 30ish feet, whereas, for WiFi wireless, that's only the minimum range. If you're using an 802.11b/g WLAN device, the typical WiFi range for indoors is around 30 feet, and up to thrice that outdoors, in optimal conditions (meaning nothing's standing in the way. A device with 802.11n WLAN has an ever greater range, which you can enhance significantly by using antennas.
WiFi also has an edge over Bluetooth outdoor speakers in frequency range, bandwidth, and bit rate. Regarding the first point, whereas WiFi operates on 2.4, 3.6, and 5GHz radio frequencies, Bluetooth is limited to 2.4GHz. This, naturally, affects the range, bandwidth, and speed. Secondly, wireless provides much better bandwidth, going up to 11Mbps, whereas Bluetooth rates at about 800Kbps.
This, of course, affects the bit-rate, which is more important for the topic at hand – speakers (bandwidth is commonly used for networking, and bit-rate for media transfer). The bit rate for wireless can go up to 600Mbps, while for Bluetooth, it won't exceed 2.1Mbps. Is there a practical difference? Well, yes, as the device will have to compress the data to reduce the bit rate, which affects the fidelity of the audio.
One final note before actually concluding this section – WiFi wireless outdoor speakers will tend to have higher power consumption than their Bluetooth counterparts. This will affect the longevity of the batteries if it's a portable devices, and portable speakers tend to fit the bill. Even so, most batteries, AA, and built-in Li-ion (or whatever type you come across) will give you at least an afternoon of continuous tune time.
So, on balance, would it be better to get a WiFi or a Bluetooth speaker? Honestly, it depends on your needs, as with almost any product. For better range and true audio fidelity, go for the wireless WiFi type, but if you'd like longer playtime between charging and a wider compatibility range, you might prefer Bluetooth.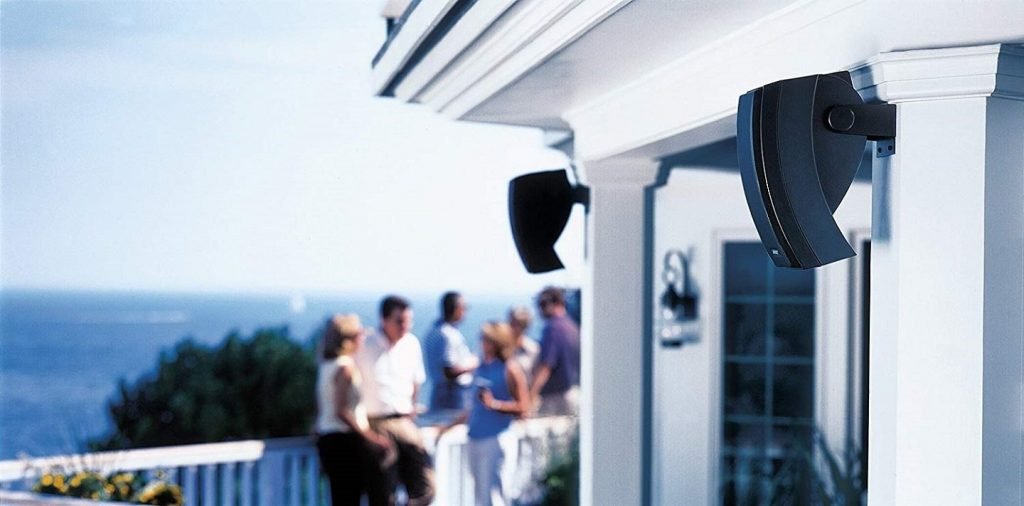 Benefits of Wireless Outdoor Speakers
In addition to easy installation, many people prefer wireless outdoor speakers because they do not involve any wiring that can be unattractive and risk to small children and pets if left lying on the ground.
Wireless speakers are also very portable, and you can easily pick them up and move them to different locations whenever you want. This allows you to use your speaker both indoors and outdoors if you choose. The lack of wiring also allows you to place or install the speakers anywhere in your backyard that you want to, even if there is no electric outlet.
The Downside of Wireless Outdoor Speakers
While wireless outdoor speakers are awesome, there are some drawbacks people often overlook in their excitement for a cabless installation. The first issue is the speaker's greatest selling point. They're wireless. This is great for eliminating cables but bad if you plan a permanent installation.
Wireless speakers have built-in batteries and need to be recharged. This is why it's not practical to install these in your home permanently. However, there is a simple trick if you want to install the speakers and not move them. After or before every use, run an extension lead to the speaker and charge using the power supply. Once the speaker is charged, you can put the extension lead away. It's a bit of a hassle to do each time, but if you purchase speakers with good battery life, you won't have to charge the speakers very often.
Types of Outdoor Speaker Systems
If you are considering purchasing an outdoor speaker system, it is a good idea to understand the different types of wireless outdoor speakers available. There are Bluetooth outdoor speakers that are very portable and can just be brought outside and placed on a table. Other types of speakers can be mounted on the walls of your home, deck, or garage.
This makes the speakers available whenever you want to use them. You can purchase in-ground speakers if you are concerned about mounting the speakers to your home or garage. This type of speaker has a stake that goes into the ground to keep it secure and only part of the speaker sticks out from above the ground. If you prefer your speakers to go unnoticed in your yard, then you can use rock speakers that look like real rocks and blend in with the landscape of your outdoor space.
Things to Consider
Once you know what type of speakers you want to purchase, you want to take a closer look at the various available speakers. There are several different specs and features you should consider for each different model of wireless outdoor speaker. Below is a look at the top five things you should compare when shopping for the right speakers for your outdoor area.
Durability
Since your speakers will be used outdoors, you must ensure they can withstand all the weather's damaging elements. High-quality outdoor speakers will specify that it is an all-weather product. This means that the speakers can remain outdoors during various types of weather, such as rain, hail, and snow, and still work great when using it. The speakers should have a protective covering to ensure it remains undamaged during bad weather.
Is Your Outdoor Speaker System Waterproof?
One of the most important features of outdoor speakers is whether or not they are waterproof. Most wireless outdoor speakers carry a splashproof rating of between IPX4 to IPX6. Here is a breakdown of what those waterproof ratings mean:
IPX4 – the speaker is protected from splashes from all directions. Ok, for use around the pool but not in the shower.
IPX5 – the speaker is protected from water sprayed from all directions. Ok, to use in the shower, rain, and around the pool.
IPX6 – the speaker is protected from high-pressure sprays from all directions. Fine for use around any water conditions but cannot be submerged.
While the above IPX ratings will protect your wireless outdoor speakers from rain, we strongly recommend against leaving these permanently outdoors. We have found wireless outdoor speakers are not as durable and weather-hardened as their wired cousins.
Sound Quality
The sound quality may be the most important aspect to consider. After all, if the wireless outdoor speakers do not sound good, you will not want to use them. You should check several specs and features with each speaker to make sure it will produce great sound quality, such as wattage (power), frequency response (pitch), sensitivity (efficiency), and woofers (bass).
Compatibility
The outdoor speakers that you purchase must be compatible with the stereo, projector, or other electronics that you want to connect them to. All the speakers we found are Bluetooth compatible with most offering version 4 and higher. If you don't have a Bluetooth device, get a wireless speaker that can take an AUX input. We have a few options listed above.
Warranty
You also want to see if the speakers come with a warranty, and if so, what is covered and how long. Since these speakers will be used outdoors, this is a fairly important feature to look for in each product. Companies that offer a warranty with their products state that they stand behind the quality of those products.
Reviews
Sometimes the best way to determine the quality of an outdoor speaker system is to see what other users are saying. See if the speakers are getting good reviews and if there are any complaints about the speakers. This may help you narrow your selection to find the right wireless outdoor speakers.
Finding the Right Speakers for You
Whether you choose one of the top-rated wireless outdoor speakers listed above or find another option is entirely up to you. Here are some parting thoughts to remember when choosing the best wireless outdoor speakers.
Make sure you look at all the features that the speakers include before making your decision.
When comparing different brands and models, consider how you want to use these speakers. This should help you find the right speakers that work great for you.
Battery life is very important. If you plan to use these speakers often or for extended periods, don't go for anything with less than 10-hour battery life.
Thanks for your feedback!