If you live in a house or apartment where family, housemates, or neighbors constantly tell you to turn down the TV – then perhaps it's a good time to invest in a pair of wireless TV headphones. As with wireless TV speakers, some headphones are designed for the hearing impaired who might struggle to hear the TV. Rather than turning the TV volume up, a pair of headphones can isolate the audio for an improved listening experience.
In this article, we look at the best wireless headphones for TV. We have included choices for the general consumer looking for high-quality over-ear wireless headphones to use while watching TV or listening to music while walking around the house. We've also included an option or two for the hearing impaired.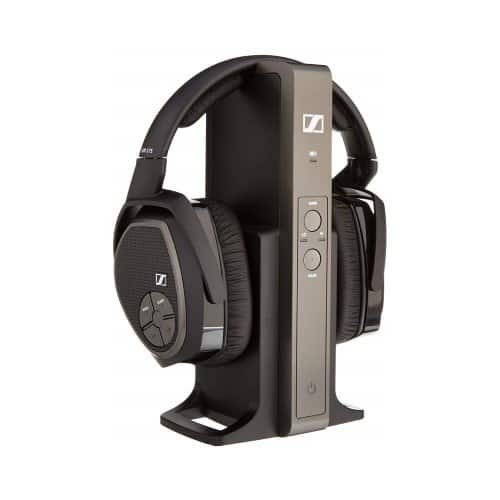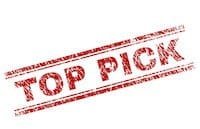 Sennheiser RS 175
An excellent option for every application. The elderly or hard of hearing will appreciate the exceptional sound quality, as will general users, gamers, and even bass heads.
Our Category Winners
Most Versatile & Best Sound Quality
Our pick for the most versatile and the best sound quality goes to the Sony WH-1000XM5, with its impressive sound signature, which provides a profile that even audiophiles could appreciate. While these headphones don't offer RF connectivity, they come with fast, modern Bluetooth that supports LDAC codecs, one of the faster ones. These will be an excellent choice for an all-around headphone you can play with, listen to music, and use with your TV.
Best for the Hearing Impaired
The TV Ears Original Wireless Headsets System will be our best recommendation if you are looking for headphones for the hearing impaired. TV Ears is a straightforward system to install and includes a volume and tone control to fine-tune your listening experience. The transmitter/charging dock has space for two headsets to charge, so you can purchase an extra headset without requiring an additional transmitter.
Lowest Latency Bluetooth Option
If you're set on using Bluetooth as your connectivity type, the Sennheiser PXC 550-II offers the fastest Bluetooth codecs available on the market for TV headphones – aptX LL. The aptX Low Latency codec enables the PXC 550-II to provide a quality over-ear headphone experience with extremely low latency.
Top Budget Choice
If you're on a budget, the TV Ears Original will be the best value if you're looking for an in-ear solution. Regarding over-ear, the Avantree HT5009 provides excellent value for money.
Editors Note: We constantly curate our content to keep it fresh and relevant. This list was updated on 7 November 2023 to improve readability.
Best Wireless Headphones for TV
Here is our list of what we feel are some of the best products currently on the market. We've kept this list small, as many products within this space fail to live up to what we'd consider reliable enough for a recommendation.
1. Sennheiser RS 175 RF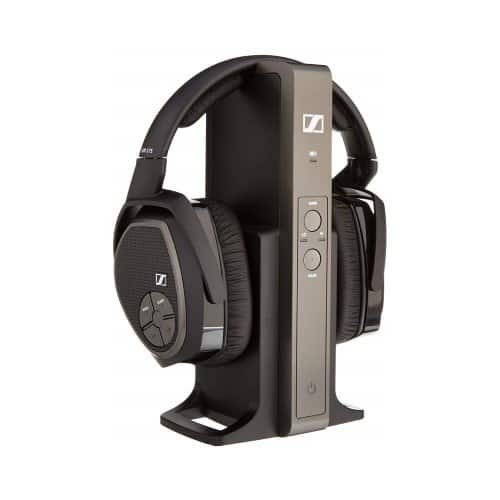 Radio Frequency

Freq Response:
17 Hz – 22 kHz
Despite being lightweight (10.9oz), the Sennheiser RS 175 is somewhat bulky. The base station features two audio inputs: one ⅛ inch AUX and one optical. You can switch between these two inputs, which means you could have your TV in the optical input and use the AUX for your mobile phone or music-playing device.
It has built-in AAA rechargeable batteries, lasting up to 18 hours.
You can connect two of these headphones to a single base station, allowing you to watch with a friend or partner. This feature may not mean much to the single user, but couples who both want to enjoy the same experience can do so with ease. They have a range of up to 328ft (100m).
The RS 175 also includes a couple of really cool audio features. Firstly, there is a bass boost and surround sound mode. The bass boost on the RS 175 is significant! You will receive some serious skull-rattling sounds. This is particularly good for listening to certain music or playing games. The surround sound mode is a little confusing; it creates more of a spatial awareness type of audio picture rather than true or virtual surround sound. There is also a LO and Hi version of the surround mode – so you can play around with this depending on what you're watching or listening to.
The sound quality on the RS 175 is exceptional, perhaps even good as some premium cable headphones. You get a good balance across all frequencies, which ensures everything from watching movies to listening to the news is clear and enjoyable. The RS 175 also offers a decent amount of isolation. So, if you're watching TV in bed, you won't disturb the person lying next to you.
The functions can be conveniently controlled on both the base station and the headphones. The headphone control panel appears on the left ear cup, where you can engage the bass boost and surround sound mode and adjust volume levels.
These headphones aren't particularly budget-friendly, but if you're looking for the best wireless headphones for TV listening, you don't get much better than the RS 175.
What's in the Box?
Sennheiser HDR 175 Wireless Headphone
TR 175 base station/transmitter
AC power adapter
⅛ inch AUX cable
Optical cable
2 x AAA rechargeable batteries
Conclusion
The Sennheiser RS 175 RF remains one of the heavy hitters in wireless headphones for TV use. Not only do you get the same high-quality materials and overall build quality that you'd expect from a Sennheiser product, but you also get the extremely low latency of RF connectivity. If any improvements could be made to the RS 175, the battery life could be better.
Exceptional sound quality
Connect two headphones to 1 base station
Soft memory foam ear pads
Extensive range
Middle-of-the-road battery life
Fairly expensive
2. Avantree HT5009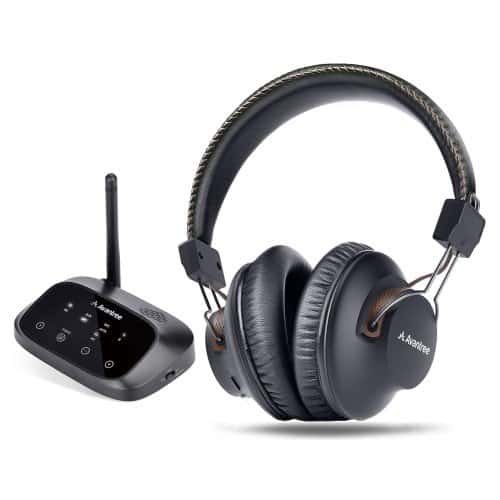 Radio Frequency & Bluetooth

Freq Response:
20 Hz – 20 kHz
The Avantree HT5009 is a hybrid system. You can use the HT5009 as a normal Bluetooth headphone or pair it with the transmitter as a wireless TV headphone.
Since these headphones have Bluetooth 5.0, you'll get impressive range regardless of the transmitter, but it does improve latency.
Unlike most wireless TV headphones, which work with RF or digital frequency connectivity, the Avantree HT5009 is a Bluetooth headphone. Bluetooth has drawbacks compared to RF, but there are also benefits, such as being more stable and experiencing less dropout compared to RF frequencies.
The base station can also pair with any Bluetooth headphones. So, if you already own Bluetooth headphones, you can solely purchase the Aventree transmitter. The transmitter will allow you to pair up to two devices at the same time – including Bluetooth headphones as well as speakers.
The transmitter allows for two audio inputs: ⅛ inch AUX or optical input. The transmitter is powered via a micro USB cable.
The headphones have a built-in battery and a micro USB cable for charging. Avantree supplies you with two of these in the package system, one for the headphones and the other for the transmitter.
The HT5009 is an over-ear headphone with large ear cups that fit comfortably over the ears. The earpads and headband feature soft memory foam with a quality PU leather cover. The fit is comfortable, and you can wear the HT4189 for extended periods without experiencing too much discomfort.
The sound quality on the HT5009 is decent. Not the best-sounding headphones available, but at just under $100 for the complete system – you get exceptional value. The sound is good enough for most TVs and movies but does lack a little bass. For the elderly or hard of hearing, the HT5009 is more than sufficient with enough volume and clarity.
The HT5009 headphones feature a three-button control that allows you to play/pause, adjust the volume, and skip tracks. The play/pause and track skip buttons can only be used when paired with a normal Bluetooth device, while the volume control can also be used with the transmitter.
If you're looking for versatile, hybrid headphones for TV and general use, then the Avantree HT5009 Wireless Headphones with Transmitter is an excellent choice. The system is affordable at just under $100 and will certainly be our best wireless headphones for TV listening in the $100 price category.
What's in the Box?
Avantree Headphones – HT5009
Avantree Transmitter – Oasis Plus
Micro USB power cable x 2
Optical audio cable
⅛ inch AUX audio cable
⅛ inch to RCA cable
Conclusion
The Avantree HT5009 is a unique pair of TV headphones that offer a bit of a hybrid design in that it doesn't offer just RF or Bluetooth connectivity but allows for both. That makes these a versatile choice that will be far more than just a pair of wireless TV headphones.
Affordable
Versatile
Lengthy battery life
Noise-canceling is not the best
The sound quality isn't as good as some alternatives
3. Sennheiser PXC 550-II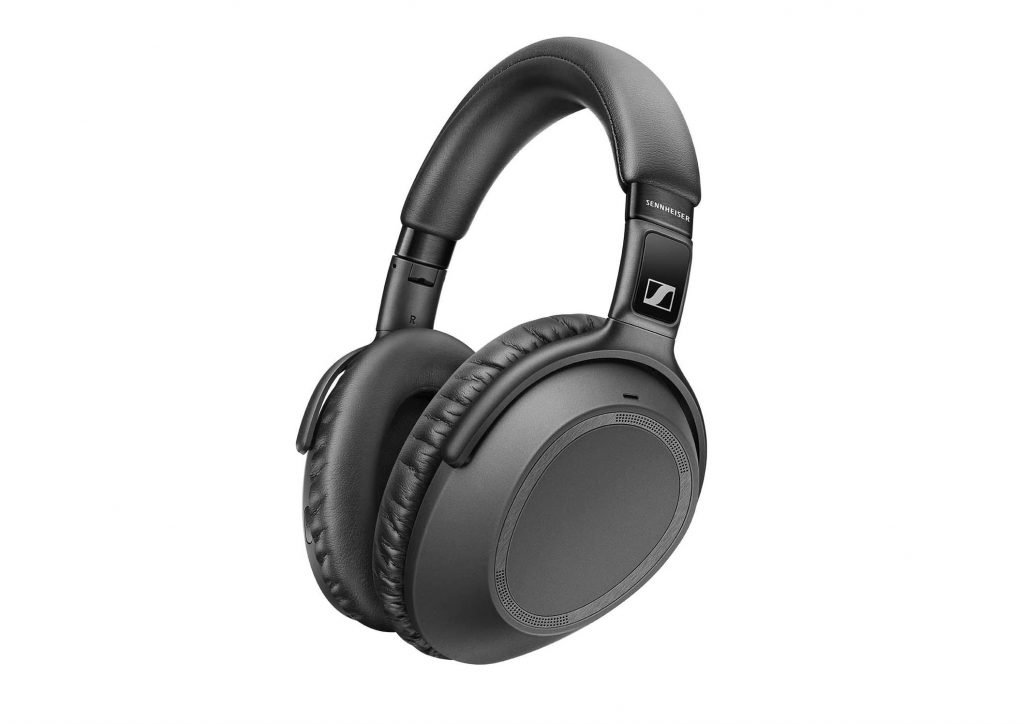 Bluetooth (AptX LL Support)

Freq Response:
17 Hz – 23 kHz
The Sennheiser PXC 550-II is a versatile pair of noise-canceling headphones that offer everything we look for in a pair of wireless Bluetooth headphones for TV use. What separates the PXC 550-II from many other Bluetooth headphones is the inclusion of aptX LL codec support. AptX LL is a newer Bluetooth codec that reduces latency from over 200ms to as low as 32ms. This surpasses the regular aptX, which can only bring latency to around 80ms.
You should note that to take advantage of the low latency with these codecs, you'll likely need a compatible transmitter, as most televisions don't utilize aptX LL, except for some of the newer, high-end models.
Being a Sennheiser product, we're not surprised by the build quality of the PXC 550-II. These headphones carry the same standard the company has set over the years for using quality materials to build their devices and an overall solid in-hand feeling. They weigh around 8oz, similar to headphones in this space, but can also fold up for easy transport or storage.
Regarding comfort, these headphones work well with most head sizes and shapes and can easily cater to hours of use without discomfort. We deem this extremely important in wireless headphones for TV use.
Sound quality is another area where these headphones shine and can keep up with the Sony WH-1000XM5. The frequency response chart for the PXC 550-II shows a mostly balanced sound signature with a few peaks in the upper treble; otherwise, these are turned to near-perfection, especially for a pair of wireless TV headphones.
The advertised battery life for the Sennheiser PXC 550-II is a very respectable 30 hours.
While these headphones aren't made specifically for TV use, the combination of ANC, comfort, sound quality, and low latency performance makes them great all-around headphones that can be used for almost all your daily needs.
What's in the Box?
PXC 550-II Headphones
Carry Case
USB Charging cable (Micro to A)
Audio Cable
Flight Adapter
Quick guide and safety guide
Conclusion
The Sennheiser PXC 550-II may not be the most affordable headphones on this list, but they remain one of our favorites. Their strength lies in the impressive battery life along with the build quality. However, the sound quality is better on the RS 175 if you're not concerned with the added versatility.
Great build quality
Impressive battery life
Good overall sound quality
AptX LL codec support
Noise cancelation could be better
Falls short of the RS 175 on value for money
4. TV Ears Original Wireless Headset System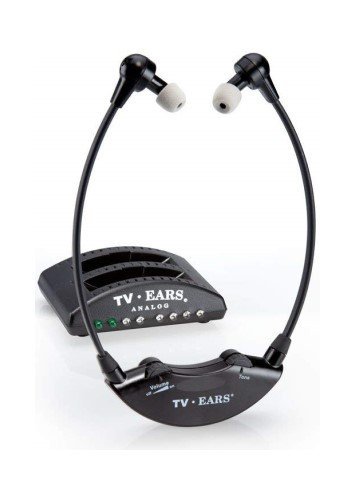 Radio Frequency

Freq Response:
20 Hz – 23 kHz
The TV Ears Original Wireless Headset is one of the most popular TV hearing aids on the market. Even legendary singer Pat Boone recommends TV Ears for the elderly and the hearing impaired. TV Ears is also endorsed by California M.D. – Dr. Robert Forbes.
The lightweight, 3.25oz headset fits comfortably in the ears, with memory foam earpieces that expand to fit comfortably in the ear canal. Not only does this offer comfort but good isolation as well – allowing you to focus on the audio. This isolation also means those around you won't hear any sound leakage.
The transmitter is a simple plug-and-play device. There is a single ⅛ inch input, so installing the audio cable is easy. TV Ears supply you with two cables. An RCA to ⅛ inch and ⅛ inch to ⅛ inch. TV Ears recommends using the RCA cable connected to your television's RCA Audio Out for the best audio quality.
The TV Ears headset produces excellent sound quality and clarity. At the same time, an in-ear headphone will never beat the bass response of an over-ear headphone. The TV Ears do a good job of producing a pleasant bass sound. The mids and highs are very clear too. The headphones have both volume and tone control – so you can tune the headphones to your exact hearing requirements. The headset can produce 120dB of sound, so you will never battle with volume.
The built-in battery on the TV Ears headset will last up to 7 hours. Recharging the battery is as easy as placing the headset in the transmitter charging dock. The dock has space for a second headset, so if you have more than one – you can charge both on one transmitter.
The transmitter-to-headset range is approximately 65 feet. It's important to note that you must be in direct sight of the transmitter for the headphones to work efficiently. Placing the transmitter on a TV stand or table beside the TV is best if you're watching TV.
If you prefer in-ear headphones to over-ear ones, then the TV Ears Original is the best in-ear system. It's the only hearing system we have found endorsed by a doctor. The isolation and clarity of the headset mean that you don't need to turn the volume up too high. The system can easily be set up/installed with just a single input. The TV Ears system is highly recommended for the elderly and the hearing impaired.
What's in the Box?
TV Headset with a rechargeable battery
Transmitter with space for two headsets
⅛ inch AUX cable
RCA to ⅛ inch cable
Power cable for transmitter
Conclusion
The TV Ears Original is an excellent choice for those hard-of-hearing who are not looking for an over-ear headphone but rather an in-ear solution. The TV Ears Original is a durable product that serves the hard-of-hearing but may lack the comfort you'll find from over-ear models.
Good for the hard-of-hearing
Impressive volume
Affordable
Not as comfortable as over-ear options
Battery life could be better
5. Sony WH-1000XM5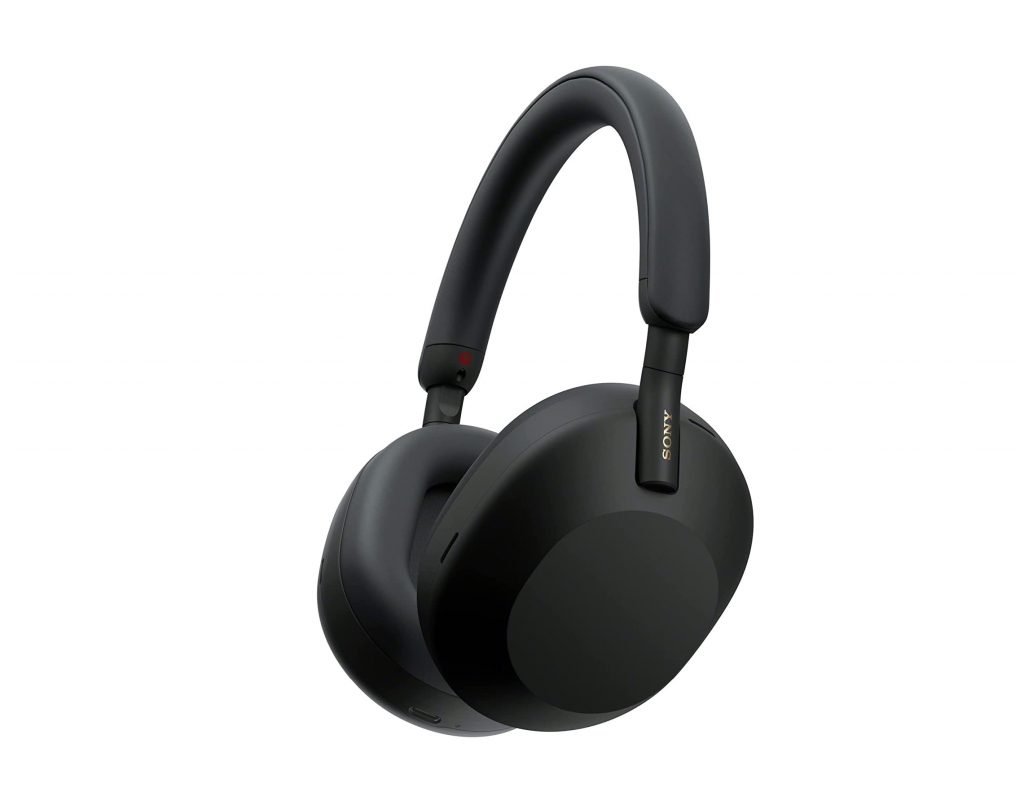 Bluetooth

Freq Response:
10 Hz – 20 kHz
The Sony WH-1000XM5 is Sony's latest set of headphones in this range, following the legacy that the WH-1000XM4 brought to the market. The WH-1000XM5 is designed as a noise-canceling headphone, but the features that make a headphone good for TV are similar to those we look for in good noise-canceling headphones.
These headphones don't feature RF connectivity but rely on a traditional Bluetooth connection. This isn't ideal for those sensitive to latency and want to reduce the audio transfer times to the lowest possible. You must also purchase a separate transmitter for these headphones if your TV doesn't have Bluetooth connectivity.
The WH-1000XM5 brings much of what we love about the WH-1000XM4 but with even better sound quality. There are a few tweaks to the upper treble where we see the XM5 provide fewer peaks and, overall, a slightly more balanced treble response. The bass and midrange remain fairly similar, but there is a slight increase in the mid to upper bass.
The Sony WH-1000XM5 supports three codecs, SBC, AAC, and LDAC. The LDAC codec is one of the more efficient, low-latency codecs on consumer headphones. It also offers Bluetooth 5.2 functionality, ensuring that even native Bluetooth performance is at the top of its game. While Bluetooth 5.2 has made massive improvements to latency compared to Bluetooth 4, you can still expect latency times of just over 200ms.
The battery life with these headphones is great, though while marketed as 30 hours, you can expect a little less when using specific features; even specific codecs will slightly impact your battery life. You won't find yourself hating the battery life on these beauties, though – especially with how quickly this charge!
Design and build quality is something that Sony's 1000X series has always done well at, and the 1000XM5 carries that same high quality through to this model. These headphones weigh in at around 8.8oz, which isn't particularly light, but the weight is primarily a result of the high build quality rather than just being unjustifiably heavy.
Where the Sony 1000XM series has excelled, arguably the most, is with their active noise cancelation. While many ANC headphones do the bare minimum, the Sony WH-1000XM5 offers great noise-canceling performance.
This versatile pair of headphones can serve as your daily driver or as a solution to watching TV in bed.
What's in the Box?
Sony WH-1000XM5 Black Noise Cancelling Headphones
Protective Carry Case
Aux Cable/Jack
Type C-USB charging cable
Conclusion
Sony WH-1000XM5 had a tough legacy to live up to, with the WH-1000XM4 being one of the most-loved ANC headphones on the market. The Sony WH-1000XM5 took everything we loved from the Sony WH-1000XM4 and added better Bluetooth capabilities, microphone, and overall sound quality.
Great sound quality
Beautiful design
LDAC codec support
Impressive battery life
Very comfortable
Expensive
No RF connectivity option
6. Sony MDR-RF995RK Wireless RF Headphone
Radio Frequency

Freq Response:
10 Hz – 22 kHz
The Sony MDR-RF995RK Wireless RF Headphone is great for apartments or smaller houses. The 150-foot range means you'll experience excellent reception in the room you're watching in, but moving around the house or apartment might lead to some noise and interference.
The MDR-RF995RK is one of the more stylish wireless TV headphones on the market, and the large rectangular design fits nicely over the ears. The earpads are cushioned with soft memory foam and covered in soft PU leather. The headband is primarily plastic except for the very top, which is covered in the same memory foam and PU leather as the ear pads. While comfort depends on the individual, these are comfortable for most wearers but may be large for smaller heads. If anything, the build quality of these headphones is one of the most noticeable downsides.
The Sony MDR-RF995RK has some passive noise isolation, which means you can listen without disturbing someone sitting or sleeping beside you.
All the function controls are on the headphones themselves. On the right ear cup are three controls: the first is a recessed rotary volume control, the second button is a voice effect function (Engaging the voice effect will deliver better vocal intelligibility for news and dialogue-heavy content), and the third button is an auto-tuning button.
The base station or transmitter has three frequencies for transmitting. If you are experiencing any interference on the current frequency, you can press the auto-tuning button on the headphones to switch to another frequency and pair the two devices again.
The transmitter features a single ⅛ inch audio input that Sony supplies. If your TV only has an RCA out, you'll need to purchase an RCA to ⅛ inch separately.
A contact point for recharging the headphones is on the transmitter's top. To recharge the headphones, place them on the base station. The headphones' built-in battery lasts up to 20 hours of continuous playing time.
If you have ever owned or listened to the MDR-RF985RK (the predecessor to the RF995RK), then you'll know that these were excellent-sounding wireless headphones for TV listening. The MDR-RF995RK improves on this sound quality. The headphones are great for all media types – including movies, sports, general TV, music, and games.
The biggest difference between the 995RK and the 985RK is the wireless range. With the 985RK, you could walk about the house, only experiencing dropout when you were a few rooms away. In some cases, you could even go up or downstairs. With the 995RK, you won't have this type of freedom. The headphones will drop out when you leave the room, so don't expect the same range as before.
After investigating online, I have discovered that this is due to the 995RK having an inferior transmitter to the 985RK and not related to the actual headphones themselves. Users with the 985RK and 995RK have paired the 995RK with the 985RK transmitter. The result is the 995RK performs as well, if not better, than the 985RK headphones. So, if you own the old 985RK system, use the old transmitter with your new 995RK headphones if you want to move around the house. You will enjoy a significantly better reception.
The RF-995RK Sony wireless headphones for TV have exceptional sound quality. It is best suited for users who will be using these headphones in front of the transmitter watching TV, but it is not ideal for those who like to move around the house while listening to your wireless headphones.
What's in the Box?
Sony Wireless RF Headphone
Sony Transmitter Base Station
⅛ inch audio cable
Sony Rechargeable Battery for headphones
AC adapter
HeroFiber® Ultra Gentle Cleaning Cloth
Conclusion
The Sony MDR-RF995RK isn't going to be our top recommendation, but it is still a product that holds merit due to its affordable pricing, especially compared to the competition. The sound quality doesn't astound, but isn't particularly bad either.
Comfortable
Good battery life
Fairly affordable
Build quality is not great
Others outperform sound quality in this price bracket
Buyer's Guide – What To Know Before Buying Wireless Headphones for Your TV
This buyer's guide will seek to provide you with everything you need to know about making an informed decision when purchasing a pair of TV headphones.
Latency is Critical
Latency is the most critical consideration when weighing out your options. If you're using your wireless TV headphones just for music, latency will be far less of a problem for you. But when watching movies or television series, the visuals of the conversation can end up occurring out of sync with what you're hearing.
This is because the TV signal takes longer to reach your ears. With music, you have no frame of reference to interpret the lag, so you don't even know it's there.
Latency is probably the most significant cause of wireless TV headphones being returned by customers. So before buying, ensure you are happy with the latency your headphone wireless technology will provide.
Suppose you're sensitive to latency and find it challenging to watch shows when the audio is slightly out of sync with the visuals. In that case, we recommend that you opt for an RF headphone, as even though newer Bluetooth versions limit the latency, you are still unlikely to be fully satisfied with many of the options.
Wireless Range Matters
The range of your headphones' wireless functionality should play a part in your decision-making. Some headphones do well at short distances, which is usually all that's required for most bedroom or TV room setups. But if you plan to pair your wireless headphones with an outdoor TV, remember that older Bluetooth versions may restrict you.
Comfort Is Important
Since comfort is subjective, making specific claims about a headphone's comfort level is challenging. We may call out products that, by and large, offer comfort, but that doesn't guarantee they will be comfortable with your ears.
Because we tend to watch TV for hours at a time, in many cases, it's good to ensure that the wireless headphones you buy can provide regular use for extended periods without causing discomfort.

Most over-ear headphones will do quite well in this, though we've found some cheaper products can become painful with extended use. The products on our list all pass what we'd consider a good reputation for their comfort. When looking at earbuds, it becomes more complicated, as one's ear shape significantly affects overall comfort.
Audio Quality
While audio quality is usually where we dig deeper, with wireless headphones for TVs, it's a little less of a vital topic. That's not to say that you shouldn't look for headphones that offer excellent quality; it's just that the importance of having a perfectly balanced frequency response and what is usually referred to as a critical listening approach is less prominent than it is for bookshelf speakers, for instance, where neutrality is typically the goal.
While we still like to see a nice deep bass response from TV headphones, which without, action movies can become quite boring, and while the treble is vital for maintaining clear dialogue while you watch, the more fun U or V-curve sound signatures can still hold weight with TV speakers.
Consider Your Hearing Needs
Not everyone looking for headphones for TV is looking for the same thing. Those without hearing problems have a wide range of options, and most settle for traditional wireless headphones that offer the low latency features you need in a pair of wireless TV headphones.
Those with hearing problems may feel disappointed by the performance of a traditional closed-back headphone style. While our list doesn't feature many headphones strictly for the hard of hearing, we have included the TV Ears Original, which may suit your needs.
Bluetooth vs. RF Connectivity
Historically, we've always recommended staying away from Bluetooth headphones for TV. Instead, RF technology has traditionally been recommended because of how much less latency radio frequency signals have, thanks to the lack of analog-to-digital conversion. Although there is still latency, it's so minimal that our eyes and ears cannot pick it up.
However, the past few years have changed a lot in the TV headphone market, and the release of Bluetooth 5.0 saw improvements in both range and latency. We still recommend RF technology, but there are now a few good wireless Bluetooth headphones for TV.
What we're most excited about for this space is the upcoming introduction of LE Audio, which is arriving quite soon! We expect the entire wireless TV headphones market to change once this technology is added to new audio products. The biggest benefit to LE Audio is the better latency performance. We may see RF technology slowly getting replaced by faster Bluetooth-driven technology.
Best List Update History
09/09/2023 – Overall text quality and readability improved
12/08/2022 – Several product selections changed, added additional buyer's guide content and adjusted the page layout for better readability
1/17/2022 – Removed the Jelly-Comb headphone, which is no longer available.
5/29/2020 – Categorized into on-and in-ear headphones and made layout improvements. Updated to reflect rating changes.
Thanks for your feedback!