With advances in waterproof technology, now even swimmers can enjoy their favorite beats on waterproof headphones while doing laps. In this article, we present you with the best waterproof headphones suitable for activities and workouts where water and even sweat are involved. Waterproof headphones aren't only made for swimmers doing laps.
Some waterproof headphones come with a built-in mic which means you could be lounging in the pool or hot tub and still use your mobile phone without risking water damage.
Most Compact Waterproof Headphones
The HydroActive Waterproof Headphones are the most compact waterproof headphones. The wrap-around headset means these headphones will have no trailing or excess cables. With 11 earbud attachments, cable extension, and a carry case, the HydroActive is good value for the money. The only downside is you probably wouldn't want to use these headphones for day-to-day use. The HydroActive is specifically designed for training and workouts.
Most Versatile Waterproof Headphones
Best Waterproof Headphones with MP3 Player
If you want a built-in MP3 player, you can't go wrong with the H20 Audio Noise Canceling Waterproof Headphones. The H20 Audio is essentially a waterproof earbud and waterproof MP3 player combined. This is a great choice if you are looking to use these at the beach, where you don't have your phone with you when in the water.
While it may seem pretty obvious that waterproof headphones are exactly as the name suggests, it is important to note, there are several tiers of weatherproof rating for headphones and only two of these ratings are good enough for complete submersion in water, IPX7, and IPX8. For the purposes of this article, we'll only look at these two ratings.
IP stands for ingress protection and forms the standard by which consumer electronics are rated for their resistance to water. IPX7 and IPX8 are the only products rated for complete submersion in water.
IPX7 is rated to a depth of up to 1 meter (3.2-foot) while IPX8 is rated for deeper depths or extended periods of time underwater. For IPX8 products, the manufacturer will include the depth to which the product can be used. For example, a product IPX8 rating may look something like this: IPX8 waterproof standard up to 30 feet.
It's recommended to only use IPX7 or IPX8 waterproof headphones for swimming or sports where there is a tendency for heavy perspiration as these are the only waterproof headphones able to withstand this amount of moisture.
1. Swimbuds SPORT Waterproof Headphones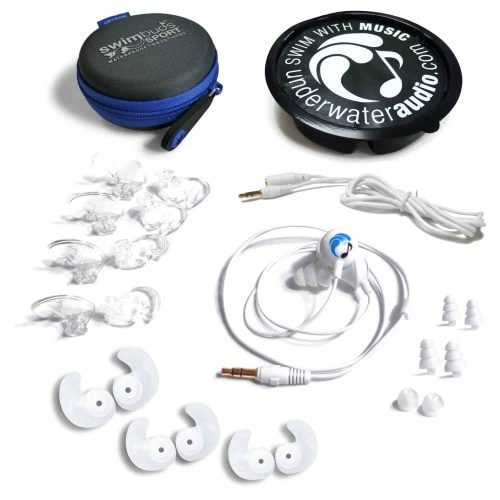 The Swimbuds SPORT Waterproof Headphones are an upgrade from the regular Swimbuds Waterproof Headphones featured at the beginning of this article. The Swimbuds SPORT feature the same four styles of earbuds in various sizes giving you a total of 11 earbuds to choose from. These waterproof headphones come with a 1-year warranty and feature Swimbuds third generation Hydrobeat™ sound.
The short-cord waterproof headphones come with an extra cable extension to make these headphones versatile. One set of headphones for all your activities!
The Swimbuds SPORT's four earbud styles are designed for different activities in and out of the water.
| | |
| --- | --- |
| Tree tips: | A watertight fit to keep the water out and the sound in. Tree tips come in small medium and large. Suitable for most water activities. |
| Fin tips: | Fins are designed to fit the contours of your ears to ensure a comfortable watertight seal best for swimming laps. |
| Ergo tips: | Ergos fit the outer ear for extra comfort, especially when wearing a swimming cap. The design allows for ambient noise to filter through so the user doesn't feel isolated. |
| Round or mushroom tips: | The standard round earbud sold standard with most headphones. Great for casual day to day wearing. |
2. Swimbuds Waterproof Swimming Headphones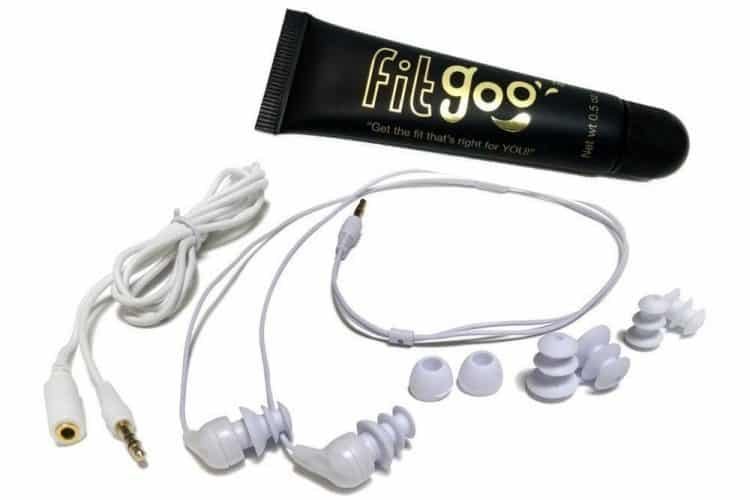 Swimbuds Waterproof Swimming Headphones come with various waterproof earbud attachments and include a tube of FitGoo ear lubricate for easy insertion.
The Swimbuds Waterproof Swimming Headphones come with a short cable ( 10-inch) for swimming as well as cable extension (39-inch) to use the headphones for other workout activities or general listening. All the jack connectors are gold coated to prevent corrosion and for better contact. Especially useful since these headphones are designed for use in water.
The Swimbuds come with 4 different earbud attachments to fit most ear canals. The low profile earbud head design means the earbuds sit inside the ear without sticking out causing drag or irritation. Swimbuds are rated to be 100% waterproof to a depth of 10 feet (Waterproof to IPX8 waterproof standard).
3. Waterproof iPod Shuffle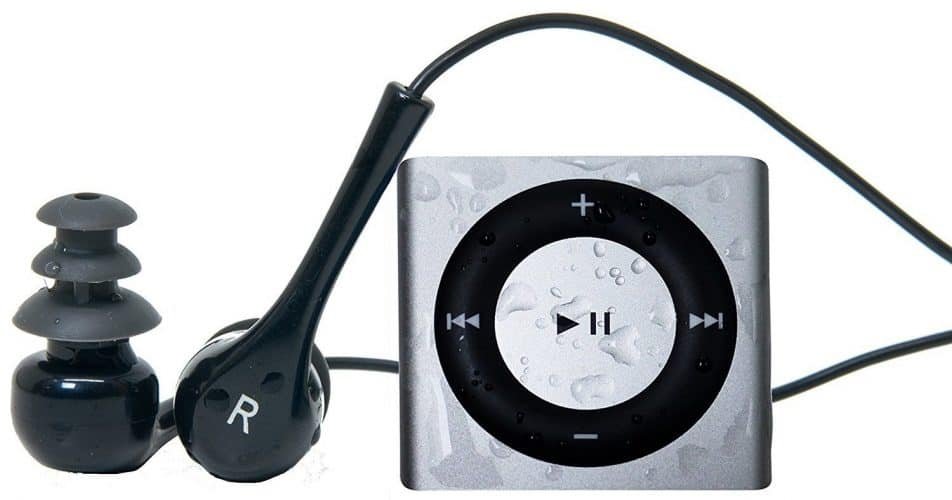 This top-rated Waterproof iPod Shuffle comes in seven awesome colors and includes some free extras. The Waterproof iPod Shuffle is endorsed by American Olympic gold and silver medalist swimmer, Rebecca Soni.
Rebecca has put together a training regime for swimmers. A free download available with the Waterproof iPod Shuffle. The 30-minute swimming workout includes alignment, efficiency, timing, and technique to help improve your speed and energy efficiency. You can mix Rebecca's swimming audio clips into your playlist for tips and inspiration while going through your workout.
The Waterproof iPod shuffle has a capacity of 2GB enough to hold a few hundred songs. The device is ultra compact and lightweight measuring 1.9 x 1.9 x 1.6 inches and weighs a mere 1.92 ounces. At this size and weight, you won't even notice the Waterproof iPod is there! The 15-hour battery means the average person training an hour a day will only have to charge the iPod every 10-14 days or so.
4. HydroActive Waterproof Headphones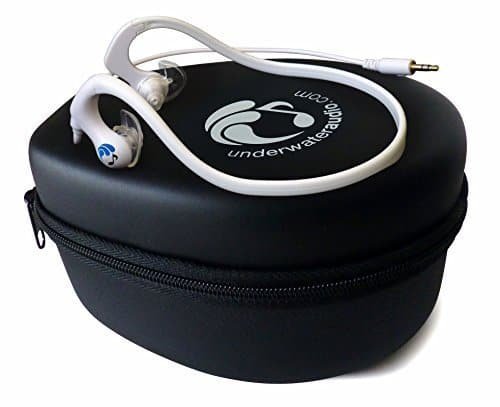 The HydroActive Waterproof Headphones are specifically designed for water sports including swimming laps, SUP, kayaking, aqua-aerobics, canoeing, fishing, and most other aquatic activities.
The unique wrap-around design keeps the waterproof headphones in your ears without any cable hanging around your ears, neck, or shoulders. This gives you to move freely without worrying about getting caught on your headphone cable.
The short headphone cable connects from the left ear to your waterproof MP3 player which can be connected to your goggle strap or a swimming cap. This leaves no cable hanging down below your ears at all! Perfect to allow for freedom of movement.
The HydroActive Waterproof Headphones are rated to a depth of 3m meets the IPX8 waterproof standard. The ⅛-inch jack connector is gold-coated for a superior connection to any MP3 player and prevents corrosion.
The most impressive feature of the HydroActive Waterproof Headphones is the selection of waterproof earbuds from Swimbuds SPORT. Four styles of earbuds to match various activities. Each style of earbud comes in different sizes giving you a total of 11 waterproof earbuds. So you're sure to find the right fit.
5. H2O Audio Waterproof MP3 Player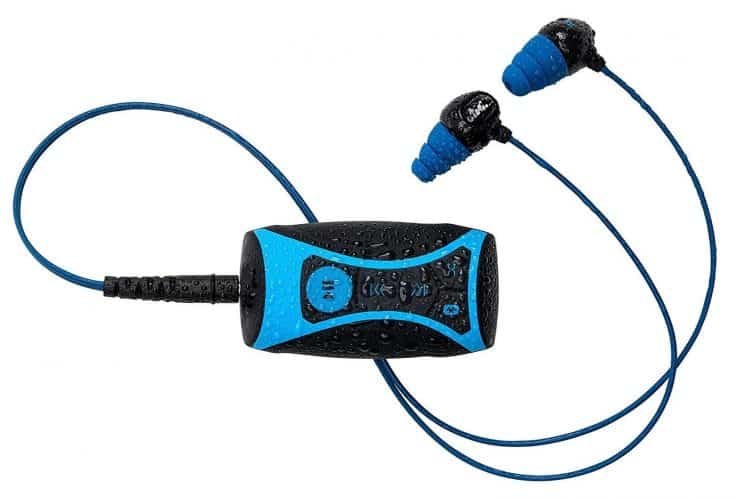 If you don't own a waterproof MP3 player then the H20 Audio is an inexpensive model that comes with a pair of waterproof headphones. The H20 Audio is 100% waterproof rated to a depth of 12ft (3.6m) (Waterproof to IPX8 waterproof standard).
The MP3 player is ultra-compact, designed to be fixed to your goggle strap, cap, or costume. The short cable on the waterproof headphones fits perfectly for placement as low as the shoulders or just behind the head.
The MP3 player has a capacity of 8GB which equates to around 10 hours or 2000 songs depending on the size of your MP3 music files. H20 Audio has even pre-loaded the MP3 with a selection of music to get you started. Supported music file formats include MP3, WMA, FLAC, APE. As most music is in MP3 format, this is sufficient for an MP3 player used for swimming or other workouts.
To get the most space, while still retaining the best quality, load MP3s with a bitrate of 192kps. The buttons are large and configured in such a way that you can change sounds and adjust settings without looking at the MP3 player.
The H20 Audio is also Bluetooth enabled which means you can stream music from your phone or other Bluetooth devices. If you are going to the gym, on a run, hike, or cycling you can use the H20 Audio as a set of wireless headphones connected to your phone. Especially useful if you want to have your phone in your pocket or backpack without a trailing cable.
Keep in mind that Bluetooth will not work underwater. The wireless range is 30ft (10m).
The H20 Audio Waterproof MP3 player has been engineered to produce improved bass, a frequency which is often lost while swimming. The earbud speaker grill is designed to sit as close to the end of the earbud piece for improved sound quality and clarity. The H20 Audio MP3 player comes with a total of 8 earbud attachments to accommodate most ear canals.
6. H2O Audio Noise Canceling Waterproof Headphones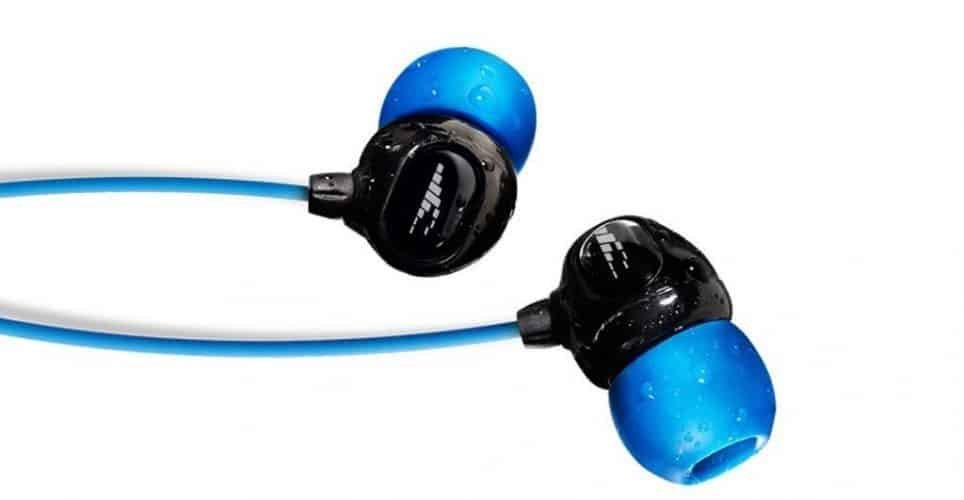 If you prefer a smaller, low profile headphone then the H20 Audio Noise Canceling Waterproof Headphones are a great choice. These waterproof headphones are designed to sit flush inside the ear while the earbuds fit perfectly inside the ear canal for a snug, watertight fit. With a choice of five sizes of earbud heads to choose from, you're sure to find the perfect match for your ear.
Although the H20 Audio Noise Canceling Waterproof Headphones don't come with a short-cord option, however, the headphones, cable, and fitting are rated IPX8 waterproof standard. These waterproof headphones are rated to a depth of 12-foot.
With the standard length cord of 3.6-foot, the H2O Audio Noise Canceling Waterproof Headphones are suitable for all water sports and non-water sports activities where heavy perspiration is common. The headphones are also a great option for day to day use.
7. SENSO Bluetooth Waterproof Headphones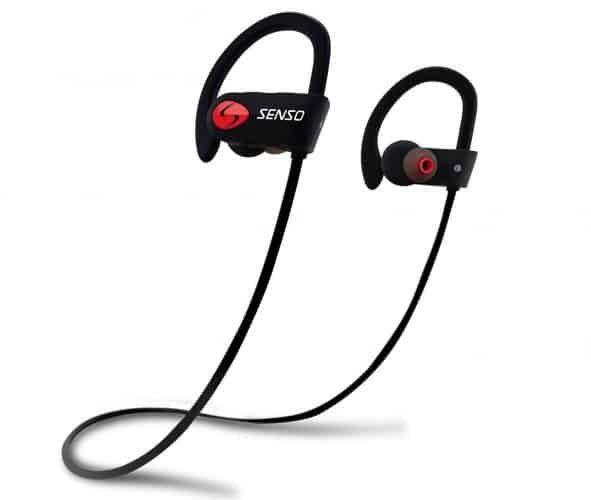 SENSO's Bluetooth Waterproof Headphones are perfect all-around sports headphones at an affordable price. At under $30, their few waterproof headphones that can compete with SENSO's features and value for money.
These waterproof headphones come with a built-in microphone so you can use them with your mobile phone as a hands-free kit, even in the pool!
SENSO Bluetooth Waterproof Headphones are 100% wireless up to 30-feet which means no cables. This could be an issue with older MP3 devices, however, shouldn't be an issue if you're connecting a smartphone, laptop or tablet which all have Bluetooth connectivity these days.
The waterproof headphones are powered by a rechargeable Lithium-ion battery which lasts 8 hours and only takes 1-2 hours to fully charge. The charging port is a Micro USB and a charging cable comes with the headphones. The opposite end is a USB A connector which means you can plug it into the laptop or USB socket to charge.
Small controls on the headphones allow you to change volume, skip, pause, play and even answer and end calls. This hands-free is especially useful while working out or driving allowing you to focus on the task at hand.
The headphones are designed to sit over your ears for a secure fit. The earbuds sit snug inside the ear canal and come with 3 sets of earbud attachments – small, medium, and large. The cable linking the two headphones is short so it sits behind the back of the head/neck and out of the way.
8. Otium Bluetooth Waterproof Headphones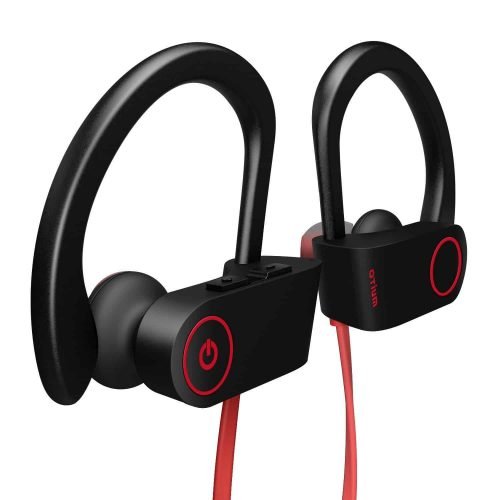 The Otium Bluetooth Waterproof Headphones are both stylish and practical. The waterproof headphones carry an IPX7 waterproof rating. A built-in microphone enables users to make and receive, perfect for a hands-free replacement while working out or driving. One set of headphones for a variety of applications and activities.
The Otium Bluetooth Waterproof Headphones comfortable ear hooks ensure a secure fit and the earbuds sit tight and snug inside the ears. The short cable linking the two earbuds can be tightened with the wire clamp to be extra snug and secure as well as keeping excess cable out of your way.
Noise-canceling technology means you can enjoy calls and music at accepting volumes. A full frequency response means audio is enjoyed with crystal clarity and improved bass.
The Otium's battery lasts 7-9 hours and can be fully charged in 1.5-hours. Battery life is displayed on screen for iOS smartphones. The waterproof headphones come with a Micro USB charging cable.
On the side of the headphones is a simple control panel that allows you to skip/play/pause, answer, and end calls.
What to Consider when Choosing Waterproof Headphones
The first feature you need to consider when choosing waterproof headphones for swimming is the product is 100% waterproof. This seems obvious, but many "waterproof headphones" are only sweat and splash-proof and cannot be fully submerged. These waterproof headphones carry an IPX rating of less than 7. If you are using swimming headphones, you also need to check to what depth the product is rated.
If you are choosing swimming headphones, these will typically come with a shorter cable compared to normal waterproof headphones. This means you don't have trailing excess cable behind you, which often gets caught up in your arms. Some swimmers wrap the excess cable into their swimming cap or around their goggle strap.
Stowing the excess this way can work, but while swimming laps, turning, or diving, water resistance pulls the cable out from your cap or goggle strap and ends up unraveling around you. The shorter cable ensures this won't happen. Most swimming headphones come with a cable extension, so you can use the headphones for other activities or just regular listening.

Swimming Headphones Pro Tip
Sometimes swimming headphones' earbuds don't fit snugly enough in your ear canal, allowing water to seep into the ears. To ensure the waterproof earbud sits deep into the ear canal, swimmers use a lubricant like FitGoo . FitGoo lubricates your waterproof earbuds to improve insertion and ensure a watertight seal inside the ear canal.
Conclusion
If you're after something specifically for doing laps in the pool, choosing one of the earphones with an IPX8 rating would be your best option. However, if you're looking for earphones that are waterproof, but geared more toward lounging in the pool rather than doing laps, then we'd recommend any one of the earphones with an IPX rating of 7.
All three of these come with a built-in microphone allowing you to take phone calls. They are also great for all sorts of active sports (jogging, cycling, etc.) and can even double up as your hands-free kit to use on the go or in the car as well. They all have similar battery life at around 8 hours and take a similar time to recharge.
Many other aspects of these waterproof headphones seem similar. However, the SENSO definitely seems the most popular choice online. If you're after the cheapest, then the Otium Bluetooth Waterproof Headphones come in at under $20. The only downside to these waterproof headphones is you can't adjust the volume from the headset like the other two featured.
How to Clean Waterproof Headphones
There is nothing worse than the gungy sediment build-up you get on the tips of your headphones earbuds. Not only is this wax build-up undesirable, but over time, this could lead to a loss in sound or, in extreme cases, damage to the electronics inside the earbud. Luckily cleaning your headphones is simple and takes less than a few minutes.
It is important to always completely dry your waterproof headphones after using them in the water. This will prevent any dirt or grime from clinging to the headphones or earbuds while stored away.
The best cleaning product to use is a dash of dish wash detergent in some warm water. Wipe down the earbuds, cable, and even the ⅛-inch jack to remove any grime or sediment. If you have wax buildup on the grill of the earbud, try using an old toothbrush to scrub the wax away. A bit of putty could also stick to and lift off wax and sediment.
How to Get The Best Fit From Your Waterproof Headphones
Waterproof headphone earbuds come in various shapes and sizes. Some earbuds are designed for comfort, while others are a balance of comfort and secure fit. Each earbud style sold with your waterproof headphones is designed for a specific purpose. Let's briefly look at these and discuss the pros, cons, and best applications.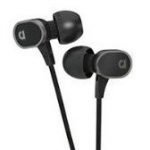 Single Flange – The single flange fitting earbud is the most common earbud sold with waterproof headphones. The simple design will fit most ear canals offering a snug fit and some isolation. The single flange may not be best for swimming.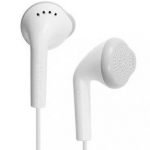 Conventional Earbuds – The conventional earbud is the old standard. Many smartphone manufacturers used to include these with their mobile phones as headphone/hands-free kits.
While they are designed to fit snugly on the outside of the ear canal, thus accommodating most ear sizes, these earbuds were not designed for any form of activity or sports.
Too often, these earbuds will fall out during any physical activity. The conventional earbuds were certainly not made waterproof.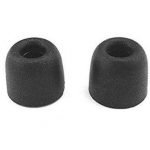 Memory Foam Earbuds – Memory foam earbuds are great because they can be molded to fit any ear size. Once in the ear, they expand, offering some isolation and a relatively watertight seal. Memory foam earbuds are popular for physical activity as they don't easily come loose and fall out.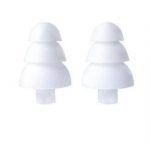 Tree Shape Earbuds – Tree shape earbuds are excellent for water sports and other physical activities. The tapered design fits deep in the ear, offering a good level of isolation and watertight fit. Tree shape earbuds sit deep in the ear canal which means they won't fall out easily. The improved isolation means you won't have to turn up the volume on your MP3 device.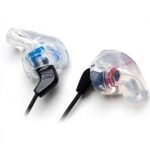 Fitted Earbuds – Fitted earbuds offer the most superior watertight fit and isolation. The earbud fits flush inside the outer ear, and the tip is deep into the ear canal. This isolation improves the sound quality, which allows you to play your audio at lower levels, thus protecting your ears over time.
Some brands sell fitted earbuds or ear fins with their waterproof headphones, as they are best for swimming. The downside is the generic designs might not fit everyone's ear. For a small investment, you can get custom-fitted earbuds. Chat with your doctor about a reputable ear clinic near you.
Most of the time, you should find an earbud shape that fits your ear. Nowadays, silicon and memory foam earbuds offer the most flexibility as they can be molded and change shape to fit your ear and ear canal. The best recommendation is to test all the earbud attachments that come with your waterproof headphones to find the right fit. Replacement earbuds or ear tips can be purchased separately from your waterproof headphones for even more choice.
How Music Influences your Workout
Let's look at how music can affect your workout and why you should consider using music with your waterproof headphones while working out. Many people use music during their workouts. For many people, music is a way to close off the outside world and focus on the task at hand, getting a good workout. But does music actually have an effect on your workout?
This article from the Huffington Post looks at research covered by Dr. Daniel Levitin, a neuroscientist and author of This Is Your Brain On Music. In the article, Dr. Levitin explains his research is still inconclusive. However, music does appear to positively affect training or working out.
There are two primary possibilities. The first possibility is music distracts your brain from physical exertion or pain. So, music will help you push past your usual physical and psychological limits. The second possibility is that music acts as a mood enhancer; thus, your brain perceives the training or workout as an enjoyable experience.
Dr. Levitin goes further to say the tempo of the music you are listening to will also have a positive effect. With repetitive exercises like aerobics, running, or even swimming, music can help regulate your exercise pace and regime. This makes sense when you consider that if you want a hard workout, you'll typically listen to something with a driving beat, like dance music.
Essentially, exercise is a form of movement similar to dancing, so it's no surprise music has a positive influence on your tempo and pace.
Another study by the US National Library of Medicine National Institutes of Health looked specifically at the effects of music on swimming performance. The tests were carried out using waterproof swimming headphones with a built-in MP3 player. The study found significant improvements in swimming performance times over 50m (164 foot) and 800m (2625 foot) distances.
It is interesting to note while performance improved, swimmers did not feel any improvement in physical enjoyment while listening to music while swimming. So although lap times improved, the physical exertion was still felt.
Thanks for your feedback!