The Ultra Towers from SVS are impressive on their own. Adding these to a surround system is taking things to the next level! If you want to impress your friends and host a party that will disturb the neighborhood, then the SVS Ultra Tower Surround Sound System is exactly what you're looking for.
SVS is a US-based company and one of the most respected names in home audio. Their products come with a 5-year warranty, a service unique to the home audio industry. SVS products aren't cheap, but neither is the quality of the parts or their exceptional after-sales support!
The System
The SVS Ultra Tower Surround System comprises five elements – the Ultra Towers left and right, the Ultra Duets surround left and right, and then the Ultra Center for your center speaker. The sub-bass is provided by the SVS Ultra Towers, which each features a dual 8" subwoofer. You have the option of adding the SB16-Ultra or PB16-Ultra, but in my opinion, the system provides sufficient bass from the Ultra Towers. If you enjoy thundering bass which vibrates the living room, then the addition of the SB16 or PB16 will certainly do that for you.
Ultra Towers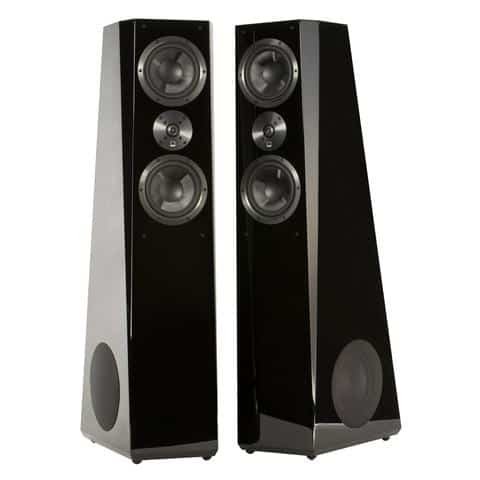 At a Glance
Frequency Response: 28Hz-32kHz
Nominal Impedance: 8 ohms
Sensitivity: 88dB
Recommended Amplification: 20-300W
Drivers: Dual 8" subwoofer, Dual 6.5" midrange, 1" tweeter
The Ultra Towers are considered the flagship speaker from SVS, and when you hear them, you'll realize why. The Ultra Towers are not only loud but detailed and crystal clear. This is due to the Ultra Tower's full-range frequency response of 28Hz-32kHz. The internal 3.5-way crossover crosses at 160Hz, sending the low-end to the 8" subwoofers, a bottom mid-range taper at 960Hz for a low-mid separation for the 6.5" mid-range drivers at 2kHz, sending the highs to the 1" tweeter. The crossover points are smooth, resulting in exceptional detail and clarity.
If you have a particularly compact space or the area you are installing the speakers with has many hard surfaces like glass, tile, or hardwood floors, you may experience some low-end resonance. In the rear of the Ultra Towers is a bass port. Supplied with the system is a foam plug that you can insert into the port. The foam acts as a baffle for the low-end, which will reduce any low-end resonance produced by the subwoofer. Once your system is set up, try the system with and without the foam to see which sounds better.
Ultra Surrounds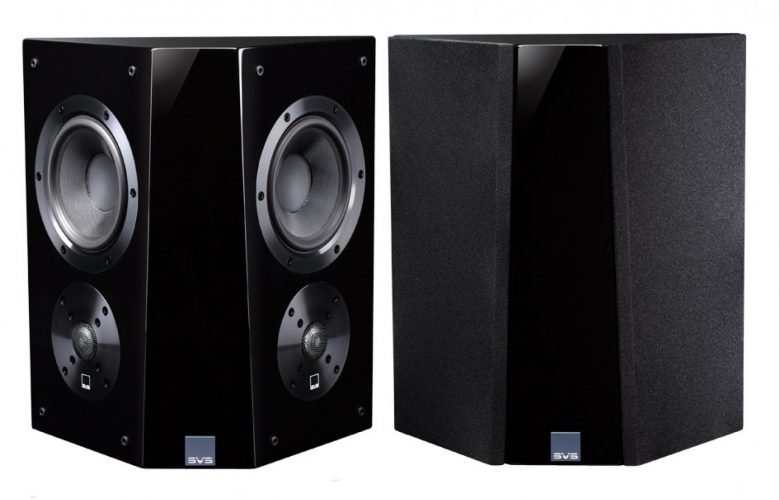 At a Glance
Frequency Response: 58Hz-32kHz
Nominal Impedance: 8 ohms
Sensitivity: 87dB
Recommended Amplification: 20-250W
Drivers: Dual 6.5" subwoofer/midrange, Dual 1" tweeter
The SVS Ultra Surround or Duet is a unique speaker. The triangular shape is designed to accommodate a dual 5.5" with dual 1" tweeter. Essentially, two speakers in one. These versatile speakers can be wired bipole, dipole, or Duet Mode. In Duet Mode, the Ultra Surrounds become two separate speakers. This allows you to run the system as a 7.1 rather than a 5.1 surround system.
Many surround sound systems have small, thin-sounding satellite speakers, but the Ultra Surrounds are close to full range with a sensitivity of 87dB. You will experience a full surround sound effect with exceptional clarity and rich low-end for movies and games.
The Ultra Surrounds can be placed on speaker poles or mounted. I recommend mounting on the wall if the room allows for this. In Duet Mode, this will give you a middle left/right and rear left/right array as close to a movie theater experience as you can get in your living area.
Ultra Center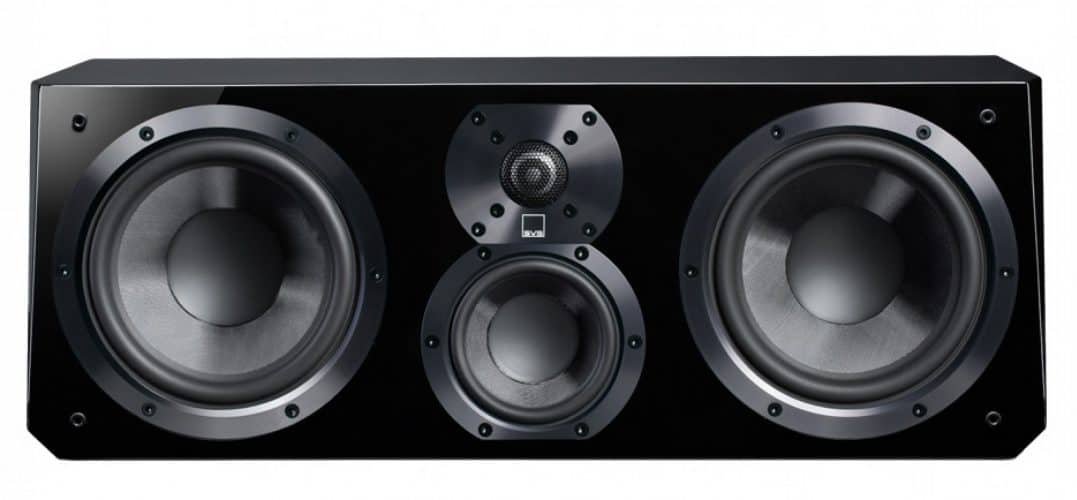 At a Glance
Frequency Response: 45Hz-32kHz
Nominal Impedance: 8 ohms
Sensitivity: 87dB
Recommended Amplification: 20-225W
Drivers: Dual 6.5" subwoofer, 4" midrange, 1" tweeter
Usually, the center speaker in a surround sound system isn't too exciting. The speaker is usually small and adds a bit of effect and clarity to the system. The SVS Ultra Center obliterates that center speaker stereotype! The Ultra Center is a near full-range speaker with dual 6.5" subwoofers. This means the audio footprint between your left/right and center is almost identical, eliminating dead and sweet spots.
To get the optimum experience, SVS recommends placing the Ultra Center directly below your TV with the left/right equidistant apart on either side. If possible, get the tweeter of the Ultra Center to line up with the Ultra Towers. This will deliver the best left/center/right audio imaging.
Amplification
The SVS Ultra is a passive surround sound system. This means you're going to need an external amplifier and/or receiver. If you can, you want to pair each speaker with as close to the maximum recommended amplification as possible. For the SVS system, try to aim for a receiver with 200W per channel. This would be ideal. The best case is to run the Ultra Towers at 300W per channel and the Centers and Surrounds at 200W. If you plan to run the system in bipole or dipole, this will require a more intricate amplifier setup.
Check with SVS on best recommendations but definitely do not go for a cheap, underpowered receiver option. This will be sure to damage your speaker drivers. I recommend you use a 16 or 18 gauge speaker cable for installation. These speakers draw a significant amount of power, more than your "average" surround sound system.
Conclusion
The SVS Ultra Tower Surround System is an excellent choice if you have some money to spend ($5000+ including receiver and installation). You are going to get a cinema-quality audio experience that will not disappoint.
This system will be best suited in a medium to large size room, preferably with walls left and right so you can mount the surrounds correctly. Setup will take some tweaking of speaker placement to get the right sound. Don't be in too much of a hurry to plug and play. Play with the positions to ensure you're getting the most out of the system. It's a significant amount of money to spend on a home theater system. Make sure you get the most out of it.
Here is a YouTube video from SVS with some useful tips on how to choose your perfect speaker:
Thanks for your feedback!